There's really no meat you can cook on a smoker to add a delicious, smokey flavor to the final product. But, as you know, not every meat is as good on a smoker as some others. Many cuts don't get as much of a benefit from a long, slow smoke as others. For that reason, a handful of meats are real standouts
Beef
Texas BBQ has shown just how amazing smoked beef can be and there are a number of cuts and preparations that are delicious. You arguably can't have a conversation about best meats for smoking without including beef brisket, though. And we give a nod to beef ribs as well which really become delicious when properly smoked.
Brisket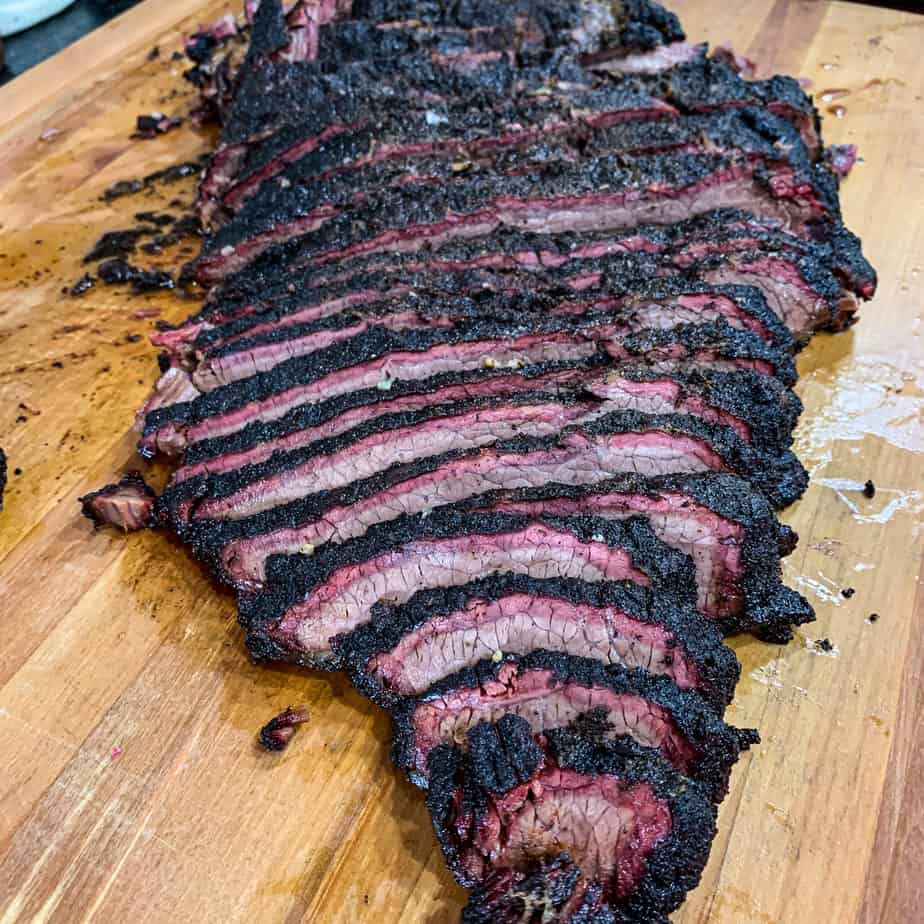 Brisket may be the single best cut of meat to smoke out of anything. Obviously this may change based on individual tastes but you have to admit, smoked brisket is really popular and a lot of people love it for good reason.
Brisket is one of the 9 primal cuts and you can find it on the breast or lower chest area of the cow. There are two briskets on any one cow. It's a big cut of meat and has a good deal of connective tissue in it which makes it perfect for smoking. It craves a long, slow cook to make it tender and that gives it plenty of time to develop flavor, absorb that smoke and really become perfectly flavorful and juicy. If you're a beef fan and you've had a really well smoked brisket you know there's almost nothing else like it.
Brisket lends itself well to a slow cook without falling apart like many other kinds of meat that work for a pulled beef or pulled pork. You slow cook a brisket and can still slice it and enjoy it when you're done, which is great. It takes a bit of practice to perfect your brisket smoking technique, but it's a fun process.
Get your smoker to about 225 degrees and expect 90 minutes to 120 minutes per pound to really get it done well. You can shave some time by smoking at 250, if you prefer a higher temperature smoke. Any wood can work but beef takes on certain flavors better than others which is why brisket smoked over wood like mesquite or hickory are so popular.
One thing to remember is that, unlike some cuts, you'll lose a lot of weight to rendering during the smoking of a brisket. A 10 lb brisket might yield only 6 lbs of smoked brisket. It's always a good idea to smoke more than you think you'll need, just in case.
Beef Short Ribs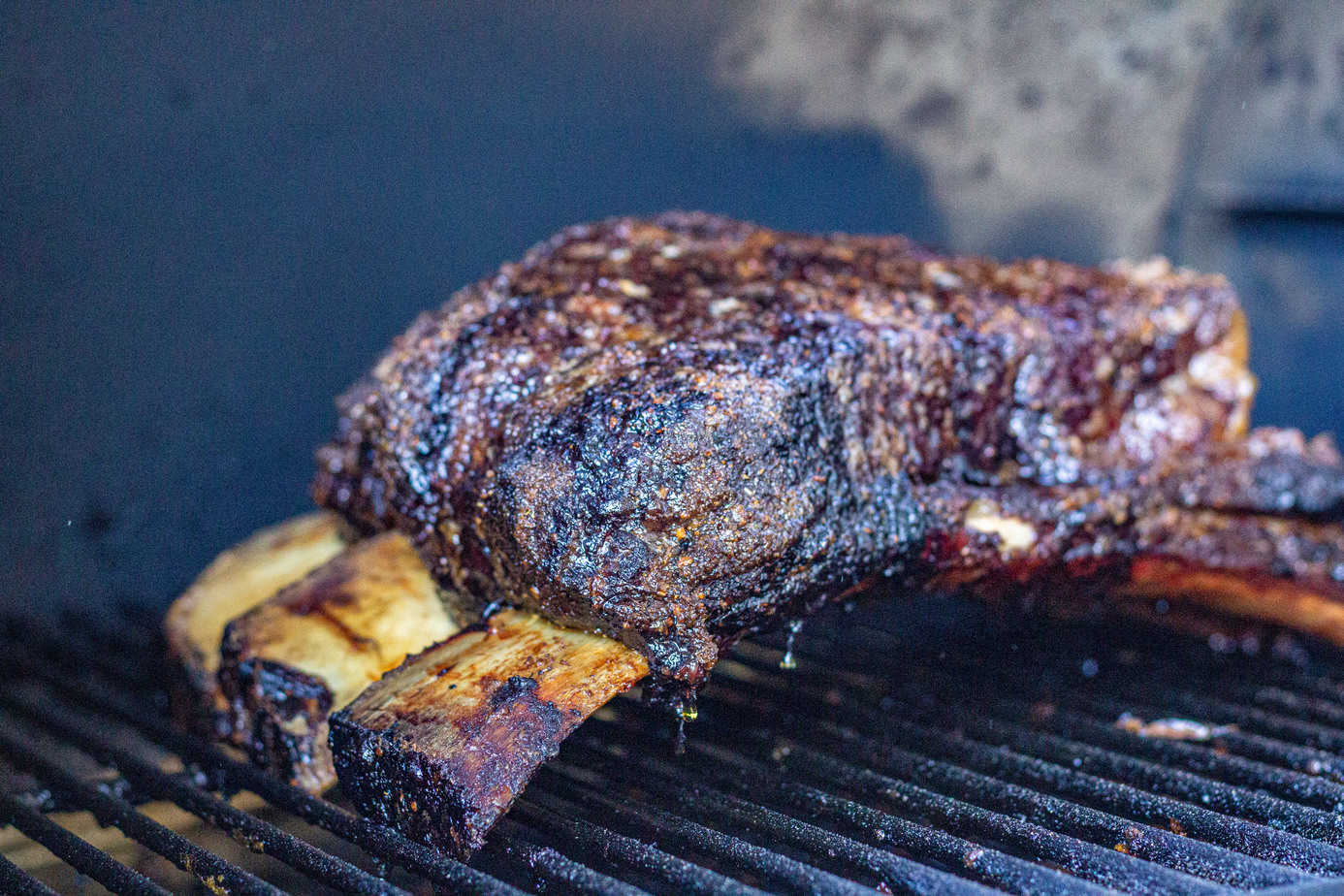 Beef ribs don't always get as much attention as spare ribs, but they are delicious and they're amazing when smoked. Texas BBQ and beef ribs go together like peas and carrots but more people outside of Texas should get on board.
A beef rib with some really flavorful bark on the outside can really show off just why smoking these is a great approach. Make sure you're getting plate ribs though, not back ribs. They won't smoke as well because there's just less meat. It's not that you can't smoke them, but if we're talking "best" meats to smoke, you want those huge, meaty plate ribs if at all possible, or at least some chuck ribs.
To make some delicious smoked beef short ribs, remove the cap if there is one but you can leave the silverskin on and, really, you should. For beef, that membrane helps keep the rib intact. Season as you like and smoke at a higher heat than typical, about 300 F. Beef ribs do well at higher heat and you can get a nicer crust that way, too. You want an internal temperature of around 210 F so expect to smoke for maybe around two hours per pound. If you have a smaller slab of ribs this may take less time.
Prime Rib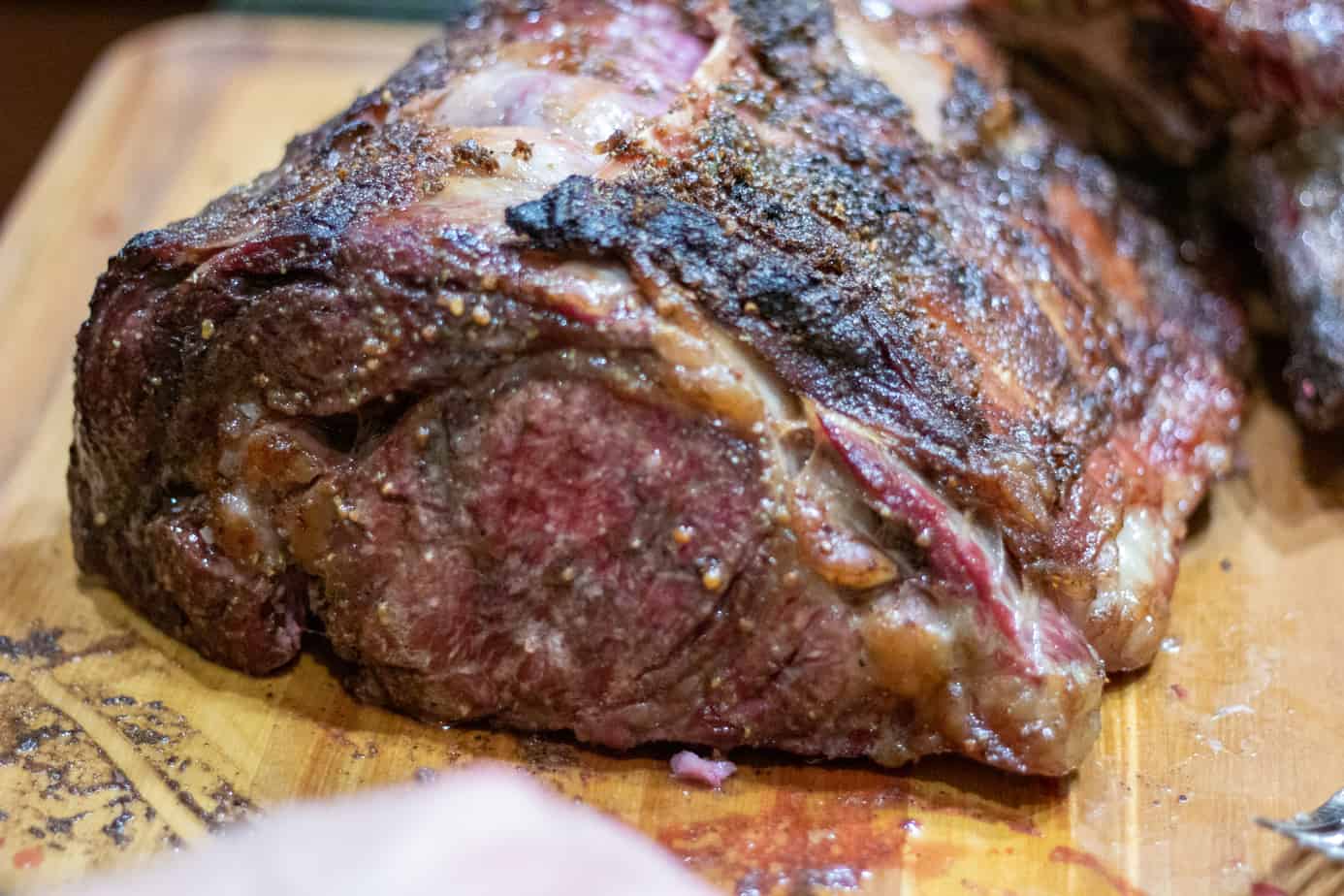 Some people think prime rib is too high quality of a cut for smoking which is, of course, pretty silly. Good quality meat with a good quality smoke makes a good quality dish. It takes about 6 hours to smoke a prime rib roast properly, but the result is a juicy, flavorful preparation that far exceeds a traditionally roasted one.
The one thing to remember with a prime rib is that you'd do well to develop a sear on it independent of the smoking. Get it on a hot pan and develop a crust to sear in juices and give it that texture you want while helping to render out some of the fat. The smoke will add a deep, rich flavor and the slow cook will make it super tender.
Smoking a prime rib is best done with a really strong wood like hickory, mesquite or oak. Set your smoker at 225 F to 250 F and get it up to 130 F for a perfect medium rare.
Pork
Pork lends itself so well to low and slow cooking, and of course smoking, and there are plenty of cuts and preparations that can benefit from it. If you're never had smoked bacon or pork chops, those are definitely worth a try, and we're including ribs and sausages here as well. Of course, a good quality pork butt is one of the best choices and that's where we're going to start.
Pork Shoulder (Butt)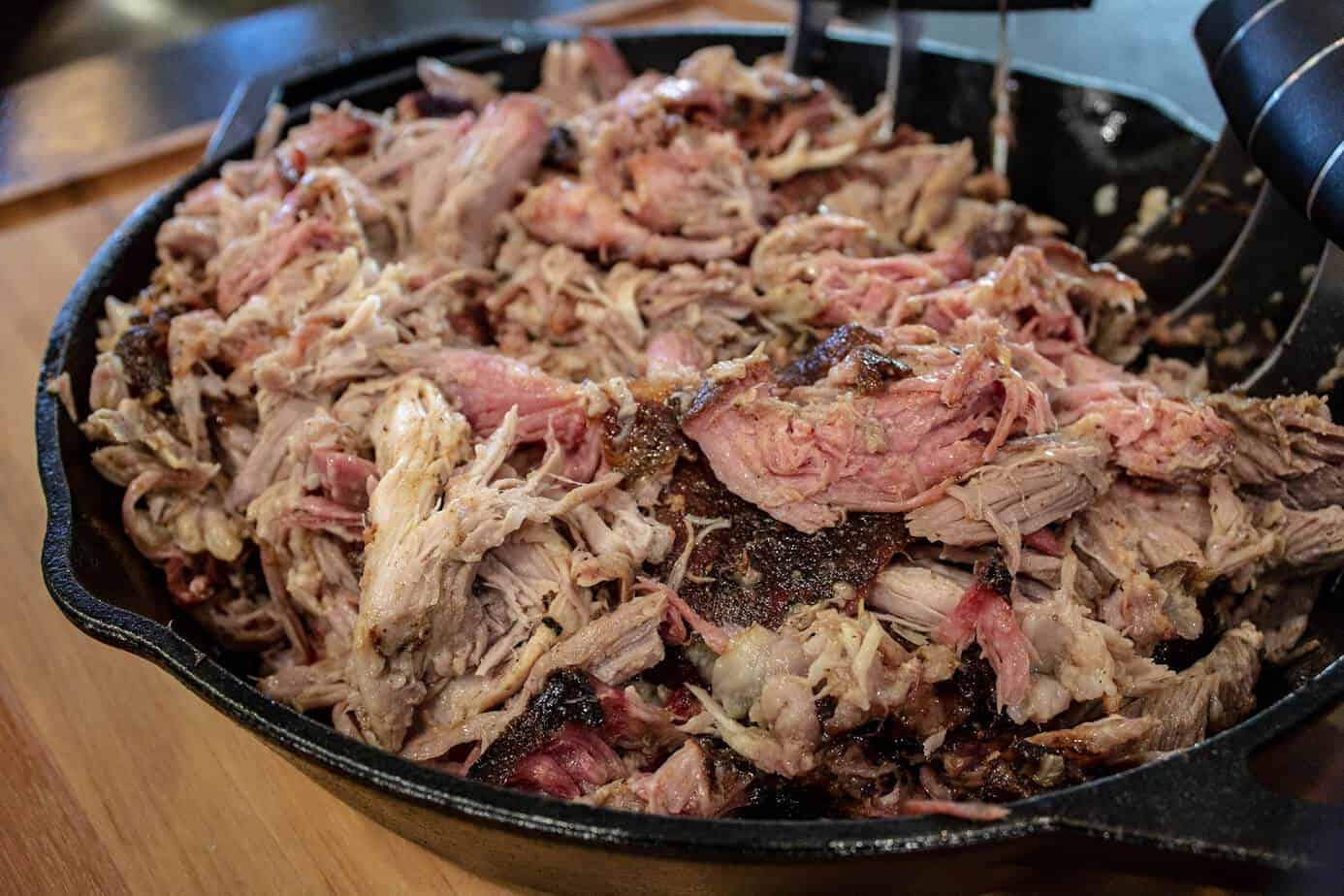 One of, if not the most popular cuts of pork for BBQ and smoking is pork butt. You can use either butt or shoulder since they're both literally the shoulder of the animal but pork butt has better marbling. Overall, it's a better cut for long, slow smoking and will make the absolute best pulled pork. Shoulder is good but pork butt is the best.
The reason pork butt is so good for smoking is that intense marbling. Long, slow heat lets the meat essentially baste itself and really instill such a good flavor. The muscle you're smoking here has a lot of connective tissue and that means a lot of collagen. This muscle worked a lot in the pig's life so normally it would not be a tender cut if not cooked properly. But long, slow smoking breaks that connective tissue down and allows the muscle fibers to separate into that pulled pork shred we all love. You just can't duplicate this with a cut like a pork loin and that's what makes this so special.
You'll probably want to smoke a pork butt at 225 F to 250 F. Some people push this to 300 F but that's really more for someone really confident in their smoking who knows what they're expecting here. The average pork butt is probably going to take anywhere from 8 to 10 hours total to cook. Half way through you can wrap it up in foil to seal in those juices if you're looking for a good pulled pork. End result should be about 200 degrees.
Pork Ribs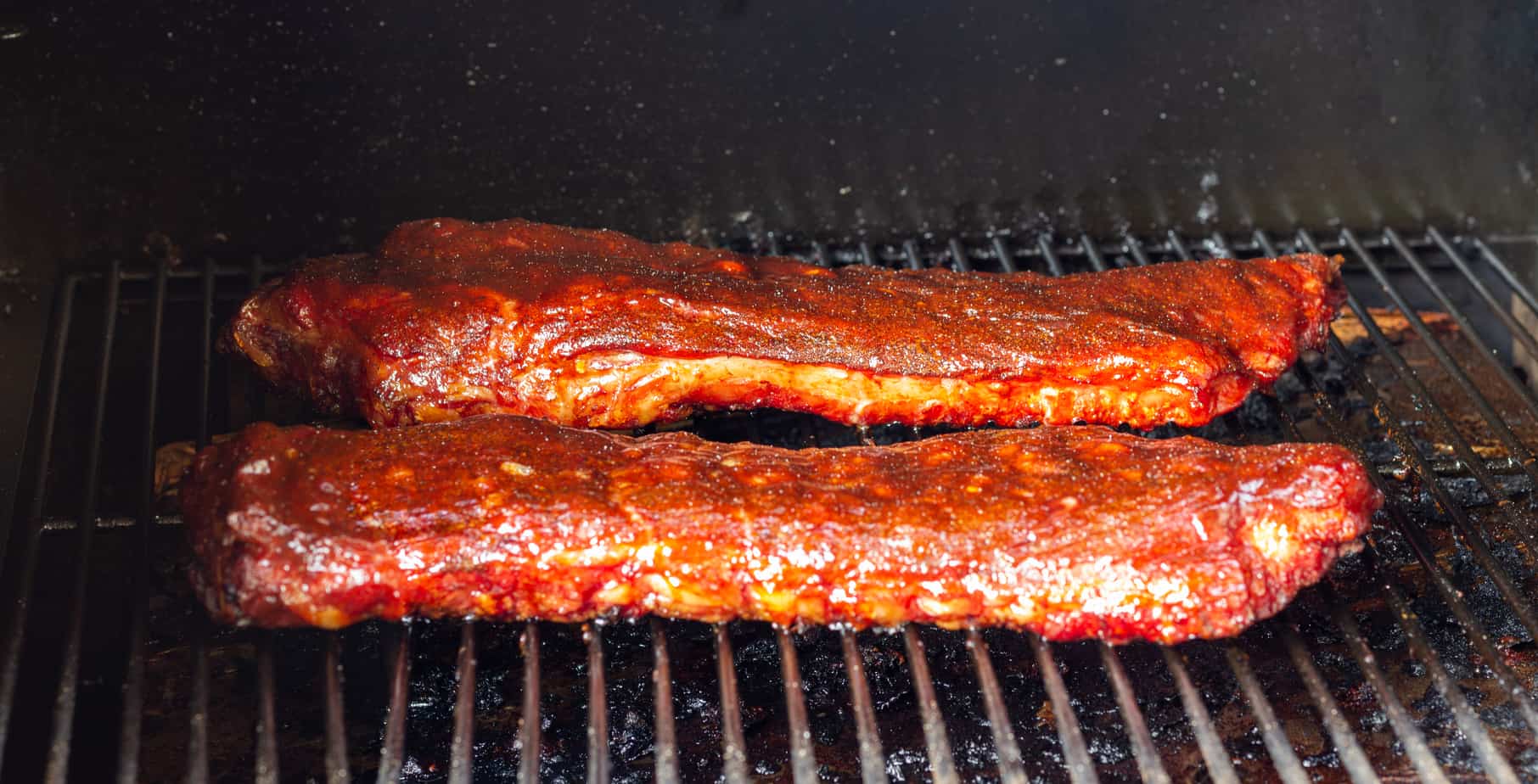 When it comes to pork ribs we can break this down even further. Spare ribs and baby back ribs are both great options to use on the smoker. Your St. Louis style spare ribs are going to be meatier and fattier so you have more potential to make a really flavorful bite. But not everyone likes that style of rib either, and the bigger bone is not everyone's cup of tea.
A slab of spare ribs has a lot of fat and cartilage and that makes them ideal for a slow cook on a smoker. The meat is less likely to dry out or overcook while the smoke and your seasoning choices really get to penetrate the meat. When you trim them down, then that's the St. Louis style I mentioned already. These will smoke faster for you and are less messy to deal with, but you need to watch them more closely.
You'll want your smoker around 225 degrees for good spare ribs. Remove that silver skin membrane ahead of time to ensure you get a more tender rib when they're done.
Seasoning depends on your choices. You can do a dry rub the night before and let them sit in the fridge. Or, on the day of, give an even glaze across the whole rib and sprinkle any seasoning or rub you want. I recommend against a sauce in this initial smoke, or at least not one heavy on tomato or brown sugar, because the sugar can get too burnt, but it depends on your tastes.
Using the 3-2-1 method you can smoke those ribs for 3 hours. Then transfer to foil, sprinkle with some brown sugar and maybe some butter, apple cider vinegar and honey (or a dozen other options based on your tastes), seal the foil and continue cooking for 2 hours. Then, for 1 hour, you leave the foil open and sauce the ribs.
Baby back ribs are more tender which is why they're more popular. They come from the loin and cook faster which makes them a big hit with most people. But if you're looking to really get a deep, rich smoke flavor you need to make sure you're watching your temperature so you don't overcook them or dry them out.
Sausage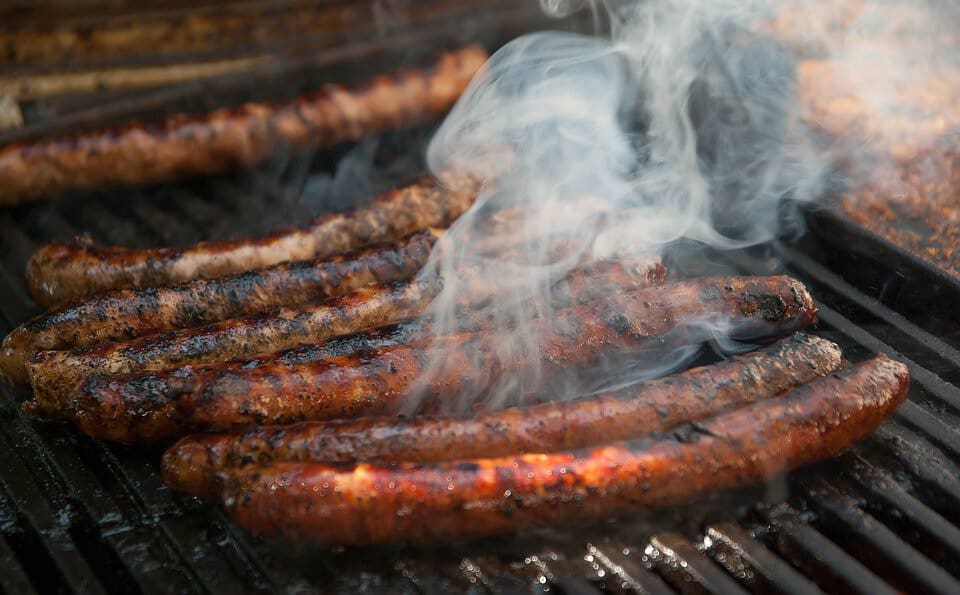 Smoked sausages are often underrated but a quality sausage, especially homemade sausage or fresh made from a butcher, can be amazing when smoked. Some of the lack of popularity likely stems from that difference between a homemade sausage and one of the processed, store bought kind that are decidedly different in taste and texture and, in my opinion, aren't always worth smoking. That's because these are often pre-cooked and just can't absorb flavor the same. That said, you can still smoke a bratwurst and have it come out tasting incredible if you follow a good recipe.
Smoke your homemade sausages at 225 by placing them directly on the grill for two or three hours. If they're pork, chicken or turkey you want to look for a temperature of about 165 F. Careful with the poultry ones as they may dry out depending on how they were made and what temperature your smoker gets to.
Chicken
There's no bad cut of chicken when it comes to the smoker, but two great ways to smoke chicken may be two you've been less likely to try - a whole chicken and chicken wings.
Whole Chicken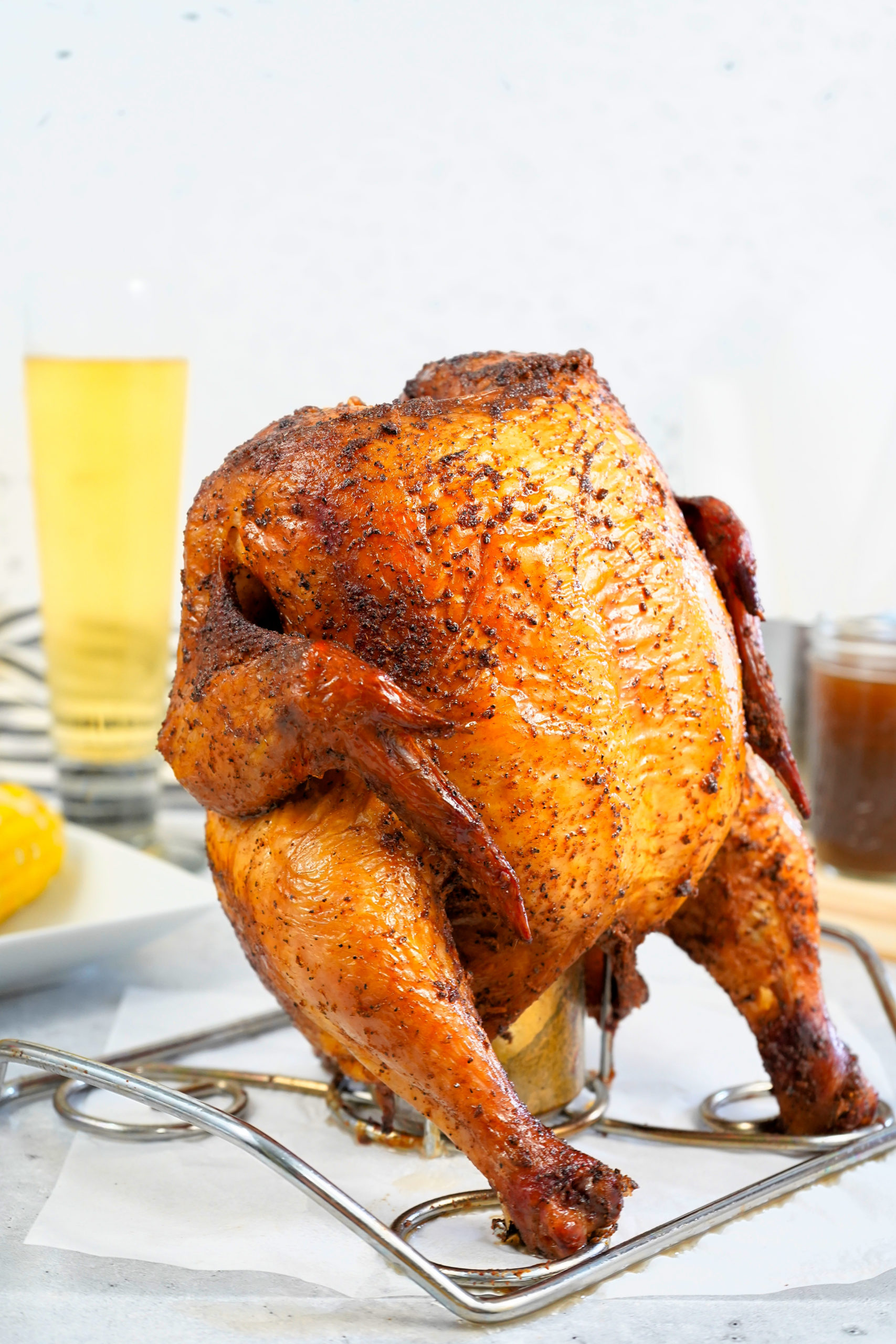 You can smoke breasts and thighs and drums or just smoke the whole bird. A smoked chicken can have great flavor in a fraction of the time it takes to smoke a large cut of pork or beef. Maybe 40 minutes per pound can get most chickens done and the end result is a moist, flavorful bird.
Stuff the cavity with aromatics like fresh herbs, onion, garlic or lemon and you can apply a dry rub to the exterior of the bird to keep it flavorful. Smoke at 225 to 250 and you'll end up with a skin that has a crisp to it and plenty of flavor, with moist and delicious meat inside. You can also try the beer can method.
After smoking, I recommend wrapping it in some foil to sit for 5 to 10 minutes and let those juices and flavors get locked in before carving.
Wings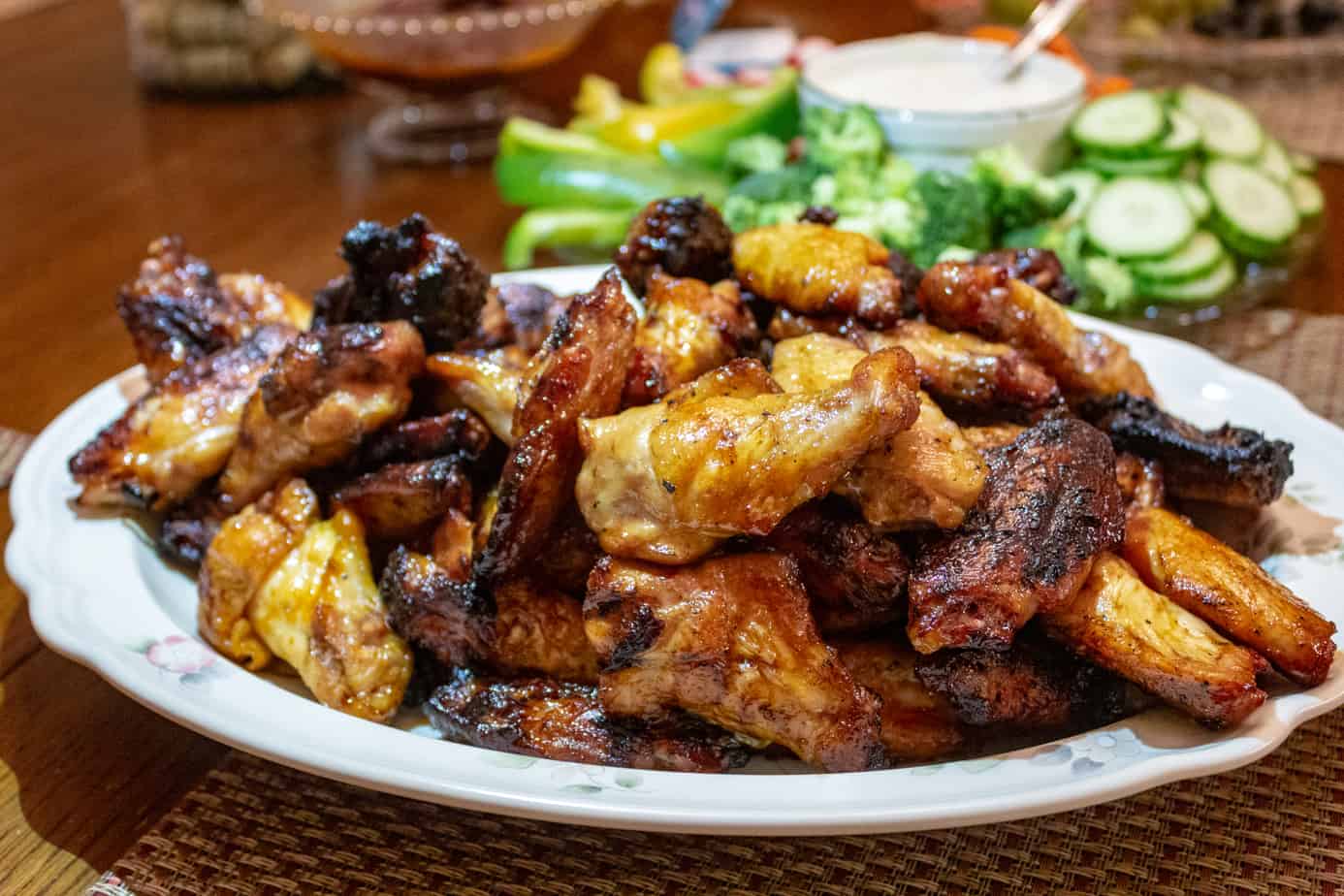 Once upon a time no one really cared about chicken wings and they were sort of the "useless" cut from a chicken. You could get wings at bars for 10 cents each. But they're since become incredibly popular and smoked wings take an already great cut to a new level.
You want dry wings to start so pat them down to get rid of any moisture, and then a light coating of oil all over. This will keep your dry rub intact and make for a tasty, crispier outside on the wing. Once you have a light coating of oil you can apply your dry rub. Lots of flavor combinations work, so go with what you like. Coat them in a boat and mix the rub into the wings for an all over, even coat.
Let your wings sit for at least an hour in the fridge with the rub on them. When it's time to smoke, hickory, pecan, or mesquite are all great choices, but anything works. Smoke at 225 to 250. Two hours should be enough time for most wings but check for 165 degrees to be sure.
You can either remove them now or turn up the grill and let them sit for maybe 5 minutes per side to get a crisp on them. Once you pull them from the grill let them sit for a few minutes. You can also sauce them now if you like, tossing them in a bowl for even coating but they're also great as dry smoked as well. Tons of flavor combinations can make good smoked wings even better. How about some Dr. Pepper smoked wings?
Turkey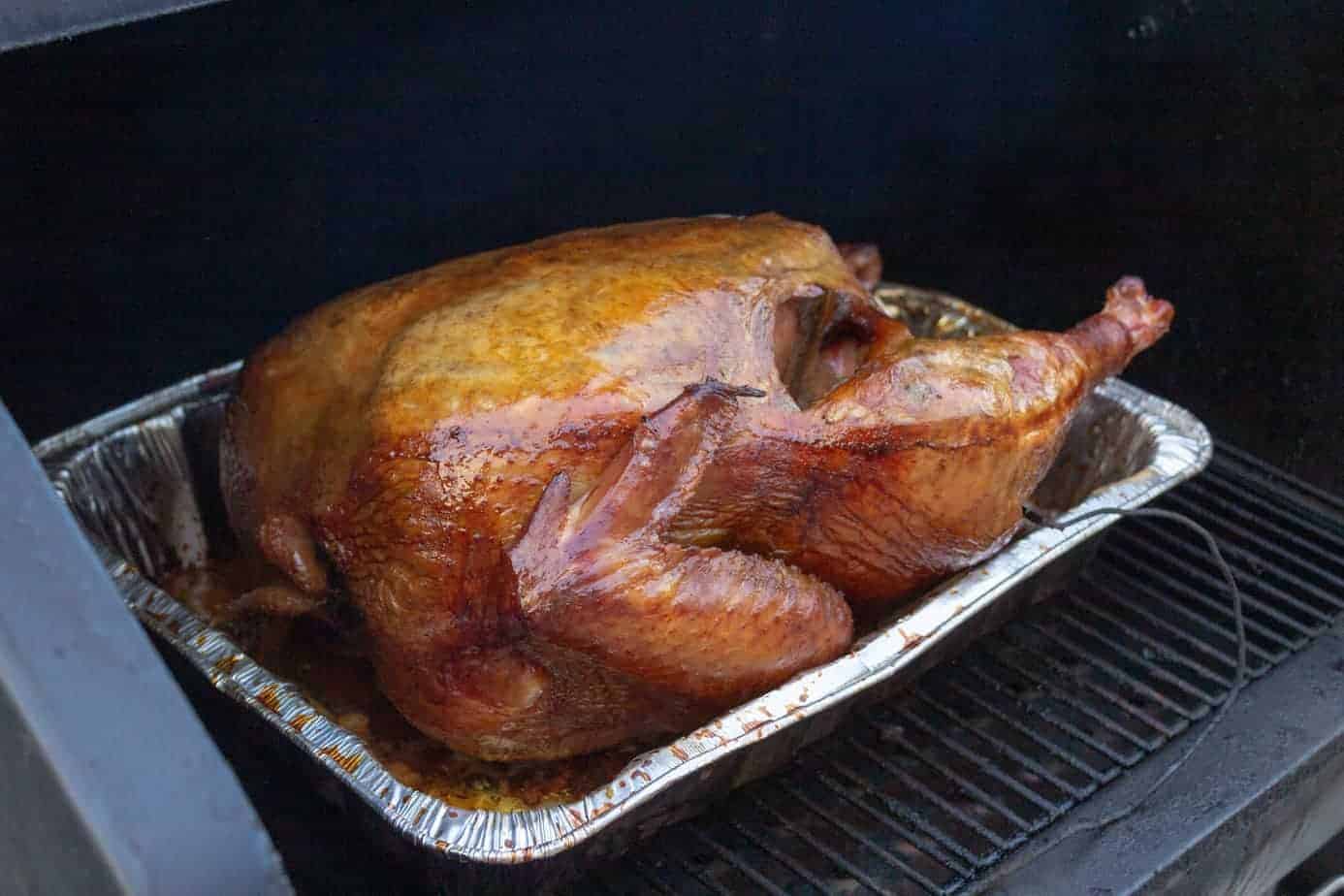 I'm not suggesting this is a beginner option but smoked turkey can be delicious and well worth the effort. It's very similar to chicken, but takes a little more time and effort. The question is how to approach it. You can break your turkey down and smoke the legs, breast and wings like a chicken. You can spatchcock the turkey to flatten it out and allow it to cook faster, or you can try the bird whole.
Smoking a whole turkey has to be done at 225 to 250 degrees and you'll need 30 minutes per pound. This should only be done with a medium sized bird or smaller. Stick to 12 to 14 pounds at most. Large turkeys are too hard to get to temperature fast enough and, internally, you can hold that in the danger zone for so long it builds up a lot of bacteria that could make you sick. For bigger birds, break them down or at least spatchcock them.
You'll need to cook it from room temperature first too, which will take a good hour to achieve with a raw bird at room temperature if it's been in the fridge previously. Don't try to smoke a frozen turkey, please.
Brine the turkey ahead of time to keep it moist on the inside because no one likes a dry turkey, right? Once you're ready, I recommend stuffing the cavity with some herbs and aromatics. Onion, lemon, rosemary, thyme, anything like that will help develop a more robust flavor as it smokes.
Rub down the outside of the bird and let it smoke for about five hours or so depending on the size until you reach an internal temp of 165 F.. Baste regularly to keep it moist.
Less Common Smoked Meat Choices
The ones we have covered so far are probably the most popular meats you can smoke. There are some other choices that work really well, however, and maybe ones you haven't thought of before. Let's take a look at some of the best but less common meats to smoke.
Lamb
Lamb has never been as popular in North America as it is elsewhere in the world, but lamb takes smoke very well and if you like the flavor of the meat then you'd really loved a well smoked dish.
Shoulder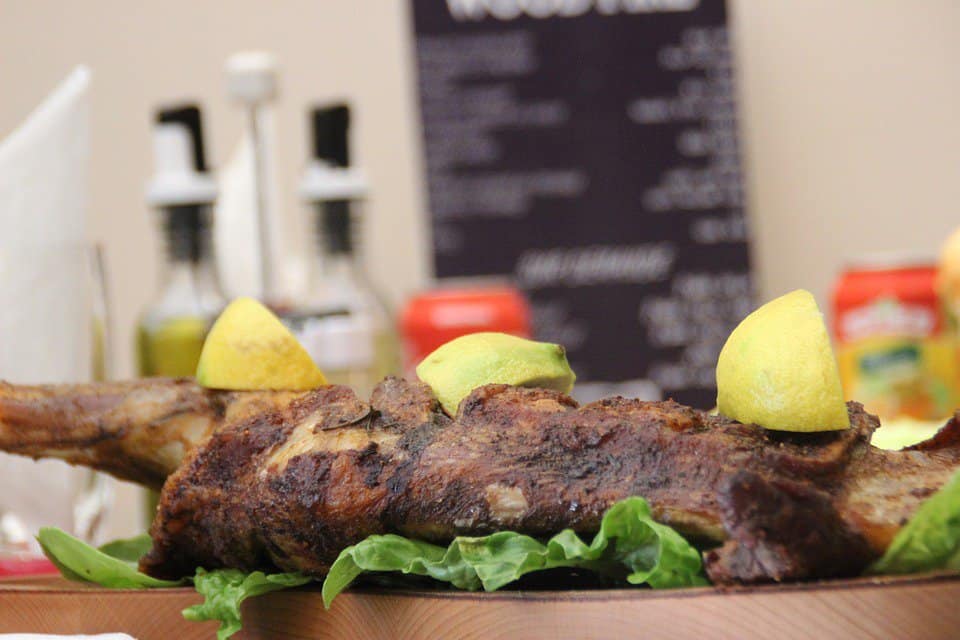 This is probably the most delicious cut of lamb to smoke and with good reason. The lamb shoulder, just like pork shoulder, has great marbling and that means great flavor. A long, slow smoke for lamb shoulder will lead to pulled lamb and if you have never tried it then do yourself a favor and make it happen. Like pulled pork, this preparation is best done with a solid herb or spice rub and then finished with a flavorful sauce if you want BBQ pulled lamb for wraps or sandwiches.
Because lamb has a lot of thick, rich fat you can push the temperature on this a bit. Starting at 250 F is usual and you can push it even higher, even to 300 F, as a good quality lamb shoulder will take the heat and form a beautiful crusty bark outside.
Give it 4 to 5 hours until an internal temperature of 165 F to 170F is reached. Take it off the grill and wrap it in foil or butcher paper with your barbecue sauce, and then place it back on the grill until it gets up to 200 F.
I find lamb works best with a longer rest period than you may give other meats after a smoke, because of all that fat and the juices you want to render through really well. Give it a good hour then serve.
Lamb Leg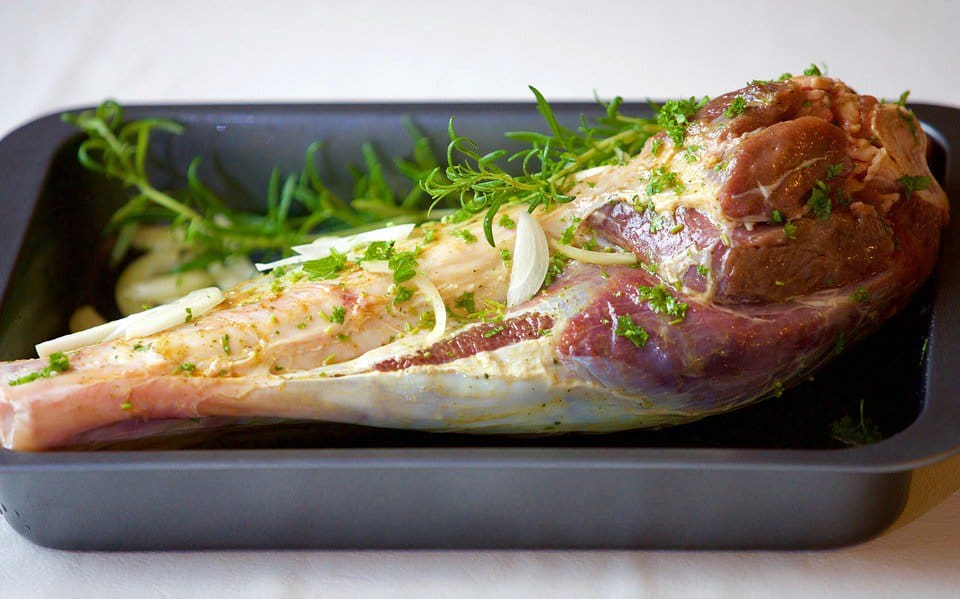 If you don't want the pulled meat experience, a lamb leg is also a great choice. Because lamb legs are typically much fatter at one end, you can actually create something really unique in your smoker by having a well done, crusty shank end with some more dried out bark-like bits and then the fattier, meatier sirloin end that has great marbling and will be less well done at the end. It's a nice end result for giving two textures and tastes from the same cut.
Smoke a lamb leg at 225 F for at least three or four hours. Fruit wood works really well with lamb - things like apple and cherry. But you can use pecan or some other mild-flavored woods as well. Try to avoid the really deeply flavored things like hickory or mesquite because lamb takes smoke so well you might end up overwhelming the natural flavor of the meat. You want an internal temperature of 145 F.
Beef Cheeks
Beef cheeks are not a cut everyone is familiar with and some people who are still don't enjoy them if they aren't cooked right. Cows chew a lot and their cheek muscles are extremely tough as a result. But, with a good slow cook in a smoker, you can make these really tender and delicious.
Much like pork and lamb shoulder, beef cheek takes a long time to break down but when it does you get a delicious pulled beef that is some of the best you can make. Barbacoa tacos made with smoked beef cheek are some of the best you'll ever try.
It takes a little more work to make good smoked beef cheeks. You'll want the initial smoke to be about 3 hours and then finish them by braising for another 3 hours. The end result is obviously incredibly moist and juicy with great flavor and an almost sticky texture because of the collagen breakdown.
The Bottom Line
Like we said before, there are very few meats which will end up really bad on the smoker, so you have plenty of great options. You'd do well to avoid trying to smoke anything like a pork or beef tenderloin, simply because they don't have the fat to keep them moist and tender. These cuts can't handle a long, slow heat well and the end result is often tough, not flavorful, and underwhelming. The same can be true of steaks and chops if they aren't handled well. You can do a smoked pork tenderloin or smoked pork chops, but if you're new to the smoking process it's not a good place to start.
The best cuts for smoked meats are going to have a good amount of fat and be large enough that a long, slow cook lets them develop rich flavor, absorb smoke, and break down connective tissue. Other options for smoking meat like pork belly or smoked salmon can come out really nicely as well. You can play with seasonings, temperatures, smoke flavors and cook times to develop what you feel is the best mix for your particular palate.