The Bacon Weave
Creating a bacon weave is a simple and delicious way to add a unique texture and savory flavor to your dishes. By weaving bacon strips together in a lattice pattern, you can elevate your sandwiches and burgers with an extra crunch that will satisfy your taste buds.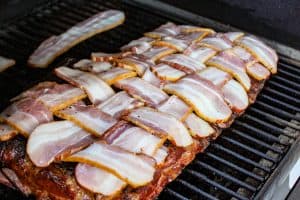 What Are Bacon Weaves?
Wondering what a bacon weave is? Well, it's exactly what it sounds like. Bacon is woven into a blanket and then cooked. The weave can be cooked on its own or draped over other foods you are cooking to add tremendous flavor.
Equipment
Rimmed Baking Sheet or Oven Tray
Parchment or Wax Paper
Oven or Grill
Disposable Gloves (Optional but recommended)
Ingredients
Selecting The Bacon
The temperature of your bacon can significantly impact the quality of your bacon weave. Cold bacon is easier to handle and weave into the lattice pattern, as it's more firm and less likely to tear. So, keeping your strips of bacon refrigerated until you're ready to start weaving is a good idea.
Likewise, the thickness of the bacon is also a crucial factor to consider. Thick-cut bacon yields a more robust and satisfying texture in the final product. However, a thinner bacon slice might be a better choice if you're aiming for a more delicate crunch or if the bacon weave is being draped over a dish that requires a shorter cooking time. Always remember the thickness of your bacon will influence not just the texture but also the cooking time and flavor intensity of your bacon weave. Be sure to select your bacon carefully, depending on your desired outcome.

Preparation Before Weaving
Once you have selected your bacon, you need to prepare your workspace. You're working with raw bacon, so it's important to keep the exposure to any tabletop or counter surfaces to a minimum.
Lay down a sheet of parchment or wax paper on your countertop. This will protect the surface from any raw bacon contamination. I like to use disposable gloves as well. Remember to wipe down your counter with a good household cleaner when you're done making the bacon weave.
Before you start weaving your bacon, it's essential to preheat your smoker or oven. Preheating is critical to ensure your bacon weave cooks evenly and achieves the desired crispy texture. For the oven, preheat to 400 degrees Fahrenheit. If you're using a smoker, aim for a temperature of 225 degrees Fahrenheit. Allow the oven or smoker to reach the set temperature before inserting your bacon weave. Remember, every smoker or oven is different, and actual temperatures can vary, so it's always a good idea to use an oven thermometer to verify the temperature. Now, you can start crafting your bacon masterpiece while your oven or smoker is heating up.
Weaving Bacon Instructions
Once your workspace is ready, you can begin to weave your bacon.
Lay six bacon slices parallel to one another on the wax paper.
From the left, fold the first strip, third strip, and fifth strip of bacon in half. Lay a piece of bacon horizontally to the original 6 bacon slices.
Fold the first, third, and fifth pieces back over the bacon perpendicular to them.
Fold back the second, fourth, and sixth slices. Lay another piece of bacon perpendicular.
By now, you should be able to see the pattern.
Repeat this process until the entire bacon weave is constructed.
Cooking Bacon Weaves
It's time to cook your bacon weave! Place it on a grill rack and cook low and slow on your smoker at 225 for about two hours.
After two hours of patient smoking, your bacon weave should be ready. But don't rush to use it immediately. Carefully remove it from the smoker using a large spatula, ensuring it does not break or tear your masterfully woven bacon creation.
Place the bacon weave on a plate lined with paper towels or a wire rack over a baking sheet. The bacon will likely be dripping with grease, and it's important to drain this excess. Press gently but firmly with additional paper towels to absorb the extra fat. This step will help your bacon weave retain its crispness and make it less greasy to the touch.
Once you've drained the excess fat, leave the bacon weave to rest for a few minutes. Resting allows the meat fibers to relax and reabsorb some of their juices, resulting in a tender yet crispy bacon weave. Remember, like any meat, your bacon weave needs this resting time to achieve its full potential. After a brief rest, your bacon weave is ready to be served. Enjoy the crunchy, smoky delight!
My favorite is smoking this bacon weave, but it can also be made in the oven. Preheat to 400 degrees for oven cooking and bake for 15-20 minutes until the bacon is done but not overly crisp.
Advanced Tips And Variations
Bacon weaves can be cut into shapes and sizes to fit cheeseburgers and BLTs.
I've also cooked a bacon blanket over the top of a rack of spare ribs and had tremendous results. The bacon fat keeps the ribs from drying out and gives the ribs an extra dimension of flavor that can't be beaten.
One of my favorite things to cook is a smoked fatty, which is where these shine. You wrap the fatty with the bacon before cooking it, and the result is outstanding!
Looking for other ways to cook bacon? Check out my favorite bacon recipe.
I hope you've enjoyed my mini tutorial on making a bacon weave. Making good barbecue is supposed to be fun, and this is one of my favorite things to make and add to recipes. I've never heard someone complain that there is too much bacon.