The Bacon Weave
When I first started smoking meat, I saw several references in recipes to bacon weaves. I didn't know how to make a bacon weave, and they looked very difficult to construct.
Since then, I've made quite a few bacon weaves, and I can tell you that a bacon weave isn't as hard to make as it may seem. In this post, I'll show you the simple steps to make a bacon weave, and show you a few different ways you can use a bacon weave to really enhance your cooks.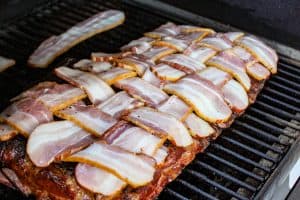 What is a Bacon Weave?
You might be wondering, what is a bacon weave? Well, a bacon weave is exactly what it sounds like. Bacon is woven into a blanket and then cooked. The weave can be cooked on its own or can be draped over other foods that you are cooking to add tremendous flavor. Think about all that delicious bacon fat melting into a ham. Or maybe you are going to wrap a pork tenderloin with the bacon weave… Man, my mouth waters every time I think about cooking something with a bacon weave.
How to Make a Bacon Weave

Selecting the Bacon
The first step to making a bacon weave is selecting the bacon. You're going to be cooking this bacon weave on the smoker. I see the best results when I am cooking thick sliced bacon. You can cook thinly sliced bacon on your smoker, but you don't get the same delicious flavor that thick sliced bacon produces when it is cooked low and slow. I recommend Snake River Farms Bacon.
Constructing the Bacon Weave
Once you've picked out the right bacon for the job, it's time to construct the bacon weave. The first thing you need to do is prepare your workspace. You're working with raw bacon here, so it's important to keep the exposure to any tabletop or counter surfaces to a minimum. When you're done making the bacon weave, don't forget to wipe down your counter with a good household cleaner. I like this one.
Lay out a sheet of wax paper on your counter, and lay six pieces of bacon parallel to one another on the wax paper.
Starting from the left, fold the first, third, and fifth piece of bacon in half. Lay a piece of bacon perpendicular to the 6 pieces.
Fold the first, third and fifth pieces back over the perpendicular slice. Fold back the second, fourth, and sixth slice. Lay another piece of bacon perpendicular.
By now, you should be able to see the pattern. Repeat this process until the entire bacon weave is constructed.
Cooking a Bacon Weave
Now that your bacon weave is constructed, it is time to cook the bacon weave. You could put the bacon weave on a grill rack and then cook it low and slow on your smoker. You might be wondering what temp to cook bacon weave. I cook my bacon weaves at 225 for about two hours and am always very pleased with the results.
When the bacon is fully cooked you can remove it from the smoker, and cut it into small circles the size of a hamburger bun. These bacon weave slices are perfect for a BLT, or a cheeseburger.
Looking for other ways to cook bacon? Check out my favorite bacon recipe.
I've also cooked a bacon weave over top a rack of spare ribs and had tremendous results. The bacon fat keeps the ribs from drying out, and give the ribs an extra dimension of flavor that can't be beaten.
One of my favorite things to cook is a smoked fatty, and this is where the bacon weave really shines. You wrap the fatty with the bacon weave before you cook it, and the end result is nothing short of outstanding!
Next Steps
I hope you've enjoyed my mini tutorial teaching you how to make a bacon weave. Making good barbecue is supposed to be fun, and this is one of my favorite things to make, and add to recipes. Some people might think to add a bacon weave is over the top, but I've never heard someone complain that there is too much bacon.
Have you made a bacon weave before? What do you do differently? I'd love to hear how you use a bacon weave in your cooking.