Choosing a cut of steak is more difficult than you might think, especially with so many available. New York Strip and Ribeye are two of the most popular cuts and are found in grocery stores, butcher shops and steakhouse menus all around the world. Although both are prime cuts and will likely be delicious no matter where you get them from, there are a handful of differences worth knowing about. We'll break them both down based on the following criteria.
What they are - definition
Where they are - location
How big they are - size
How they taste- flavor
How they look - appearance
What they cost - price
How healthy they are - nutrition
How to prepare them - cooking
Definition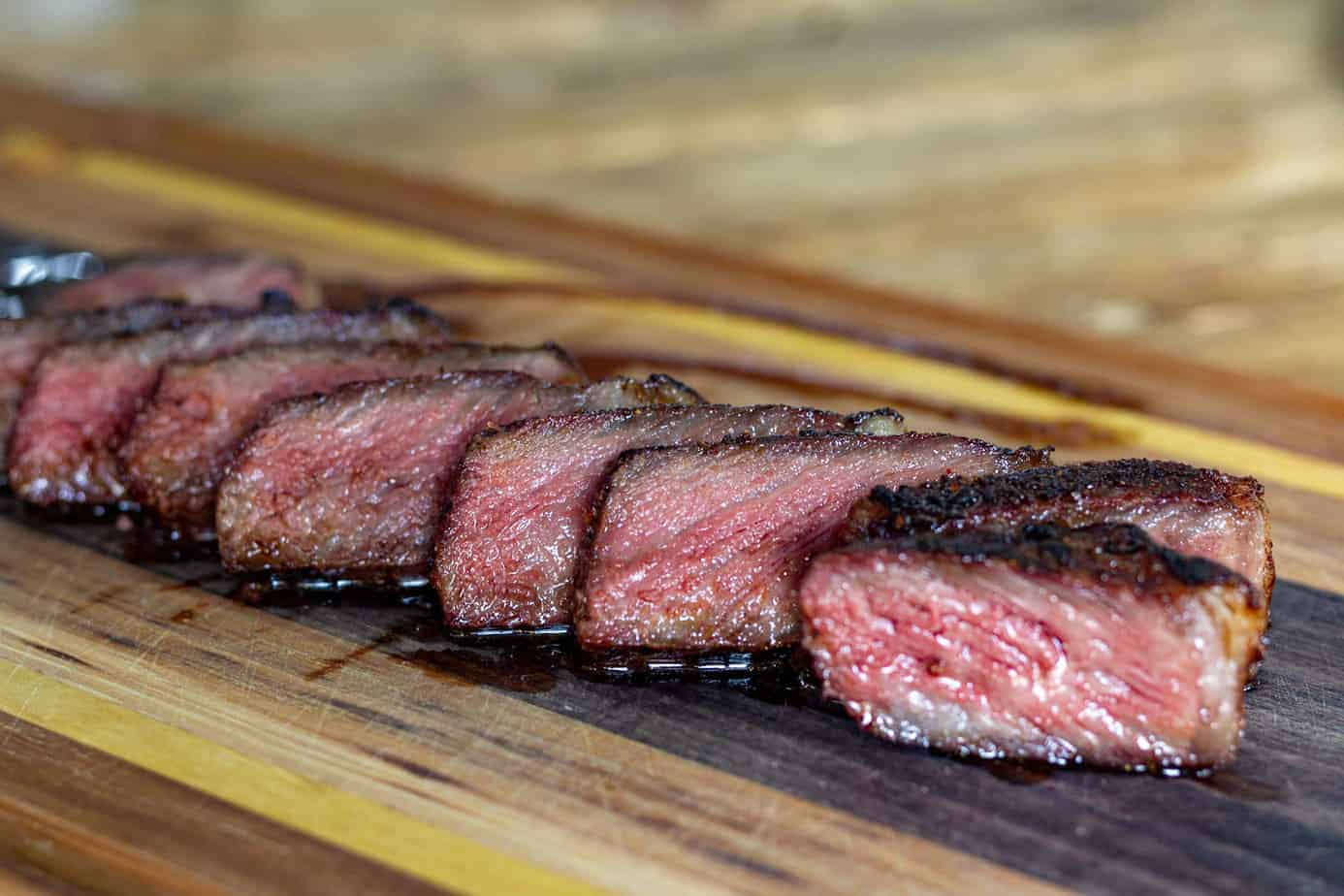 What is a New York Strip
A New York Strip steak may also be known as simply a strip steak, a club steak, a top loin, an Ambassador steak, Kansas City steak, and a Hotel Style steak among others. Outside of the United States it's often called the striploin (or strip loin), the sirloin, and the porterhouse. It's cut from the short loin and, as an underused muscle in the cow, it's particularly tender. The new "Name York" comes from its prominence at early and famous New York City steakhouses that preferred the cut and made it famous.
What is a Ribeye
A ribeye steak is a typically boneless (though not always) cut from along the rib section of a cow. It's known as Scotch fillet in some countries, as well as a Spencer steak, a sarket steak, a beauty steak, and also a Delmonico. It's tender with good marbling which makes it a highly flavorful and popular cut. The ribeye also consists of three parts. Many ribeyes are cut down to the largest and central cut, the ribeye proper, which comes from the longissimus dorsi muscle. But there is also a rib cap portion from the spinalis and a complexus muscle on the opposite side of the cap, which is usually smaller.
The rib cap is the most tender and richly marbled part of a rib eye and is very often removed to be used separately. Alone, a rib cap is typically the most expensive cut of steak you can buy.
Location
Where is the New York Strip
The New York Strip comes from a subprimal cut of the cow. It's cut from the short loin subprimal, part of the loin primal. This area is where other desirable cuts like the filet mignon, porterhouse and T-bone are found as well. In fact, a T-bone steak is both the strip and the filet together with the bone intact.
Where is the Ribeye
The ribeye comes from the rib primal, on a cow's upper rib cage, located ahead of the short loin that provides the New York strip cut.
Size
How Big is a New York Strip
When New York strips are prepared, a typical size is a steak cut to about 1.5 to 2 inches thick. The thicker size allows for a good outside sear but a tender and flavor rare or medium inside, depending on preferences. At that thickness, a quality steakhouse will usually offer a selection of sizes that may range from 8 ounces on the low end up to a full 16 ounce strip.
How Big is a Ribeye
Because there are several types of ribeyes, the size can vary. Some restaurants may offer what's called a Cowboy Ribeye which can weigh in at an impressive 32 ounces or 2 pounds. The thickness should be around 2 inches.
A Delmonico ribeye, named after the Delmonico restaurant, may start at 2 inches thick but pounded down to 1.5 inches. A typical weight is 14 to 16 ounces.
In many restaurants, ribeyes are cut thinner than a New York Strip, perhaps one inch to 1.5 inches in thickness, but the steak is larger overall and heavier. Ribeyes weighing 9 to 12 ounces are common, but so are 14 ounce and 16 ounce. Some restaurants even offer things like a 40 ounce ribeye tomahawk steak (with 5 inches of rib still attached). It's possible to get a ribeye up to 72 ounces or more.
Flavor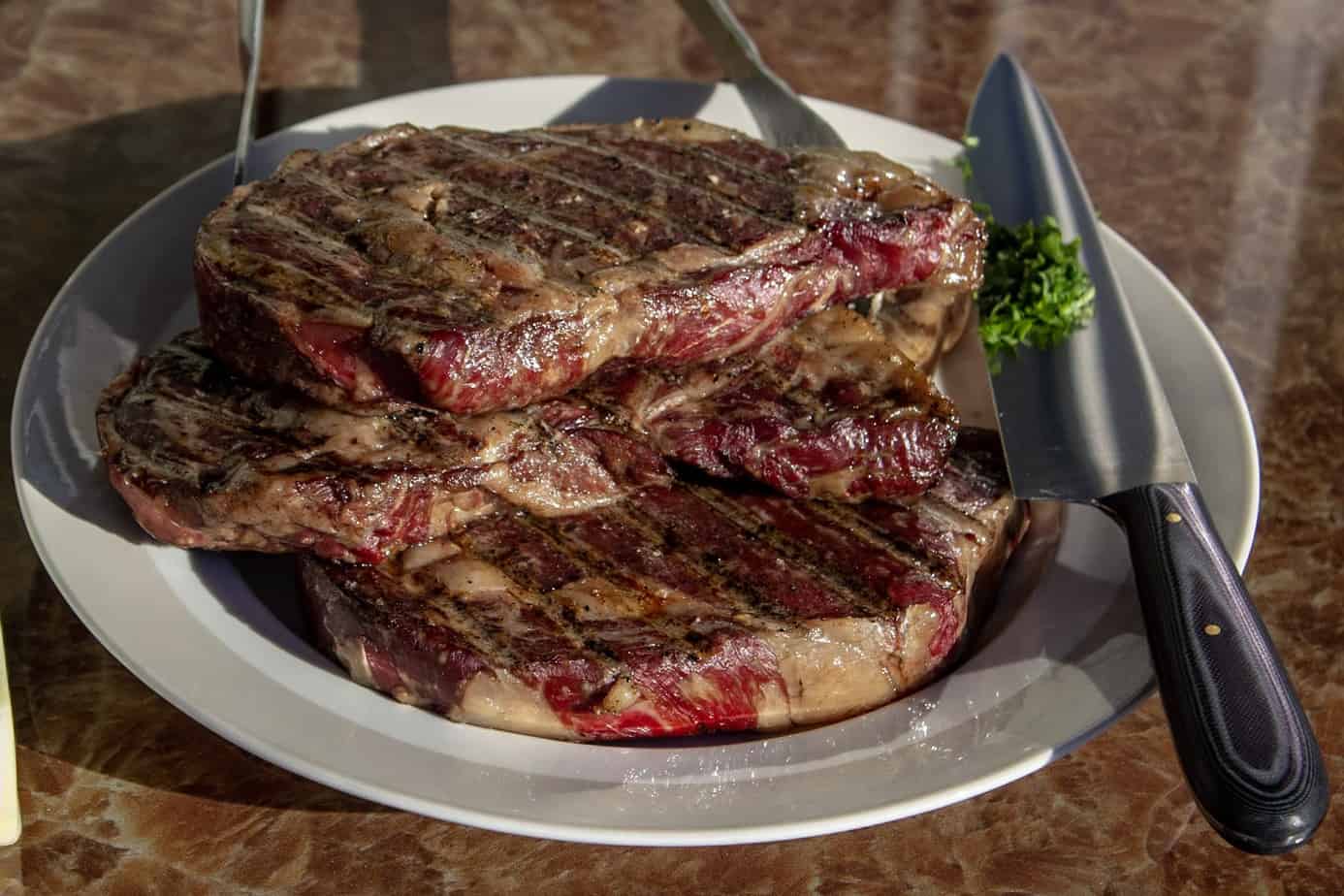 How Does New York Strip Taste
The NY Strip is popular because of its rich flavor and texture. Not only is it tender, but the marbling ensures a rich, beefy flavor that many feel is more bold and intense than what you might find from less popular cuts. It is more lean than the ribeye and, as such, lends itself to thicker preparations which allow more of the natural beef flavor to be enjoyed.
How Does Ribeye Taste
Ribeye and NY Strip are cut from the same muscle groups so the flavor is similar. That said, ribeye has a higher fat content and more marbling so it tends to be juicier even when cut thinner, and full-flavored. The intense marbling is why ribeye is so popular and also why a Wagyu ribeye is one of the most flavorful and desirable cuts in the world.
Appearance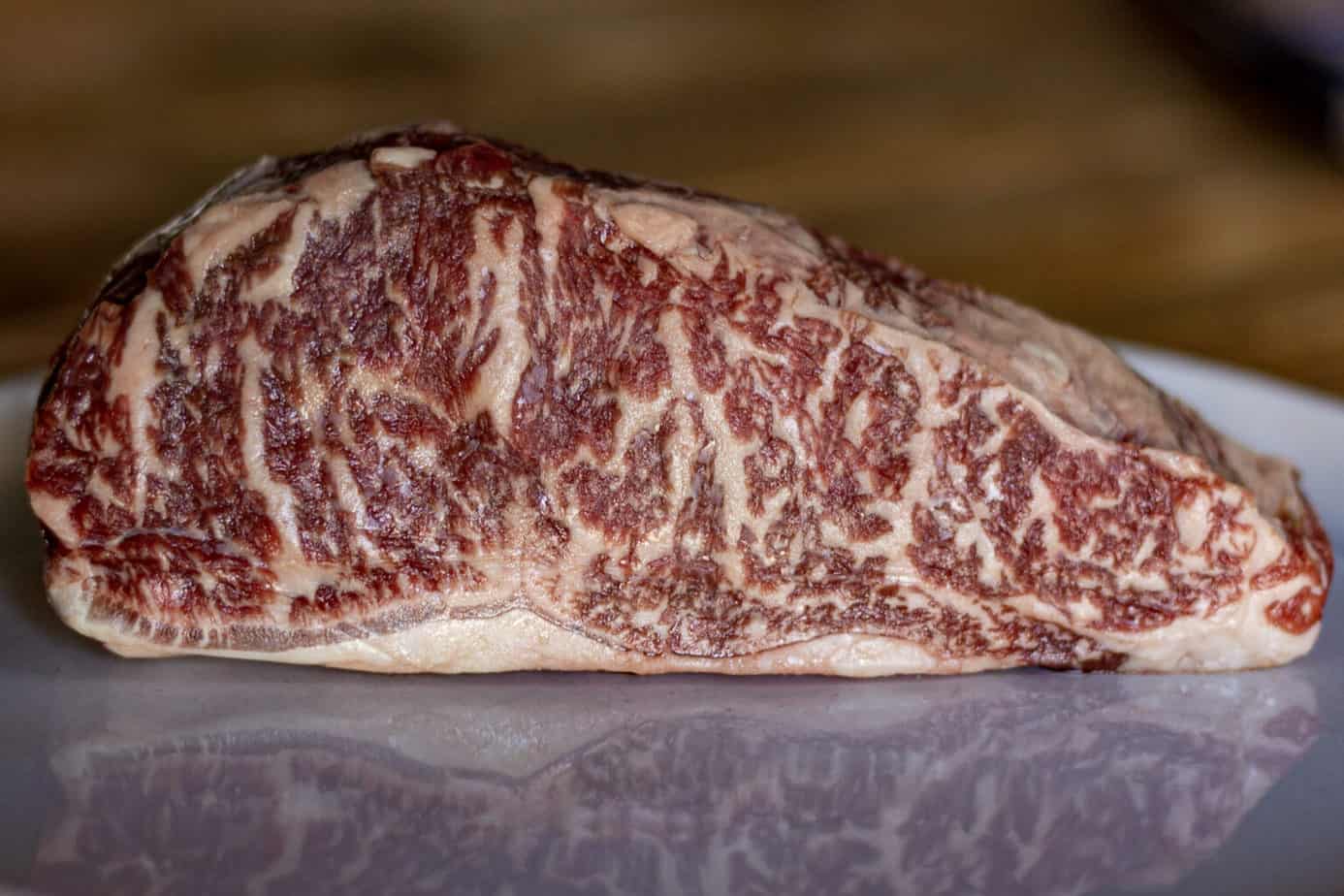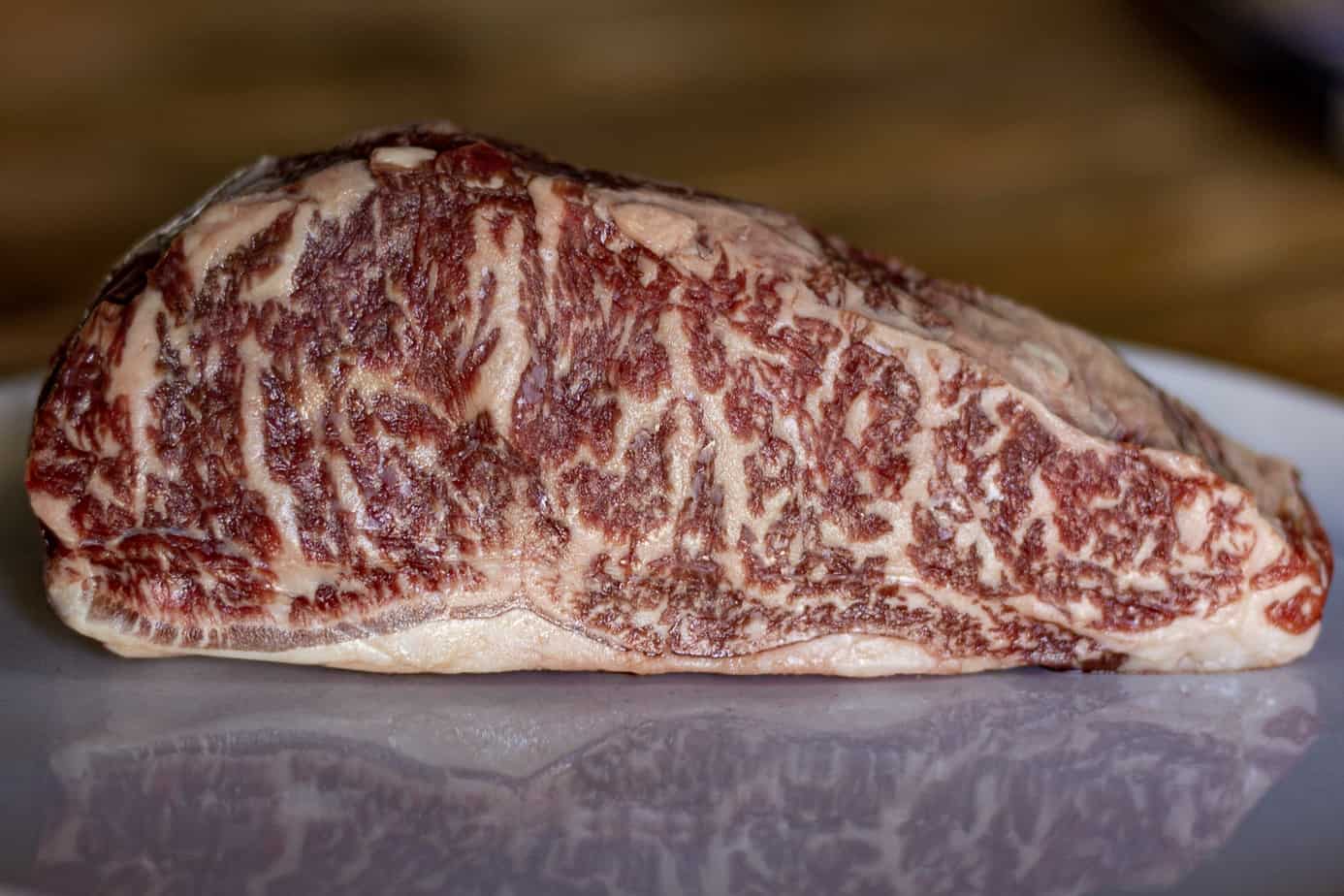 What Does New York Strip Look Like
A quality New York strip will have only a thin strip of fat and a good amount of very thin, white marbling through the meat. The steak is cut without a bone and has a good thickness at up to 2 inches giving it a weighty appearance compared to many other steaks. NY Strips are longer than they are wide.
What Does Ribeye Look Like
Ribeye steaks are larger than New York Strips, in part because they are thinner cut but usually heavier, so they appear much larger. They are more heavily marbled with fat than NY Strips and will feature white flecks and strips of fat more prominently through the whole of the steak than a strip will.
Price
Beef prices tend to vary greatly between farms, butchers, grocery stores and restaurants, not to mention regional variance which can be extreme from one side of the country to another. For our purposes, we'll be citing the USDA National Report on beef prices, taking averages from 2022 to get prices for both cuts.
What Does New York Strip Cost
The cost of an NY strip steak came in at an average price of $10.62 per pound in America for 2022. By the beginning of 2023, average prices were hovering around $10.20 per pound.
For contrast, Bern's Steakhouse in Florida, one of America's most famous steak restaurants, has a 16 ounce or 1 lb NY Strip on the menu for $67. A 6 ounce Wagyu strip at the same restaurant costs $145.
What Does Ribeye Cost
The average cost of boneless ribeye steak across the United States in 2022 was $11.37 per pound. Bone-in ribeye was slightly more affordable at $9.37 per pound. At the start of 2023, the price for boneless ribeye steak was averaging $12.84 per pound across the United States.
Bern's Steakhouse sells a 32 ounce or 2 lb Cowboy ribeye steak for $138, or $69 per pound. They also offer a 14 ounce 100 day dry-aged Delmonico for $102.
Nutrition
The recommended serving size for steak ranges from 3 ounces to 4 ounces. Most steaks tend to be quite a bit larger than this and some restaurants offer a range where 6 ounces is often the smallest size. You can get 12 ounce steaks, 16 ounce and even larger steaks. The average NY strip size is about 8 ounces. Ribeyes tend to be larger, especially at restaurants.
The USDA breaks down their nutritional information with a 100g serving as a baseline. 100 grams of steak works out to 3.5 ounces. So, keep in mind when reviewing nutritional info, what we have here is presented for equal amounts but if you're ordering steaks in a restaurant, for instance, chances are you're getting larger portions.
What is the Nutritional Value of New York Strip Steaks
Based on USDA information for 100% grass-fed angus beef New York strip loin steak, you can expect the following from a 100 g serving.
196 calories
20.5 grams of protein
12.5 grams of fat
54 mg of sodium
54 mg of cholesterol
1.61 mg of iron
What is the Nutritional Value of Ribeye Steak
Like the New York Strip, this USDA data is based on a 100 g serving of 100% grass-fed angus beef ribeye.
241 calories
18.8 grams of protein
18.8 grams of fat
49 mg of sodium
71 mg of cholesterol
1.61 mg of iron
A Note on Nutritional Values
Both of these values are based on pure meat and nothing else. You may find seasoned or otherwise altered versions of steaks available, as well as ones that are grain fed as opposed to grass fed which can alter some nutritional values. Naturally, the cooking process can alter these as well since fat and salt is often added during the cooking process, in addition to any potential sauces or other flavorings.
Cooking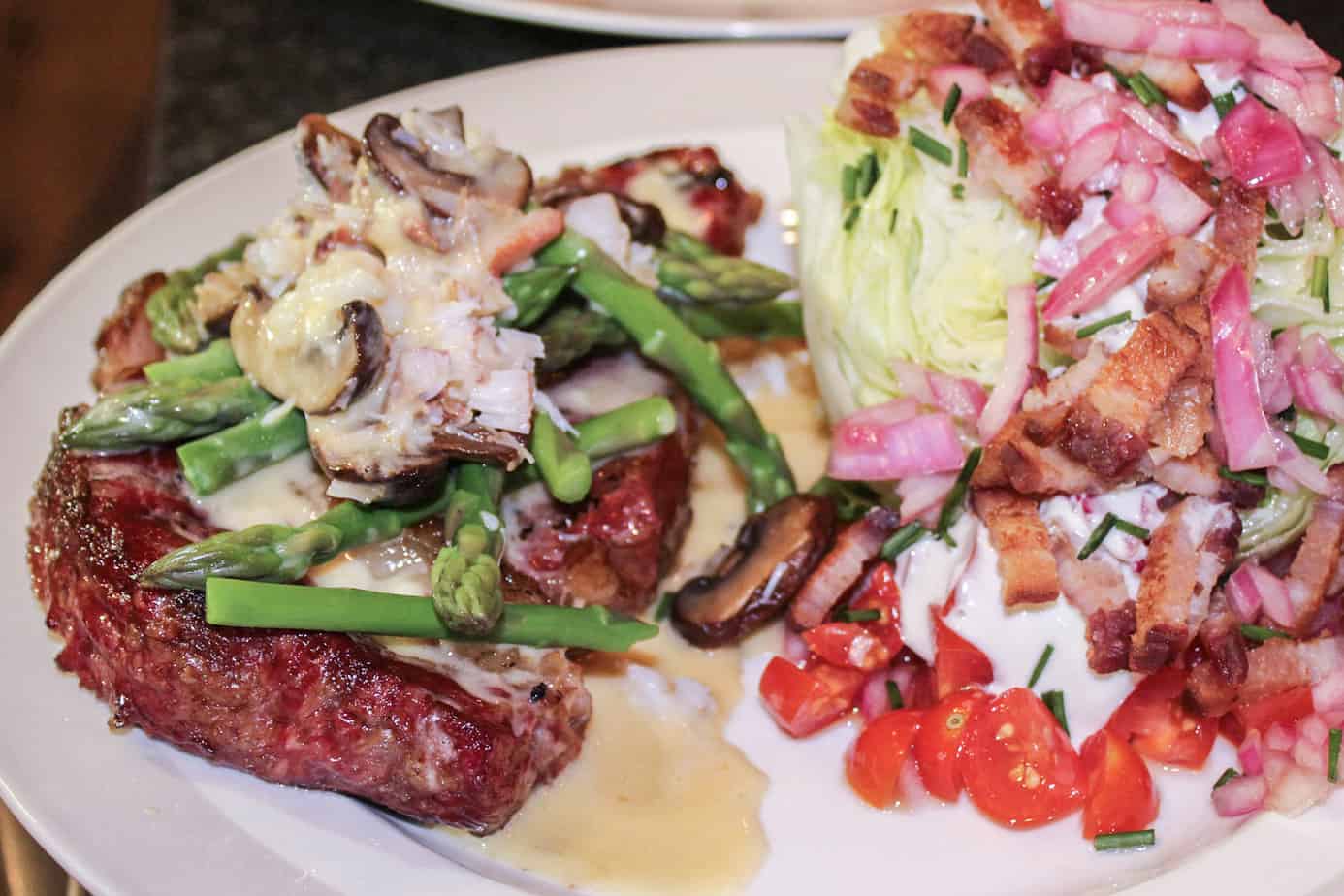 How Can You Prepare and Cook New York Strip Steak
Grilling is arguably the most famous and most preferred way to cook a New York Strip steak. The meat itself, the marbling, and the size of the cuts lend themselves to high heat cooking methods. In a pinch, broiling can be just as effective. Indoor cooking methods that work best for a New York Strip are reverse searing or a solid pan roasting method.
If you are grilling a 2" NY Strip, you'll want to hit the grill on the first side for about 9 minutes and then let it finish on the other side for about 7 minutes to get a perfect medium rare.
Seasoning a New York strip is obviously based on personal tastes and many steak houses will simply season with salt and pepper as it allows for the natural taste of the beef to be the star. That said, a pan seared New York strip basted in butter with some rosemary, thyme and garlic is very popular as well.
How Can You Prepare and Cook Ribeye Steaks
Ribeyes are best prepared in a similar fashion to a New York Strip. They are typically thinner cut, however, so that means being aware of cook times. Depending on thickness, a ribeye is good on the grill for 5 to 7 minutes on the first side before flipping and finishing the steak for another 4 to 5 minutes to achieve medium rare.
If you're looking to pan sear a ribeye, hit the hot pan for about 2 to 3 minutes only, then flip your steak and allow it to finish in a 300 F oven for 12 to 15 minutes to achieve a good medium-rare.
Like New York Strip, the potential seasonings for a ribeye can include the standard salt and pepper, or something like a butter baste while it pan sears alongside garlic, rosemary, thyme or other spices and herbs.
The Bottom Line
Both ribeye and New York Strip are premium cuts of steak that are favored by diners. They are some of the more flavorful and tender cuts that do well on the grill or also seared and finished in the oven.
The nutritional content of the two steaks is very similar though ribeye has a higher fat content and therefore will have higher calories as well. Because ribeyes are often served larger, this can lead to a considerable difference in fat and calorie content overall
Prices obviously fluctuate but ribeye tends to be slightly more expensive than New York Strip steak. Either cut can be cooked and seasoned similarly and, in the right hands, can be the foundation of a delicious meal.