Choosing a cut of steak is more complex than you might think, especially with so many options available. Many people are unsure whether flank steak and skirt steak can be used interchangeably, as they often seem similar. Though similar, they are not the same cut and are found on different parts of the cow when butchering.
Both cuts are lean and can be tough. They are often dismissed as cheap or less desirable cuts compared to things like a ribeye or a filet, but they can still be prepared deliciously and cost-effectively, like skirt steak skewers or flank steak pinwheels. We'll break them both down based on the following criteria.
Definition
Location
Size
Flavor
Appearance
Price
Nutrition
Cooking
Definition
What is Skirt Steak
Skirt is a long, thin cut of relatively coarse steak with a decent amount of fat marbling to enhance flavor. It cooks quickly and does well with high-heat preparations. It offers a good flavor for carne asada tacos and steak salads.
What is Flank Steak
A flank steak, sometimes called a jiffy steak, is a large cut of meat that is very lean, flat, and quick to cook. It is well suited to quick, high-heat cooking and good for steak fajitas, tacos, or London broil.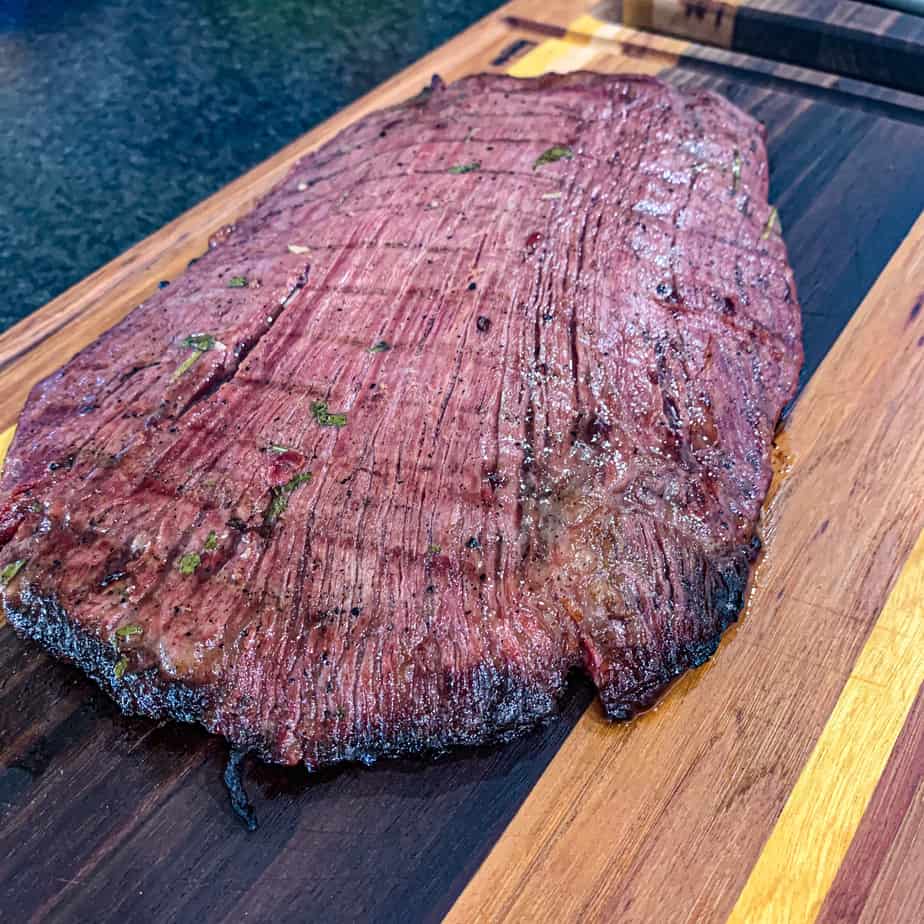 Location
Where Does A Skirt Steak Come From?
You can find the skirt on what is known as the plate of the cow. It is under the ribs at the front of the animal. There are four skirts on a cow, two inside and two outside. The outside skirt is thicker, more tender, and desirable to most people. It's also harder to find these for sale in a store, but they do tend to be the cut used in restaurants or other kitchens that offer skirts on the menu. The inside skirt is chewier and usually what you will find on supermarket shelves. If you are getting a skirt steak from a butcher, specify that you want the outside skirt whenever possible.
Where Does A Flank Steak Come From?
Flank steak is cut from underneath the loin. As such, it's part of the abdominal muscle of the cow and does not come from a section with much fat marbling. The flank steak is from a very active part of the cow's body, and the muscle is tough, making preparation difficult for some cooks.
Size
How Big is a Skirt Steak?
Skirt steaks are usually easy to identify because they appear almost ribbon-like. A skirt may be only four inches across but 24 inches long. Despite the large surface area, these are also thin cuts, so a whole skirt may only weigh two pounds. If you get an outside skirt, it will typically be slightly smaller.
How Big is a Flank Steak?
Like skirt steaks, flank steaks tend to be long and thin. That said, they are shorter than a skirt steak. Twelver inches is not unusual for a flank steak, with meat being just an inch thick, though it can be much broader as well, making it appear like a large slab. A full-sized flank steak can weigh about a pound, with larger steaks reaching around four pounds.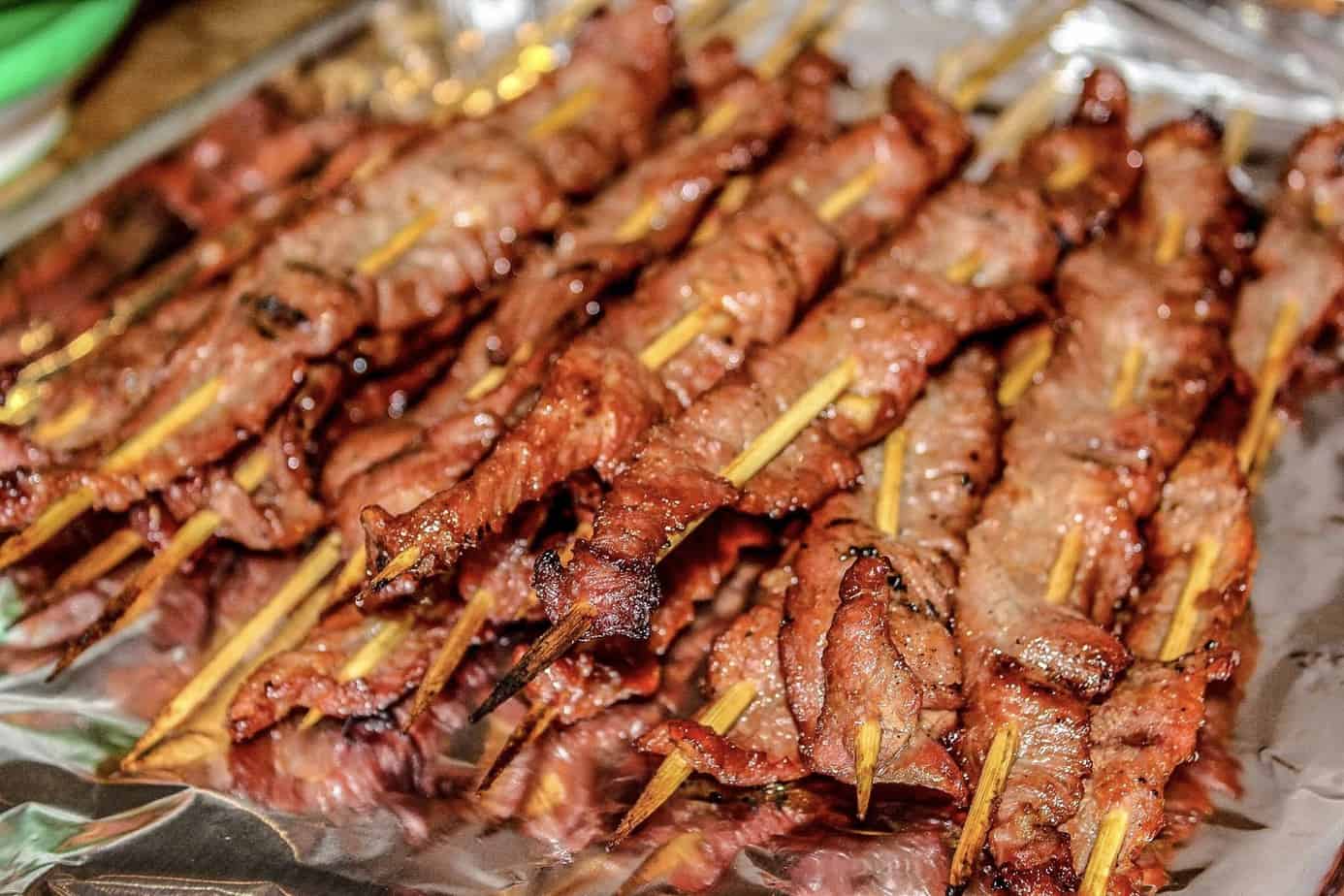 Flavor
How Does Skirt Steak Taste?
Regarding the outside skirt especially, the marbling gives this steak an excellent flavor. The beef flavor is strong because of the coarse muscle fiber, and there's almost a buttery quality when it's appropriately cooked, thanks to that fat content. However, one of the most significant issues with the skirt is how easy it is to overcook the steak and dry it out.
How Does Flank Steak Taste?
Flank also has a good beef flavor but is less intense than what you will find in skirt steak. A flank steak also has less fat content, so it tends to be milder and leaner overall. However, it can also be very tough, especially if it's not cooked correctly, and it is not uncommon for a flank to be dry. A well-cooked flank served with a chimichurri can be a delicious and elevated dish.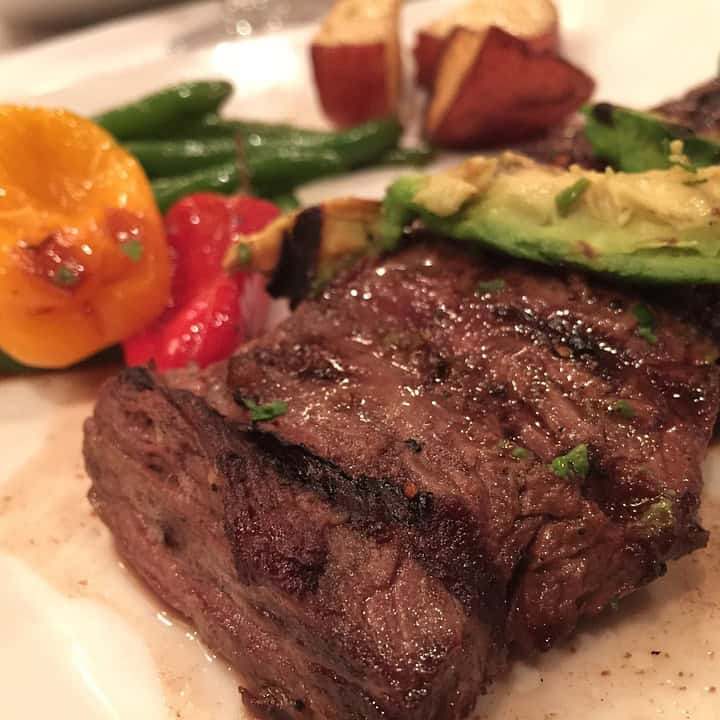 Appearance
Skirt Steak
Skirt steaks are sometimes sold rolled up, which indicates that what you have is a skirt. Look for some marbling in the meat and a long but narrow cut. The grain of the meat runs crosswise as opposed to the flank, where it runs lengthwise. The whole amount should be thinner than a flank and not as wide.
Flank Steak
It can be hard to tell them apart because flank and skirt are often used interchangeably. Sometimes, they may even be sold under the wrong name, which is worth looking out for. A flank can be spotted by checking out the grain of the meat. The grain will run lengthwise in a flank steak, and if it hasn't been broken down into strips, it should be thicker and broader than a skirt.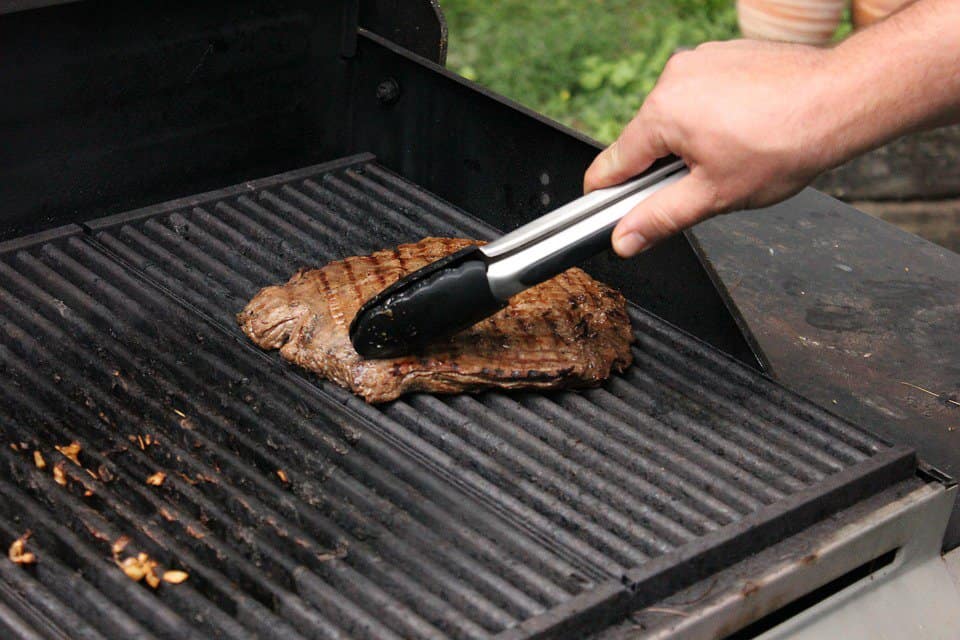 Price
Beef prices vary greatly between farms, butchers, grocery stores, and restaurants, not to mention regional variance, which can be extreme from one side of the country to another. We'll cite the USDA National Report on beef prices, taking averages from 2022 to get prices for both cuts.
Skirt Steak Cost
Ironically, skirt steak is considered a cheap cut of meat when you check out the prices. In 2022, the average skirt steak price across the United States was $11.24 per pound. From some perspective, only three other beef cuts were more expensive on average, including filet mignon at $18.46, tenderloin at $16.07, and boneless loin at $15.88. The skirt steak was more costly than the New York Strip at $9.86 and ribeye at $10.24. But keep in mind this was the average across the country for the whole year, and prices at the beginning of 2023 have begun to shift sharply, though skirt steak remains one of the 6 most expensive beef cuts.
Flank Steak Cost
Flank steak is cheaper than skirt steak. The average price in 2022 across the United States was $8.47 per pound. This has increased by about a dollar per pound on average since the beginning of 2023. However, it is still considered a relatively cheap cut of beef, at least in terms of steak
A Note About Pricing
As we mentioned, skirt steak was one of the most expensive cuts in 2022, and the price will always fluctuate, but it's good to pay attention to pricing labels at grocery stores. Because flank and skirt steaks are so thin, they often look similar to heavier steaks in packages at grocery stores. A flank steak could be placed in a sealed tray next to a ribeye steak, and the surface area and size might look very similar.
The ribeye may be twice as expensive, so many shoppers would be more inclined to think the skirt is the better option. But the price per pound for the ribeye will be less because you're getting so much more. It's a common trap that shoppers fall into by focusing on just the price of the meat in the package and not the per-pound weight. It appears cheaper, but you get much less for the money.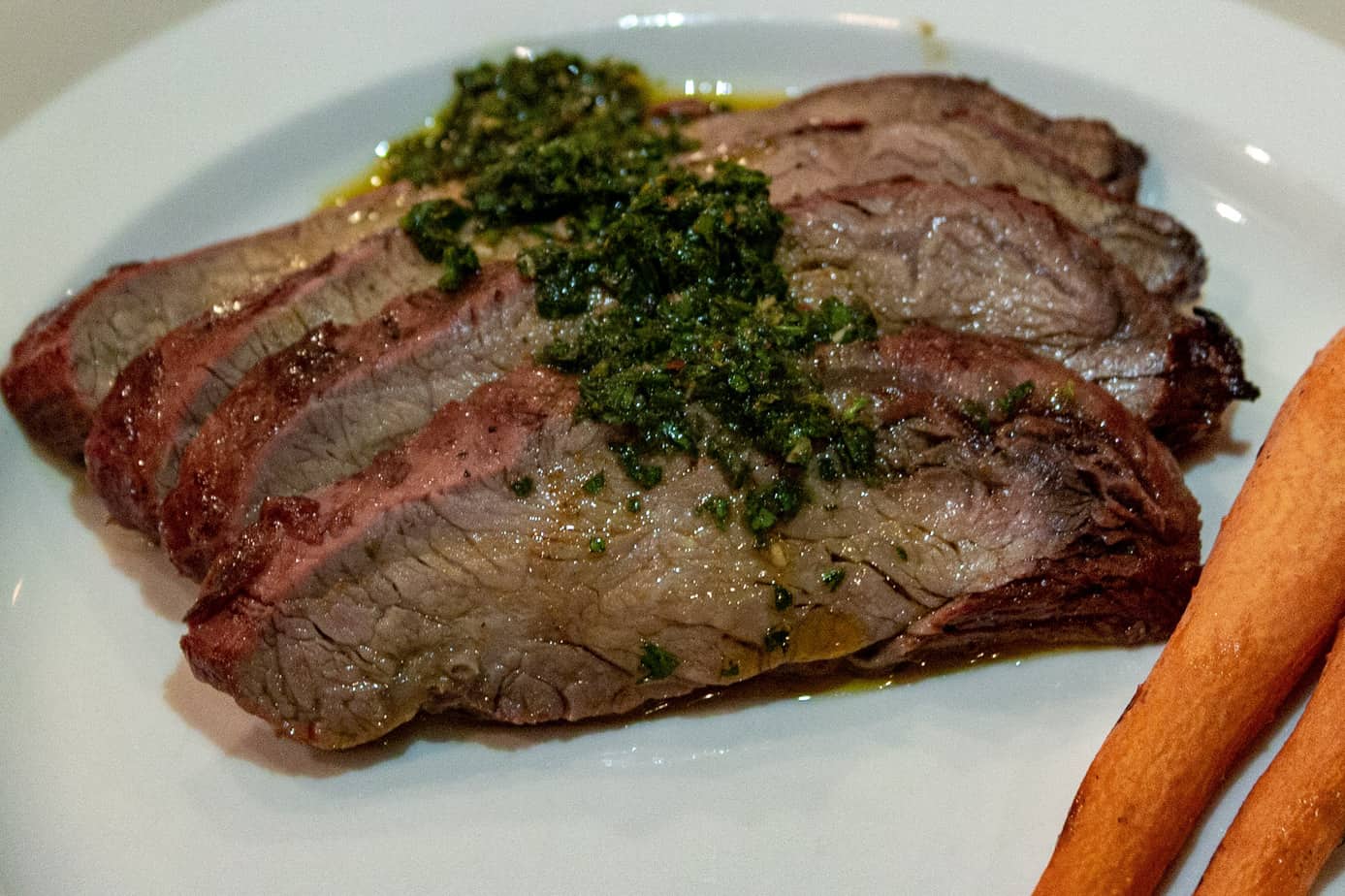 Nutrition
The recommended serving size for steak ranges from 3 ounces to 4 ounces. Most steakhouse cuts like ribeyes, sirloins, porterhouse, and so on tend to be quite a bit larger than this, and some restaurants offer a range where 6 ounces is often the smallest size. A flank steak will often be a long, flat slab of meat measuring over one foot in length and weighing between one and two pounds. This would typically serve as many as four people at 6 to 8 ounces per serving.
A skirt steak can be as much as 2 feet long, and a typical serving will be similar to a flank at 6 to 8 or 9 ounces.
The USDA breaks down their nutritional information with a 100g serving as a baseline. 100 grams of steak works out to 3.5 ounces. So, keep in mind when reviewing nutritional info what we have here is presented for equal amounts, but if you're ordering steaks in a restaurant, for instance, chances are you're getting larger portions.
What is the Nutritional Value of Flank Steaks
Based on USDA information for choice, raw flank trimmed to 0" fat, you can expect the following from a 100 g serving.
165 calories
21.2 grams of protein
8.29 grams of fat
54 mg of sodium
68 mg of cholesterol
1.55 mg of iron
What is the Nutritional Value of Skirt Steak
Like the flank steak, this USDA data is based on a 100 g serving of inside skirt steak trimmed to 0" fat.
195 calories
20.1 grams of protein
12.8 grams of fat
65 mg of sodium
65 mg of cholesterol
1.7 mg of iron
There is also nutritional information based on an outside skirt steak served at 100 g with the other information, such as being trimmed to 0" fat being the same.
238 calories
17.7 grams of protein
18.4 grams of fat
65 mg of sodium
71 mg of cholesterol
3.35 mg of iron
A Note on Nutritional Values
Both of these values are based on pure meat and nothing else. You may find seasoned or otherwise altered versions of steaks available and ones with fat that have yet to be trimmed down. Naturally, the cooking process can alter these as well since fat and salt are often added during preparation, in addition to any potential sauces or other flavorings.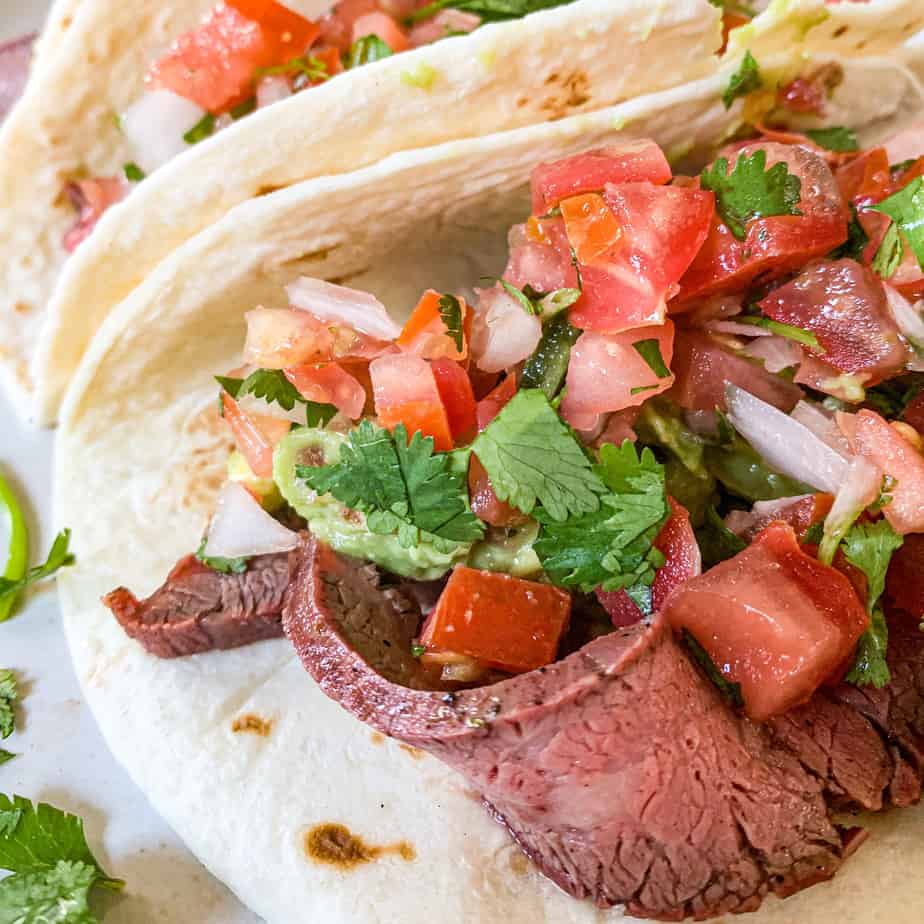 Cooking
How To Prepare Skirt Steak
Skirt steak can be very tough if not prepared correctly. Tenderizing with a mallet and seasoning with a marinade that includes soy sauce or honey can ensure a much more tender and flavorful piece of meat. Because the meat is such a thin and already tough piece, the potential to overcook and make it unpleasant is a risk.
Skirt steak lends itself well to quick, high-heat cooking methods. A quick pan sear or flash on the grill can quickly cook a skirt to perfection and offer a flavorful dish that is tender enough to enjoy. The skirt should never get cooked beyond medium rare if you want it to be enjoyable, as even medium skirt steak can become remarkably tough and chewy. A well-done skirt steak may be inedible to some people.
The grains of a skirt are loosely structured, which means the meat can absorb marinade and seasoning easily. Therefore, you don't need a long marinade that lasts hours or overnight. Between 30 minutes and one hour is more than enough time.
A pan at high heat for pan searing or a very hot grill at 450F to 500F can cook a skirt steak literally in just a few minutes per side. Cooking skirt steak is quick and needs to be monitored the whole time. You want to get a good brown on each side and nothing more. Some skirt steak recipes even call for you to cook a skirt directly on coals to get that char right away and then take the steak off.
Because you are taking little time to develop flavors, the best seasonings for a skirt steak are often very simple. Salt and pepper, olive oil or butter, and maybe some garlic or crushed red pepper for a little kick is more than adequate for seasoning.
Serve the steak sliced, but make sure you slice it correctly. You want to slice a skirt against the grain, not with it. Because the muscle fibers in this cut are so tough, you're giving yourself longer, more rigid muscle fibers to chew through if you cut with the grain. Cutting against the grain shortens those fibers, instantly making the steak easier to eat.
How To Prepare Flank Steak
Flank steak has less fat content than a skirt steak, so it must be watched more carefully when cooking. Like a skirt, you may want to tenderize this ahead of time by pounding it out or using some meat tenderizer or acid. Tenderizing is highly recommended in many flank steak recipes; it will cook quickly, and it's good to have a hand making it more tender.
Seasoning, like with the skirt, is best kept simple. Salt and pepper, at a minimum, is a good approach, but a seasoning rub can also be used if desired.
Flank steak can be cooked at about the same temperature as skirt steak or slightly lower. Between 400F and 500F should be good to get a great sear, brown the meat, and get the inside to a nice rare to medium rare. You'll only need 3 or 4 minutes per side to get a perfect cook. You want an internal temperature of 130F to 135F.
When cooking a flank, it's important to let it rest for at least five minutes before slicing. It's imperative to cut this steak against the grain, like skirt steak. You want to break down those long, tough muscle fibers, ensuring eating the steak is easier.
The Bottom Line
Some people use flank and skirt steak interchangeably, but these two cuts of meat have distinct differences in terms of fat content and nutritional value. Depending on your chosen dish, one cut may be more suitable than the other.
Traditionally, both skirt steak and flank steak are often considered cheaper and less desirable cuts of meat. This may be due to the fact that they can be difficult to cook properly, leading to a poor reputation. If not prepared correctly, either cut may end up being tough and overcooked, resulting in an unpleasant eating experience.

However, when handled properly, both skirt and flank steaks can offer a delicious, beefy flavor to dishes that require strong and tasty seasonings. They are perfect for making tacos, fajitas, and other dishes that call for an intense sear and a cut that maintains its shape and texture after cooking.