One of my favorite things to make on the smoker is chicken wings. They're easy to make, and my friends and family love them. I like to make them with just a little bit of kick, but I know not everyone likes spicy food. If I'm cooking for families with kids, this Dr. Pepper Chicken Wings recipe is perfect.
Chicken Wing Brine Using Dr. Pepper
The day before you want to cook your wings put them in a large ziplock with 2 cups of Cherry Dr. Pepper and a few tablespoons of kosher salt. Let them marinate overnight in your refrigerator overnight.
This is enough for two pounds of wings. If you're cooking more than two pounds of wings you can get jumbo-sized ziplock bags, or use a brine bucket. Just make sure you keep the wings cold while they are brining.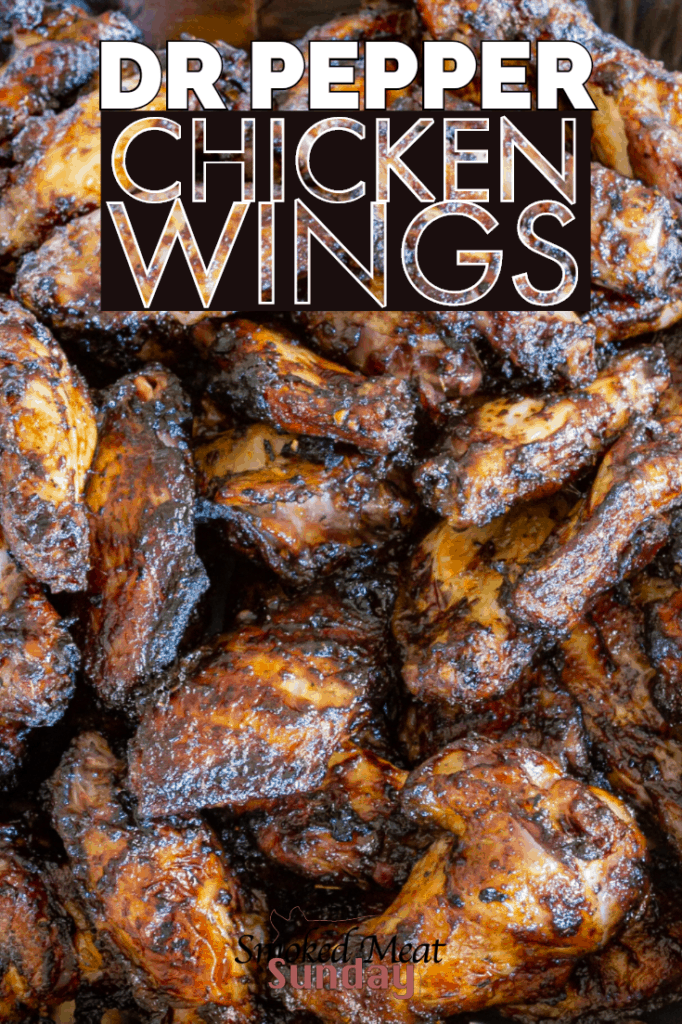 Prepping Chicken Wings for the Smoker
If you want to make PERFECT smoked chicken wings, this is the most important step. Ok, all of the steps are important, but this is the step most people overlook. After you take the chicken wings out of the brine, pat them dry with paper towels. Don't skimp on getting the wings dry!!! Once they're all dry put them in a bowl that is large enough for you to toss them with some seasonings.
For each pound of wings add one tablespoon of bbq rub (recipe in the recipe card), one tablespoon of brown sugar, and a tablespoon of cornstarch. Toss your wings in the seasonings until they are all covered, and then throw the wings on your smoker.
For this go around I had the wings on the smoker for about two hours at 150 degrees.
Love smoked chicken wings? Check out my Crispy Smoked Chicken Wings recipe.
Saucing Dr. Pepper Wings
I want the sauce I'm tossing the wings in to complement the Dr. Pepper marinade. I also don't these wings to be spicy. I came up with this blueberry bbq sauce that is super easy to make and give the Dr. Pepper chicken wings a really good extra layer of flavor.
Blueberry Barbecue Sauce
The blueberry barbecue sauce isn't that difficult to make. I love the sweetness the blueberries bring to this barbecue sauce. It was great on the Dr Pepper chicken wings, but it's great on ribs or pork loin too!
In a medium saucepan combine the following ingredients:
1 cup fresh or frozen blueberries
3/8 cup ketchup
1/4 cup apple cider vinegar
1/2 teaspoon chili powder
1/4 cup brown sugar
1/2 tablespoon molasses
1/2 teaspoon black pepper
1/4 cup water
Stir all of the ingredients together over high heat. Once the sauce has started to boil reduce the heat and simmer for about ten minutes, occasionally stirring to prevent burning. The sauce will thicken up considerably. Pour the sauce into a mason jar and set aside.
How to Sauce Chicken Wings
After the wings have smoked for two hours at 150 degrees, they're really close to being done. You can probe one of the wings with your Thermapen but I promise they won't be at the safe eating temp of 165 degrees.
Remove the wings from the smoker, and adjust the temp up to 450 degrees. Place the wings in a bowl, and toss with 1 cup of the blueberry bbq sauce combined with a half stick of melted butter.
The melted butter helps crisp up the skin of the wings when you put them back on the smoker under the high heat. Put the wings back on the smoker, and let them cook for an additional ten to fifteen minutes. Keep an eye on them, and turn the wings as the crisp up to get them evenly cooked.
Use a Thermapen to spot check a few of the Dr Pepper Chicken Wings to make sure they are up to a safe temp of 165 degrees.
Dr Pepper Chicken Wings Recipe
I had a blast making these Dr Pepper Chicken Wings. I was surprised by how good the blueberry bbq sauce turned out, and how delicious the wings were at the end. The Cherry Dr. Pepper added a nice touch to the brine, and there was a subtle taste of cherry with every bite of chicken wing.