Smoked Beef Short Ribs are an underrated bbq treat that I really enjoy. I'm sure you've seen packages of them at the grocery store or at your local butcher. If you have ever wondered how to prepare them, and if they taste any good, keep reading. Teaser: they're easy to make and they taste amazing.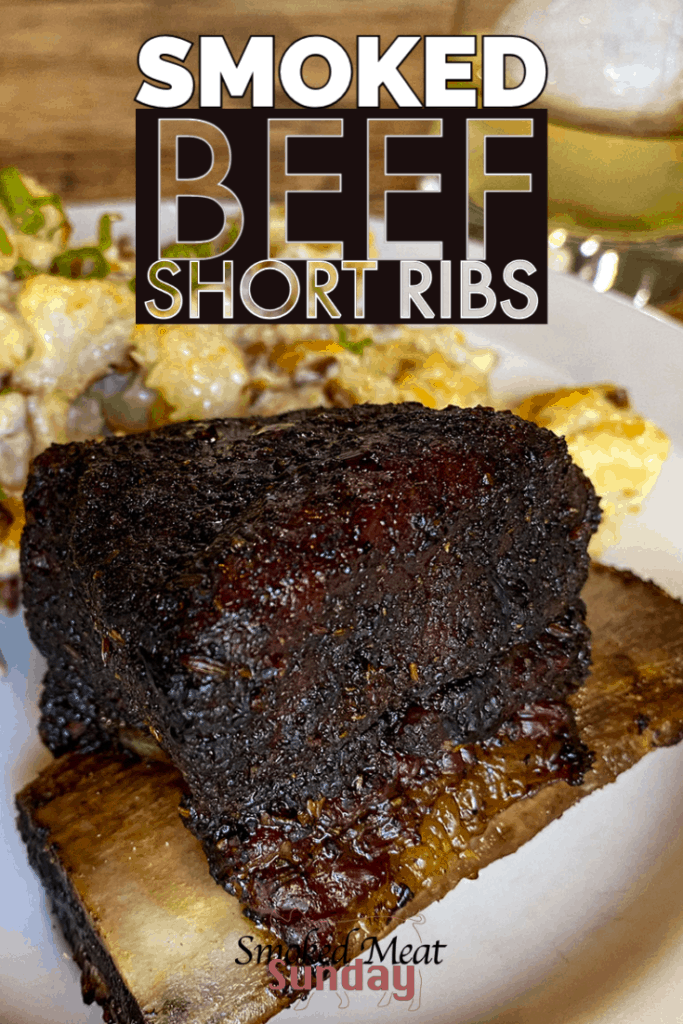 What are Beef Short Ribs?
Before we get into how to prepare them, let's talk about what exactly they are.
Beef short ribs are found at the end of the ribs near the breastbone. They have good marbling and lots of beefy flavor. You can purchase them in a "plate" which is typically three long bones with meat in between each rib, or you can get them "English Style" which is individual short bones (2" or so) with meat on top. English style is what you most often will see at the grocery store.
For this recipe, we are using "English Style" beef short ribs. You can find my smoked beef plate ribs recipe here.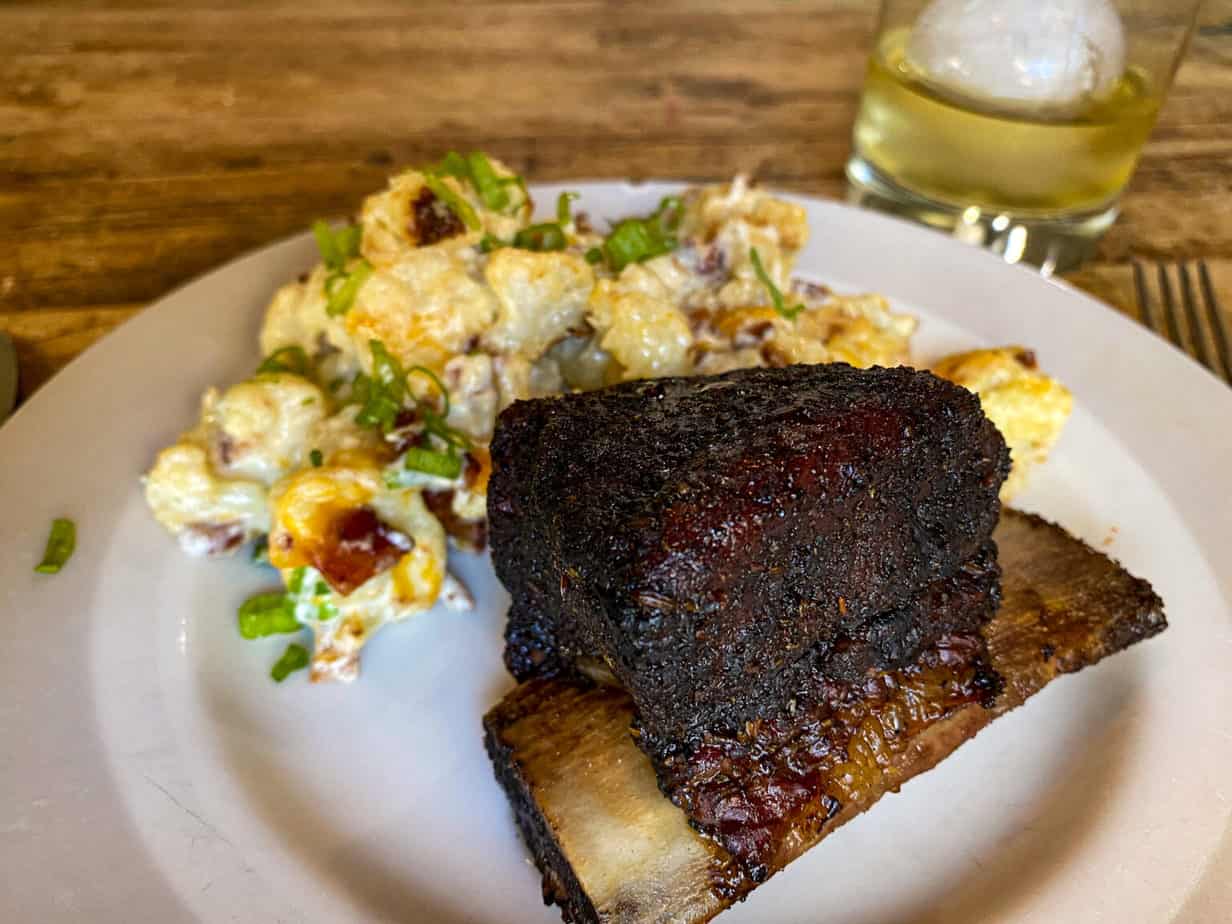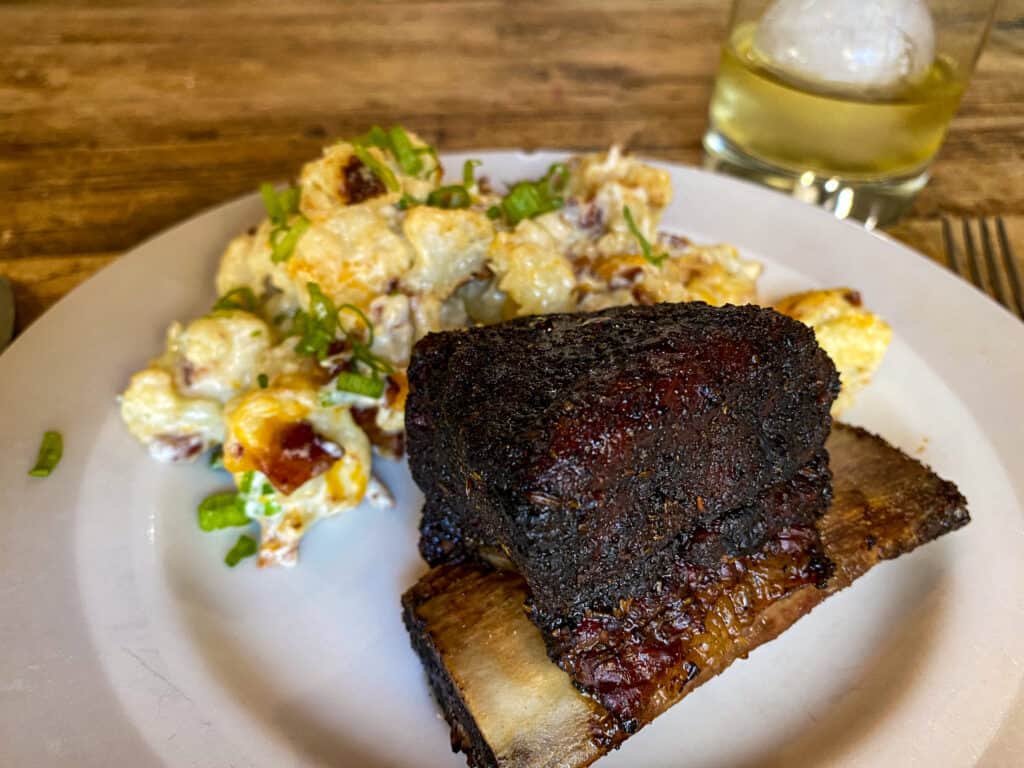 What You'll Need to Make Smoked Beef Short Ribs
Like most of my recipes, this one is simple. It just requires a little bit of time and some simple seasonings. I get these in a pack of 4 ribs when I cook them, but you can certainly cook more than four since your smoker will be on, or throw something else in there alongside of them.
In addition to the ribs, you'll need some beef broth and a good bbq rub. I prefer my homemade rub for beef. Other good options are Traeger's Blackened Saskatchewan rub, or Whiskeybent BBQ's The Rocks.
You'll also need a good-sized cast iron skillet or disposable pan that will fit all of the meat, and some aluminum foil. Mesquite or Hickory wood is my preference for smoking these.
Now that we have all of our ingredients, it's time to fire up that smoker and make some smoked beef short ribs.
How to Make Beef Short Ribs
Set up your smoker to smoke at 225 degrees using indirect heat.
While the smoker is warming up generously season each of the short ribs. You want to make sure the entire cut is covered in seasoning.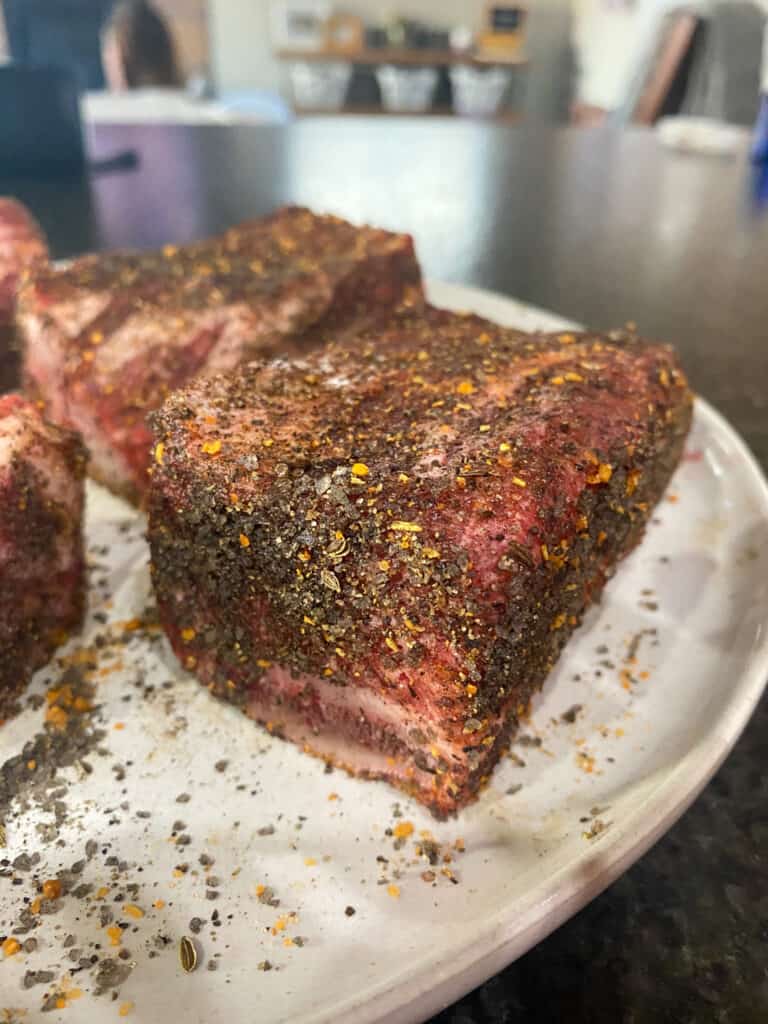 Once the smoker is up to temp put each of the ribs on the smoker, meat side up, and let them smoke for 3 hours. After 3 hours remove each of the ribs from the smoker, and place them in your cast iron skillet or a disposable aluminum pan. Add in a little bit of beef broth (½ cup), and then cover the pan tight with foil and put it back in the smoker.
Let the smoked beef short ribs continue to cook for another 2 hours, and then remove the foil, but leave them in the pan. Continue to let them smoke for an additional 30 minutes.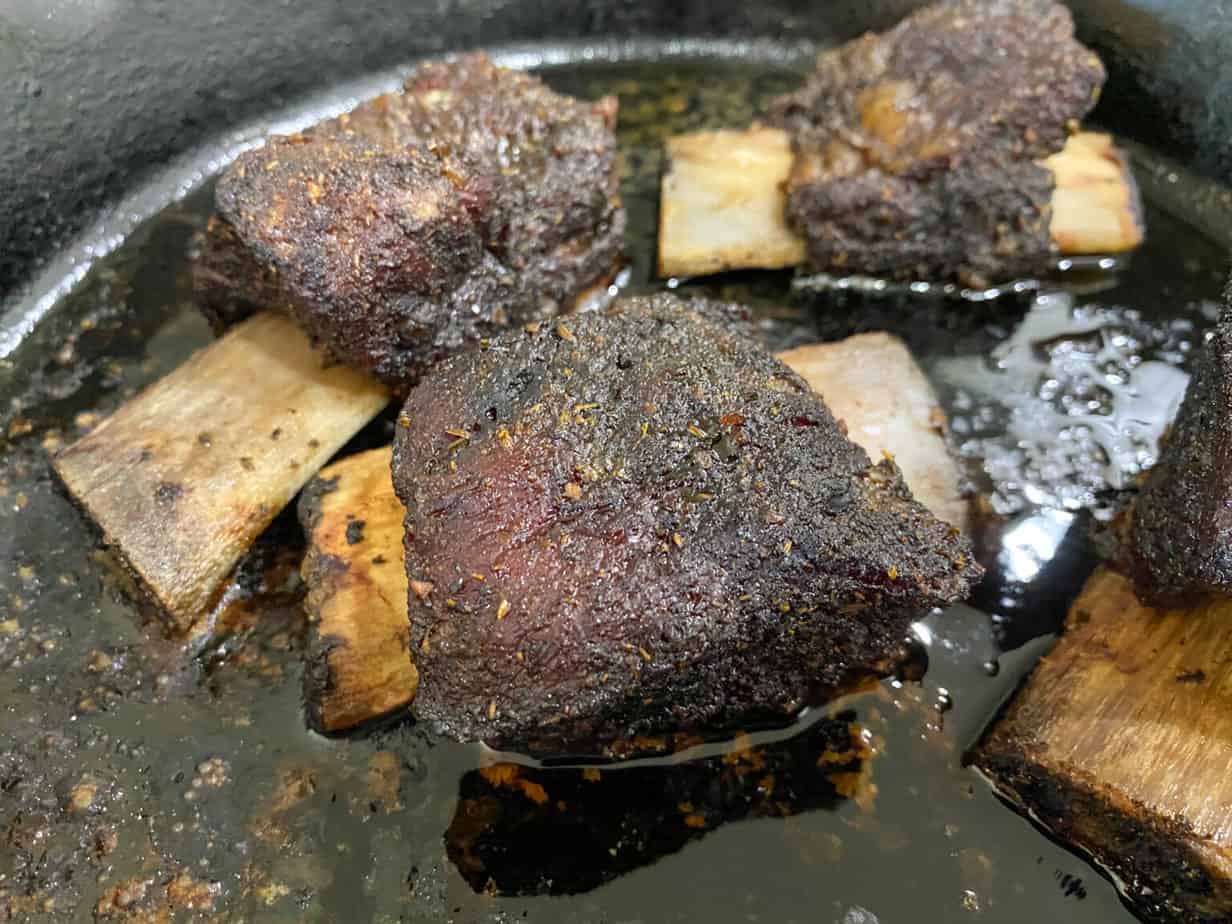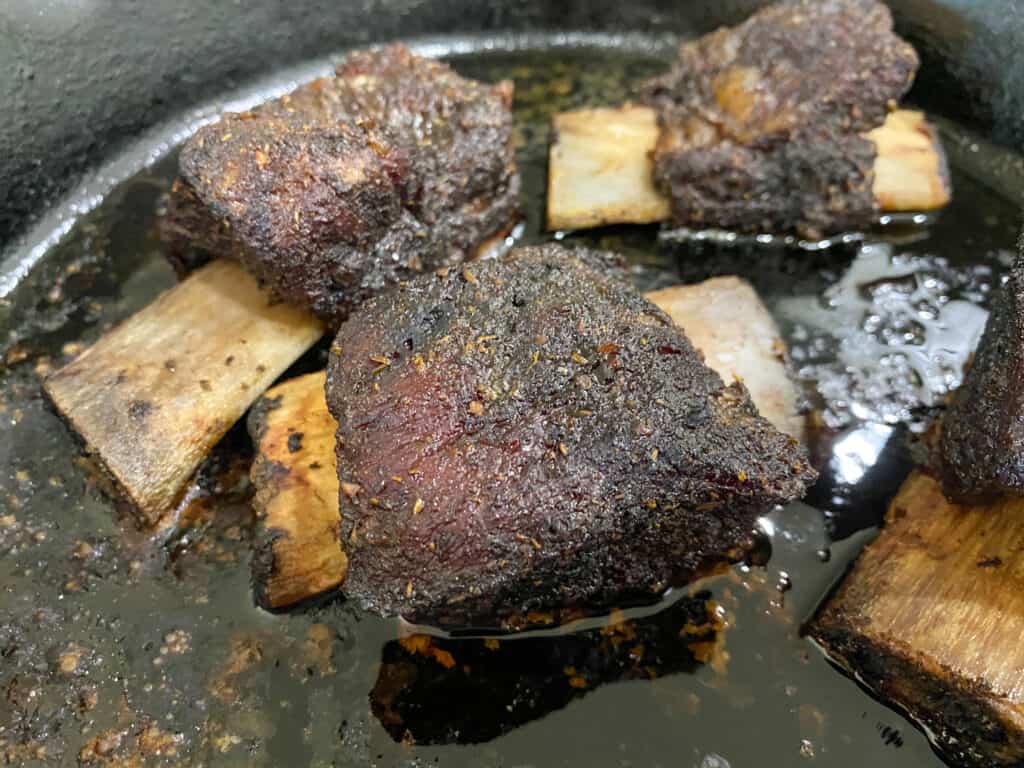 When the ribs are done the meat will have pulled back significantly from the bone, and you'll have tasty little nuggets ready to be devoured.
I hope you give this recipe a try, and have the opportunity to taste just how wonderful beef short ribs are!
Simple and Tasty Smoked Beef Short Ribs
If you've ever wondered how to smoke beef short ribs, look no further. This recipe is easy to follow, and the end result is phenomenal.
Ingredients
4

+ Beef Short Ribs cut "English Style"

½

cup

bbq rub

½

cup

beef broth
Instructions
Setup your smoker to smoke at 225 using indirect heat

Generously season the ribs

Place ribs directly on the grill grate and let smoke for 3 hours

Remove ribs from the grill and place in a cast-iron skillet or disposable aluminum pan.

Pour in beef broth and then cover tightly with aluminum foil.

Cook for an additional two hours and then remove the foil.

Leave the ribs in the pan and let them cook for an additional 30 minutes.
Nutrition
Serving:
1
g
|
Calories:
238
kcal
|
Carbohydrates:
12
g
|
Protein:
20
g
|
Fat:
12
g
|
Saturated Fat:
5
g
|
Polyunsaturated Fat:
7
g
|
Trans Fat:
1
g
|
Cholesterol:
64
mg
|
Sodium:
668
mg
|
Fiber:
1
g
|
Sugar:
9
g