If you're like most folks, turkey is going to be on your table at some point during the holidays. Turkey can be really tasty if it's cooked right, and it can be easy to prepare too. If you're wondering how to make Traeger Smoked Turkey, you're in the right place.
I really love the taste of smoked turkey, and if you've never tried this method, you're going to love the end result.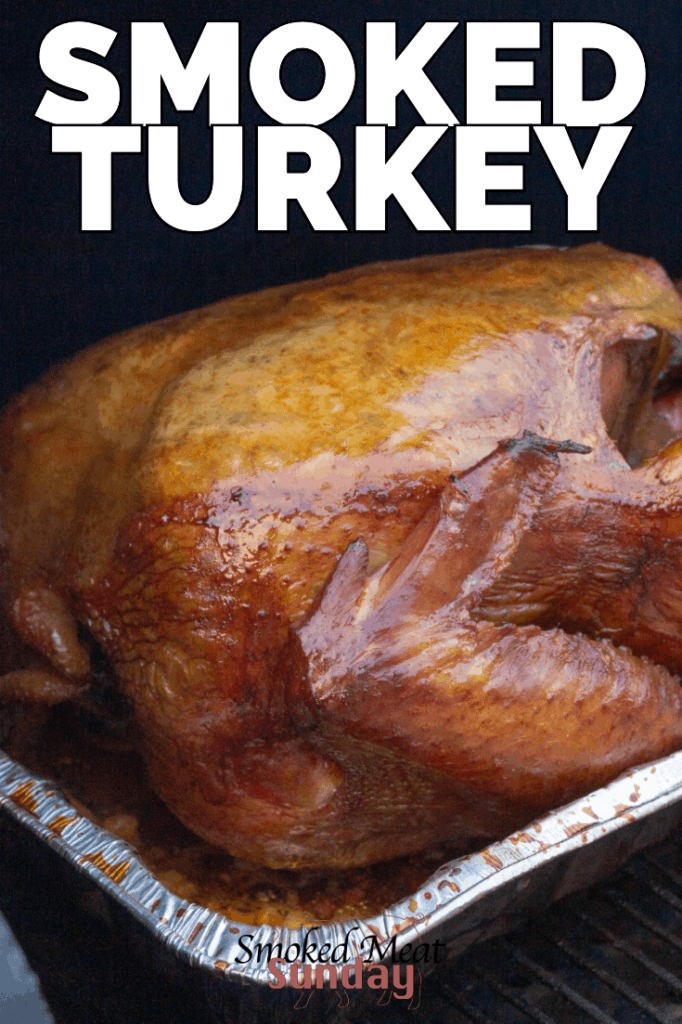 Choosing a Turkey for the Holidays
Picking out the perfect turkey doesn't have to be a difficult process. There are however a few things to consider. First, you should plan on about one pound of turkey per person. If you want leftovers, go a little bigger.
If you pick a frozen turkey, you'll need to defrost the turkey in the refrigerator for a few days before brining. Plan on approximately one day to defrost per five pounds of turkey. 15 pounds = 3 days.
My family's preference is a fresh turkey. Fresh turkey has been chilled, but not frozen, and tends to have a richer flavor than their frozen counterparts.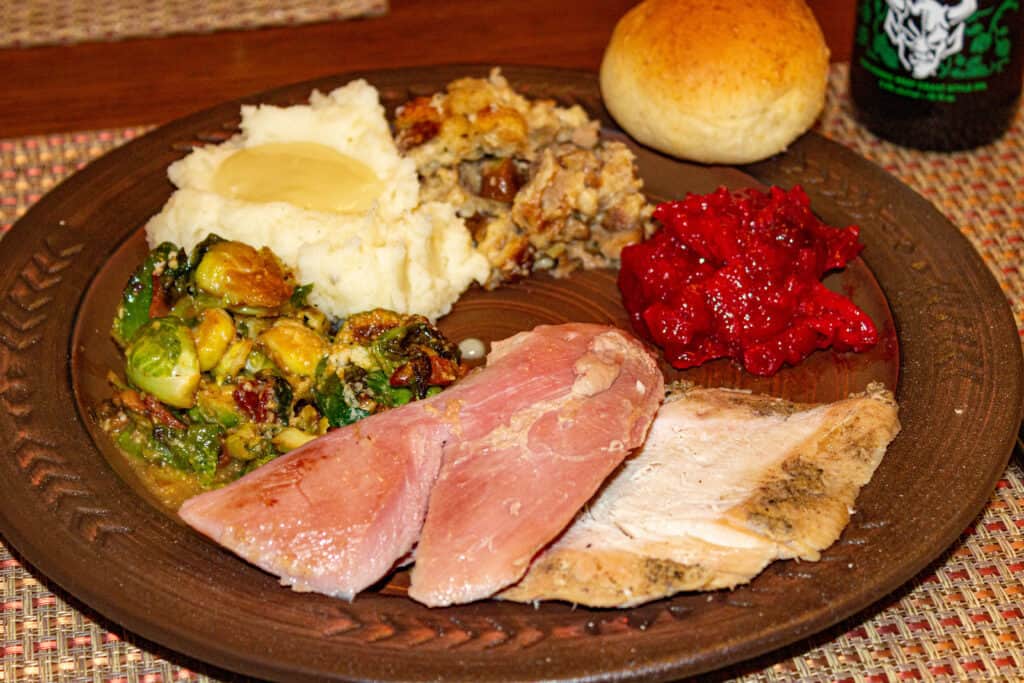 How to Brine a Traeger Smoked Turkey
One of the essential steps to smoking turkey is brining it first. Brining the turkey pulls in moisture and flavor that just isn't possible otherwise. The brine can be as simple or as complex as you want it to be, but it's been my experience that getting fancy here really isn't worth the effort.
This smoked turkey brine is for a bird that is approximately 15 pounds.
In a large stockpot combine the following:
2 gallons of water
2 cups of kosher salt
1 cup of sugar
1/2 cup of black pepper
5-6 cloves of garlic
a couple of sprigs of rosemary and thyme
Please note that if you are using table salt instead of kosher salt, reduce the salt by half.
Bring the brine to a boil on the stove and let simmer for about five minutes. Let the brine come back down to room temp, and then place in the refrigerator and let cool to 40 degrees.
Remove the giblets from the turkey – usually located in the main cavity, or under one of the wings – and then place the turkey in your brining bucket. Pour the brine into the bucket with the turkey, and make sure the entire turkey is submerged. For some extra flavor, some people add a splash of whiskey and/or Grand Marnier here. Put the lid on your bucket and then place it in a refrigerator.
Let the turkey brine for one hour per pound.
Traeger Smoked Turkey
When you're ready to smoke the turkey, remove the bird from the brine, and gently rinse under cold water. Pat the bird dry with paper towels, and then rub the exterior of the bird with olive oil.
Stuff the cavity of the turkey with an apple cut in half, a peeled onion, one head of garlic cut in half, and some carrots. Other things you can add: rosemary and thyme, cinnamon sticks, bay leaves. There are lots of options. Adding these aromatics to the cavity helps the turkey retain moisture, and provides subtle flavor to the meat.
After adding the aromatics tie the legs together with butchers twine.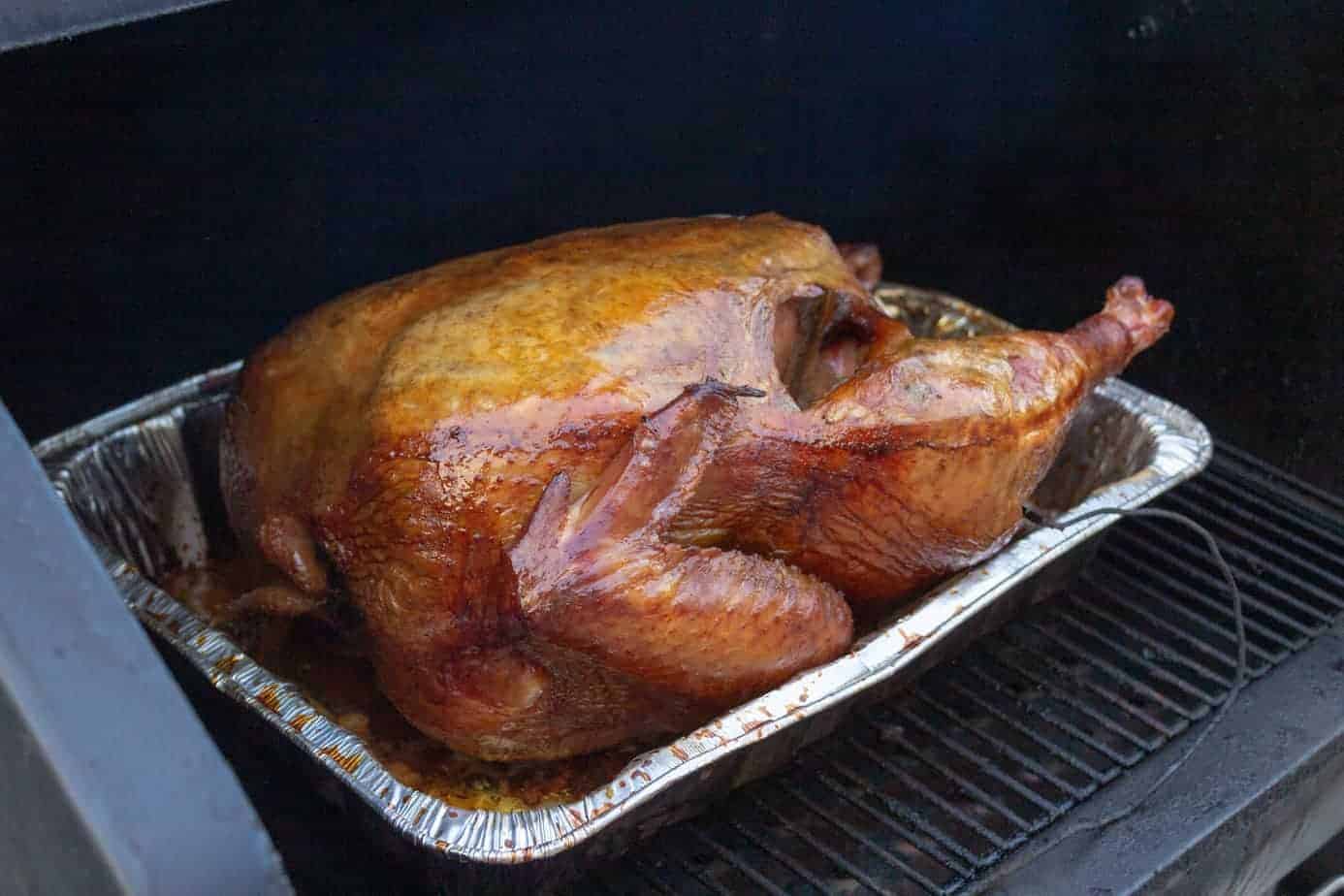 Set up your smoker to smoke using indirect heat at 250-275 degrees. I like the flavor that maple or cherry pellets impart on turkey, but some people really like the robust flavor of mesquite here.
When the smoker is up to temp place the bird in a large disposable roasting pan, and then put the turkey in the smoker. Plan on smoking the turkey for about 20 minutes per pound – a 15-pound turkey will take about 5 hours to smoke.
Internal Temps and Food Safety
If you're cooking a smaller turkey you can smoke at a lower temp, but as the turkey gets larger you need to increase the temp. Food safety is important, and if the internal temp doesn't get above 135 degrees within 4 hours you've created a breeding ground for bacteria – YUCK.
When the internal temp of the thigh registers 160 push the temp up on your smoker to 350. It should only take another ten minutes or so to get the turkey up to a safe serving temperature of 165 degrees. Bumping the temperature up at the end will help crisp up the skin.
Cooking to temp is super important here, and I'd recommend connecting your Thermoworks Smoke to monitor the temperature of the thickest part of the thigh at the beginning of the cook. When the temp hits 165 you can pull the bird off the smoker to rest for 15 minutes, and then carve.
Want to spatchcock your turkey? Check out my smoked spatchcock turkey recipe here. Don't want to cook the whole bird? Try my smoked turkey breast recipe. And of course, don't forget the pumpkin pie.
Yield:

12 servings
Smoked Turkey
If you've never had smoked turkey, you're missing out! it's easy to prepare, and the end result is amazing!
Ingredients
15 lb fresh organic turkey
Smoked Turkey Brine
2 gallons of water
2 cups of kosher salt
1 cup of sugar
1/2 cup of black pepper
5-6 cloves of garlic
3 sprigs rosemary
3 sprigs thyme
splash of Grand Marnier
1/2 cup of whiskey
Instructions
Combine all of the brine ingredients except the alcohol in a stockpot and boil for five minutes. Cooldown to 40 degrees.
Place turkey in a brine bucket and pour the brine over the bird, fully submerging it.
Brine the turkey for 15 hours (1 hour per pound)
Remove turkey from brine and carefully rinse off the brine using cold water. Pat the surface of the turkey dry with paper towels and place in a large disposable roasting pan. Tie legs together using butcher's twine.
Set up your smoker to smoke at 275 degrees using indirect heat. Place turkey in smoker and smoke for 20 minutes per pound.
The turkey is done when the internal temperature hits 165 degrees in the thickest part of the thigh.
Notes
If you purchase a frozen turkey you'll need to defrost it prior to placing in the brine. Plan on 1 day of defrosting in the refrigerator per 5 pounds of turkey.
If the turkey has been frozen in a brine solution, soak the turkey in cold water for one day first. It might seem counterproductive, but those brines tend to be super salty, and don't add much to the flavor profile of the bird.
I monitor the temps of my cooks using a Thermoworks Smoke. This is a super accurate thermometer that allows me to check the temperature of the turkey remotely.
Recommended Products
As an Amazon Associate and member of other affiliate programs, I earn from qualifying purchases.
Nutrition Information:
Yield:
12
Serving Size:
1
Amount Per Serving:
Calories:

325
Total Fat:

42g
Saturated Fat:

12g
Trans Fat:

1g
Unsaturated Fat:

27g
Cholesterol:

618mg
Carbohydrates:

21g
Fiber:

2g
Sugar:

17g
Protein:

162g
I hope you loved this Traeger Smoked Turkey recipe! If you give it a try don't forget to leave a comment below and let me know how it turned out!