You love chicken wings, right? Yeah, me too. Know what else I love? Peanut Butter. And spicy things. So I decided to combine all of that and make spicy peanut butter chicken wings.
Now before you hop out of here I just want you to know that crispy smoked chicken wings are one of my favorite things on this planet, and I'm comfortable saying these wings are better.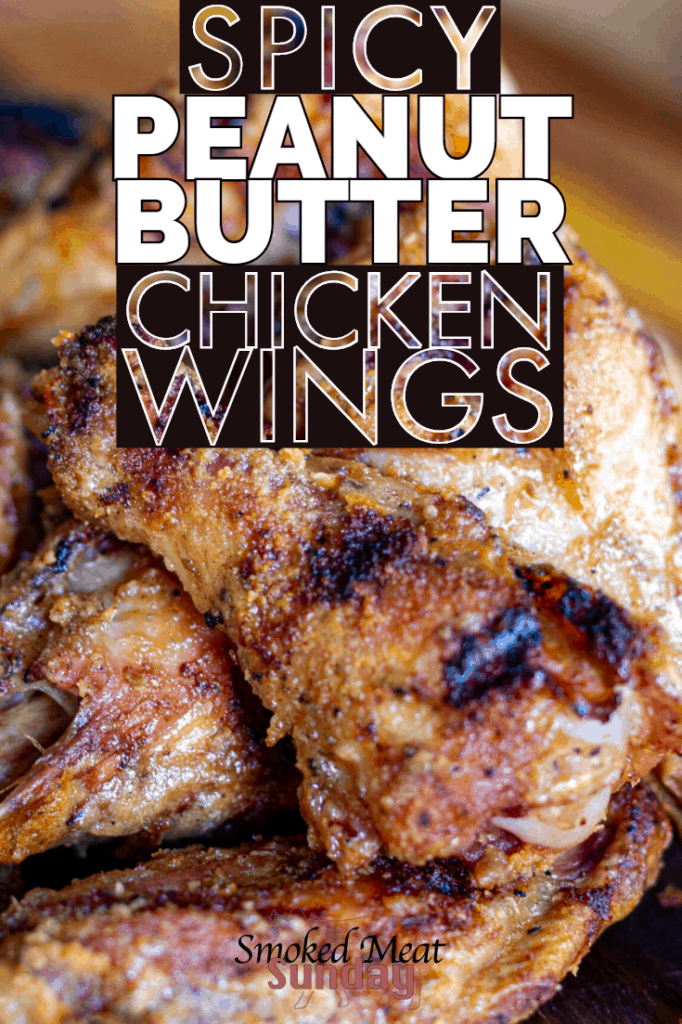 I'm not going to get all fancy here and tell you the ins and outs of how to make chicken wings. I've done that in other posts, and I'll link to them at the end so you can get al the details if you need them. This post is all about the sauce, and how incredibly tasty it is.
I love dipping hot wings in blue cheese, but one of the first things I noticed with these spicy peanut butter chicken wings is that you don't need a dipping sauce. I also noticed that I couldn't stop eating them.
How to Cook Spicy Peanut Butter Chicken Wings
There are a few things you can do to prep your wings. I didn't add much smoke to these, but if that's important to you, you can follow my tips found in my crispy chicken wing recipe or my Dr. Pepper Chicken Wing recipe.
Recently I've been buying my chicken wings at Costco - I like buying them there because the drums and flats are already separated, and the tips have been discarded. If you're buying whole chicken wings, I'd recommend separating them prior to cooking.
When you're ready to go toss the chicken wings in my poultry rub. I use a ½ Tbsp per pound of wings. Set up your grill to cook at 375 degrees using indirect heat, using oak pellets.
When the grill is up to temp place the wings directly on the grill grate, and let them cook for about 40 minutes.
Spicy Peanut Butter Chicken Wing Sauce
While the wings are cooking combine the following ingredients in a bowl:
¼ cup peanut butter⁠
2 Tbsp IPA beer
2 Tbsp sesame oil
2 Tbsp honey
2 Tbsp brown sugar
2 Tbsp red hot
1 tsp red pepper flakes
1 tsp garlic⁠
Give the sauce a taste, and add more sweet or heat if you feel like it needs it. When the wings hit an internal temperature of 165 degrees on your grill pull them off, and toss them in the peanut butter sauce. I like to use a large disposable pan for this step.
After getting all the wings sauced, throw them back on the grill or smoker and let them cook for an additional 10 minutes. This will firm up the sauce, and give the wings a "fried" appearance. When the ten minutes are up, pull the spicy peanut butter chicken wings off the grill and dig in. I dare you to eat just one.
Spicy Peanut Butter Chicken Wings
Spicy Peanut Butter Chicken Wings are a fun detour from traditional wings that will have your taste buds singing for more.
Ingredients
3

pounds

of chicken wings - separated

1 ½

Tbsp

Nick's Poultry Rub

¼

Cup

Peanut Butter

2

Tbsp

IPA beer

2

Tbsp

sesame oil

2

Tbsp

honey

2

Tbsp

brown sugar

2

Tbsp

red hot

1

tsp

red pepper flakes

1

tsp

garlic⁠
Instructions
Toss the wings in the bbq rub.

Cook your wings at 375 degrees until the

internal temp

hits 165 degrees using an instant read thermometer.

While the wings are cooking combine the other ingredients to make the spicy peanut butter sauce.

When the wings are up to temp remove them from the smoker and toss in the sauce, and then return them to the grill for an additional ten minutes to let the sauce set.
Notes
If you like to add a little smoke to your wings, consider following my Crispy Smoked Chicken Wings recipe, but substitute this peanut butter sauce at the end.
Nutrition
Serving:
1
g
|
Calories:
664
kcal
|
Carbohydrates:
26
g
|
Protein:
31
g
|
Fat:
49
g
|
Saturated Fat:
16
g
|
Polyunsaturated Fat:
29
g
|
Cholesterol:
139
mg
|
Sodium:
708
mg
|
Fiber:
1
g
|
Sugar:
8
g