Crispy Smoked Chicken Wings - Perfect for Tailgating
When I think of chicken wings, I think of a stadium parking lot full of fans getting ready for a football game. They're consuming plenty of beer and DELICIOUS food. I'm talking about grilled hot dogs, brats, and hamburgers. Nachos piled high with all the fixings, and of course, Crispy Smoked Chicken Wings!
Some people like their wings battered and fried, and covered in a thick sauce. Others like them simple, with just a few ingredients. When they're ready to eat, we dip them in blue cheese or ranch. Sometimes we just eat them plain!
The Perfect Chicken Wing
For me, the definition of a perfect wing is one that has a great taste, that builds with each bite. There should be a little bit of a kick on the backend too. The skin should be crispy, and the meat should come off the bone clean with each bite. These chicken wings fit that bill!
I've made these crispy chicken wings for friends, family, and football game watch parties. You name it, they are ALWAYS a hit.

Crispy Smoked Chicken Wings
Beer Brine
Smoked Chicken Wings are easy to make. First, I start off by brining my wings in an IPA overnight. I made these a few weeks ago using a huckleberry IPA and the flavor they took on was fantastic!
I usually buy my wings whole, and then cut them into three sections; the tips, the wing, and the mini drum. It's easy to cut these if you lay the "meat" side down and then push the blade of your knife through the two joints. After you do a few, you'll get the hang of it. You can do this before or after you brine them.
In addition to the 12-ounce beer bath, I add a ¼ cup of brown sugar, 2 Tbsp of kosher salt, and 1 Tbsp of Nick's poultry rub.
Chicken Wing Prep Work
When you're ready to start smoking your chicken wings, remove them from the brine, and pat dry.
The Secret to Crispy Smoked Chicken Wing Skin
Once the wings are partitioned, and dry (like super dry), throw the wings and drums into a gallon ziplock. Add 2 Tbsp of the rub you used in the brine and 2 tablespoons of cornstarch. Seal the bag and flip it a few times to get all of the wings coated and then throw them in your smoker at 150 degrees.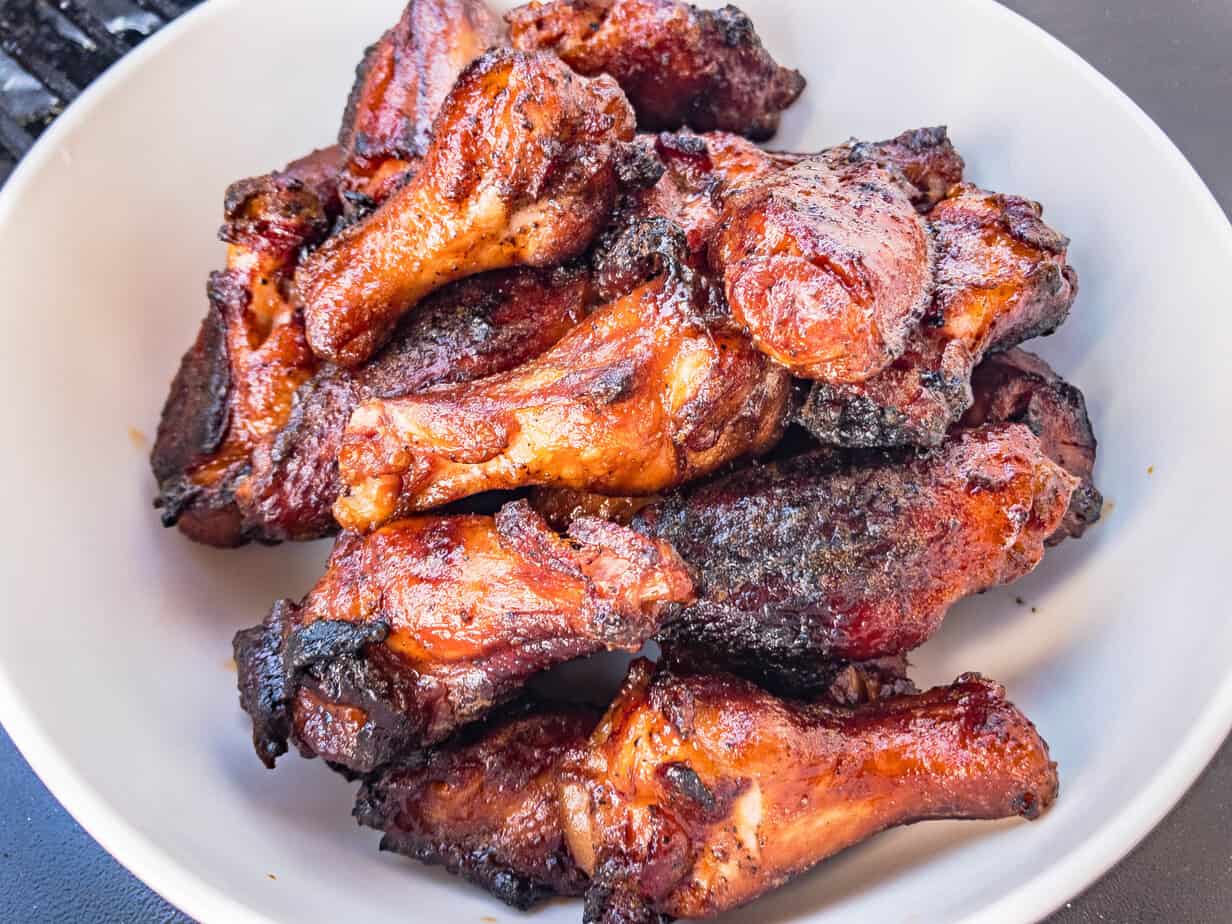 How to Smoke Chicken Wings
Let the wings smoke for 30 minutes at 150.
While the chicken wings are smoking combine 4 tablespoons of butter, a cup of red-hot, and 6 ounces of beer in a large saucepan over medium heat. Let the sauce simmer until it has reduced by half.
Looking for more simple and delicious recipes? Check out my Shredded Beef Tacos! or my Smoked Beef Ribs.
Once the wings have smoked for 30 minutes remove them from the smoker and adjust the temperature to 350+ degrees.
While the smoker is coming up to temp toss the wings in your red-hot sauce and then throw them back on the smoker. Let them cook until the internal temp hits 165 degrees (30 minutes or so). Spot check two or three wings to make sure they're done.
Know Your Temps!
Before you pull the wings, check the internal temperature of a few of the wings using an instant-read thermometer. Chicken needs to be cooked to an internal temperature of 165 degrees! Don't risk it or think you're too cool to check temps. It's the right thing to do!
I have a Thermapen ONE that I use to check the internal temperature for all of my cooks and I love it!
I've tried quite a few instant-read thermometers and I like the ThermoWorks Thermapen because of it's fast readout. It's calibrated for 99.9% accuracy. Plus, the backlit display rotates so you can read it at any angle!
Do your self a favor and invest in one of these bad boys so you don't leave meat temps to question.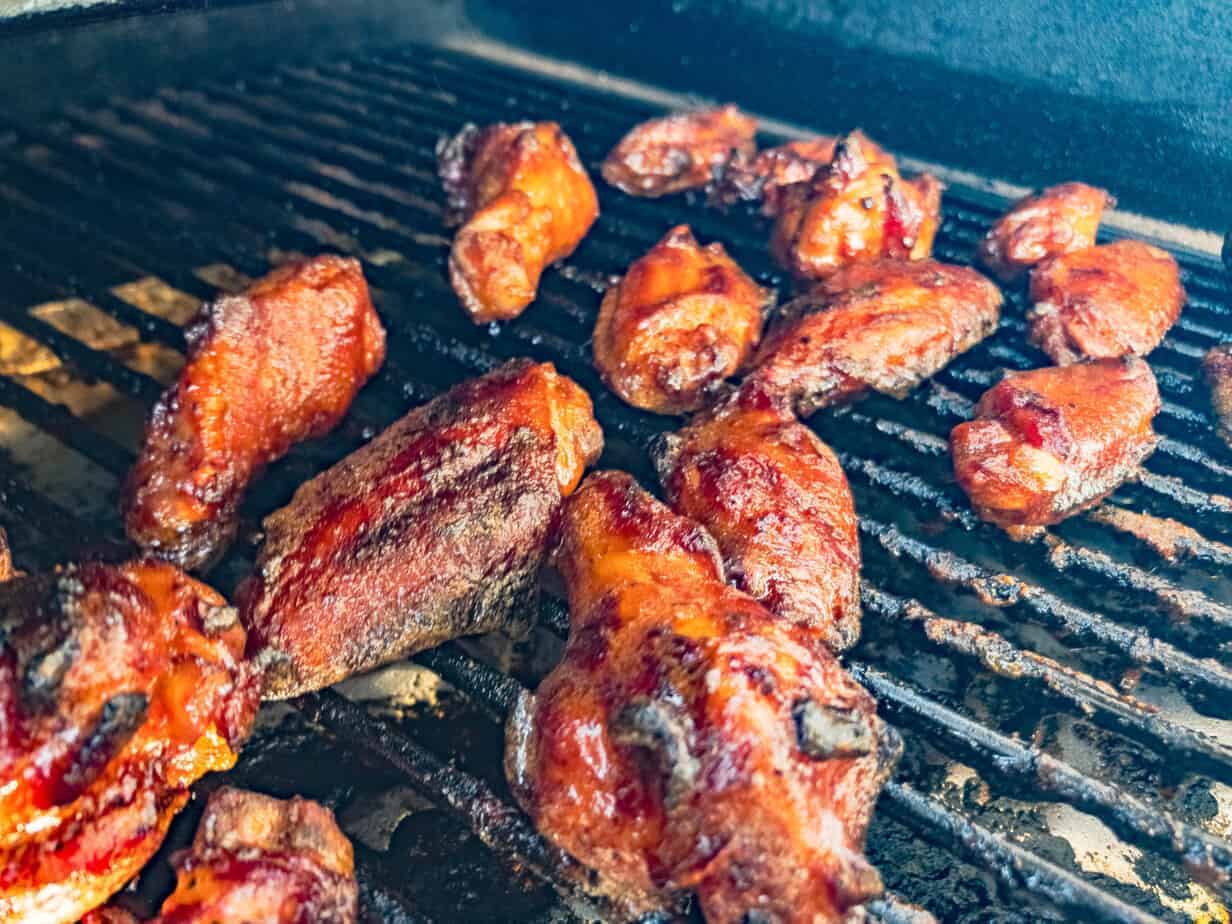 The Best Chicken Wings You'll Ever Make
I've made these crispy smoked chicken wings several times now. The more people I introduce them to, the more they get requested. In fact, for this year's Super Bowl party I cooked 8 pounds worth of wings and they were all gone within minutes.
This is a simple smoked chicken wing recipe that everyone will love! If the red-hot scares you, you can make a similar sauce combining the butter with a traditional bbq sauce too. Another option is to add a few tablespoons of brown sugar to the sauce to sweeten it up.
If you end up making this recipe, let me know! I love hearing about your cooks and if these aren't the best wings you've ever made, send me an email. I want to hear about it.
Smoked Chicken Wings
Be the hero at your next tailgate or family get together with these delicious smoked chicken wings.
Ingredients
3

lbs

chicken wings

3

Tbsp

Nick's Poultry Rub

1 ½

Tbsp

Baking Powder or Corn Starch

18

ounces

IPA beer

2

Tbsp

kosher salt

1 ¼

cup

brown sugar

1

Cup

Red Hot

4

Tbsp

Butter
Instructions
If you have whole wings, separate the drums and flats using a knife and then place the wings in a large gallon ziplock.

Put 1 Tbsp of rub, the salt, and 1⁄4 cup of brown sugar in the ziplock, and then pour the beer over top. Seal the ziplock and place in the fridge overnight (brine for at least 12 and up to 24 hours)

Remove wings from the ziplock and place on a foil-lined cookie sheet. Blot dry using paper towels. Place the wings in a large bowl and toss with 2 Tbsp of the rub, and the corn starch.

Place the wings directly on the grill grate and smoke at 150 for 30 minutes.

After 30 minutes adjust your smoker to cook at 350. Cook the wings for an additional 45 minutes.

While the wings are cooking combine 6 ounces of IPA with 1 cup of brown sugar, red hot, and the butter. Simmer over medium heat until sauce reduces by half.

Pull the wings off the grill after 45 minutes and toss in the sauce, and then return to the smoker and let them cook for an additional 15 minutes.

Serve with your favorite dipping sauces or enjoy them plain. 
Notes
You can use corn starch or baking soda when you add the rub to the wings. Both act as a drying agent that interacts with the salt in the skin and helps crisp it up.
Pay attention to the type of salt you use - table salt or fine grain kosher salt will result in overly salted wings. I use Morton Coarse Grain Kosher Salt in this recipe.
Nutrition
Serving:
1
g
|
Calories:
1087
kcal
|
Carbohydrates:
82
g
|
Protein:
39
g
|
Fat:
63
g
|
Saturated Fat:
24
g
|
Polyunsaturated Fat:
33
g
|
Trans Fat:
1
g
|
Cholesterol:
206
mg
|
Sodium:
3660
mg
|
Fiber:
1
g
|
Sugar:
38
g