Smokers are one of the more versatile cooking appliances you can keep around, especially the more convenient styles like a solid pellet grill/smoker.
The ability to slow cook proteins to a very specific temperature allows you to create delicious barbecue perfection like melt-in-your-mouth pork shoulder or beef brisket. It can also create incredible reverse seared steaks or prime rib style roasts by providing a low and slow cooking environment that helps keep the internal temperature rising at a slower rate and maintains a velvety protein texture.
Realistically, reverse searing or prime rib cooking methods in your smoker are almost the same thing as sous-vide cookery, just with a lot more flavor and delicious wood smoke!
This recipe for smoked pork steaks builds on the reverse sear cooking method by also using the pork juices rendering out of the steaks to facilitate the onion braising process, creating a depth of flavor that's rich and fatty with the perfect touch of rich smokey barbecue essence.
How to make Smoked Pork Steaks and Beer Braised Onions
This is a relatively quick barbecue recipe, and if you have all the necessary ingredients on hand, you should be able to whip up a delicious meal of Smoked Pork Steaks with Beer Braised Onions in less than 2 hours.
Before starting this recipe, one thing to be aware of is that this is a combination cooking method involving a barbecue slow cooking process and a final sear and rest for the pork steaks. This won't result in the typical fork-tender bbq you may be familiar with but instead, a perfectly cooked pork steak with a ton of rich, smokey barbecue flavor!
Gather all of your ingredients and equipment.
Before you start any recipe, it's best to read the process in its entirety at least twice, so you fully understand all the steps before starting. This helps avoid potential cooking mistakes, it also allows you time to ensure you have all of the necessary ingredients before you get too far into the process to stop and remedy the situation.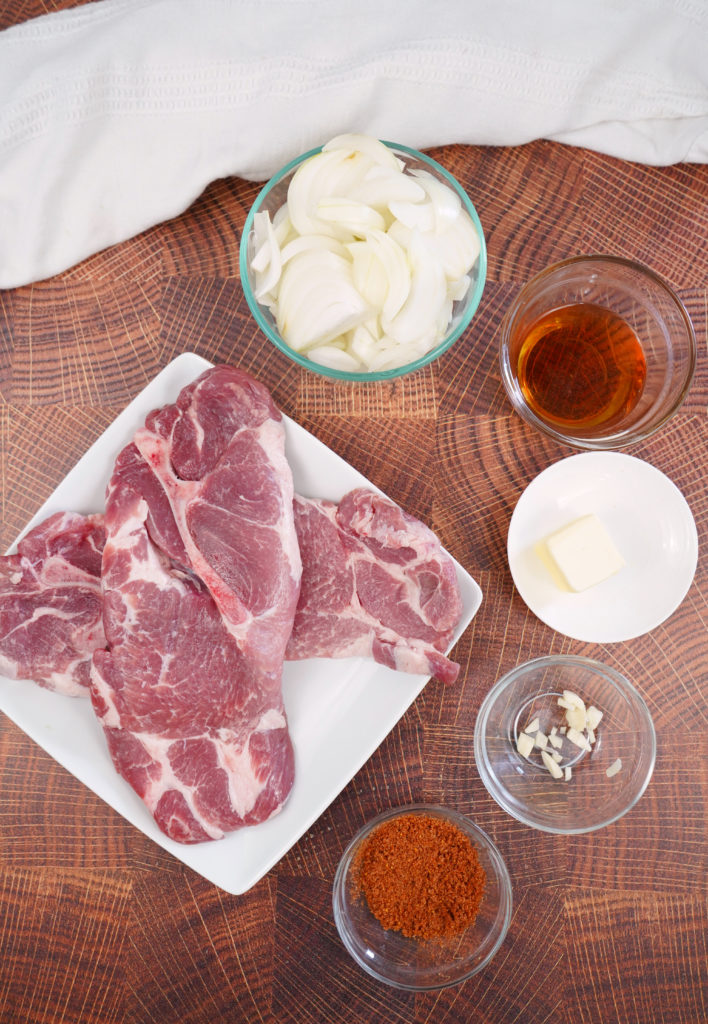 Once you are sure you understand the recipe, move on to the cooking process and enjoy!
Light your smoker.
Light your smoker and allow it to come up to temperature fully before you get too far into the cooking process. While you might use a little more fuel, smoking pork steaks takes much less time than other larger proteins, and you want to ensure your smoker is burning cleanly so as not to impart any off flavors or extra creosote to the onions or steaks.
Set your smoker to 225°f and add the flavor wood of your choice. Oak or apple always go well with pork and onions, as do cherry and mesquite!
If you're using a stick burner or charcoal smoker, make sure to give your fire time to equalize and allow it to reach the temperature setting naturally without dampening the fire too greatly, as this will also result in more creosote and dirtier smoke.
Prepare your pork steaks and onions.
The bulk of the prep involved with this recipe belongs to the braised onions. For your pork steaks, simply open the package and pat them dry before rubbing them with a few teaspoons of your favorite pork barbecue dry rub. Allow the steaks to sit while you prepare the onions.
You can use whichever pork steak you like for this recipe, but pork shoulder steaks definitely have more flavor and will work perfectly here. Pork loin chops will certainly work, but they have less fat, so you need to be careful not to let them dry out or over-cook as they can get tough when overdone.
For the onions, begin by slicing them into julienne strips and placing them in an aluminum half-roasting pan. You can use pyrex or metal roasting pans, but they will stain from prolonged exposure to the barbecue smoke, so disposable roasting pans are always a strong choice for bbq recipes.
Add the butter, chopped garlic, and beer to the onions in the pan, then mix well until everything is combined. For this smoked pork steaks recipe, you can use whatever beer you have on hand, but some styles work better for cooking than others. The hoppier a beer is, the worse it will translate into a cooked product, while the maltier and richer a beer is, the better it will handle the cooking process.
As beer cooks, the hop notes lose their floral aspect and transform into a more tannic, edgier bitterness that can be overpowering. Maltier lagers and ales, on the other hand, have less hop content and more residual sugar that add sweet, savory notes to dishes with just a touch of hoppy bitterness that goes perfectly with the smoky flavor of the barbecue pork shoulder steaks.
Sprinkle the remaining pork rub over the onions, and then load the steaks and onions into your smoker.
Load the steaks and onions into the smoker.
Once the onions and steaks are ready to go, and the smoker has hit 225°f, you are ready to start the smoking process.
Place the aluminum roasting pan onto the smoker grates and place the steaks on the grill grate over the pan; as the steaks cook, they will drip into the pan, adding rich roasted pork flavor to the beer braised onions.
Once everything is loaded in, button up the lid to your pit. The steaks will cook for an hour and thirty minutes or until they reach an internal temperature of 130°f. You can use a wireless meat thermometer to monitor your steaks or an instant-read meat thermometer to check the steaks every 20-30 minutes.
Remove and rest the steaks, then turn up the temp.
With the steaks at an internal temperature of 130°f, it's time to pull them out of the smoker and allow them to rest while you finish braising the onions.
Once the steaks are resting, turn the smoker temperature up to 300°f and allow the onions to continue reducing and concentrating their flavor for another 30 minutes or so.
If you're using a pellet or charcoal smoker, it may take a little planning to quickly increase the temperature of your smoker. In that case, just allow the onions to cook a little longer or until the juices are well reduced and the onions are completely tender.
Sear the Pork Steaks.
When the onions are close to finishing, heat up a cast iron skillet or a grill and sear the steaks for 3 minutes on each side or until they achieve a golden brown crust.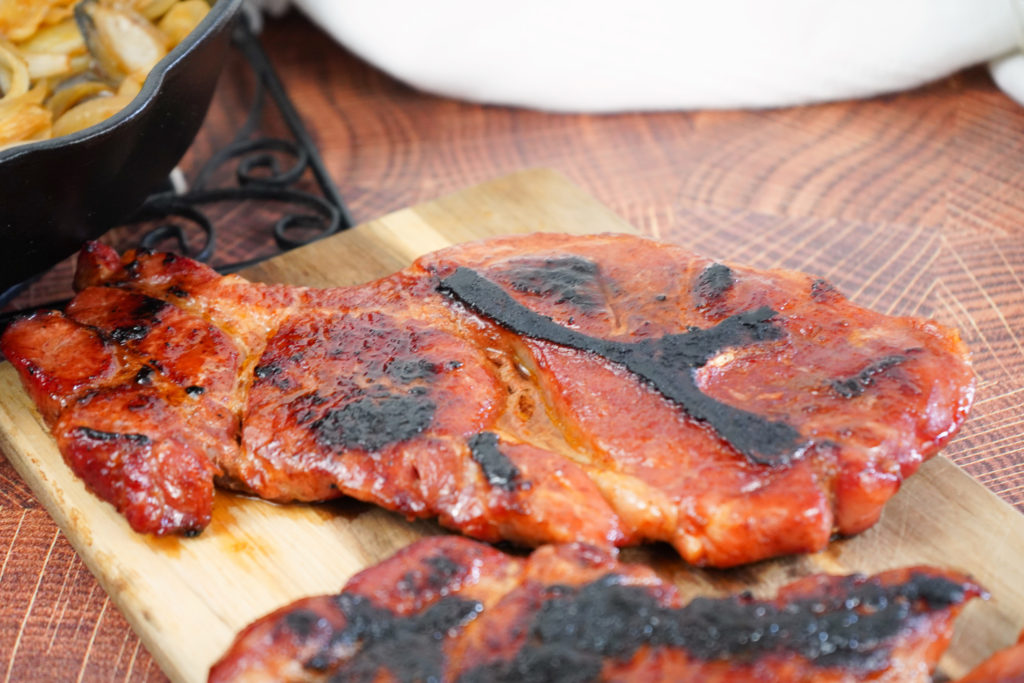 Allow the cooked pork steaks to rest for another 3-5 minutes before serving.
Top the Smoked Pork Steaks with the onions, and enjoy!
Once the rested pork steaks and onions are ready to serve, you can dig right in. The onions should be delicious by themselves, but you can absolutely add ingredients to pump up the flavor even further. Apple juice or apple cider vinegar makes a great addition to the beer braised onions and helps cut through the buttery smokey flavor, adding a brightness that helps keep your palate on edge.
While the onions are a perfect sauce/veggie accompaniment to these steaks, there is nothing wrong with a touch of bbq sauce. Whether your favorite bbq sauce is a vinegar-based Carolina style, a sweet smokey Memphis, or even an Alabama white, there's really no wrong choice when it comes to this recipe so let your stomach guide you!
Smoked Pork Steaks With Beer Braised Onions
This recipe for reverse seared Smoked Pork Steaks with Beer Braised Onions is the perfect fall meal. Rich and hearty with delicous sweet, smokey and salty flavors threaded throughout, this quick and easy meal will quickly become a favorite around your table as the weather gets cooler!
Ingredients
2

pork steaks

3-4

tbsp

pork rub

divided (I used Traeger Pork Rub)

2

small sweet onions

2

tbsp

butter

1

clove of garlic

minced

¼

cup of beer

Oil for searing
Instructions
Preheat the smoker to 225 degrees F.

Season the pork steaks with about 3 tbsps of Pork Rub on both sides and rub it in.

Cover and refrigerate for at least 30 minutes.

Slice the onions and place them into a cast iron skillet or aluminum pan.

Add in the butter, garlic, and beer

Sprinkle a little more Pork Rub over the onions and stir until everything is combined.

Transfer the pork steaks and the onions out to the smoker and smoke at 225 degrees for about an hour until the internal temperature of the pork steaks reach 130 degrees F.

Pull the steaks off, stir the onions and raise the temperature of your smoker to 300 degrees and let the onions cook for another 20 minutes or until cooked to your liking.

Sear the pork steaks for about 3-4 minutes on each side on a medium to a hot griddle or in a cast iron skillet on the stove with some cooking oil.

Serve the pork steaks with the onions on top and enjoy.
Notes
Cooking times may vary according to your ability to keep the temperature stable. If desired, you can start the onions before the pork steaks.  Internal temperature of Pork should reach at least 145 degrees F which can vary by personal preference.