I really love a good smoked dessert, and cobbler is one of my favorites. Cobbler's are easy to make, and they taste delicious. Pair the cobbler with a scoop of vanilla ice cream and life is GOOD. If you're looking for an easy way to make smoked peach cobbler, you've found it!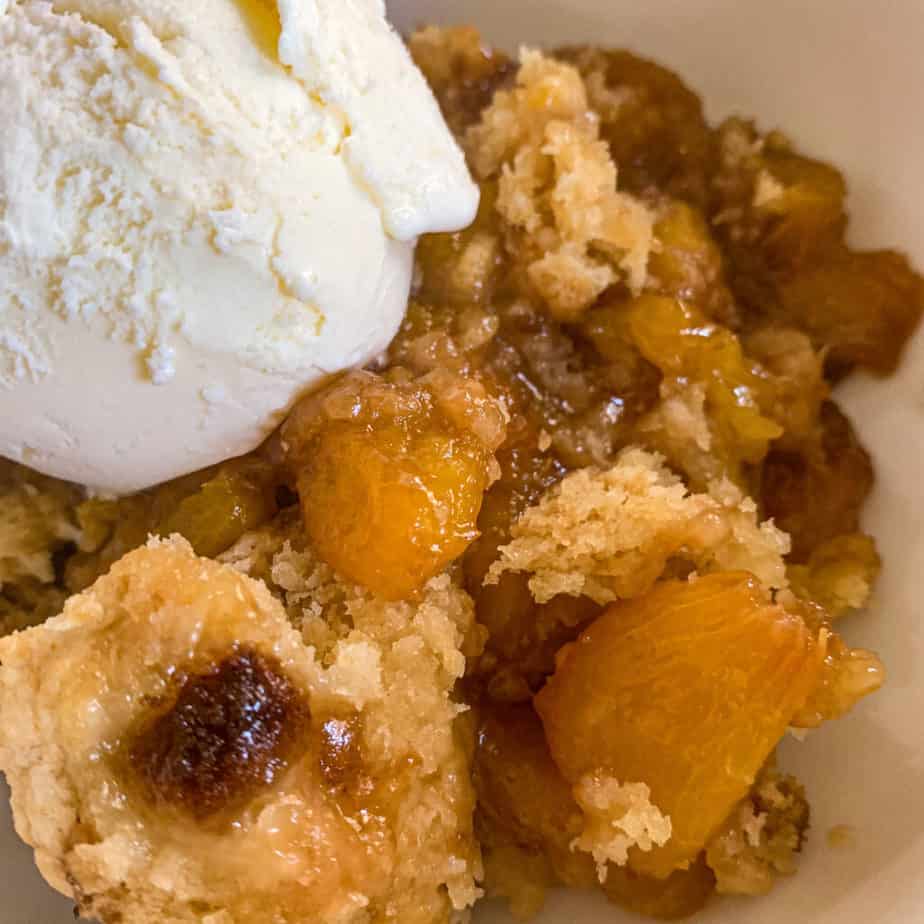 How to Make Smoked Peach Cobbler
There are a few things you'll need to make this tasty smoked dessert. The proportions for each ingredient are listed in the recipe card at the bottom of the post.
An 8″ cast iron skillet.
3-4 peaches
Brown Sugar
Flour
Corn Starch
Salt
Baking Powder
Cold Butter
Milk
The hardest part of this whole recipe is peeling and slicing the peaches. If you can make it through that, the rest is EASY. I used three peaches for this recipe, but 4 would work just fine. If you're using a larger skillet, definitely increase the number of peaches you use.
Peach Cobbler Filling
Cube up the peach slices and toss them in a bowl with brown sugar, salt, and cornstarch. Pour the filling into your 8″ cast iron skillet.
Peach Cobbler Topping
This is where this dessert really gets it's pizzaz. You can use store-bought biscuits, but I prefer homemade biscuits here. My dad makes some of the BEST biscuits and gravy, and I use a variation of his biscuit recipe for the topping of this smoked peach cobbler.
In a small bowl combine flour, cold cubed butter, baking powder, salt, and milk. Use a fork or pastry cutter to combine the ingredients – they'll be very crumbly.
Spread the biscuit crumble on top of the peach filling, and then spread some sugar over the top of the biscuits.
How to Smoke Peach Cobbler
After the prep work, it's time to throw it on the smoker! Set up your smoker to smoke at 225 using indirect heat. Let the dessert smoke for about ten minutes before adjusting the temperature of your smoker up to 375 degrees. Cook for an additional 30-40 minutes.
This tasty smoked dessert is done when the biscuits are golden brown on top, and the filling is bubbly. Let it rest for about ten minutes before digging in and serving with a scoop of your favorite vanilla ice cream.
This is a great dessert to serve with smoked brisket or country-style pork ribs.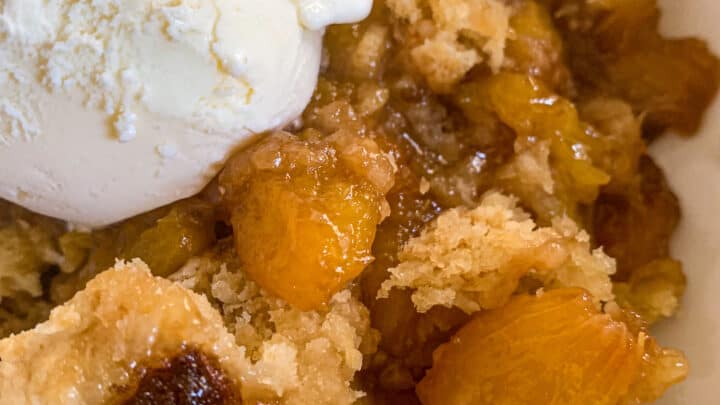 Yield:

6 Servings
Smoked Peach Cobbler
Peach Cobbler is good, smoked peach cobbler is better. This recipe uses a homemade drop biscuit recipe for the topping and is super easy to make. It's the perfect accompaniment for good bbq.
Ingredients
Peach Cobbler Filling
4 peaches (peeled and cubed)
1/2 cup brown sugar
2 Tbsp Corn Starch
Dash of Salt
Biscuit Topping
4 Tbsp Cold Butter, cubed
3/4 cup flour
1 Tbsp Baking Powder
2 Tbsp Milk
Dash of Salt
2 Tbsp White Sugar (for biscuit topping)
Instructions
Combine all of the peach cobbler filling ingredients and place in an 8" cast iron skillet
Combine the biscuit ingredients minus the sugar in a small bowl. Use a pastry cutter or fork to combine.
Crumble the biscuits on top of the cobbler, and place in your smoker at 225 degrees.
After 10 minutes adjust the temperature of your smoker up to 375 degrees. Let the cobbler cook for an additional 30-40 minutes. It's ready when the biscuits are golden brown and the filling is bubbly.
Let rest 10 minutes before serving.
Notes
You can sub shortening for the butter, but I prefer cold butter instead. It gives the biscuits a texture that I prefer. You can sub other fruits for the filling here. I've had the most success using blueberries as a filling substitute.
You don't have to smoke the peach cobbler at the beginning of the cook cycle, but it does add a layer of flavor that really makes everything taste better.