Have you ever had smoked pork loin?
This simple recipe is one of my favorite pork dishes, and I love how easy it is to prepare and cook. I've made pork loin quite a few different ways, and I've never been able to get the flavor just right. Sometimes the pork is too salty because of the brine, other times the end result is just way too dry.
This recipe produces an end product that is full of flavor with every juicy bite.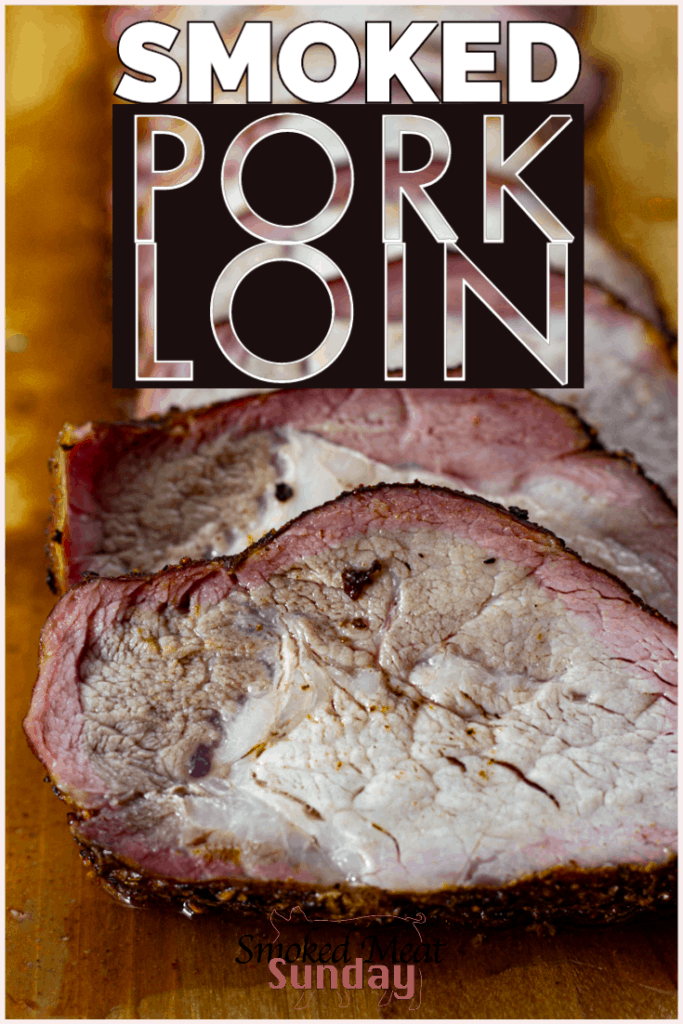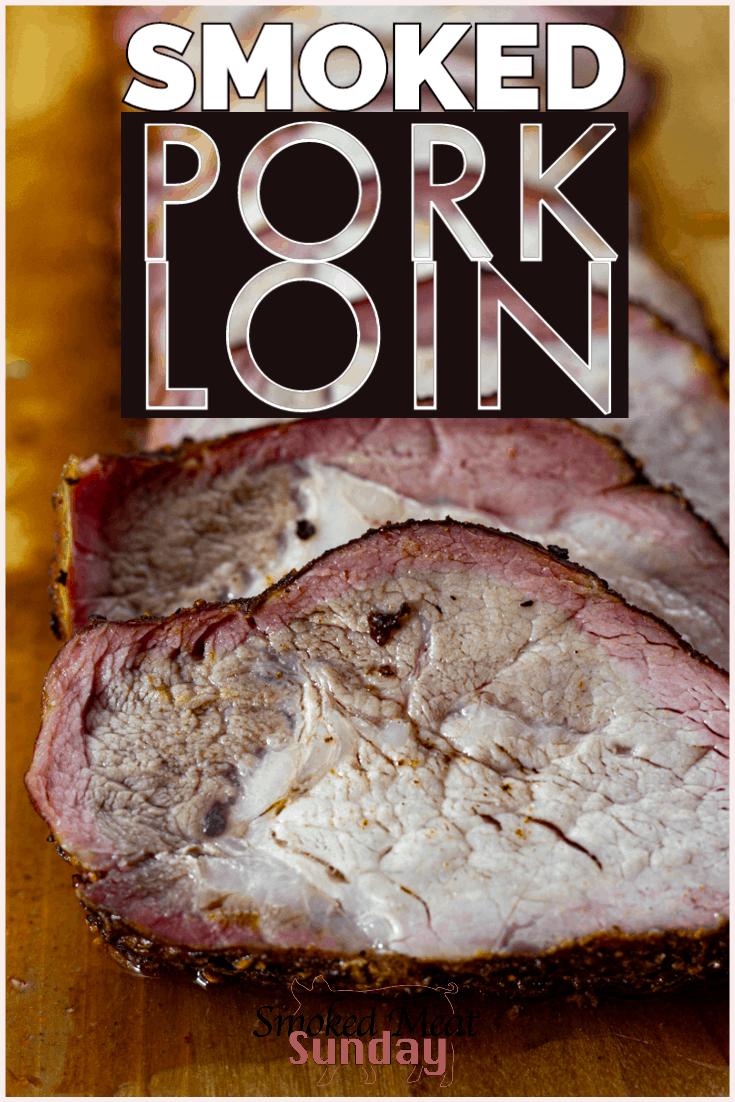 Smoked Pork Loin Brine
One of the keys to making a delicious loin is a good brine. Just like smoked chops, the difference between good and great is the brine.
The loin doesn't have to sit in the brine for too long either. If you're going to prepare it for dinner, place in this simple brine in the morning. 6-12 hours is more than enough time for the brine to work its magic.
Brine Ingredients (full amounts in recipe card):
Cold Water
Kosher Salt
Maple Syrup
Crushed Garlic
Chopped Thyme
One of the reasons I really like this brine is because you don't need to boil the water first to get all of the ingredients to combine. Just put them in a bowl, whisk them up, and you're good.
Please note that I'm using Morton's Coarse Grain Kosher Salt for this brine recipe. The type of salt you use is important. If you use a different type of kosher salt, you'll need to adjust your salt amount.
Preparing Smoked Pork Loin for Your Smoker
After the meat has sat in the brine for at least 6 hours remove it from the brine and pat dry. You can discard the brine.
Use about a tablespoon of olive oil or avocado oil to wet the entire surface of the meat, and then liberally apply your favorite bbq rub. I use my homemade pork rub here and it really helps the flavor of the protein shine through. Other great rub options include Meat Church's Honey Hog or Byron's Butt Rub.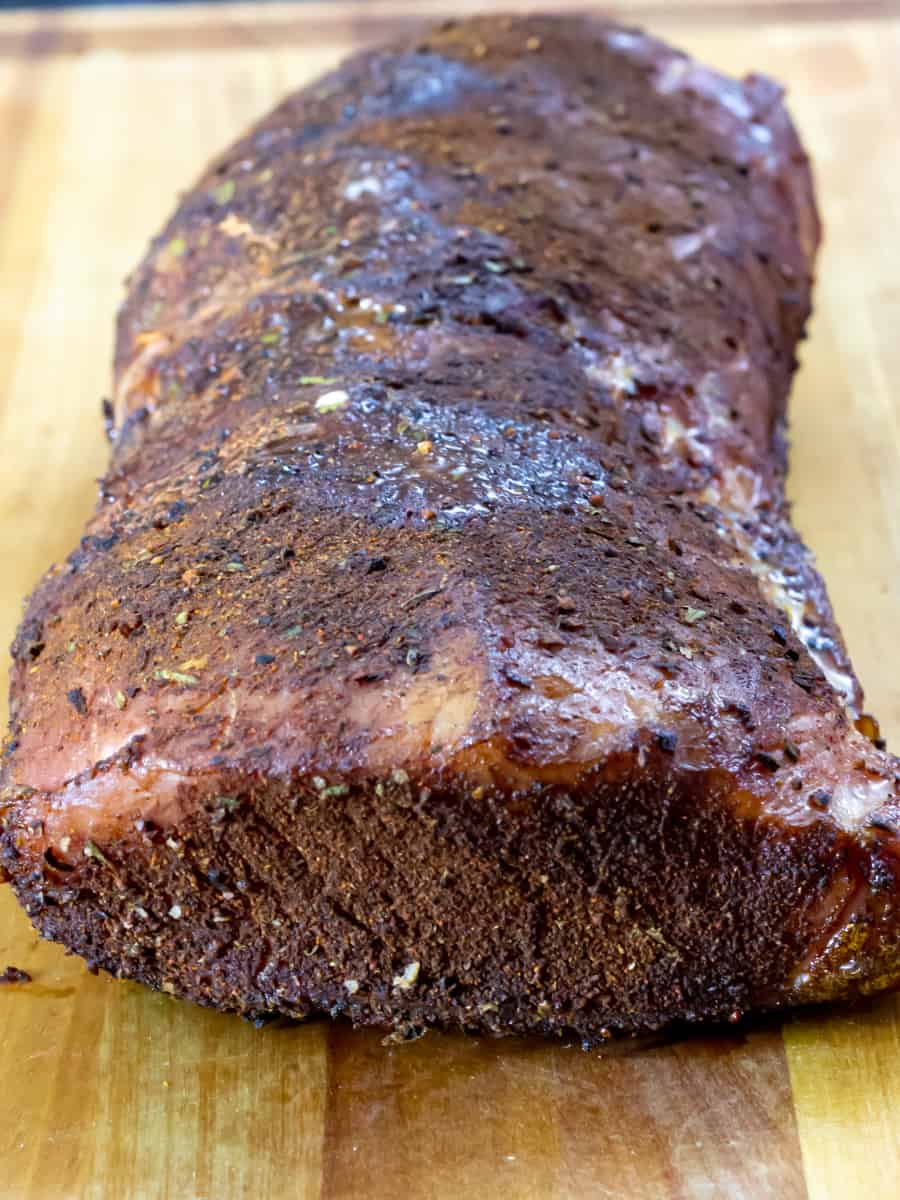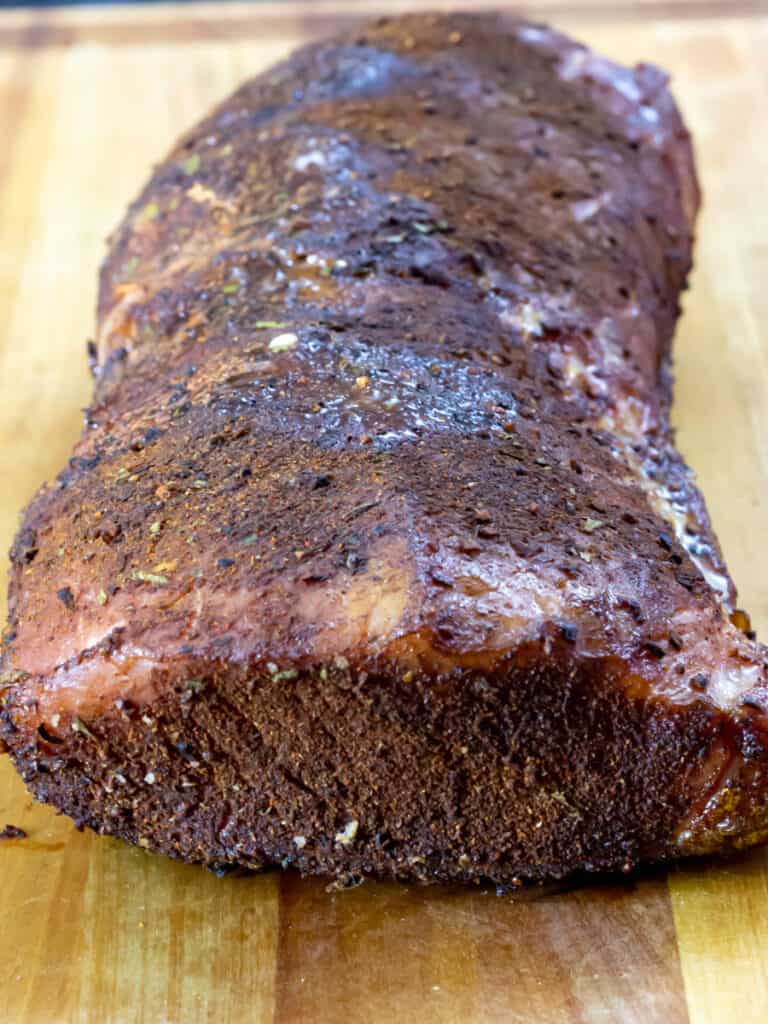 Set up your smoker to smoke at 225 degrees using indirect heat. I use a Traeger and use Apple wood pellets for most of my pork cooks. Other good options include pecan or oak.
When your smoker is up to temp put the pork loin on a grill rack, and place it in your smoker.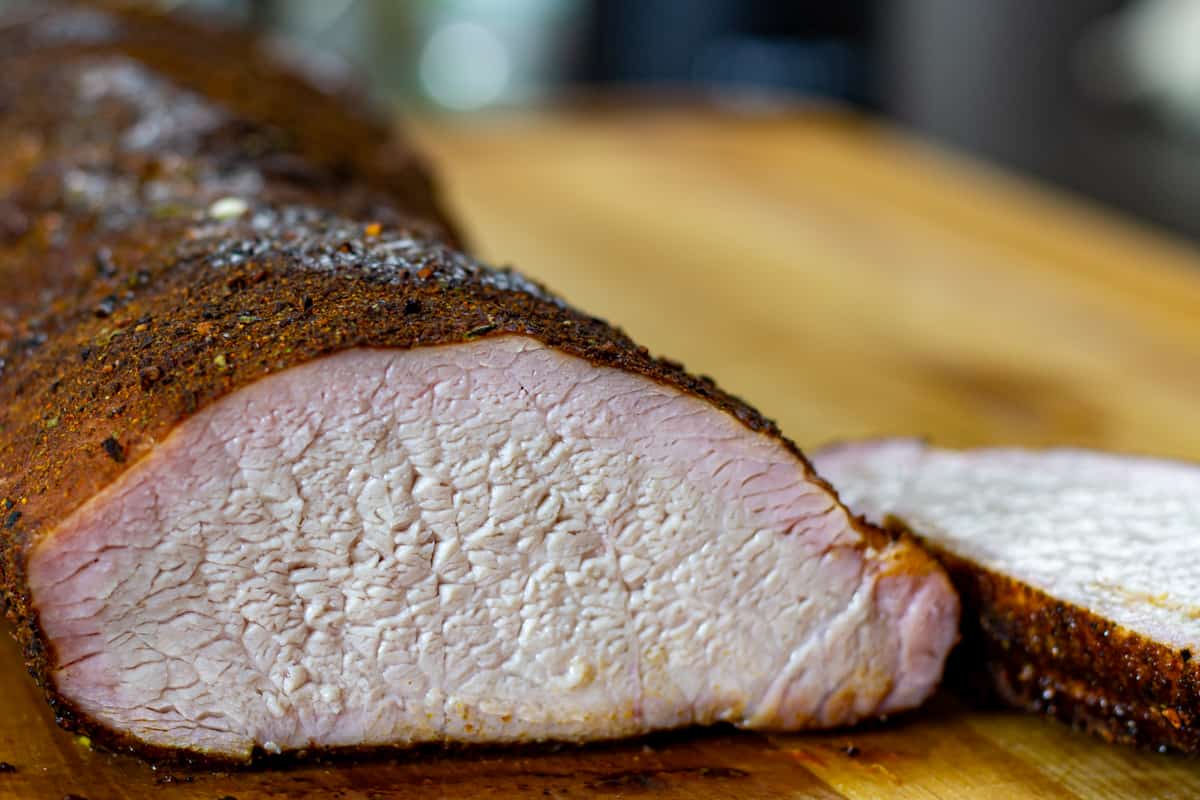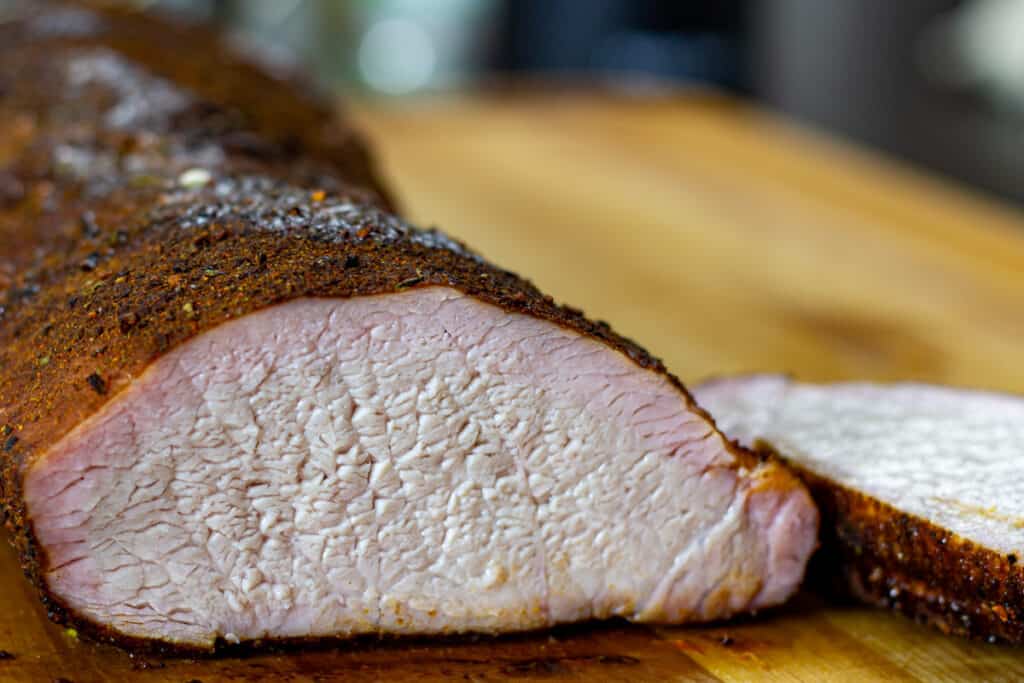 How to Smoke a Pork Loin
This is the easiest part of the whole plan. Once you pull it out of the smoker you can sit back and relax. Just connect your Thermoworks smoke to monitor the internal temperature, and leave it be until the internal temp hits 140 degrees. Pork loin is safe to eat at 145 degrees internal temp and there will be some carryover rise in temperature during the rest.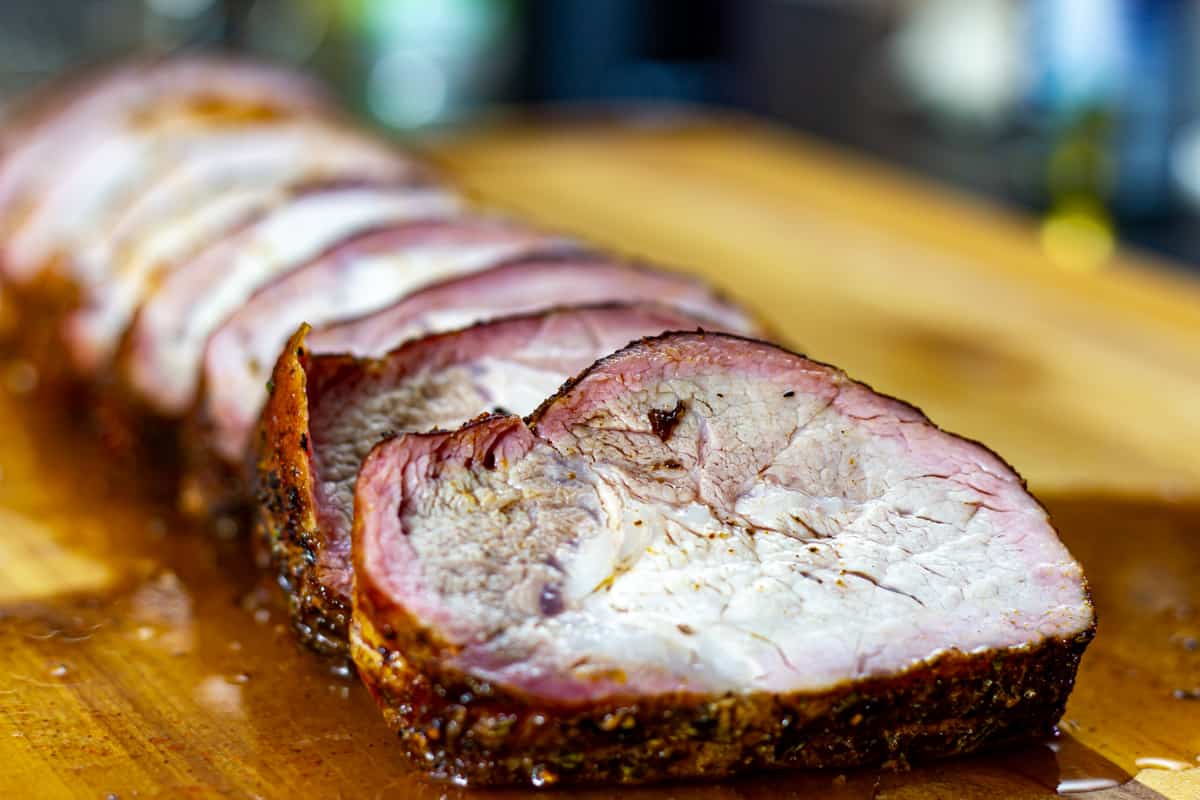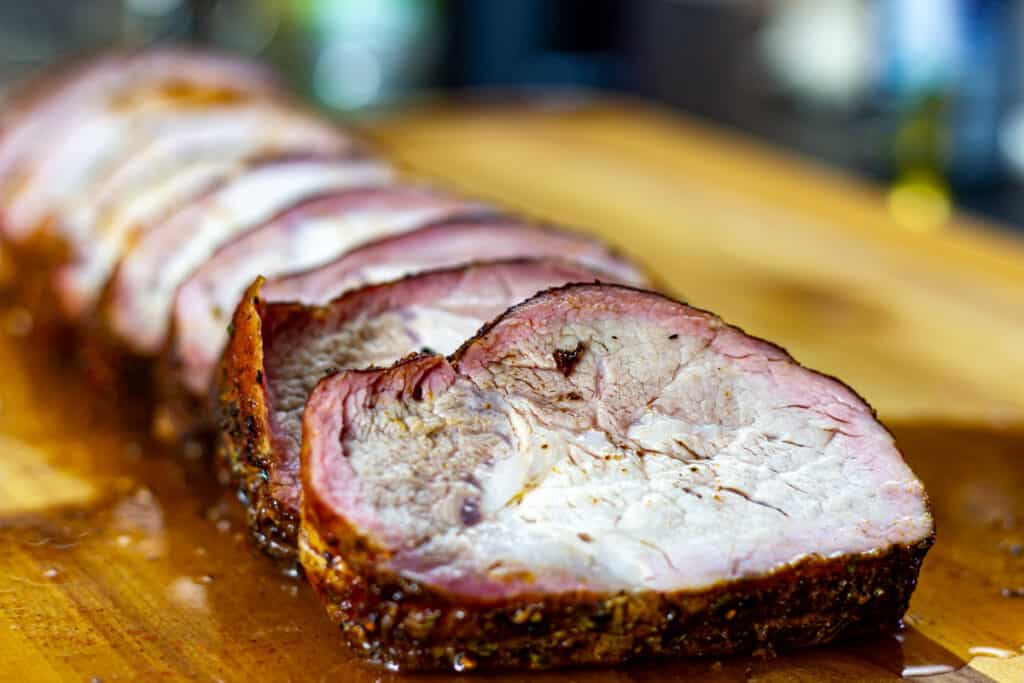 Let the pork loin rest for about 15 minutes before slicing into it, and enjoy!
This is great served with smoked Hasselback potatoes.
Smoked Pork Loin
This smoked pork loin recipe is simple to follow and includes a smoked pork loin brine that will leave your taste buds singing. You've gotta try it!
Ingredients
1

Pork Loin - Silverskin removed

1

qt

Cold Water

¼

C

Kosher Salt

⅓

C

Maple Syrup

1

tsp

crushed garlic

1

Tbsp

chopped thyme

1

Tbsp

Olive or Avocado Oil

2

Tbsp

BBQ Rub
Instructions
Combine the water, salt, syrup, garlic, and thyme in a bowl, and then whisk.

Place the pork loin in a large ziplock bag and add brine.

Let the pork loin sit in the brine refrigerated for 6-12 hours.

Remove loin from brine and pat dry.

Rub the surface of the loin with oil.

Sprinkle rub over loin, make sure the entire surface is covered.

Smoke the pork loin at 225 degrees until the internal temperature hits 140 degrees.

Let rest for 15 minutes before slicing to allow for internal temp to rise, and the juices to redistribute.
Notes
I use Morton's Coarse Grain Kosher Salt for the brine. Using a different brand or type of salt will change the recipe. Be especially careful not to use table salt in the brine.
Nutrition
Serving:
1
g
|
Calories:
157
kcal
|
Carbohydrates:
20
g
|
Protein:
7
g
|
Fat:
6
g
|
Saturated Fat:
1
g
|
Polyunsaturated Fat:
4
g
|
Cholesterol:
20
mg
|
Sodium:
6427
mg
|
Sugar:
17
g