Everyone's had pork chops before. Sometimes they're really tasty, other times they're too dry and bland. In this post I'm going to share my favorite way to prepare smoked pork chops. If you've ever had a bite of juicy and tender pork, you know how good it can be. Keep reading to learn more about my process, and the simple recipe.
After a simple brine bath, a little seasoning, and a kiss of smoke, these will be some of the best chops you've ever tried.
Picking the Right Chops
One of the keys to this recipe is making sure you pick out the right chops. I like the porterhouse cut if I can find it, but any thick (¾+ inches) bone-in cut will work fine. The porterhouse cut is closer to an inch thick.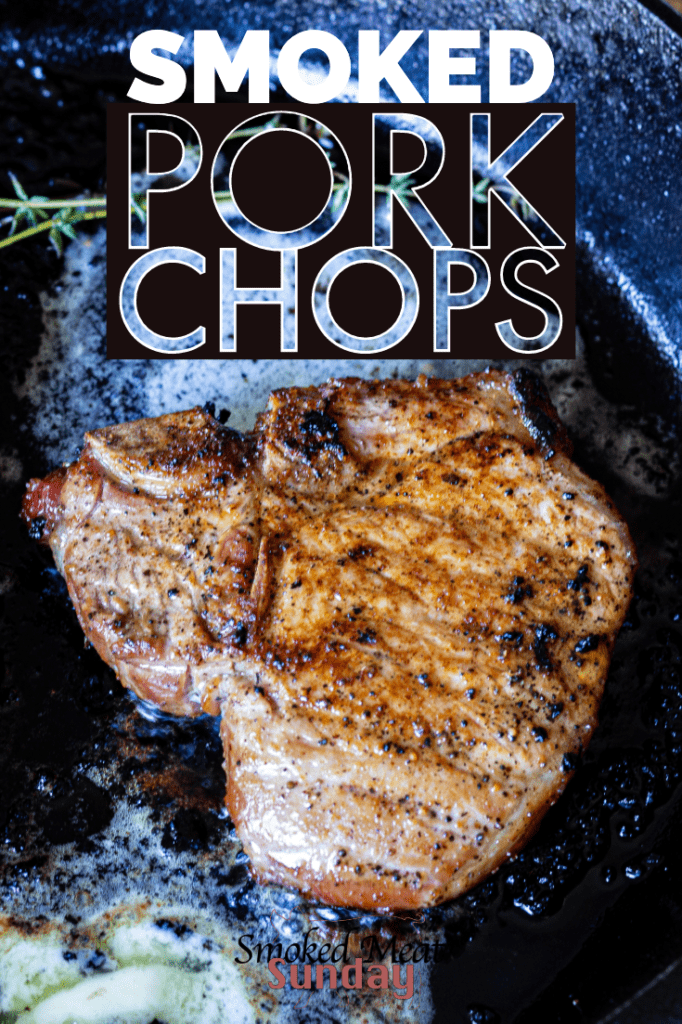 Preparing Pork Chops for the Smoker
One of the reasons I really enjoy making these is because they don't take all day to prepare. They sit in a brine for one to two hours and then smoke for another hour or so. The brine requires just a few simple ingredients.
16 ounces apple juice
¼ cup apple cider vinegar
2 tbsp kosher salt
¼ cup brown sugar
2 tbsp bbq rub - I used my pork and poultry rub here - If your rub is high in salt, you don't need to add the 2 tbsp of kosher salt. I also really like using Caribeque's AP rub
Combine all of the ingredients in a ziplock, and then add the meat. Place the bag in the refrigerator and brine for one to two hours.
Smoking the Pork Chops
When you're ready to prepare smoked pork chops remove them from the brine, and place them on a grilling rack. Pat them dry with a paper towel and then season both sides with the same rub you used in the brine.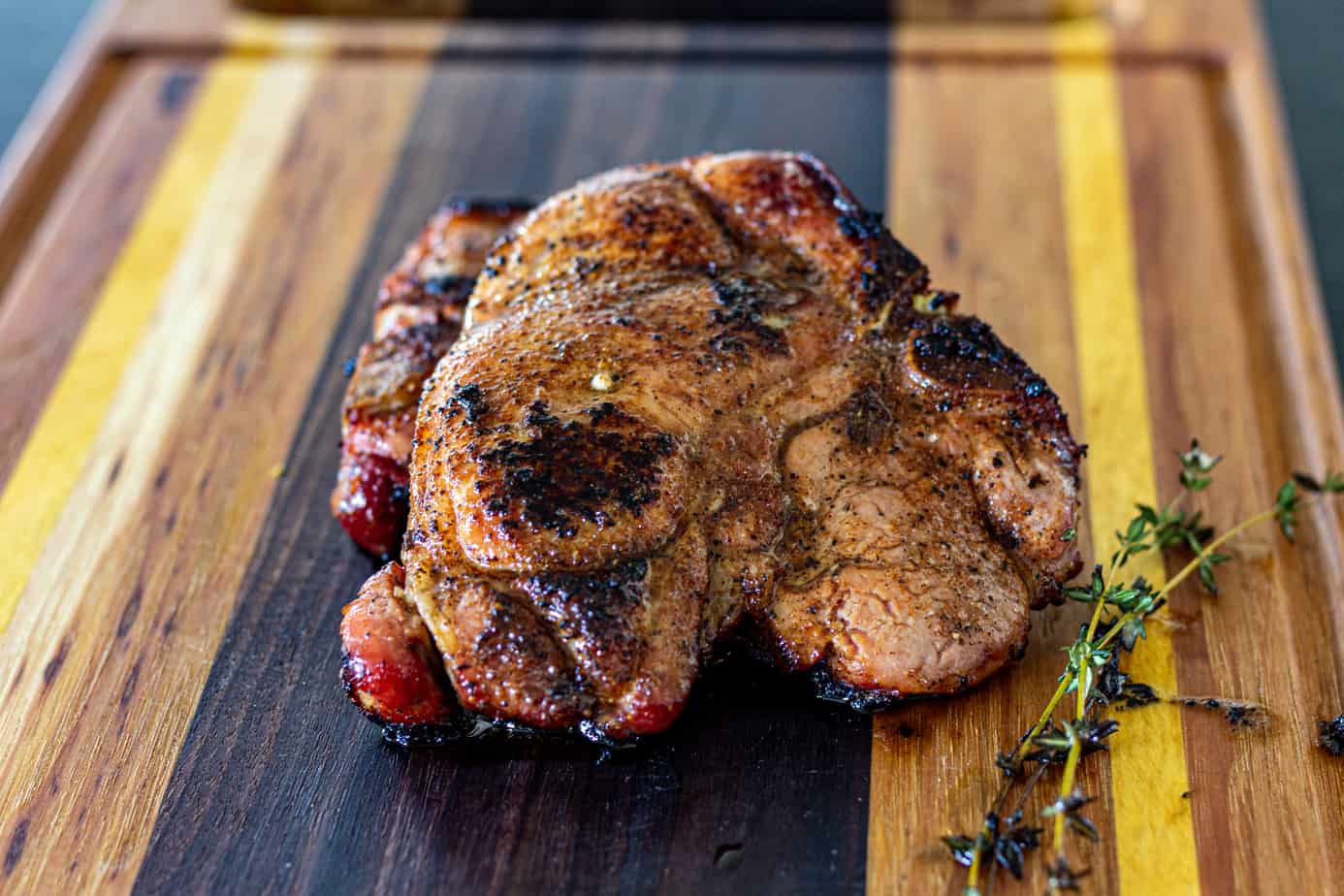 Set up your smoker to smoke at 225 degrees using indirect heat. When the smoker is up to temp place the pork chops in the smoker. Let them smoke at 225 degrees until the internal temperature is 110 degrees. I used my Thermoworks Smoke to monitor the temps, and my Thermapen to spot check temps.
Searing Smoked Pork Chops
When they hit 110, pull them, and adjust your smoker to cook at 450+ degrees. If you're going to sear the pork in a cast iron skillet, put that in the smoker at this time as well. While you're waiting for the smoker to come up to temp tent your meat with foil.
When the smoker is up to temp, place a tablespoon of butter in the skillet, and then add your chops. This is where having a good temperature monitor is crucial. Place the sensor for your smoke in one of the chops, and when the internal temp comes up to 130, flip them. Continue cooking until the internal temperature of your pork hits 145 degrees.
I really enjoyed making these, and I LOVE how they taste. They're full of flavor and incredibly tender.
Smoked Pork Chops
If you're looking for a simple and fool proof way to make smoked pork chops, look no further.
This smoked pork chop recipe produces some of the most tender and delicious pork chops I've ever had.
Ingredients
2 16

ounce

Porterhouse Pork Chops

16

ounces

apple juice

¼

cup

apple cider vinegar

¼

cup

kosher salt

¼

cup

brown sugar

2

tbsp

bbq rub

1

tbsp

butter
Instructions
Combine the apple juice, acv, salt, sugar, and bbq rub in a ziplock bag.

Add the pork chops to the brine, and then place in the refrigerator for at least an hour, and up to two hours.

Setup your smoker to smoke at 225 degrees.

Remove the pork chops from the brine and pat dry with a paper towel. Season each side of the pork chops with the same rub you used in the brine, and then place the pork chops in your smoker.

Let the pork chops smoke until the internal temperature hits 110 degrees.

At 110, remove the pork chops and adjust your smoker to cook as hot as it can get (450+ degrees)

Place a cast iron skillet in the smoker, and add a pat of butter to the skillet, then place each of the pork chops in the skillet.

Let the chops cook until the internal temp hits 130, then flip the pork chops.

They're done when the internal temperature hits 145 degrees.