One of the easiest things to make on a pellet grill is a whole chicken. There are countless smoked whole chicken recipes, but this one is by far my favorite.
The reason smoking a whole chicken is easy, is because it only requires a few ingredients and a very small time commitment.
Where Do You Get the Best Whole Chicken?
The recipe all starts with a good chicken. There are plenty of places you can get whole chicken from, but if you're looking for quality sourced meats, I'd recommend Butcher Box.
ButcherBox delivers 100% grass-fed beef, free range organic chicken and heritage breed pork directly to your door. Think of them as the neighborhood butcher for modern America.
How Do You Keep a Whole Chicken From Drying Out
Once you've acquired your chicken, it's time for a little bit of prep work. If the giblets are still in the cavity of the chicken, remove them. Then it's time to prepare your chicken brine.
One of the challenges many people face when they make a smoked whole chicken is dry meat. You can overcome this challenge by brining your chicken overnight.
How Do You Make a Brine For a Whole Chicken?
For this particular cook, I prepared a brine in my brine bucket using 12 ounces of Wallace Brewing's Huckleberry Shandy (leftover from last week's Huckleberry experience at Albertson's).
I added two tablespoons of kosher salt and a tablespoon of brown sugar to the shandy and then placed the whole chicken in the brine. I added a few cups of water to the brine to make sure the whole chicken was completely covered.
At minimum, I like my whole chickens to brine for 12 hours, but you will experience a juicier cook if you let the chicken brine for as little as 3 hours.
After 12 hours in the brine, remove the chicken from the bucket, and pat it dry with paper towels. Don't forget to get the cavity of the chicken as dry as possible too!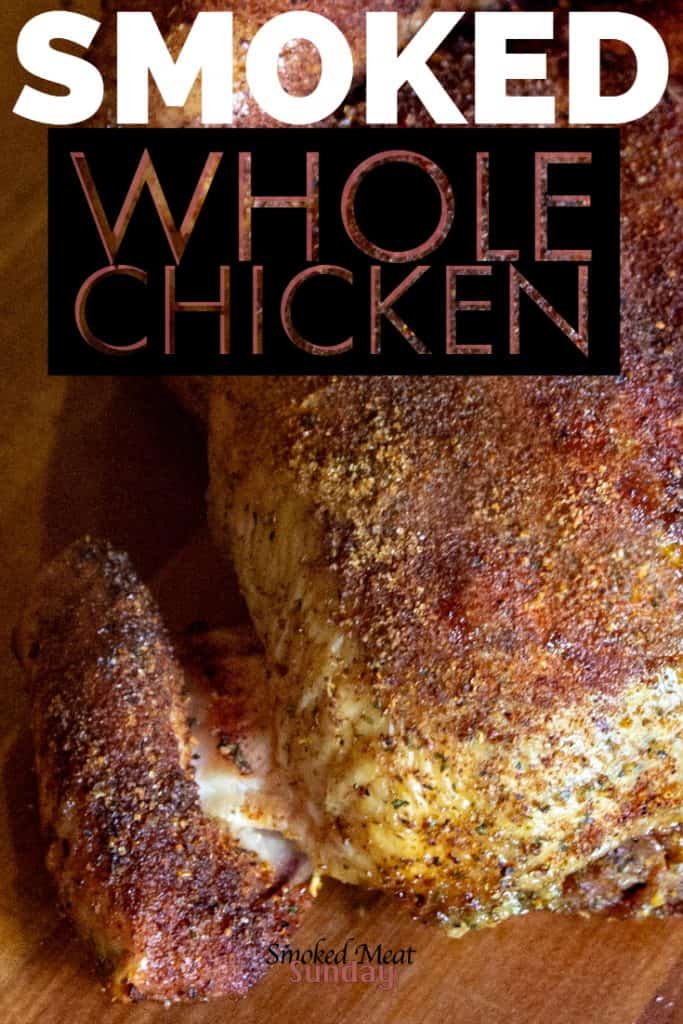 Seasoning a Whole Chicken
Now that the chicken has brined, it's time to add the rub. I don't usually eat the skin on smoked whole chicken. That being said, I always add rub generously to the outside of the skin and do my best to get generous amounts of rub underneath the skin too.
If you really want to get fancy, you could mix a tablespoon of your bbq rub with half a stick of softened butter, and then rub that under the skin. If you don't brine the chicken, this could be a good alternative to keep the bird moist and juicy.
What Kind of Rub Should I Use?
There are plenty of options when it comes to a good rub to use on your whole chicken. Here are a few that I'd recommend if you're looking for a good place to start:
SPG – This is one of the first rubs I used, and it's still one of the best. SPG stands for "Salt, Pepper, Garlic". The rub includes some additional ingredients, and always produces good results.
"The Gospel" by Meat Church – The Gospel is another excellent all-purpose rub that people swear by. The Gospel is great on Chicken, but it can be used on beef and pork too.
Traeger Leinenkugel's Summer Shandy – I've used this rub a bunch this Summer. I love the lemon flavor that comes with this rub! It goes great with chicken, but I've used this rub on fish too!
How To Smoke a Whole Chicken
After you get the chicken seasoned, it's time to start cooking! This is the easiest part of the whole experience.
Set your smoker up to cook at 225 degrees, and place the bird in the smoker. I put the bird on a grill rack so it's easy to move when it's time to take it off the smoker.
If you want you can stuff the cavity of the bird with lemon, onion, and garlic, but it's not necessary.
After the bird has cooked for an hour at 225 I turn the temperature up to 275 to finish. The smoked whole chicken is ready when the internal temp of the chicken thigh AND the breast is 165 degrees.
Smoked Whole Chicken typically takes about 35 minutes per pound using the method I outlined above.
Let the Chicken Rest!
After the chicken has cooked, make sure you let it rest under loosely tented foil for about ten minutes. This gives the juices in the meat time to redistribute, and minimize the chances of having dry meat.
If you followed all the steps I outlined above, you'll be in good shape either way!
Smoked Whole Chicken
One of the easiest things to make on a pellet grill is a whole chicken. There are countless smoked whole chicken recipes, but this one is by far my favorite.
Total Time
3
hours
15
minutes
Ingredients
Brine
12

ounces

Beer

2

tbsp

kosher salt

1

tbsp

brown sugar

2

cups

water
Chicken
1

Whole

Chicken

Giblets Removed - Free Range Organic if possible

1

tbsp

bbq rub
Instructions
If the giblets are still in the cavity of the chicken, remove them

Prepare the brine using all of the brine ingredients in a brine bucket

Place the whole chicken in the brine. Add a few cups of water to the brine to make sure the whole chicken is completely covered.

I like my whole chickens to brine for 12 hours, but you will experience a juicier cook if you let the chicken brine for as little as 3 hours.

Remove the chicken from the bucket, and pat it dry with paper towels.

Add rub generously to the outside of the skin

Do your best to get generous amounts of rub underneath the skin too.

Set your smoker up to cook at 225 degrees, and place the bird in the smoker.

After the bird has cooked for an hour at 225 turn the temperature up to 275 to finish.

The smoked whole chicken is ready when the internal temp of the chicken thigh AND the breast is 165 degrees.

Let the chicken rest for ten minutes before slicing and serving