Pot roast is one of those slices of Americana that, for almost everyone, elicits a ton of nostalgia and sense memories.
Fork tender and bursting with layers of deep, rich, roasted flavor, pot roast has so many different variations it's hard to nail down a gold standard.
While I'll always have a place in my heart for my grandmother's pot roast, lately, I've become obsessed with my smoked chuck pot roast recipe.
Smoking a Chuck Roast.
Chuck roast is perfect for pot roast. It's well marbled, filled with flavor, and the best part is that it's a relatively inexpensive cut.
The downside to this miracle meat is the amount of connective tissue you find in a chuck roast. Because of its placement on the cow, the chuck gets a lot of work in the shoulder, so it's pretty tough to begin with.
Combined with the fact that the shoulder contains multiple muscle groups all running in different directions, this makes grilling and slicing a problematic proposition.
While all of these factors might make a chuck roast difficult to grill, it is perfect for a combination cooking method like the one I use in this smoked pot roast recipe.
Combination Cooking FTW.
Not all proteins are suited for a long uninterrupted smoking session like smoked brisket is, and pot roast is one of them.
While I prefer a pure smoking process like brisket or dinosaur ribs when possible, sometimes a multi-step process is the only way to get the best results. When you smoke chuck roast, it's best to add a moist finishing step almost like a braise to help keep the meat from becoming dry and unpalatable.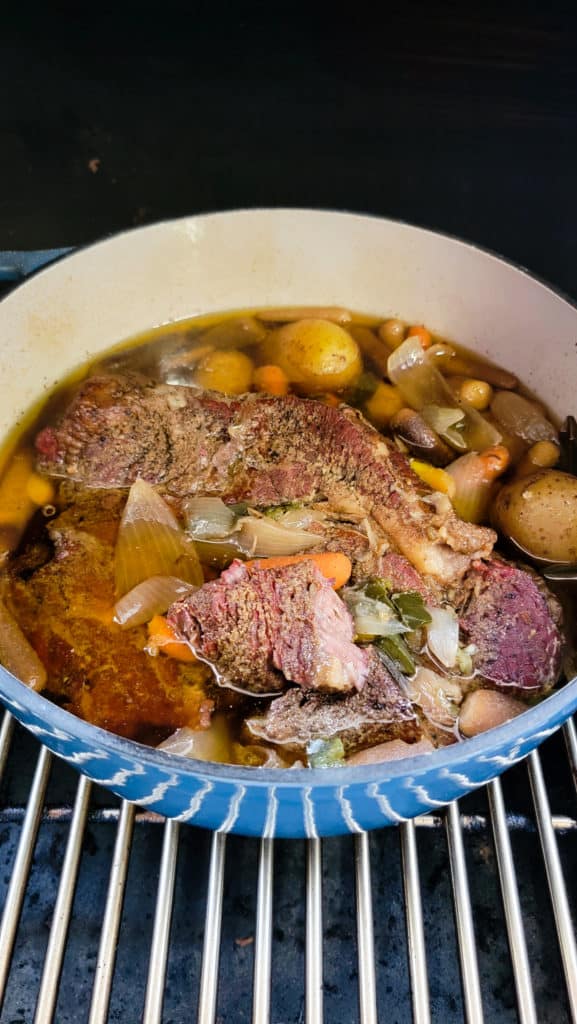 Combination cooking methods are usually multi-stage events that combine some form of dry sear or roast with a secondary braising or simmering stage to help create fork-tender proteins packed with juicy, roasted flavor.
Start with a good rub.
This Smoked Chuck Roast recipe starts with a rub like most quality barbecue.
To begin, you'll mix the garlic powder, onion powder, beef BBQ rub, chili powder salt, and pepper, and then massage that mixture over the surface of your 3lb chuck roast.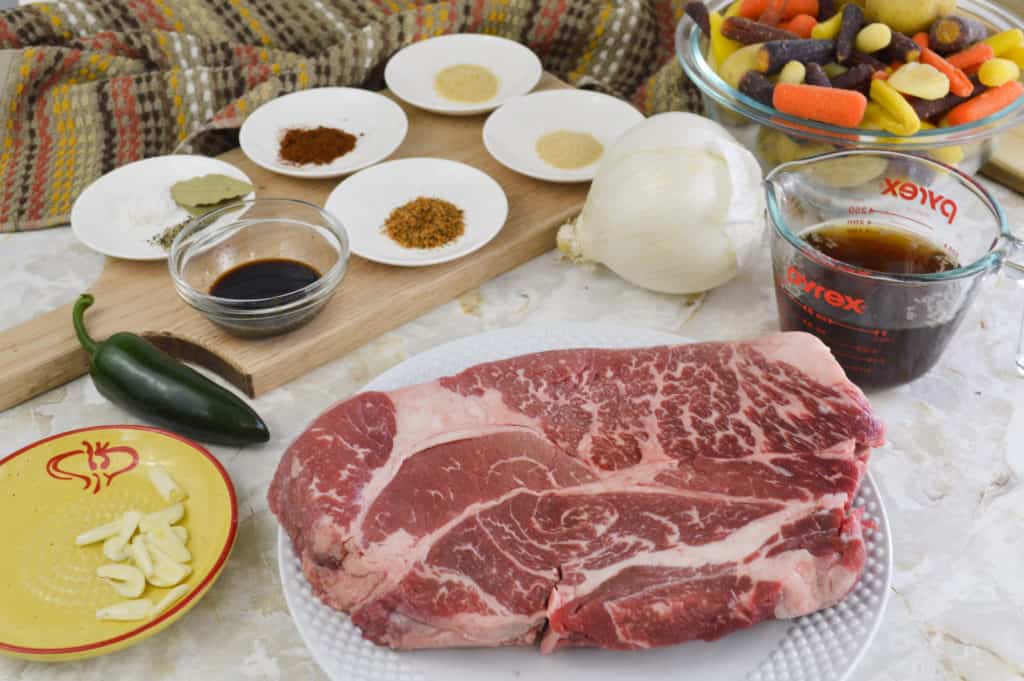 While you don't need to go crazy, it's essential to rub the seasoning into the meat and not simply sprinkle it across the outside. This helps penetrate the flavor into the roast while also tenderizing the meat slightly.
Once your meat is well rubbed, it's time to add small slices to the roast and insert whole garlic cloves to smash the flavor through the roof.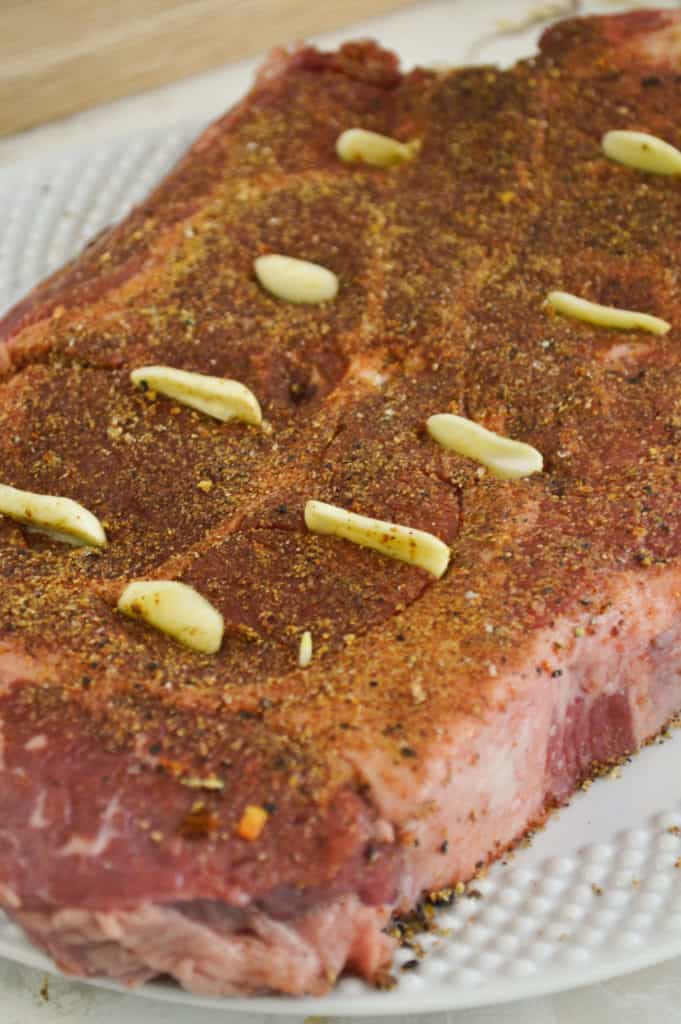 Smoke it up.
After your chuck roast is rubbed, infused with garlic cloves, and ready to go, it's time to pop it in the smoker.
The first smoking stage for this pot roast recipe is done at 180°f for 1 hour and 45 minutes. While this is a relatively low temperature, it ensures your chuck roast won't tighten up and begin to lose moisture before you reach the braising step.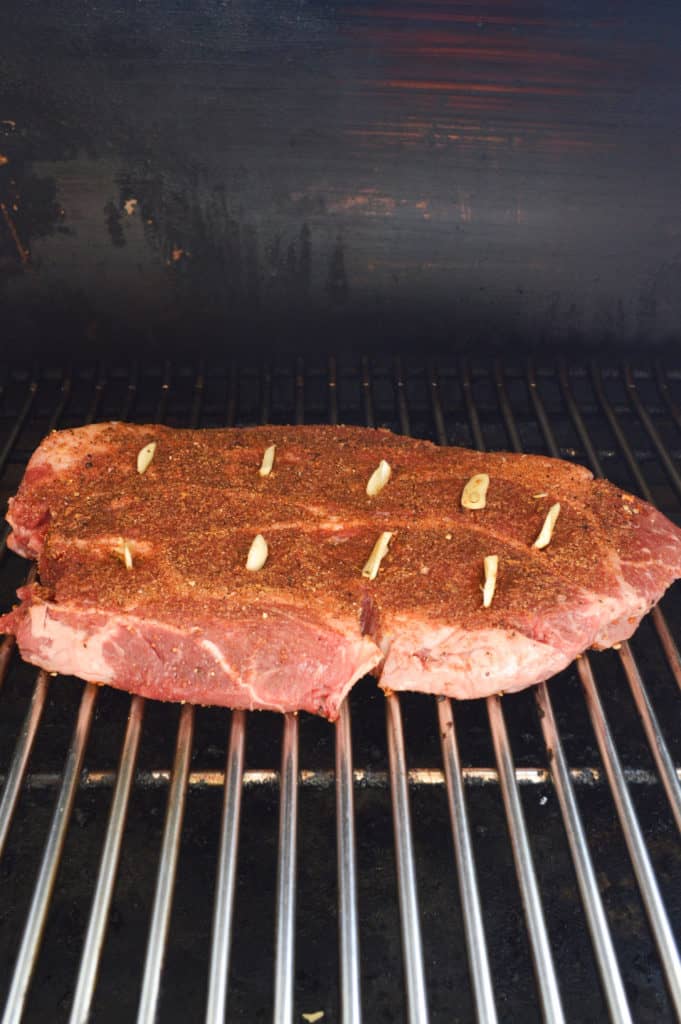 Flavor-wise, you can use whatever wood you have handy. I prefer a nice cherry or applewood for smoked beef chuck roast, but red/white oak, mesquite, or hickory are perfectly acceptable, depending on your taste and preferences.
Build the braising liquid.
Once the meat has been smoking for 1 hour and 45 minutes, remove the chuck roast from the smoker and increase the temperature to 250°f.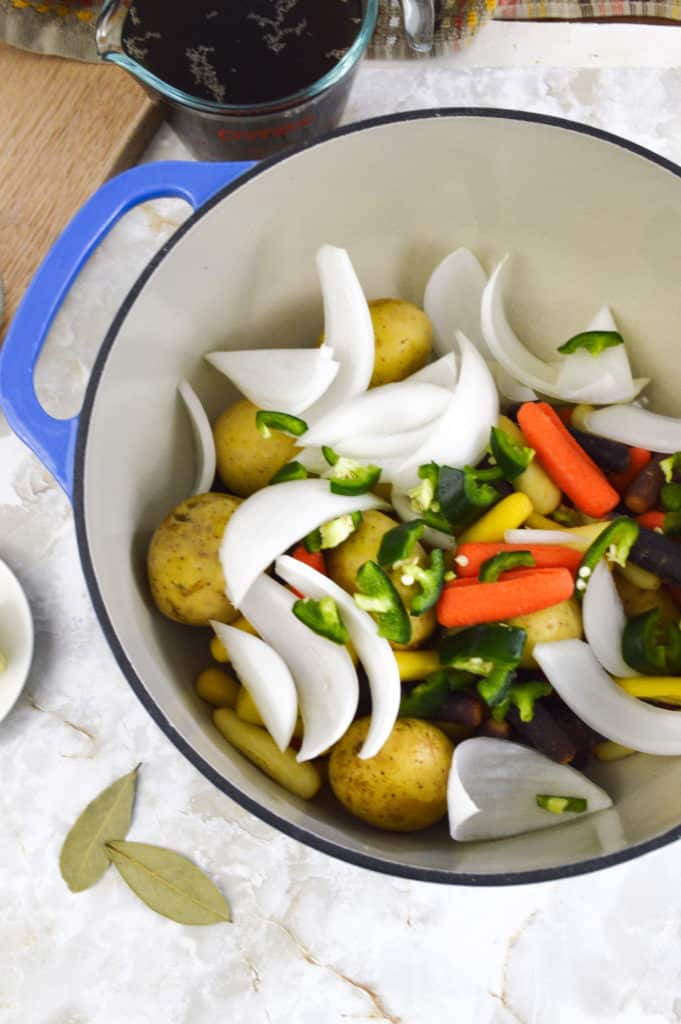 In a dutch oven or aluminum pan, combine the potatoes, carrots, onion, jalapeno, beef stock, bay leaf, and butter. Nestle the chuck roast among the veggies and broth, then cover the dutch oven with the lid, or if using an aluminum pan, cover the top tightly with aluminum foil.
Place the pan or dutch oven back into the smoker and allow it to cook for another 4 hours or until the smoked roast is fork-tender.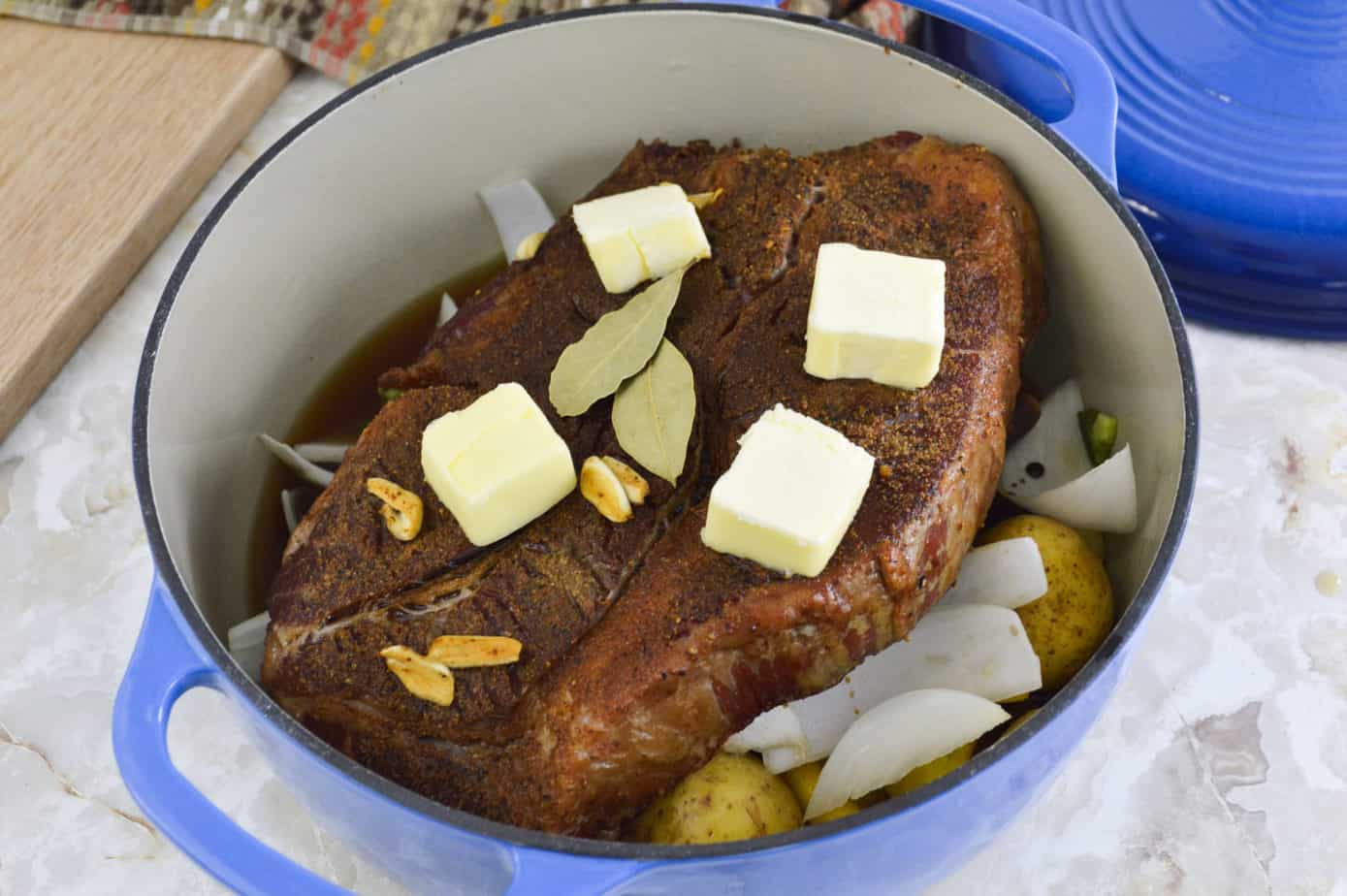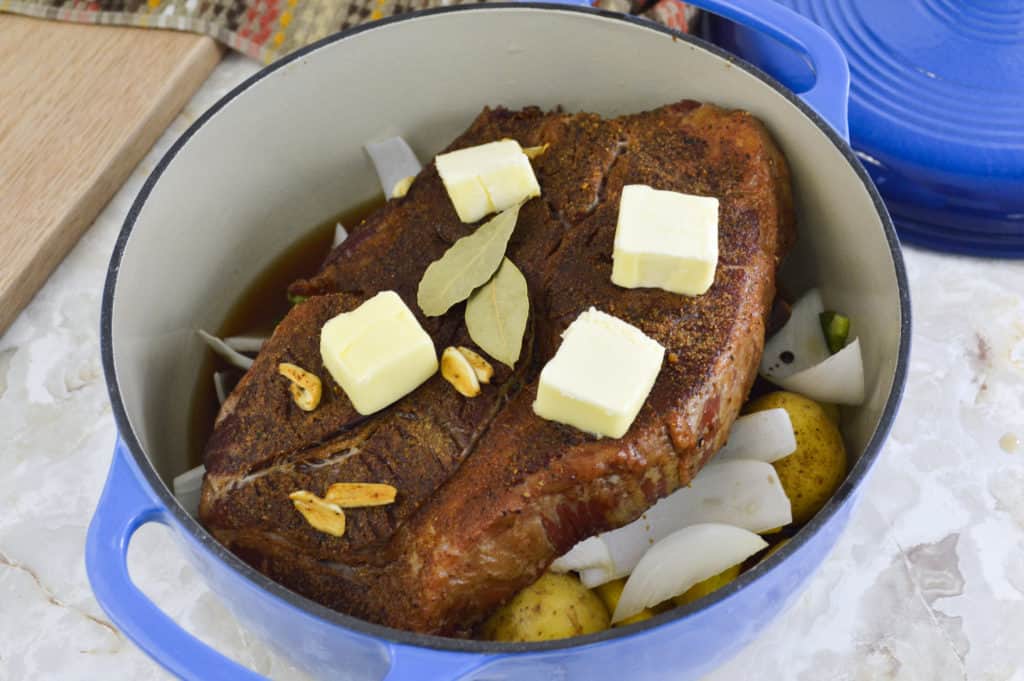 Do you have to finish the pot roast in the smoker?
The answer to this question is not necessarily.
While I love to cook in my smoker for as long as possible, you can achieve the same results by completing the final smoking stage in your oven instead.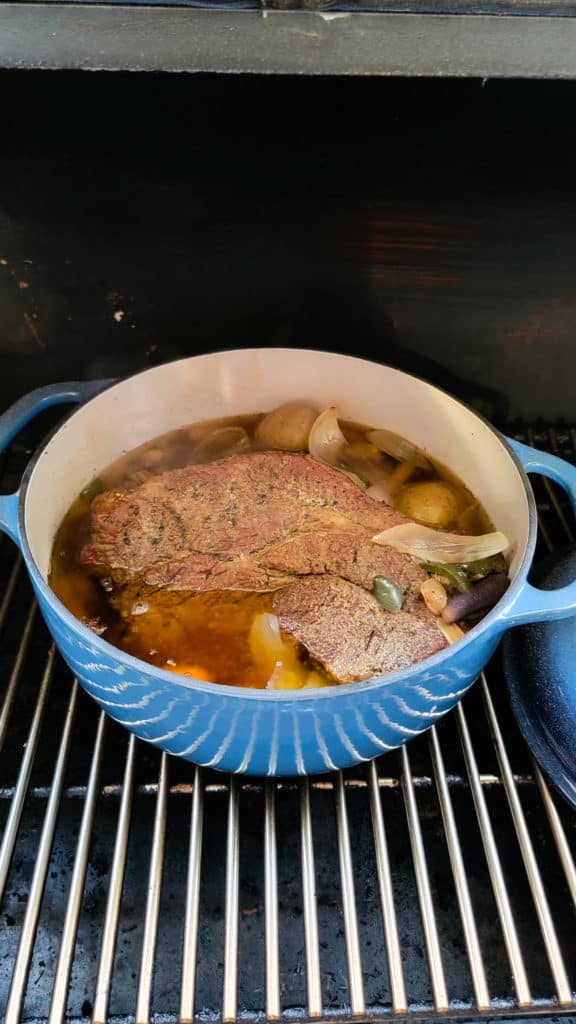 Because the braising pan is fully covered during the final cooking stage of this tender smoked chuck roast recipe, the meat won't take on any more smoked flavor at the end.
If you wanted to save fuel, you could certainly set your oven to 250°f and finish the cooking process there instead.
Basting for flavor.
Wherever you choose to finish the last stage of this cooking process, you will want to make sure you baste the pot roast hourly.
Basting will help keep the meat moist and flavorful and prevent the top from drying out. Alternatively, you could flip the pot roast from side to side every hour, but toward the end of the cooking process, you'll find the meat may be much too tender to allow you to flip it without breaking it apart.
Temperature and doneness.
Fork tender is a description you'll see in braised/combination cooking methods. This traditionally means the finished product should be tender enough to cut or break apart easily with a fork or spoon.
The ideal internal temperature for fork-tender meat is above 206°f; once protein goes above 200°f, the connective tissue starts to break down, and the meat becomes incredibly tender. In my experience, 206°f is the perfect temperature for a pot roast because it retains enough texture to be filling, while it's also tender enough to melt in your mouth!
Once you've hit the 3-hour mark, begin taking internal temperature readings with your instant-read meat thermometer every 20-30 minutes. After the internal temperature reaches 206°f, you can remove the dutch oven from the smoker or oven and allow it to rest for 30 minutes before serving.
To serve, place a spoon full of roasted vegetables, a large chunk of perfectly smoked pot roast, and a generous ladle of the broth in a bowl. Make sure to serve with a healthy helping of grilled bread to mop up the last of the broth!
Perfectly Smoked Pot Roast
This mouthwatering Smoked Chuck Pot Roast will quickly become the gold standard by which you measure all other pot roast recipes. Fork tender and packed with flavor, this pot roast is packed with a depth of flavor you'll be craving for weeks to come!
Ingredients
2.5-3

lb

chuck roast

1

tsp

garlic powder

1

tsp

onion powder

1

tsp

beef BBQ rub

1

tsp

ancho chile powder

1

tsp

salt

1

tsp

pepper

2

cloves garlic

sliced

2

lb

baby gold potatoes

(about 12)

12

oz

rainbow baby carrots

½

of a large white onion

quartered

1

jalapeno

chopped

1

(14 oz.)

can of beef broth

1

cup

water

1

tbsp

Liquid Steak seasoning

2

bay leaves

4

tbsp

butter

(optional)
Instructions
Preheat the smoker to 180 degrees.

In a medium bowl combine the garlic powder, onion powder, Beef BBQ rub, ancho chile pepper, salt, and pepper. Mix well

Rub down each side of the chuck roast with the seasoning mixture.

Using a sharp knife, make slits in the meat and insert slices of garlic into the meat.

Place the chuck roast into the pre-heated smoker and close the lid.

Smoke at 180 degrees for about an hour and forty five minutes.

Remove the meat from the smoker and raise the temperature of the smoker to 250 degrees.

In a large dutch oven or aluminum pan, add the potatoes, carrots, onions, and jalapeno.

Place the smoked chuck roast on top of the vegetables.

Then add the beef broth, water, liquid steak seasoning, bay leaves, and butter.

Cover and place in the smoker and let smoke for about four and a half hours or until the meat is fork tender and vegetables are soft.
Notes
We based the meat every hour with the liquids from the pot (with a ladle)
Wood Pellets (we used a Signature Blend)
Cooking times may vary depending on smoker/ temperature