A good instead read thermometer is a pit master's best friend. They allow you to quickly monitor the internal temperatures of anything in your pit or on your grill while also helping keep the time your pit door stays open to a minimum.
While any thermometer can help you keep track of your barbecue, a quality instant-read meat thermometer does make a difference overall.
Today, you can find tons of different instant-read thermometers at almost every price point, from high-end $100+ models to less expensive options that cost around the price of a few cups of coffee. No matter what model or features you're looking for, this list has an option that's perfect for you or the grilling fanatic in your life!
Instant Read Barbecue Thermometer Rundown!
There are many different ways to compare instant-read thermometers, but this list primarily focuses on three categories, Design, Price, and Performance. While you can go out and buy the most expensive thermometer on the market, this won't necessarily mean it's the best; in the same way, the coolest-looking thermometer won't always have the best performance.
While there may be some debate over which thermometer on this list is truly the best, every model here has been rigorously tested by the SMS staff in real-world cooking situations, so you can be sure that these recommendations come from a place of experience and expertise.
How we evaluated the competition:
Before diving into the list itself, I feel it's important to look at how we went about testing and analyzing these thermometers. First and foremost these thermometers were tested by SMS staff, all of whom have spent years honing their barbecue/smoking skills and represent over 3 decades of combined barbecue experience.
We started this process by combing through message boards, social media, and real-life testimony to form a list of some of the most popular and trusted instant-read thermometers available.
Next, we added a number of newer models and lesser-known options that were highly rated and reviewed.
Once we'd culled together over 75 total options, we slimmed the list down and purchased more than 30 instant-read thermometer models for a combined value of more than $1000.
Testing
Testing these thermometers took over 50 hours of combined work.
We used every single model in real-world environments, during actual barbecue sessions.
Every model tested was timed, checked for accuracy, and then compared against the competition.
Throughout our testing, we focused on a number of Key Performance Indicators in order to begin building an understanding of how best to compare all of the models we reviewed.
KPIs
Speed of reading
Accuracy of reading
Battery Life
Design
Power Source
Display quality
Build Quality
We tried to marry subjective qualities, like design, and choice of power source, with objective metrics like speed, accuracy, and battery life to provide the best possible basis for comparison across the multiple models we tested. While things like speed and accuracy are easy to compare, it's harder to evaluate the way a thermometer feels in your hand, or how "well it's built" versus another model.
The Results:
Once all the testing had been completed, all the barbecue eaten, and the results tallied, we began to build this list.
Out of more than 30 models reviewed, we have chosen:
5 incredible options that can only be called the Top 5 instant-read thermometers on the market today!
AND
5 honorable mentions, all of which will serve as amazing additions to your barbecue setup.
Best Instant Read Thermometer: Thermapen One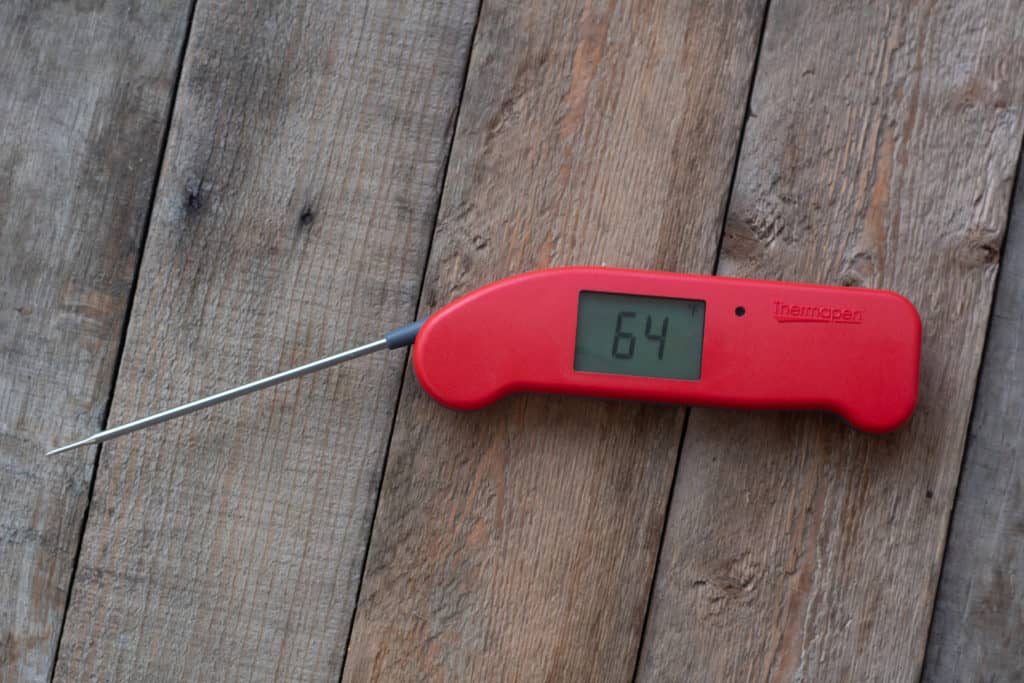 What we liked:
Super Fast Readings
Auto On/Off
360° Screen Rotation
Waterproof
The Thermapen One by Thermoworks is by far the fastest instant-read digital thermometer I've ever used. With stable readings in less than a second, it was almost impossible to start and stop the stopwatch fast enough to get an accurate measurement.
By combining the most sensitive thermocouple I've seen on a consumer-level thermometer and the already incredible design/functionality of the Thermapen line of tools, Thermoworks has created a real show stopper of a meat thermometer. Using this tool is a pleasure, and it makes it simple to create excellent barbecue consistently. With a wide temperature range, and super accurate temperature readings, the Thermapen One is great for more than just barbecue; you can use it to deep fry, homebrew, or make candy as well!
The price tag for Thermapen products is not tiny, and this thermometer is a costly purchase, but if you're looking for the pound-for-pound king of the instant-read thermometer world, the Thermapen One is it.
Runner Up: Thermopro TP19 Instant Read Meat Thermometer
What we liked:
3-5 s readings
Auto on/off
Auto-rotating Screen
Water-Resistant
Compared to the first place option, the Thermopro TP19 is a real value. At just under $30, you can add a really nice instant-read thermometer to your barbecue toolbox for less than the price of two movie tickets.
Throughout my tests with the TP19, it was tough to find things I disliked. This thermometer has an excellent overall design with stable readings in ~3 seconds, an auto-off/on the feature, and a sleek folding design.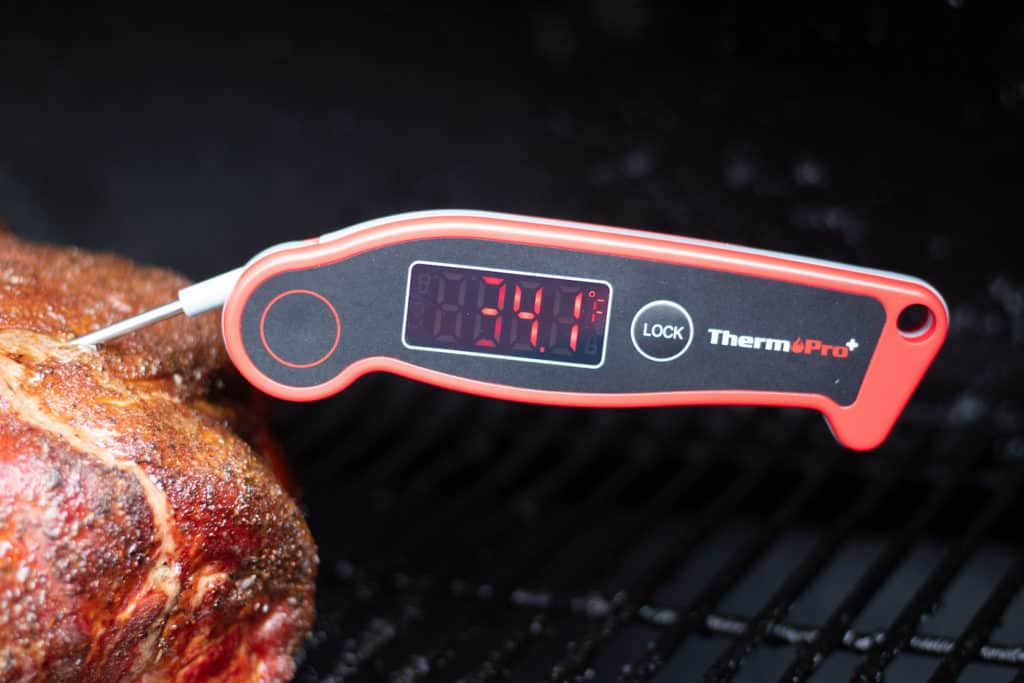 The TP19 has a modest price tag, but it feels like a more expensive thermometer. The overall construction of this model is very sturdy, with a rubberized coating protecting the edges and a very tightly mounted hinge for the folding probe. The display is bright, large, and very easy to read, and the entire thing runs on AAA batteries making it easy to ensure you always have backups on hand.
While the readings on this thermometer could take a little longer than the 1s it took the Thermopen One, 3-5s is a respectable speed, and at ⅓ the price, it's easy to justify waiting a little longer for a temperature reading.
3rd Place: ThermoPop by Thermoworks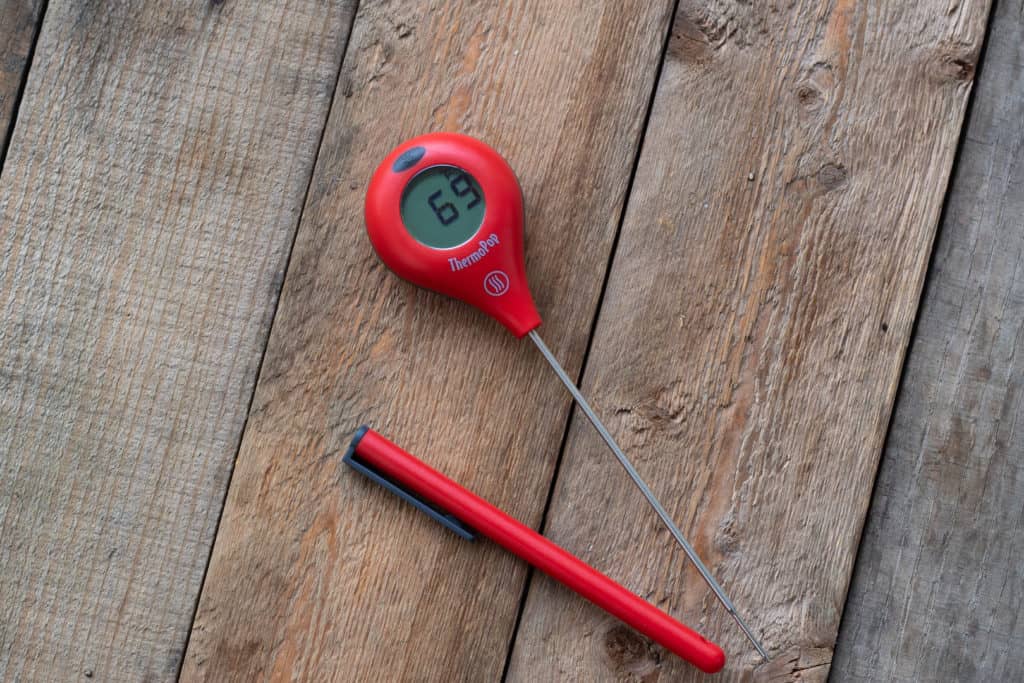 What we liked:
3-4 s readings
360° Screen rotation
Splashproof design
Big digits and a strong backlight
The Thermoworks Thermopop is a fantastic little thermometer with a very reasonable price tag. Though it does run on button cell batteries which I didn't love, its small design makes that the only effective power option.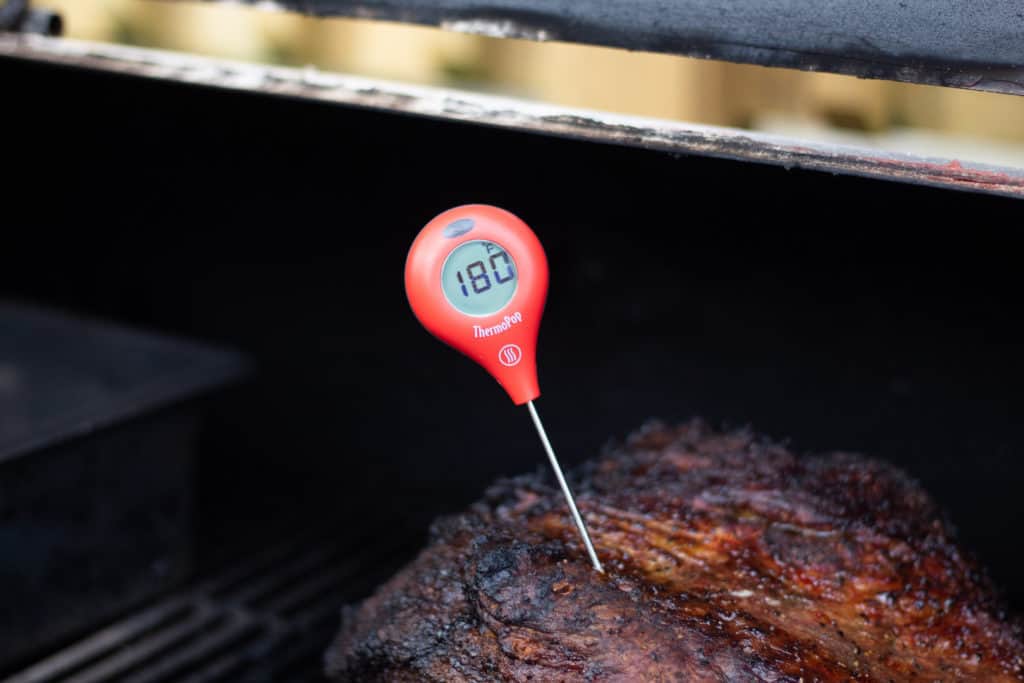 With all the quality of the Thermoworks brand in a super small form factor, the Thermopop gives accurate, stable readings in less than 4 seconds. The small ergonomic design makes this great as a backup thermometer or an excellent thermometer for a chef coat or apron pocket.
The screen rotates 360° with the push of a button, and the large digits, as well as a super-strong backlight, make the led display easy to read. The thin, step-down thermocouple probe slides into any protein with ease, from pork butt to brisket and chicken; you'll be grabbing readings in half the time it takes a thermister style probe.
If you are looking for a second instant-read thermometer and want a super-strong option, the Thermopop makes a great choice, and for less than the price of a pork butt, it can be yours!
4th Place: Javelin Pro Duo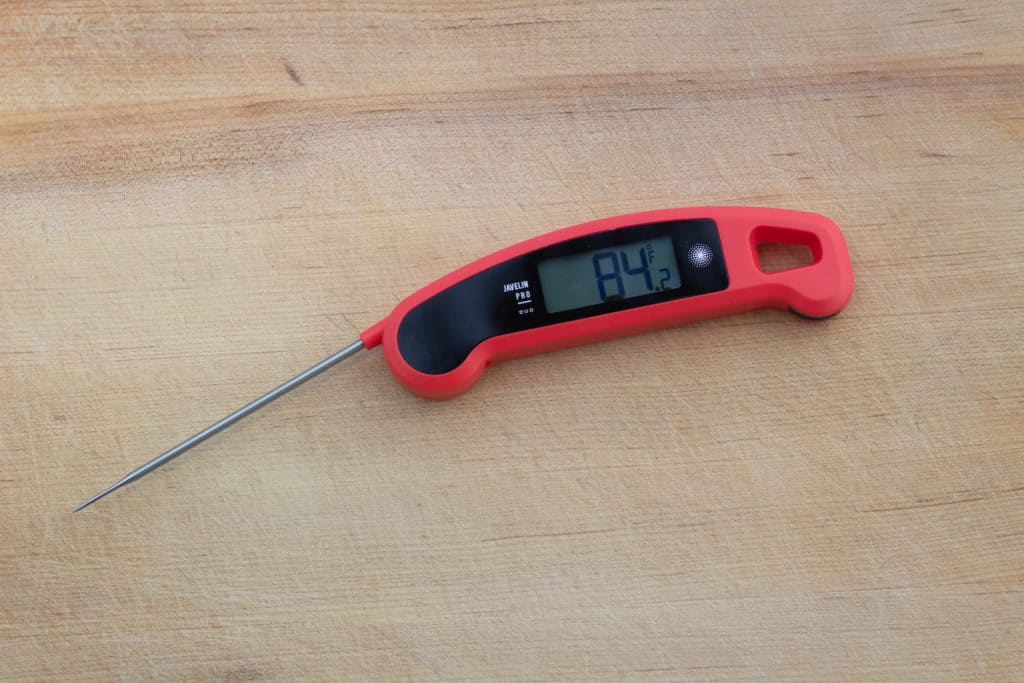 What we liked:
Super fast 3 second readings
Auto on/off
Strong Backlight
Auto-rotating display
Over the course of a Sunday smoking session, the Javelin Pro Duo quickly became one of my favorite instant-read digital thermometers.
With a sleek, compact design, an eye-catching bright orange color, and super sturdy construction, the Javelin Pro Duo met thermometer feels excellent in your hand. I enjoyed the hook eye at the back of the thermometer and found myself endlessly twirling it around my finger while I relaxed and tended my barbecue.
In terms of performance, the Javelin Pro duo was one of the fastest thermometers I tested, with readings averaging 2.7s throughout my testing session. I loved the auto-rotating screen that automatically adjusted the angle and direction of the thermometer. I wish it had 360° rotation like the Thermopro models, but the 180° rotation was more than convenient enough for me.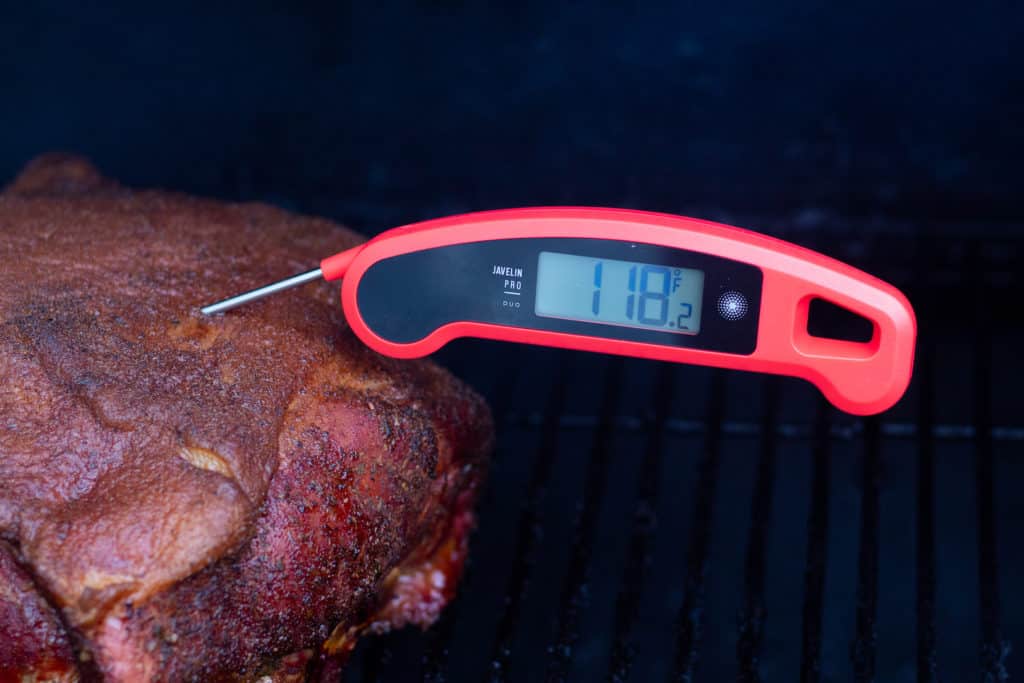 Using the Javelin Pro Duo was a dream; it takes internal temperature readings incredibly quickly, and with a large digital read-out and bright backlit display, it's easy to read as well. The auto-on feature means you're ready to go as soon as you unfold the probe, no fiddling with buttons or settings.
5th Place: Thermopro TP15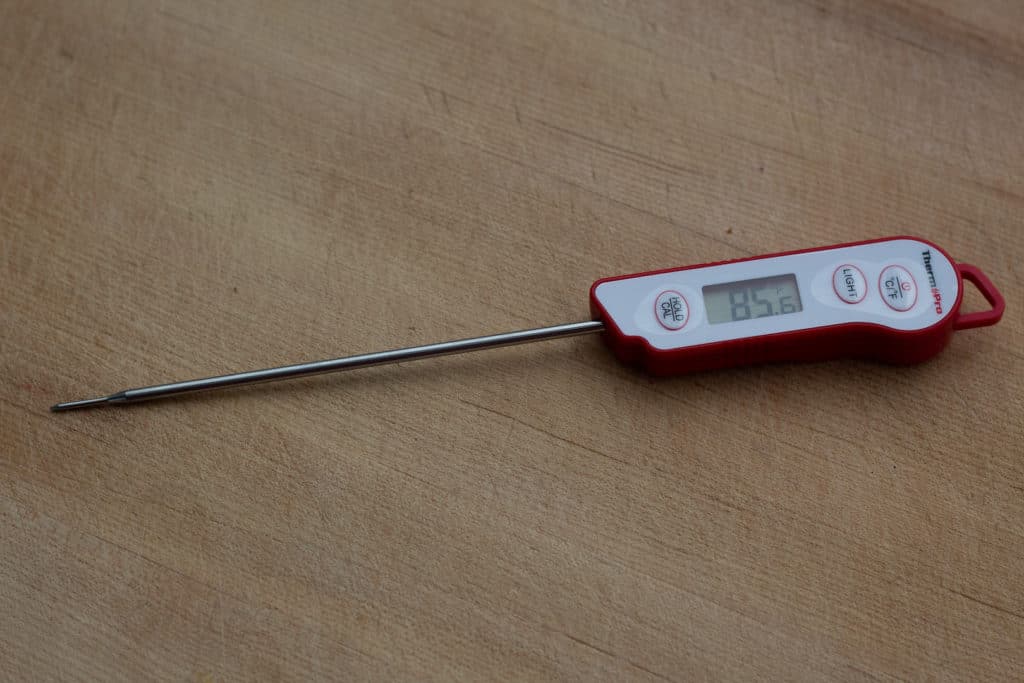 What We Liked:
Small, efficient design
Fast 3-5 second readings
Strong backlight
Splash-proof design
The Thermopro TP15 is a wildly inexpensive instant-read thermometer that continued to impress me throughout my testing sessions.
Over a long day spent smoking a pork butt, this little thermometer continued to give me lighting fast readings, and for less than the price of a movie ticket, it's a serious deal.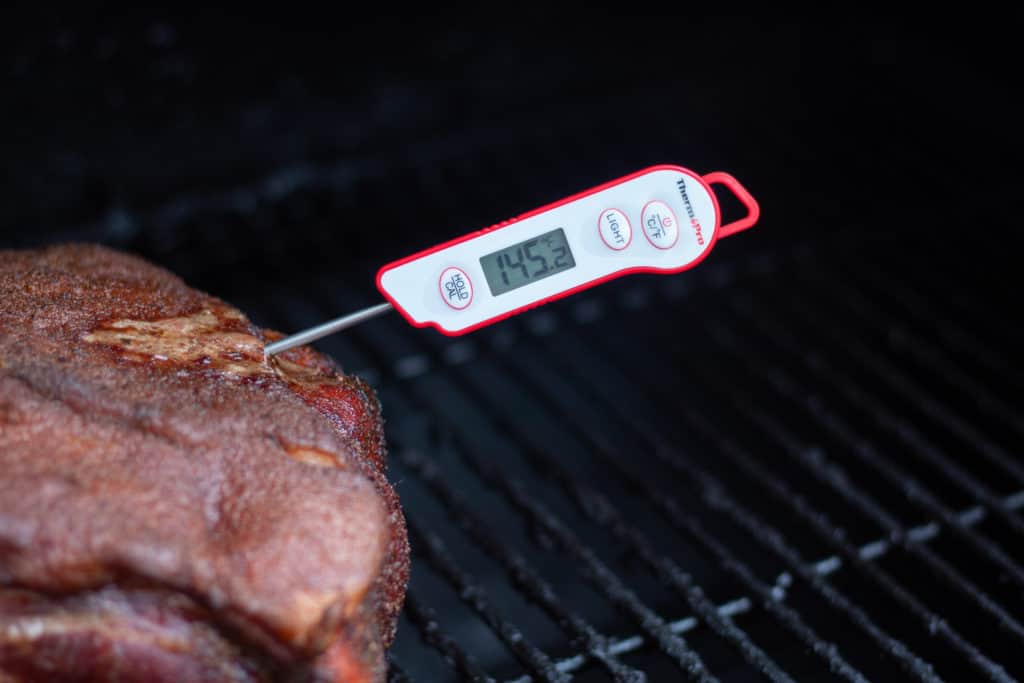 With a sleek, thing design, a super skinny thermocouple probe, and an easy-to-use control panel, taking a temperature reading with the TP15 took no time at all. I wish the TP15 came with a probe sheath to protect the thin thermocouple; given the price tag, not getting a ton of extras is acceptable.
Though I like to keep a sturdier thermometer on hand to use as my daily driver, the TP15 is a great backup thermometer to ensure you never have to go without accurate temperature measurement should you encounter technical difficulties.
Honorable Mention.
While these thermometers didn't make our Top 5, they are all incredible appliances in their own right. These may not have been the most impressive models we've reviewed, they are all great choices and will provide accurate readings time after time. If you are in the market for a new instant-read meat thermometer, they will certainly check all the boxes!
Javelin PT12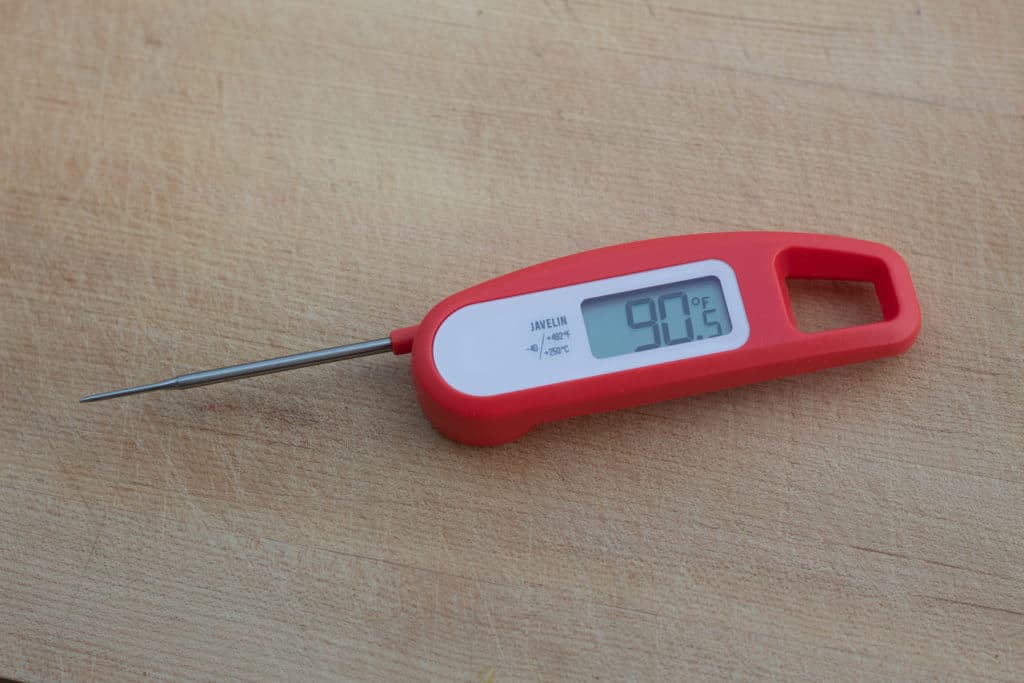 What we liked:
Fast readings
Slim, compact design
Easy to read display
The PT12 is like the smaller brother of the Lavatools Javelin Pro Duo. Almost identical in design, just reduced in scale, the Javelin PT12 is a great little folding probe thermometer that comes with nearly all the features of the Pro Duo at a fraction of the cost.
Using the PT12 was a snap; I unfolded the probe, and thanks to the auto-on feature, I was ready to start taking temperature readings without pressing a single button. The probe is slightly smaller than the probe on the Pro Duo, so more significant cuts of meat like pork shoulders or brisket might be tough to get accurate internal readings, but in my experience, this wasn't an issue.
While the Pro Duo takes slightly faster readings, the PT12 averaged just under 5s throughout my tests which is pretty quick comparatively. Overall, this is a really nice little thermometer, and while it might not be as full-featured as the Javelin Pro Duo, the Javelin PT12 is still an excellent barbecue tool.
Thermapen MK4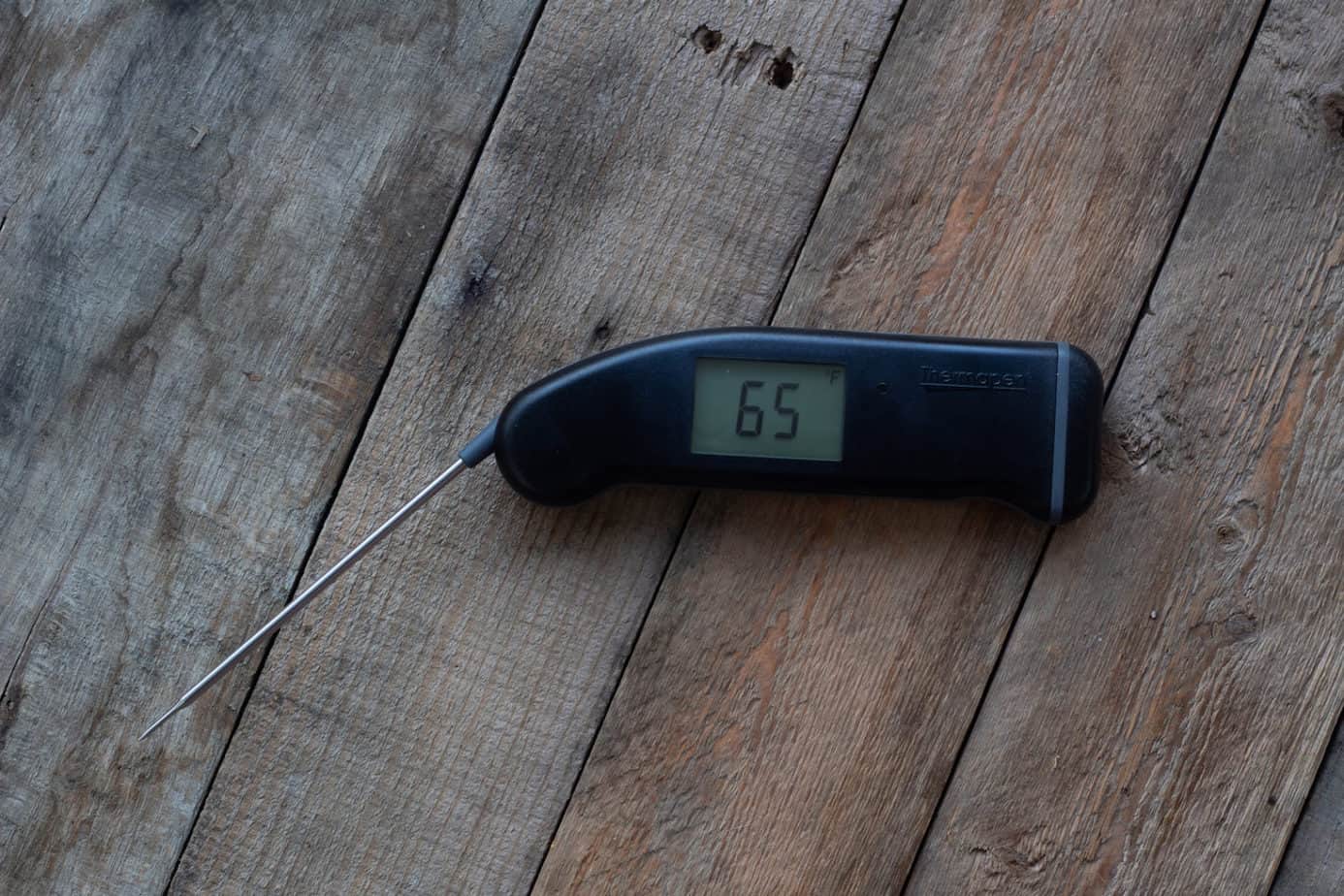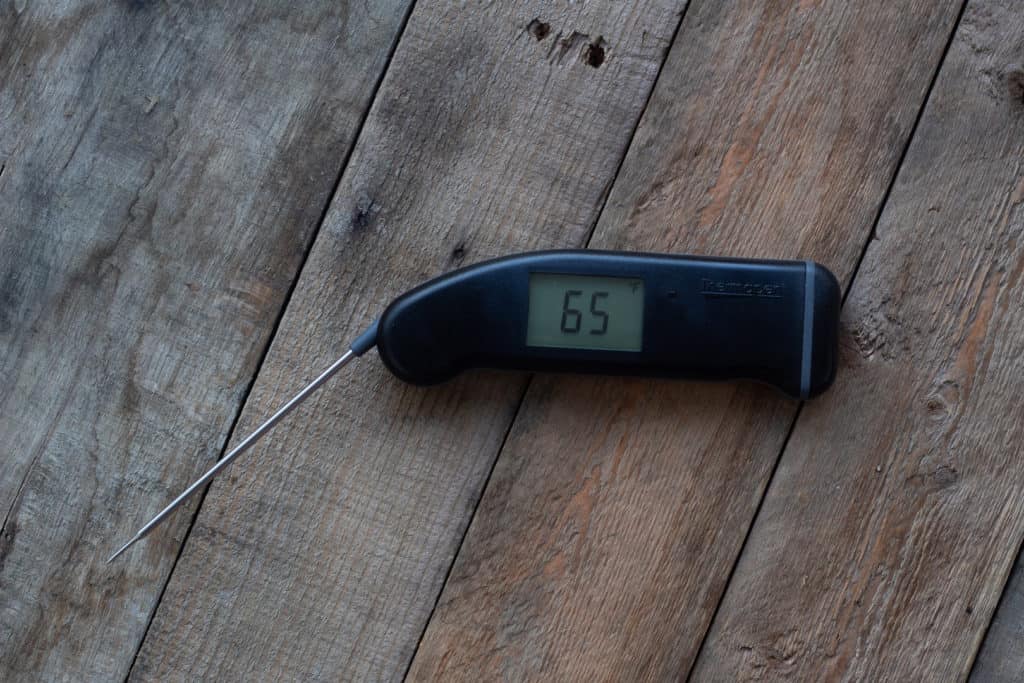 What we liked:
Sturdy construction
Super fast 3-5s readings
360° rotating display
Auto-on/off function
Ip6 waterproof rating
The Thermapen MK4 was once the reigning champion of the Instant Read Digital Meat Thermometer market, and the only reason it's not sitting at the top of this list is that the good folks over at Thermoworks created the Thermapen One to take its place.
Like all of the Thermapen models, the MK4 has an incredibly familiar folding probe design, that has become the blueprint for much of the digital thermometer industry. The large central body contains a bright, easy-to-read central LED display. The probe folds away from the body with a front-mounted hinge, and thanks to the auto-on/off function the MK4 has zero buttons or controls.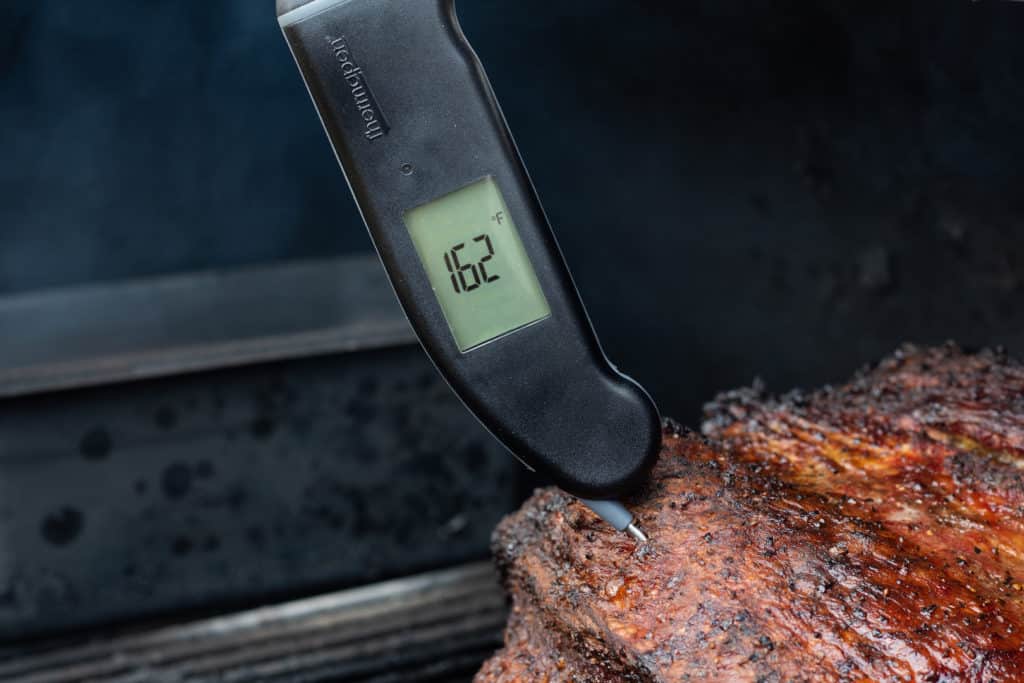 Using the MK4 is very simple, just unfold the probe, insert the thermometer into your protein, and within 3 seconds you'll have an accurate reading. Thanks to the convenient hold function, the temperature will continue to display for a few seconds after you've removed it from your barbecue.
My favorite feature on this model, besides the ultra-fast readings, and super sturdy construction, is the auto-rotating display. No matter which way you insert this meat thermometer, the screen will automatically adjust to the most convenient reading angle. Unlike models that simply rotate the screen from side to side, the MK4 display rotates 360° making it easy to see no matter the angle.
Inkbird iht-1p Instant Read Thermometer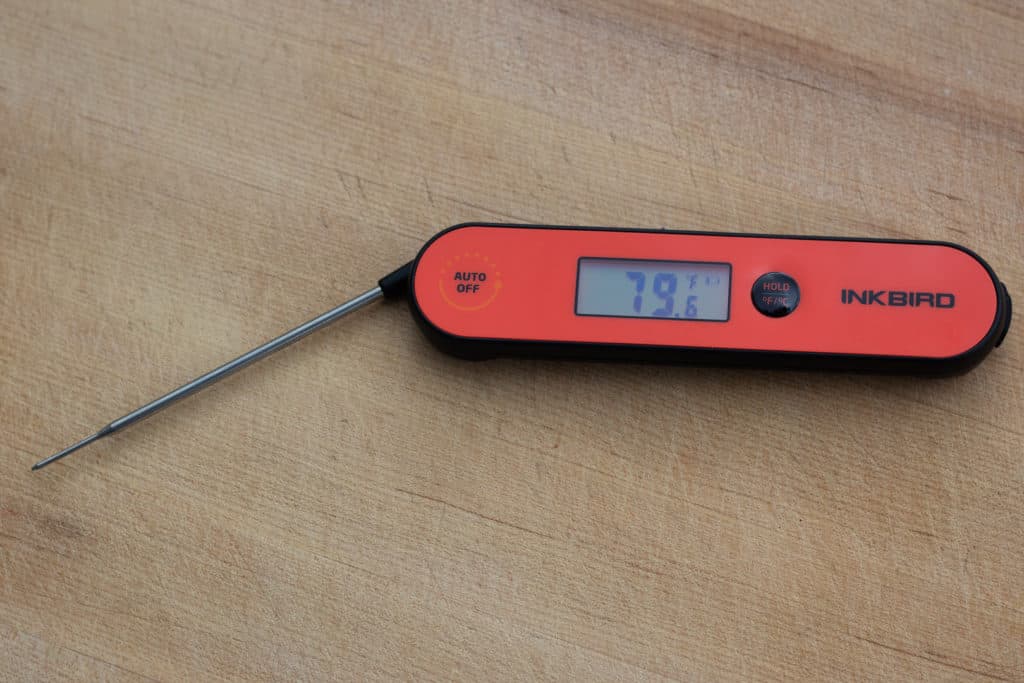 What we liked:
Quick reading time
Rechargeable Battery
Auto-rotating display
Strong backlight
Inkbird has been producing high-quality temperature measurement equipment for a very long time. From thermocontrollers for fermentation or brewing to multi-probe thermometers to thermocouple instant-read options, Inkbird really understands temperature control and measurement.
The Inkbird iht-1p may not be the most well-known instant-read thermometer option, but that doesn't mean it won't do a great job for you. The compact design, and sturdy construction make this a very attractive thermometer, and the super-strong backlight makes it easy to read even in low or no light situations.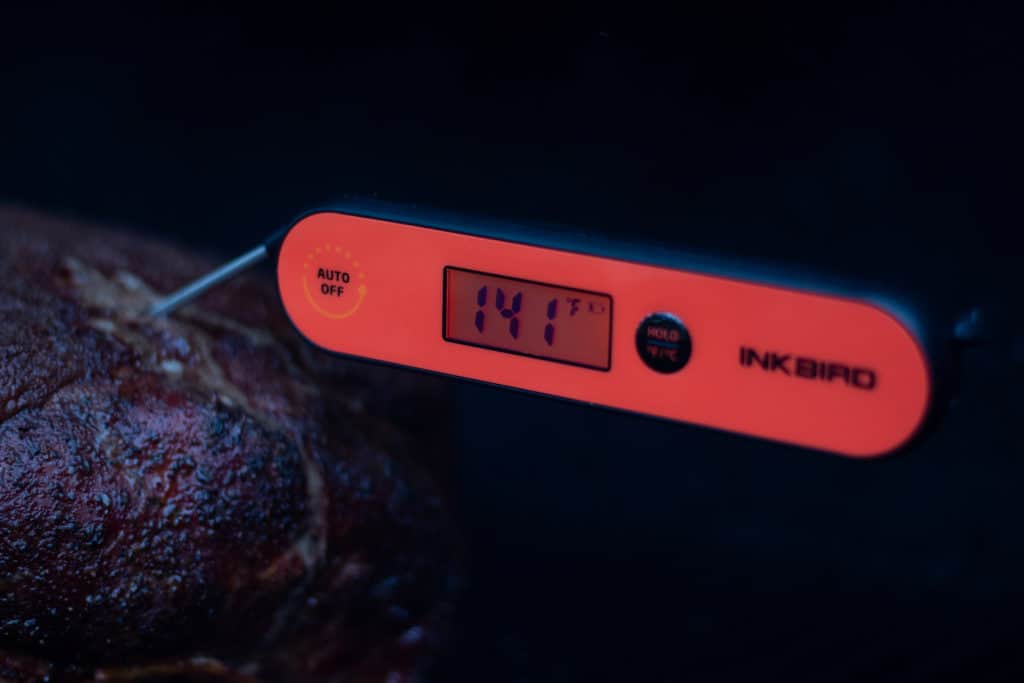 I really enjoyed using this thermometer, and while I don't always love rechargeable batteries (I always forget to charge them) this thermometer charged rapidly and has great battery life overall. Throughout my tests the Inkbird iht-1p took fast readings, averaging just under 6s over the course of my smoking session.
Kizen Instant Read Thermometer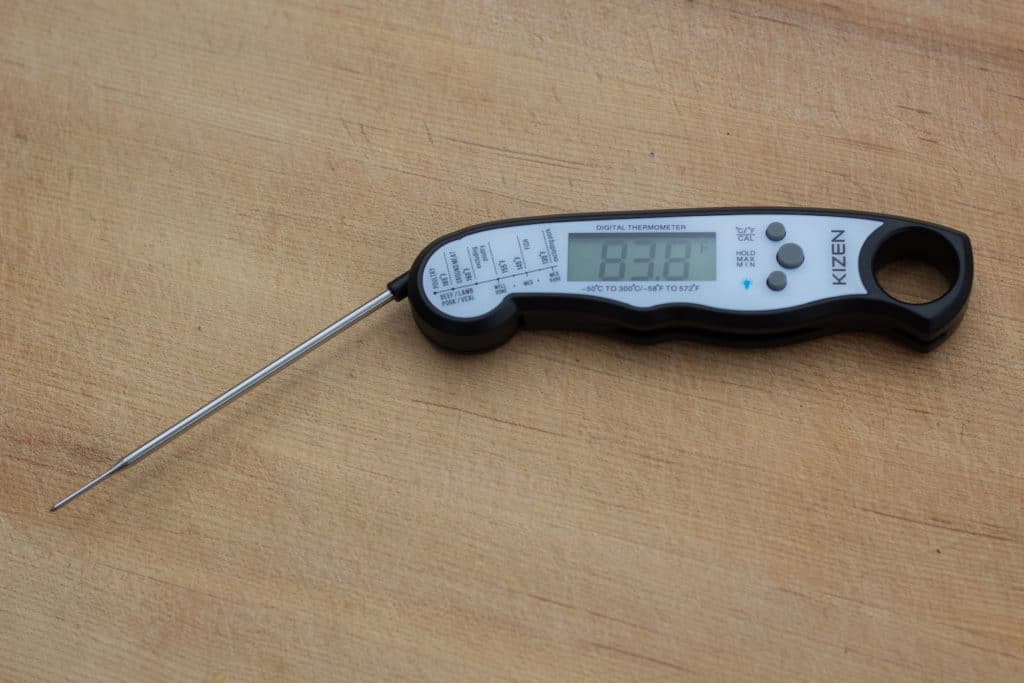 What we liked:
Includes an extra battery
Strong backlight
Fast readings
The Kizen Instant Read Thermometer is a great value-priced digital meat thermometer that is built to impress. With a ton of great features available on pricier models and a sleek design, this thermometer is a lot of fun to use.
I don't love when thermometers use button cell batteries, because it's often frustrating when you run out of batteries and don't have a spare on hand. Kizen takes care of that for you by including an extra battery in their packaging, which is definitely a nice touch.
Throughout my testing, the Kizen averaged 4.5s readings which while not the fastest is still far quicker than thermister or analog thermometers.
Overall, if you're looking for a strong instant-read thermometer, the Kizen Digital Meat Thermometer fits the bill. While it may not have the name recognition of other more popular thermometer brands, this instant-read thermometer certainly comes with all the quality and functionality of those more expensive models.
Thermopro TP18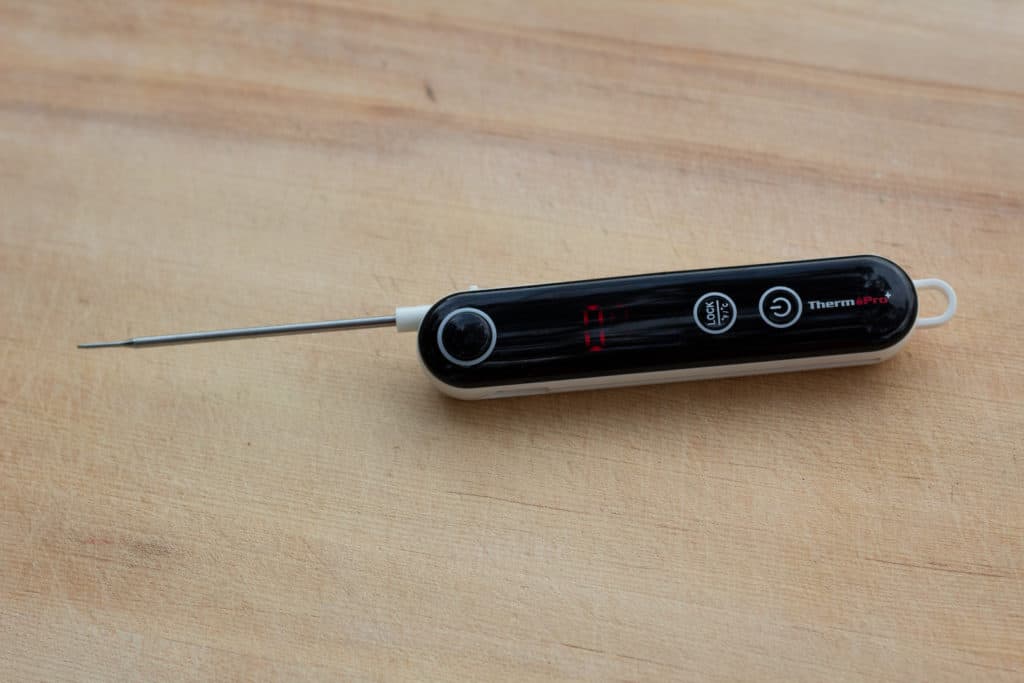 What we liked:
Futuristic design
Large bright display
Easy to use
Fast readings
The first time I opened up the packaging for my TP18 I was struck by how much it looked like the memory-erasing device from Men In Black. As a child of the '90s, this was definitely a selling point.
The Thermopro TP18 is a very sleek instant-read thermometer. With a bright white finish, rounded body, and large digital display, it has a truly unique design.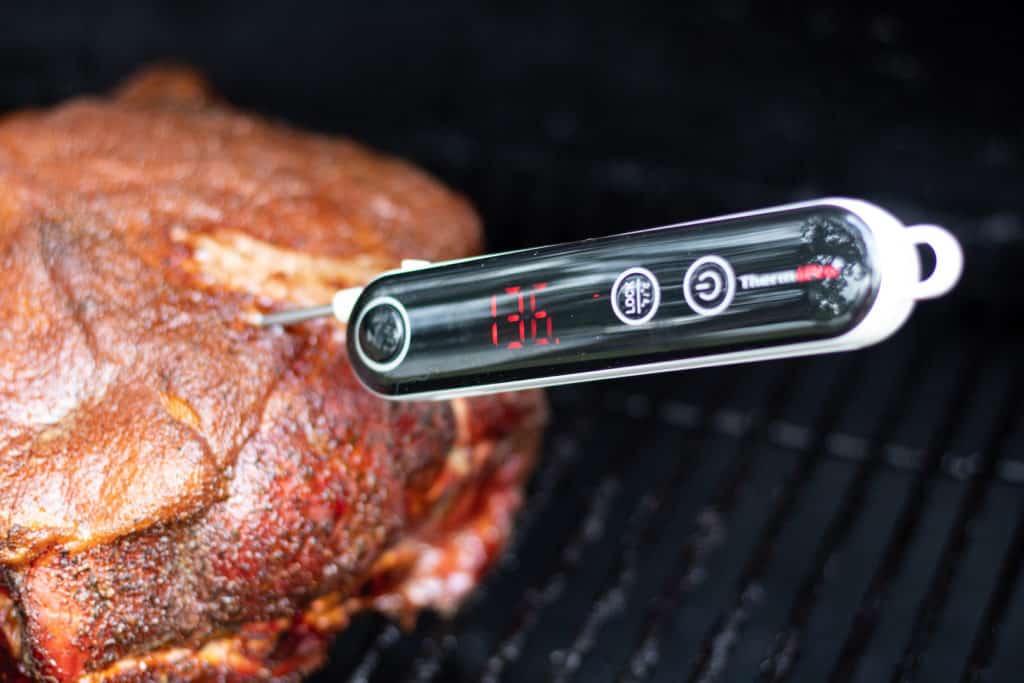 Like most Thermopro products, the TP18 does a very good job taking quick readings, and honestly is an incredibly accurate thermometer overall. While the hinge on this thermometer was a little loose, once locked into place it was super sturdy, and the push-button deployment felt really cool to use.
Final Thoughts and Recommendations.
An instant-read thermometer can help take your barbecue from every day to extraordinary. While I'm not a big believer in miracle tools or gimmicks, the ability to quickly and accurately measure the temperature of any product on your grill or in your smoker is a real game-changer.
Whether you are looking for a super expensive, hyper-quick thermometer, or just a backup probe in case disaster strikes, there are a lot of great options here to choose from. Whichever way you go, make sure you keep your batteries charged or backups on hand, and you'll always have a thermometer ready to go!
If you have a favorite model that you think should be somewhere on this list, leave a comment below and I'll be sure to check it out!