The 45 Day Challenge
I spend a lot of time cooking delicious food in my smoker, and I also spend a lot of time eating that food. In fact, I tend to overindulge from time to time. That over indulging led to a few extra pounds… and I knew I had to get things back on track before the holidays.
Shortly after realizing the reading on the scale was starting to creep up I was encouraged by one of the coaches at my local CrossFit gym to join a 45-day clean eating challenge. What could it hurt?
I'm 7 days into the challenge now, and so far it hasn't been too bad. It's essentially keto (under 25 grams of net carbs per day). The only caveat is that I've also eliminated dairy. No more cheese!
I know what you're probably thinking. Trust me, I know it sounds crazy too. But I feel great, I'm losing weight like crazy, and since I've eliminated the lactose from dairy, and sugar from my diet, I'm noticing that everything I eat tastes much better. My senses are coming alive!
Flank Steak with Carrot Top Chimichurri
I don't know if it's the new diet, or if this flank steak really was the best tasting steak I've ever had.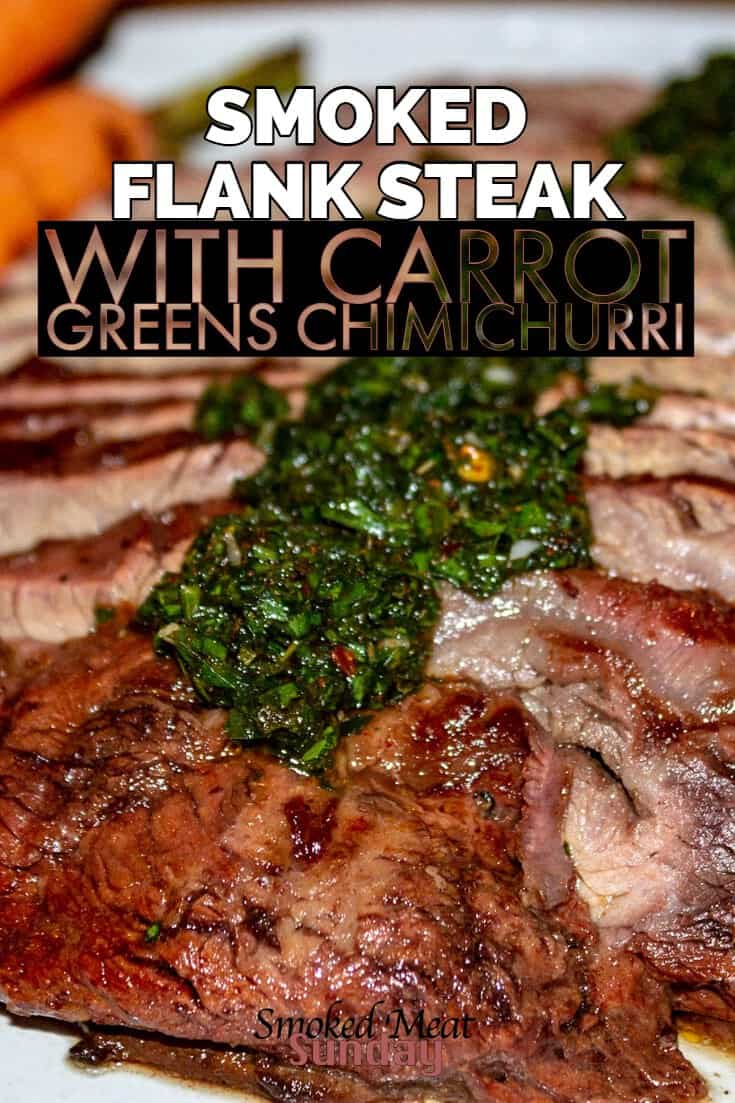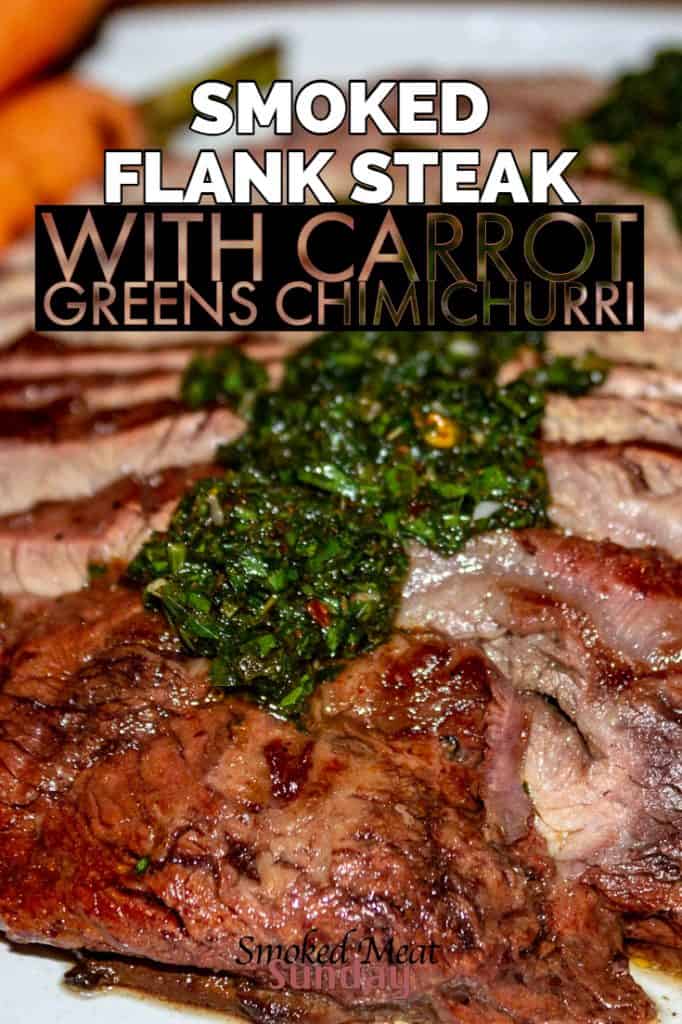 It didn't take long to make, and the fresh flavors of the carrot top chimichurri blended perfectly with the wonderful beefy flavor of the smoked flank steak.
We served the steak with roasted carrots and carrot fries (carb free fun), and everyone loved it!
Flank Steak Marinade
Flank steak is a really great cut of meat. It's very affordable and packs great beefy flavor. Flank steak is a lean cut of meat, and because of that, I like to put it in a simple marinade for a few hours before cooking.
In a small bowl combine a 1/2 cup olive oil, a 1/3 cup Worcestershire, the juice from one lemon, two cloves of minced garlic, a tablespoon of salt, and a few cranks of freshly ground pepper. Mix until the marinade is thoroughly combined and then pour it over your flank steak in a large zip lock bag.
While the steak is marinating you can make your chimichurri sauce.
Carrot Top Chimichurri
I saw this recipe for carrot top chimichurri a while ago, and ever since then, I've wanted to try it. This chimichurri recipe is what truly makes the meal amazing.
The minced carrot tops combined with white wine vinegar, olive oil, and spices give this a unique and fresh flavor that satisfied ALLL of my senses.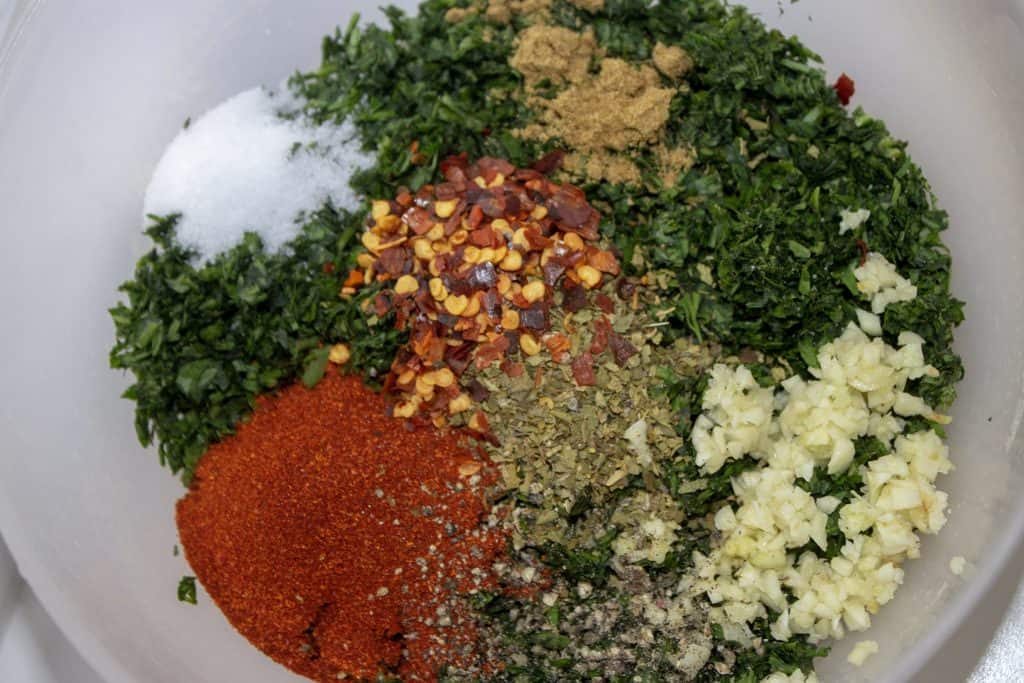 Carrot Green Chimichurri
If you love a good, authentic chimichurri, you have to try making this. The clean crisp flavor of this sauce is the perfect compliment to beef, chicken, vegetables, or breads.
Ingredients
1

cup

finely chopped carrot greens

preferably organic (6 carrots)

2

teaspoons

dried oregano

¼

teaspoon

cumin

2

teaspoon

ground sweet paprika

½

teaspoon

crushed red pepper flakes

2

cloves

garlic

minced

1

teaspoon

salt

a few grinds of pepper

¼

cup

white wine vinegar

1/2

cup

olive oil

a good fruity one

1/8

cup

water
Instructions
Wash and dry your carrot greens well.

Finely chop your carrot greens and mix them with all of the dried spices and minced garlic. Stir in the vinegar and olive oil.

Store in an air tight container at room temperature.
Smoked Flank Steak
After your flank steak has marinated for a few hours to overnight, it's time to cook it. Get your smoker temp up to 350 degrees and place the flank steak directly on the grill grates. Let it cook for 15 minutes, and then flip and let the steak cook for an additional 15.
I cooked the carrots right next to the steak at the same time, and they were done when the steak was done. Rub them with some olive oil and sprinkle with salt before putting them on the grill.
The steak is done when the internal temperature of the steak is 135 degrees.
Remove the steak from the grill when it gets to temp, and let it rest for 5 minutes before slicing pencil thin cuts against the grain of the meat.
This flank steak tastes great on its own, but serve it with the carrot top chimichurri to bring the flavor profile over the top.
It's been a challenge eating so healthy for the last week, but after finding this recipe I'm encouraged that I don't need dairy or bread to have a delicious and filling meal.
Smoked Flank Steak
This smoked flank steak recipe is easy to follow and turns out delicious every time.
Total Time
2
hours
30
minutes
Ingredients
1/2

cup

olive oil

1/3

cup

Worcestershire

juice from one lemon

2

cloves

garlic

minced

1

tbsp

salt

fresh ground pepper

to taste

2

lbs

flank steak
Instructions
Combine marinade ingredients in a small bowl and then pour over the flank steak in a zip lock bag

Let the steak marinate for at least two hours and up to twelve hours

Remove steak from marinade and cook at 350 degrees in your smoker for 15 minutes. After 15 minutes flip and cook for an additional 15 minutes

The steak is done when the internal temperature hits 135 degrees

LEt the steak rest for five minutes and then slice paper thin cuts and serve with carrot top chimichurri