If you're here, chances are that you love good barbecue, and you love a good steak. Few things go with a perfectly grilled steak as well as a perfectly smoked baked potato. My favorite are double smoked potatoes.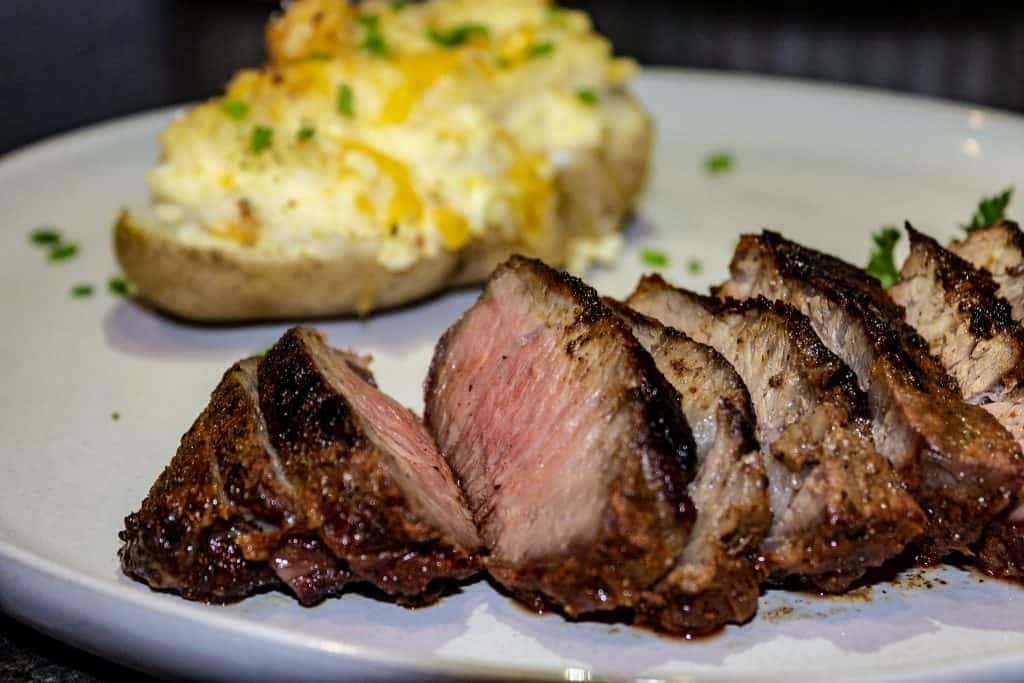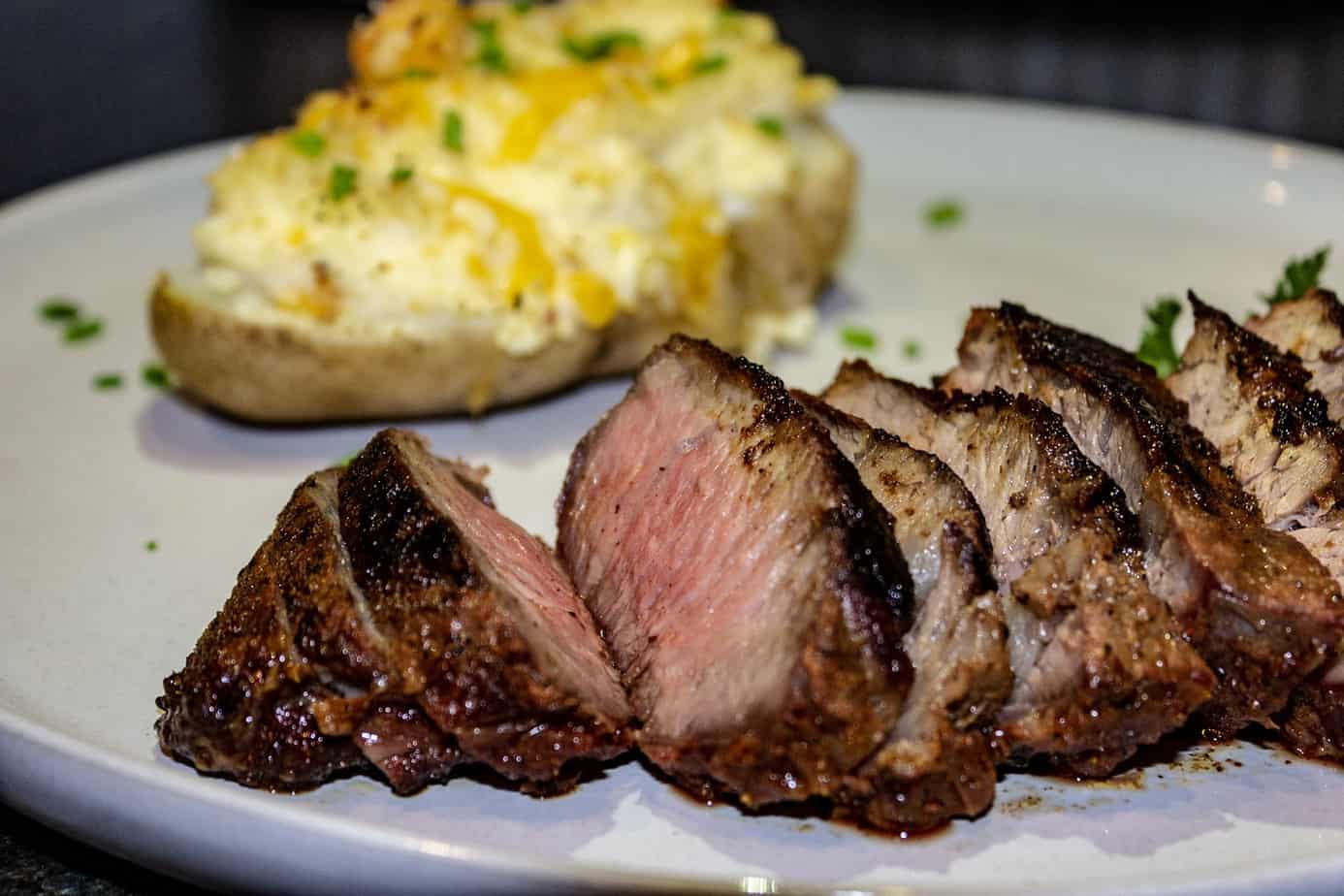 In this post, I'm going to walk you through all the steps and ingredients you need to make double smoked potatoes. Keep in mind I'm using a smoker, but these potatoes turn out delicious oven-baked too!
What Are Double Smoked Potatoes?
The name is self-explanatory, but it doesn't even begin to describe the taste.
A double smoked potato is baked with the skin on until done (internal temp of 210). Once the potato is "done" it is sliced in half.
The flesh is scooped out into a bowl and then combined with a few select ingredients to upgrade the flavor. Then you take your fluffy and tasty potato mixture and put it back into your potato skins, and bake them some more.
The end result is out of this world delicious.
Picking the Right Potatoes
The first part of making delicious double-baked potatoes is making sure the potatoes you select are just right. You want to choose Russet potatoes that don't have any rips or blemishes in the skin. Also, make sure you pick potatoes that aren't too big.
In addition to the potatoes, you're going to need the following ingredients:
Milk
Cheddar Cheese
Salt
BBQ Rub (I like Sucklebuster's SPG or Traeger's Pork and Poultry Rub)
Sour Cream (Optional)
Chives (Optional)
Bacon Bits (optional)
Two potatoes will easily feed 4 people.
Smoked Baked Potatoes
Set the temp in your grill or smoker to 375 degrees.
Scrub the outside of each of your potatoes with a brush to get the dirt off them. Dry them off, rub with olive oil, and then wrap in some aluminum foil and place in your smoker. Let them cook in the smoker for about an hour, or until the internal temp of the potatoes is 210 degrees.
I love my Thermapen, and this is just another example of why it's such an important tool for anyone that loves BBQ.
A Few More Reasons You Need a Thermapen
Filling for Double Smoked Potatoes
Unwrap the smoked baked potato, and then slice each of them in half longways. For this next step, it doesn't hurt to wear some gloves, the potatoes will be hot!
Using a spoon remove the flesh from the inside of each potato half and put it into a large mixing bowl. Be careful to not go through the skin of the potato halves. You'll be using those again soon!
After you've scooped out all of the potato halves add the milk, cheese, salt, and bbq rub to the bowl. Use a hand mixer to blend all of the ingredients together until smooth.
Double Baked Potatoes
Spoon your mashed potato mixture evenly into each of the 4 potato skin halves and then return them to the smoker. I place them in a small baking dish to keep them all upright.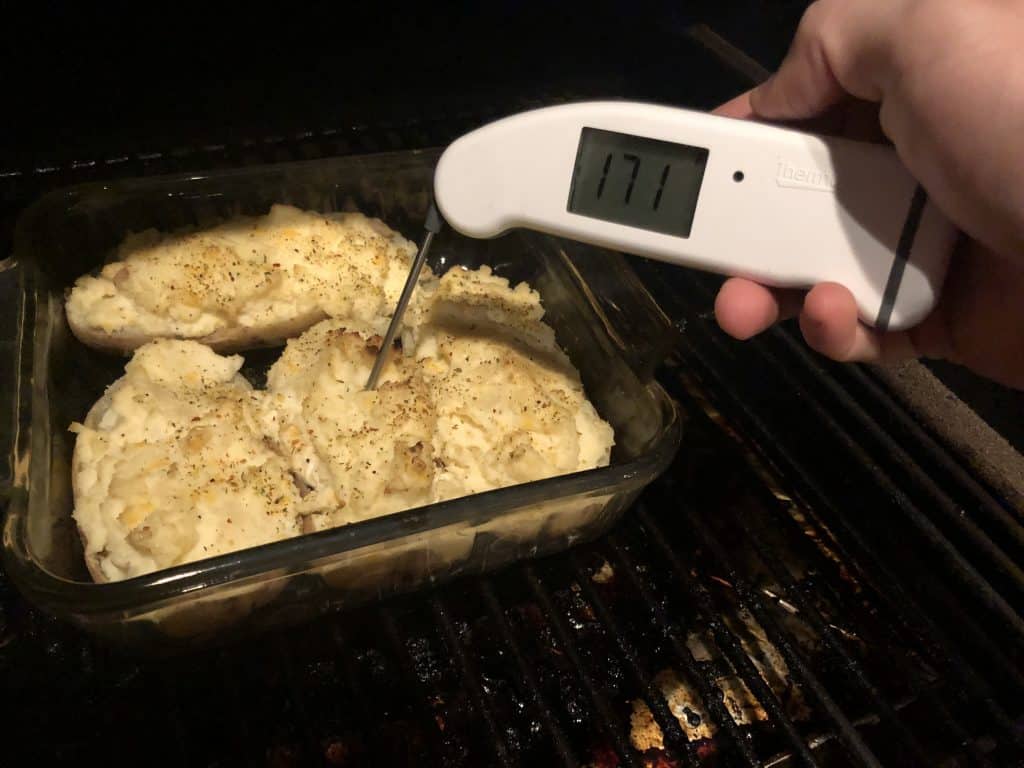 Let them cook for an additional 20 minutes or so, and then remove. They're done when the tops of each potato start to lightly brown.
Garnish with sour cream, bacon bits, chives, and more cheese.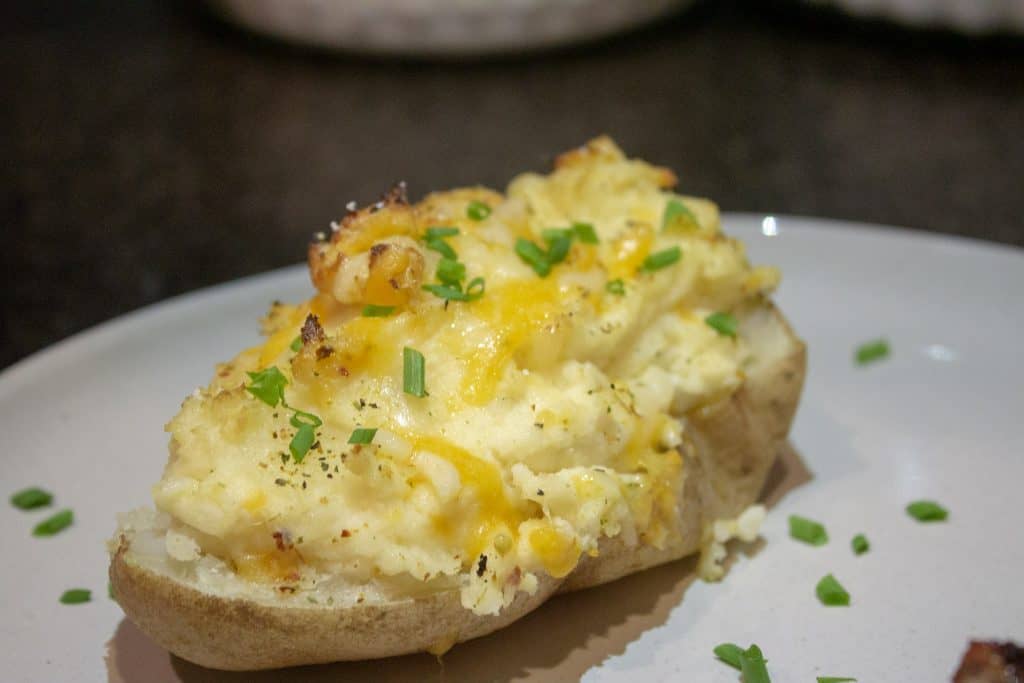 Double Potatoes are a delicious upgrade to a smoked baked potato, and really easy to make.
The next time you're cooking a steak, or making a brisket, consider making one of your sides a double baked potato. Your guests will thank you!
Double Smoked Potatoes
It's a potato smoked twice and loaded with flavor. All cooked on a smoker.
Ingredients
4

Large Russet Potatoes

½

cup

Milk

½

cup

Cheddar Cheese

1

Tsp

Salt

1

Tbsp

BBQ Rub

I like Sucklebuster's SPG or Traeger's Pork and Poultry Rub

Sour Cream

Optional

Chives

Optional

Bacon Bits

optional
Instructions
Brush each potato with olive oil, wrap in foil, and then cook in your smoker at 375 degrees for an hour.

Remove from your smoker, unwrap, and then slice each potato in half.

Carefully spoon out the meat of each potato half into a large bowl - combine with the milk, salt, cheese, and bbq rub

Use a mixer to blend the potato with the other ingredients

Spoon the potato back into each skin half, and then place in your smoker to cook for an additional 20 minutes.

remove from the smoker and garnish with cheese, sour cream, bacon bits, and cilantro.
Notes
It's best to let a potato cook to an internal temp of 210 degrees before slicing in half.
Nutrition
Serving:
1
g
|
Calories:
389
kcal
|
Carbohydrates:
68
g
|
Protein:
14
g
|
Fat:
7
g
|
Saturated Fat:
4
g
|
Polyunsaturated Fat:
3
g
|
Cholesterol:
21
mg
|
Sodium:
797
mg
|
Fiber:
7
g
|
Sugar:
4
g