These Smoked Bacon Wrapped Oreos are a must try with smoky flavored bacon wrapped around soft and warm sandwich cookies. You and your guests will be pleasantly surprised at the flavor and texture of this fun treat.
Why you will love these Bacon Wrapped Oreos
Easy to prepare- This delicious treat comes together quickly with just five ingredients making it a perfect quick treat for your next party. They will be ready to go by the time you heat up the smoker.
Versatile - These smoked Oreo cookies are both salty and sweet making them a great option as a sweet snack, appetizer, or an after dinner indulgence.
Fun & Unique- Okay so bacon-wrapped Oreos may sound a little different (and definitely interesting)...well they are! Your guests will be impressed by the unique twist that will have them coming back for more.
What are smoked bacon wrapped Oreos?
These Smoked Bacon Wrapped Oreos are a fun spin on an already delicious family favorite cookie. We used Mega Stuffed Oreo cookies as the base which get warmed and softened in the smoker while the bacon crisps up on the edges but stays soft and chewy in the center. Making it a melt in your mouth smoky snack perfect anytime of the year.
What you need to make these Bacon Wrapped Oreos on the Smoker
Sharp Knife- You need a knife that can easily slice through the bacon.
Cutting Board- for cutting the bacon.
Small mixing bowl- I whisked together the coffee rub, brown sugar, and cocoa powder together in a bowl to distribute the spice evenly.
Pan- Grab a baking sheet, cutting board or large plate just to place the Oreos on after you wrap them in bacon and season them for easy transporting out to the smoker.
Wood Pellets- I recommend a sweeter/mild wood for this recipe. Pecan, maple, or just a lighter signature blend works well.
Ingredients for these Cocoa & Coffee Rubbed Smoked Bacon Wrapped Oreos
Mega Stuffed Oreos- I chose Mega Stuffed Oreos so that they would hold up a little better during the smoking process. These flavored Oreos have the most cream filling creating more flavor in each bite. They make the perfect hand-held sized treat.
Hickory Bacon- Using hickory flavored bacon really helped with the sweet and savory aspect but regular flavored or smoked bacon would work just fine.
Coffee BBQ Rub- Traeger makes a Coffee Rub that is a blend of Paprika, Black pepper, coffee, molasses, and sugar. It really helps enhance the flavors as coffee and chocolate work together so well. Plus coffee and bacon have been working in harmony for years and years.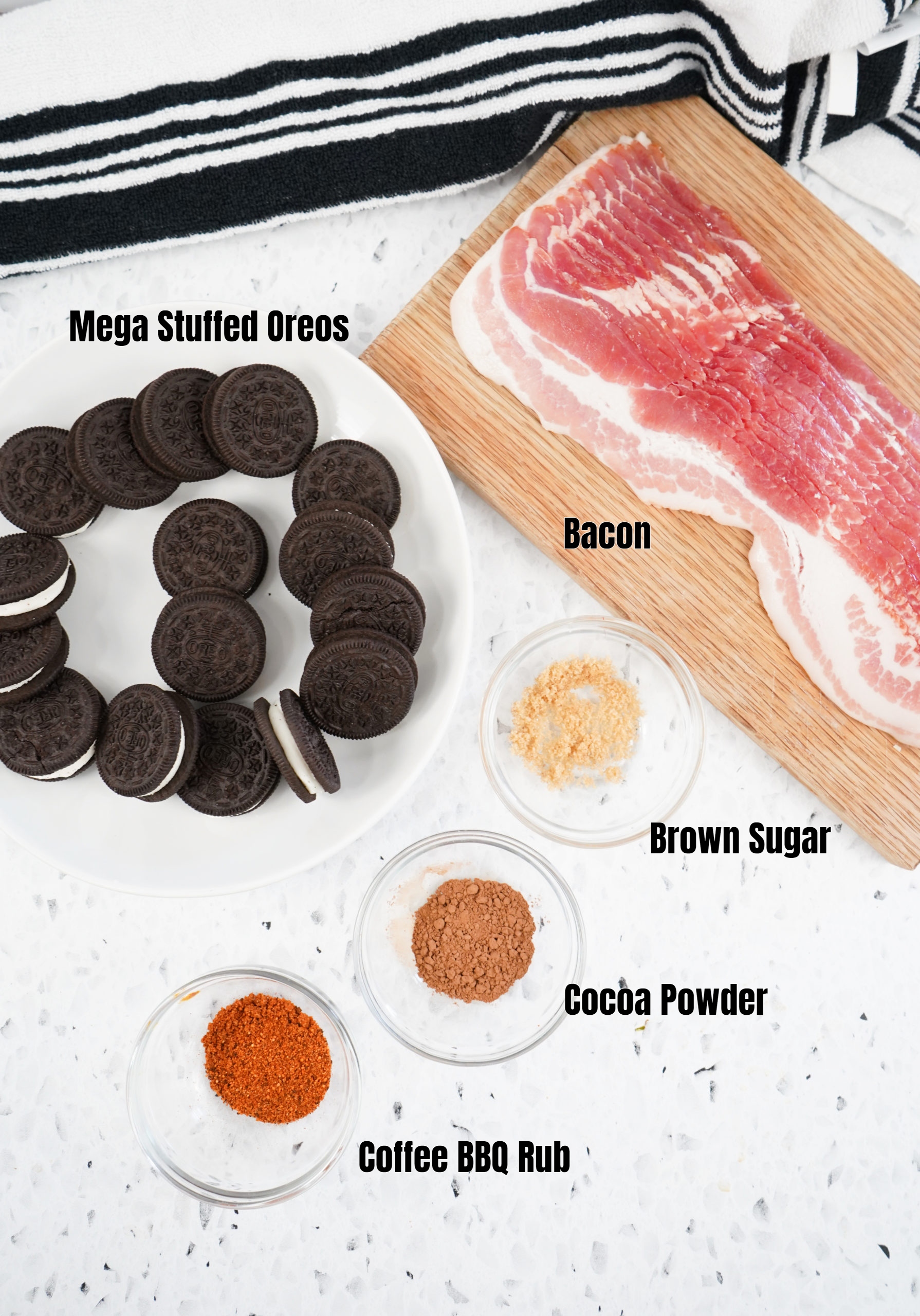 Cocoa Powder- Using cocoa powder creates a deeply fragrant and fudgy experience in many desserts. A little bit goes a long way and in this recipe, they just add another layer of chocolate that enhances the already delicious chocolate sandwich cookies.
Brown Sugar- Using brown sugar as the sweetener on the bacon adds a bit more flavor than regular white sugar. It pairs nicely with the cocoa powder and the bacon.
How to make this Smoked Bacon Wrapped Oreo Recipe
First start by preheating your smoker to 200 degrees F. While that is heating up, prepare the Oreos.
Grab your cutting board and lay the entire package of bacon down. Use a sharp knife to slice down the center cutting the pound of bacon in half.
Next grab a small bowl or dish and add in the Coffee BBQ Rub, cocoa powder, and brown sugar. Whisk until all is well combined. Set aside.
Grab a Mega stuffed Oreo cookie and a one of the bacon strips. Loosely wrap each cookie with the bacon and set seam side down on a pan. Repeat until all of the bacon/ cookies you are using are done.
Then sprinkle each wrapped cookie with a little bit of the rub mixture. Use your hands to rub it in slightly to the bacon. Lightly rub the bottom side as well.
Once the Oreos are all wrapped and seasoned, transfer them out to the smoker and place the Oreos directly on the grates.
How long to smoke the bacon wrapped Oreos
Close the lid and let smoke for about an hour and twenty minutes.
Once the smoked bacon reaches your desired crispiness, pull the bacon wrapped Oreos off and enjoy warm or cold.
Helpful Tips for Successful Bacon Wrapped Oreos
Wrap the Oreos loosely with the bacon. We don't need the bacon to hold the treat together so no need to wrap tightly. This will help the smoke penetrate the Oreo cookie better, too.
Set the bacon seam side down on the grates.
Use a sharp knife to cut down the center of the entire package of bacon. This easily creates your half slices of bacon effortlessly and in less time.
Additions & Substitutions:
You can easily swap out the Mega stuffed Oreos for Double stuffed or regular flavored Oreos as well. You can even try Golden Oreos or I believe they make a Java flavored Oreo now, too!
If you don't have a Coffee flavored BBQ rub, you can use a Sweet Rub or an All-purpose BBQ rub as well.
You can use the flavor bacon that you prefer. Smoked bacon, thick cut, or even apple wood smoked bacon would work well.
How to store the Bacon Wrapped Oreos
If you don't eat all of these bad boys right away, let them cool completely and place in an air tight container. Store in the refrigerator for up to 3 days for best flavor and texture.
Smoked Bacon Wrapped Oreos
These Smoked Bacon Wrapped Oreos are dusted with a coca powder and coffee rub for a sweet and savory treat made right on the smoker.
Equipment
Knife

Cutting board

pan/tray

small bowl

Whisk
Ingredients
8

slices of Hickory bacon

16

Mega Stuffed Oreos

1

tbsp

Coffee Rub or similar

( I used Traeger Coffee Rub) | (blend of Paprika, Black pepper, coffee, molasses, sugar)

½

tbsp

Cocoa Powder

½

tbsp

Brown Sugar
Instructions
Preheat the smoker to 200 degrees F.

Cut the bacon in half using a sharp knife.

In a small bowl combine the Coffee Rub, cocoa powder, and brown sugar and whisk until combined.

Wrap each Oreo in one slice of the bacon (not wrapping too tightly) and place seam side down on a pan.

Sprinkle with the BBQ Rub mixture then rub it in and lightly rub the bottom side as well.

Transport out to the smoker and place the bacon-wrapped Oreos directly on the smoker grates.

Close the lid and smoke at 200 degrees for about 1 hour and 20 minutes or until the bacon reaches desired crispiness.

Let cool slightly and enjoy warm or cold.
Notes
*Use as many Oreos from the package as you would like. Just adjust the amount of bacon. So if you have 12 Oreos, use 6 pieces of bacon cut in half, etc.
*Cooking times may vary according to the smoker and ability to keep the temperature.