Burnt Ends are one of the tastiest things I've made on my smoker. They typically are made using the point of a brisket, or pork belly. I like both of those versions, but for some people, the fat content makes the burnt ends a little too rich. These pork shoulder burnt ends give you all the bark and flavor that traditional burnt ends provide, with a leaner distribution vehicle.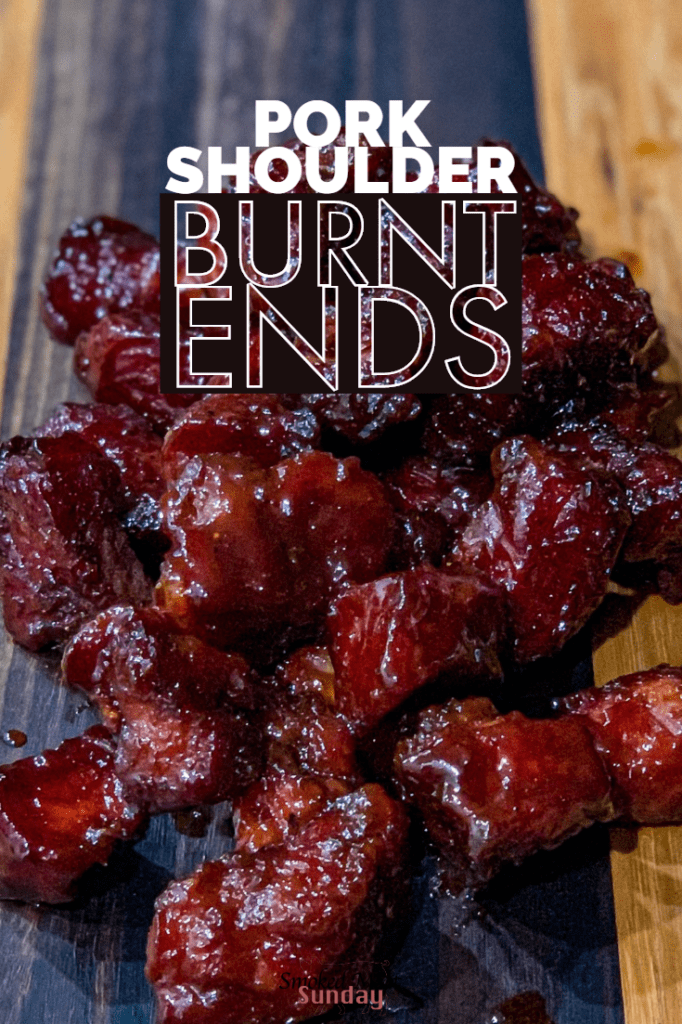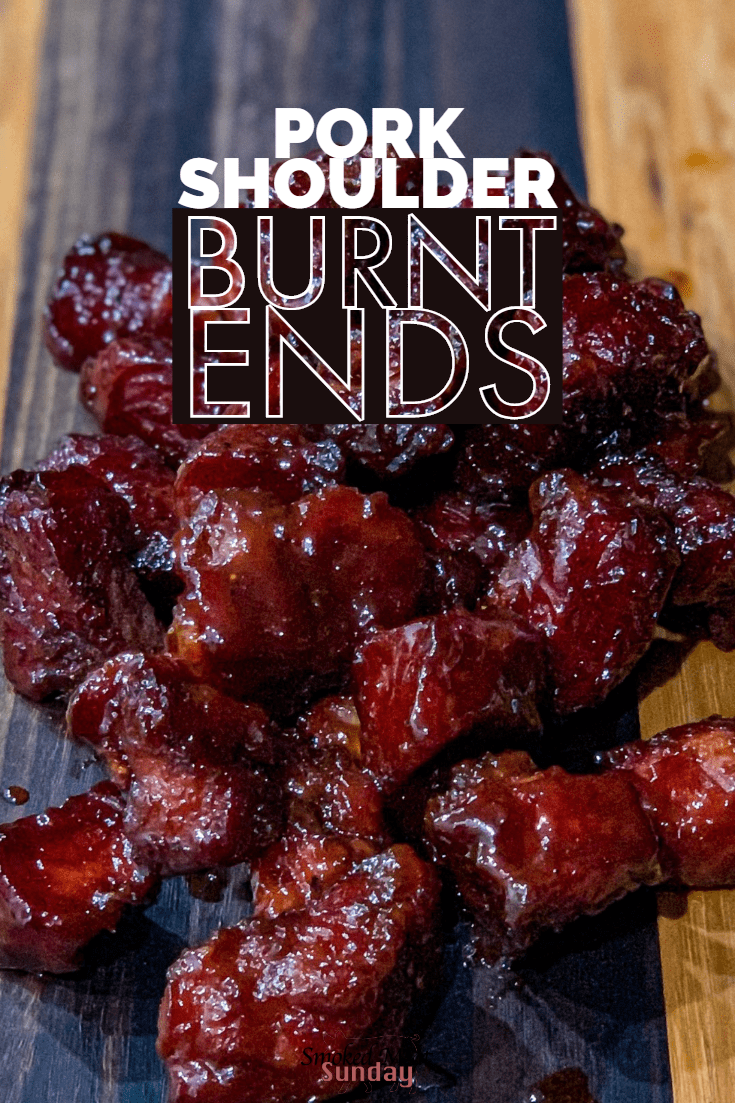 Pork Shoulder Burnt Ends Recipe
There are a few things you'll need to make pork shoulder burnt ends.
Bone-In Pork Shoulder - This recipe is perfect for those smaller pork shoulders that are 6-8 pounds.
Apple Juice - To keep the pork shoulder burnt ends moist while they smoke.
BBQ Rub - I used about 4 tablespoons of rub for this recipe. I used a mix of 2 tablespoons of Coldfire Kev's American Ghost Dance Rub, and 2 tablespoons of my pork and poultry rub.
BBQ Sauce - You'll need about a half cup of barbecue sauce for this recipe. Pick your favorite, I used a local Idaho sauce called Chiver's.
Honey - Nothing fancy here. You'll need 2 tbsp of honey.
Spicy Burnt Ends
In the list above I referenced the American Ghost Dance rub. I've had this rub on hand for a while now and decided this would be a great place to showcase the spicy and sweet profile this rub brings. The rub is super tasty, with a strong ghost pepper bite, and a strawberry sweetness on the back end. It's great in small amounts. If you love spice, give it a try.
If spice isn't your thing, replace the 2 tablespoons of American Ghost Dance with my pork and poultry rub.
Pork Shoulder Burnt Ends Prep
You can use a bone in or boneless pork shoulder for this recipe. Cut the entire pork shoulder into one by one inch cubes. I did this by cutting the pork shoulder into large strips first, and then paring those strips down into chunks.
As I cut the chunks I trimmed away any loose pieces of fat, and then placed the chunks into a large disposable aluminum pan. After you've chunked up the pork shoulder, dust it with half of the barbecue rub, and then use tongs to toss.
Place each of the chunks of pork shoulder on a grill rack. Don't worry about spacing here. As the pork shoulder burnt ends smoke they will shrink. Save the aluminum pan. You will use it again.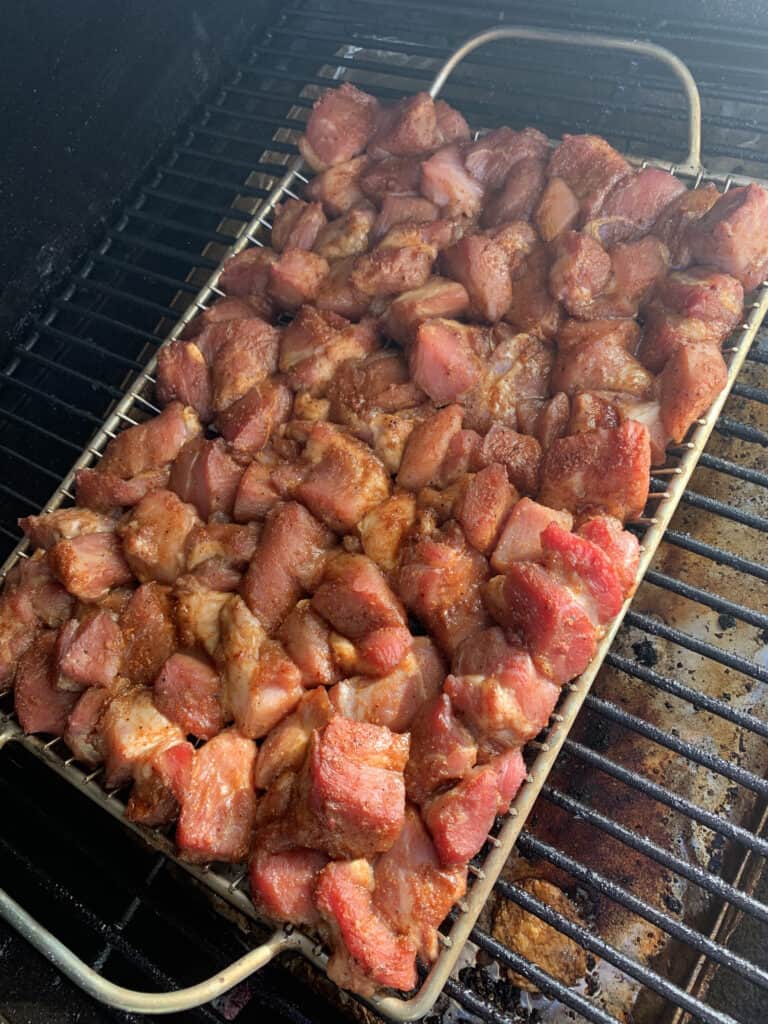 Smoking Pork Shoulder Burnt Ends
Setup your smoker to cook using indirect heat at 275 degrees. You can use any wood you'd like, but I chose oak for this cook. When the smoker is up to temp place the grill rack inside, and let them smoke.
Every hour liberally spritz the pork shoulder chunks with apple juice. When the internal temp of the pork shoulder chunks hits 190, pull the rack from the smoker, and dump the chunks back into the aluminum pan. This took about 6 hours.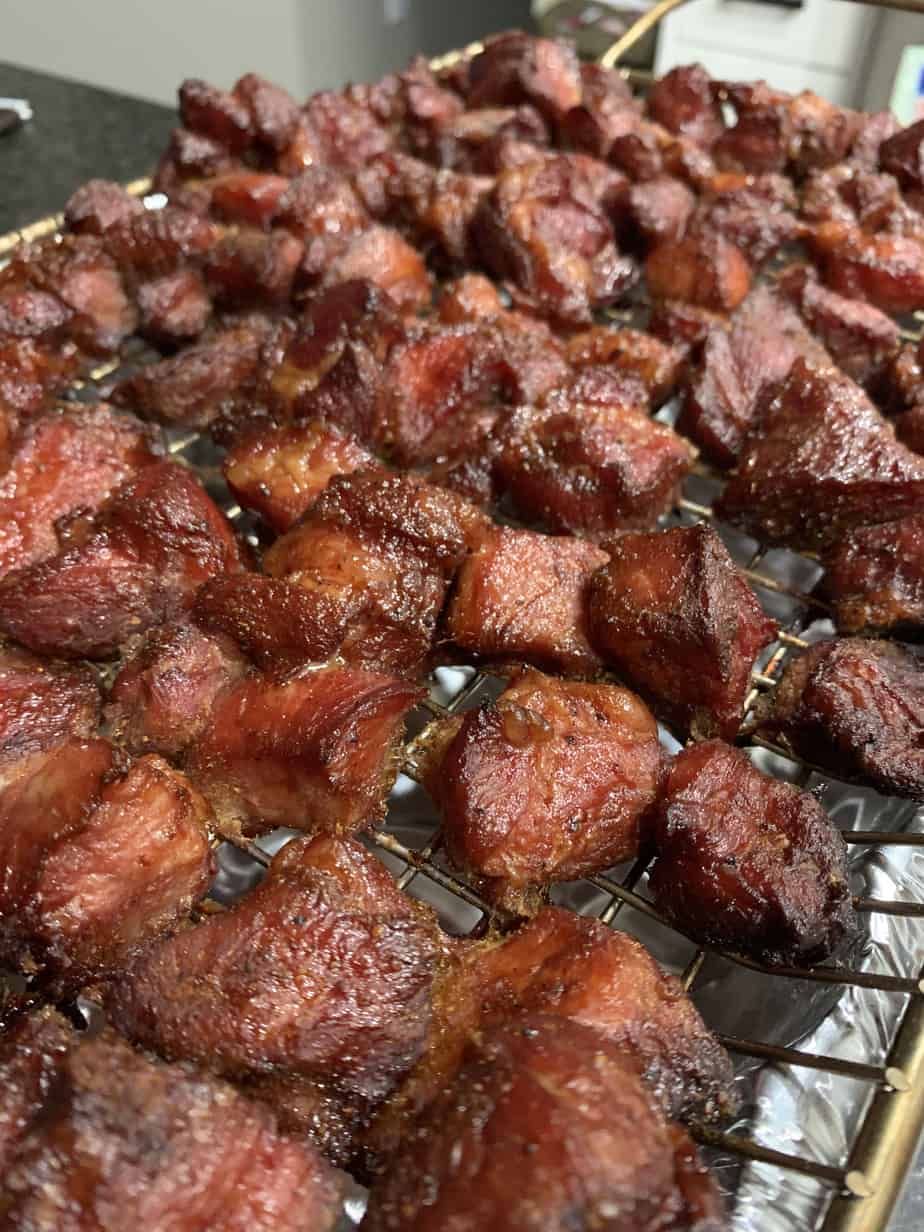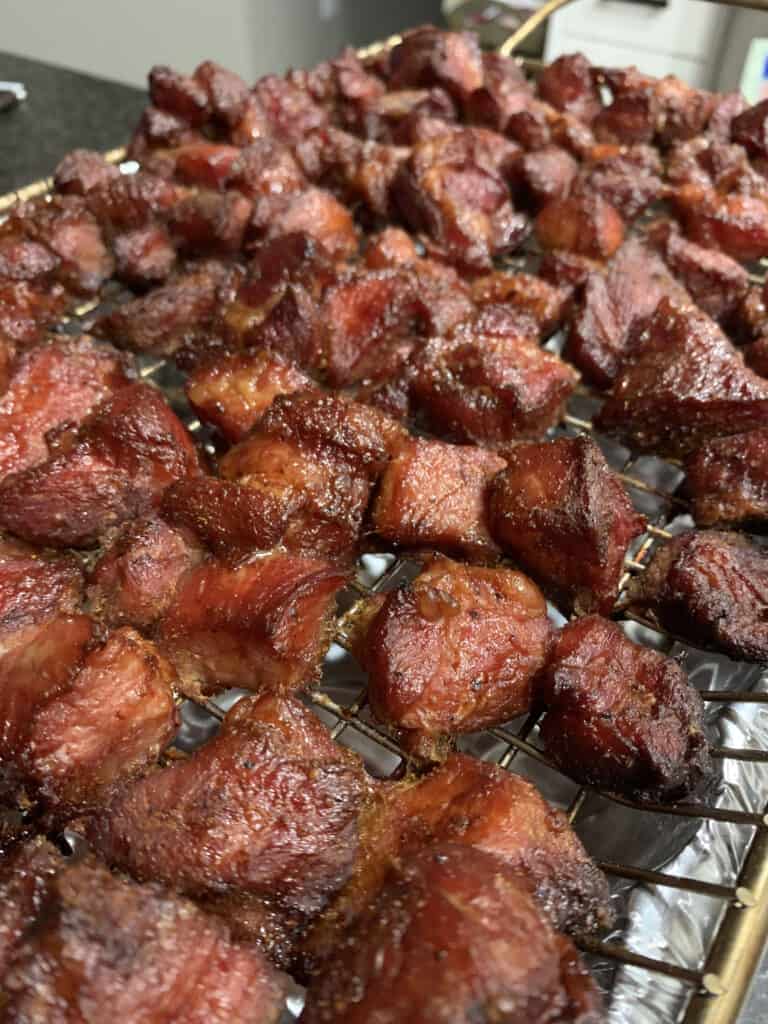 Please don't rely on the time I provided as the rule. I always use a Thermapen to spot check temps. These pork shoulder burnt ends will not be near as tender as you'd like if you don't get them up to the proper temperature.
Adding Flavor
After you add the pork shoulder chunks to the pan, dust them with the rest of your rub, and then drizzle the honey and barbecue sauce over them. Place the pan uncovered back in the smoker for about 15 minutes to let the sauce and honey liquefy, and then toss the chunks one time to get everything coated really well. Cover the pan tight with aluminum foil and let them continue to cook for another hour.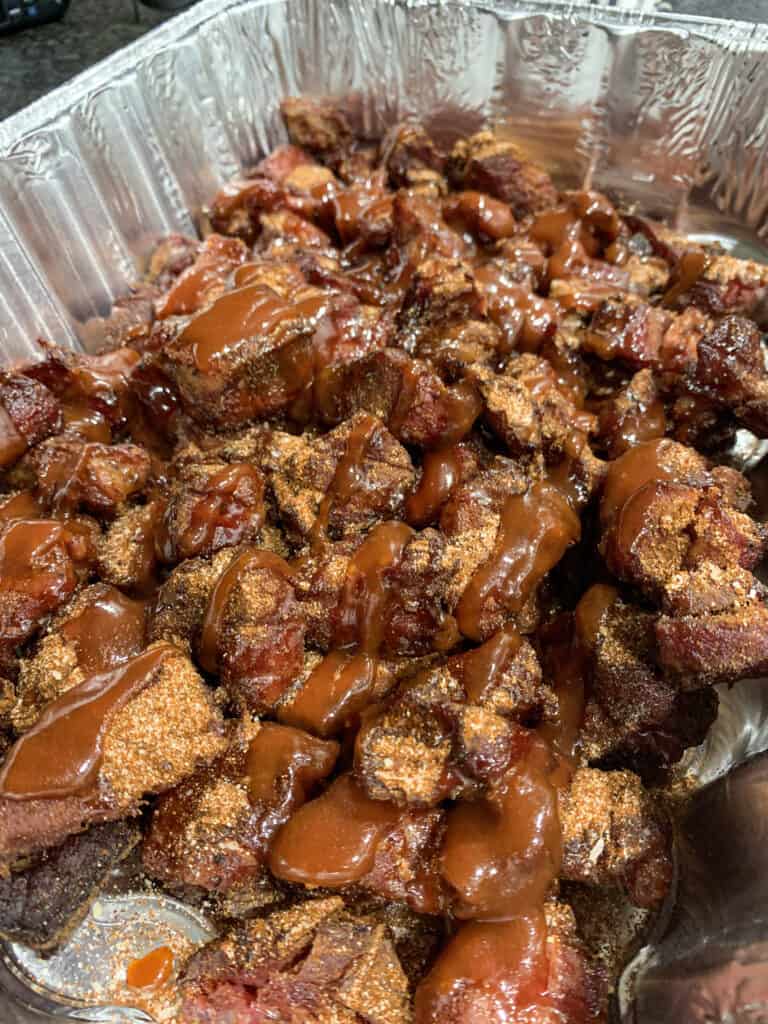 After an hour of cooking covered, remove the foil, and let them cook for one more hour uncovered. This allows the burnt ends to "tack up" in the sauce, and get the caramelized barky looking appearance.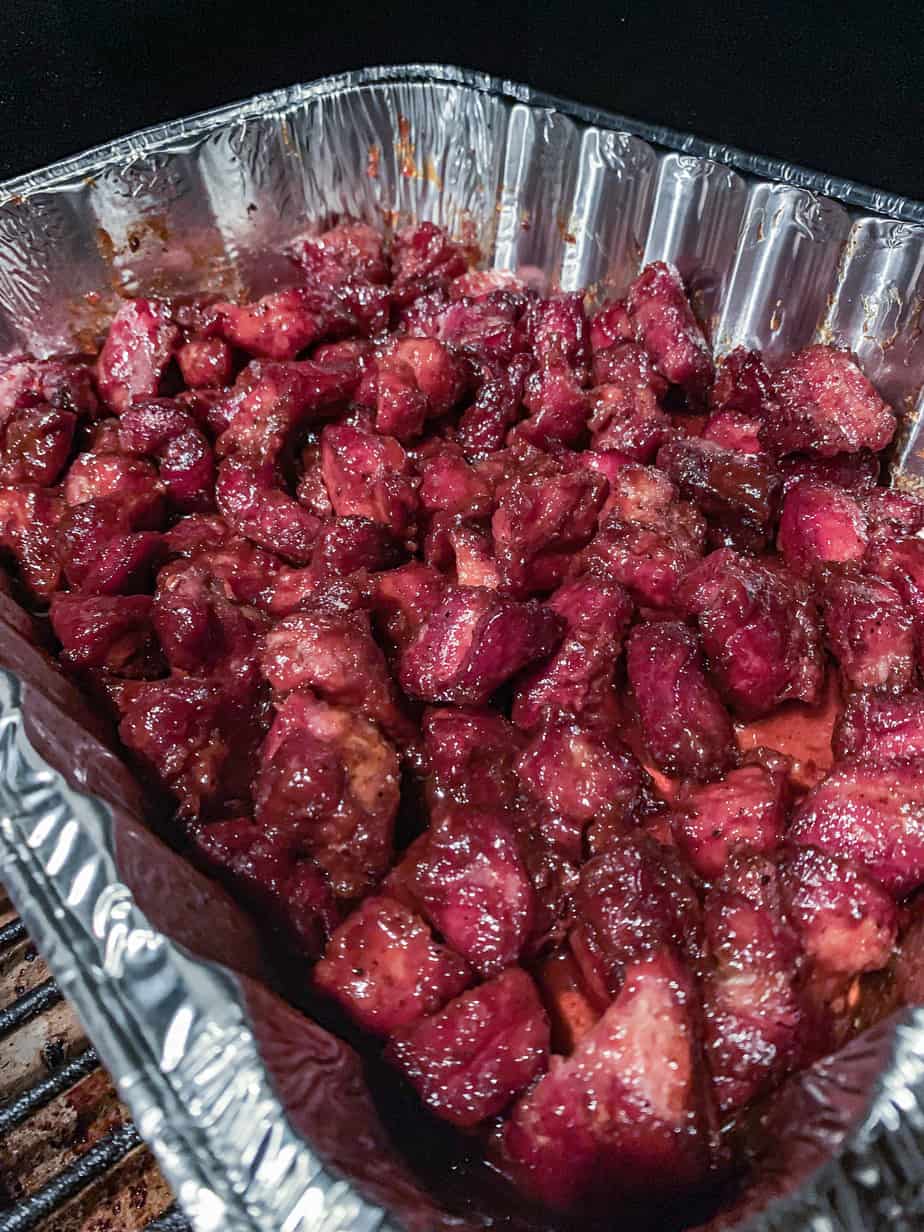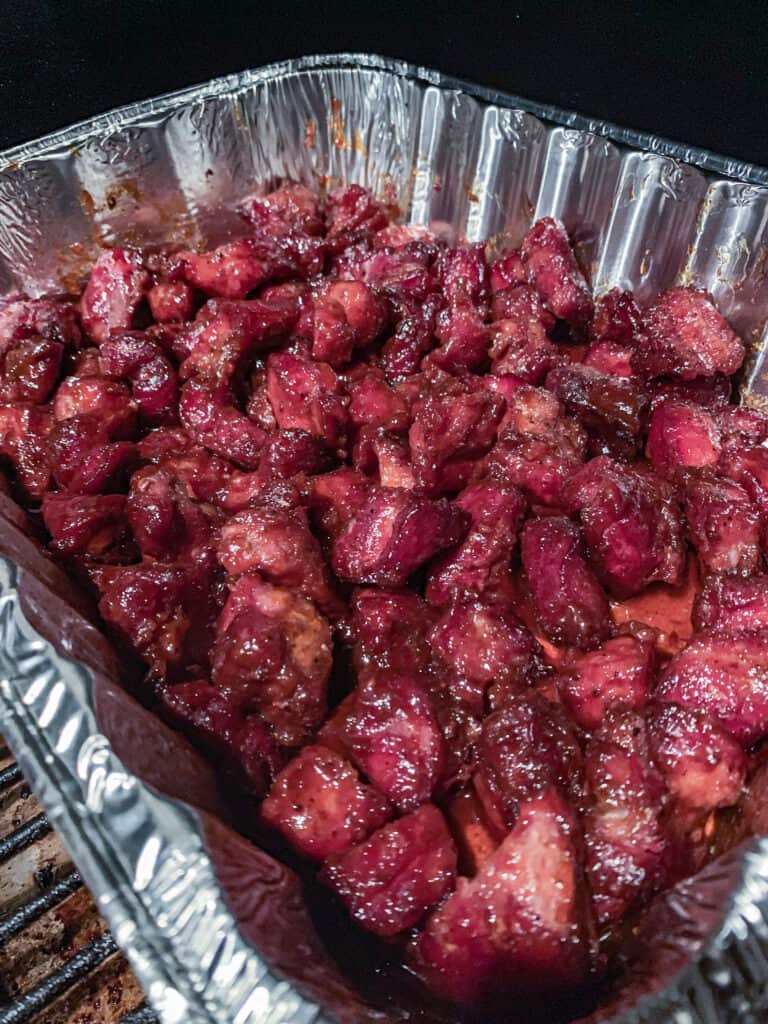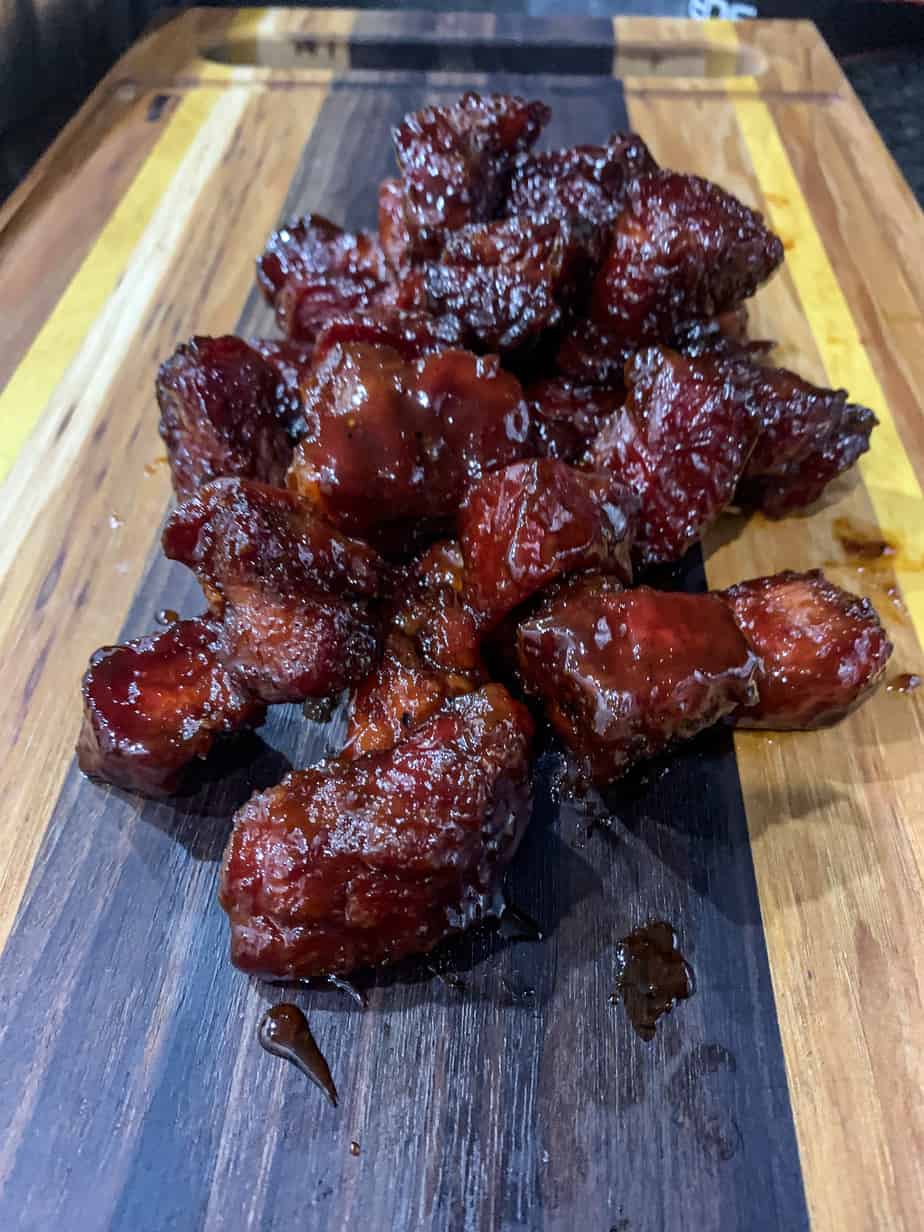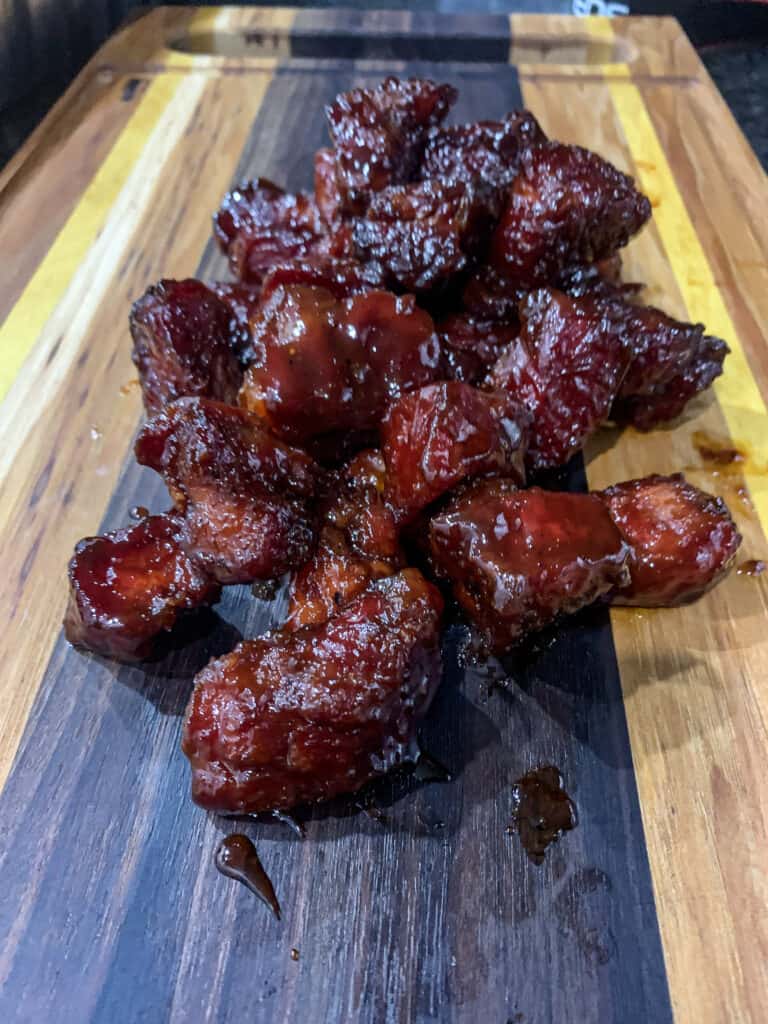 Recap
I've made a lot of great food on my smoker and going into this making this, I wasn't sure how the end result would be. I think this will be my go-to burnt ends recipe from now on. The flavor profile was really good. Each bite had some great pork flavor, and the bark was exactly what I was looking for. What I really liked, is that I could eat more than three or four bites without feeling like I was swimming in fat - which isn't always a bad thing when we are eating good food, but you know what I mean.
If you make these, I'd love to hear about it! Let me know in the comments, or tag me on Instagram @smokedmeatsunday
Pork Shoulder Burnt Ends
I love burnt ends, but the brisket or pork belly versions can be a little too rich for some people. These pork shoulder burnt ends have all the flavors of the traditional burnt ends we love, just not quite as rich.
Ingredients
1

bone in pork shoulder

6-8 pounds

4

tbsp

Nick's Pork Rub

3

tbsp

bbq sauce

3

tbsp

honey
Instructions
Cut the pork shoulder into 1 inch by 1 inch cubes. This process can take a while. I found this to be easiest by trimming the meat away from the bone first, then into large strips.

Place the cubes into a large disposable aluminum pan, and then sprinkle with half of the bbq rub.

Remove the cubes of pork (now coated in rub) and place them on a grill rack. I had to really cram them onto the rack, and there was not any space between each piece. Save the aluminum pan for later.

Setup your smoker to smoke at 275 degrees using indirect heat. I used oak pellets for this smoke, but these would be great with a cherry wood too.

Place the grill rack in your smoker. Spritz the pork shoulder burnt ends with apple juice every hour.

Let the pork cook until the internal temp hits 190 degrees. Use a Thermapen to spot check the cubes and make sure most of them are up to temp before pulling from the grill.

Dump the pork shoulder burnt ends into the aluminum pan you used earlier. Dust with the rest of your rub, and then drizzle with the bbq sauce and honey.

Place the pan in your smoker uncovered for 15 minutes, then toss the burnt ends in the sauce. Cover the pan tightly with foil and let them cook for an additional 45 minutes.

Remove the cover from the pan, and toss the burnt ends again. Continue to let them cook until the sauce has reduced and the pork shoulder burnt ends start to get a caramelized bark.

Pull from the smoker, and enjoy.
Notes
Pork Shoulder Burnt Ends are great as an appetizer, on a bun, or by themselves as an entree.
Nutrition
Serving:
1
/4 pound
|
Calories:
350
kcal
|
Carbohydrates:
35
g
|
Protein:
6
g
|
Fat:
5
g
|
Saturated Fat:
2
g
|
Polyunsaturated Fat:
2
g
|
Cholesterol:
21
mg
|
Sodium:
81
mg
|
Sugar:
25
g