If you follow a keto diet you're gonna love this keto pulled pork recipe.
When most people think of pulled pork they think of a delicious pork shoulder, cooked low and slow on a smoker or a (GASP) crockpot, and then drenched in Tangy Sweet BBQ sauce and maybe even a little Dr. Pepper.
Delicious? Yes.
Keto-friendly? No.
One of the reasons we enjoy our smoker so much is because we can cook a big hunk of meat on Sunday, invite our friends and family over to enjoy dinner, and then we have "healthy" leftovers for lunches the rest of the week.
I do my best to follow a keto diet for a good portion of the time, and when I'm getting really serious about the diet I completely eliminate sugars from my rubs and sauces. This keto pulled pork recipe uses a rub that is sugar-free, and has some outstanding flavor.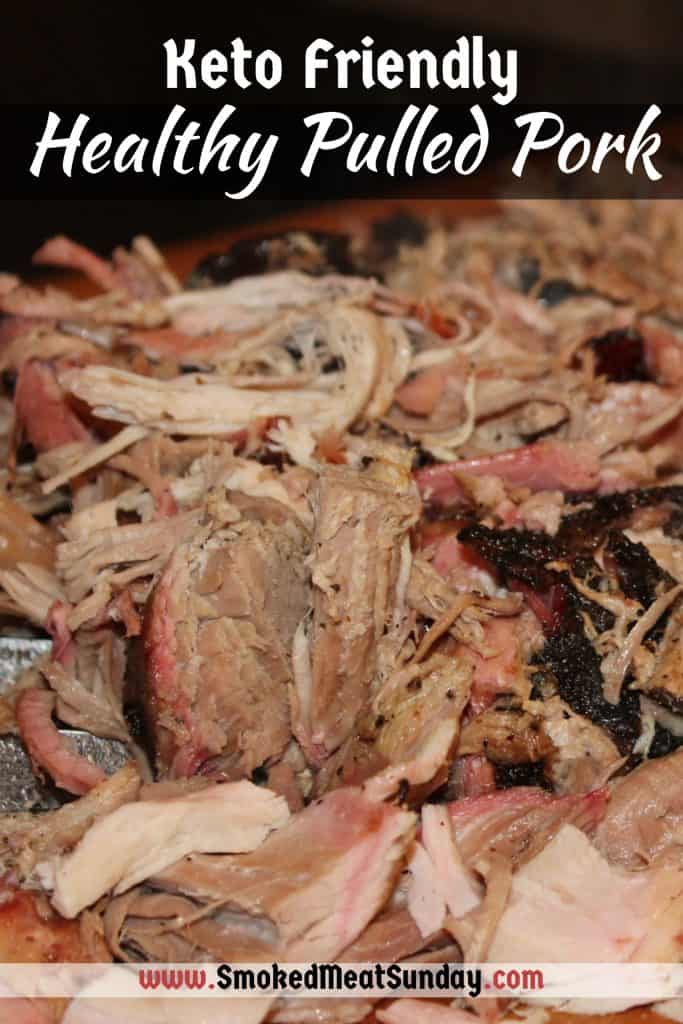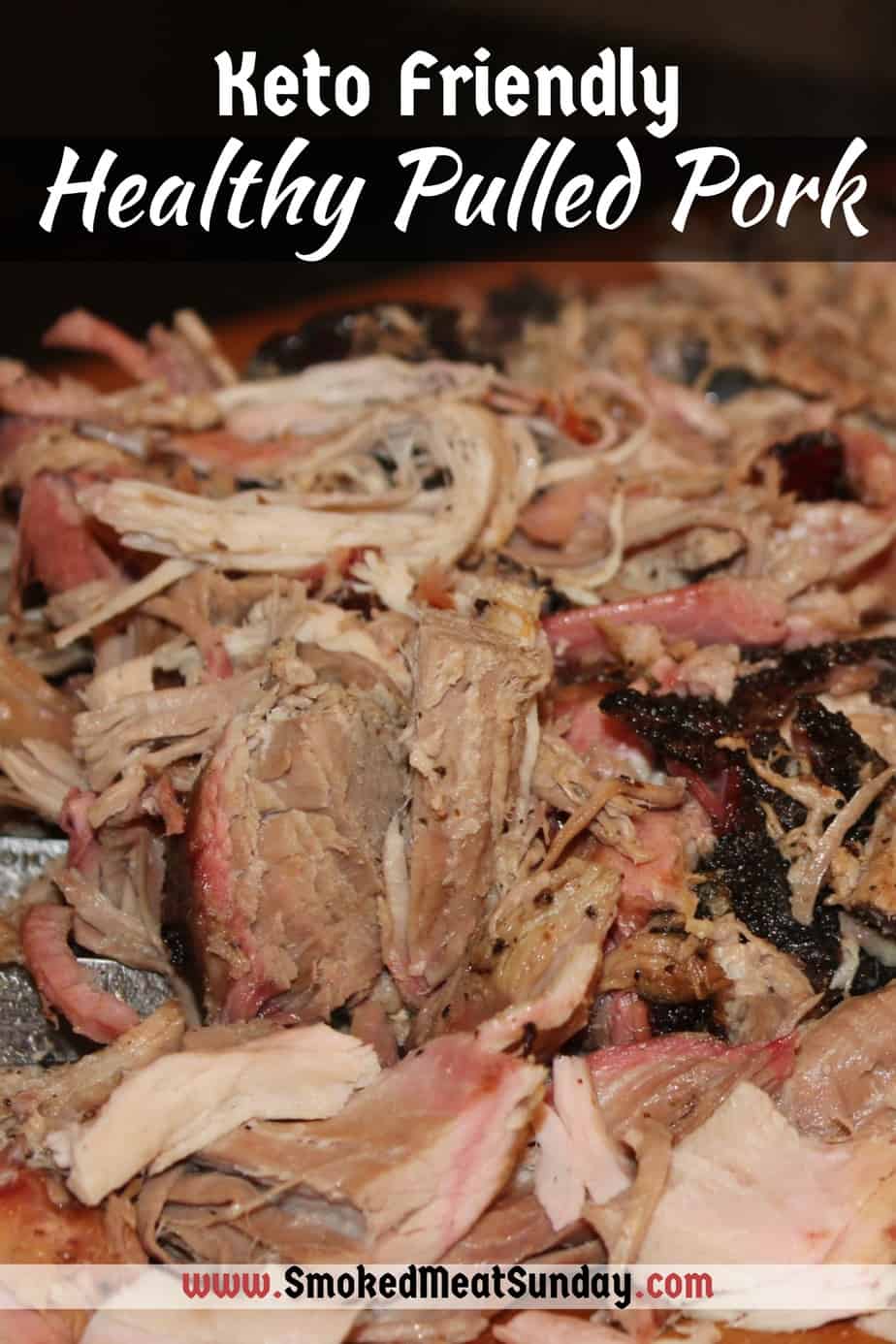 Keto Friendly Pulled Pork
Everyone has their own idea of what a healthy diet is. My wife follows a version of the ketogenic diet 7 days per week. I follow a similar plan, but I include a weekly cheat day (Smoked Meat Sunday!). Most of our meals include heaping amounts of vegetables and a protein. Very few of our meals include starchy carbs like bread, rice, or pasta.
One of my favorite things to make and eat on keto is pulled pork.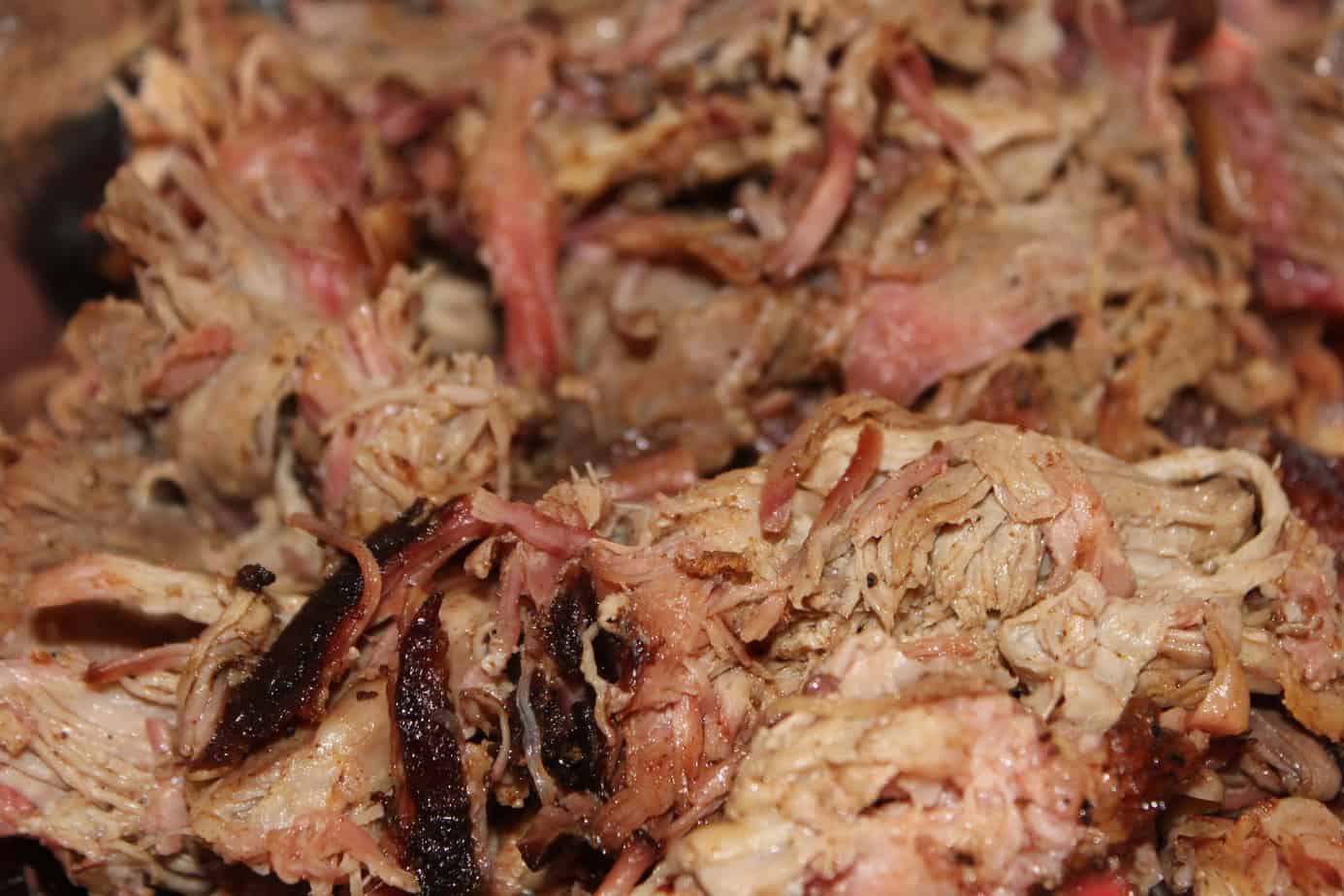 Good Barbecue Takes Time
One of the struggles I had when I first bought my smoker, was getting a better understanding of how long a meal would take to smoke on my Traeger. It's only fair that my wife and friends wanted to know when dinner would be, and far too often the time I gave them would be WAY off.
You're probably wondering, how long does it take to make keto pulled pork? The best rule of thumb I've come across is to keep smoking times per pound at about 90 minutes. Of course, this is just a general guideline. Sometimes it takes a little longer, but that is ok! The biggest key is to keep an eye on the internal temperature.
Target Temperature for Keto Pulled Pork
When we are cooking keto pulled pork we want the internal temperature to get up to 203 degrees. The easiest way to check the internal temp is by using a good quality meat thermometer. I use a Thermapen ONE and I love it.
I also use the Thermoworks Smoke to monitor the temp of my smoker and the meat inside the smoker while I'm doing other chores around the house. The smoke gives me the peace of mind that everything is going ok and keeps me from opening the lid on my smoker every hour to check-in.
Don't Be Afraid to Finish Early
One last note on cooking times. Always start your cook early. If you have a 7-pound pork shoulder, it should take about ten and a half hours to smoke on your pellet grill. If dinner is supposed to be at 5, start your cook at 4:30 in the morning. You might finish early, but that is ok! One of the biggest keys to delicious and moist keto pulled pork is making sure your meat has adequate time to rest.
Resting Pulled Pork
When your pork shoulder has hit the magic temp of 203, pull the pork shoulder off the smoker and double wrap it with aluminum foil.
I place the wrapped pork shoulder on a pan, and then place it in my cooler, and put towels on top of it. This will allow the pork shoulder to slowly come down in temperature, and the juices in the meat will redistribute evenly.
You can let a wrapped pork shoulder sit in a sealed cooler for up to two hours and have absolutely no issues. Another great reason to invest in the Thermoworks Smoke. You can monitor your meat while it's resting.
I've let pork shoulders rest in a good cooler for up to 4 hours and had no issues at all. I always let my pork shoulders rest for at least an hour. I've made the mistake of not letting my pork shoulders rest, and it has always resulted in very dry shredded meat.
Pulled Pork Recipe
My favorite healthy and keto-friendly pulled pork recipe can be found below. There are a lot of different ways to make pulled pork, and I'd love to hear what you do differently when you make pulled pork. Leave a note in the comments below.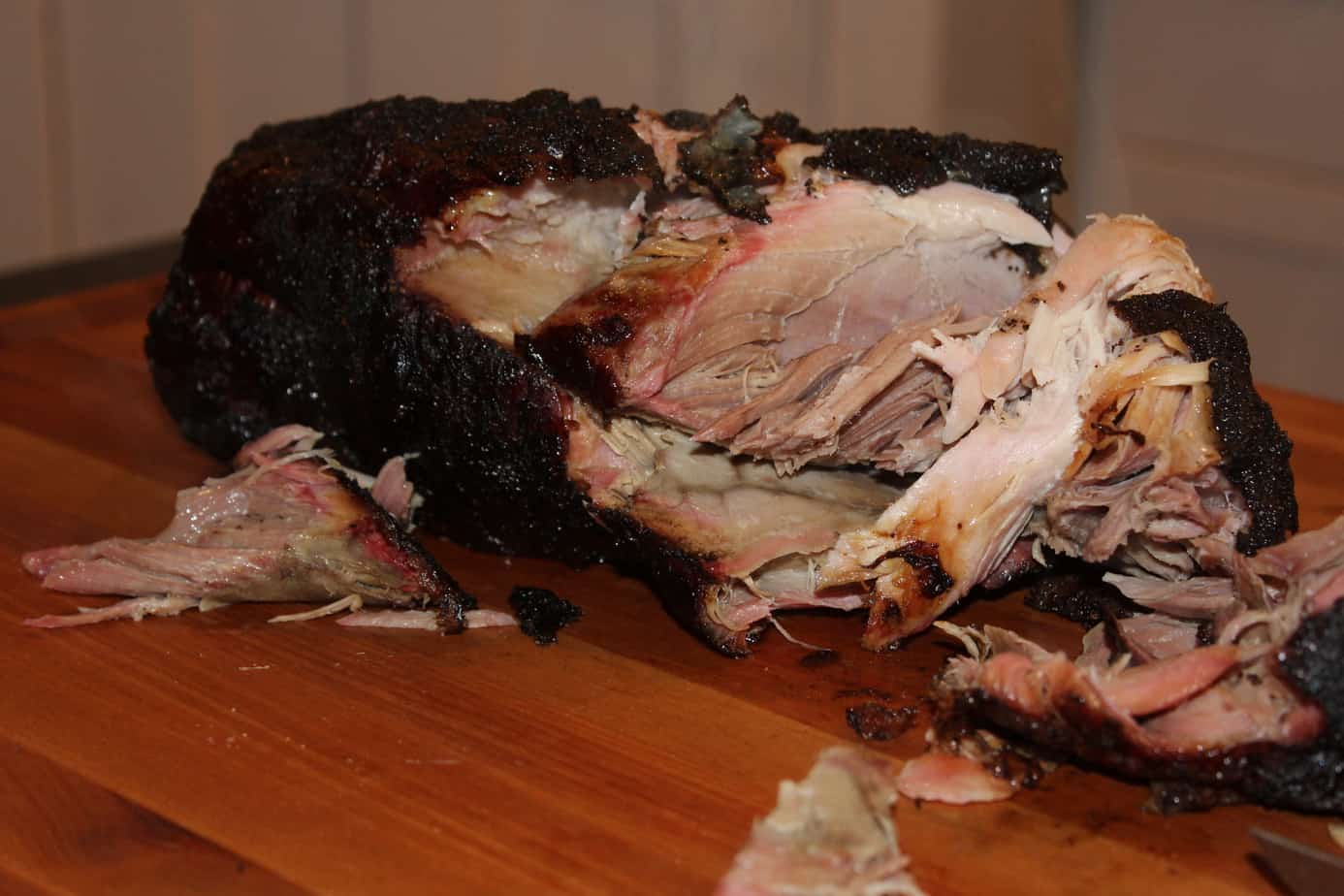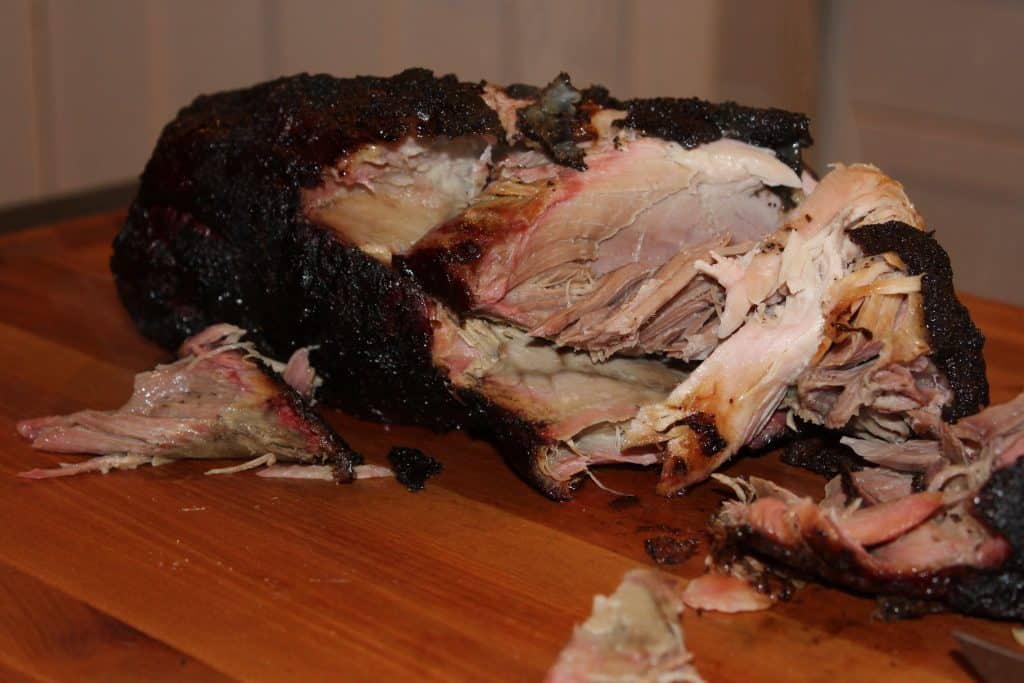 Keto Pulled Pork
You don't need to drench your pulled pork in sauce and sugars to make it taste good!
Our family loves this Simple Keto Pulled Pork recipe and we are sure your family will love it too!
Following the keto diet? This pulled pork recipe is sugar-free!
Ingredients
7-8

pound

pork shoulder

4

Tbsp

Nick's Beef Rub

2

tbsp

garlic infused olive oil

3

tbsp

Apple Cider Vinegar

1

tbsp

Olive Oil
Instructions
It doesn't take long to prep your meat for this cook, so before you do anything, I'd get your smoker up to temp. We want to start out at 225 degrees.

With a sharp knife, score the fat cap in a one-inch checkerboard pattern. This will allow the rub to penetrate down into the meat on all sides.

Cover the entire cut of meat with your garlic-infused olive oil, and then generously apply your rub on all sides. Be sure to really massage the rub into any folds in the meat, you want as much delicious bark as possible!

Place the pork shoulder on the smoker, which should be at 225 degrees.

In a small spray bottle combine the Apple Cider Vinegar and Olive Oil

After 2 hours, increase the temp on your smoker to 250, and generously spray your pork shoulder. Continue spraying at the top of each hour, but otherwise, leave the door on your smoker closed!

Every cut of meat is different, but it typically takes about 90 minutes per pound to get your meat up to the magic temp of 200-203 degrees. Once you're there, pull the pork shoulder from the smoker, double wrap it in foil, and place it in a cooler with some towels.

Let the shoulder rest in your cooler for 90-120 minutes. This will allow the juices in the meat to redisburse, giving you some AWESOME flavor.

When it's time to pull the pork you can use your hands, forks, or claws. I like the claws I use... They keep my hands clean and safe from being burned (the meat will still be very hot)

Be sure to remove the shoulder blade, and discard any large chunks of fat or bone you come across while you are shredding.

Serve!
Nutrition
Serving:
5
ounces
|
Calories:
788
kcal
|
Protein:
61
g
|
Fat:
58
g
|
Saturated Fat:
21
g
|
Polyunsaturated Fat:
32
g
|
Cholesterol:
237
mg
|
Sodium:
179
mg