Have you ever had smoked ham before? I was never really a fan of ham for the holidays, but then I started incorporating a glaze into my recipes, and everything changed. If you're looking for an easy and delicious way to prepare a double smoked spiral ham, look no further. Just be warned, the spicy-sweet goodness will have your guests begging for seconds and maybe even thirds.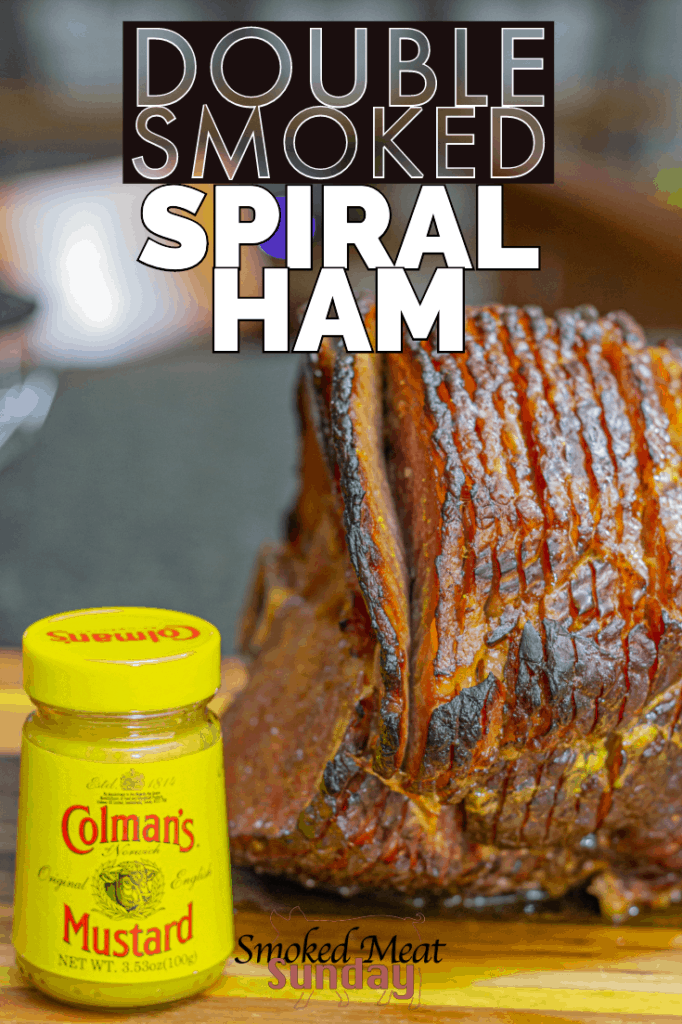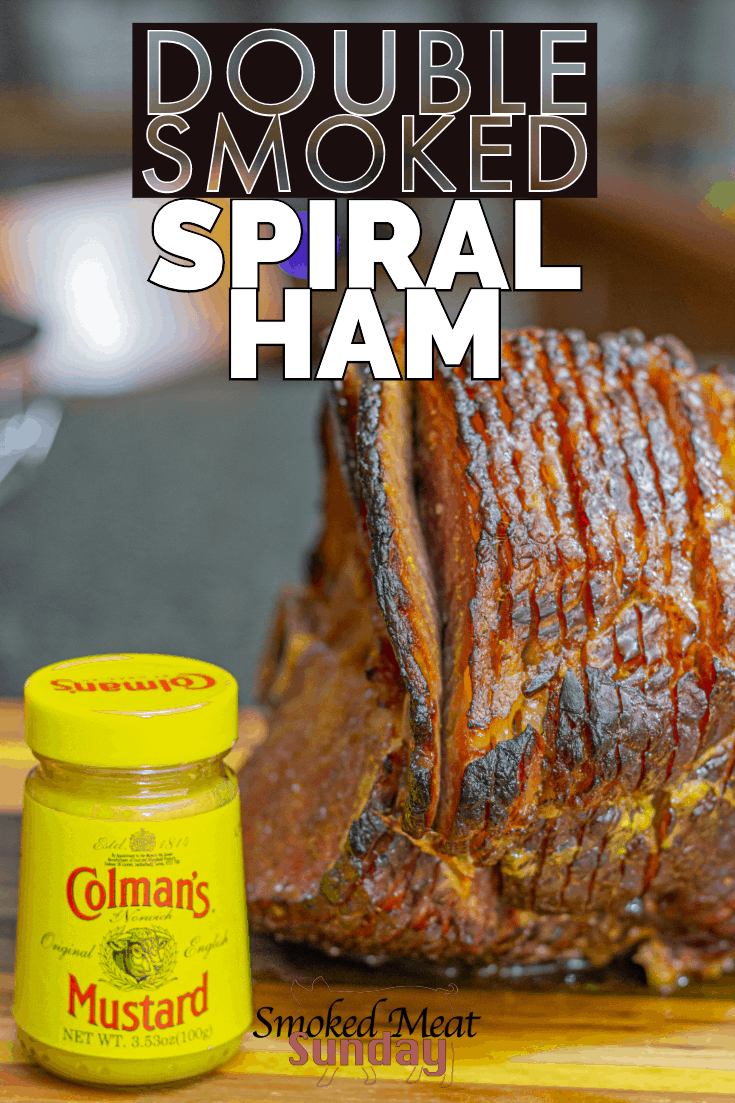 Double Smoked Ham? What Do You Mean?
Most of the spiral hams we buy in the store have already been smoked. This makes handling them a little bit easier because there really aren't any major food safety concerns. All we have to do is get the internal temperature of the ham up to 140 degrees.
If the ham is frozen, let it defrost in your refrigerator. An 8-pound ham will take about 48 hours to fully defrost in the fridge. Once it's defrosted, you can get right to smoking!
One of the reasons I like preparing a double smoked ham for the holidays is because it's a super simple process. When it hits the table everyone thinks you're a magician because of how amazing it tastes, but the truth is, it only takes a few simple steps.
Step 1 - Smoke the Spiral Ham
The first thing to do once the ham has fully defrosted is smoke the ham. Some recipes call for placing the ham in a foil pan from the get-go to keep the ham from drying out. I do it a little differently, and the ham still ends up great.
I like putting the ham directly on the grill grates and letting it smoke at 225 degrees for about 2 hours. Placing the ham right on the grates lets the entire surface of the spiral ham soak up all that wonderful smoky flavor.
There are a few different options you can use for hardwood here, but my preference is mesquite or hickory. I don't recommend mesquite very often because of the intense flavor it can impart, but it pairs AWESOME with the Colman's spicy mustard glaze we'll be adding later.
Step 2 - Adding Moisture to the Spiral Ham
After the spiral sliced ham has smoked for two hours remove it from the grill grates. Place the ham in an aluminum pan sliced side down.
In a small bowl combine one cup of apple juice and 1 Tbsp of Colman's Mustard. Mix together and pour over the top of the ham. Cover the ham with aluminum foil, and cover tightly.
Place the aluminum pan in your smoker and adjust the temperature up to 300 degrees. Let the ham cook for one hour. This step is a big key to the ham not being dry when it's done. The apple juice and Colman's mustard combo soaks into the ham while it's cooking adding some much-needed moisture, and great flavor.
About Colman's Mustard
Colman's Mustard is made with a blend of locally grown white and brown mustard seeds from Norwich, England. The mustard is bold and hot and has an exceptionally different flavor than any mustard I've ever had.
Colman's has been adding a devilish kick to everyday recipes since 1814, and I'm pumped to share this double smoked spiral ham recipe with you. Smoked ham is really good on its own, but the addition of Colman's Mustard really kicks up the flavor and makes this one of my favorite holiday recipes.
We've already cooked the ham with Colman's and apple juice, now it's time to add the glaze.
Step 3 - Colman's Spicy Mustard Glaze
Now, this is where the magic really happens. In a small bowl combine the following ingredients (measurements in the recipe below):
Brown Sugar
Honey
Apple Cider Vinegar
Mix as well as you can. Uncover the spiral ham and brush the entire surface with the glaze.
Return the pan to your smoker and adjust the temperature up to 350 degrees. Glaze the ham again after 15 minutes. Let the ham cook for just ten minutes more, and then it's done!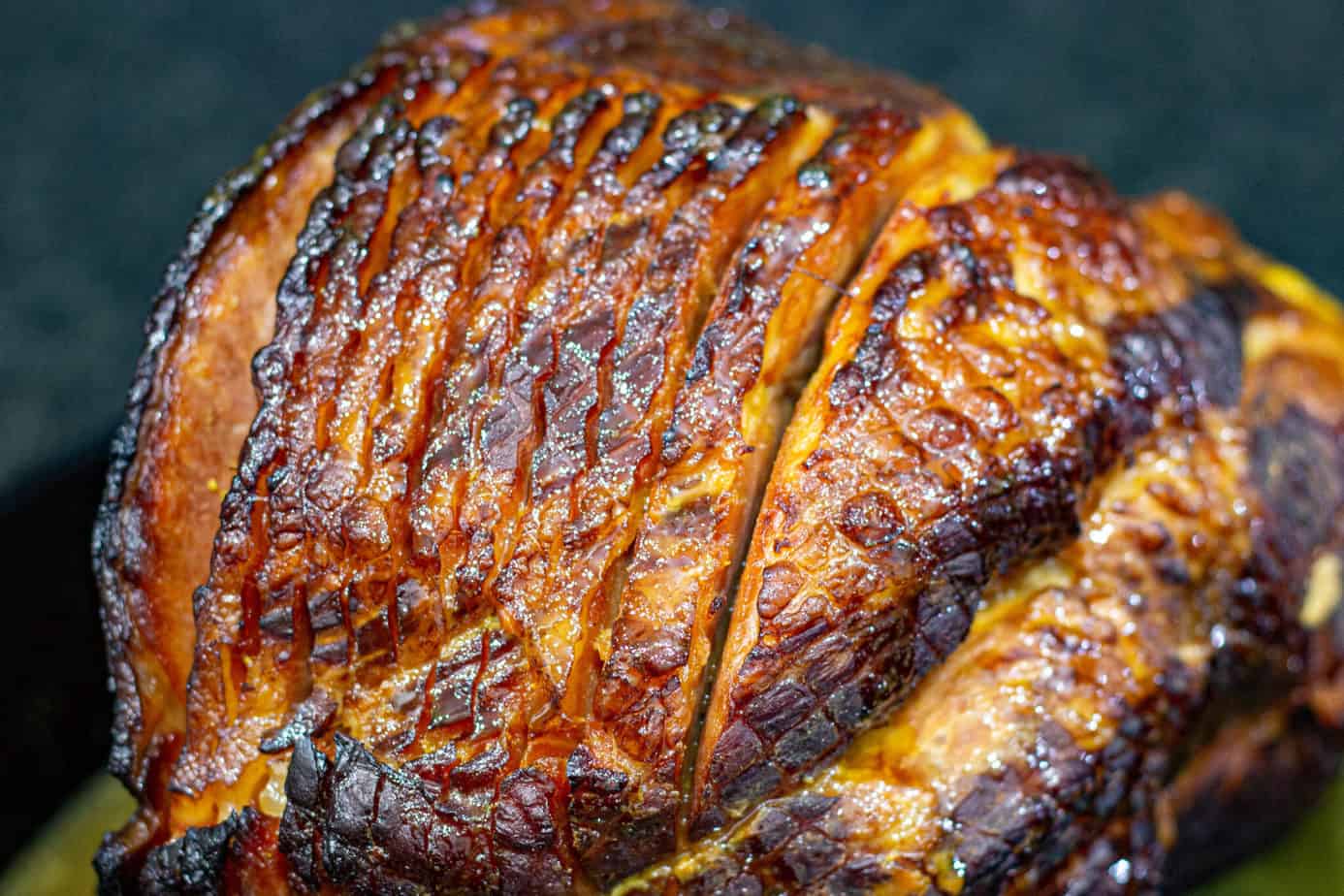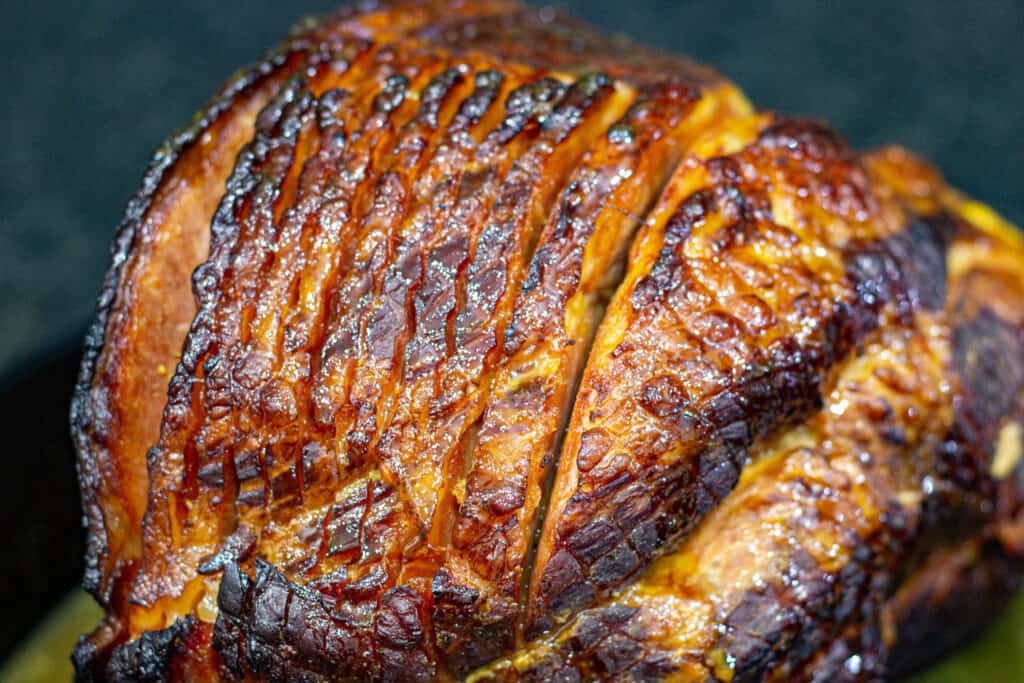 If you want to up the amount of glaze the ham takes on you can turn the ham on its side during this step to let it really soak into each slice. This will dry it out a little bit, but I'm okay with sacrificing a little moisture for some of that spicy goodness that the Colmans Mustard imparts in the glaze.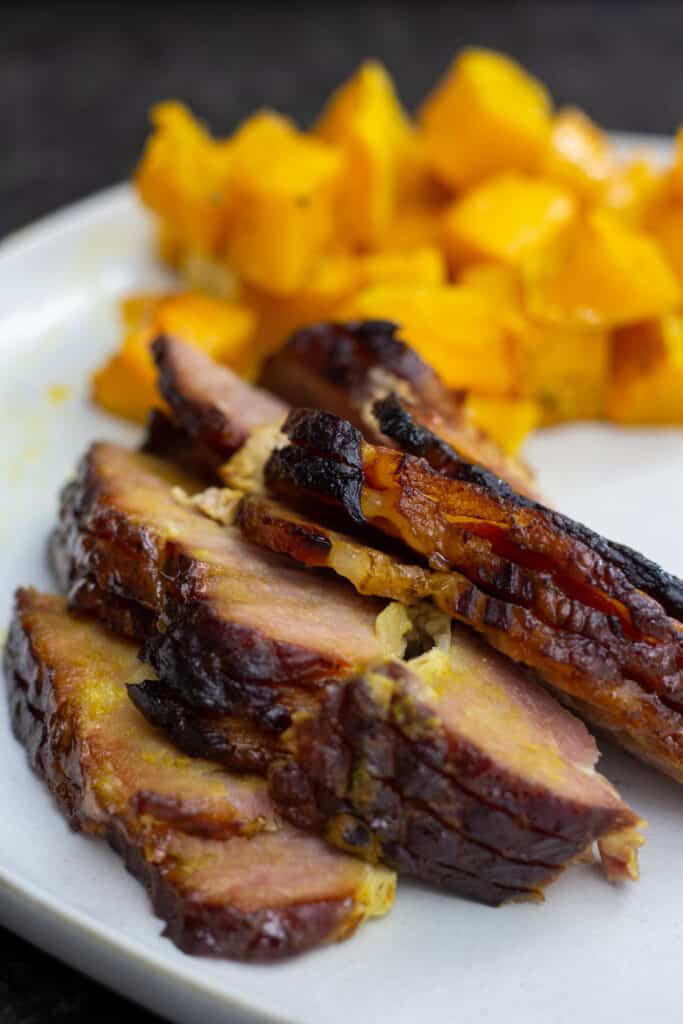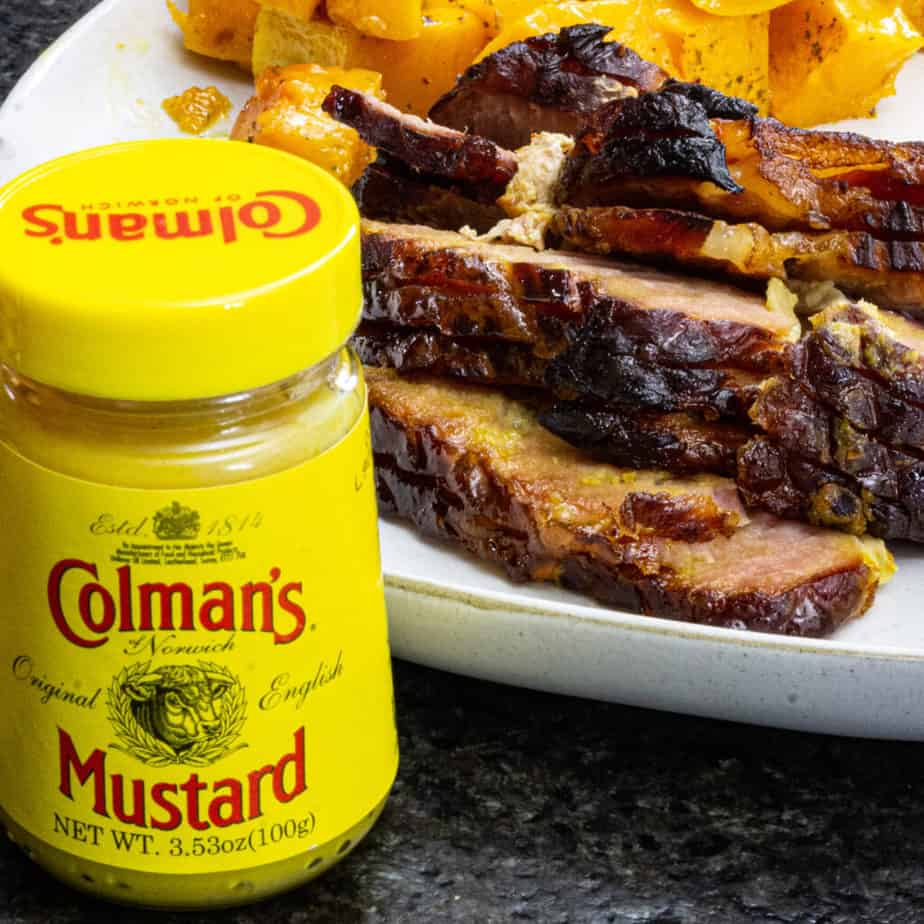 Let the ham rest for about 10 minutes under some foil before serving. Drizzle juices from the bottom of the pan on each slice to make sure every bite is loaded with flavor.
I hope you give this double smoked ham recipe a try! It's one of my favorite holiday recipes and my family always enjoys it. If you're looking for other holiday recipes be sure to check out my smoked prime rib recipe, and my pork crown roast recipe!
Double Smoked Ham
This spiral cut ham is smoked and then treated with a spicy mustard glaze made with Colman's Mustard.
Instructions
Smoke ham at 225 degrees for two hours

Place ham in an aluminum pan or cast-iron skillet cut side down. Combine apple juice and 1 Tbsp Colman's and pour in bottom of the pan

Cover tight with foil and cook at 300 degrees for one hour.

Combine glaze ingredients in a small bowl and liberally brush glaze on the surface of ham.

Return ham to the smoker and adjust temperature up to 350 degrees. After 15 minutes brush more glaze on ham. After an additional 10 minutes, the ham is done.

Remove from the smoker and let rest for ten minutes before serving.
Notes
You can prepare the ham using this method in an oven - skip the step at 225 degrees and increase the time at 300 degrees to 90 minutes.
If you turn the ham on its side you can get more glaze between each slice, but you do sacrifice some moisture in the process.
Nutrition
Serving:
1
g
|
Calories:
350
kcal
|
Carbohydrates:
57
g
|
Protein:
886
g
|
Fat:
204
g
|
Saturated Fat:
38
g
|
Polyunsaturated Fat:
102
g
|
Cholesterol:
2555
mg
|
Sodium:
39155
mg
|
Fiber:
1
g
|
Sugar:
56
g