A ribeye is one of my favorite cuts of meat, but it doesn't hold a candle to a smoked tomahawk steak. If you're familiar with the tomahawk you know it's the same cut as a ribeye. But there are a few key differences.
One, the tomahawk steak has a large bone attached. If you're really hungry you can use that bone as a handle, and just eat the whole steak caveman style. The Tomahawk steak we are showcasing in this post was three pounds - a touch too big to eat solo.
The other big difference between a ribeye and a tomahawk steak, is the size, which I already alluded to. Most ribeyes you buy at the store are 8-16 ounces. A tomahawk steak is much larger. Ranging in size from 2-3.5+ pounds!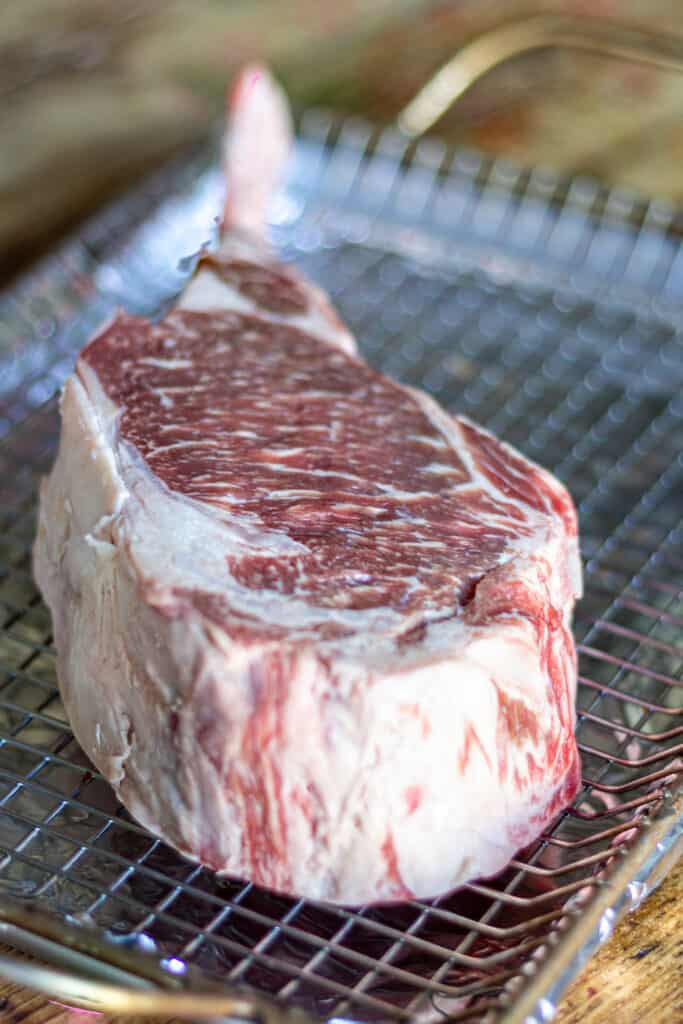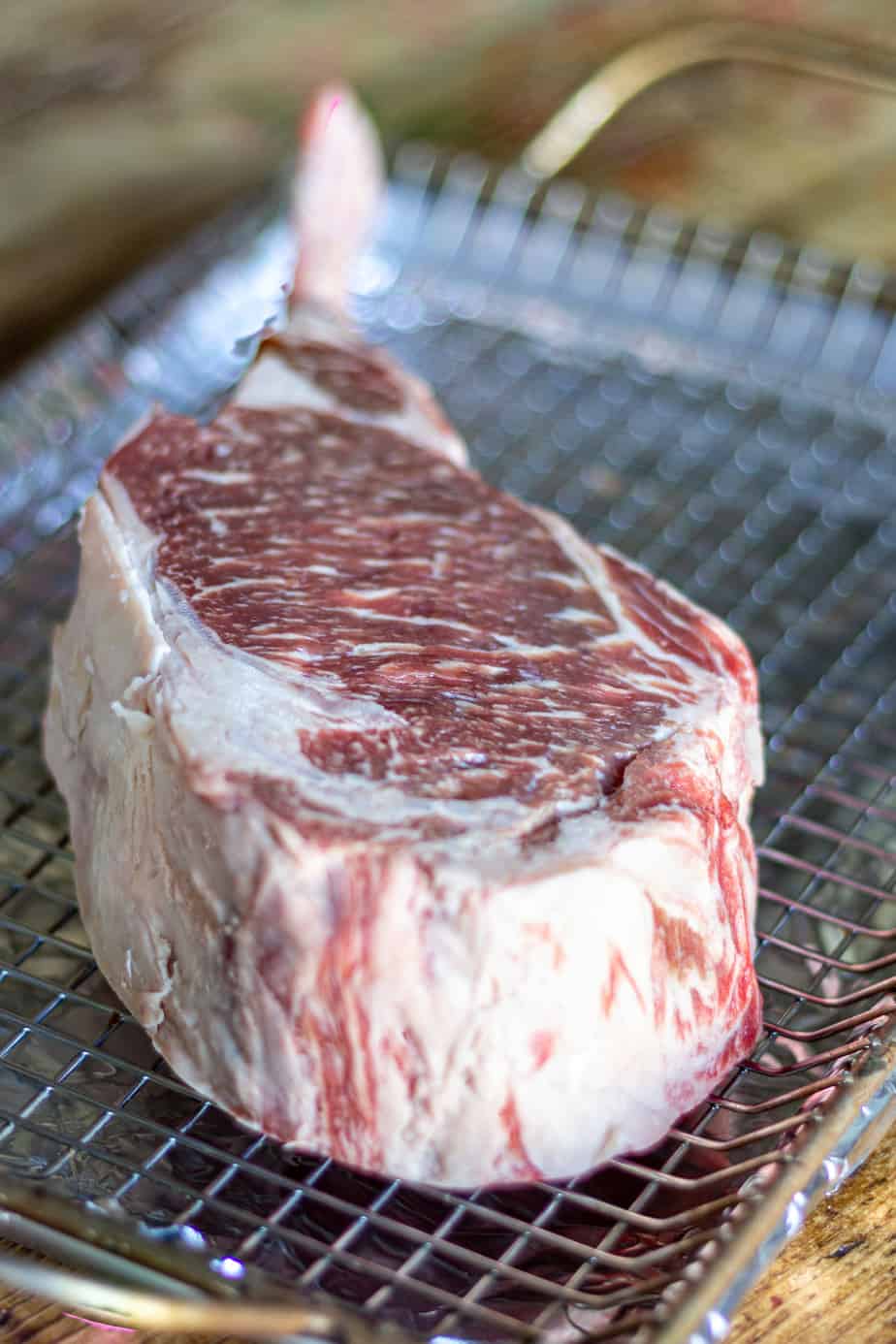 Preparing a Tomahawk Steak
Anytime you can get your hands on a good cut of meat like this, you want to make sure you do everything you can to make sure the end result turns out just perfect. It took about 7 hours total for me to prep and smoke this steak, so plan accordingly. That might sound like a lot of time, but trust me, it's totally worth it.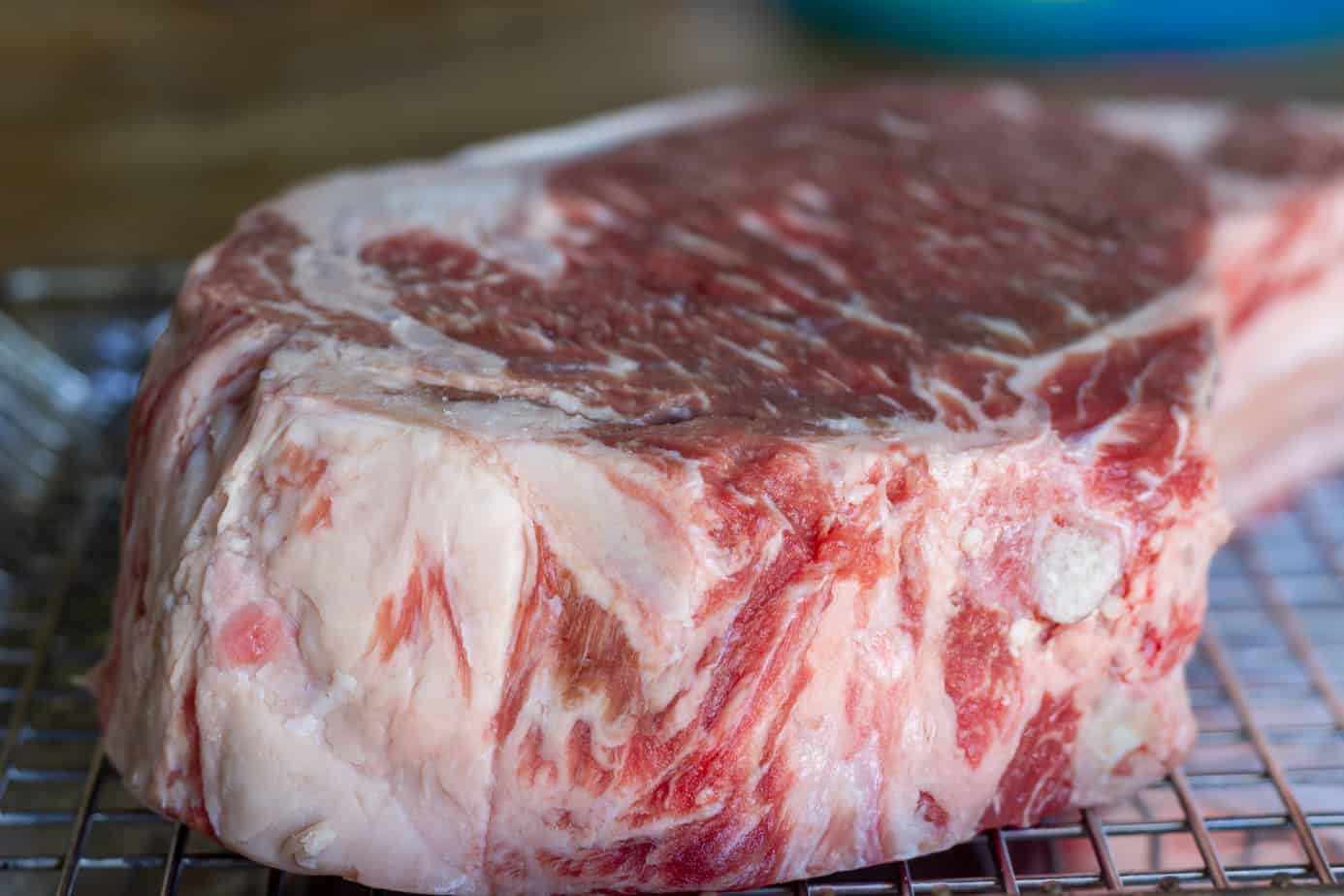 Approximately 7 hours before you want to serve the tomahawk steak remove it from its packaging and liberally salt one side of it. I placed the steak on a grill rack over a foil-lined pan, and then put it in the fridge for 90 minutes.
After 90 minutes remove the steak from the fridge, flip it over, and repeat the salt and fridge process. This process pulls moisture out of the steak that combines with the salt and then gets sucked back into the meat. We're dealing with a thick cut of meat here, and it's one of the big keys to building an amazing flavor profile with this steak.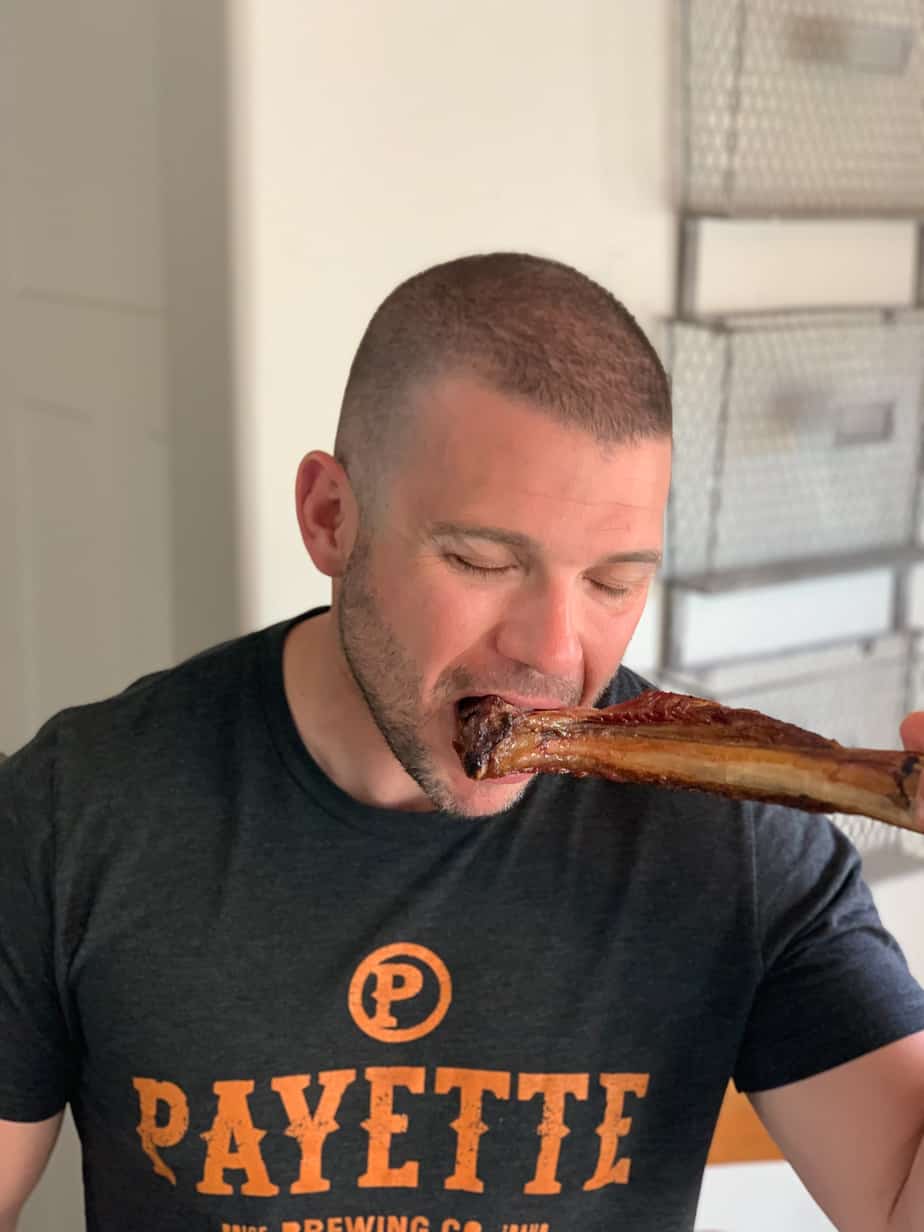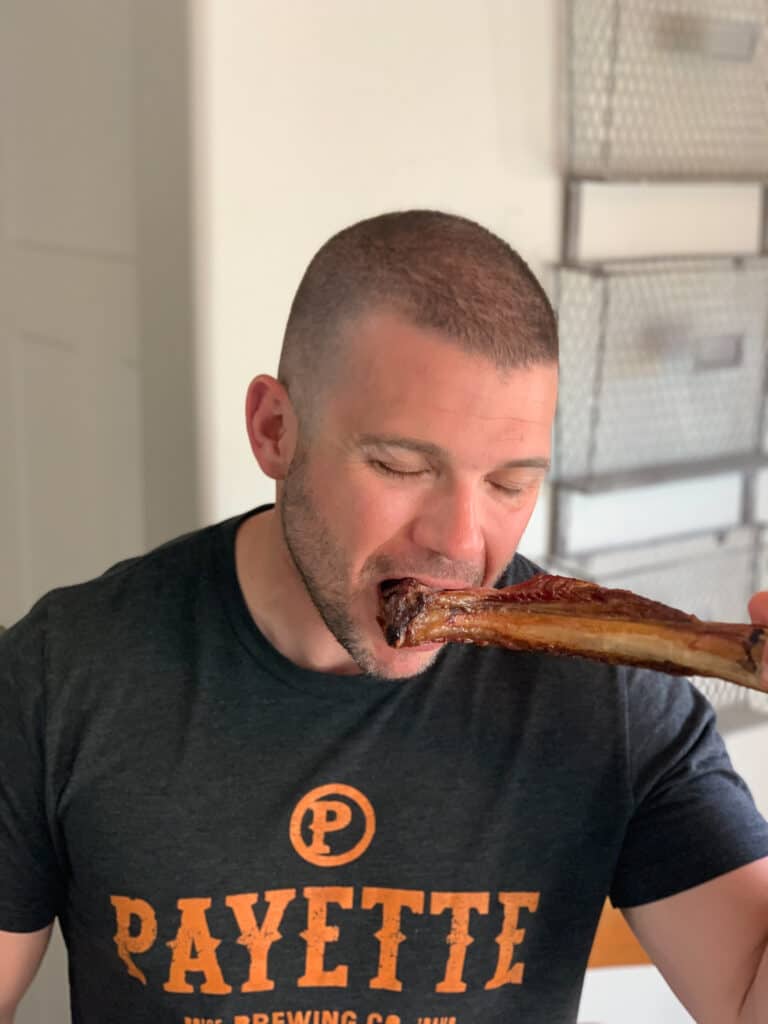 Smoking a Tomahawk Steak or "Cowboy Steak"
When you're ready to smoke the steak apply your rub to both sides, and then place it in your smoker. The lower the temp here, the better. I smoked this tomahawk at 180 degrees with oak pellets.
Let the tomahawk smoke at 180 until the internal temperature hits 110 degrees. This took about 3 hours for my three-pound tomahawk steak. Use a quality temperature probe like the Thermoworks Smoke to keep track of temps without opening the lid of your smoker. I placed the probe about an inch from the bone. As close to the center of the cut of the meat as I could.
When the Tomahawk Steak hits 110 internal temperature remove it from the smoker. Adjust the temperature of your smoker up to 450 degrees. While the smoker is coming up to temp combine 3 tablespoons of melted butter with a clove of minced garlic, and a ½ tsp of thyme.
[mv_create key="107" type="list" title="Other Beef Recipes" thumbnail="https://www.smokedmeatsunday.com/wp-content/uploads/2019/03/IMG_6446-1.jpg" layout="circles"]
When the smoker is up to temp brush both sides of the tomahawk steak with the melted butter mixture. Then place the tomahawk steak directly on the grill grates. Let the steak continue to cook at high heat until the internal temperature gets to 120. At 120 flip the steak, and then pull when the internal temperature hits 130-135 degrees. It took my tomahawk steak about 30 minutes at high heat to get to temp.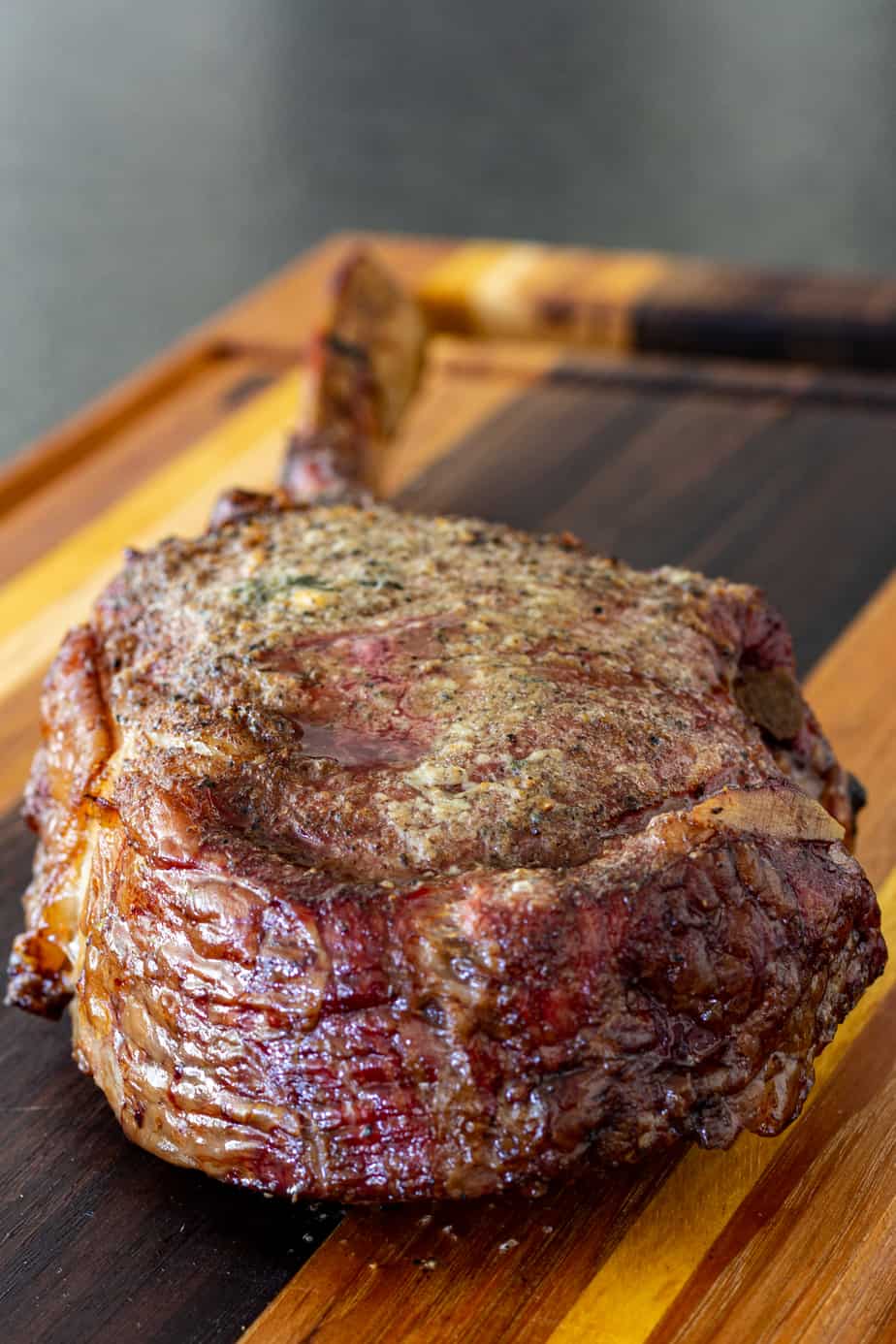 Now here is the really hard part. You have to sit and stare at this steak for 15 minutes before you slice into it. After you've let the steak rest get ready for your tastebuds to be incredibly happy.
Slice the steak thin, and get ready to hear your friends tell you this is "the best steak they've ever had".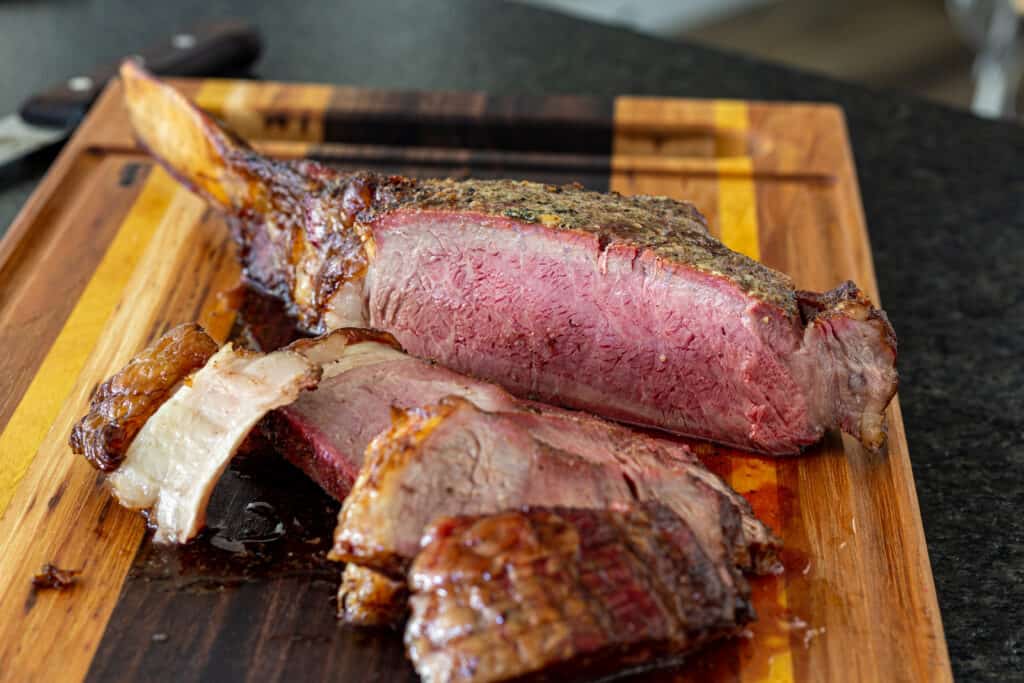 You might recognize the method I outlined in this post. It's similar to the reverse sear that I use when I cook smaller cuts of steak. If you're looking for other steak ideas check out my dry aged beef post too!
Smoked Tomahawk Steak
If you're looking for a high end steakhouse quality steak, look no further.
Preparing and smoking a big primal cut steak like this takes time, but it's totally worth it.
Ingredients
2.5-3

# Tomahawk Steak

2

tbsp

kosher salt

1

tbsp

Nick's Beef rub

3

tbsp

melted butter

1

clove

minced garlic

½

tsp

thyme
Instructions
Liberally salt one side of the steak and let it sit in the fridge for 90 minutes.

Flip the steak and repeat the salting process.

Prepare smoker to smoke at 180 degrees.

Season both sides of the steak with Nick's Beef Rub

Place steak in smoker and let it smoke until internal temperature hits 110 degrees. Monitor temps with a

Thermoworks Smoke

.

Pull steak from smoker and adjust temperature of your smoker to 450 degrees.

Combine melted butter, garlic, and thyme and then brush both sides of steak.

Return steak to smoker and let cook until internal temperature hits 120 degrees. Flip steak and brush more butter on surface.

When steak's internal temperature hits 130-135 degrees remove from smoker and let it rest for 15 minutes before slicing thin and serving.
Nutrition
Serving:
8
ounces
|
Calories:
515
kcal
|
Protein:
25
g
|
Fat:
23
g
|
Saturated Fat:
11
g
|
Polyunsaturated Fat:
10
g
|
Cholesterol:
107
mg
|
Sodium:
2422
mg