I love a good steak, and one of my favorites is a New York Strip. In this post, I'll tell you everything you need to know to prepare smoked New York Strip steak.
What is the New York Strip Steak?
The New York strip is cut from the beef short loin. It has a more intense flavor than filet mignon, and it's not quite as tender. People love it because of how it bites, and the New York Strip tends to have more marbling than other cuts because of where it's located, adding additional flavor.
I get Wagyu Grade New York Strips, but you can easily get these at your local butcher too. If you want to give Wagyu a try - it's some of the best-tasting beef you can buy.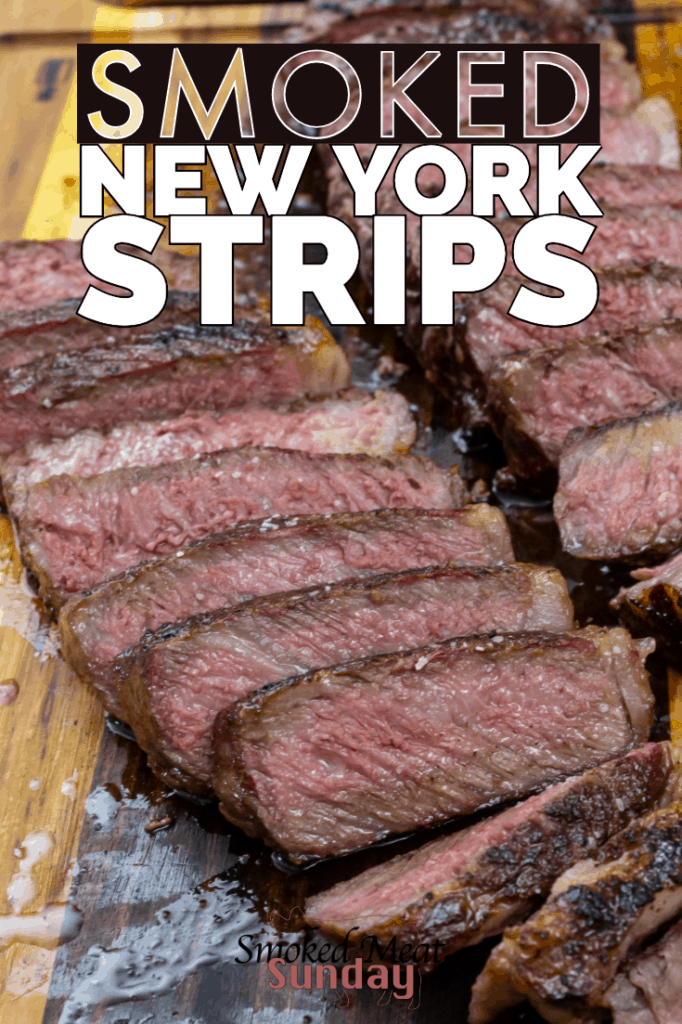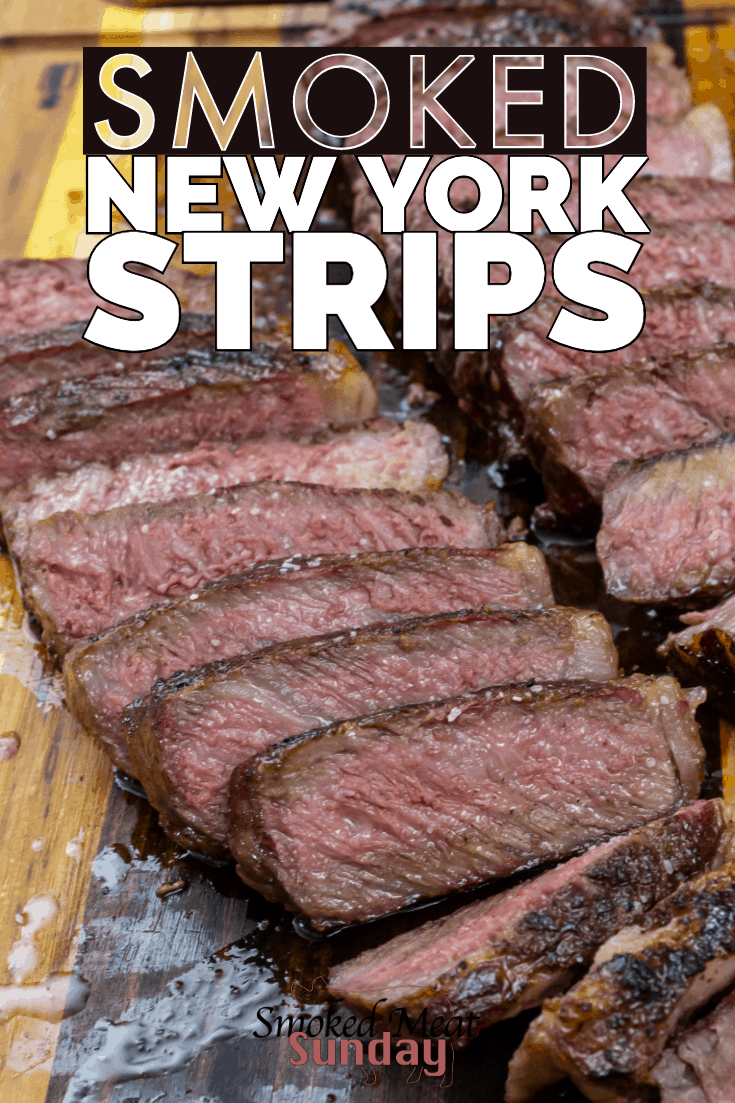 How to Cook a New York Strip
There are a few different ways to cook a New York strip. One of the more popular methods is to cook it hot and fast on the grill. That is certainly a good method, but I'd like to introduce a better way to you, the reverse sear. This is what I do to make smoked New York Strip Steak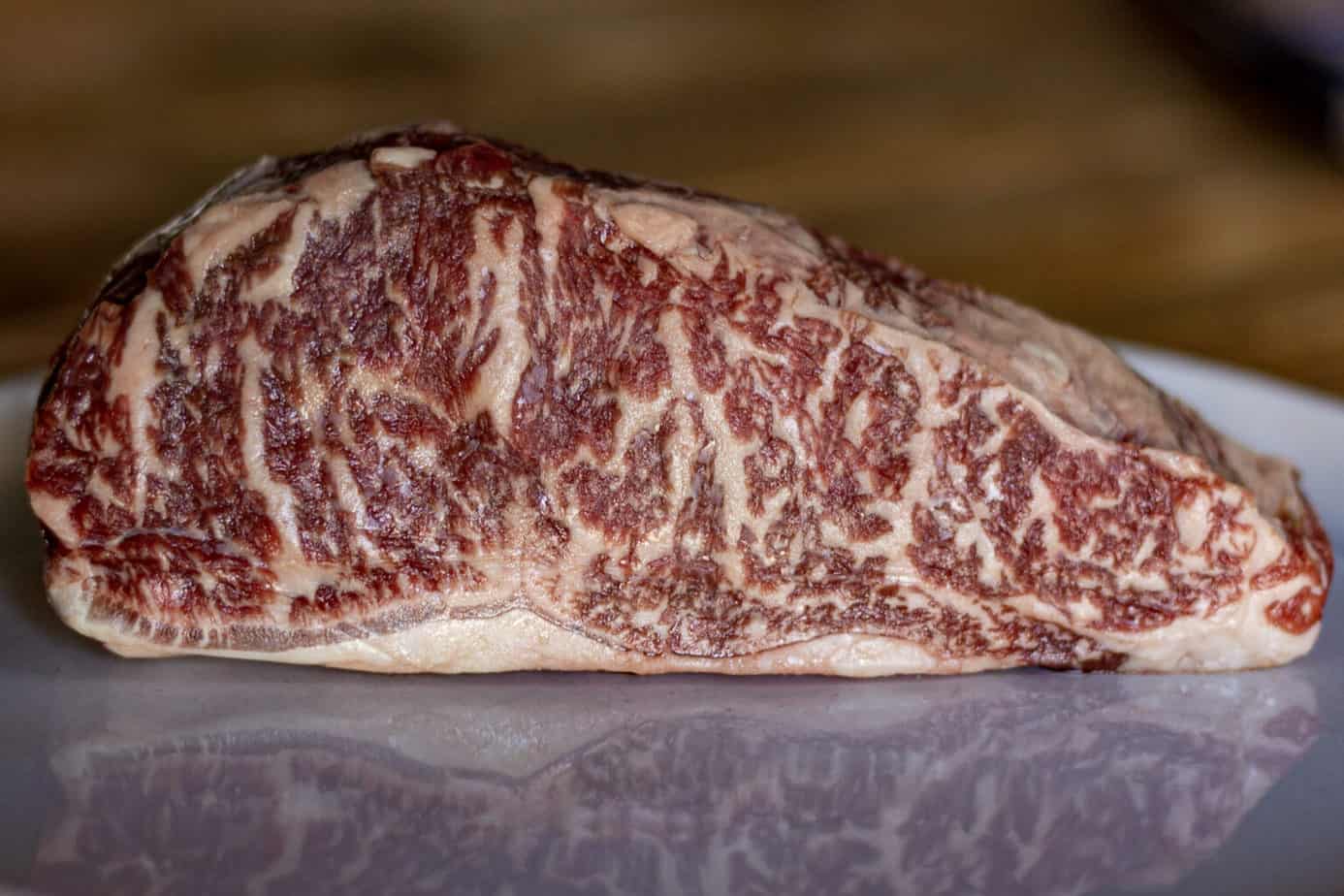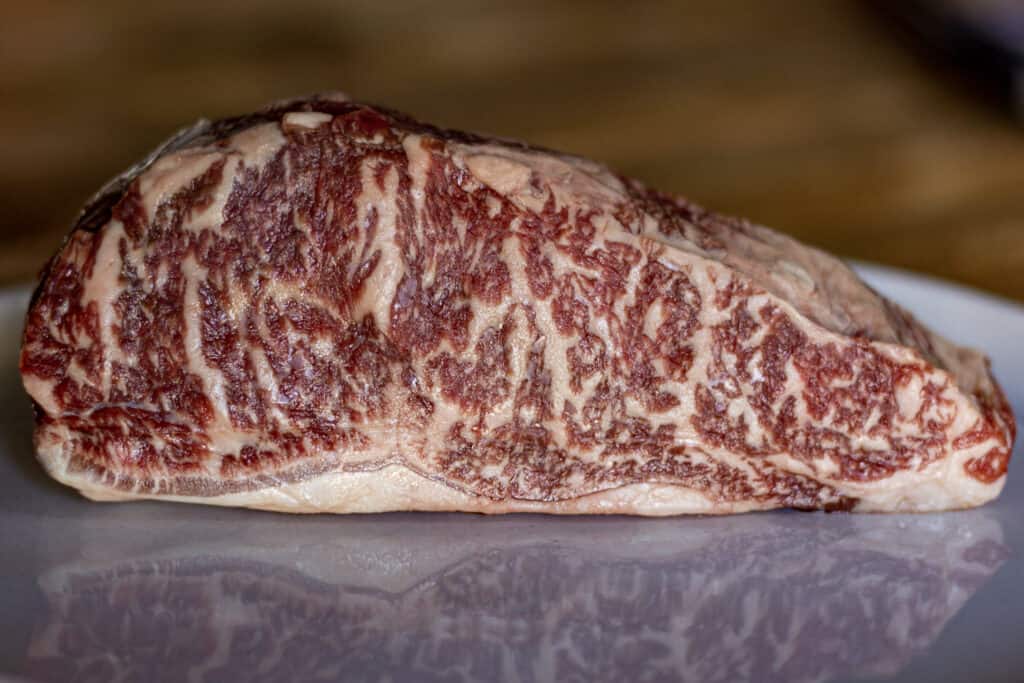 Reverse searing a steak is my favorite way to smoke a steak. Following this method produces a tender bite, with some amazing smoky flavor. It takes a little longer than the traditional hot and fast method many are so familiar with, but I promise you, it's worth it!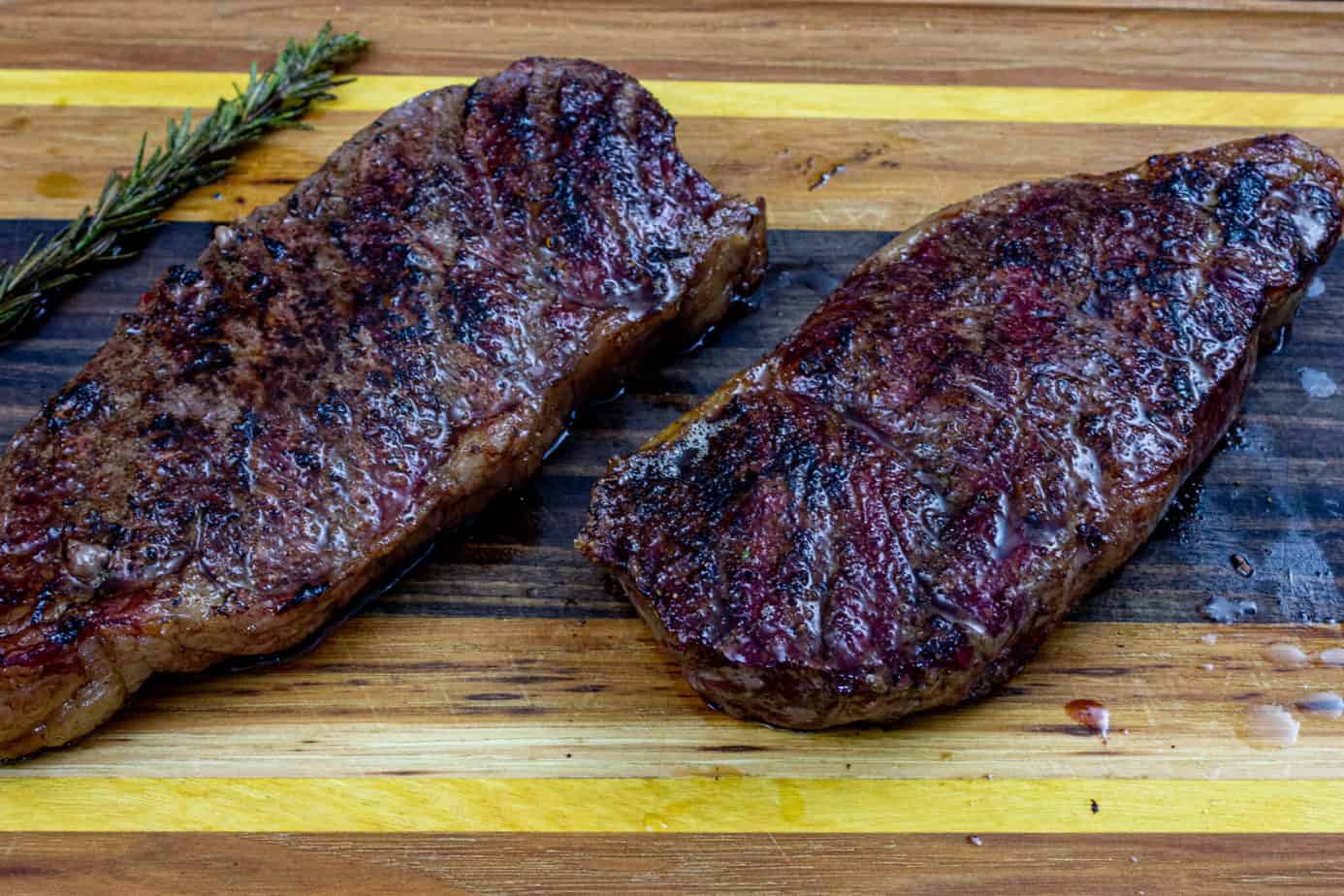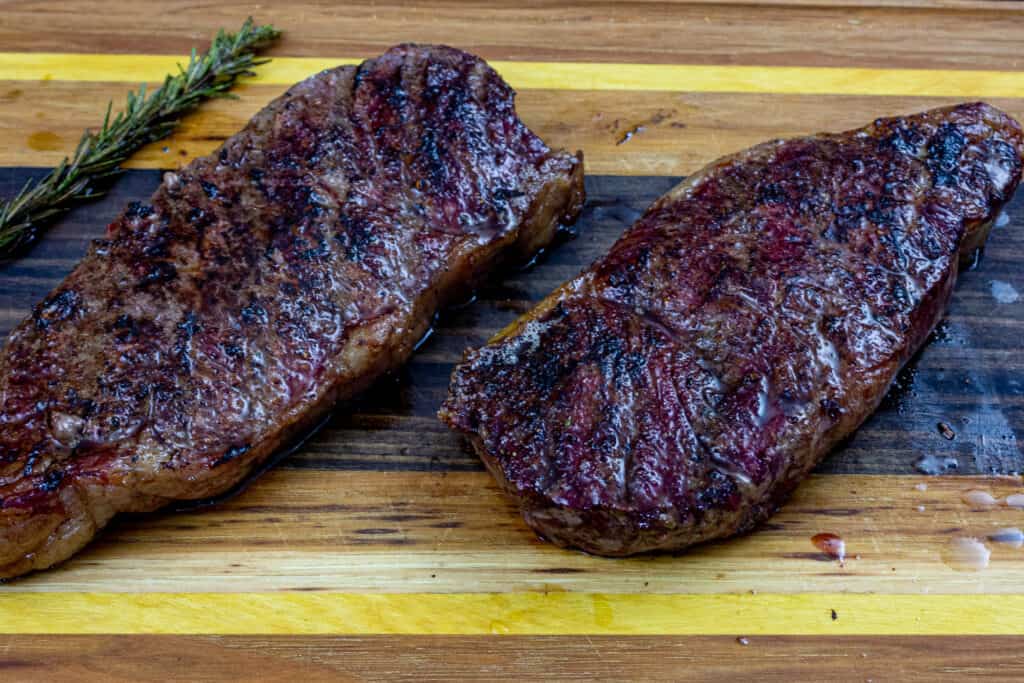 What You Need to make Smoked New York Strip Steak
There are just a few things you need to really knock this cook out of the park.
Kosher Salt - I like to season my steaks liberally with kosher salt about 30 minutes before they hit the smoker.
Leave in temperature probe - One of the keys to a perfectly cooked new york strip is cooking to temp, not to time. Using a good leave-in temperature probe during the cook like a Thermoworks Smoke helps you stay on top of the temp with incredible accuracy.
Instant Read Thermometer - After smoking the steak you'll be searing it. During this time you'll be checking the temperature and pulling when it reaches 5 degrees below your desired doneness. Utilizing a great meat thermometer like the Thermapen One helps you spot check the temperature of your steak while it's getting a good sear.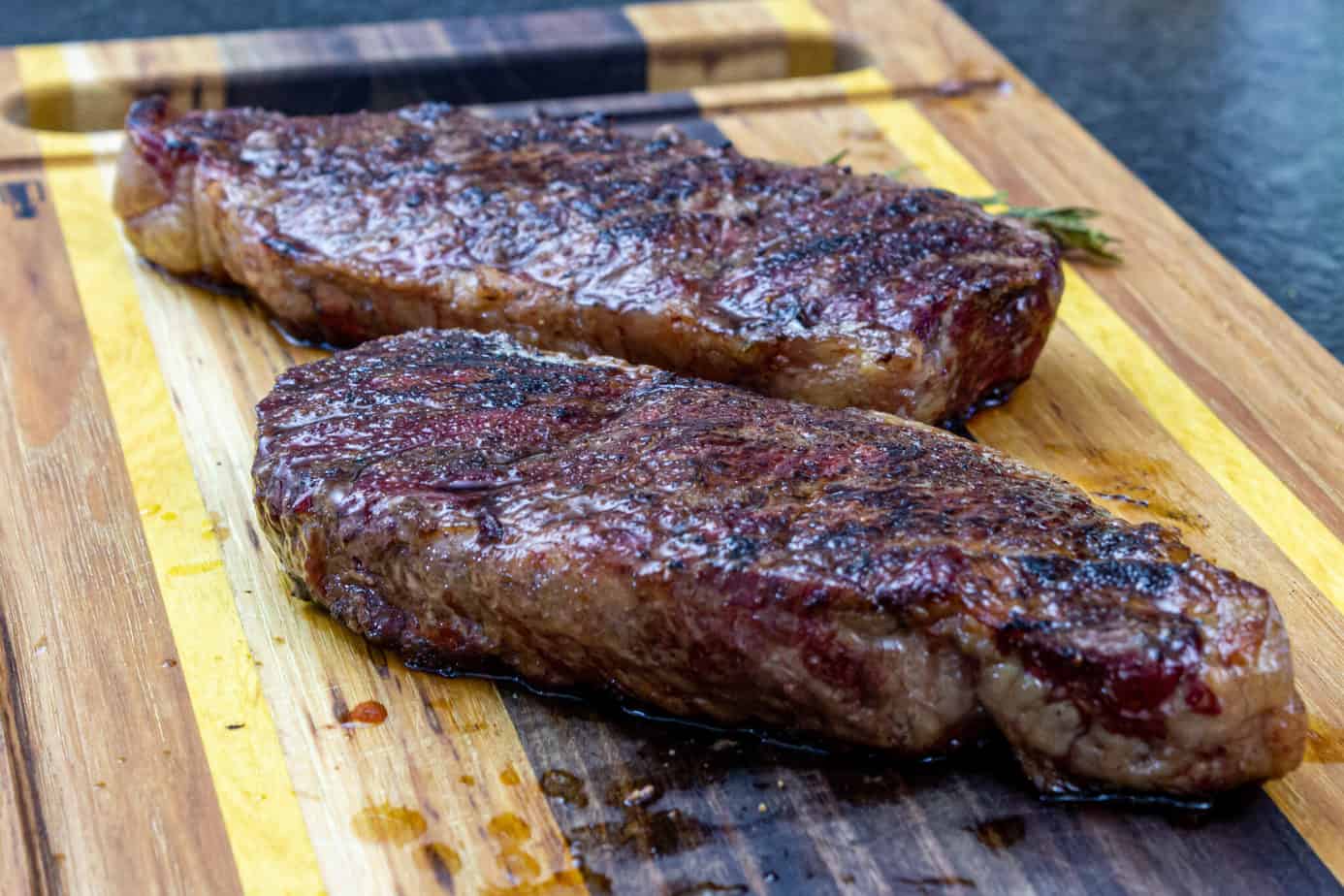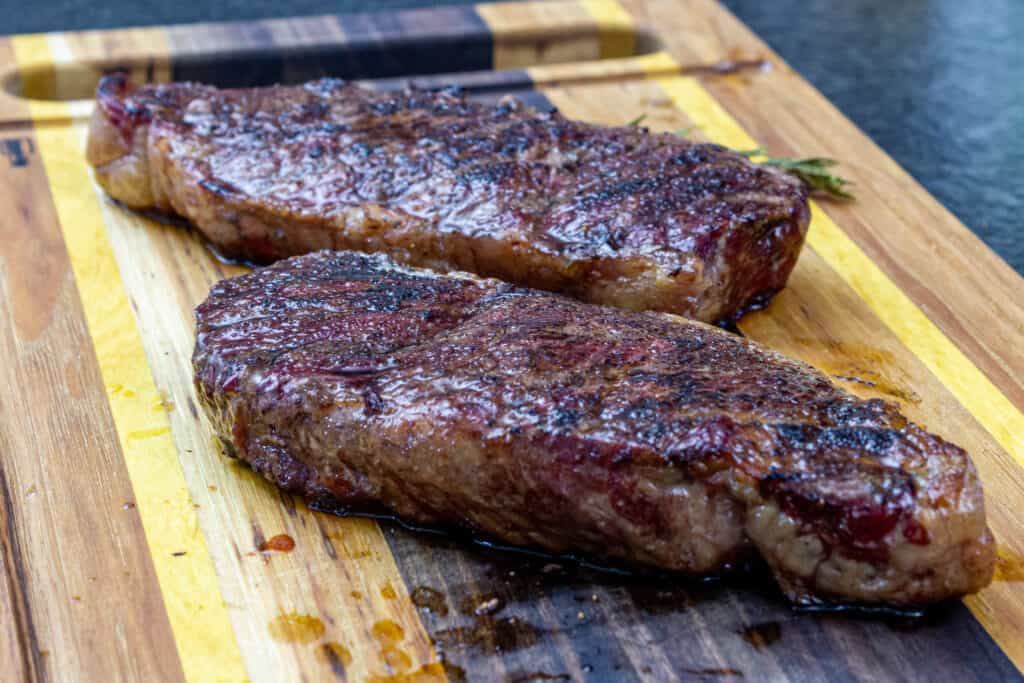 How to Smoke a New York Strip Steak
Earlier I mentioned salting the steak. This is an important step to make sure your New York Steak has the ultimate flavor. 30 minutes prior to putting the steak on your smoker liberally salt both sides. Place the steak on a plate and put it in your refrigerator until it's time to smoke.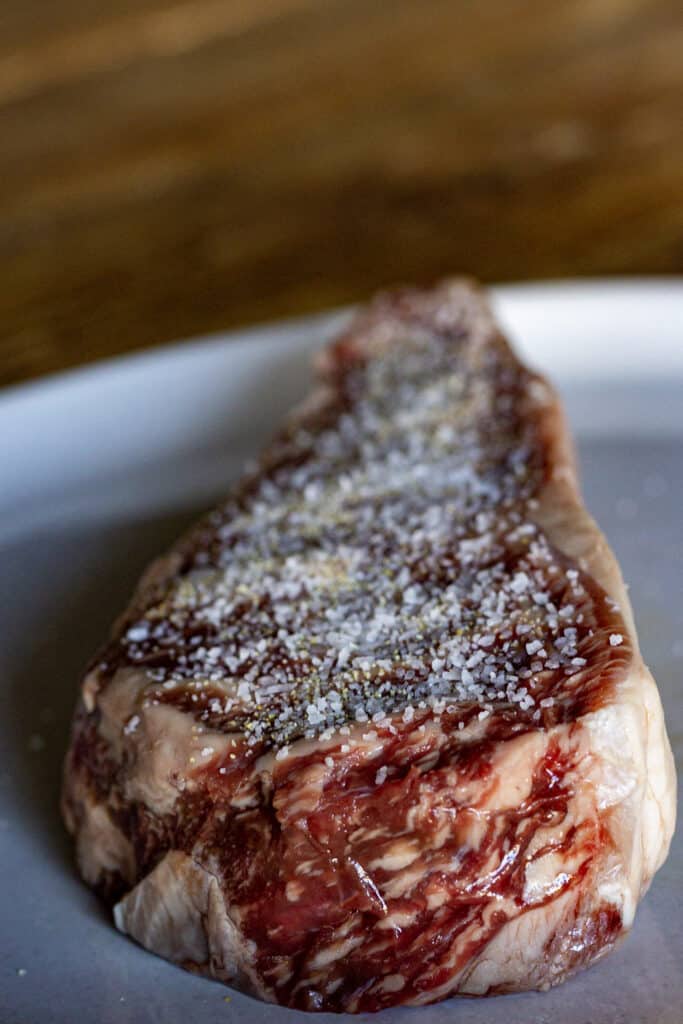 Set up your smoker to smoke at 180 degrees. I like pecan or oak wood with beef. When the smoker is up to temp dust both sides of your steak with a good beef rub, and then place the steaks on your grill.
Insert your Thermoworks Smoke in one of the steaks to monitor the temp, and set an alarm to go off when the steak reaches an internal temperature of 125 degrees. If you don't have a Smoke plan on the steaks smoking for at least 45 minutes. The 45-minute mark is when I would make my first check-in if I didn't have a Smoke.
When the internal temperature of the New York Strips hit 120 pull them from your smoker. You have a few options at this point. If you can get your smoker up to a high temp adjust it and do so. Alternatively, you can place a cast-iron skillet on your stove over high heat. Be warned that if you do this method you could get the house a little smoky - open the windows and turn on that stove fan. Don't ask me how I know... If I'm searing the steaks on the smoker I place the cast iron skillet on the grill grates.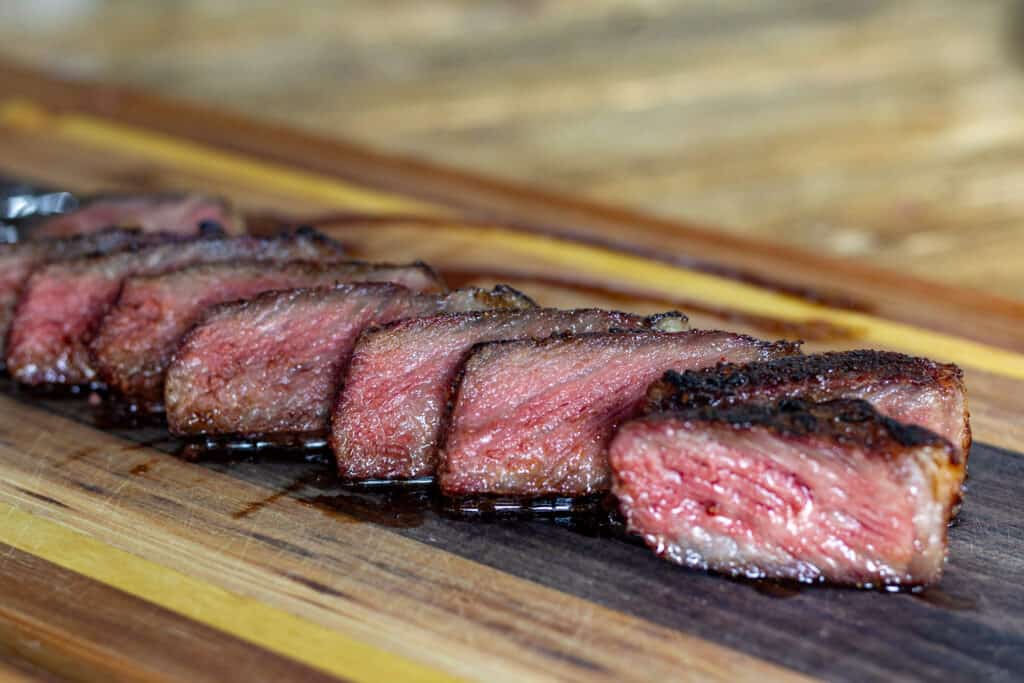 When the cast iron is HOT, drop a tablespoon of oil in the skillet - vegetable, grape seed, or avocado oil all work well here. Let the steaks sear for about 2 minutes and then flip them. Let them sear for an additional two minutes and then check the temp with your Thermapen. I like some pink in my steaks, and pull them when the internal temp hits 130 degrees.
Let the steaks rest for about 10 minutes with a pat of butter on top before serving.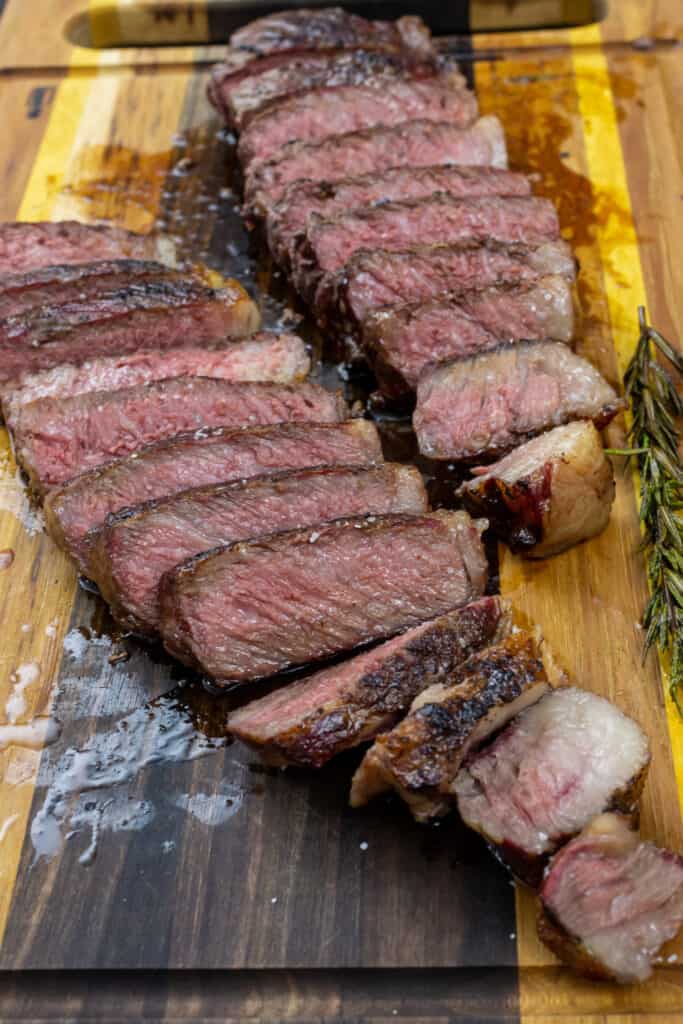 This is hands down my favorite way to make smoked New York strip steak. I hope you give this method a try and let me know what you think!
Smoked New York Strip Steak
Looking for the best way to make a new york strip steak? This simple smoked New York Strip Steak recipe is easy to follow and will make you question why you ever went to a steakhouse to eat a steak.
Ingredients
2 16 ounce New York Strip Steaks

1

Tbsp

Kosher Salt

1

Tbsp

BBQ Rub

1

Tbsp

Grape Seed Oil

2

Tbsp

Butter
Instructions
Liberally salt both sides of the steaks 30 minutes prior to placing in the smoker

Rub the steaks with your favorite bbq rub

Smoke the steaks at 180 degrees until the internal temperature hits 120 degrees.

Sear the steaks over high heat in a cast-iron skillet with oil. Pull from the skillet when the internal temperature hits 130 degrees.

Place a pat of butter on each steak and let them rest for 10 minutes before serving.
Notes
I recommend the following products to get the most out of this cook:
Nutrition
Serving:
1
g
|
Calories:
441
kcal
|
Carbohydrates:
1
g
|
Protein:
30
g
|
Fat:
35
g
|
Saturated Fat:
14
g
|
Polyunsaturated Fat:
16
g
|
Cholesterol:
106
mg
|
Sodium:
1888
mg
|
Sugar:
1
g