One of the absolute best tasting steaks you can make on a smoker is a smoked filet mignon. Before we get into the best way to cook a filet mignon, let's talk a little bit about this cut of meat.
What is a Filet Mignon?
Filet Mignon is one of the leanest cuts of steak you can buy. The steaks are cut from the smaller end of the beef tenderloin and packs some major beefy flavor.
There are a lot of different ways to prepare filet mignon, but my favorite is on the smoker (surprise!).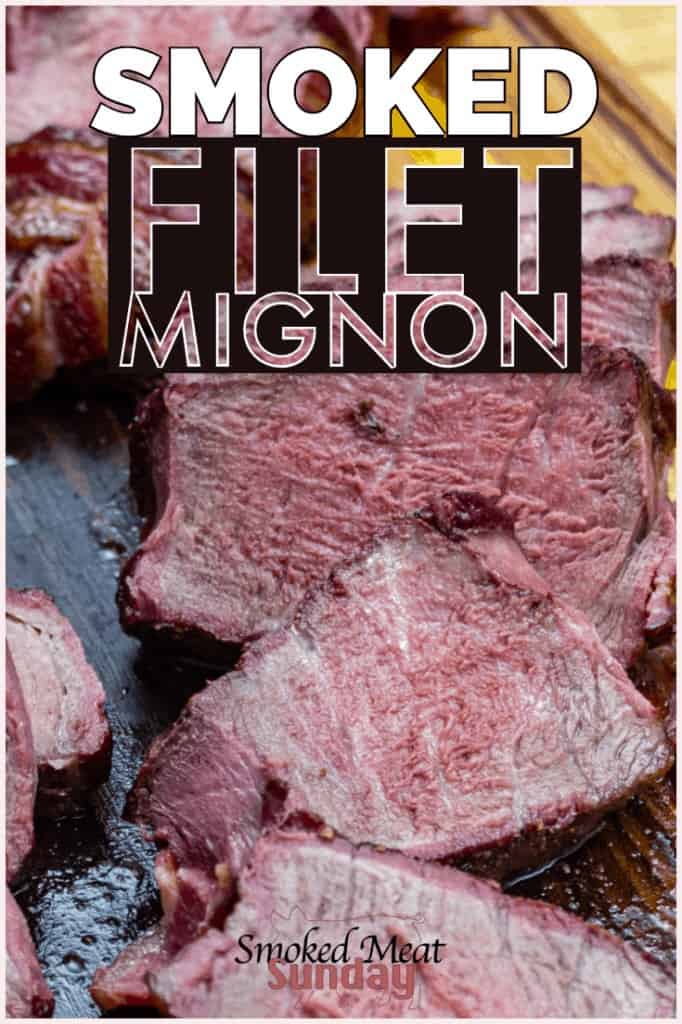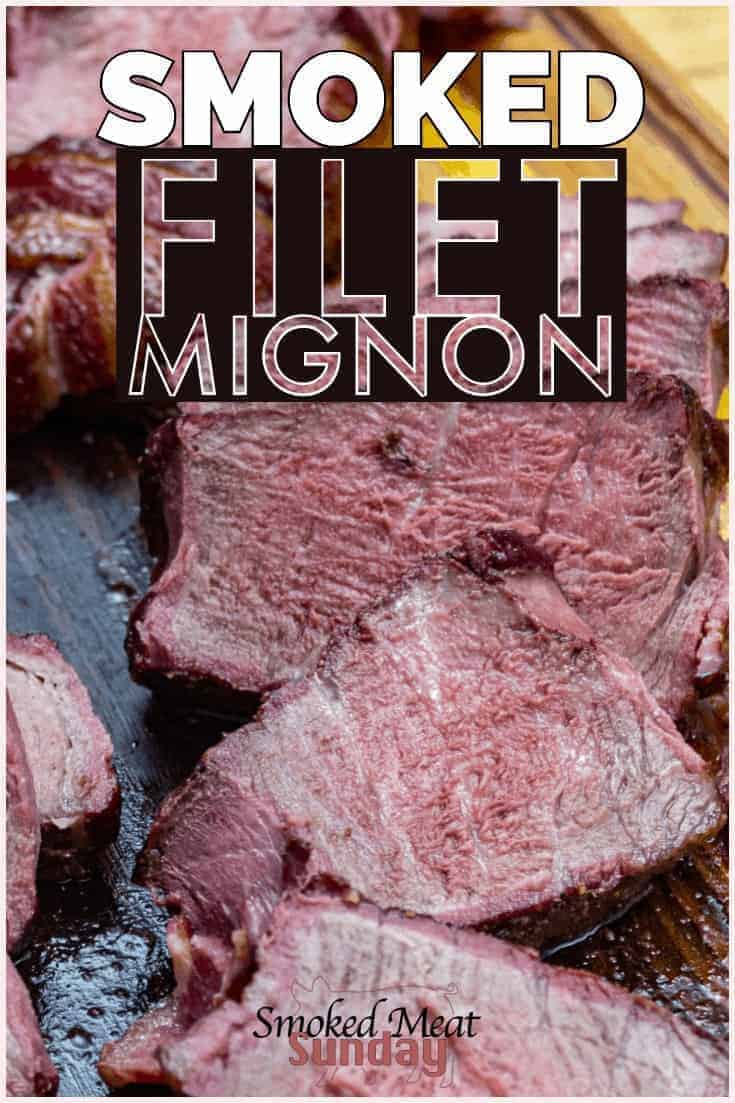 Where to Get Filet Mignon
I've bought filet mignon from a few different sources, but my favorite has been the Wagyu Filet's I've received from Snake River Farms. If you really want to get the best quality meat you can, I'd recommend buying your Filet Mignon from Snake River Farms.
You can also get good Filet's from your local butcher or grocery store, but pay close attention to the grade of the meat. I've cooked some choice grade Filet's that were ok, and prime grade is always a good choice.
How to Prepare Smoked Filet Mignon
Prepping filet mignon is simple. About an hour before you're ready to cook your steaks salt both sides of the filet with kosher salt. After salting both sides put the steaks in the refrigerator.
While the filet mignon is in the fridge the salt will pull moisture out, bind with the salt, and then pull all that flavor back into the steak.
The other benefit of salting the steak early is that while this process unfolds you are also chilling the steaks. I've seen some people recommend getting a steak to room temp before cooking, but if you're smoking the steak, that's just not a good idea.
I place my steaks in the smoker cold to maximize the amount of time the filet mignon's take on smoke.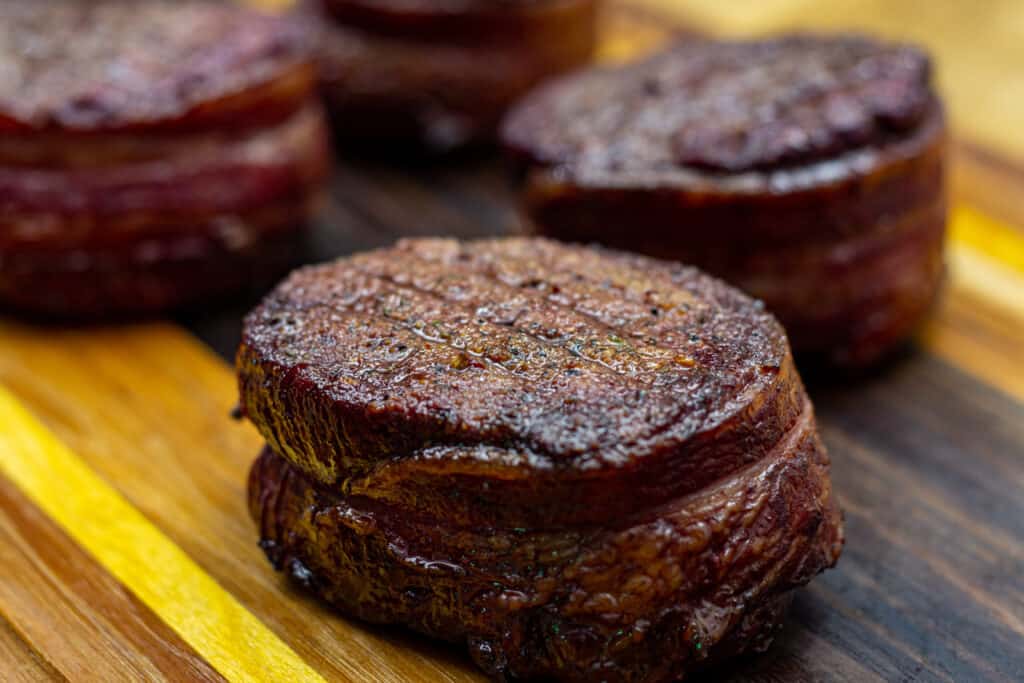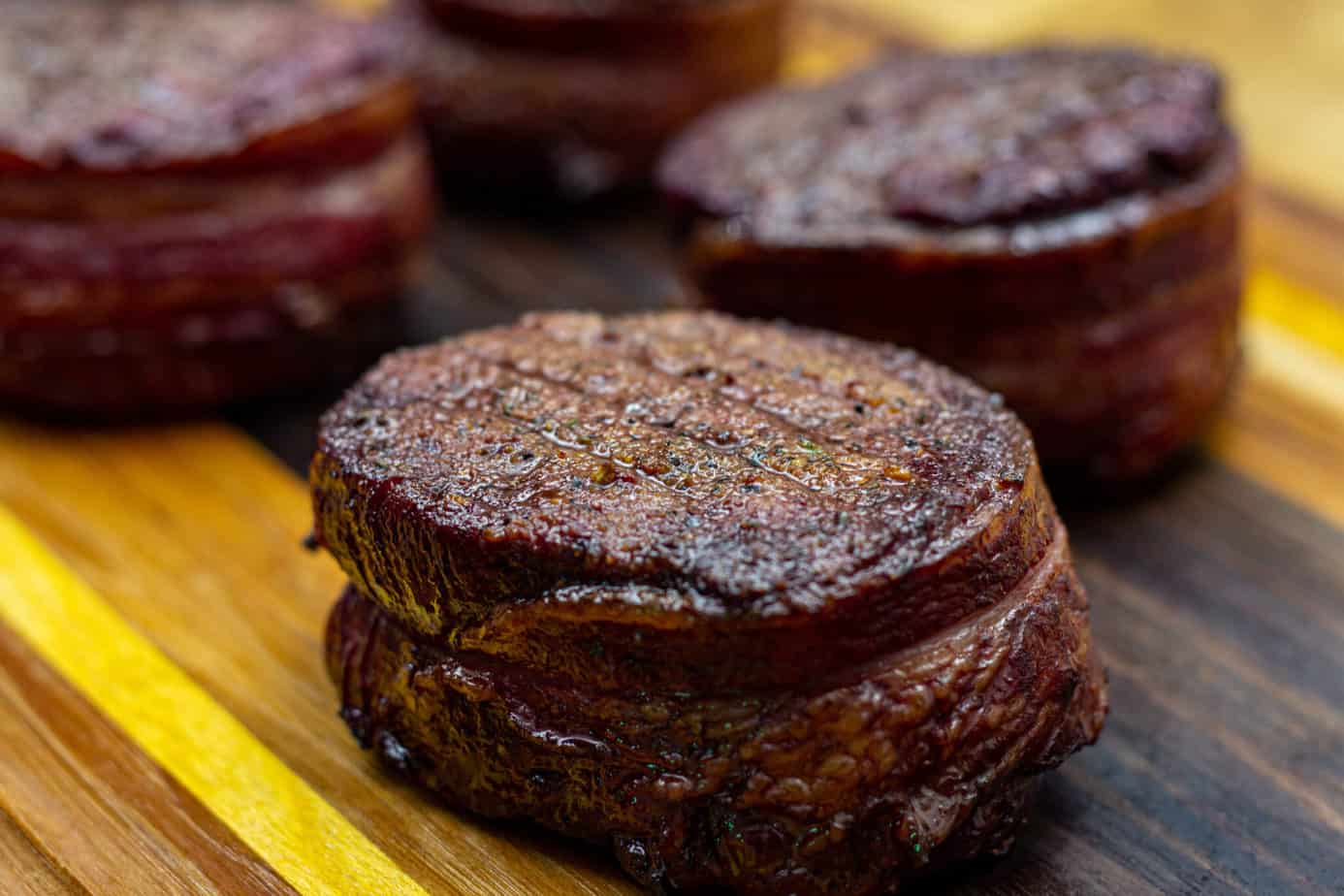 Smoking Filet Mignon
When you're ready to make your smoked filet mignon pull them out of the fridge and wrap each filet with half a strip of bacon. Use butcher's twine to secure the bacon in place. Dust each side of the steak with salt and pepper.
Set up your smoker to smoke at 180 degrees, and place each of the Filets directly on the grill grate. Let them smoke until the internal temperature reaches 120 degrees. For my 8 ounce filets, this took about 90 minutes, but I'd recommend cooking to temp not to time, especially with a cut of meat as high quality as this.
When the internal temperature hits 120 remove the filets from your smoker and tent them with foil on a plate. Adjust the temperature on your smoker to 450+ degrees. When the smoker gets up to temp put the filets back in the smoker and let them cook until the internal temperature hits 130 degrees. At 130 pull them and tent with foil again. You can add a medallion of compound butter on top of each steak while it rests for some extra flavor.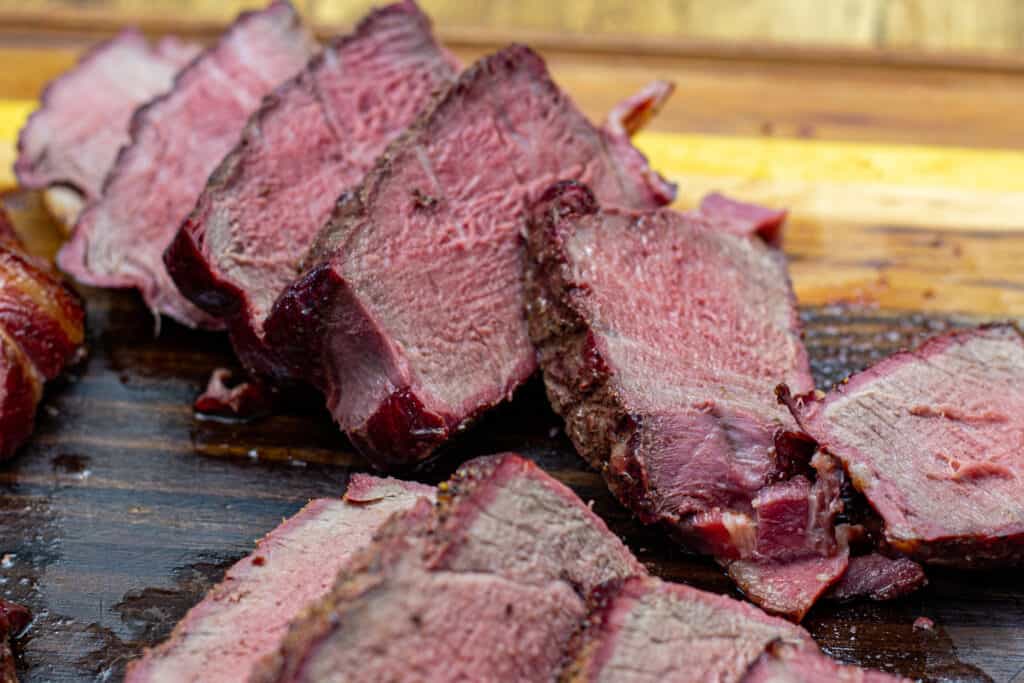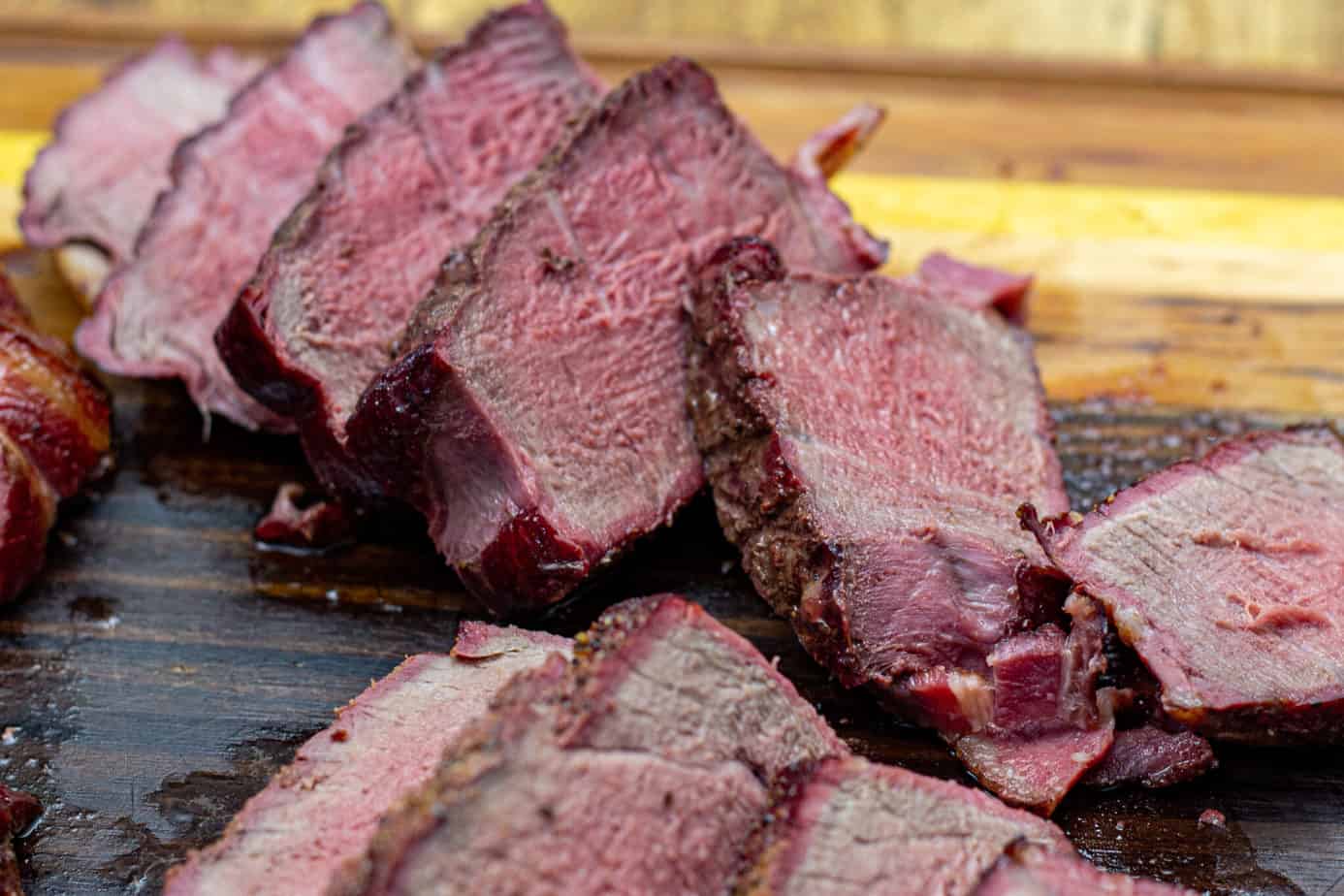 Snip the butcher string holding the bacon in place, and then serve. These are hands down the tastiest smoked filet mignon you will ever try.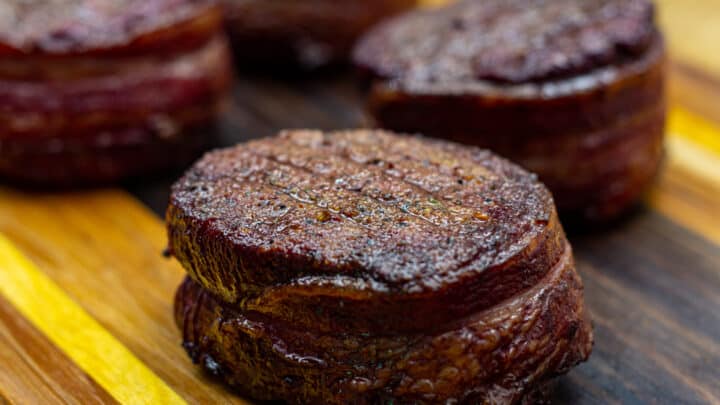 Yield:

8 ounces
Smoked Filet Mignon
Cook Time:
1 hour
50 minutes
Additional Time:
15 minutes
Total Time:
3 hours
5 minutes
Have you ever had a filet mignon? Chances are that if you have, it was in a high-end restaurant. With this recipe, you can make smoked filet mignon at home! It's DELICIOUS!!!
Ingredients
4 x 8 oz Filet Mignon
2 Tbsp Kosher Salt
Pepper
Bacon
Instructions
Salt each side of the filets and then place in the fridge for an hour.
Wrap the filets in a half strip of bacon and secure with butcher string.
Season each side of the steak with salt and pepper.
Smoke the filets at 180 degrees until the internal temperature hits 120 degrees.
Adjust temp on the smoker up to 450+ and continue cooking the filets until the internal temperature hits 130 degrees.
Rest for 15 minutes before serving.
Notes
I use a Thermapen to monitor the temps of my steaks.
Pay attention to the type of salt you use. I use Kosher Salt to prep the steaks - using table salt will result in an overly salty steak.
Recommended Products
As an Amazon Associate and member of other affiliate programs, I earn from qualifying purchases.
Nutrition Information:
Yield:
4
Serving Size:
1
Amount Per Serving:
Calories:

647
Total Fat:

42g
Saturated Fat:

16g
Trans Fat:

0g
Unsaturated Fat:

20g
Cholesterol:

228mg
Sodium:

3756mg
Carbohydrates:

1g
Fiber:

0g
Sugar:

0g
Protein:

63g