This smoked banana bread recipe is a family favorite! Sometimes all you need to upgrade your favorite dessert is a little kiss of smoke.
The back story here is kind of funny. We're mid lock down with the whole country under stay at home orders, and I'm doing all the grocery shopping in the house. My wife makes the list, and puts down (2) bananas.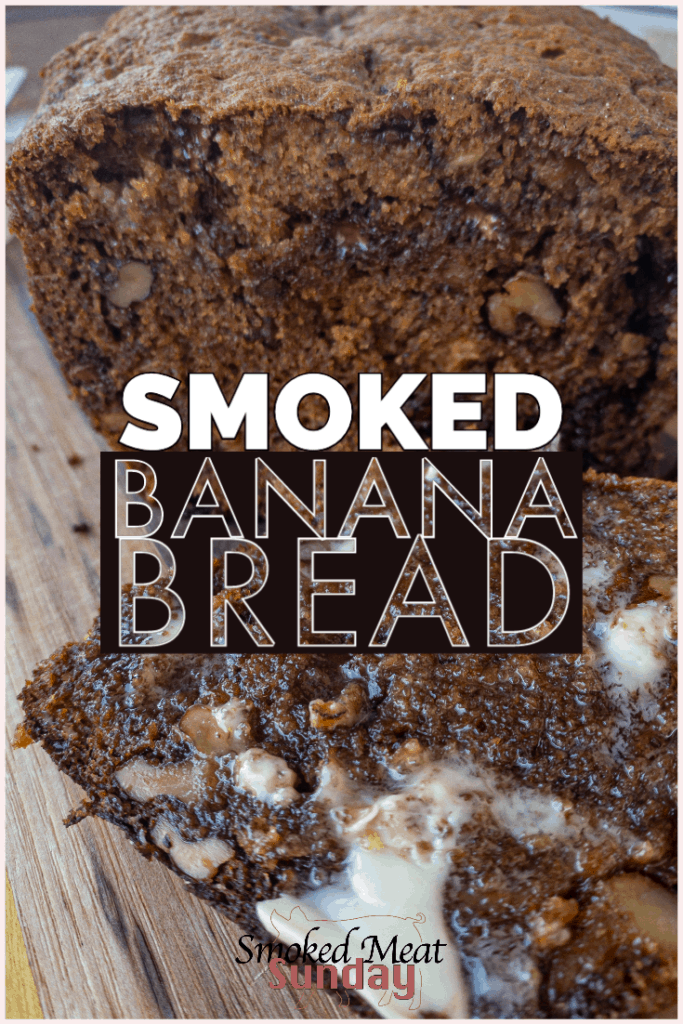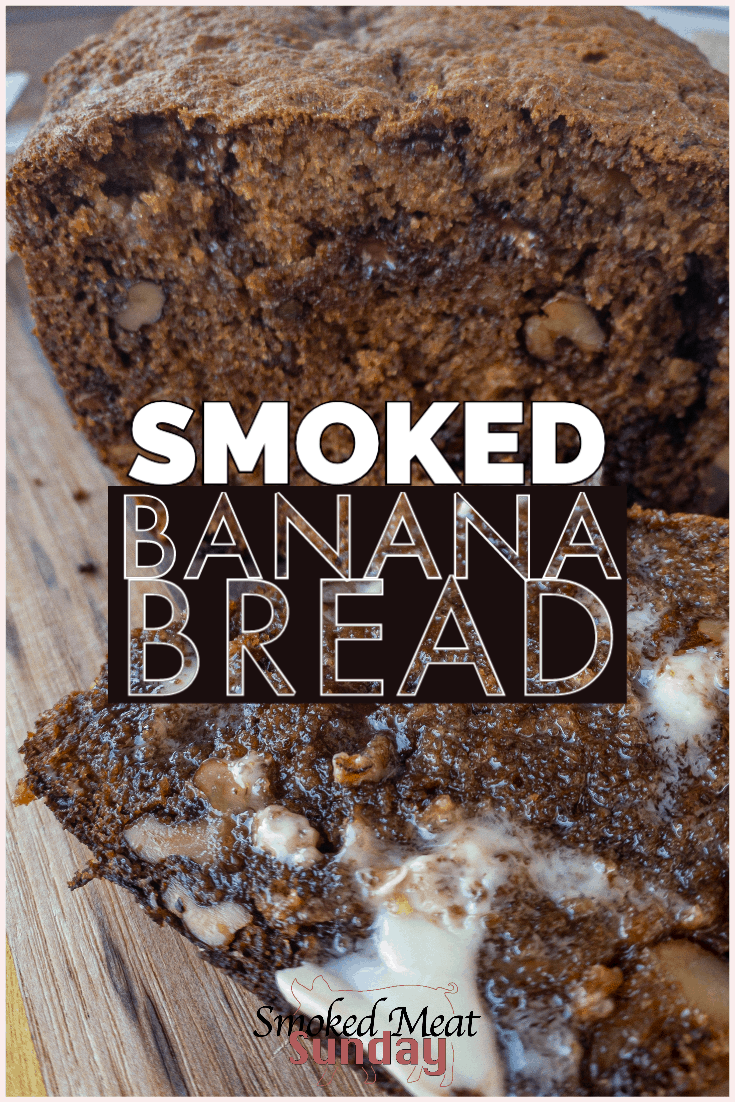 Now I don't know about you, but when I see that I assume it's two bunches of bananas. I'm certainly not going to rip two bananas off of a bunch and call it good.
Well.. turns out I was wrong and we had some extra bananas in the house so I decided to make banana bread. I gotta warn ya, this smoked banana bread recipe damn near tastes like cake when it's done cooking on the Traeger. It was everything I could do to just have one bite and then step away while my girls dug in.
Smoked Banana Bread Recipe ingredients
To make this banana bread you'll need the following ingredients (full amounts in the recipe card below):
Bananas
Brown Sugar
Butter
Mascarpone Cheese
Flour – not self rising
Salt
Baking soda
Eggs
Chopped Walnuts
Chocolate Chips
You can sub sour cream or greek yogurt for the marscapone if you'd like, but the marscapone really takes this smoked banana bread over the top.
Making Smoked Banana Bread
Before you get the rest of the ingredients ready peel 4-5 small bananas and place them in your Traeger. Set the temp to 150-165 degrees and let the bananas smoke for about 20 minutes.
While the bananas are smoking combine butter, brown sugar, and the mascarpone in a small bowl. Mix with an electric mixer until the mix is light and fluffy. Add the eggs and continue mixing.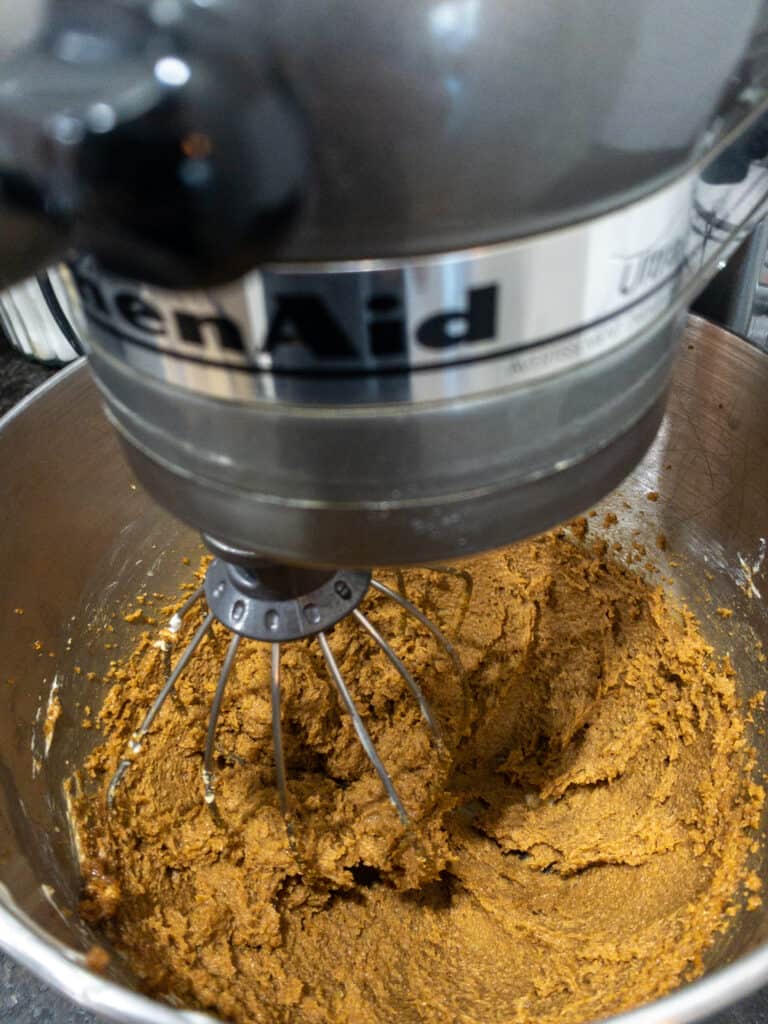 Sift flour, baking soda, and salt into the bowl with brown sugar. Mix with the electric mixer on low until all of the flour has been incorporated. Add the eggs and mix some more.
Remove your bananas from the smoker and mash them in a small bowl and then add them in to your batter.
Fold in the chocolate chips and walnuts.
Cooking Smoked Banana Bread on a Traeger
Pour the batter into a bread loaf pan lined with parchment paper or butcher paper. Place the loaf pan in your smoker, set to cook at 375 degrees. Let the banana bread cook for 60-65 minutes.
Check the bread with a toothpick to see if it's done (the toothpick will pull out clean from the center) When the bread is done pull it from the smoker and let it sit on the counter for about 45 minutes before removing from the loaf pan.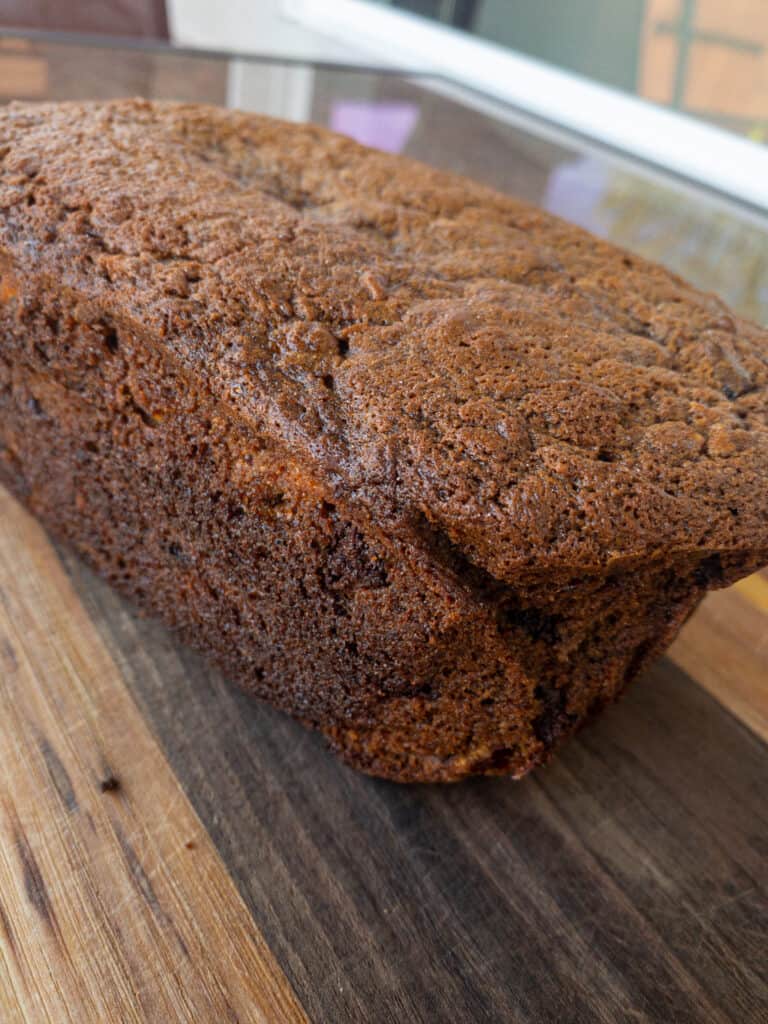 Slice it thick and put a little butter on a slice, then hold on. This is some of the best smoked banana bread you'll ever try.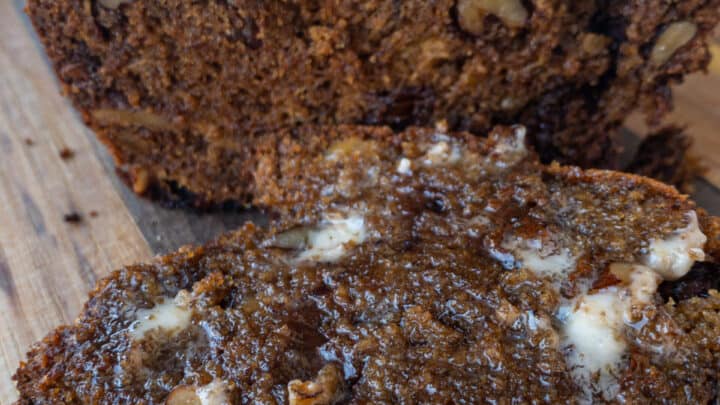 Yield:

1 Loaf
Smoked Banana Bread
Cook Time:
1 hour
25 minutes
Total Time:
2 hours
40 minutes
This smoked banana bread recipe incorporates mascarpone to add some richness that is unmatched.
Ingredients
1½ cups all-purpose flour
1¼ teaspoons baking soda
¾ teaspoon kosher salt
1 cup (packed) dark brown sugar
⅓ cup mascarpone, plain whole-milk Greek yogurt, or sour cream
¼ cup (½ stick) unsalted butter, room temperature
2 large eggs
4-5 very ripe bananas (about 1½ cups)
½ cup chopped bittersweet or semisweet chocolate (optional)
½ cup chopped walnuts (optional)
Instructions
Peel the bananas and place them directly on the grill grate of your smoker. Let them smoke at 150-165 degrees for 20 minutes.
Combine the brown sugar, butter, and mascarpone and then mix with an electric mixer on medium high until the batter is light and fluffy.
Add the two eggs and continue mixing.
Sift the flour, baking soda, and salt in to the batter. Mix on low until the flour is incorporated.
Mash the bananas and add to the batter and mix them in.
Fold the walnuts and chocolate chips into the batter.
Line a bread loaf pan with butcher paper or parchment paper. Pour the batter in and place the loaf pan in your smoker set to a temp of 375 degrees.
Cook the banana bread for approximately 65 minutes. The bread is done when a toothpick pulls clean from the center.
Nutrition Information:
Yield:
12
Serving Size:
1
Amount Per Serving:
Calories:

286
Total Fat:

15g
Saturated Fat:

7g
Trans Fat:

0g
Unsaturated Fat:

7g
Cholesterol:

51mg
Sodium:

338mg
Carbohydrates:

34g
Fiber:

3g
Sugar:

15g
Protein:

6g