If you've had the pleasure of tasting smoked picanha steak before, you know what I'm about to tell you. It's one of the beefiest cuts of steak I've ever tasted. Before we dive into this tasty cut of meat, let's talk about what picanha is.
What is Picanha?
If you've never heard of picanha steak, you're probably wondering what it is, and where it comes from.
Picanha is also called culotte, or sirloin cap. It's a popular cut of beef in Brazil. In fact, picanha is the most popular cut of meat down there!
In the United States, this cut is typically separated out into smaller steaks and the fat cap is removed. If you can get your hands on one of these whole, do it! I got mine from Snake River Farms, and it was well worth it.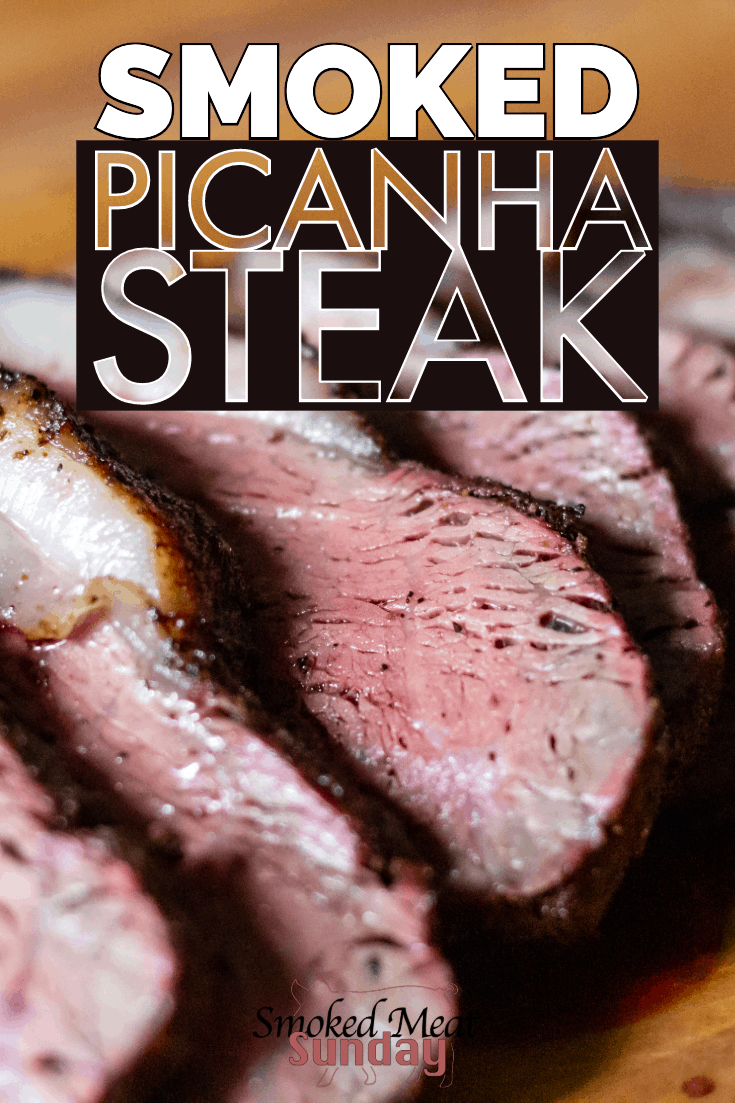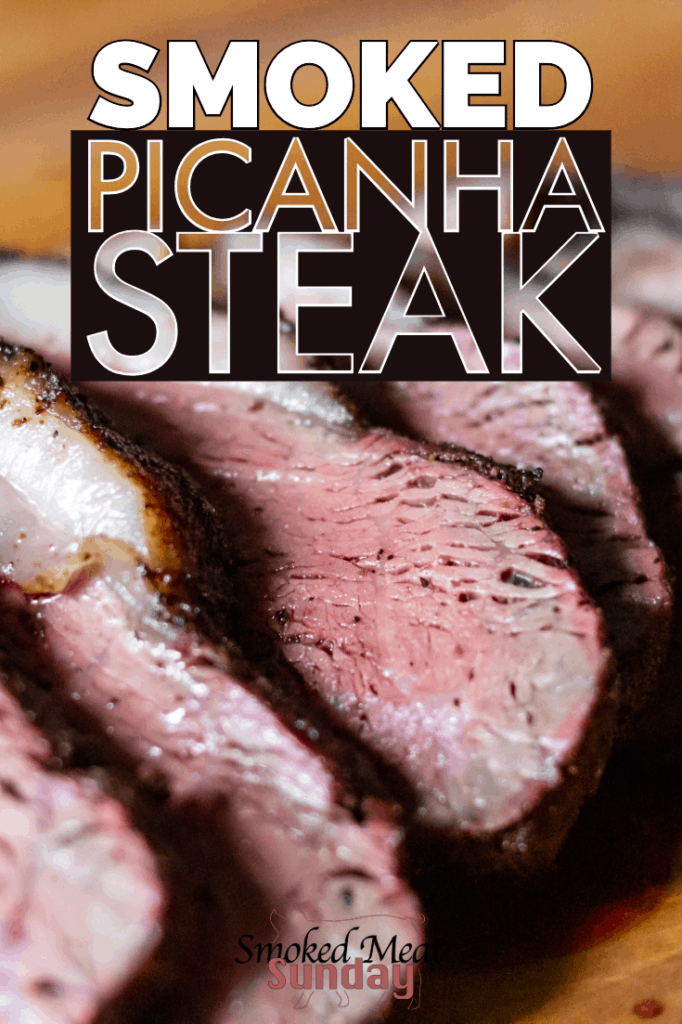 How to Cook a Picanha Steak
There are a few different ways to cook picanha steak. The most common method is to cut the steak into thick strips that are skewered and then cooked over an open fire to medium (just a hint of pink).
Others will sear both sides of the whole picanha steak first and then cut into strips and skewer.
Both methods are great, but anytime I have a gorgeous cut of wagyu beef, I want to get it some low and slow time in my smoker. The first thing we have to deal with is the fat cap.
One of the first things you'll notice on this rare cut of beef is the large fat cap on side of it. A lot of people will just trim this off the picanha steak before they cook it. Don't do that! Use a sharp knife and make some cuts into the fat. Make cuts parallel to one another about an inch apart, and then come back and make more cuts perpendicular to the first ones.
While the picanha steak smoked this fat won't really melt away, but it will protect the meat from drying out. Adding the cuts into the fat allows us to season the fat cap side, and get some seasoning down into the tasty beef.
How to Season a Smoked Picanha Steak
With the fat cap side down, sprinkle a layer of coarse kosher salt on the meat. Place the steak in your refrigerator and let it rest for about 90 minutes. Doing this brings the salt deep into the meat, and imparts some serious flavor. I employ a similar method when I cook a tomahawk steak.
When you're ready to get started with the cook, set up your smoker to smoke at 180 degrees using indirect heat. Oak or Mesquite pellets work well here.
Generously season the steak on both sides using my beef rub, or if you don't have that, your favorite bbq rub. Make sure you pick one that isn't loaded with salt and keep the extra flavors to a minimum. You want the rub to enhance the flavor of the meat, and my beef rub does just that.
Smoking a Picanha Steak
Place the seasoned steak directly on the grill grates with the fat cap facing up. I'd recommend setting up your Thermoworks Smoke to monitor the internal temperature of the picanha as well. We want to smoke the picanha steak until the internal temperature reaches 110. At 110 remove the meat from your smoker and tent it loosely with foil. Adjust the smoker to cook at 450 degrees.
When your smoker is up to temp place the picanha steak back on the grill grates with your temp probe inserted, and cook until the internal temperature reaches 125. This lean cut of beef can be overcooked and tastes best when it's cooked to medium-rare.
At 125 pull the steak from your smoker and let it rest for 15-20 minutes. The internal temp will rise about 10 degrees during the rest, leaving you with a perfectly cooked medium-rare steak.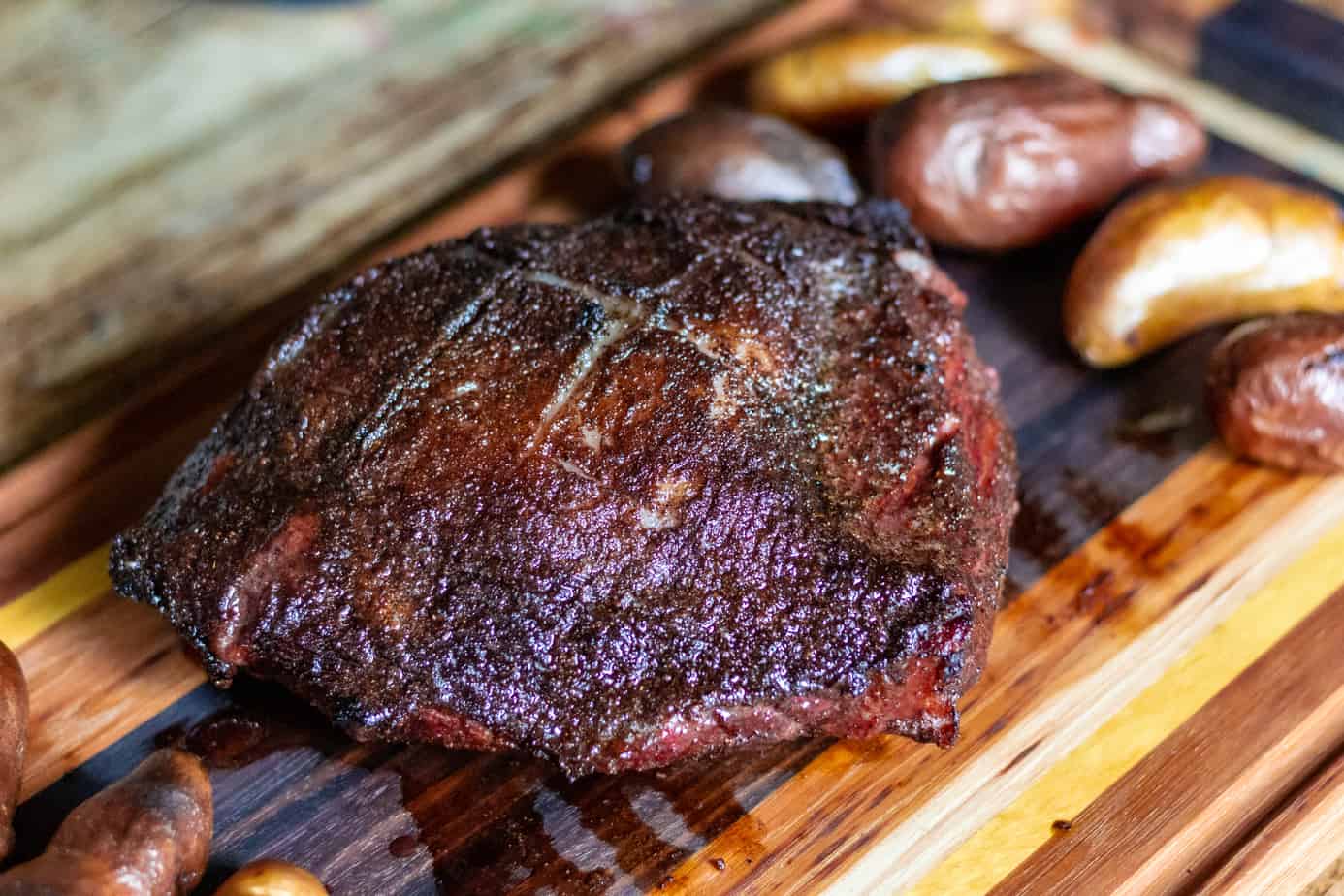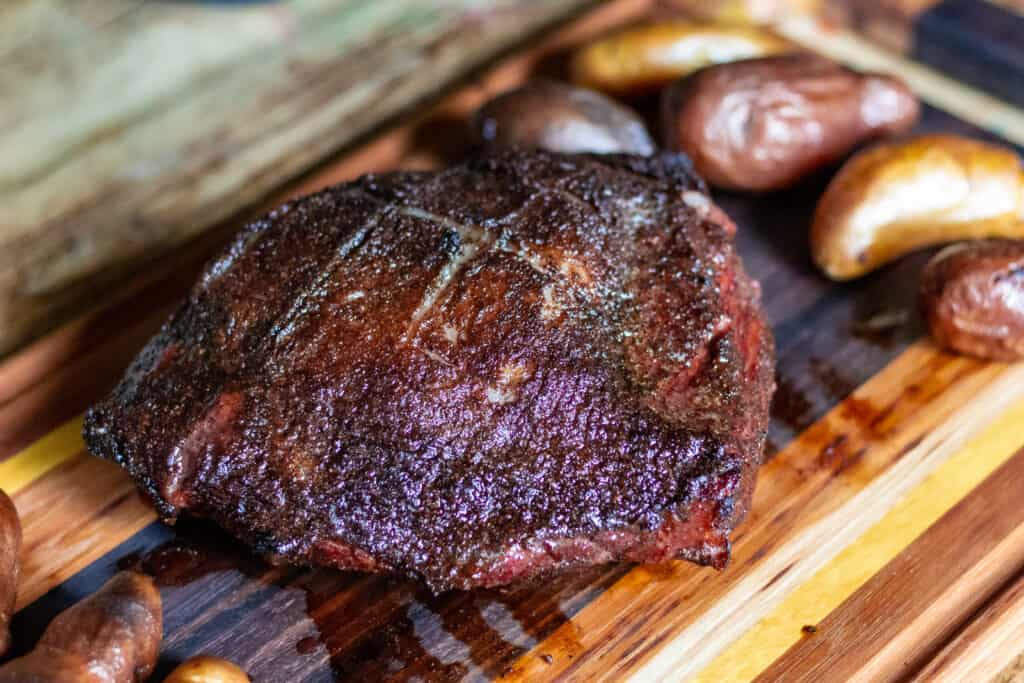 Use a sharp knife to slice thin pieces to serve. Try it on its own, or pair it with a chimichurri sauce which is the traditional way to eat picanha steak.
I hope you give this recipe a try! Smoked Picanha Steak is definitely one of the best steaks I've ever had, and I hope your tastebuds get a chance to experience the tender and beefy flavor this cut of meat is known for.
Smoked Picanha Steak
Smoked Picanha Steak is a rare treat that is loaded with flavor. Follow this recipe to smoke it low and slow and max out the beefy flavor.
Ingredients
2-3

lb

Picanha Steak

Culotte

1

Tbsp

Coarse Kosher Salt

3

Tbsp

BBQ Rub

Nick's Beef Rub is Perfect Here
Instructions
Place the fat cap down on a sheet pan and sprinkle the meat with a layer of kosher salt.

Place the steak in your refrigerator for 90 minutes

After 90 minutes remove the picanha from your fridge and cross thatch the fat cap.

Season the steak with the rub on both sides

Put the steak in a smoker setup to smoke at 180 degrees - fat cap up.

Let the steak smoke until the internal temperature reaches 110 degrees.

Adjust your smoker temperature up to 450 and continue cooking the steak until the internal temperature hits 125 degrees.

Remove the steak and tent it with foil and rest for 15 minutes before slicing thin against the grain.