The Meatsick 4x Wireless Meat Thermometer has innovative technology, with a user-friendly design that allows for you to take the guess work out of cooking meat. With it's simple mobile app, long distance range, and accuracy, you can relax and monitor your cooks with a bit more confidence.
The thermometer has three internal sensors and one ambient sensor and can be used in various styles of cooking. Being able to test this thermometer personally, I thought it was great that I could throw on the meat, set up the cook, and walk away.
How the Meatsick 4x Adds Up
Based on the Meatick 4x features, performance, and the other aspects below, I personally rate this thermometer 4.5 out of 5 stars.
Features: 10/10
Design: 7/10
Performance: 9/10
Accuracy: 9/10
Ease of Use: 9/10
Maintenance: 10/10
Battery & Charging: 9/10
⭐Overall Score: 9/10
Meatstick 4x Pros:
Extended Wifi Range
70+ hour battery life on a full charge
Can be used for multiple methods of cooking
Quad Sensors
Meatstick 4x Cons:
Steeper price point
Charging block lights are a little confusing without instructions
Batteries not included
How We Tested The Meatstick 4x
A few lazy Sunday's back, I was cooking a spatchcock chicken on my Traeger pellet grill and decided to put this new thermometer to the test. In order to test the features of the Meatstick 4x wireless meat thermometer I performed the following:
Ice Bath Test (for calibration)
Magnetic Test
Ease of Cook Set Up Test (on the mobile app)
Range Test
Internal Temperature Accuracy Test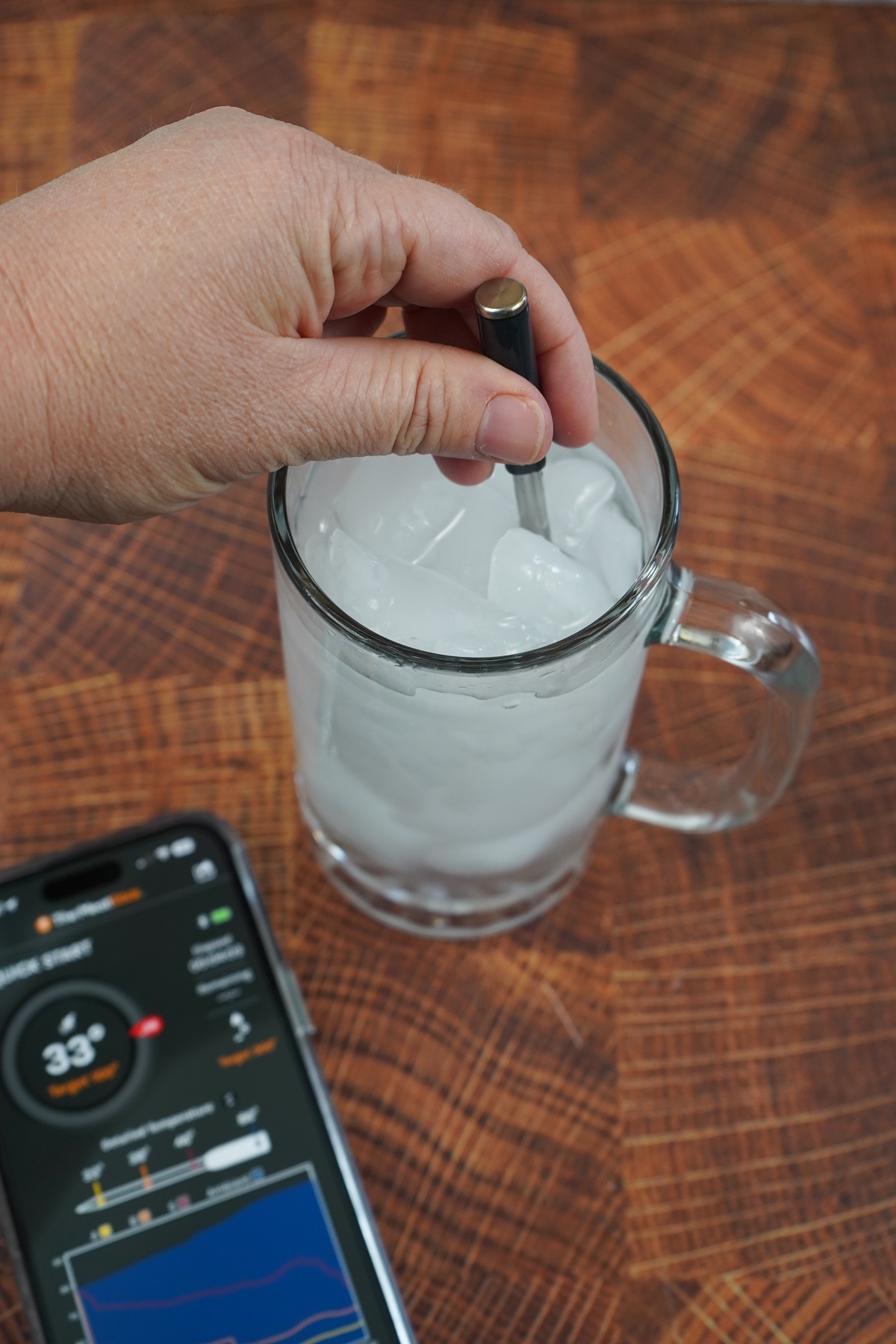 Meatstick 4x Review
Meatstick 4x Features (Impressive Range & Durable)
Extended Wireless Range: The Meatstick 4x boasts a 650 ft. range with the help of the 4x charger that has a built in Xtender compared to 260 ft. of the original product.
Quad Temperature Sensors: 3 Internal meat temperature sensors and 1 external ambient temperature sensor so that you can check the range of temperature from the thickest part of the meat to the thinnest.
High Durability Shell: You can submerge this thermometer in liquid and use to deep-fry, Sous-Vide & is Dishwasher Safe.
Connectivity: Hook up to your phone or other mobile device via Bluetooth to the Meatstick app and stay connected as you go about your day around the house/yard.
Battery life: The Meatsick 4x says their battery life will last over 70 hours on a full charge. The 4x charger runs off of 2 AA batteries (not included).
⭐ Rating: 10/10
Design (Sleek but charging block could improve)
The Thermometer
The Meatstick 4x itself has a nice sleek design and has a good feel to it. It is 13.5 cm long which is the same as the Meatstick original design but longer than the Meatstick Chef making it a great option for larger cuts of meat. It feels solid and has some weight to it for it's impact design, making it easy to insert.
The thermometer does have three built in sensors in the stick and one sensor in the handle.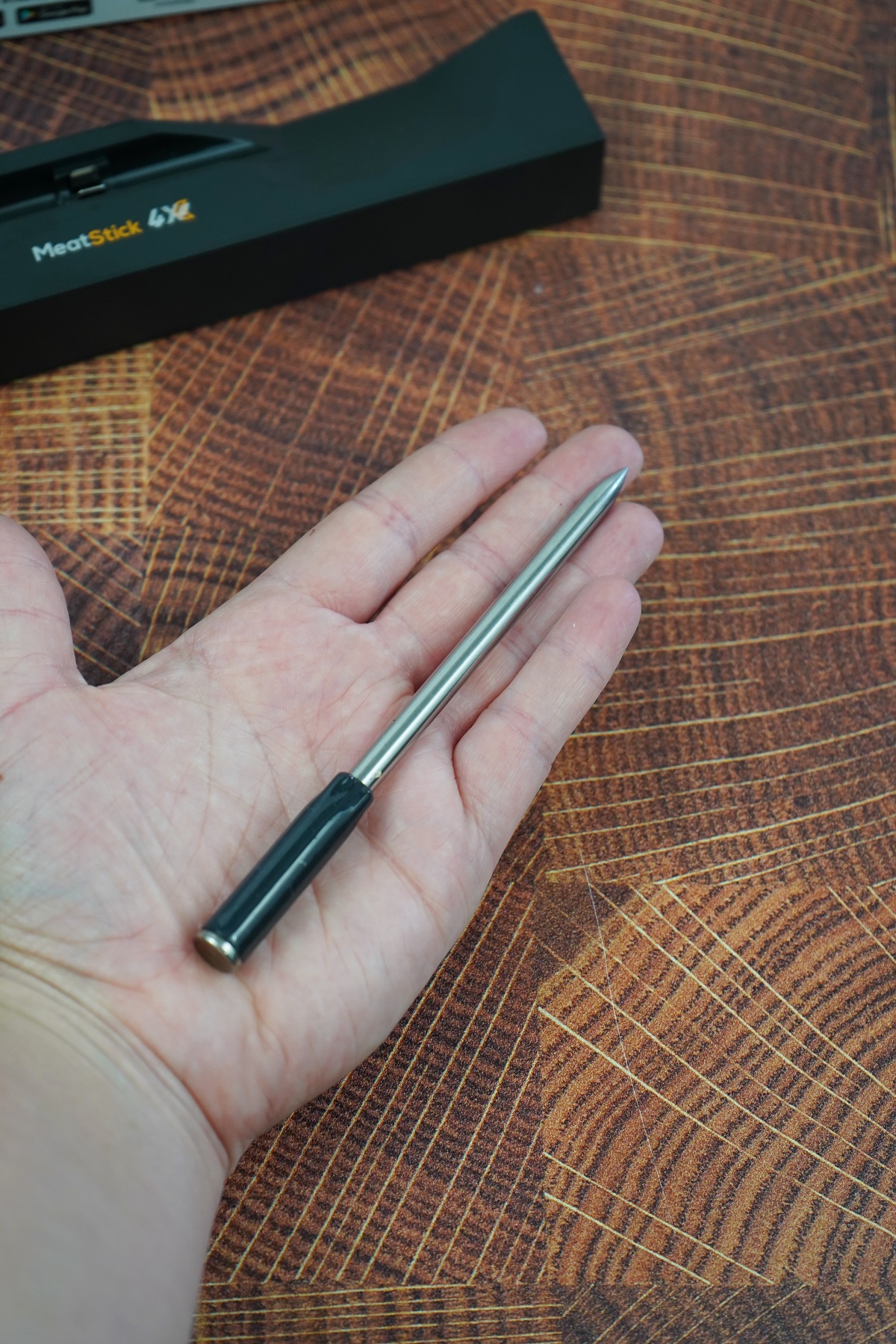 The Charging Block
The charger block is magnetic so you can easily slap it to the side of your grill to keep it in range. I placed the charger on a large magnet and it worked. It was definitely stronger on one side but it stuck. Then I tried it on the refrigerator and it grabbed on effortlessly.
It does have an LED indicator which provides you battery life information and just one button. Without reading too many instructions (that aren't included) I wasn't sure what the lights were indicating or if it was charging. (**See below FAQ section for more information)
The charger block is made out of plastic and is on the lighter side. Fresh out of the box I preferred the wooden block that comes with the MEATER wireless thermometer.
⭐ Rating: 7/10
Ease of Use (Simple but included batteries would be great)
I did find the Meatstick 4x pretty simple to get up and running. It does not included batteries for the charger which I didn't have any on hand so that delayed my process of getting it up and running. Then once the batteries are in it is recommended to let it charge for 2-4 hours for a full battery life. This thermometer is valuable and I feel like they could toss in some batteries so you can get started right away.
The thermometer itself is like a thick needle making it easy to be inserted properly into the meat.
Meatstick 4x Mobile App
As far as the mobile app goes, it only took me a few minutes to get it installed. I clicked out a few of the prompts to get to the main screen. Then for the initial ice bath test and my first cook, I was able to navigate through the settings and choices pretty effortlessly.
I liked the Meatstick's Quick Start Menu which allows you to select your cooking method, meat choice, and temperature preferences within a few clicks.
I didn't play around with the app at all before I got started, I went right for it after the initial download. Within a few minutes and a few clicks, I was able to easily select a poultry option for a whole chicken.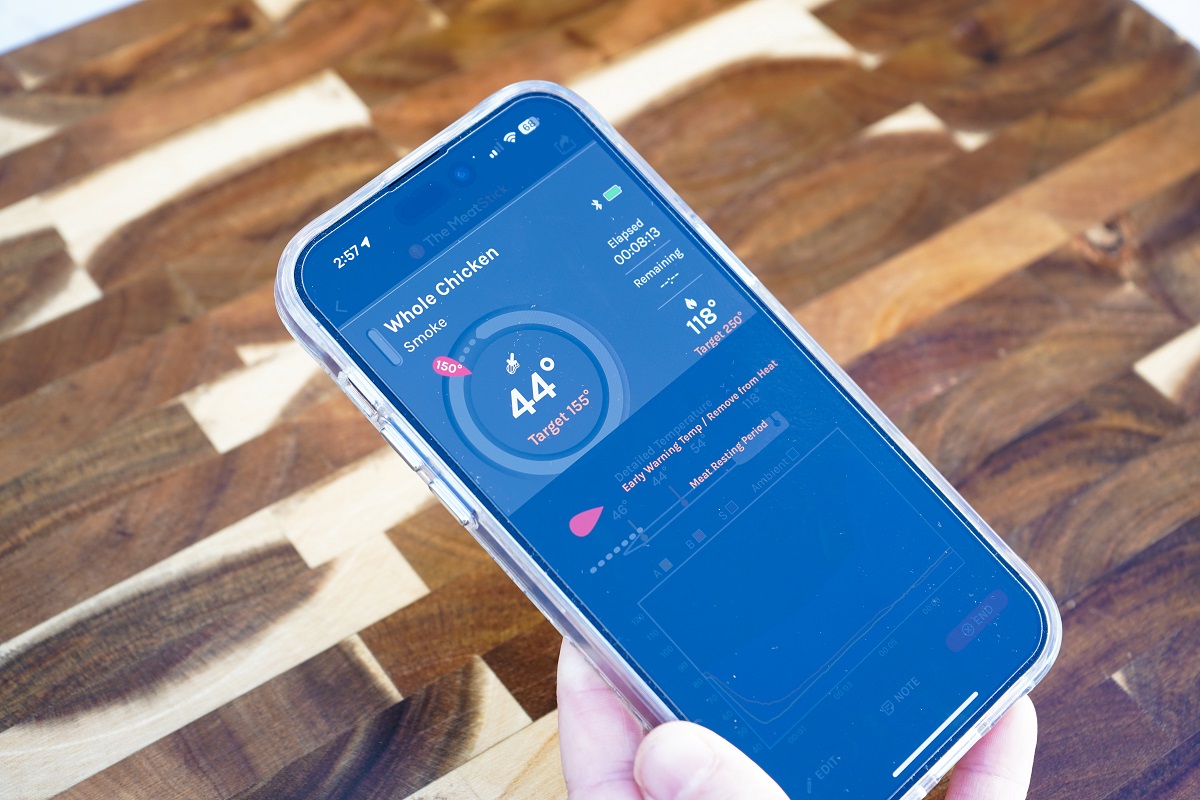 Then you can either select their recommended temperature or adjust it to your preference. I went a little lower than 165 degrees F (I chose 155 degrees F for my target temperature) for the chicken so that after it rested, it would still be juicy.
When the cook was complete the app sent a notification that the internal temperature had been reached.
⭐Ease of Use Rating: 9/10
Performance (Solid with Long Range)
During the cook I definitely thought it was pretty neat to be able to monitor the four different sensors readings.
Speed of Readings
To get started I decided to do an ice bath test to see how quickly the themometer would calibrate to 32 degrees F. To my surprise, It went down to temperature very quickly.
During the cook, it did take over an hour for it to give me an estimated time remaining of my cook on the chicken. When I cooked ribs with it, that time came in faster.
Range
Range wise, I was really impressed with the distance I could go while remaining connectivity. The Meatsick 4x and Meatstick Chef are said to be able to stay connected via the app for up to 650 feet. I took a long walk, the lid was closed, there were houses and trees, and I still stayed connected until about 530 feet away from my grill. It did take a few minutes to reconnect once I started walking back.
But I did think that was very impressive for a wireless meat thermometer. I use the MEATER wireless thermometer often and this definitely had more of a long distance range in comparison.
⭐Performance Rating: 9/10
Accuracy (Similar Results Compared to Another Thermometer)
As far as accuracy, the ice bath test calibrated to the 32 degrees F. Meatsick's website highly discouraged a boiling water test in case of damage to the stick, so I chose to move straight to the cook.
Once the alert came up on my phone that the chicken had reached our desired internal temperature, I pulled the chicken off and inserted my Thermapen in several different spots of the chicken. The temperature was within a few degrees in a few different spots.
⭐Accuracy Rating: 9/10
Battery & Charging
The Meatstick 4x is supposed to run for over 70 hours on a full charge. I have used the thermometer several times since my initial test and the battery life is still holding.
I like that the charger uses 2 AA batteries making it easy for replacement and charging in the future.
I didn't like that the batteries were not included which delayed my cooking session right off the bat.
⭐ Battery rating: 9/10
Maintenance (Dishwasher Safe Bonus Points)
The Meatstick 4x is fully submergible so you can place it the dishwasher. I just wiped mine clean, but I think this is a nice feature. Not many thermometer's are able to do that.
Since the charger is magnetic, storing the Meatstick 4x is easy to just stick to the side of your refrigerator when not in use and for easy finding.
⭐ Maintenance Rating: 10/10
Value
For a thermometer, the price is a little on the high side at $124.99 currently on the Meatstick website. This comes in a bit higher than some of its competitors such as the MEATER Plus at $79.95 or the ThermoPro TempSpike at $99.99.
But you have to compare what you are getting here. You are paying for the extended range, the quad sensors, and the multi-cooking methods that you can use with this thermometer.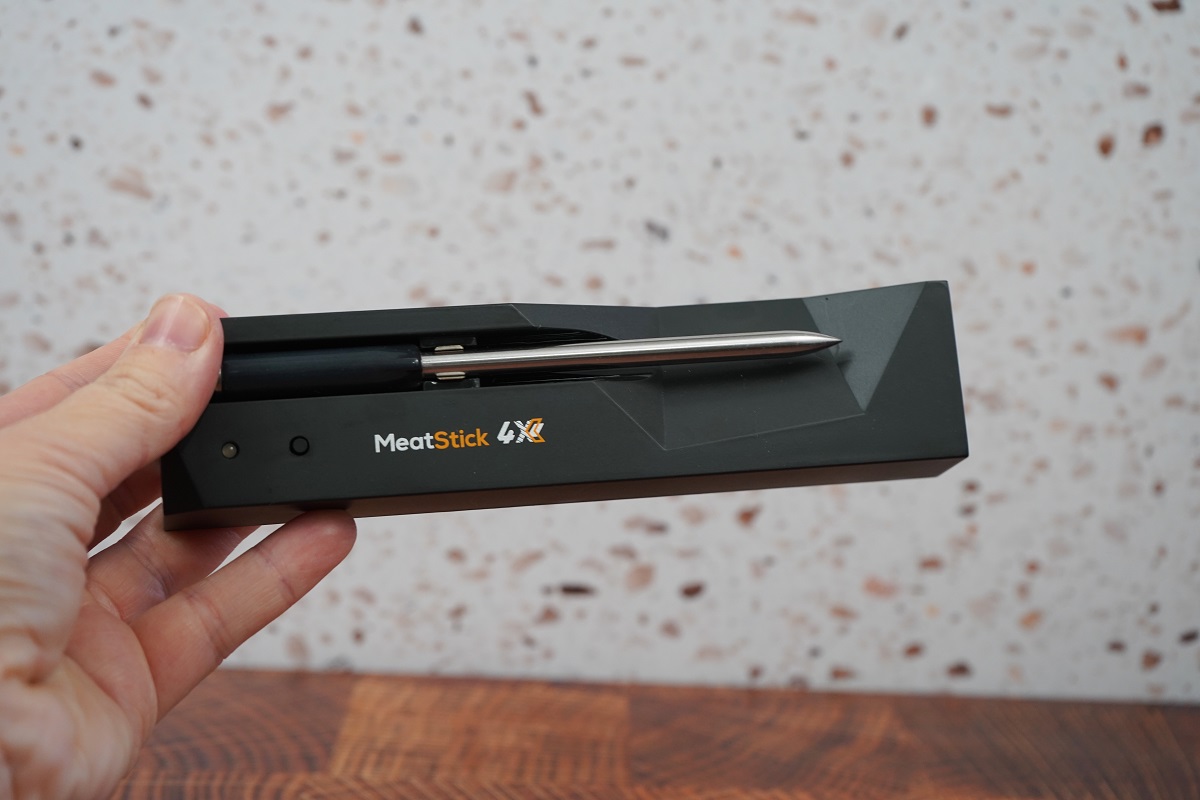 Pros & Cons of the Meatstick 4x
I checked out several websites to see what people were saying. Here are a few of the most common thoughts on the Meatstick 4x.
Common Positive Feedback
Quick to set up
Extended range is nice
App is easy to use
Accurate internal temperature readings
Common Negative Feedback
Ambient temperature readings off by quite a bit
Length of stick too long for smaller cuts of meat
Loss of signal often
Batteries included would be nice, or rechargeable batteries for the price
FAQs About the Meatsick 4x Wireless Meat Thermometer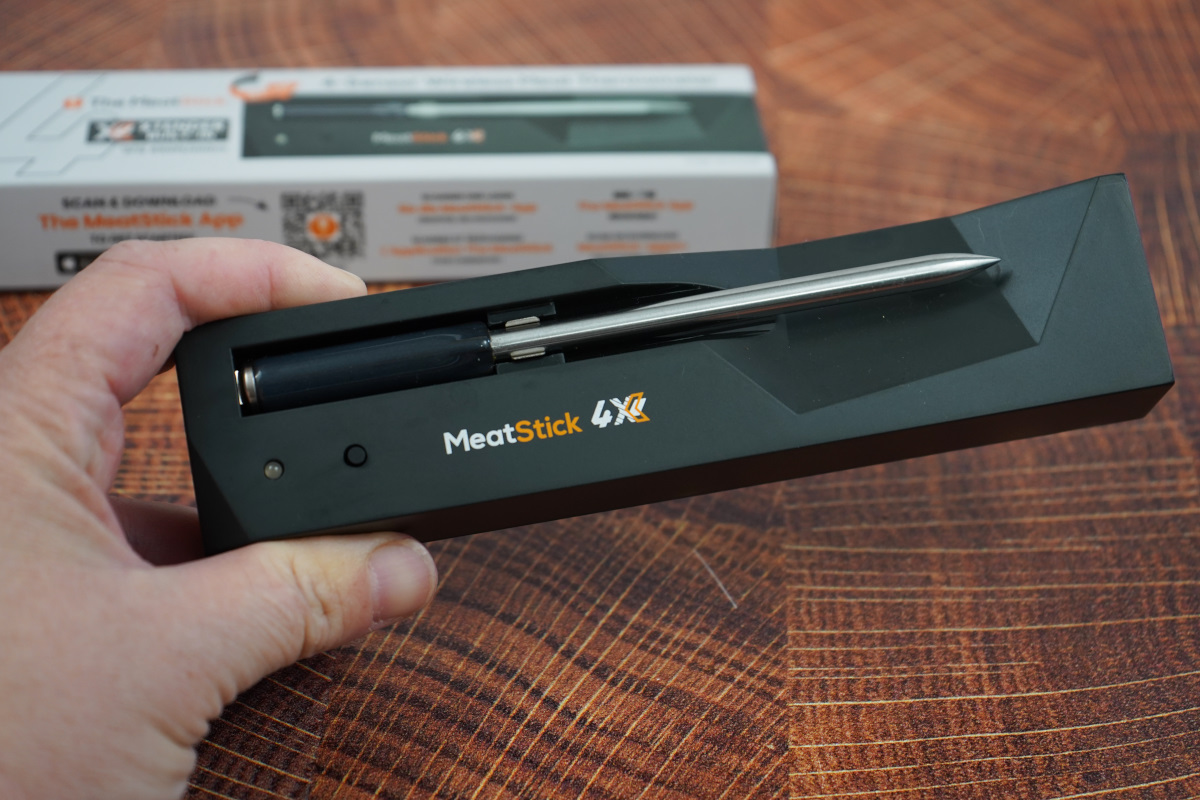 How to start the Meatstick thermometer?
Click the button on the charger to activate the stick, then set up your cook on the app, then remove from the charging block.
What do the lights mean on the charger?
A solid green light indicates that it is charging. When the Xtender mode is on it will flash green. If the light is red, your batteries are getting low.
How do you know if the Meatsick 4x is charging?
If the light on the charger turns on it will activate the thermometer and begin charging it. One sure way to confirm that it is charging is through the mobile app. If there is a display with a battery and a lightening bolt through it, it is charging.
Watch Our Meatstick 4x Video Review

Should you consider the purchase?
Yes! If you are looking for a wireless meat thermometer that has an extended range, the Meatstick 4x is a great option. I found it pretty simple to use, the mobile app was very user friendly, and the results were accurate.
If you can afford the purchase for a solid wireless meat thermometer, I would recommend this product.
Thoughts/ Feedback
Have any questions about the Meatstick 4x? Drop a comment and I will get back to you. Have you used the Meatstick 4x? Let us know your experience so far.