Wireless BBQ thermometers have been on the market for years now. Despite the multitude of different designs and aesthetic choices available to consumers, there are really only 3 types of wireless bbq thermometers, Completely wireless models like the Meatstick, Smartphone transmitter styles like the Inkbird IBT-4Xs, and finally, Receiver/Transmitter style models like the Maverick XR 50.
While the Maverick XR-50 may lack smartphone and Bluetooth connectivity, this is not an issue for some users; many would consider it positive.
Smoking in a competition or group setting requires passing off temperature monitoring to another cook from time to time. This can be frustrating if you must constantly pair and repair a Bluetooth device. On the other hand, a receiver/transmitter style thermometer like the Maverick XR-50 makes it easy to hand off the thermometer receiver at need. When combined with high-quality stainless steel probes, precise temperature monitoring, and a 500ft range, it's easy to see why this thermometer is so popular among pit masters.
Maverick XR Wireless BBQ Thermometer
What we liked:
Large, easy-to-read display
Impressive 500ft range
Accurate temperature readings at both cold and hot temperature probes
High-quality stainless steel probes
Uses AA batteries
What needs improvement:
Setting programs and alarms can be difficult.
Look and Feel.
The Maverick XR 50 remote wireless bbq thermometer is a well-built piece of cooking equipment. With a rugged black and red case, bright blue LCD display, and braided stainless steel probes, you can tell from one look that this thermometer is built to take a beating.
About the size of a softball, The Maverick xr-50 thermometer base has a large display surrounded by red accents and a black plastic case. With four probe connections spaced evenly around the base, the display is broken into quadrants, with each individual probe displaying temperature information simultaneously.
The Wireless monitor for the XR-50 is not much smaller than the thermometer base itself, which means it's not easy to lose, but also much more cumbersome than other similar Wireless BBQ thermometers that utilize a wireless monitor as opposed to a smartphone app.
One of the benefits of the size of the thermometer monitor is the ability to monitor all of your probe temps simultaneously. Many other similar receiver-style wireless monitors opt for a smaller receiver display which only allows one or two temperature readings at a time. Furthermore, the XR-50 display is a mirror image of the XR-50 base, making it a snap to keep track of your probes on both the transmitter and the receiver display.
The XR-50 Wireless BBQ thermometer features four stainless steel probes that make it super easy to keep track of multiple proteins simultaneously, as well as the ambient grill temp of your grill or smoker. With a 500-foot range, you can track temps from almost anywhere in your home thanks to the remote thermometer monitor.
Additionally, if you're at a competition or in a situation where you're cooking with friends, you can pass the receiver off to a friend without having to pair another phone or smart device.
Both the transmitter and receiver come equipped with powerful magnetic backings that make it easy to affix either piece to a metal surface, which is incredibly convenient for storage. I personally kept these thermometers affixed to my refrigerator when not in use and stored the probes and grill clips in a drawer. It is important to note that though you can affix either the receiver or transmitter to the side of your smoker, it's best to avoid this as the plastic they are constructed from is not designed to stand up to the heat of your smoker and will warp over time.
Testing with the Maverick XR-50
As with all of our thermometer reviews, our tests aim to quantify and measure how a thermometer or appliance will stand up under real-world use and situations.
Before testing the Maverick XR-50 remote barbecue thermometer in my smoker, I wanted to test the temperature sensor's accuracy.
First, I set up a super-tight ice bath on my kitchen counter. I allowed it to cool for a few minutes before submerging the 4 stainless steel thermometer probes in the water and stabilizing the temperature readings.
It's difficult to get water to exactly 32°f in an ice bath. So, I referenced the temperature reading against my Thermapen and found that the XR-50 aligned with my much more sensitive thermocouple thermometer probe! Though the Thermapen doesnt display any fractional temps, the XR50 confirmed the 40°f temp even more accurately at 40.6°f, which tracks the test as we saw the temp reading on the Thermapen fluctuate between 40 and 41°f.
Next, I wanted to test the thermometer's accuracy under hotter conditions, so I set my immersion circulator to 125°f and submerged 1 probe in the circulator container as it heated.
I periodically checked the temperature readings on the XR-50 and consistently found them aligned with the readings on my circulator and Thermapen!
Cooking with the Maverick XR 50 BBQ Thermometer
After I finished testing the accuracy of the XR 50, it was time to get down to the fun part of thermometer testing, cooking some delicious bbq.
Before I prepared my proteins, I wanted to get my offset Texas-style smoker lit and up to temp. After cleaning the firebox and filling my water pan, I lay in a bed of charcoal and lit my charcoal starter. Once the charcoal starter was ready, I dumped the coals into my firebox and went inside to prep some pork belly burnt ends.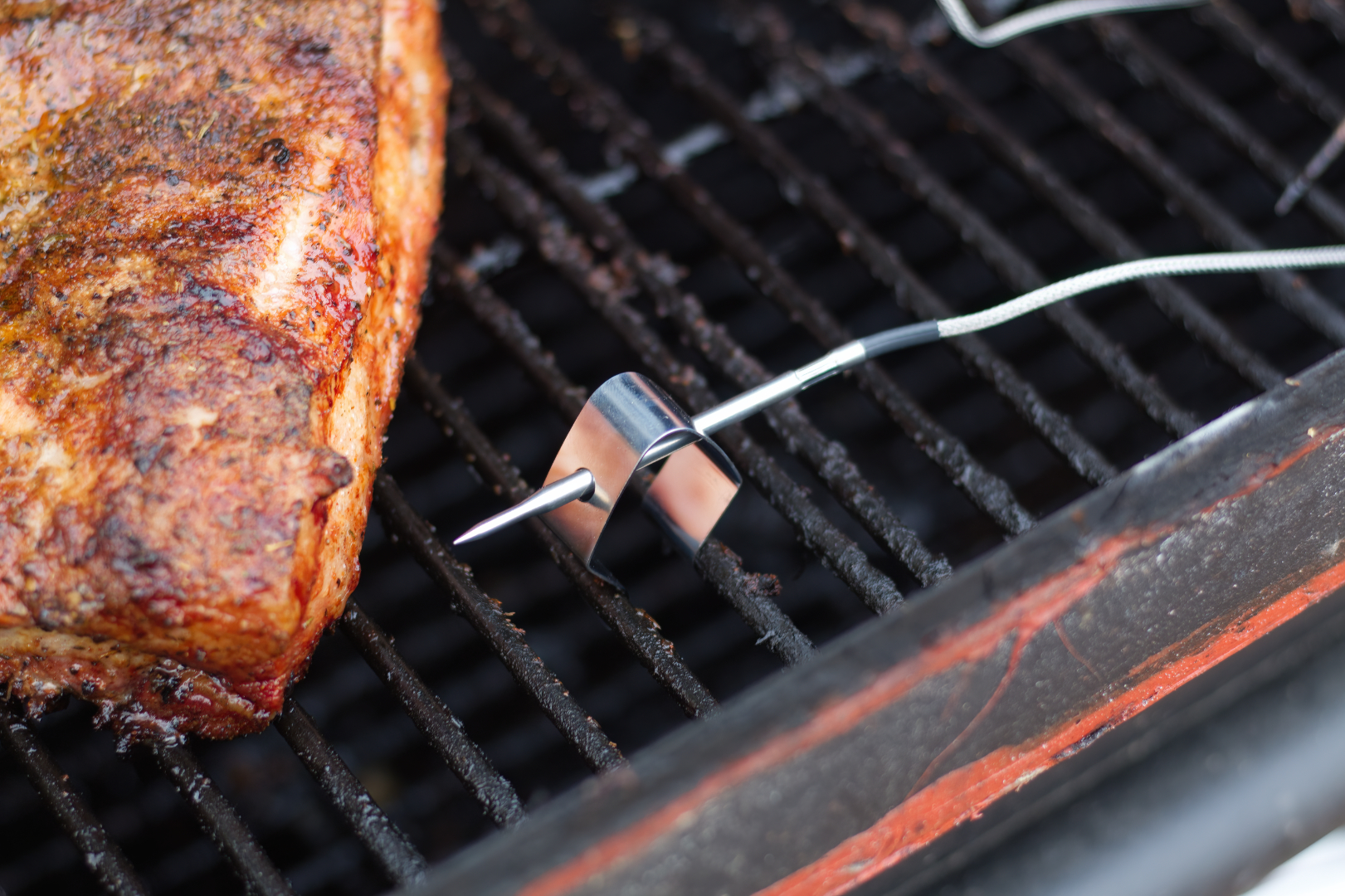 Before buttoning up my smoker and allowing it to preheat, I set up the XR-50 transmitter thermometer base. I placed one of the probes into the grill grate clip, which elevates the probe slightly above grill height to provide an accurate ambient temperature reading.
While my smoker preheated, I got down to prepping my pork belly burnt ends. Burnt ends are a pretty quick prep process, so it didn't take long, and I was able to monitor the temperature of my smoker from the receiver all at the same time.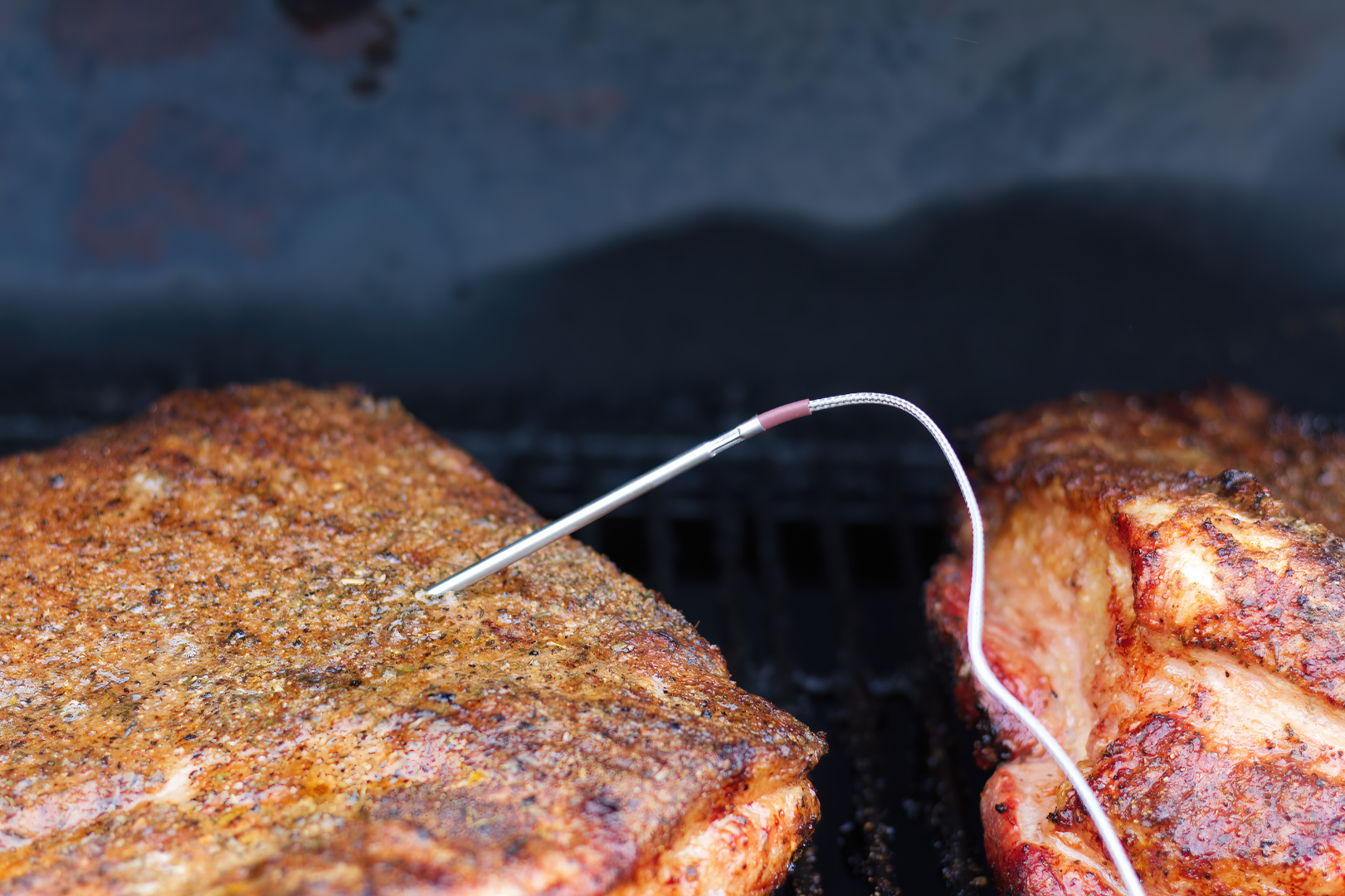 Once the ambient temperature sensor hit 275°f, I went outside to load in my pork belly.
Before closing my smoker, I inserted one of the XR-50 probes into the thickest part of my pork belly and quickly closed my smoker lid. I checked on my charcoal, added some fruit wood, and then began to work on setting some temperature alarms for the pork belly and the ambient temperature probe.
Setting Temp Alarms
One area where receiver-style wireless bbq thermometers like the XR-50 fall short is in the temperature alert and alarm setting process. Thermometers that use smart apps and Bluetooth connections benefit from the touchscreen interface on your smartphone or your smart device, which makes setting alarms or presets super simple.
The XR-50 is a receiver-style wireless thermometer that offers many benefits, like an extended range, not having to rely on the battery capacity of your smart device, and the ability to hand off the receiver easily to another cook without going through a Bluetooth pairing process. Setting alarms using analog inputs can be frustrating, but it became much simpler after some practice.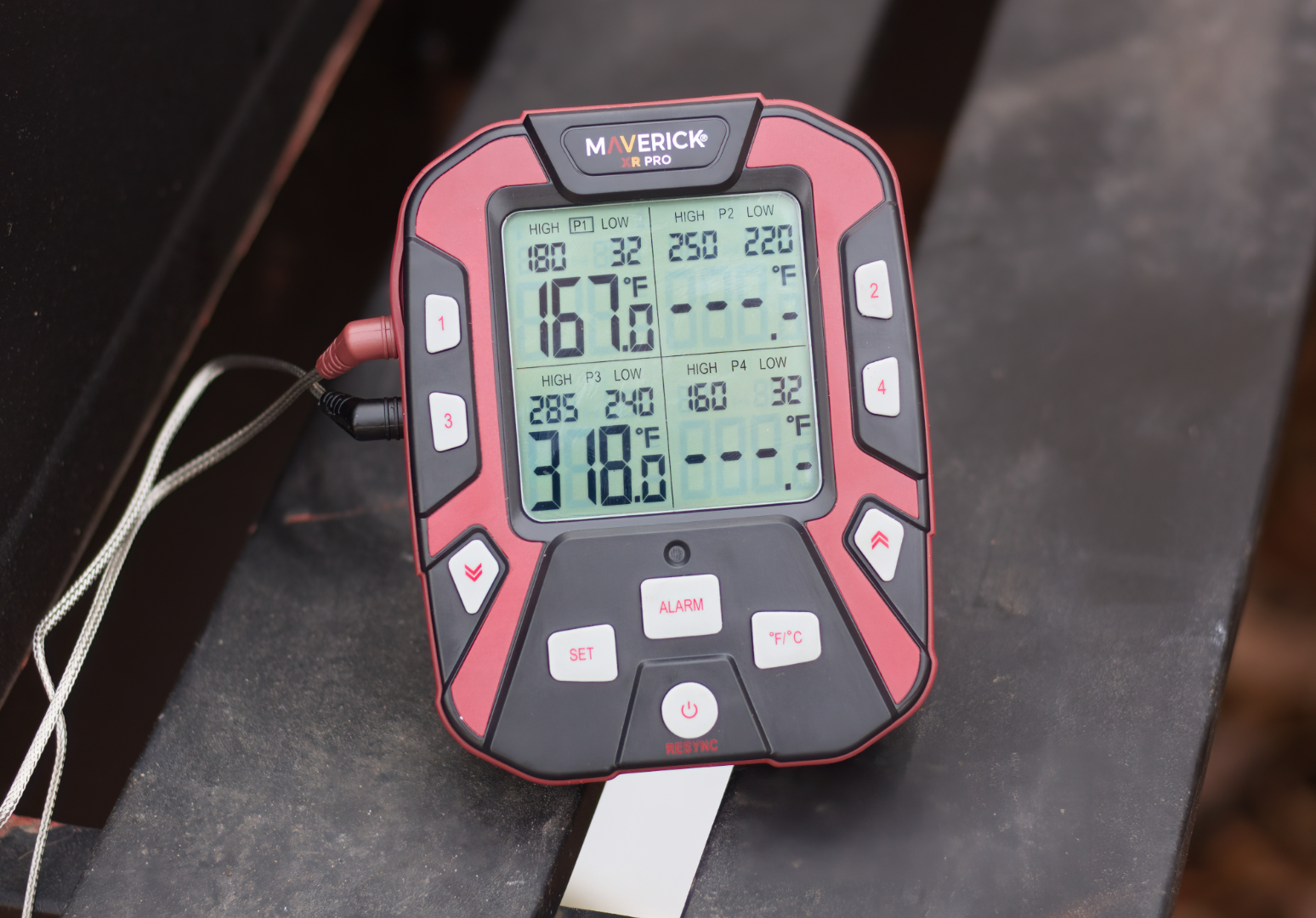 To set an alarm, you must set a High and Low-temperature range for an individual probe. This works perfectly for the ambient temperature probe allowing you to set a range for your cooking chamber and get alerts whenever the temp falls below or rises above your desired range.
To set an alarm for doneness or final cooking temperature, simply set the low alarm as low as possible. The probe sensor will notify you when the protein temperature rises above your high temp set point.
Testing the Wireless Range
Once I had figured out how to set the necessary temperature alarms for my BBQ pork belly, I began walking around my backyard to test XR-50's wireless range.
Though I live in an urban environment, I'm blessed to live on a double lot with amble room to walk around, which made it super easy to take the XR-50 to the edge of its wireless range.
I found the range very consistent, working at 500 ft and often even farther from the transmitter base. However, the range began to suffer once I added obstructions to my line of sight from the thermometer transmitter. Overall I found that I could maintain a stable connection from anywhere in my backyard and even inside my home; however, when I took the receiver up to the second floor, the signal began to fail. 
Maverick XR-50 Unboxing Video
Is the Maverick XR 50 Remote BBQ Smoker Thermometer right for you?
There are very few "one size fits all" bbq thermometers available today, and the XR-50 by Maverick is a perfect example of that.
While some may love a receiver-style wireless smoker thermometer, others are going to find the need for analog controls and a physical receiver cumbersome, especially when there are intelligent app-based thermometers available that would better fit their needs.
However, if you don't want another reason to use your smart device and want to add wireless functionality to your temperature monitoring process, the XR-50 is an excellent choice. Moreover, for the pit master who likes to cook with friends or wants to do a group competition, the ability to pass off the receiver to another cook is a huge benefit.
The XR-50 is an excellent wireless bbq thermometer with an awesome range and a ton of functionality. The probes are well made and built to last, while the thermometer itself runs on AA batteries, which makes it easy to ensure you always have a fully charged thermometer ready to cook some delicious BBQ. Overall, for the price, the XR-50 delivers a lot of value and can add a ton of accuracy to your cooking process, and if you would prefer a receiver-style thermometer over a smart app-based one, you can't do a lot better than the XR-50.