Have you ever had flank steak pinwheels? Don't overlook this cut of meat next time you're looking for a healthy and flavorful meal.
How a Trip to The Grocery Store Turned Into The Ultimate Date Night
This last Thursday Courtney and I had the opportunity to experience the new Albertson's store on Broadway before it opened to the public. We had heard quite a bit about the new store, but as we made the walk up to the front door, we still weren't sure what to expect.
Clean and Crisp
The first thing we saw when we walked into the store was the large produce section with the words "Garden" and "Fresh" sitting above in large orange outlined letters. We also noticed a large selection of organic and local produce, which is important to our family!
This is a sponsored conversation written by me on behalf of Albertsons on Broadway. The opinions and text are all mine.
In addition to all the local produce, we noticed some fruits and vegetables that we had never seen before.
To the right of the produce section is the kitchen, where they were serving up house-made hamburgers, and wood-fired pizza. We happily snatched up a sample of each – both were delicious by the way – and moved on to the deli.
The selection of cheese in this store blew me away. I do my best to follow a ketogenic diet most of the time. Because of the diet, I don't eat a lot of bread or sugar. I do however eat a ton of cheese. Having some variety in life is important, and this store had an incredible amount of cheese variety. They even had house-made mozzarella!
Bring On the Meats
After quick stops in the produce section and deli, we made a beeline for the meat. I had a hunch the meat and seafood section in this store would be special, and I wasn't wrong.
One day I'd like to cook some dry-aged beef, but I always thought I would have to order it online from Snake River Farms.
Snake River Farms is a local company, and much to my surprise, they had a dry-aged beef cooler in the store fully stocked with large primal cuts of meat.
Seriously… I might just hang out by this meat cooler every day… is that weird?
All The Meats You Need
After spending a minute or two drooling, I asked a few questions about their meat selection. It pleased me to hear that they were happy to help me cut my meats however needed prior to purchase, right there in the store.
I'm making flank steak pinwheels, and a crucial part of this recipe is butterflying the flank steak. I don't know about you, but butterflying a cut of meat is never something I'm thrilled to do. It's not easy, and if I can have someone else do it for me, I'm all for it!!!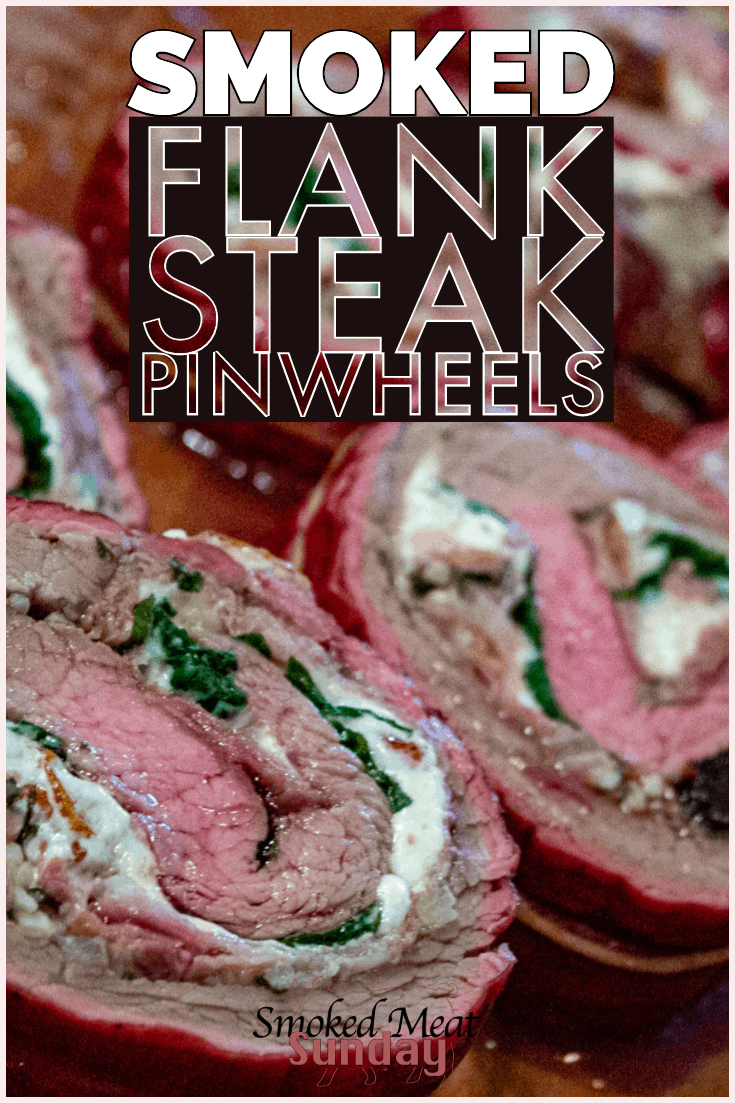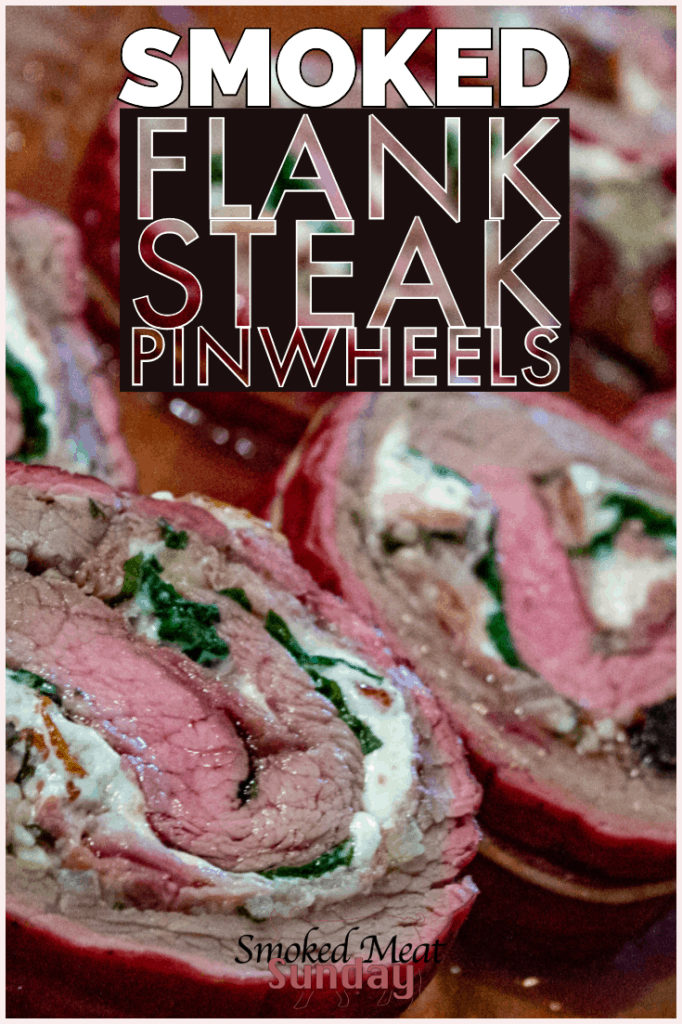 Flank Steak Pinwheels
Before I share more pictures with you from the new Albertson's on Broadway, let's take a minute and talk about how to make smoked flank steak pinwheels.
There are some great flank steak recipes out there, but one of my favorites is this simple smoked flank steak pinwheels recipe.
To make this flank steak recipe you'll need 2 lbs of flank steak, some olive oil, shallots, garlic, basil, thinly sliced mozzarella or provolone, prosciutto, spinach, and sundried tomatoes.
In addition to the food ingredients, make sure you have some butchers twine on hand.
Preparing Flank Steak Pinwheels
It's super easy to prep flank steak pinwheels for your smoker. Lay your flank steak out on a piece of plastic wrap, and cover with an additional piece of plastic wrap so you can pound out the meat. You want the flank steak to be thin, but not so thin that you put holes through it.
Layered With Flavor
After the meat has been pounded out to an equal thickness throughout we're ready to add our ingredients. Before you add anything, take a look at the grain of the meat. This is important!
When the flank steak roll-ups are done smoking we want to slice them against the grain to help ensure sure every bite is tender and juicy.
Lay the flank steak out so the grain is parallel to the near edge of your counter. Add some olive oil, the chopped shallots, garlic, and chopped basil.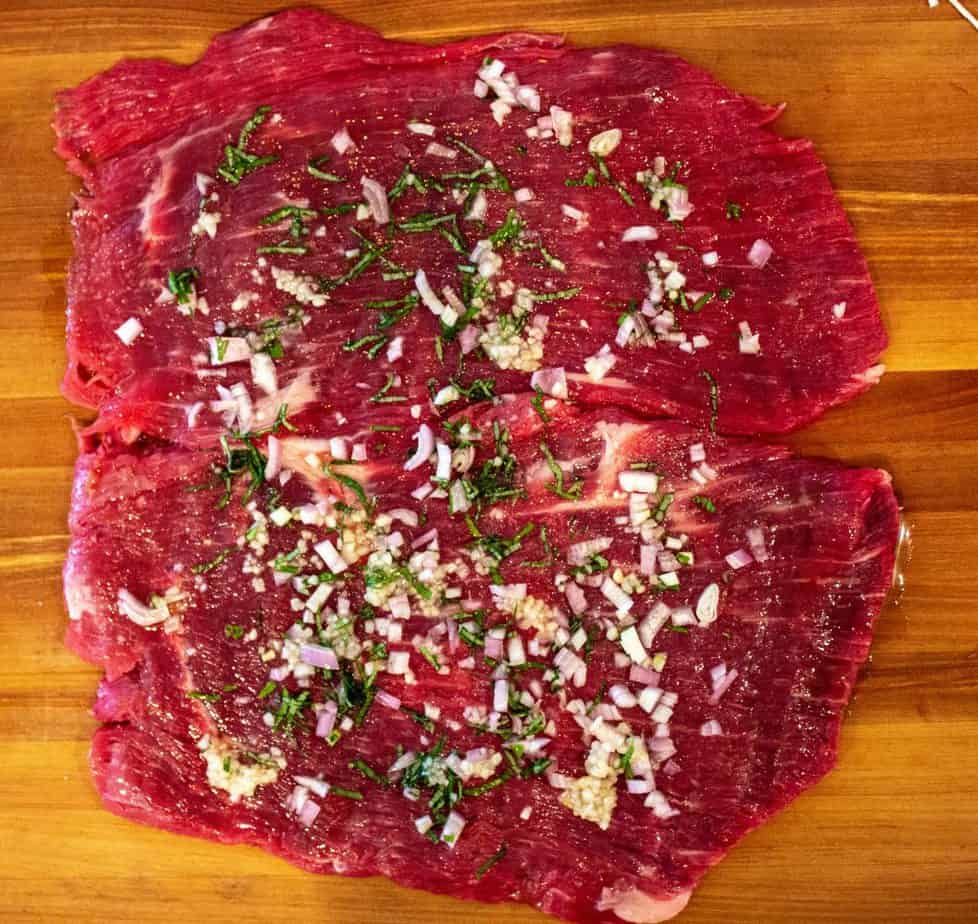 Next comes the prosciutto, layered thin leaving an inch or two of space at the far edge of the flank steak.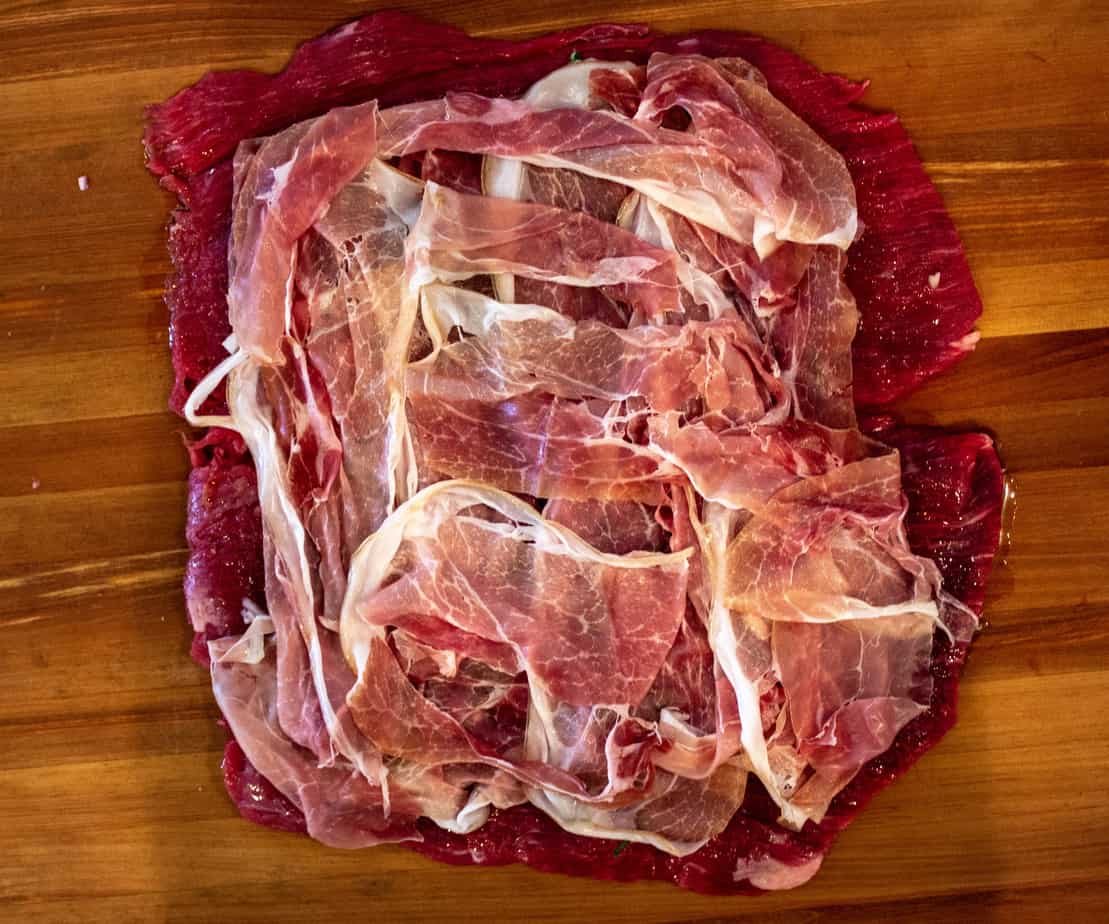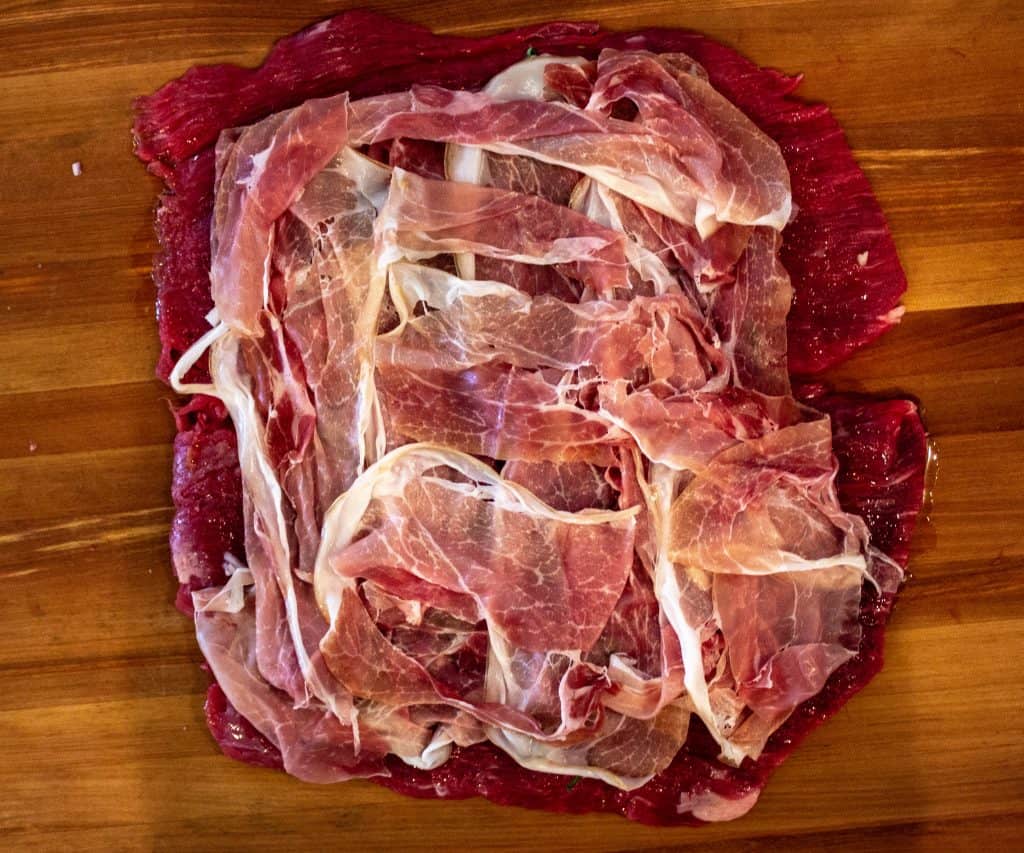 After the prosciutto layer in your cheese. It's ok to overlap the cheese here, but no reason to overdo it. I used mozzarella because I wanted to take advantage of the house-made cheese at Albertson's. Provolone would work well in this recipe too.
After the cheese, add the spinach.
The last ingredient is the sun-dried tomato. Place the sun-dried tomato in a line parallel to the near edge, and then roll up the steak as tight as possible, taking care to keep the ingredients inside.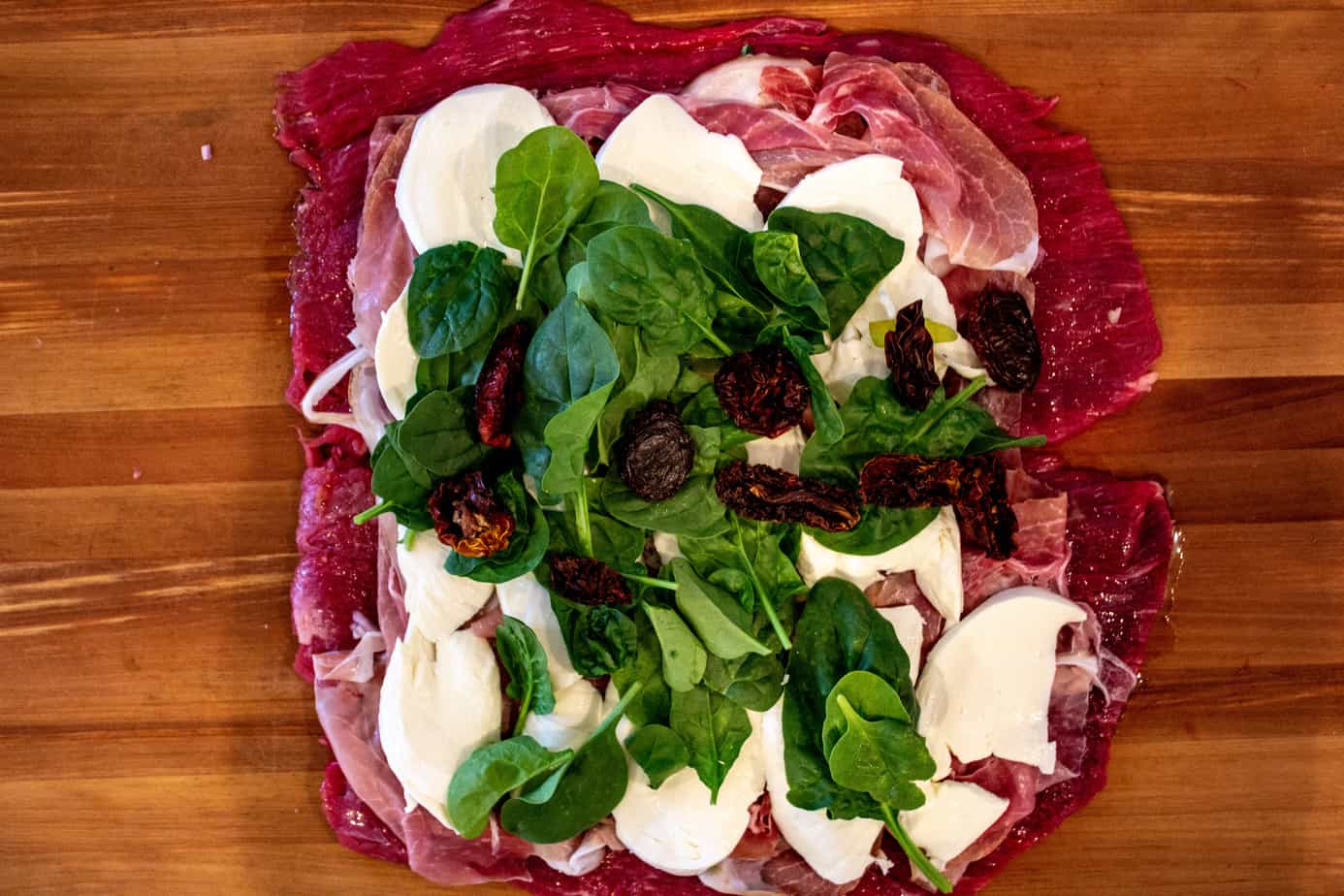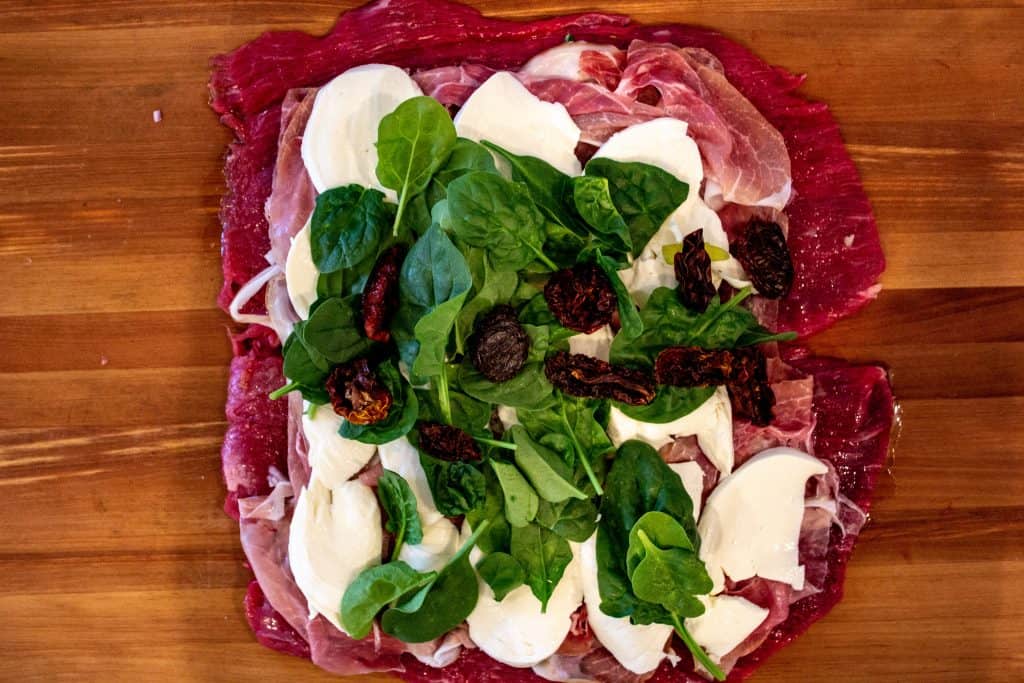 Time To Smoke the Flank Steak
Before you put your flank steak roll on the smoker, wrap and tie it closed with four or five pieces of butcher twine. Make sure that each piece of twine is an equal distance from the others. When the flank steak roll-up is done cooking you'll slice the flank steak at the midpoint between each piece of twine to make perfect mini medallions of flavorful steak goodness!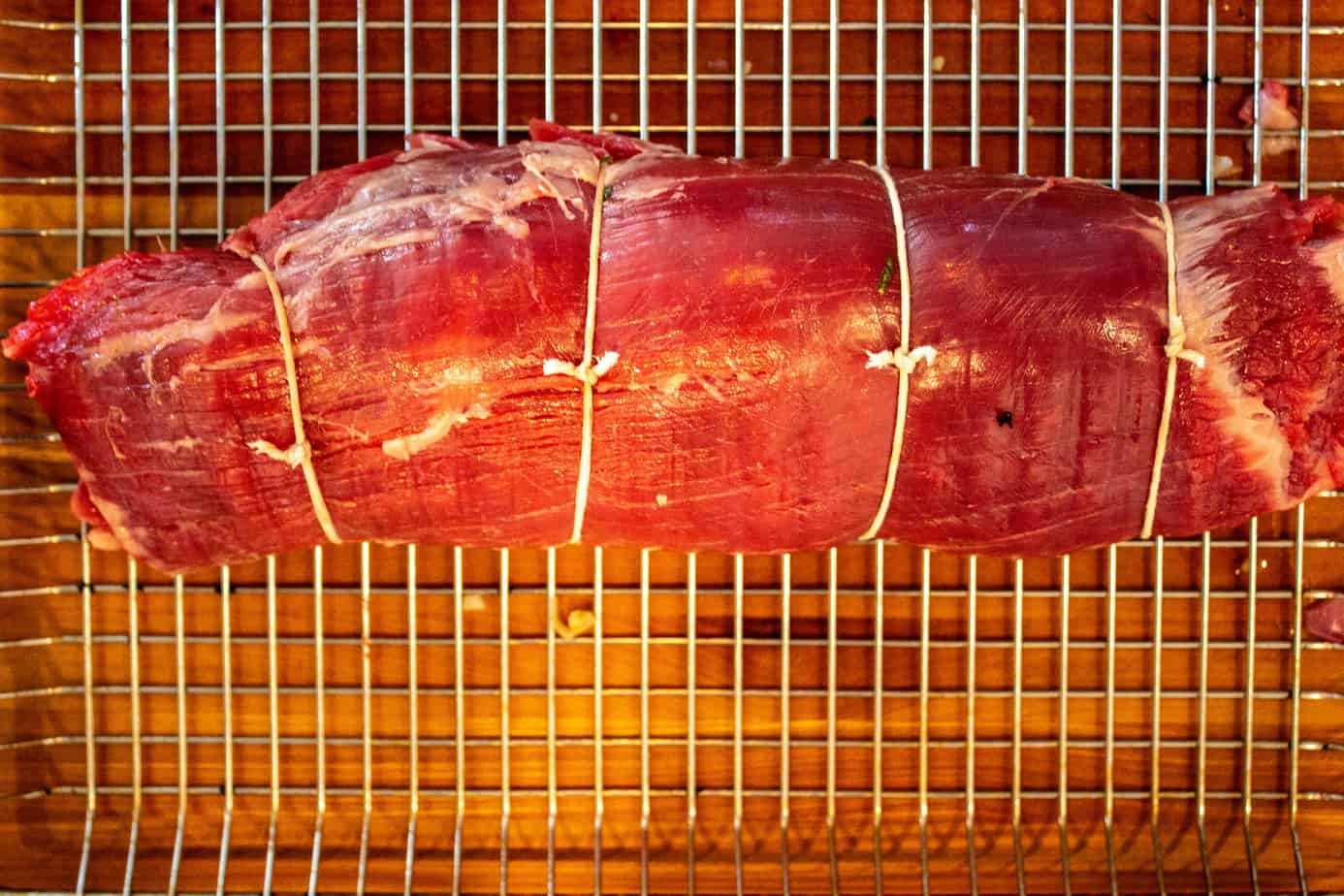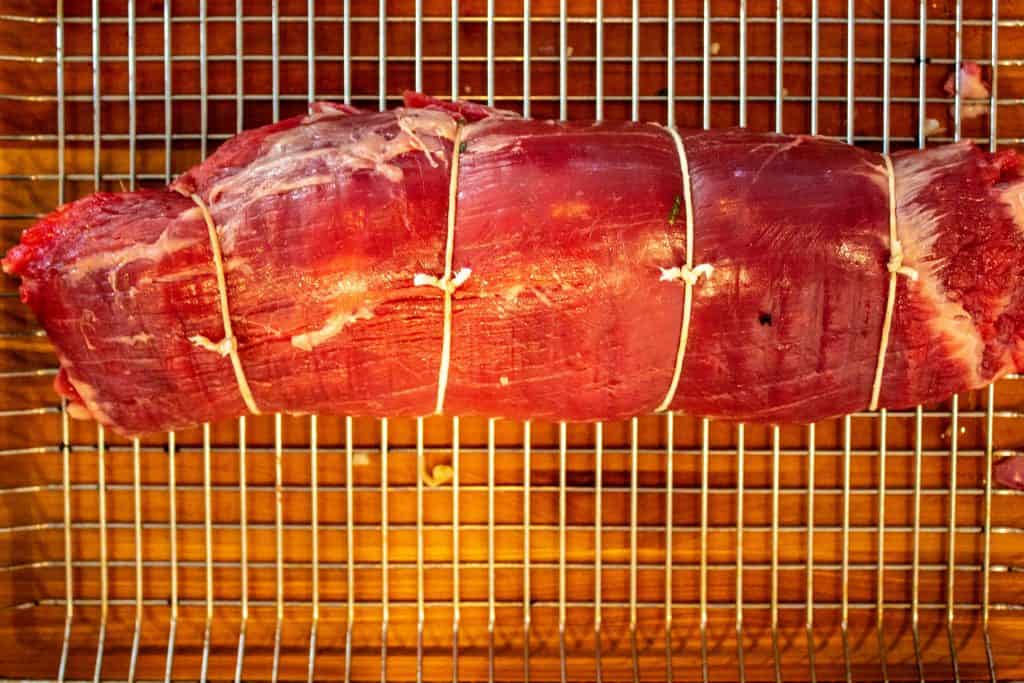 After you've wrapped the flank steak with twine, place it on your smoker and let it smoke at low temp (~150 degrees) for an hour. After an hour, turn the heat up on your smoker to 375 and continue to cook for an additional 40-50 minutes, or until the internal temperature is 145 degrees (Medium Rare).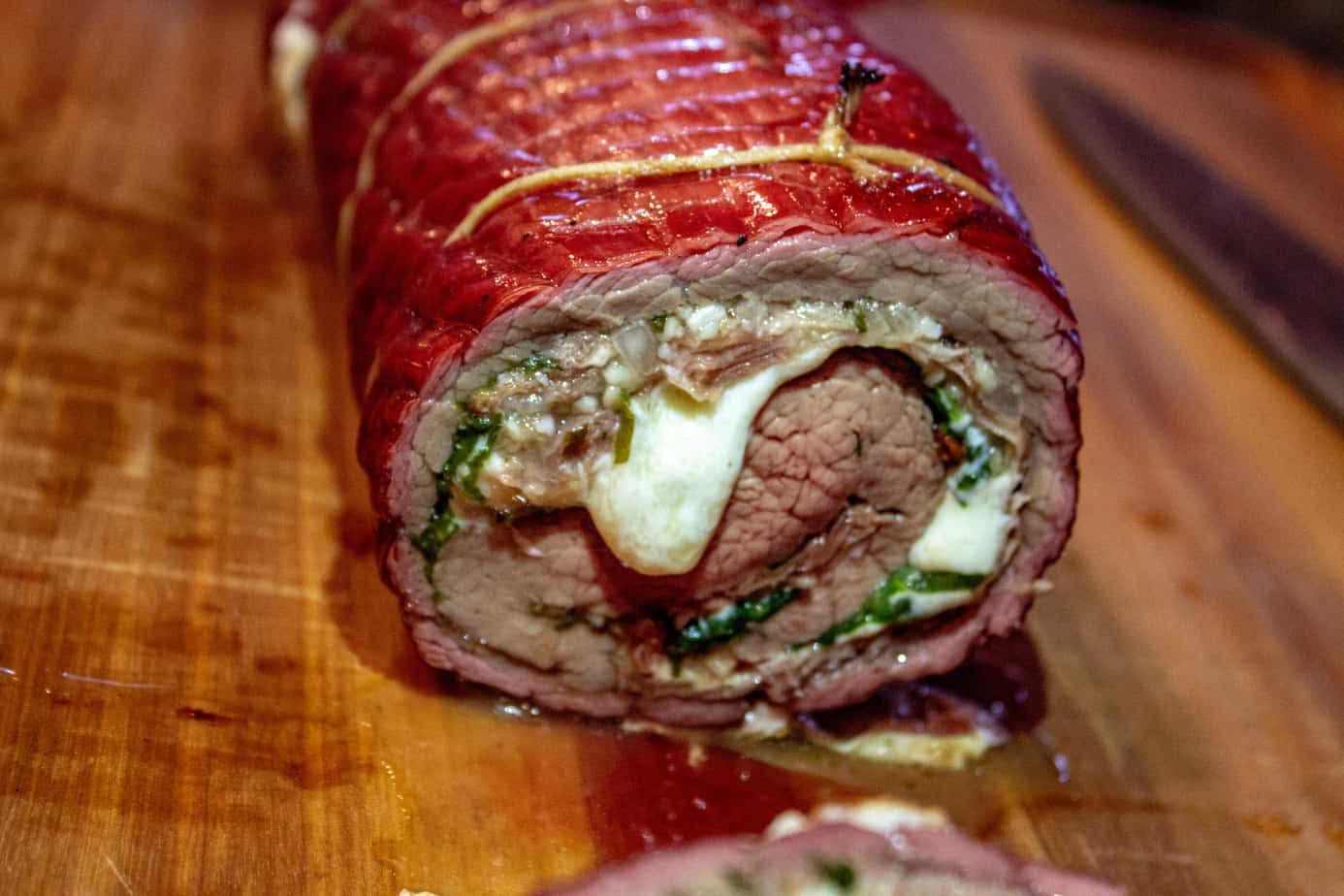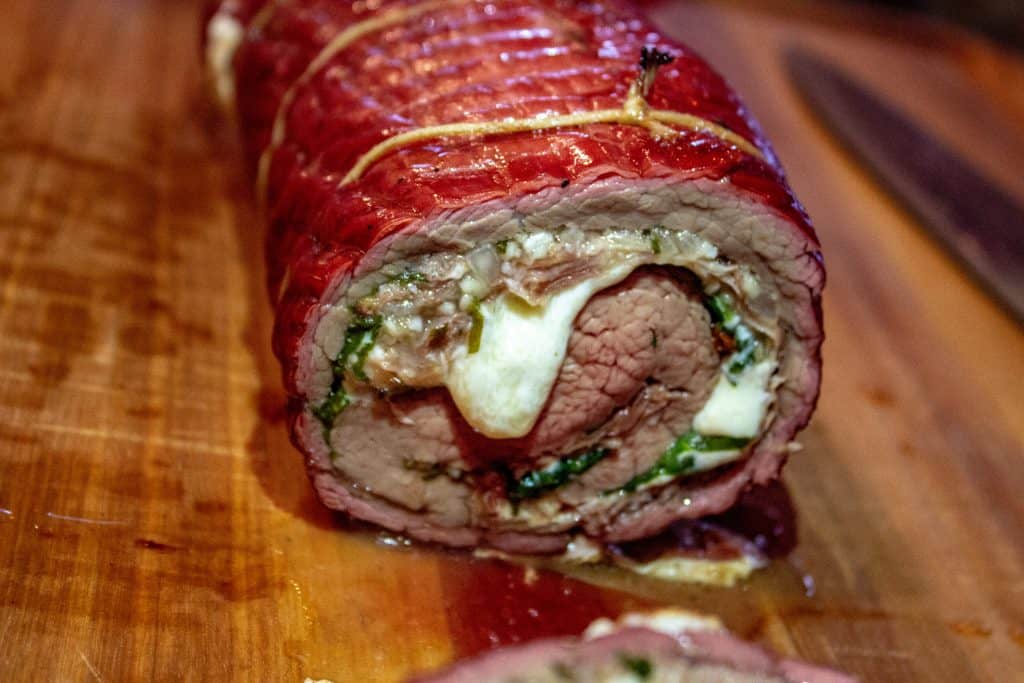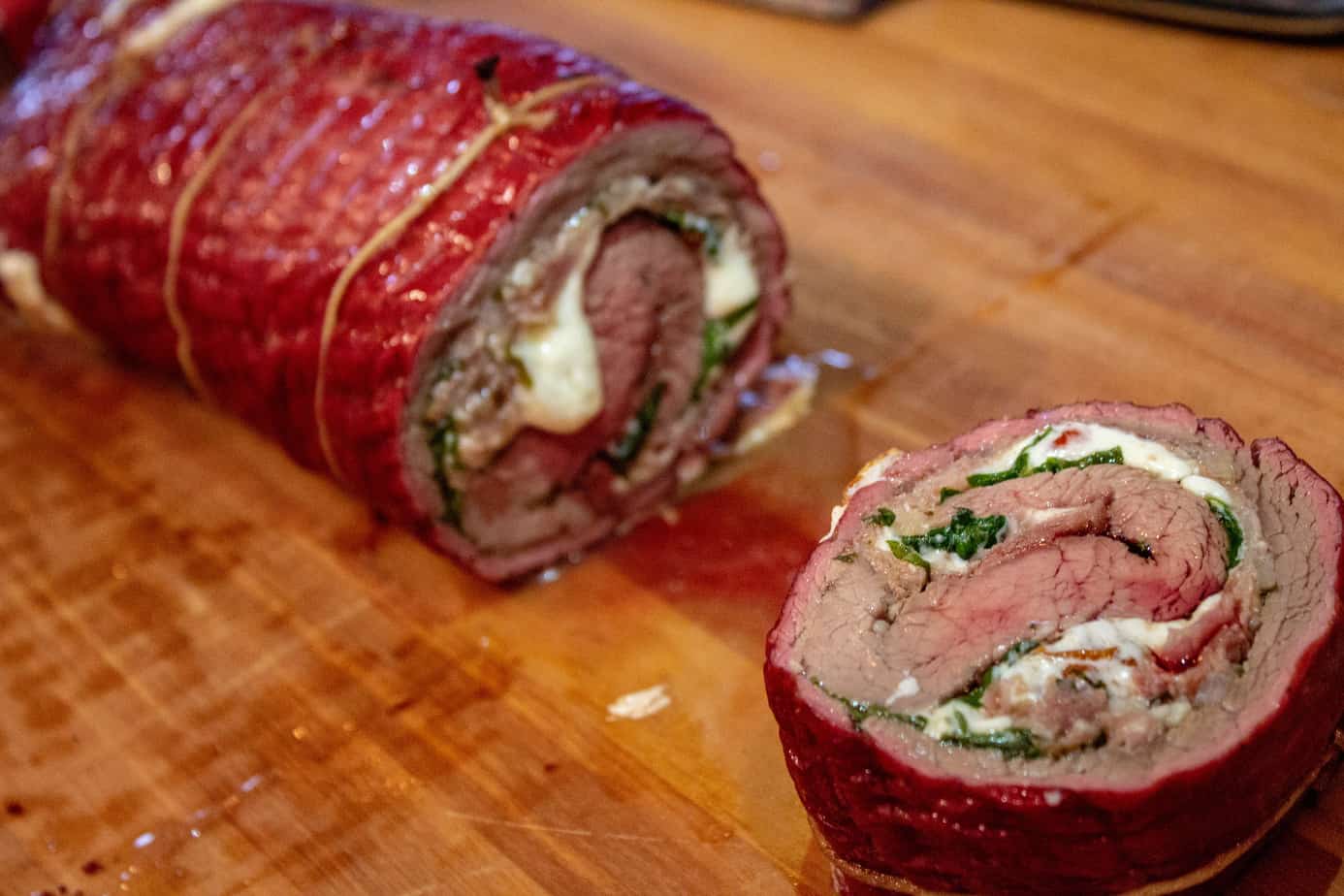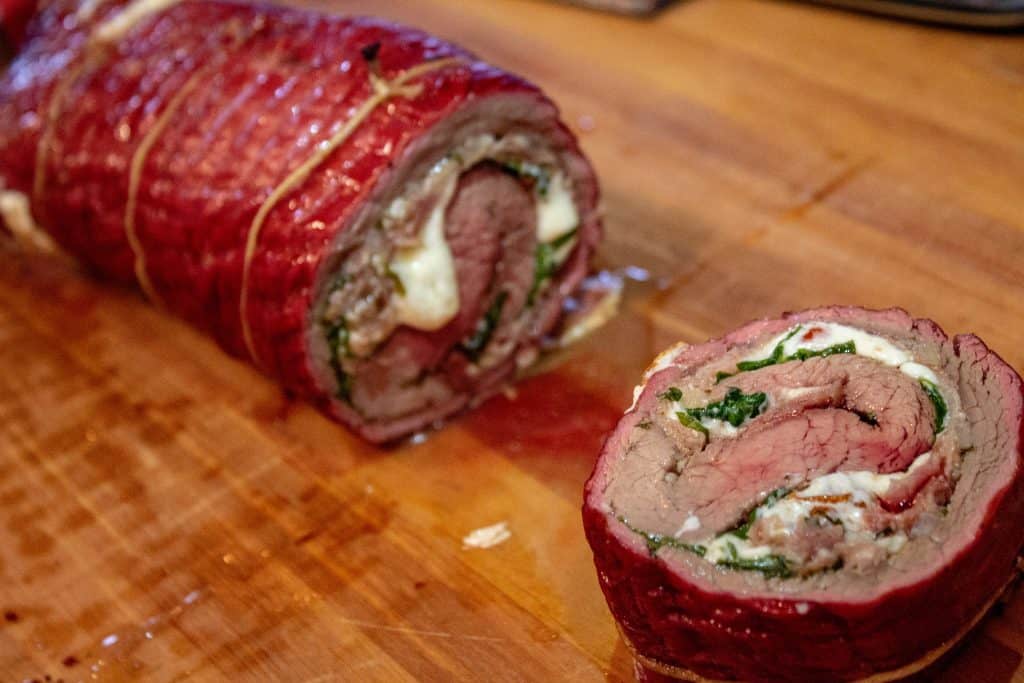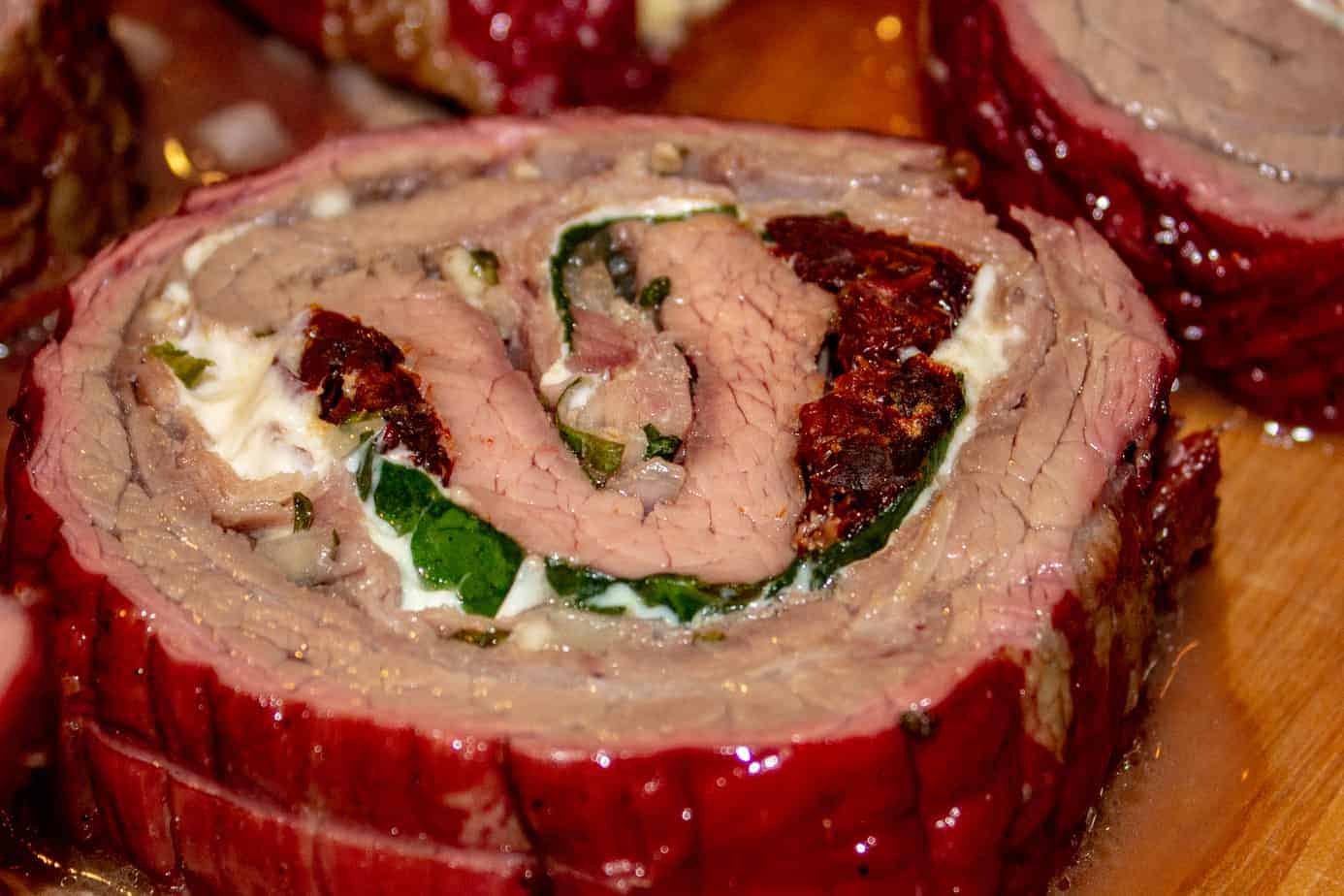 These flank steak pinwheels are delicious! The flavors melded together perfectly, and I'm looking forward to the next time we make this recipe.
We served these flank steak pinwheels with a side salad, but smoked veggies would go great with these tasty medallions.
Albertson's on Broadway
The experience my wife and I had at this store was INCREDIBLE. As we were walking out to my truck Courtney looked at me and said, "that's officially the most fun we have EVER had on a date."
A date, at a grocery store, was fun. You can read into that statement however you want… Maybe we need to get out more, or maybe the new Albertson's on Broadway is just that cool. I'm leaning to the latter. If you're in Boise, you'll have to go check it out for your self.
Thank you, Albertson's, for hosting an evening my wife and I won't soon forget.
This is a sponsored conversation written by me on behalf of Albertsons on Broadway. The opinions and text are all mine.
Cook Time:
1 hour
30 minutes
Total Time:
1 hour
50 minutes
This flank steak recipe creates a party for your tastebuds. If you haven't tried making these flank steak pinwheels yet, you're missing out!
Ingredients
1 Tbs Olive Oil
¼ cup Basil, chopped
1 tbsp Garlic, minced
1 shallot, diced
2 lb Flank Steak, butterflied
½ pound proscuttio, thinly sliced
½ pound mozzarella, thinly sliced
½ cup spinach
¼ cup sun dried tomatoes
Instructions
Butterfly the flank steak, being careful not to cut all the way through
Pound out the flank steak to make it a uniform thickness throughout. The goal is to make it as thin as possible without cutting all the way through.
Lay the flank steak out flat with the grain parallel to the near edge of your counter top
Rub olive oil, shallots, garlic, and basil on the surface of the meat
Lay the prosciutto out in an even layer covering all of the meat, leaving approximately one inch uncovered on the far edge
Cover the prosciutto with thinly sliced mozzarella or provolone cheese
Cover the mozzarella with spinach
Place a row of sun dried tomatoes in the middle of the flank steak, parallel to the grain of the meat
Tightly wrap the flank steak. Start the roll using the edge nearest you, and roll away to the top. Make it as tight as possible.
10. Tie the roll tight with 4 or 5 pieces of butchers twine equidistant apart
11. Set your BBQ up to smoke using indirect heat at 150 degrees and place the flank steak on the grill grates. (using a traditional grill? Set the grill up to cook at 350 and let cook until internal temp is 145 degrees and then pull)
12. Let the Flank Steak Roll smoke for 30 minutes, and then turn the heat up to 375 degrees.
13. Continue cooking until the internal temperature is 145 degrees using an instant read thermometer (approximately 60 additional minutes)
Nutrition Information:
Yield:
8
Serving Size:
1
Amount Per Serving:
Calories:

330
Total Fat:

17g
Saturated Fat:

8g
Trans Fat:

0g
Unsaturated Fat:

8g
Cholesterol:

112mg
Sodium:

252mg
Carbohydrates:

3g
Fiber:

1g
Sugar:

1g
Protein:

38g