Have you ever had flank steak pinwheels? Don't overlook this cut of meat next time you're looking for a healthy and flavorful meal.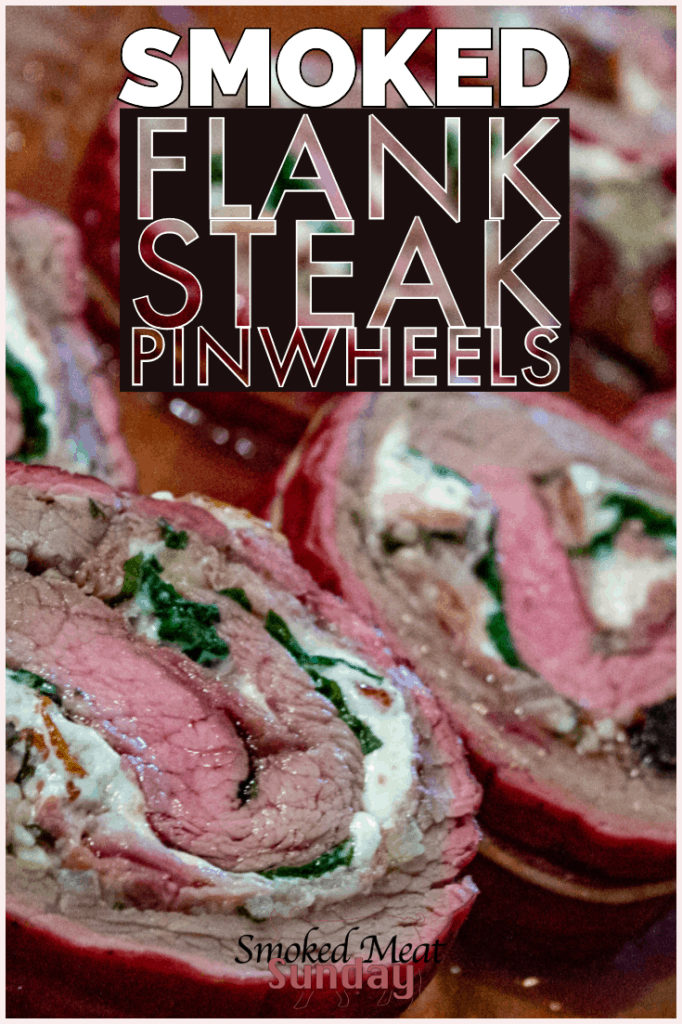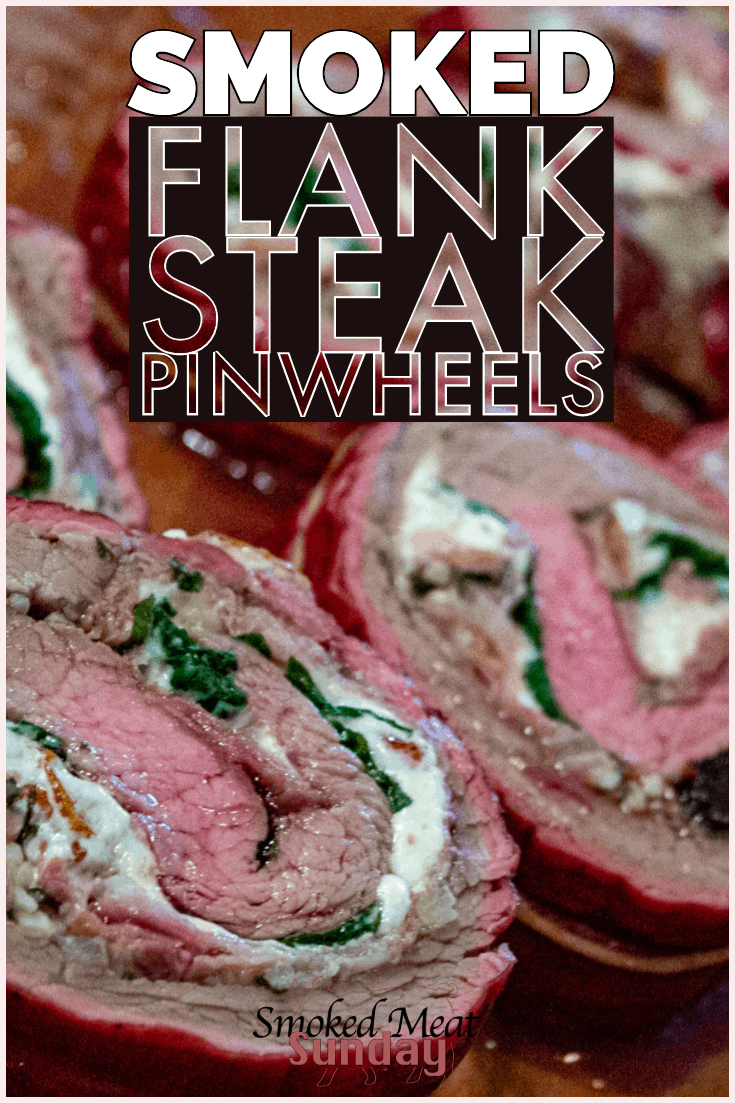 Flank Steak Pinwheels
There are some great flank steak recipes out there, but one of my favorites is this simple smoked flank steak pinwheels recipe.
To make this flank steak recipe you'll need 2 lbs of flank steak, some olive oil, shallots, garlic, basil, thinly sliced mozzarella or provolone, prosciutto, spinach, and sundried tomatoes.
In addition to the food ingredients, make sure you have some butcher's twine on hand.
Preparing Flank Steak Pinwheels
It's super easy to prep flank steak pinwheels for your smoker. Lay your flank steak out on a piece of plastic wrap, and cover with an additional piece of plastic wrap so you can pound out the meat. You want the flank steak to be thin, but not so thin that you put holes through it.
Layered With Flavor
After the meat has been pounded out to an equal thickness throughout we're ready to add our ingredients. Before you add anything, take a look at the grain of the meat. This is important!
When the flank steak roll-ups are done smoking we want to slice them against the grain to help ensure sure every bite is tender and juicy.
Lay the flank steak out so the grain is parallel to the near edge of your counter. Add some olive oil, the chopped shallots, garlic, and chopped basil.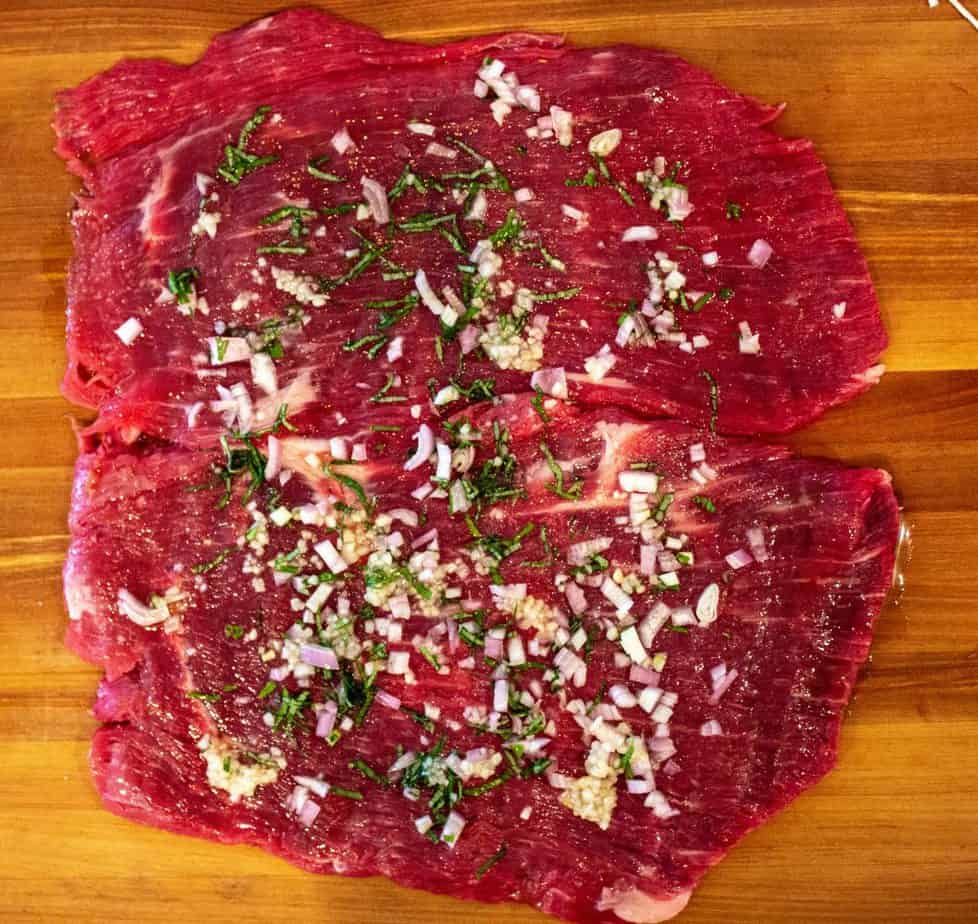 Next comes the prosciutto, layered thin leaving an inch or two of space at the far edge of the flank steak.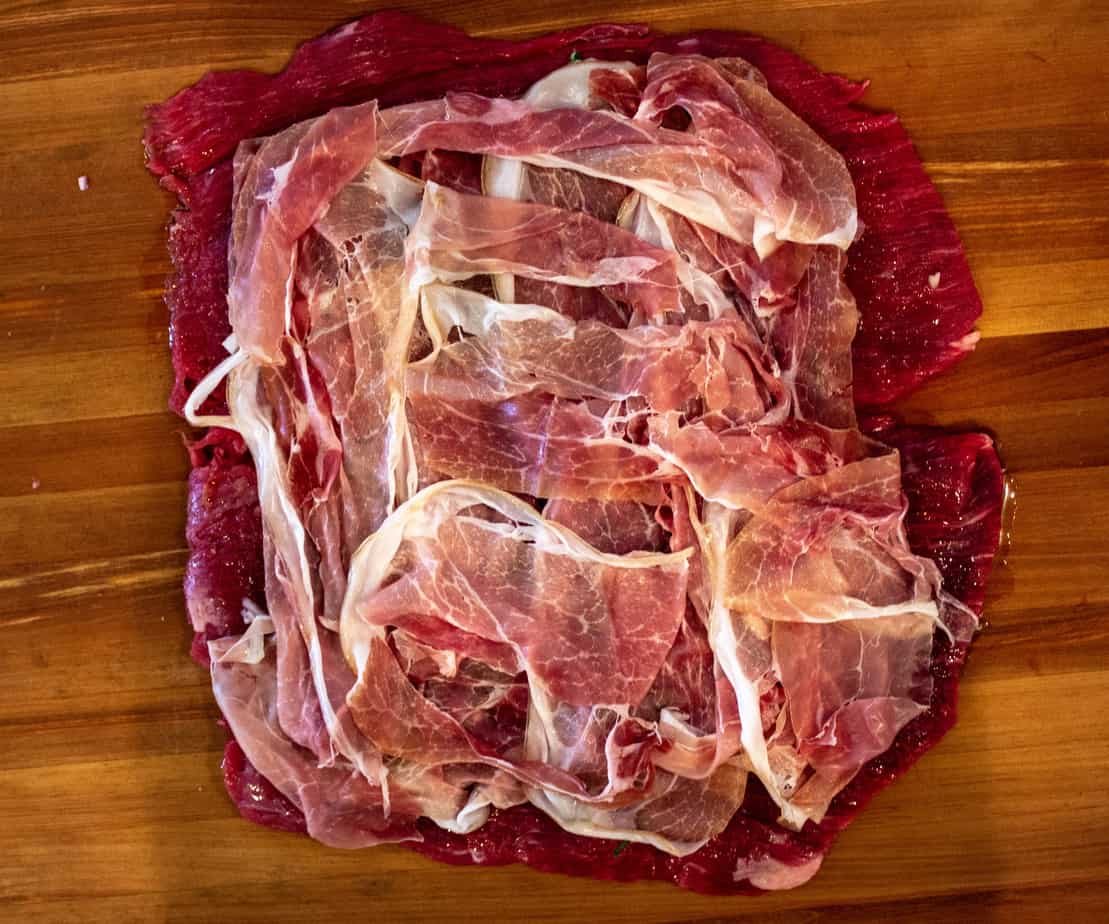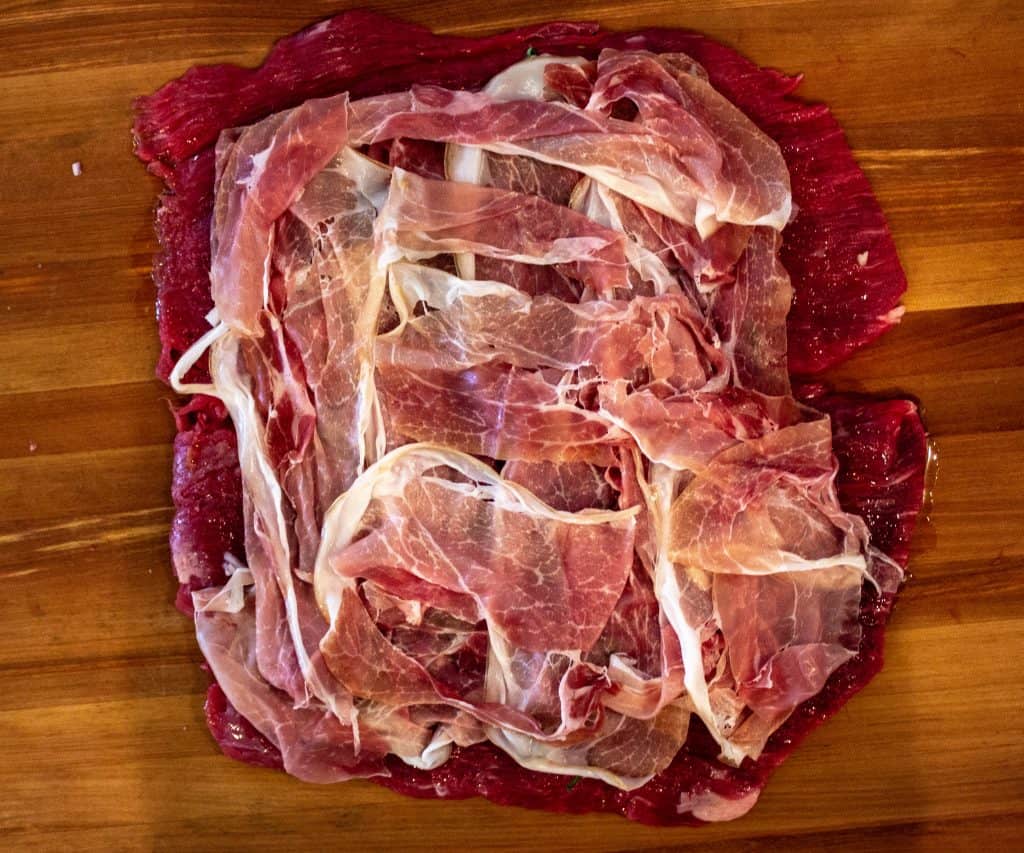 After the prosciutto layer in your cheese. It's ok to overlap the cheese here, but no reason to overdo it. I used mozzarella because I wanted to take advantage of the house-made cheese at Albertson's. Provolone would work well in this recipe too.
After the cheese, add the spinach.
The last ingredient is the sun-dried tomato. Place the sun-dried tomato in a line parallel to the near edge, and then roll up the steak as tight as possible, taking care to keep the ingredients inside.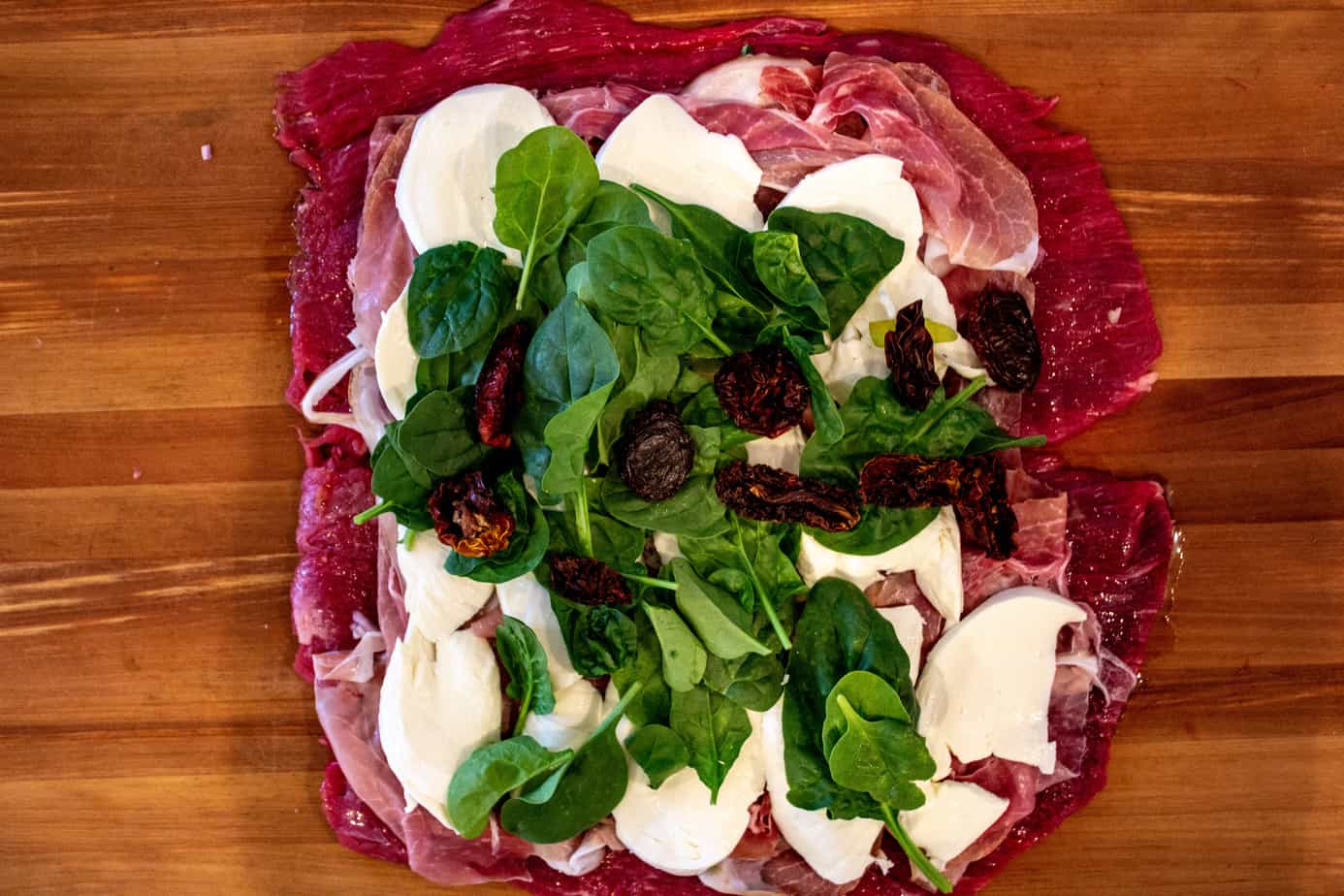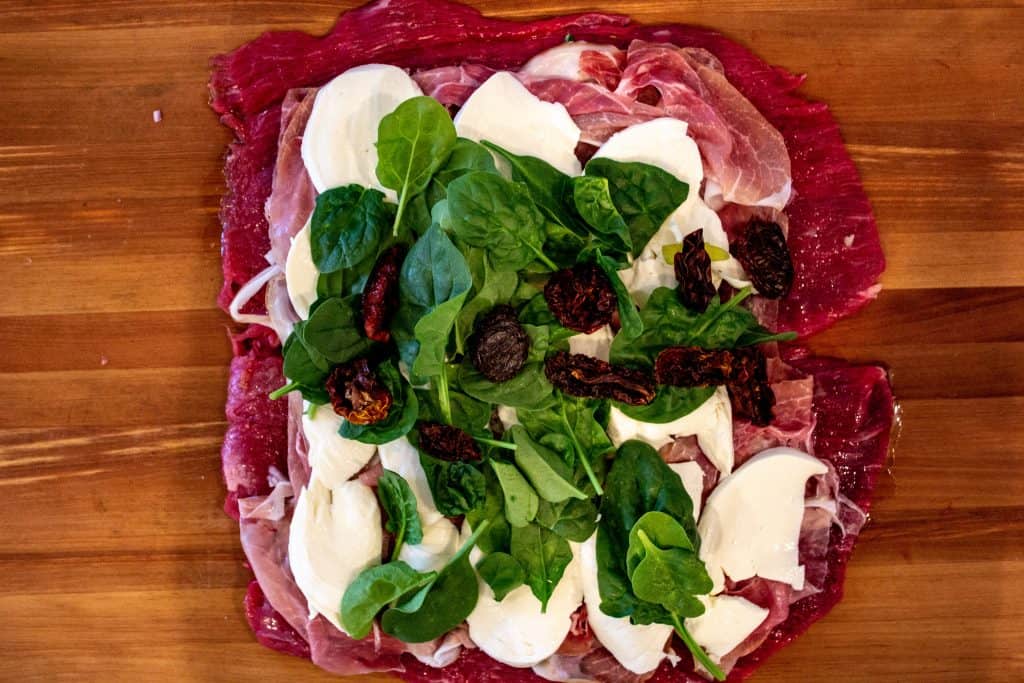 Time To Smoke the Flank Steak
Before you put your flank steak roll on the smoker, wrap and tie it closed with four or five pieces of butcher twine. Make sure that each piece of twine is an equal distance from the others. When the flank steak roll-up is done cooking you'll slice the flank steak at the midpoint between each piece of twine to make perfect mini medallions of flavorful steak goodness!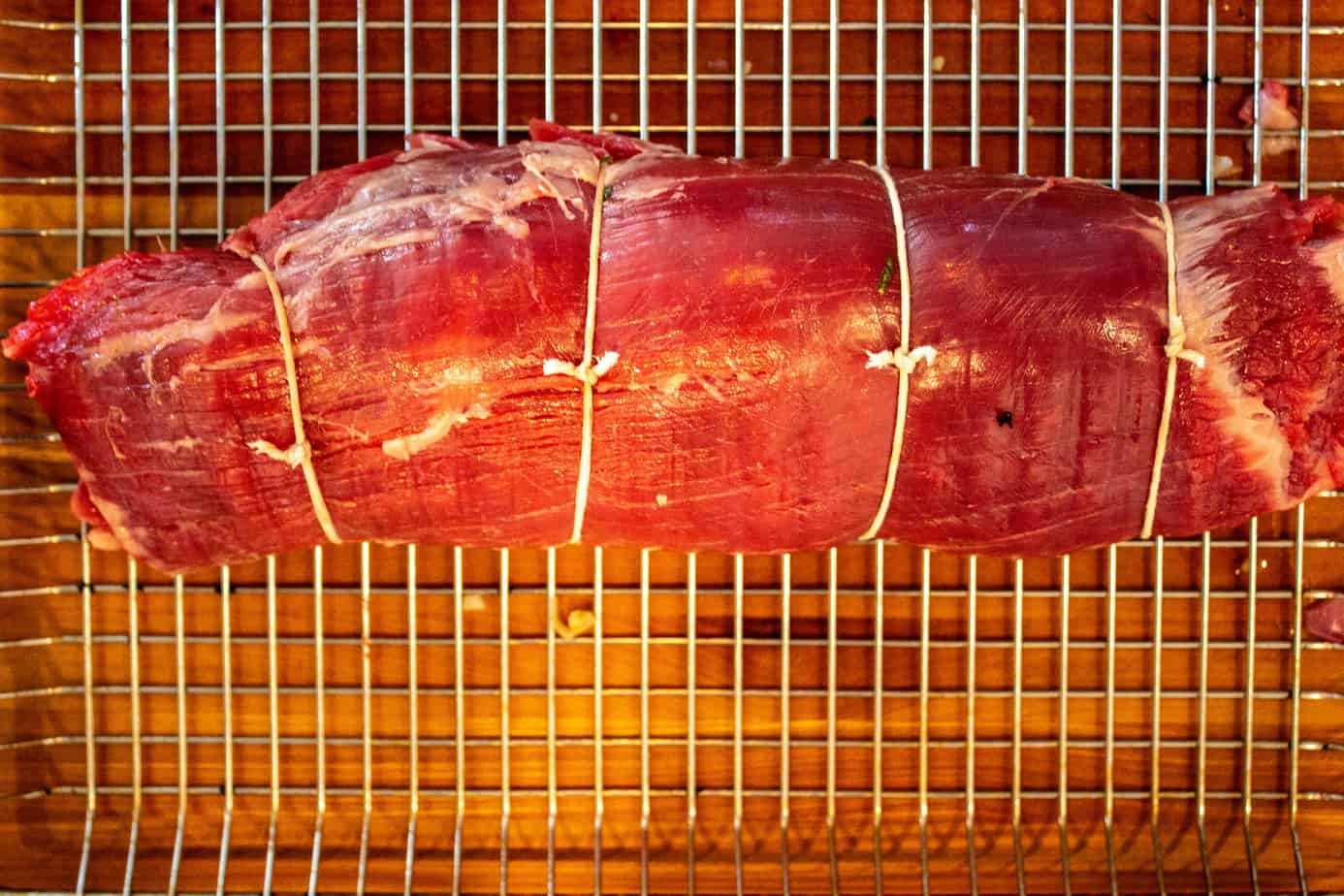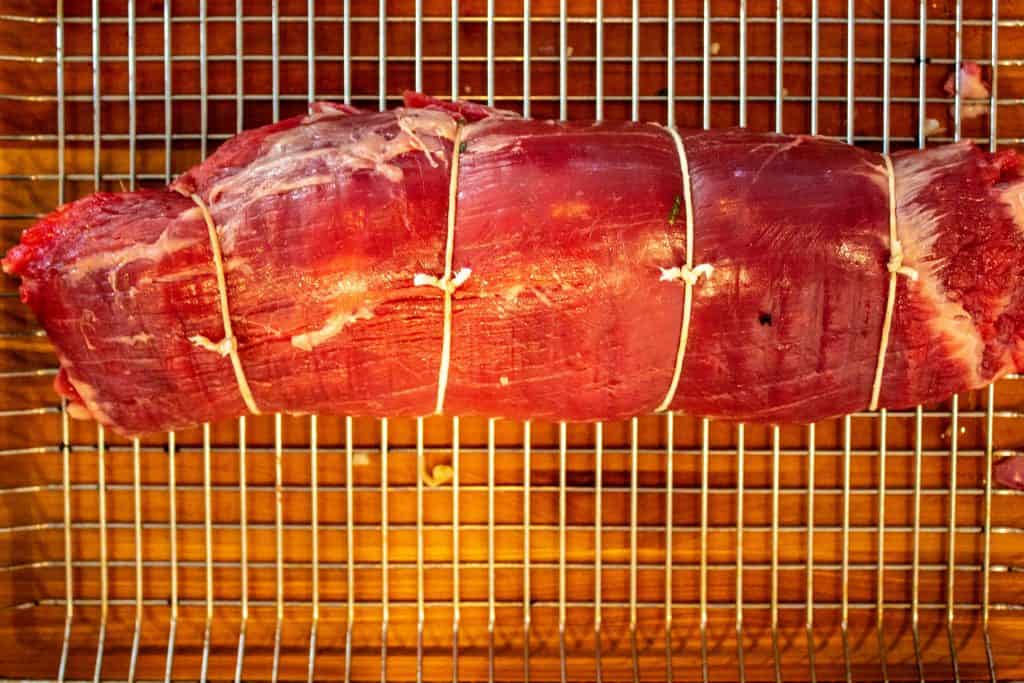 After you've wrapped the flank steak with twine, place it on your smoker and let it smoke at low temp (~150 degrees) for an hour. After an hour, turn the heat up on your smoker to 375 and continue to cook for an additional 40-50 minutes, or until the internal temperature is 145 degrees (Medium Rare).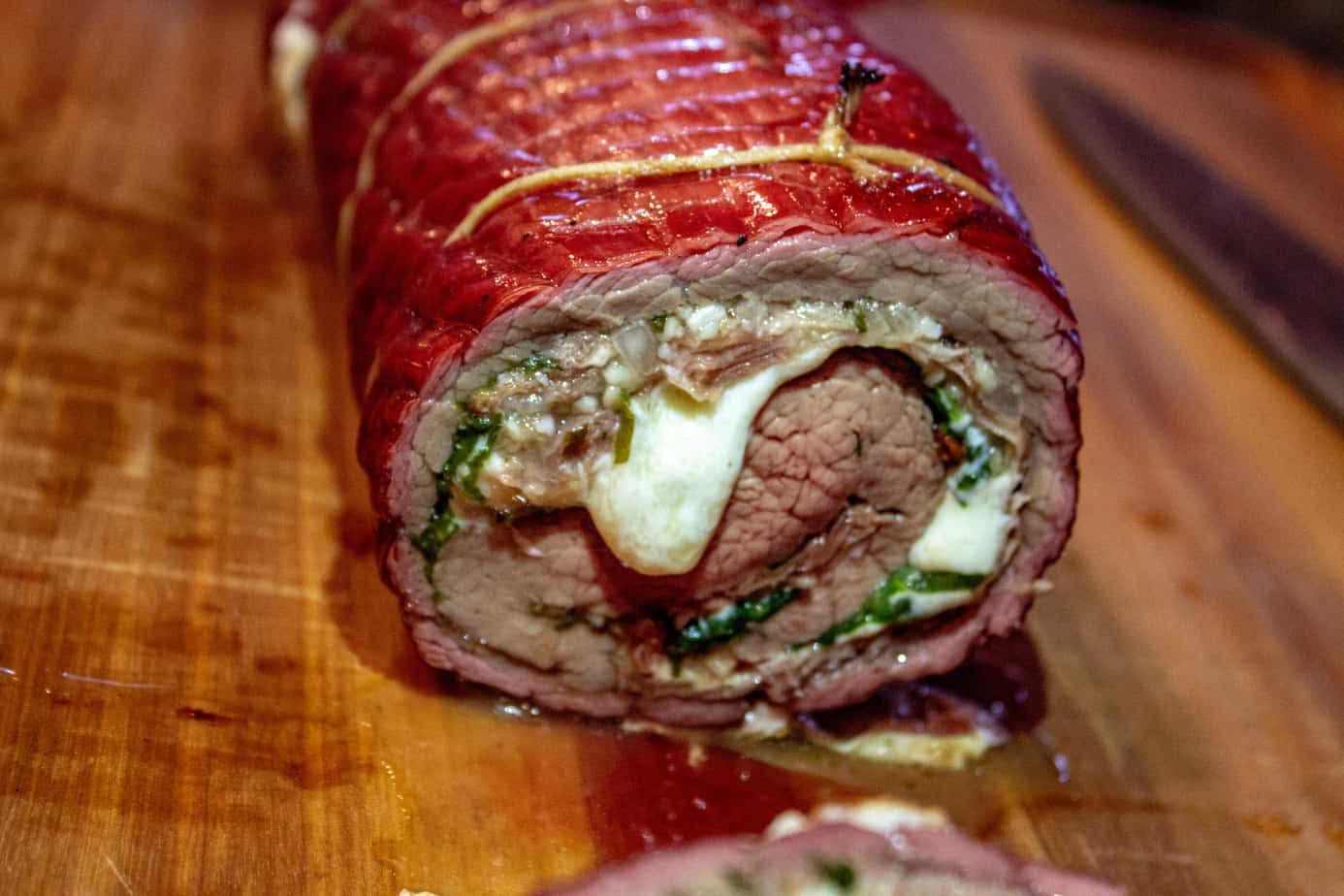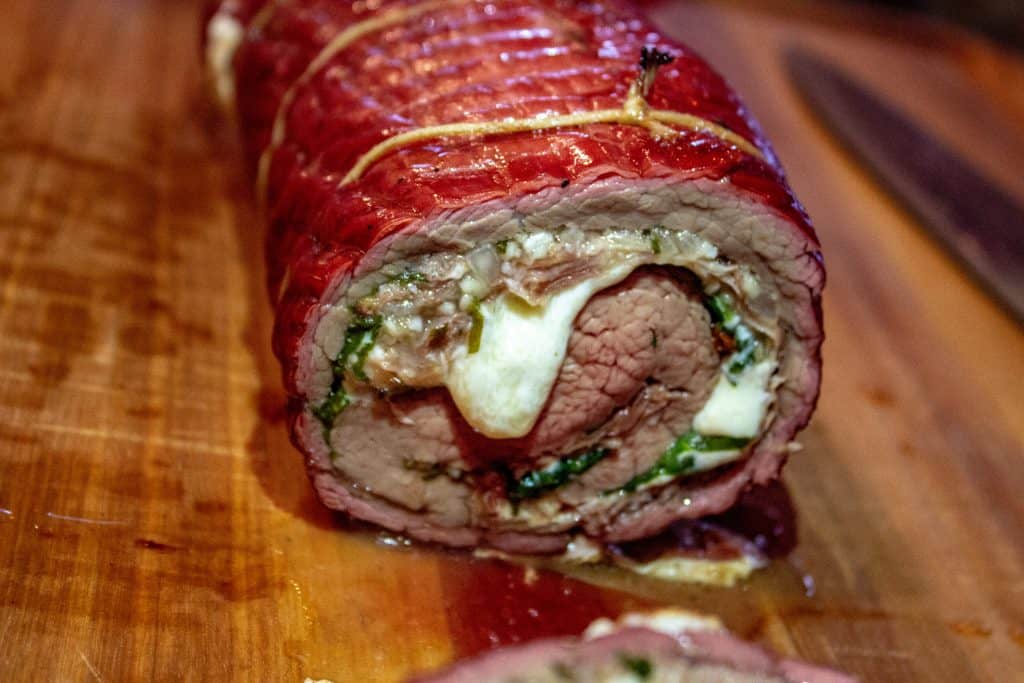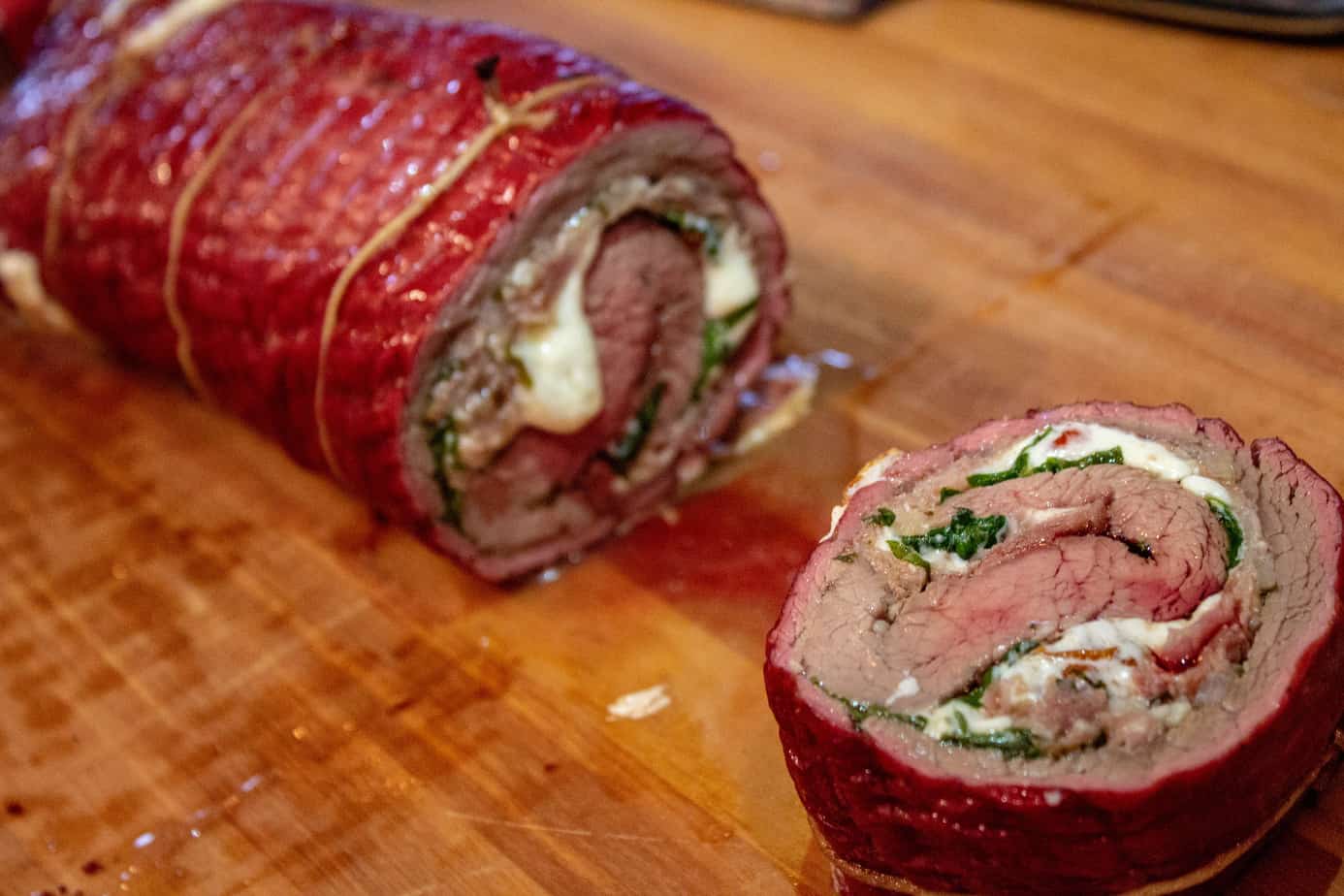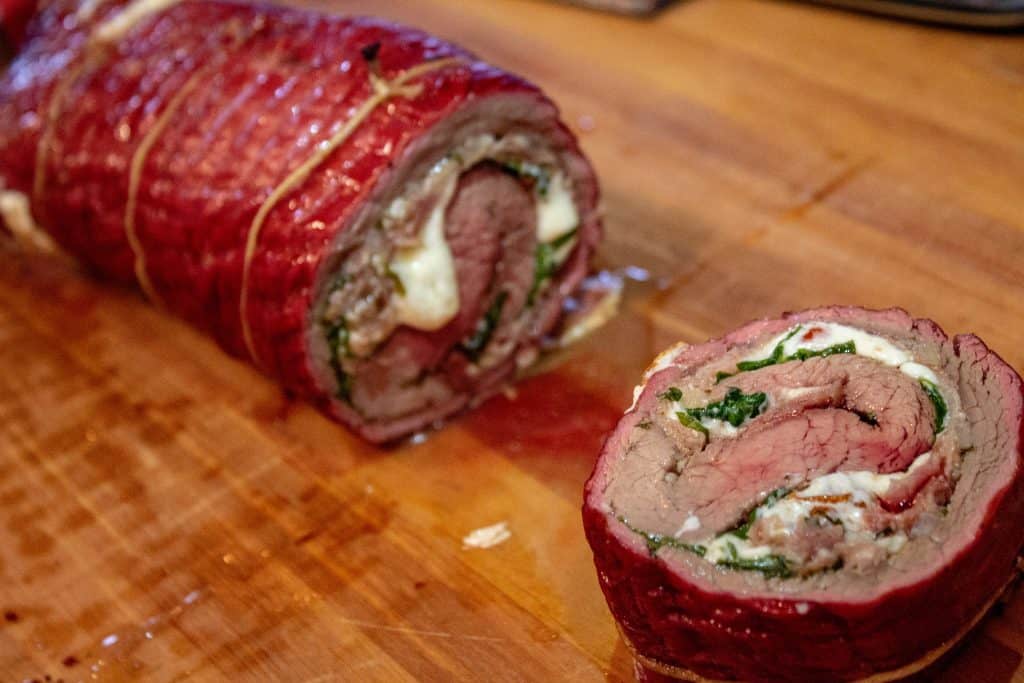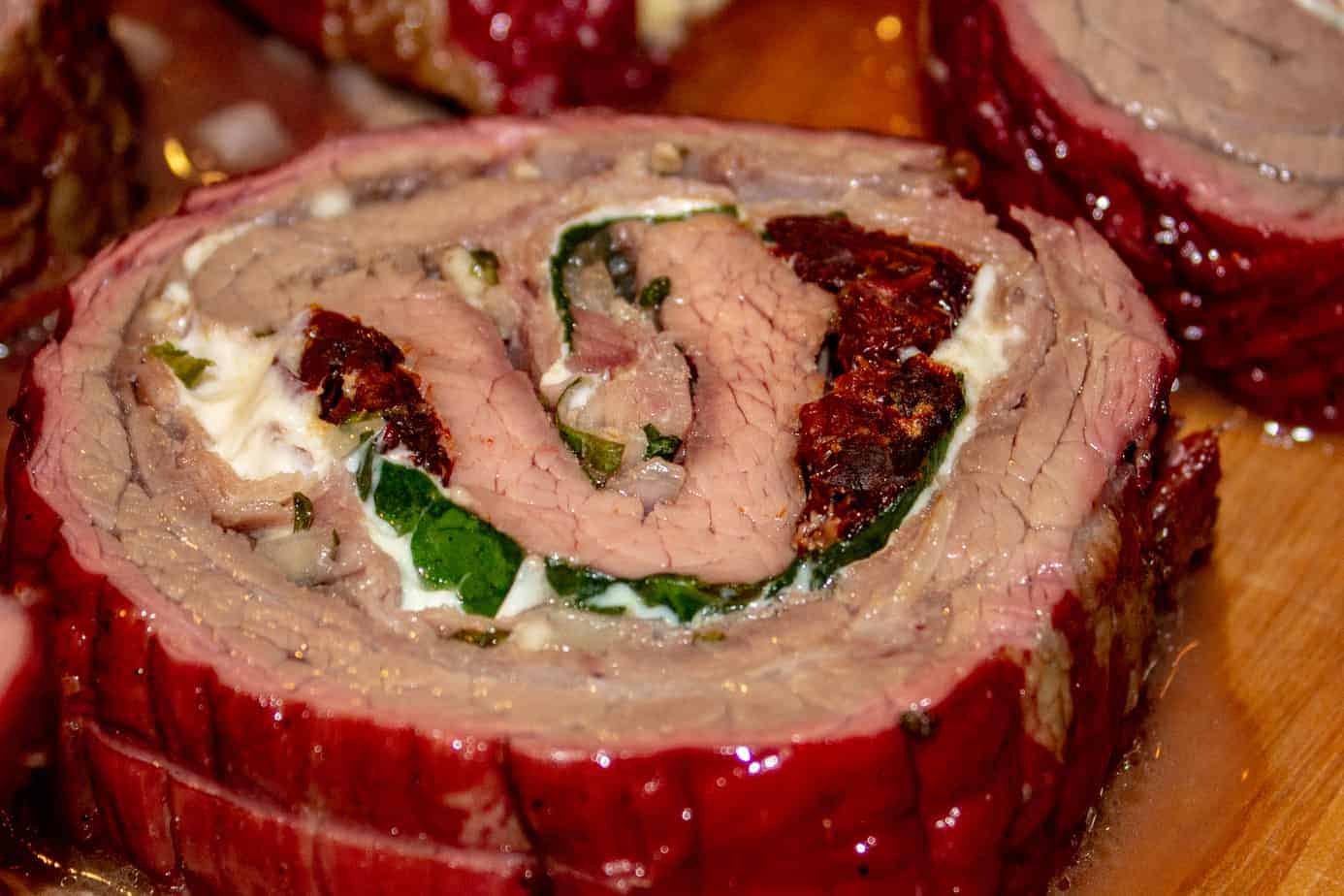 These flank steak pinwheels are delicious! The flavors melded together perfectly, and I'm looking forward to the next time we make this recipe.
We served these flank steak pinwheels with a side salad, but smoked veggies would go great with these tasty medallions.
Flank Steak Pinwheels
This flank steak recipe creates a party for your tastebuds. If you haven't tried making these flank steak pinwheels yet, you're missing out!
Ingredients
1

Tbs

Olive Oil

¼

cup

Basil

chopped

1

tbsp

Garlic

minced

1

shallot

diced

2

lb

Flank Steak

butterflied

½

pound

proscuttio

thinly sliced

½

pound

mozzarella

thinly sliced

½

cup

spinach

¼

cup

sun dried tomatoes
Instructions
Butterfly the flank steak, being careful not to cut all the way through

Pound out the flank steak to make it a uniform thickness throughout. The goal is to make it as thin as possible without cutting all the way through.

Lay the flank steak out flat with the grain parallel to the near edge of your counter top

Rub olive oil, shallots, garlic, and basil on the surface of the meat

Lay the prosciutto out in an even layer covering all of the meat, leaving approximately one inch uncovered on the far edge

Cover the prosciutto with thinly sliced mozzarella or provolone cheese

Cover the mozzarella with spinach

Place a row of sun dried tomatoes in the middle of the flank steak, parallel to the grain of the meat

Tightly wrap the flank steak. Start the roll using the edge nearest you, and roll away to the top. Make it as tight as possible.

10. Tie the roll tight with 4 or 5 pieces of butchers twine equidistant apart

11. Set your BBQ up to smoke using indirect heat at 150 degrees and place the flank steak on the grill grates. (using a traditional grill? Set the grill up to cook at 350 and let cook until

internal temp

is 145 degrees and then pull)

12. Let the Flank Steak Roll smoke for 30 minutes, and then turn the heat up to 375 degrees.

13. Continue cooking until the

internal temperature

is 145 degrees using an instant read thermometer (approximately 60 additional minutes)
Nutrition
Serving:
1
g
|
Calories:
330
kcal
|
Carbohydrates:
3
g
|
Protein:
38
g
|
Fat:
17
g
|
Saturated Fat:
8
g
|
Polyunsaturated Fat:
8
g
|
Cholesterol:
112
mg
|
Sodium:
252
mg
|
Fiber:
1
g
|
Sugar:
1
g