The Traeger Tailgater Portable Pellet Grill is a convenient and game changing smoker for on the road, tailgating, or entertaining. It's size and digital technology allows you to bring smoked flavored food wherever you go.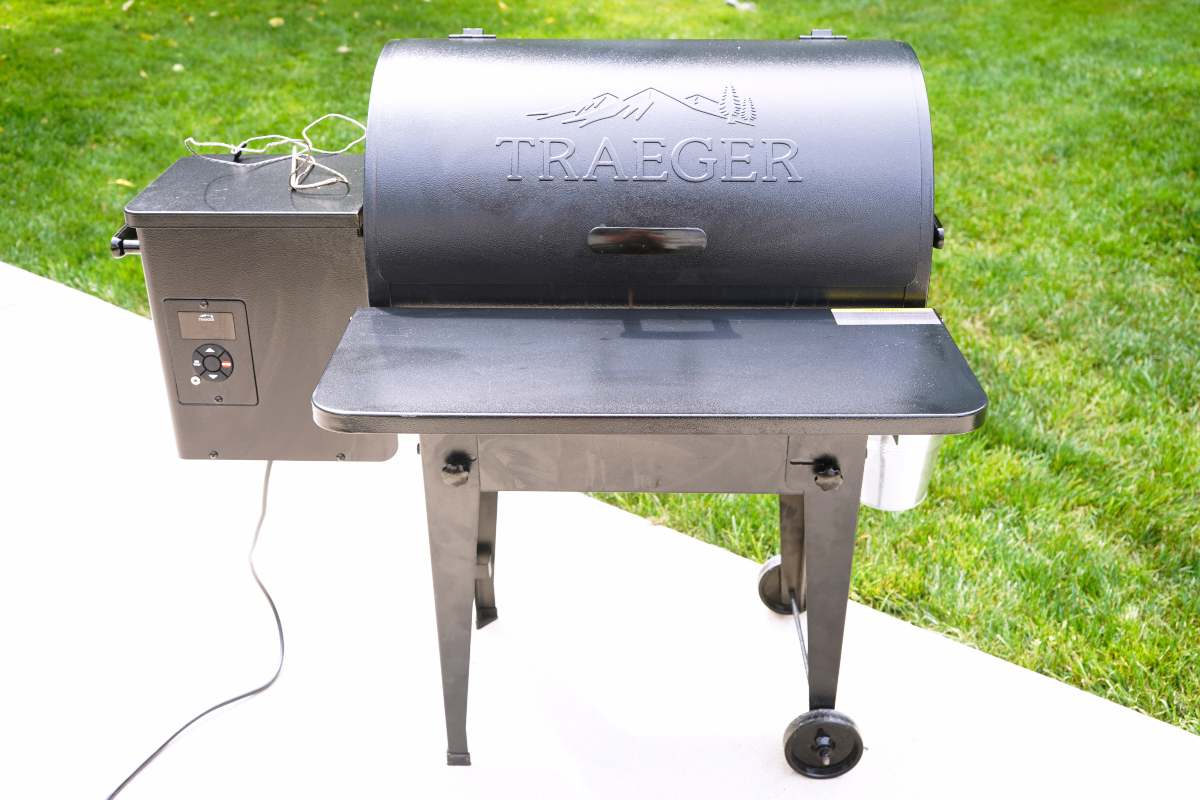 Whether you're cheering on your favorite team in a parking lot or hosting a backyard BBQ, this versatile grill will help make sure that your food is always cooked to perfection with a nice wood fired flavor.
What is the Traeger Tailgater?
The Traeger Tailgater is a portable wood pellet grill that has foldable legs with wheels for convenient set up and take down. The Tailgater has a larger cooking space compared to Traeger's other portable grill, the Ranger. You can cook as high as 450 degrees F if you are looking for grilled food or roll low and slow for your favorite smoked foods as well. It's portable size (37"L x 18"W x 36" H) makes it a great solution for apartment balconies, small patios, or for the RV life.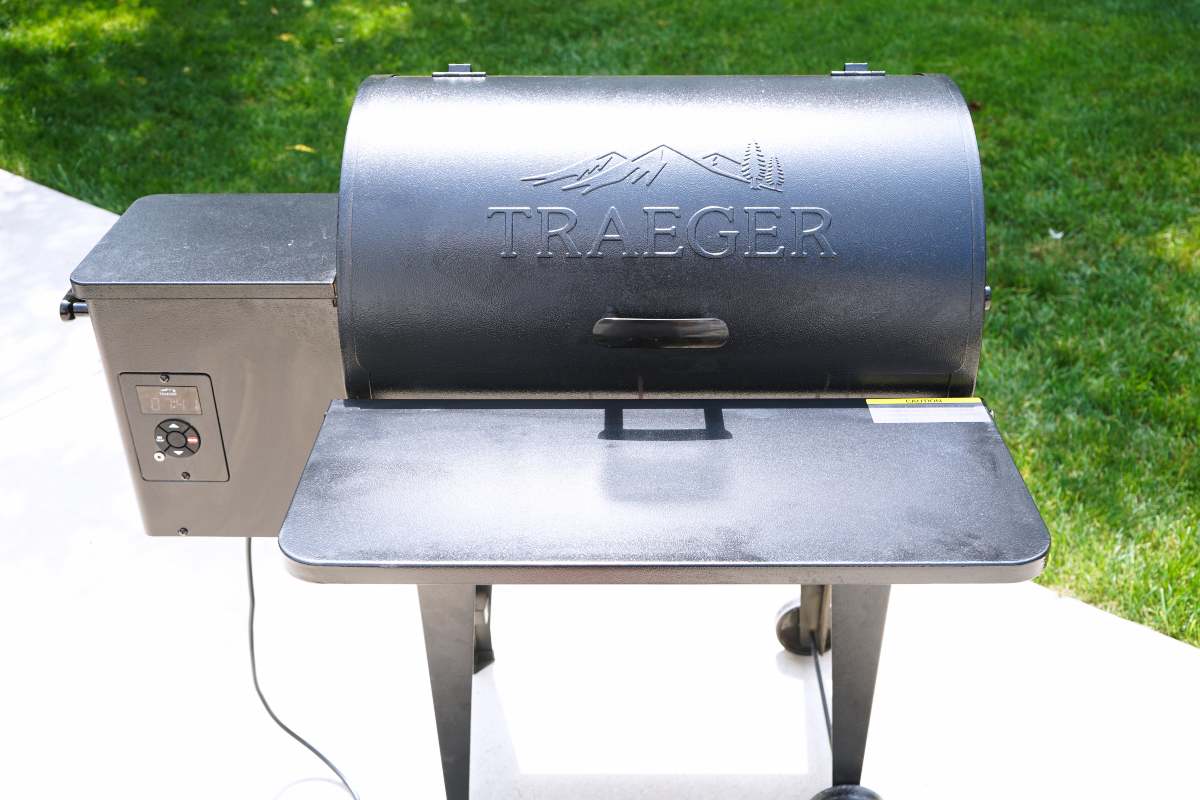 What I love about the Traeger Tailgater Pellet Grill
The Tailgater has been a nice addition to my grill and smoker collection. It is easily wheeled around and compact enough to pack up and take on camping trips or to visit family. The total cooking space is larger than some other portable grill options so it has been great to put on cooks for a little larger of a group during our camping trips.
I also use the Tailgater on weeknights when I don't feel like hauling out our full sized smoker. Or when I just want to cook myself a smaller meal or grill up some brats or sausages.
My Traeger Tailgater Review & How it Adds Up
So far based on the features, quality, and performance, I personally would give the Traeger Tailgater a 4 out of 5 stars . Check out all of the details below for more information and details on how I based my review.
⭐⭐⭐⭐
Included Features: 10/10
Quality & Design: 9/10
Performance: 10/10
Portability: 8/10
Cooking Space: 8/10
Pellet Hopper: 9/10
Temperature Control: 9/10
Ease of Assembly: 7/10
Maintenance: 9/10
Overall Score: 8.7/10
About the Traeger Tailgater
Total cooking space: 300 square inches
Total Weight: 62 lbs.
Pellet Hopper capacity: 8 lbs.
Max Temperature: 450° F
Pros:
Versatility
Easy to clean & maintain
Easy to move around
Quality food
Portable Solution
Large Pellet Hopper capacity
Cons:
The legs are challenging for unfold and fold.
Steeper price point
No WIFI/ Bluetooth connection (if that appeals to you)
The Traeger Tailgater Features (Everything you need to get started)
Portable design- With it's folding legs, you can transport the grill more easily. You also can cook on it with the legs still folded in the back of your truck for tailgating if desired.
Keep Warm Mode- This added feature from Traeger allows you to select a safe serving temperature on the control panel anytime during the cooking process which will switch the temperature to 165 degrees F. Perfect for warming until chow time.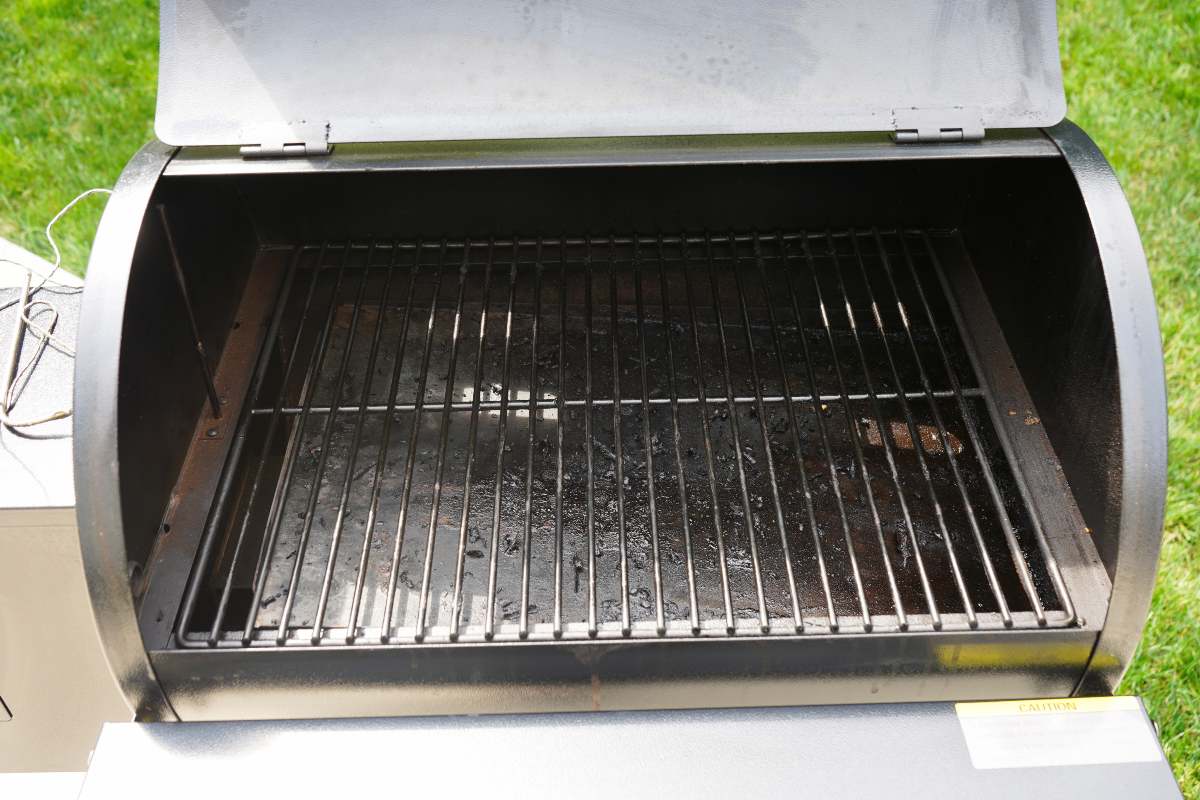 Included Meat Probe- The meat probe that is included is inserted through a hole on the side of the grill which allows for precise consistent temperatures of your meat.
Digital Arc Controller- Traeger's new Tailgater 20 now has a digital control panel which helps with temperature control and easy monitoring.
Porcelain-Coated Grill Grates- These grill grates are non-stick and pretty easy to maintain. They are ready to roll with no extra seasoning required.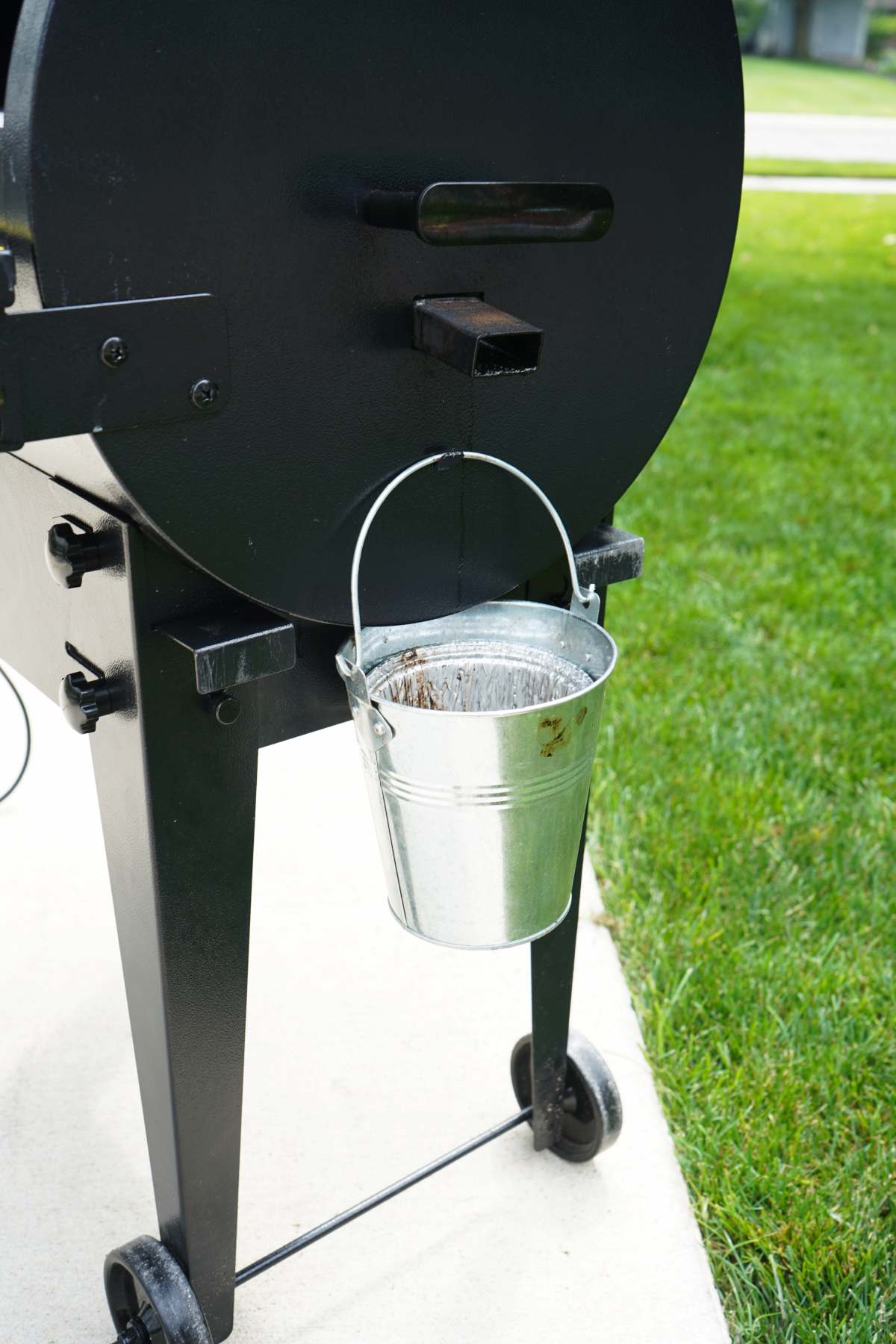 Grease Drip Pan Bucket- The included grease drip pan bucket hooks right to the side of the pellet grill and helps to catch any of your drippings, grease, fat, or juices. All you have to do is simply unhook it to empty.
You will have everything you need to start cooking almost immediately! Just grab some wood pellets, your food, and your utensils.
⭐ Included Features Rating: 10/10
Quality & Design (Sturdy & Rollable)
I have been a Traeger customer for several years now and find all the products to be built with quality materials and can withstand various weather conditions. The Tailgater itself weighs 62 lbs. which tells me it is solid enough in construction but easy to move around. Some other potable pellet grill models weight up to 93 lbs. like the Pit Boss Portable Tailgate.
Also there are handles on both sides of the grill which helps with handling. And as mentioned before, there are folding legs with wheels which offers the portable design and ability to roll the grill around effortlessly once it is set up.
⭐ Quality & Design Rating: 9/10
Performance (Great flavor & multi-purpose)
One impressive factor that I enjoy with all of our Traeger products is the versatility and superior taste that the grill provides. The Tailgater is know for its ability to be able to smoke, bake, roast, braise, and of course grill at high temperatures, too.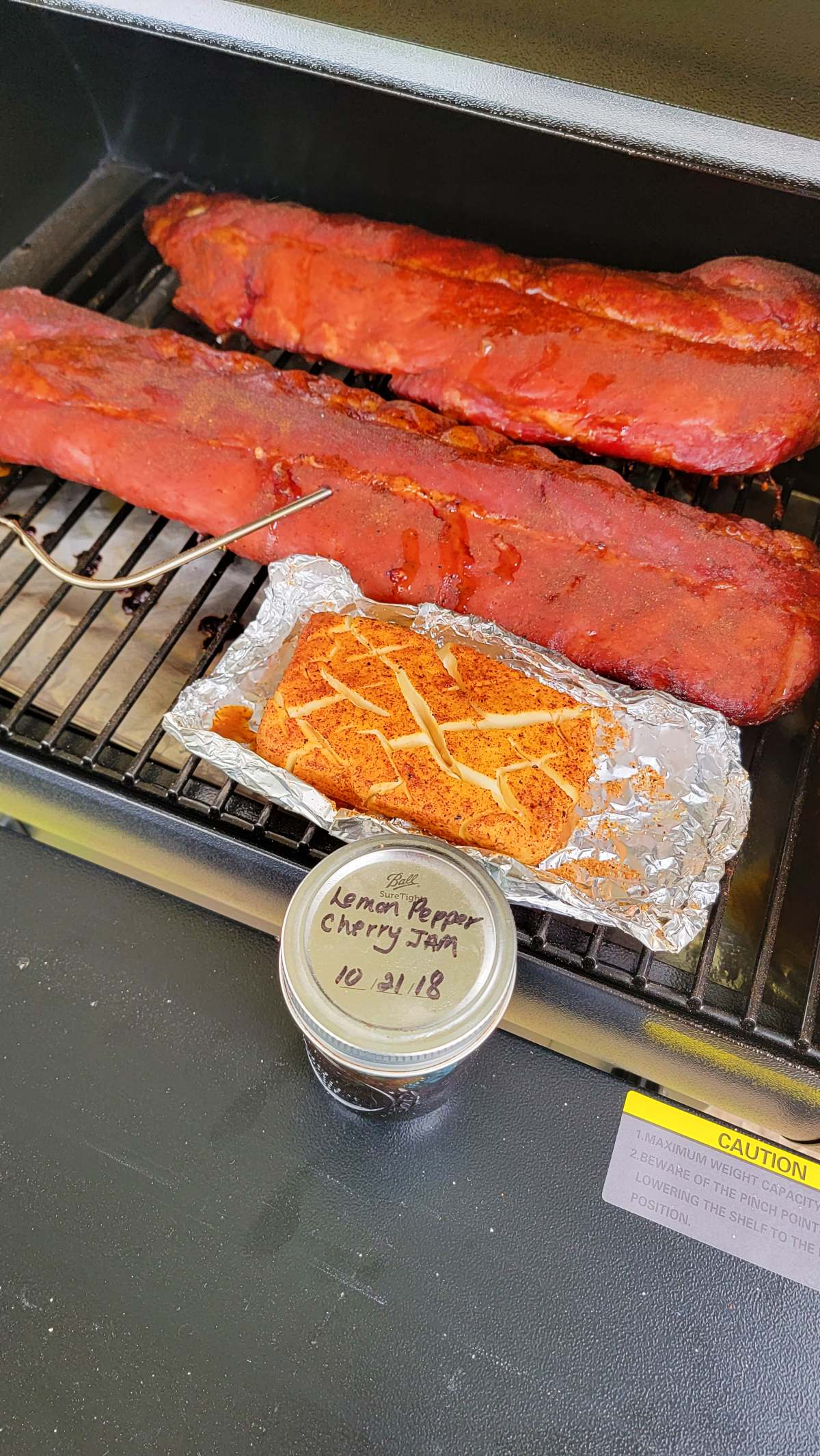 I have smoked brisket at a campsite along with a couple racks of ribs effortlessly. The whole campground smelled great and the meat turned out amazing. I loved that I could bring wood fired flavor with me on the road and produce some quality food while enjoying my outdoor cooking.
I also fire this pellet grill up on weeknights when I just want a quick meal such as grilled steaks, sausages, shrimp skewers, and more. Since it is a smaller grill and easier to clean, I am more comfortable using this pellet grill at a higher temperature range.
⭐ Performance Rating: 10/10
Portability (Compact but somewhat challenging)
The Traeger Tailgater was designed with portability in mind especially for taking it on the road or to toss in the back of the truck for tailgating. It is compact and somewhat lightweight, making it easy to transport. The folding legs allow for set up and break down for transportation but you can also cook on the grill without setting up the legs and keeping it in the folded position.
The common complaint about the Traeger Tailgater pellet grill is that the legs are somewhat challenging to assemble and disassemble. Having used this a few times now, I would agree. They are labeled "EZ FOLD LEGS" but they are somewhat awkward to handle without the grill wanting to fall over. I recommend a 2 person operation if possible. If not, sometimes I use a bungee cord to hold the pellet hopper together then lay it on its side on the back of the truck in order to unscrew and fold the legs in.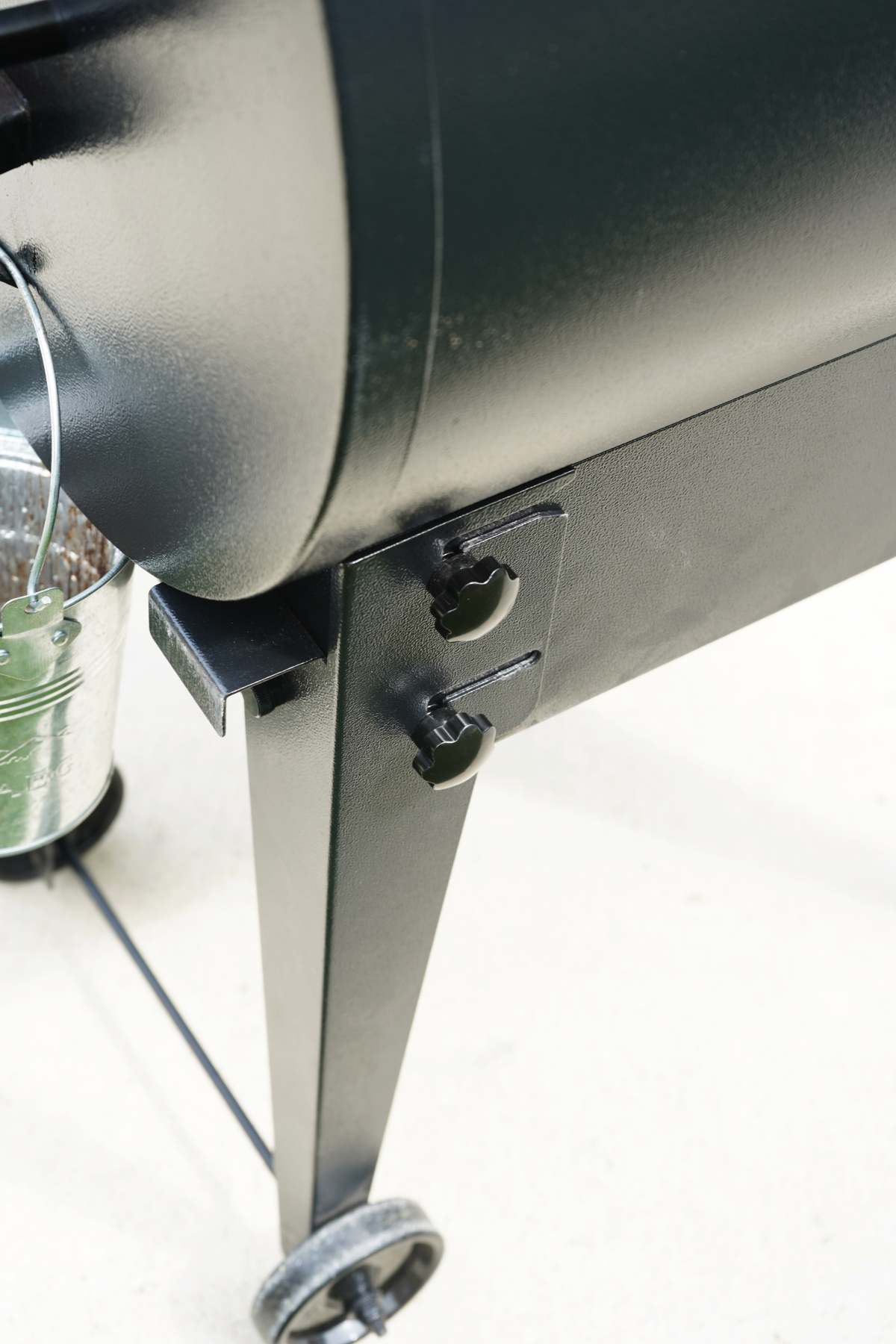 Once you get past the assembly of the legs, moving it around is pretty simple and easy. The two handles and the wheels on the legs let the grill move around with ease. Set it up and wheel it over to where you want to cook at.
Although portable you have to remember that if you will be using this away from home you will need a power source, battery, or inverter. You may be wondering how many watts does a Traeger Tailgater use? The Tailgater will operate at 300 watts as it fires up to desired temperature, then it will drop down to 45-100W during the cook.
⭐ Portability Rating: 8/10
Cooking Space (Big enough but lacks upper shelf)
Despite it's more compact size, the Traeger Tailgater still hosts an impressive 300 square inches of cooking space compared to Traeger Ranger's 180 square inches. It is less than several competitors such as the Camp Chef Pursuit 20 which offers 501 square inches of cooking space.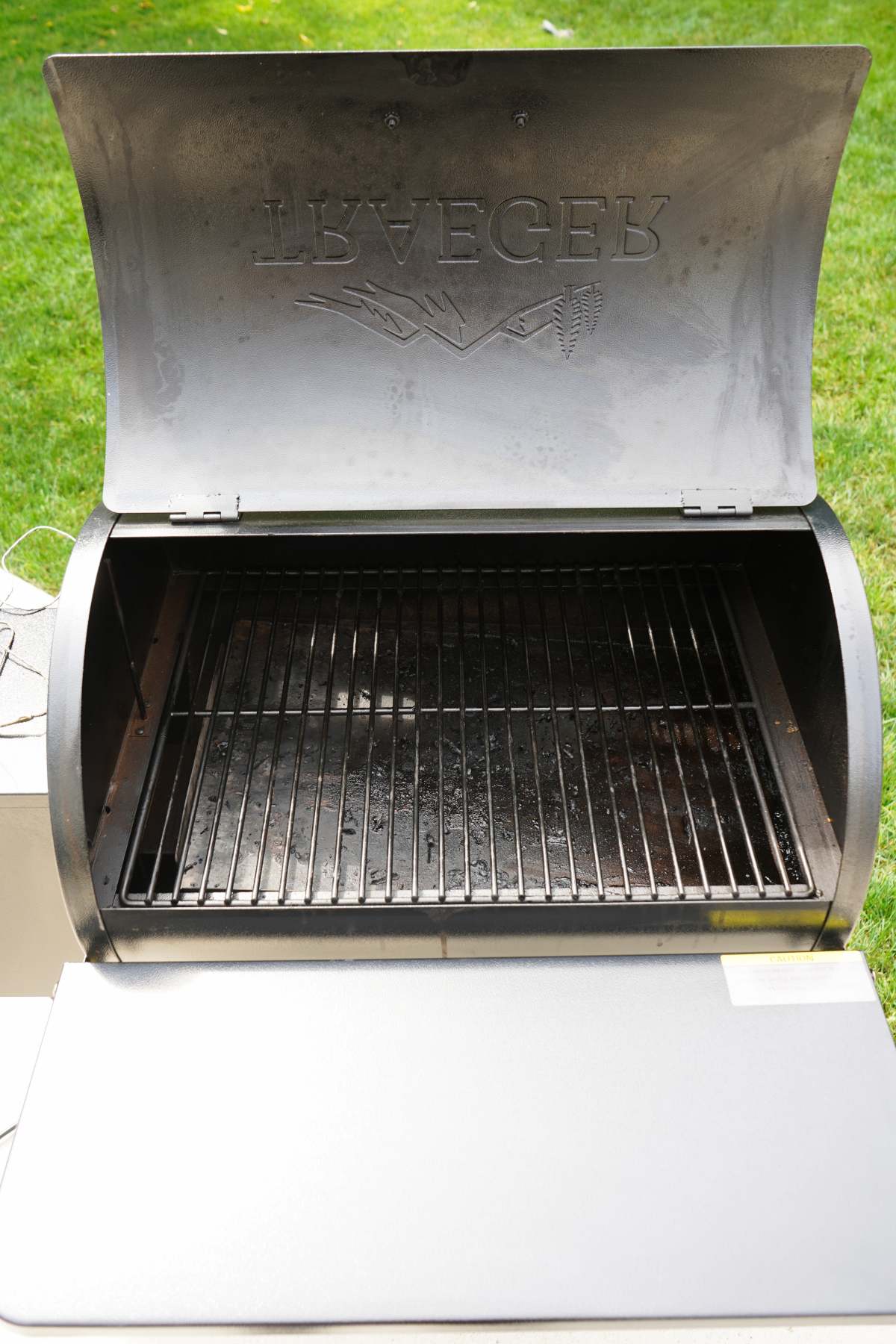 The Tailgater does only have 1 cooking grate without any upper shelf. But depending on the group size you are wanting to cook for, this is generally plenty of space. I have smoked a full sized brisket no problem. It also can fit 2 aluminum pans easily. To give you more of an idea, 3 racks of ribs fit, 12 burgers, a pork shoulder/butt, or even two small chickens.
⭐ Cooking Space Rating: 8/10
Pellet Hopper (Large enough but keep watch)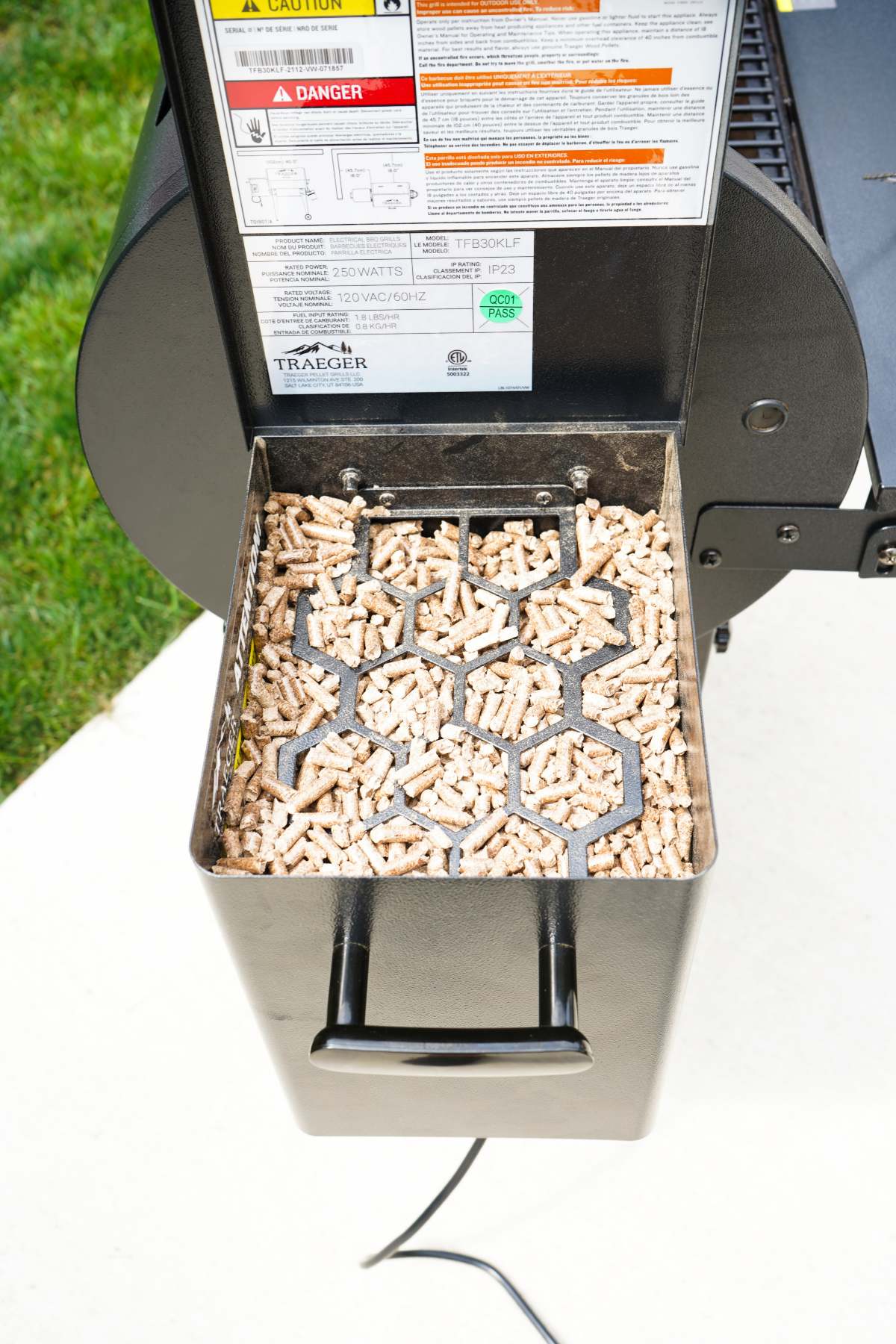 The Tailgater's wood pellet hopper can fit 8lbs of pellets which is a pretty decent amount. Many of the other portable wood pellet grills offer about 5lbs capacity. I'd say you could easily smoke for at least 3-4 hours before needing to check the hopper for a refill.
The Traeger Tailgater does not have the ability to notify you when the pellets are starting to get low like some of the larger Traeger models.
⭐ Pellet Hopper Rating: 9/10
Temperature Control (Simple & Consistent)
One huge advantage of the Tailgater is its ease of use with the help of the Digital Arc Controller. From firing the grill up to temperature to the shut down cycle, Traeger's control panel makes the cooking process pretty seamless and stress-free.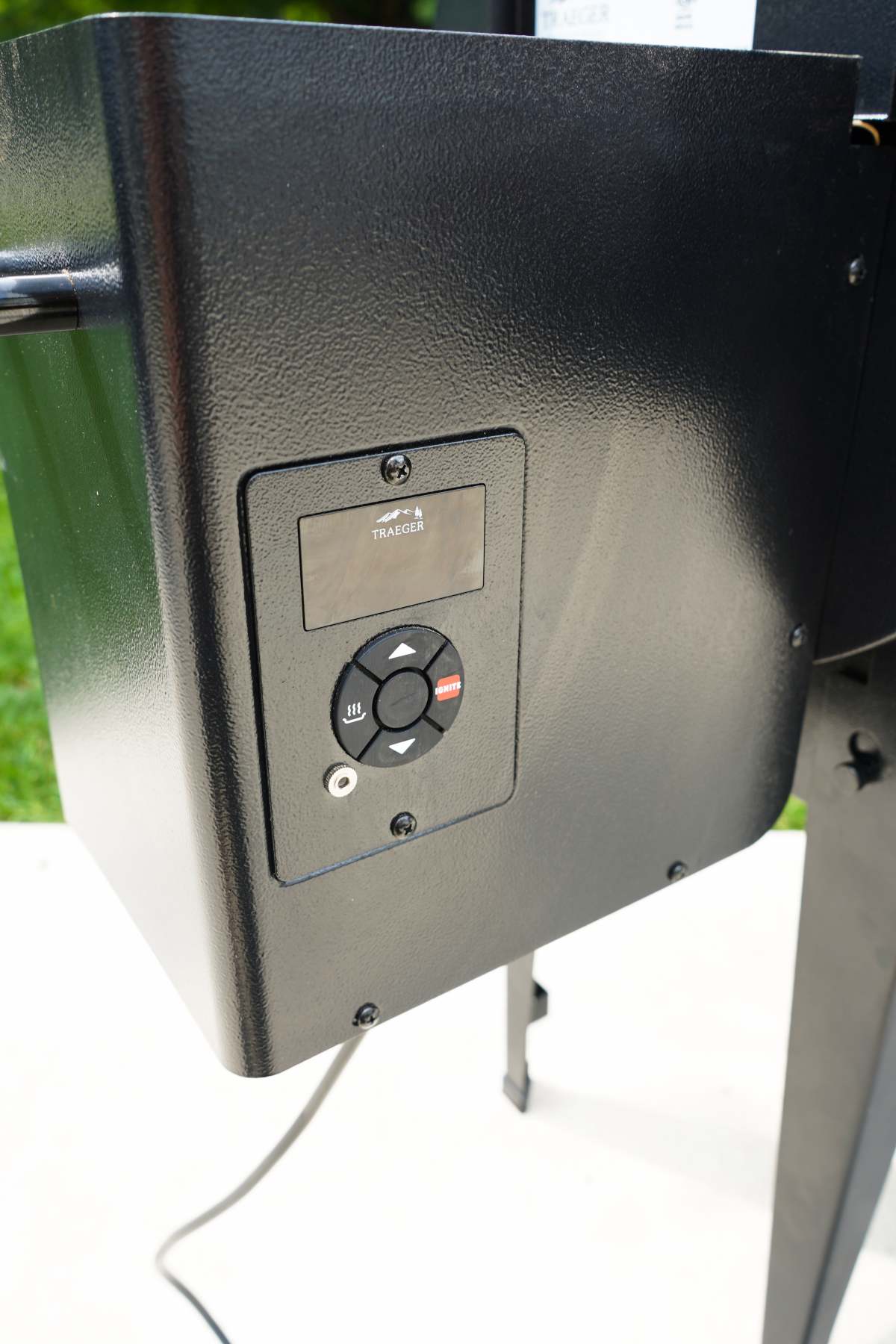 The Digital Arc controller allows precise consistent temperatures and adjustments are easy. You can worry less, check less, and enjoy your cooking time more. The grill does all the work.
Since it is on the smaller side, you may notice it may warm up a bit hotter then the set temperature at first but usually goes back to the set temperature once you add the food. I always just make sure we pre-heat the grill for about 15 minutes before we start cooking.
⭐ Temperature Control Rating: 9/10
Unboxing & Ease of Assembly (a little time consuming)
The Tailgater does come well packaged and well wrapped with a bit more assembly than the Ranger did. You will need to assemble the legs, wheels, handles, and the pellet hopper system. Then you need to add in the grease drip tray and grill grate.
Although there are a few more steps in order to get this thing up and running, I didn't find it too challenging just a little time consuming. Traeger does provide an instruction booklet as well.
⭐ Ease of Assemble Rating: 7/10
Maintenance (Easy since it's compact)
As with any grill or smokers, you will need to maintain and clean the Tailgater on a regular bases. You will need to maintain the porcelain grill grates and also vacuum out the ashes every few cooks.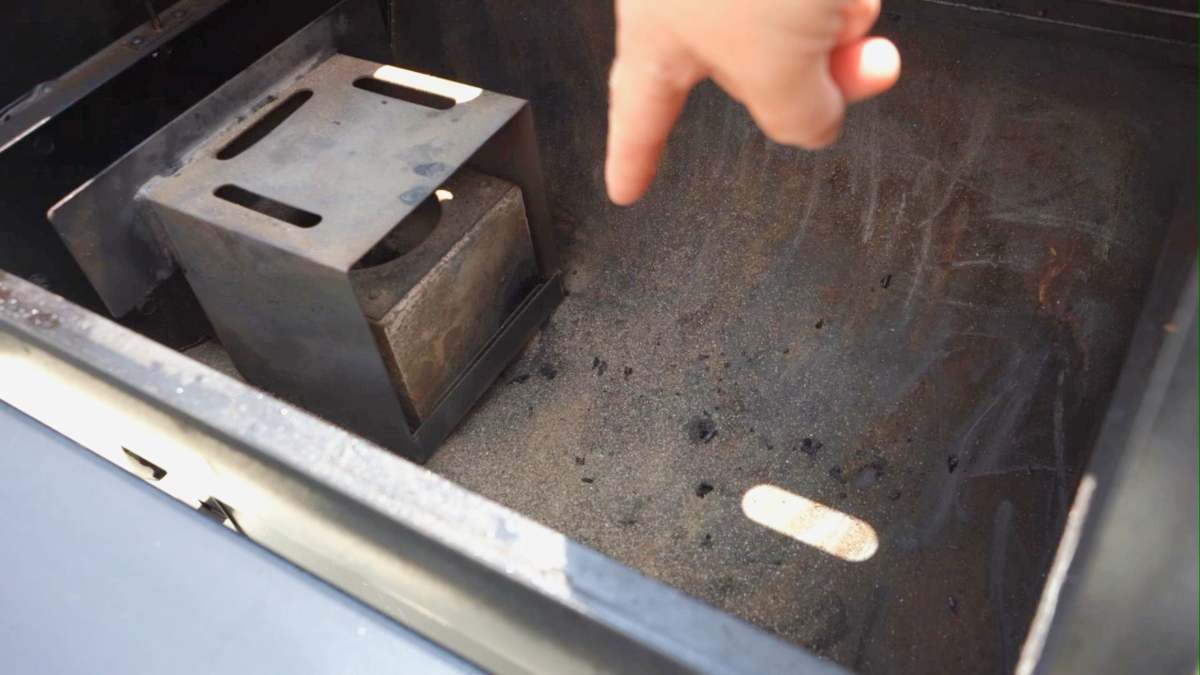 This process is pretty simple in this portable grill since there is only one grill grate and one grease drip tray to remove in order to access the fire pot and auger area. Then you simply vacuum out the ashes. Of course a few times a year I would recommend a deep cleaning on the entire unit.
⭐ Maintenance Rating: 9/10
Value
The Tailgater is listed for $529.95 on Amazon.com and $529.99 on Traeger's website. This price comes in a bit higher than several other similar styled portable grill models from other companies.
Traeger Grills Customer Service
I have not had to contact customer service for anything so far for the Tailgater. In some past experience for my full sized Traeger, I have found them always very helpful to walk me through any issues for technical support or for replacement parts.
Common User Reviews
General Positive Feedback
Easy to use
Great for smaller spaces/ smaller sized families
Food flavor is on point
Great for the beach/RV life/Tailgating
General Negative Feedback
Foldable legs are challenging to set up and break down (especially by yourself)
Price point
Heavy for a portable grill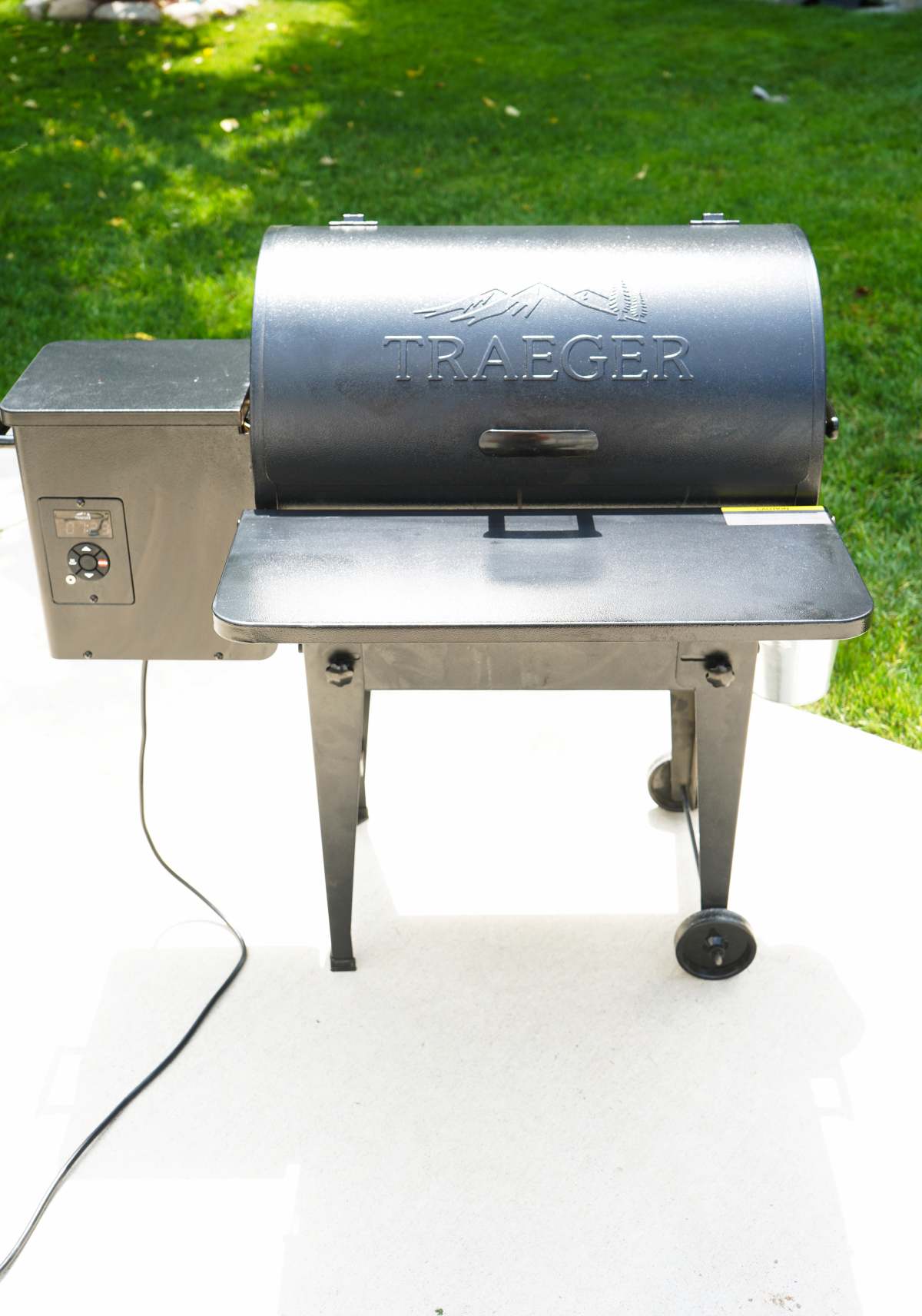 Our Video Review of the Traeger Tailgater
Should you consider the purchase?
Yes- if you are looking for a multi-purpose wood pellet grill that you can pack up or use at home for a smaller space/family then the Tailgater may be for you. I find it easy to roll out and cook for weeknight dinners and also a decent enough cooking space to cook on our camping trips. Being able to actually smoke larger pieces of meat away from home is definitely a plus for me.
It is very easy to use, even for someone wanting to buy their first pellet grill. With digital control and the ability to use it as a grill or smoker makes it a great option.
Thoughts/Feedback
Have you used the Traeger Tailgater? I would love to hear your thoughts, feedback, and or questions you may have. Drop a comment below and we will get back to you!