Have you ever had BBQ Brisket Burnt Ends? I've made burnt ends a lot of different ways with a lot of different cuts of meat, but this bbq brisket burnt ends recipe is by far my favorite.
The beefy brisket flavor combined with the low and slow smoky flavor from sitting in a smoker all day long makes the flavor in brisket burnt ends incredible.
This is an in-depth article on how to make bbq brisket burnt ends. I wouldn't recommend making these if you've never cooked a whole brisket before. This is taking a full brisket cook to the next level.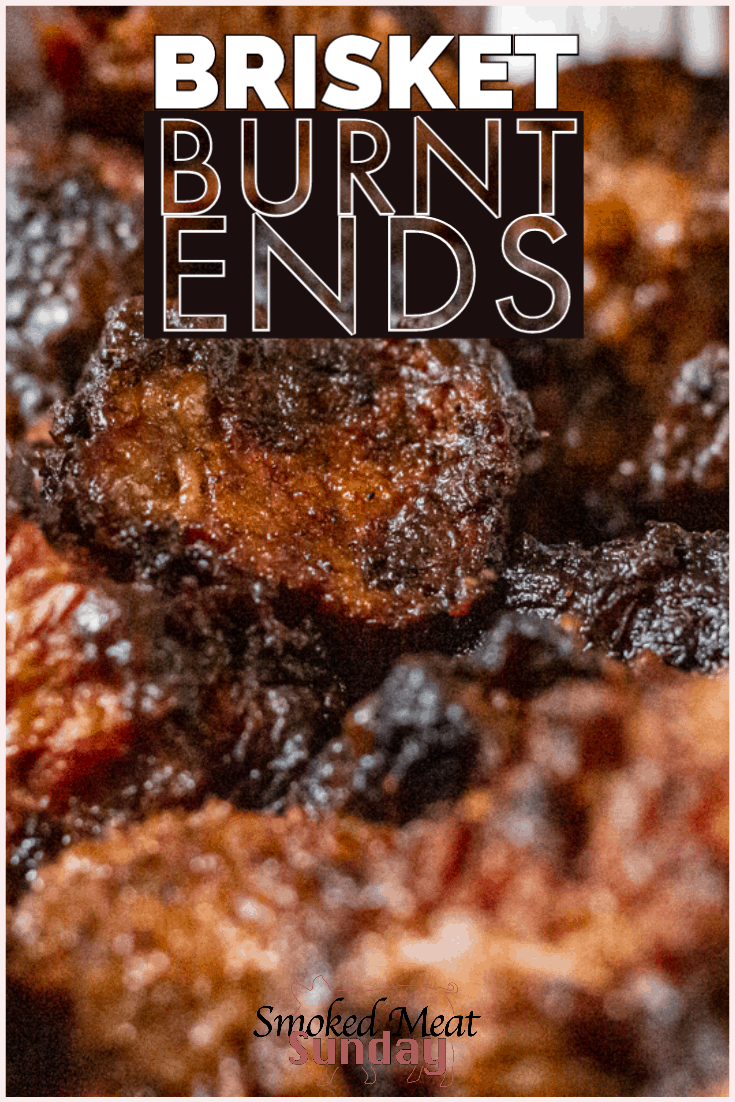 What Are Burnt Ends?
Burnt ends are cubed up tasty chunks of melt in your mouth beef that come from the point section of a brisket. The point is the fattier section of a brisket that lays on top of the flat. These two muscles are separated by a layer of fat, much of which renders out during a long cook.
There are a few different ways to make burnt ends, but my favorite way is to cook the full brisket intact, and then cube up the point near the end of the cook to make the burnt ends. I'll go into more depth on this process later.
Type of Brisket for Burnt Ends
For this bbq brisket burnt ends recipe, I'm using a full packer brisket. You can make burnt ends out of any grade of brisket, but my preference is to get a brisket that is at prime grade or higher. In the video on this post, you'll see that I used a Wagyu Brisket. The higher grade of meat has more intramuscular fat that will melt while it smokes at a low temperature, keeping the brisket from drying out during the cook.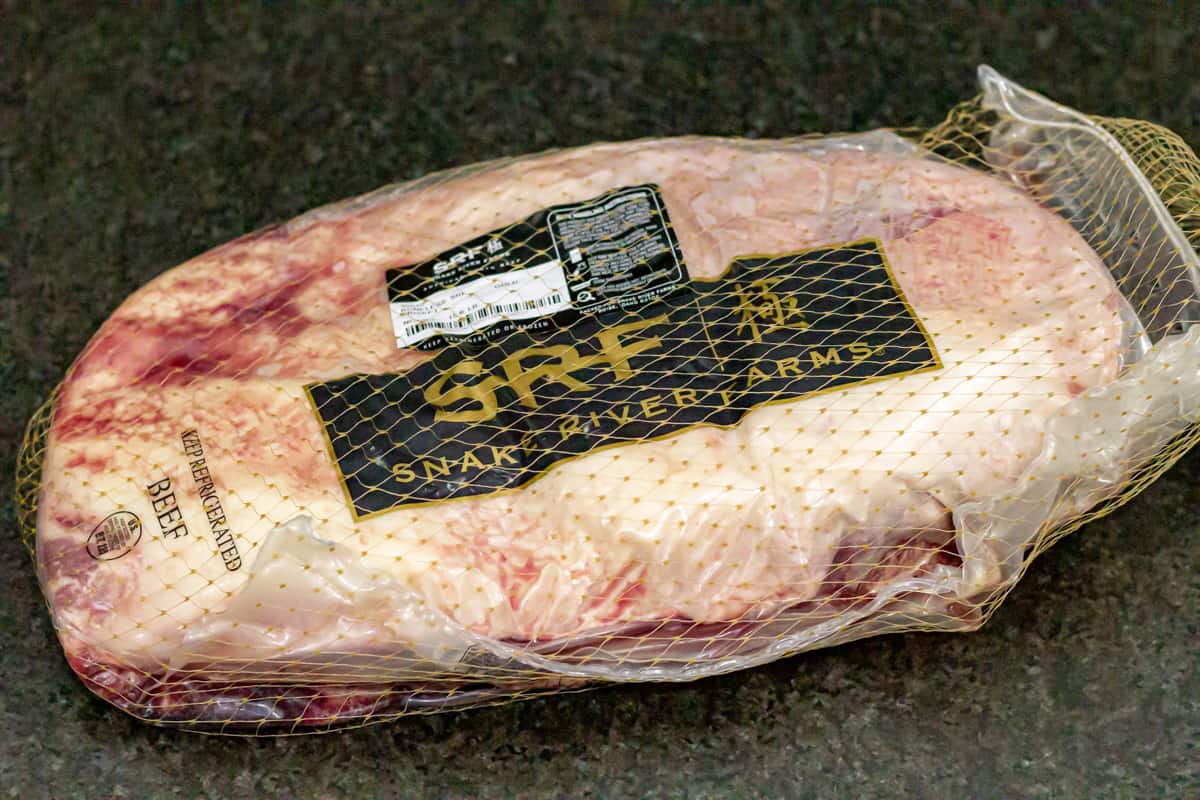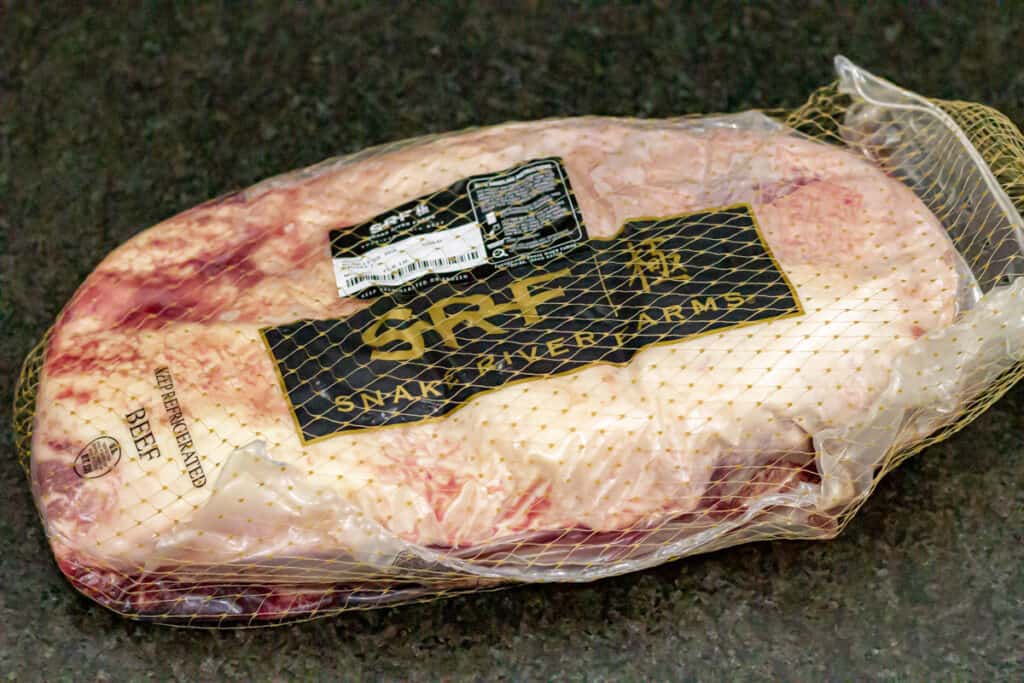 If you go with a prime grade brisket I'd recommend wrapping the brisket when the internal temp hits 160 degrees. Lower than prime grade and I'd recommend injecting the brisket with beef broth prior to the cook. With a wagyu grade brisket, none of those extra steps are necessary.
Check out this video showing how to prep bbq brisket burnt ends.
Prepping Brisket Burnt Ends
When you're ready to get started the first thing you need to do is trim. There is quite a bit of fat on brisket, and not all of it is necessary. One side will have a thick fat cap. Trim the fat cap down to about a quarter-inch thick.
The other side of the brisket will have a little bit of fat over the exposed meat, fillet those fat pieces away as best you can. You can also see the line of fat that connects the point and the flat. We're going to carefully fillet away a good portion of this fat to start the separation process. Use a sharp knife and it's quick and easy to do.
After you've trimmed the excess fat it's time to season with your rub and get the smoker ready.
How to Smoke Brisket Burnt Ends
Set up your smoker to smoke at 180 degrees. I like Cherry wood here, but Oak or Mesquite are great options too. If you're comfortable running your smoker overnight I'd recommend starting this cook the night before you plan on serving.
I estimate about 90 minutes per pound for total cook time, and if you finish early, that's totally ok. A brisket and burnt ends will hold just fine in a cooler at a safe temp for hours.
Season your brisket using your favorite rub. I make a rub that imparts good flavor, isn't too high in salt and produces a great bark. You can purchase the recipe for that rub here.
When you season the brisket be sure to cover the entire surface, on both sides. Pull back the point and season in between the two muscles too. The more rub coverage you can get here the better. It is really tough to over season a cut of meat this large.
Transfer the seasoned brisket to your smoker and let it smoke at 180 for about 7 hours. As I mentioned earlier, I like to put the brisket on the evening prior. So around 9 pm, the brisket goes on the smoker. Then when I wake up around 5 am I bump up the temperature of the smoker to 225 degrees, and make sure my fuel source is topped off.
I only recommend doing the overnight cook if you have confidence in temperature control of your pit and if you know your fuel source won't burn out.
Use a Thermoworks Smoke to keep track of your temps. There's a big advantage to using the Smoke on overnight cooks. Not only does it have a handy monitor that tells you the temps that you can keep at your bedside, but if the chamber temp starts falling a LOUD alarm will let you know...
Continue letting the brisket smoke at 225 degrees until the internal temperature hits 195 degrees. At 195 you'll remove the brisket from the smoker, and separate the point from the flat.
Seasoning Burnt Ends
This is a good time to wrap the flat with some butcher paper as well. Place the flat back in the smoker, and then chop up the point into 1" - 1 ½" cubes. Place them in a disposable pan, and then sprinkle more rub on them. I'm using my homemade rub that is low in salt, so it's tough to over season. Be aware of that if you're using a different rub here.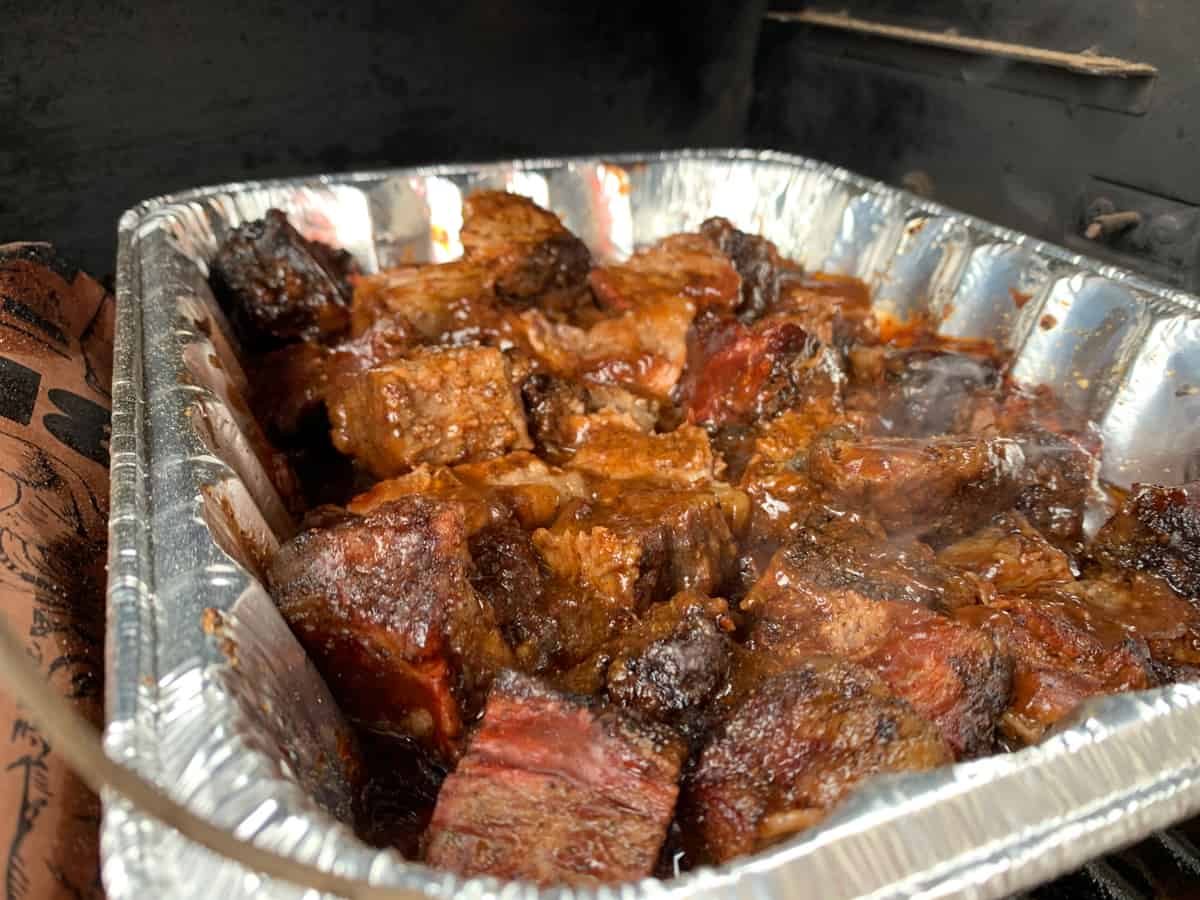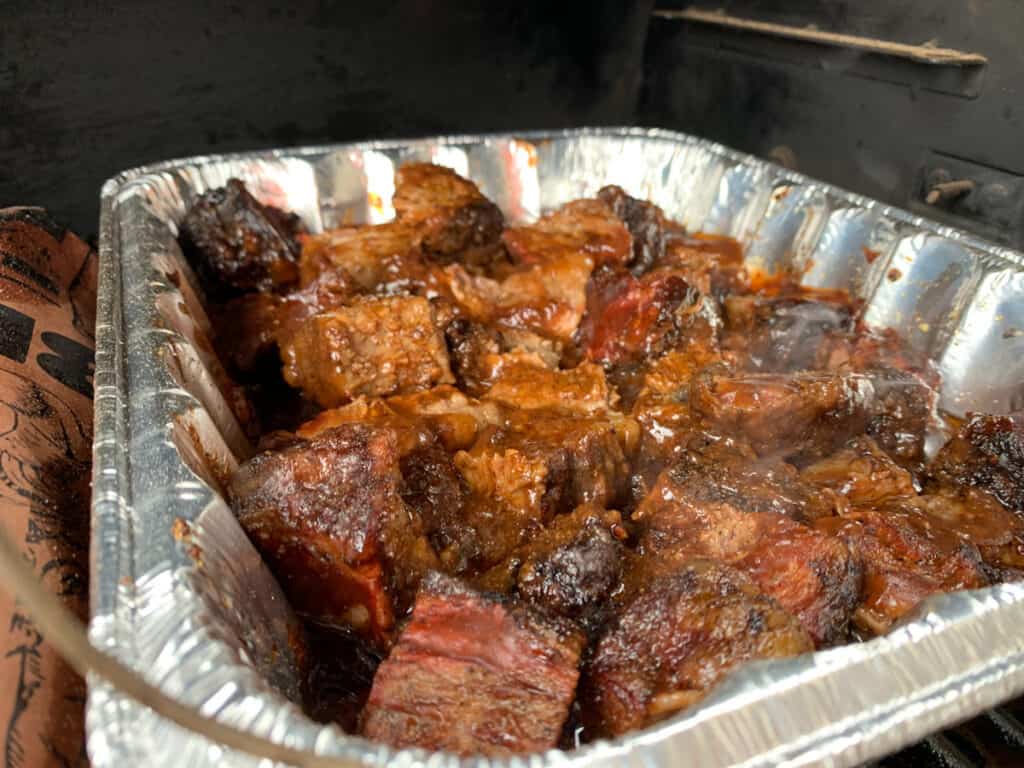 After seasoning the chopped up brisket cubes, pour about 12 ounces of bbq sauce over them. Place the burnt ends in your smoker, and let them cook uncovered next to the brisket flat. Continue to monitor the temperature of the flat, and when the internal temp hits 205 remove it from the smoker, wrap in foil, and place in a high-quality cooler to rest.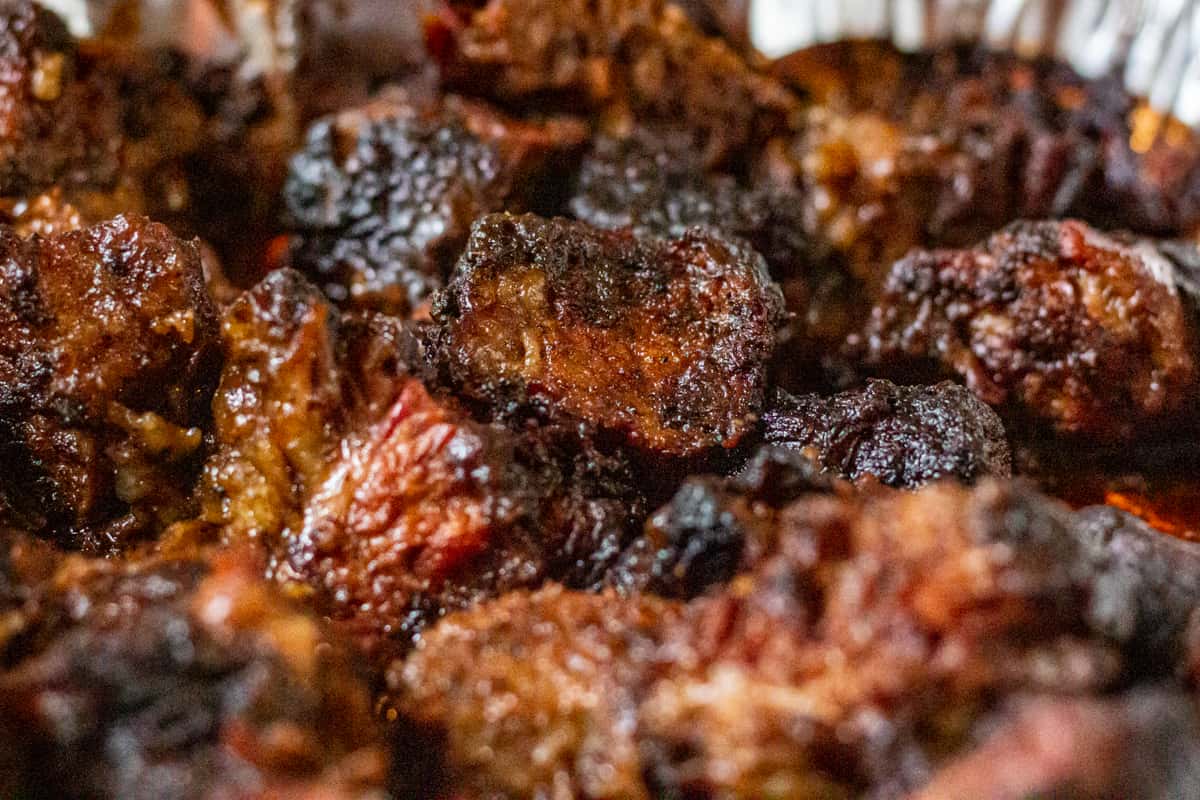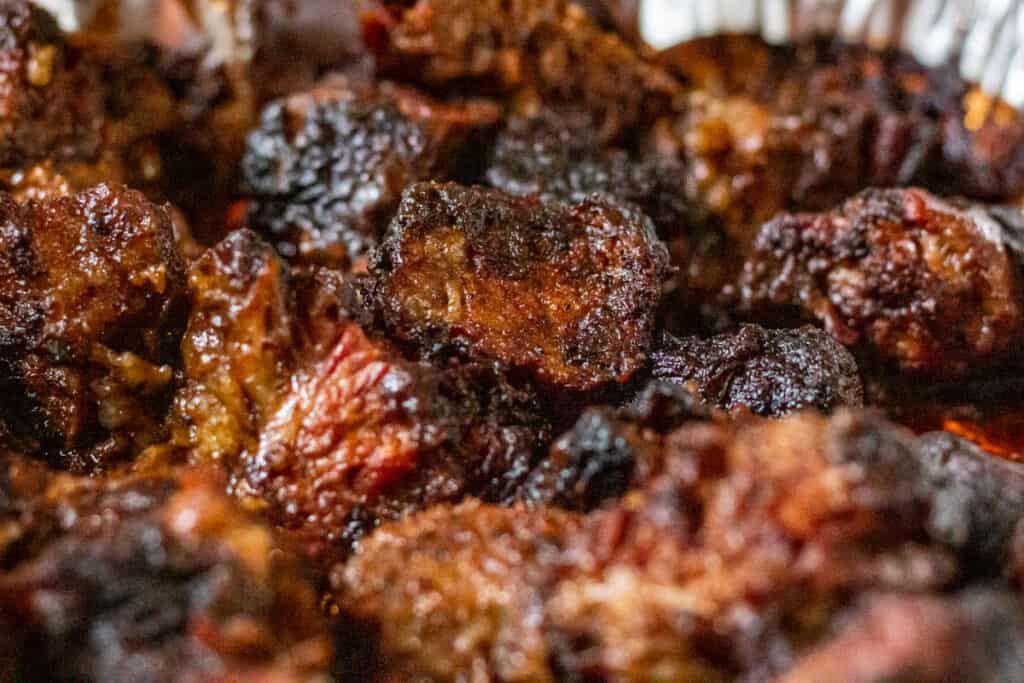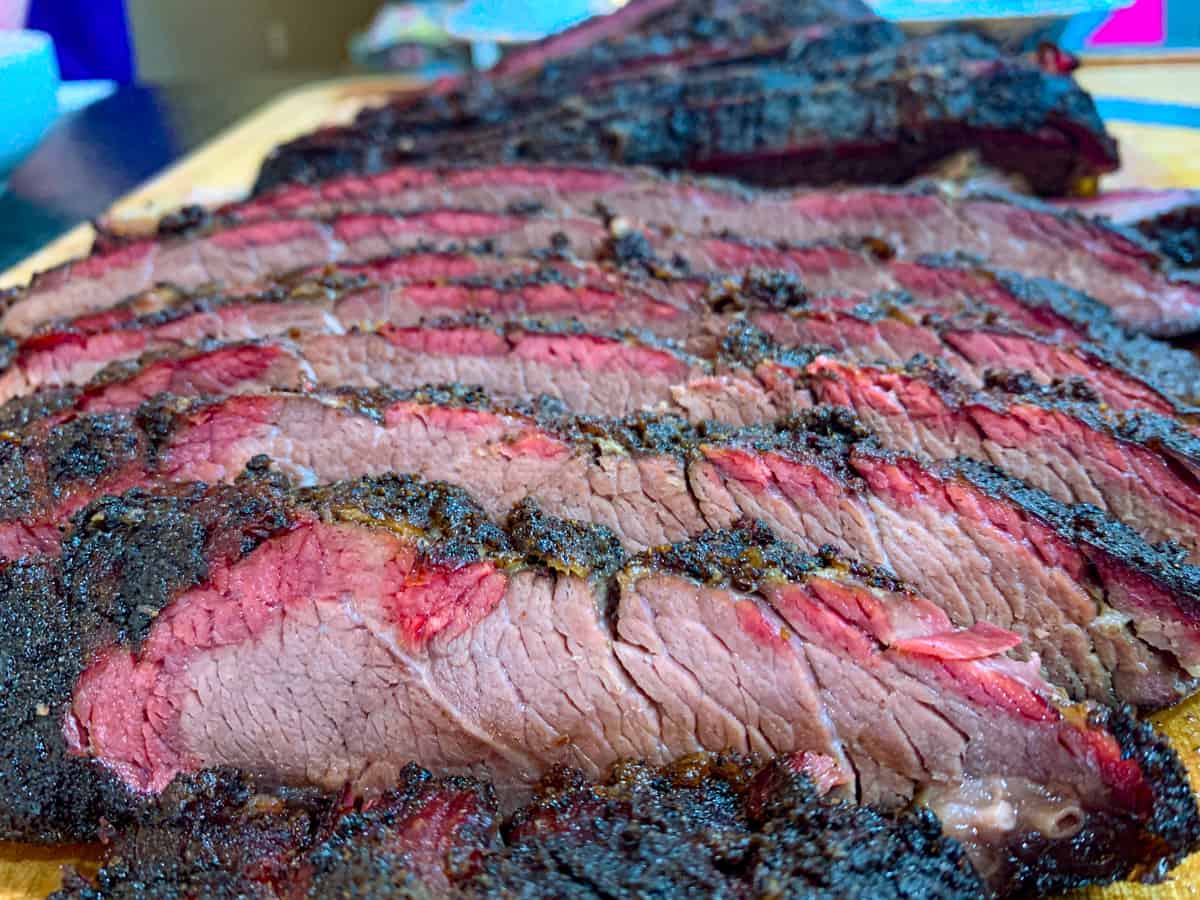 Finishing the Burnt Ends
After you remove the flat toss the brisket cubes in the sauce again and then adjust your temperature up to 275 degrees. Let them continue to cook until the sauce has reduced down to almost nothing. It should be about 60 minutes after you turn up the heat.
Serve alongside the sliced brisket flat, and get ready for some of the tastiest beef you've ever experienced.
Brisket Burnt Ends
These tasty little morsels are considered one of the best bites in bbq. Simple to make with a little bit of planning. you've gotta try making these!
Ingredients
1

Full Brisket

14-16 lbs

2

cups

bbq rub

12

ounces

bbq sauce
Instructions
Trim fat cap down to a ¼".

Trim fat on the other side of brisket away, and then carefully trim away a good portion of the fat between the point and the flat.

Generously season the brisket with bbq rub and then smoke at 180 until the internal temperature hits 160.

Adjust the temperature of your smoker up to 225 and continue smoking until internal temperature hits 195.

Separate the point from the flat. Wrap flat in butcher paper and continue smoking.

Cube up point and place in a disposable tin. Season with more bbq rub, then coat with bbq sauce.

Place in smoker uncovered and let smoke until flat reaches internal temp of 205. Wrap flat in foil and place in cooler to rest.

Bump temperature of smoker up to 275 and continue cooking burnt ends until the sauce has reduced and the beef pieces appear charred and tacky.
Notes
Pay attention to the rub you use here. If it's high in salt back off on the amount of rub you use when you season the chunks of the point.
Nutrition
Serving:
1
g
|
Calories:
333
kcal
|
Carbohydrates:
46
g
|
Protein:
19
g
|
Fat:
8
g
|
Saturated Fat:
3
g
|
Polyunsaturated Fat:
4
g
|
Cholesterol:
53
mg
|
Sodium:
1370
mg
|
Fiber:
2
g
|
Sugar:
38
g