Traeger makes incredible barbecue products, from their line of top-notch pellet smokers to a wide range of barbecue accessories and gadgets to make your grilling experience that much easier.
Instant read thermometers are an integral part of any good barbecue setup. I like to use mine alongside a pit thermometer to help monitor the cooking temperature of my smoker as well as the progress and target temperature of my protein.
The Traeger instant-read grill thermometer is a great little grilling/barbecue accessory that will help you add precision and accuracy to your barbecue setup. I recently had the opportunity to take the Traeger digital instant-read thermometer for a test drive and what I found was a very nice, quick read digital thermometer. While there is still some room for improvement in the design, if your looking for a great thermometer and are a fan of the Traeger line of products, this thermometer might be the perfect choice for you.
Traeger Digital Instant Read Thermometer.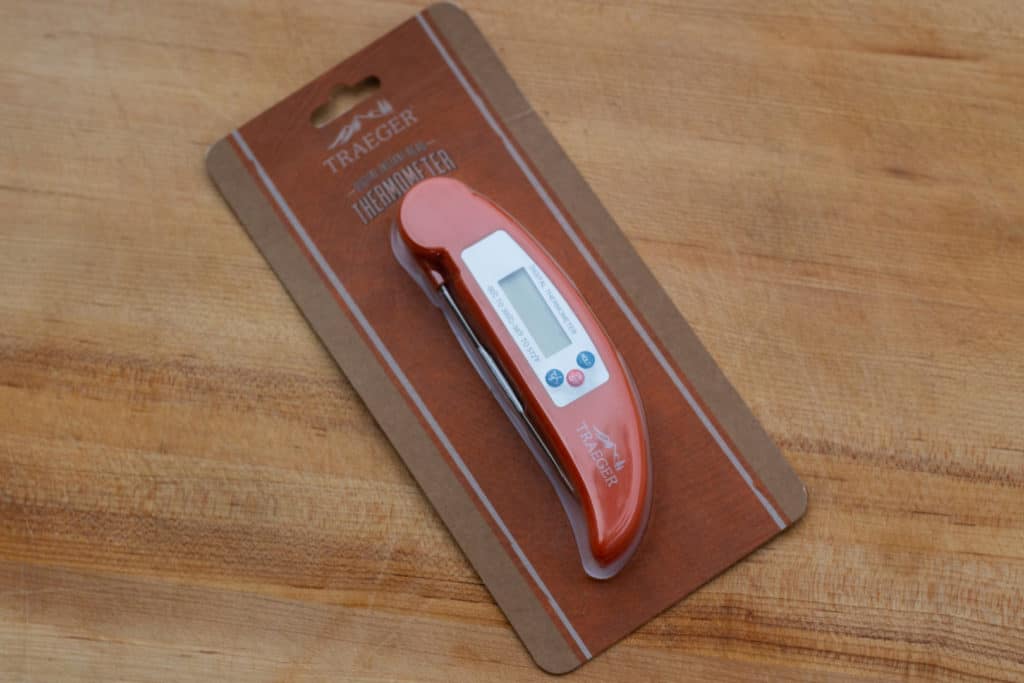 What We Liked:
Folding probe design
Runs on a single AAA battery
Step down probe
What We Didn't Like:
The probe hinge felt loose
No calibration function
Look and Feel:
Out of the box, the Traeger Instant Read thermometer feels like many folding probe thermometers on the market today. Similar in shape/design to the Thermopro Tp19 or the Thermoworks One, this thermometer definitely feels familiar.
The body of the thermometer is bright orange with a Traeger logo prominently displayed towards the back of the thermometer handle. The LCD display is centered on the body/handle portion of the thermometer and has a large easy to read display. Sadly the display is not backlit, which means you'll need to rely on outside illumination like a flashlight in dark or low light situations.
On the face of the thermometer, there are three buttons in addition to the display, a simple on/off switch, a temperature format selector that allows you to switch between centigrade and Fahrenheit, as well as a hold button. The hold button/function allows you to hold the final temperature on the display after you've removed the thermometer from your product, which can be convenient if you don't want to get too close to the inside of your pit, or if you're trying to temp something at an awkward angle where the display might not be easily readable.
The back of the thermometer is flat and unadorned other than a battery compartment that houses the single AAA battery it takes to power the Traeger thermometer. There has been a shift recently towards rechargeable battery options in the thermometer world recently, and while I'll take a rechargeable battery over a button battery option, personally I think a AAA battery is the most convenient choice in terms of power options. I've got a bad habit of forgetting to recharge important accessories, and button batteries are inconvenient because you have to remember to keep a spare on hand should they run out of batteries. AAA batteries on the other hand are. pretty ubiquitous, and you can always harvest one from a remote or controller if need be.
Features:
Temperature range of -58 degrees to 572 degrees Fahrenheit
Auto Power off after 10 min. of being idle
Runs on 1 AAA battery
Using the Traeger Instant Read Thermometer.
I tested the Traeger instant-read meat thermometer over the course of a lazy Sunday smoking session. The plan was to test out a new competition recipe for pork ribs, so I decided to use the Traeger thermometer in addition to my regular instant-read probe to get a feel for how it stands up to the competition.
After the smoker was lit and the ribs were starting to cook, I opened up my new Traeger digital thermometer and got a feel for its design and functionality. Compared to other instant-read thermometers I've used before the Traeger Digital Meat Thermometers has a very familiar design, but lacks some of the design touches that I really like in other models.
Overall the hinge on this thermometer felt a little loose and the thermometer itself felt less firmly assembled. I'm not sure why, but it felt a bit hollow in my hand and the hinge itself clicked oddly as it opened. Once the probe was extended and locked into place it felt firm, but it definitely had a little more play than I would have liked.
I used the Traeger probe to take a range of temperatures over the course of my smoking session, and overall it read quickly and accurately. The readings I got from the Traeger grill thermometer were right in line with those from my in smoker thermometer set up as well as the readings from my daily driver instant-read thermometer.
Over the course of 10 readings, it took an average of 6.5s for the thermometer to stabilize and provide an accurate reading. Thanks to the step-down probe style, and precision temperature sensor, the initial temperature readings were almost always within 2-3 degrees of the final temperature after 2-3 seconds.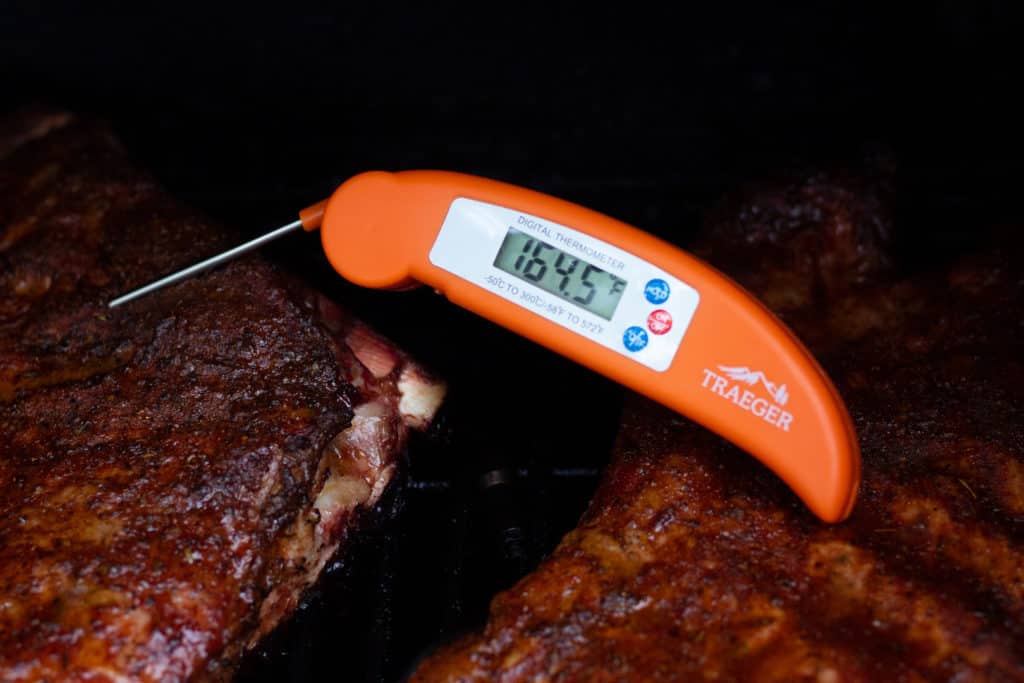 I like to take multiple temperature readings from different spots on my barbecue and once the thermometer was "primed" readings started to come even faster as the temperature of the probe was closer to the internal temperature of the ribs.
While the instant-read Traeger digital thermometer does a great job taking internal temperature readings of almost any product you happen to be barbecuing, roasting, brewing, or frying, it isn't really built for taking an overall grill temperature. In general, if you want to keep track of the ambient temperature of your cook chamber or pit, it's best to go with an in-oven or in-smoker thermometer probe.
I did miss the backlight function available on my regular instant-read thermometer while using the Traeger model. The inside of a barbecue pit can be a little dim, and without a backlight, it can be tough to see the digital readout clearly. This is where the hold function came in handy. When pressing the hold button, the Traeger probe will sound a small alarm when it reaches a stable temperature and will continue to display the final temperature after you remove it from your product.
Should you buy the Traeger Digital Instant Read Thermometer?
Check Latest Traeger Digital Instant Read Thermometer Price
Overall, the Digital Instant Read Thermometer by Traeger Grills is a pretty good example of a high-quality quick read thermometer. While there is certainly some room for improvement if you're a fan of the Traeger line of products this thermometer will make it easy to quickly check the temperature inside of any barbecue product you have in the pit.