Thermopro has have been long considered one of the standard-bearers for high-quality, instant-read meat thermometers. If you've spent any time online researching barbecue or grilling tools, chances are you've probably heard of a Thermoworks product before.
Whether you are a hobbyist or long-time barbecue veteran, the fact remains, a high-quality instant-read thermometer is one of the easiest ways to help improve your "q". When you are smoking meat, the last thing you want is to leave the door to your pit open for a second longer than you need to. With a well-made instant-read thermometer, you can open your pit, grab a temp reading in under 10 seconds and close it up again, preserving the heat level and the smoke draw.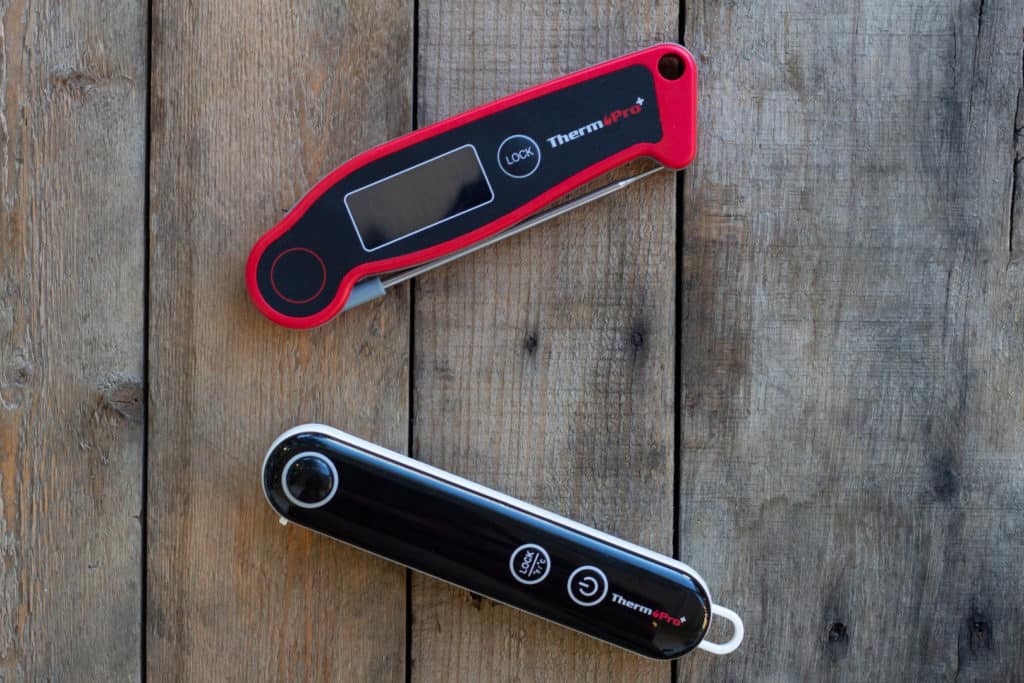 Both the Thermopro TP18 and TP19 are definitely winners when it comes to reading temps quickly, while also remaining incredibly easy to use. If you're looking for a new instant-read grilling thermometer, and you want something that's going to make it super easy to get quick, consistent readings from your barbecue, both the TP18 and TP19 should be at the top of your list.
Thermoworks Instant Read Thermometers.
If you've never used an instant-read thermometer, it might surprise you just how much more quickly they achieve an accurate temperature reading as opposed to more traditional digital or analog thermometers. Thanks to a fast thermocouple sensor, with an instant-read thermometer like the Thermoworks Thermopro TP 18 or TP19, you can achieve accurate readings in under 5 seconds.
Thermopro has been making top-of-the-line instant-read thermometers for nearly a decade and by now they really know their business. Over the years they have produced some awesome barbecue thermometers at a value that's hard to beat.
Thermocouple thermometers are different from traditional thermister style temperature probes. By focusing the thermocouple on the very tip of the thermometer, Thermoworks can create a food temperature thermometer that reads far more quickly with greater temperature accuracy than traditional thermister style probes. Furthermore, because of their precise thermocouple sensor, these ultra-sensitive thermometers traditionally have a wide temperature range and can handle higher temperatures than a thermistor thermometer. This means you can use your TP18 or TP19 meat probe thermometer to monitor the temperature of everything from barbecue to candy making or deep frying.
Thermopro TP 18
With a sleek, space-age design, a spring-loaded temperature probe, and a lock feature for easy reading, the Thermopro TP18 is a great option for your barbecue arsenal at a super affordable price. With the ability to calibrate for accuracy, and low cost for AAA batteries, the TP18 should last you for years to come!
What we like.
Uses AAA batteries.
Auto-off feature helps save battery life.
Quick & accurate readings.
Lock feature allows you to keep your readings after you've removed the probe.
Magnetic backing makes it easy to find and store.
What we don't like.
Spring-loaded probe release feels unnecessary.
The display is hard to read in direct sunlight.
Build is a little flimsy.
Hows does it look and feel?
Out of the box, the Thermopro TP18 feels like a space-age thermometer. With a rounded profile, a sleeky folding probe, and a silver finish it is reminiscent of the mind eraser prop from Men in Black. The back of the thermometer has an easy-to-access battery compartment and it takes AAA batteries which is really nice as they are much easier to find than watch batteries.
The display is a large black digital window with a strong backlight and a super easy-to-read digital readout. At the top of the thermometer is the hinge and towards the bottom is a small kitchen hook that makes it easy to hang the Thermopro TP18 from a tool rack or hook.
Lock feature.
The front of the TP18 meat thermometer features a dedicated power button and a lock/temperature unit button. While the switching between temperature units is pretty standard on most meat thermometers, the ability to lock a temperature reading is a feature that can really help you achieve incredible results, especially with barbecue. To use the lock feature you press the lock button after taking a temperature reading and when you remove the thermometer the reading continues to persist until you unlock the temperature probe. This helps keep the time you need to keep your pit open to a minimum as well as keeping your face free of excess smoke or irritants from your barbecue.
Spring-loaded thermometer probe.
One feature that is highly visible on the Thermopro TP18 is the spring-loaded stainless steel thermometer probe button front and center at the very top of the thermometer body. This large black button operates like a spring-loaded knife and releases the thermometer probe from its folded position with a simple push.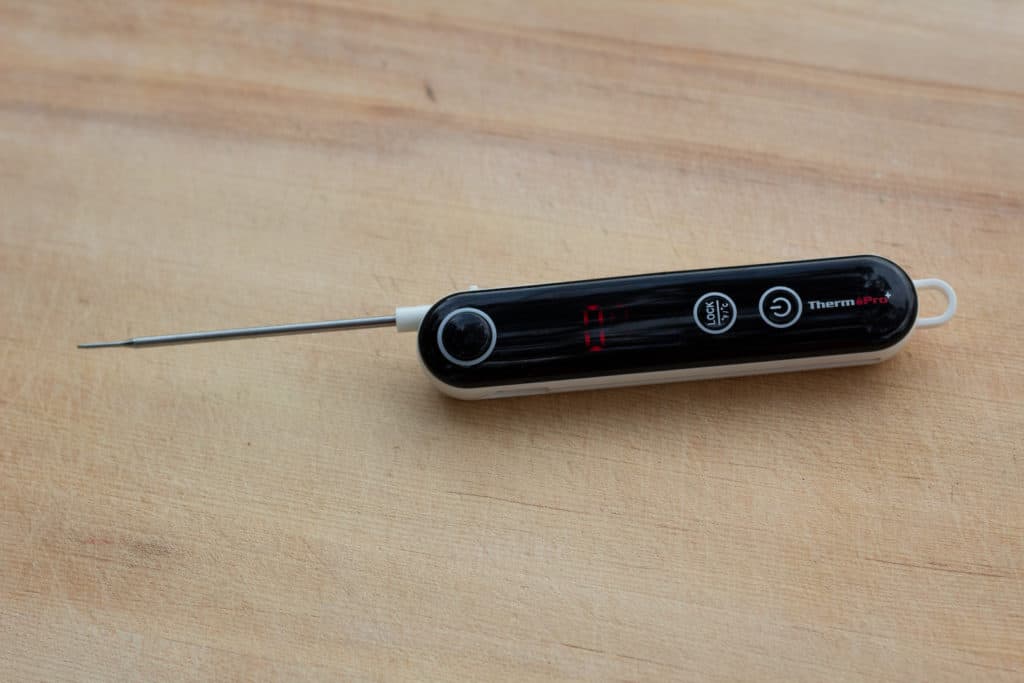 The spring itself isn't overly hard to depress and the probe opens with a relatively smooth action. Opening the thermometer doesn't turn the probe itself on as some other models might, and you'll still have to press the power button to switch it on.
Closing the stainless steel probe can be a little touchy because of the recesses storage slot for the probe itself. Make sure to close it fully until you hear the lock click into place.
Using the Thermopro TP18
Once I had my new Thermopro TP18 kitchen thermometer unpacked and ready to go I headed out to take a few quick test readings. Once outside in the glare of my backyard, I noticed the display was a little more difficult to read than I had anticipated. The red color of the digital read-out washes out a little bit in high light and the rounded bevel of the thermometer itself creates a glare that can be a little frustrating.
In low light, however, this food thermometer is super easy to read. For longer smoking events like marathon brisket sessions, it will definitely look great when the sun goes down thanks to the backlit display.
Taking a reading with the TP18.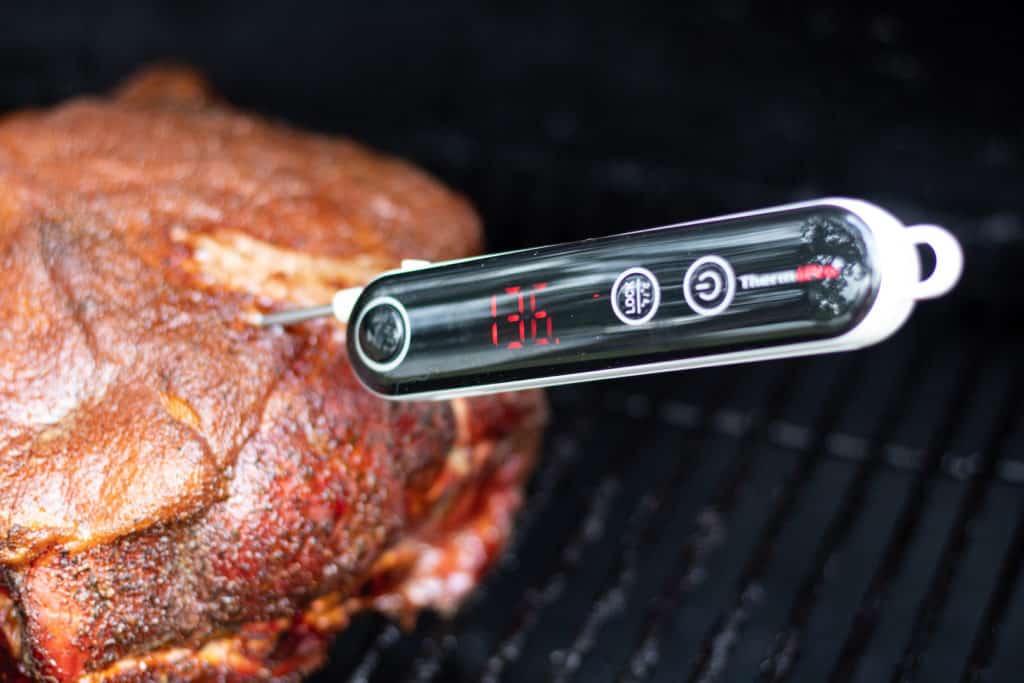 Once I'd gotten the thermometer open (it took a second to figure out the push button switch) I got down to testing some temperatures with the TP18. I had been smoking a pork shoulder to christen the thermometer so I opened the lid to my barrel smoker and popped the probe into the pork butt along the shoulder blade.
This thermometer reads incredibly quickly. It was in the pork shoulder for less than 2 seconds before it reached an approximate reading and only took 3.25 seconds to achieve a stable and accurate temperature reading.
While the display was difficult to read in direct sunlight, in the shade of my barrel smoker it was bright and easy to understand. The lock feature was also incredibly useful. After the reading stabilized I pressed the lock button and immediately closed the pit lid to help maintain an even temperature while my barbecue was cooking.
The nice thing about the lock feature is it helps get the pit closed up quickly without worrying about losing your internal temperature reading. Once the lock button is pressed it holds the temperature reading on the display until it is pressed again. Keeping your pit temperature even and consistent is the building block of good barbecue and the lock feature definitely helps.
Thermopro TP 19
While the TP18 has a more rounded, space-age appearance, the Thermopro TP19 is a much more familiar design, with hard lines, a heavy-duty build, and a large profile. Thanks to AAA batteries and an auto-off feature, the TP19 is almost always ready to go when you open the probe to take a ready.
With a large, easy-to-read display, advanced motion sensor, and a stainless steel thermocouple temperature probe, the TP19 is a great option if you are looking for a high-quality, straightforward barbecue temperature probe.
What we like.
Water-Resistant design.
Great built quality.
Uses AAA batteries lowering long-term costs.
The auto-off feature helps save battery life.
The motion sensor turns the TP19 on automatically.
Speedy readings.
What we don't like.
Screw-threaded battery covers are difficult to access quickly.
The display is hard to read in direct sunlight.
Hows does it look and feel?
The Thermopro TP19 feels like a really well-made thermometer and after years of using cheaper, thermister style thermometers, it was a real joy to use. At just under 2 oz the TP19 feels sturdy in your hand and with a supersized display it's very easy to read.
The body of the thermometer is a dark fire engine red with a flat black display panel. The back of the thermometer has an access panel for the battery compartment, a toggle switch to move the thermometer from Fahrenheit to celsius, and a convenient recommended temperature guide. Inside the battery compartment, you'll find the calibration button should you need to use it.
At the back of the thermometer body, there is a generous kitchen hook that makes it super easy to keep track of the thermometer when not in use. It's also a lot of fun to twirl around on your index finger when hanging out by your pit trying to keep the itch to open it up and check the temperature at bay, sort of like a barbecue fidget spinner.
No Power Button, No Problem.
One of the first things I noticed when I opened up the packaging for the TP19 was the lack of a dedicated power button. Thanks to an advanced motion control sensor, the TP19 doesn't need a power button and will automatically turn on whenever agitated or opened to expose the probe. The thermometer will also shut off when you stow the probe by folding it back into its closed position which is a really nice feature considering how many times I've let my cooking thermometer run out of juice by forgetting to turn it off.
Other than the ThermoPro branding and the digital display window, the only other feature on the front of the thermometer is the lock button that allows you to keep the temp readout in a fixed orientation. As you handle the thermometer you may notice that the screen will rotate when flipped thanks to the advanced motion sensor allowing for ambidextrous usage, the lock function allows you to keep the screen in one orientation that's most convenient for you.
Water Resistant Design!
One really nice aspect of the Thermoworks TP19 is its water-resistant design. Thanks to a tightly assembled body, and the gasket surrounding the battery compartment, you can rest assured that as long as you don't plan on submerging it regularly, it should stand up to most kitchen/barbecue mishaps. This can come in really handy when barbecuing, especially if you leave it outside in an unexpected thunderstorm, which I've definitely done with other thermometers before.
The waterproof battery compartment is secured by a Phillips head screw and the Thermopro TP19 comes packaged with a small screwdriver to assist with battery installation. Opening the battery chamber was simple enough and the AAA batteries included with the TP19 slid right into place. Tightening the battery chamber was more difficult than anticipated and this was primarily because of the waterproof gasket protection of the battery compartment and internal electronics.
Using the Thermopro TP19
Using the ThermoPro TP19 thermocouple thermometer is a breeze. After I installed the batteries and tightened down the battery compartment I spent a few seconds searching for an on-off button before I opened the thermometer to extend the probe. I probably should have read the instruction manual before wasting my time looking for a power button, the TP19 probe thermometer automatically turns on when it is opened or moved around thanks to ThermoWorks' "advanced motion-sensing technology".
Once I'd ascertained the proper method for powering on my new TP19 instant-read meat thermometer I inspected the design a bit more before taking doing a few small tests.
Moving the thermometer from hand to hand I discovered that the digital display automatically flips whenever the thermometer is rotated. This is a really useful feature that makes it easy to use for right-handed and left-handed users.
The display itself is large and prominent with bright red backlit numbers. The numbers themselves resemble the digits on digital scoreboards with large red segmented numbers. At first, I loved the display and found it easy to read, but I was standing in my kitchen at the time which while not dark, doesn't produce glare you might find in your backyard on a summer afternoon.
Once I brought the TP19 outside I realized that the display was less than suited for brighter situations. While I could read the thermometer well enough, it was more difficult than anticipated and it definitely made getting decent pictures of the display a bit difficult. Luckily, my barrel smoker provided enough shade to read easily, and in low light, the TP19 meat thermometer is a breeze to read.
Taking a reading with the TP19.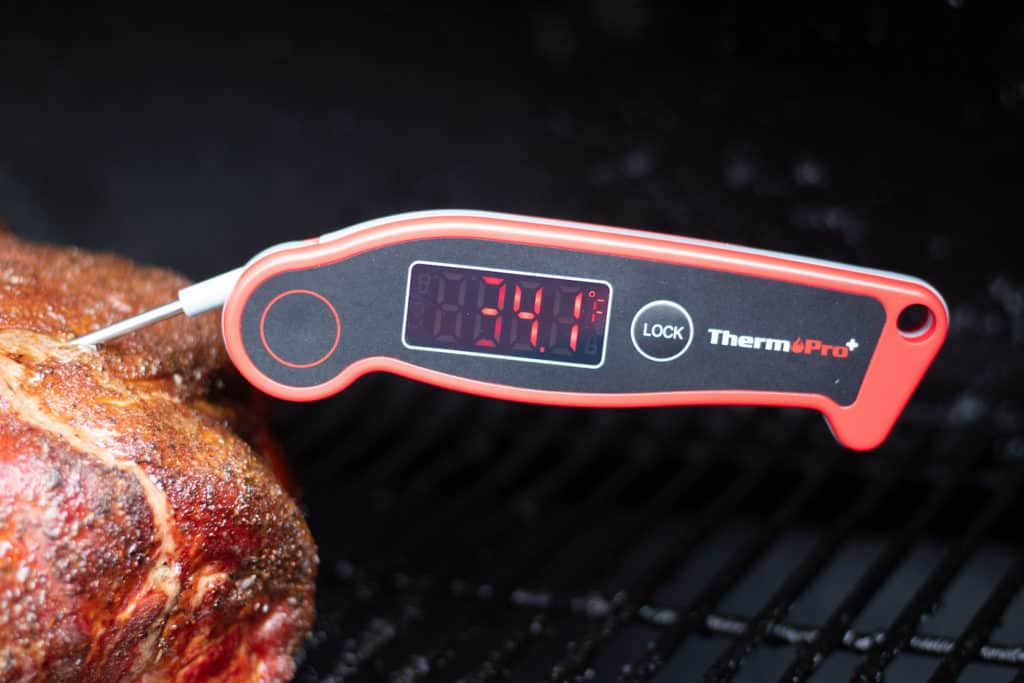 On the day I was testing the Thermopro19 I was also working on a pork butt that had been in my offset barrel smoker for ~4 hours. I pretty much always use a wireless in-smoker thermometer setup to keep track of the pit temp. I also like to use an instant-read thermometer to check different parts of any meats I'm smoking to get an idea of how they are cooking. This helps me rotate and adjust the product as it smokes to make sure it cooks as evenly as possible.
While I don't make it a habit of opening the pit often, I try to do it every 1.5 hours to check on the product and make adjustments. Keeping the pit closed and only opening it for short amounts of time is one of the building blocks of good barbecue, from bark production to even cookign, keeping your pit closed as much as possible is definitely a barbecue commandment. This is where an instant-read thermometer like the TP19 comes in handy because it can get accurate temps quickly which is clutch.
After the Thermopro TP 19 was set up and ready to go, I opened the lid of my stick burner and inserted the TP19 meat thermometer along the shoulder blade bone of my pork butt. Within a few seconds, the Thermopro TP19 was giving me an accurate reading of the actual temperature inside my pork shoulder. While it did take ~7 seconds for the thermometer readout to stop moving and stabilize, the initial reading was only off by ~1-2 degrees and took less than 3 seconds to ascertain.
Once I finished taking my reading I buttoned up the pit lid and wiped the probe clean with a side towel before closing the stainless-steel probe to power off the thermometer.
Final Verdict: Which one should you get?
Check Latest Thermopro TP18 Price
Check Latest Thermopro TP19 Price
Overall, both of these products are great examples of high-quality instant-read thermometers. With easy-to-use designs and sturdy build quality, these are thermometers that make it easy to monitor temperatures, smoke after smoke, barbecue after barbecue.
Whether you want to track the temperature of brisket on your smoker, a turkey in the oven, or deep-fat frying oil for delicious fried chicken, an instant-read thermometer only makes that job easier.
While both these thermometers are great for taking quick, accurate temperature readings, they are definitely suited to different users.
If you are looking for an all-purpose thermometer, but don't plan on using it for solely smoking or barbecue, then I would go with the slightly less expensive TP18. With a convenient magnetic storage solution, an easy-to-read display, and a spring-loaded probe, the Thermoworks TP 18 is great for all sorts of kitchen tasks.
On the other hand, if you are looking for a great barbecue thermometer that's large, heavy-duty, and easy to find when you need it, the Thermoworks TP19 is a great choice. With an auto-off feature that makes it easy to save battery life and an auto-rotating display that adjusts to allow you to take temperatures from different places and angles, the TP19 is built to help you create the best barbecue possible. While the TP19 is slightly more expensive than the TP18 it's worth it if you plan on smoking a lot of meat and want a great thermometer to help you along the way.
Whichever Thermoworks food thermometer you go with, both of these models will absolutely help you monitor temperature and create consistent, evenly cooked food. With thermocouple sensors, food-grade stainless steel probes, and sturdy construction these thermometers are built for the long haul. Both models have a wide temperature range and a maximum temperature of 572°F so they really can handle almost any cooking situation you might envision.