I've been barbecuing and smoking meats for the better part of the past decade and there have been few better decisions I've made as a fledgling pit master than to purchase a wireless pit thermometer.
The ability to continuously monitor my pit temperature from anywhere in my home as well as the temperature of any products I have in the smoker has been a real game-changer for my barbecue quality. Keeping your pit closed is key to consistent barbecue and great bark production. A high-quality digital pit thermometer allows you to keep an eye on things without opening your pit or having to constantly monitor your barbecue's progress.
Recently, in my search for a new pit thermometer, I was able to take a look at two very different expressions of wireless thermometer tech by one of the leaders in the industry, Thermopro. Both the TP08 and the TP20 wireless digital thermometers were a lot of fun to use, but they absolutely appeal to different users.
These thermometers are great options for anyone looking to add consistency, and accuracy to their overall barbecue process. Both will make it easy to monitor your pit and product from a reasonable distance, and they've both got their strong points. Either thermometer will help improve your barbecue, but before you purchase you should definitely take a look at what makes them different.
Thermopro TP20 Wireless Digital Meat Thermometer.
What We Liked:
300-foot range
Easy to read from a distance
Cord keepers included
Runs on AAA batteries
Lots of presets/programs
What We Didn't Like:
Presets/programs were difficult to navigate
No storage bag or case included
Look and Feel:
Both of these thermometers are very similar in design and built, so these description sections will probably seem pretty close to identical.
After unpacking the TP20 and getting all the cords sorted, what I found was a well-built thermometer base/transmitter and a wireless temperature monitor/receiver.
The two temperature probes included with the Thermopro TP20 are made from stainless steel and had braided steel cords. Braided steel cables continue to be the best solution for thermometers as they can stand up to a wide range of temperatures, but they can crimp and become tangled which is annoying.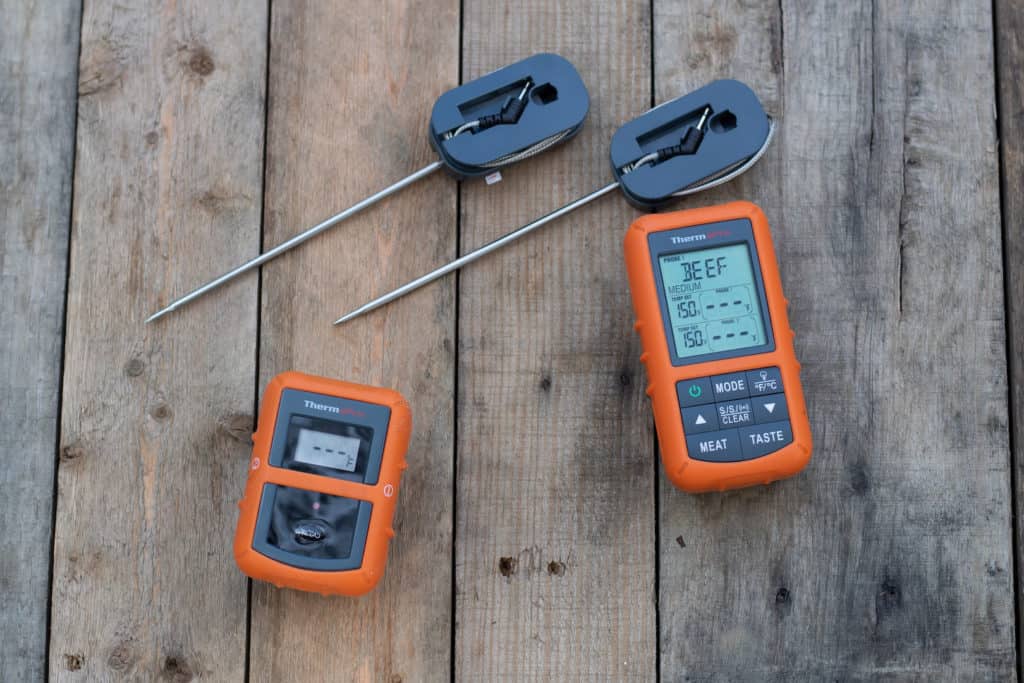 The TP20 definitely stands out from the TP08 when it comes to a cord storage solution. The TP20 comes equipped with two cord keepers that allow you to wind the cords and secure the probes for easy storage.
The body of both the thermometer base and receiver were black and orange. The thermometer base is slightly smaller than the receiver and has a centered digital readout that displays the temperature of either probe when in operation.
While the thermometer transmitter itself is small and straight forward the receiver/thermometer monitor is a different story. The display is large and placed at the top of the rectangular body and it displays the current temperature of both thermometer probes, while also offering information about any preset program or temperature range you may have chosen.
The controls are located on the bottom third of the temperature monitor, and consist of a panel of 8 buttons. The power button, backlight/temp-format button is self-explanatory, while the other controls take a bit more research to fully understand.
The "Mode" button allows you to pick between thermometer and timer mode, while the "meat" button allows you to cycle through different preset and user-defined programs, with options for common grilled/barbecued proteins, as well as an oven function that makes it easy to monitor the temperature of your cooking medium. The taste button at the bottom is used to cycle through the preset, recommended cooking temperatures like "medium", "medium-rare" or "well done".
If this sounds confusing, believe me, it definitely was. The controls on this model leave a bit to be desired, but I'll get into that in the next section.
Both the thermometer base and receiver run on two AAA batteries which are included in the package. The battery compartments are behind storage clips attached at the back of the thermometer base and receiver. It was a bit difficult at first to finagle the battery compartments open, but once I understood how to manipulate the clip, it was easier.
The backlight on both parts of the TP20 is a mellow orange, and it's really easy to read the display in low light.
Neither of these models comes with included storage solutions and you'll need to find a box to store it in, you can use the packaging for storage but over time it may wear out and you'll need to find something more permanent.
Features:
Set your own temperature settings manually
Remote Range: Up to 300 feet
Temperature Accuracy: ±1.8°F (±1°C)
Temperature Range: 32°F to 572°F (0°C to 300°C)
Countdown & Count Up Timer
Probe and Wire can withstand up to 716°F (380°C)
Rubber sleeve case
Backlight LCD Display; Lost link alert
Using the Thermopro TP20
Once I got the TP20 up and running it took me a long time to actually figure out how to get the most out of it. The control panel is less than intuitive and that's a factor of cramming too much functionality into a tool with an analog UI.
After some experimentation, I was able to get the thermometer set up to my liking and I popped the ambient temperature clip between one of my grill grates and got the probe situated. Once the probe was inserted into the thermometer base it took about 30 seconds for the thermometer receiver/monitor to begin registering the temperature on the screen.
I decided against using a preset program and simply wanted to monitor the temperature situation of my pit while it heated. Though the presets are great if your grilling or roasting meats to a specific temperature, I generally know where I like to keep my pit so it wasn't necessary to use any extra settings.
While the pit was getting up to temperature I kept an eye on its progress from my kitchen and got down to the business of preparing my brisket. Once my brisket was rubbed and seasoned to my satisfaction, I waited around for another 20 minutes or so until the pit was at 275°f.
Once the pit was ready, I loaded the brisket in and inserted the second probe into the center of the point, or larger end. I buttoned up my smoker and sat back to relax while my brisket began its 12-hour journey to barbecue perfection.
Over the course of the smoke, I was able to constantly monitor the temperature of my pit as well as the temperature of the brisket as it cooked. I used the TP20 alongside my regular pit thermometer which is a Bluetooth model, and pound for pound the TP20 was able to provide consistent readings right in line with my regular pit setup without issue.
Given how long the brisket cooked for, I had ample time to take a look at the different presets and programs included in the TP20 meat thermometer. After figuring out how to navigate the menus, it became a lot easier to dial in the temperature ranges, and I could definitely see how the preset, protein-specific doneness presets could be convenient in a grilling or roasting situation.
Even with all the different functions and programs, getting the thermometer set up to my liking was a frustration. I feel that if I were to continue using this setup, I would rarely use any preset outside of the oven/barbecue setting that allows you to set a range for your ambient temperature probe.
Thermopro TP08 Wireless Digital Meat Thermometer.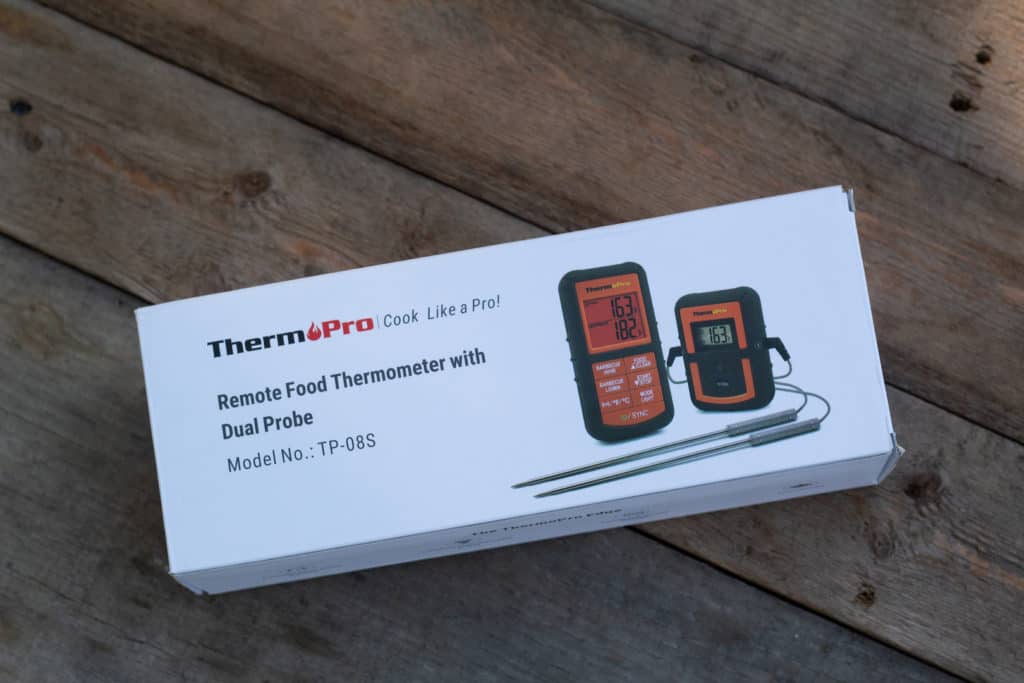 What We Liked:
300-foot range
Easy to read from a distance
Runs on AAA batteries
Simple menus and presets
What We Didn't Like:
Doesn't include cord keepers for probe storage
Storage case not included
Look and Feel:
The TP08 like the TP20 has a rubberized coating encasing both the transmitter base and receiver. The battery chamber for both parts of this thermometer package is located on the backside behind the clip attachment. Like with the TP20 it took me a few seconds to figure out how to open the battery compartments, but I was already semi-familiar with the design so it didn't take as long.
The display on the TP08 is slightly smaller than the display on the thermometer receiver for the TP20, this is because it lacks some of the space dedicated to displaying protein type/preset. The control panel is a bit larger, and the proportions are definitely more 50/50 than the design for the TP20.
Both of the probes for this model are made of the same braided steel cable with thick, and step-down probes as those included in the TP20. Alongside the high-quality probe is the same probe clip that comes with the TP20. In almost every way these meat thermometers are identical, except for their functionality.
While the TP20 came with a storage solution for the cables/probes, the TP08 does not. While both models don't come with included storage solutions for your entire thermometer setup, the cord winders are a really nice feature that I wish Thermopro had included for the TP08 as well as the TP20.
Features:
Set your own temperature settings manually
Temperature Range: 32°F to 572°F (0°C to 300°C)
Countdown and count up timer
Remote Range: Up to 300 feet
Probe and Wire can withstand up to 716°F (380°C)
Rubber sleeve case
Backlight LCD Display; Lost link alert
Using the Thermopro TP08 Wireless Meat Thermometer.
I tested the TP08 during the same brisket smoking session as the TP20 and I can honestly say that even though this thermometer has less overall functionality, it was much easier to operate overall.
Thanks to a reduced feature set, there was less clicking and selecting when using the analog control panel and it was easier to set simple programs overall.
The setup was almost identical to the TP20, after securing the ambient temperature probe I waited until the pit was to temp before loading my brisket and inserting the meat probe into the center of the point which is the thicker side of the brisket.
Over the course of the afternoon, it was easy to set different temperature ranges and target temperatures. The low-temperature alarms alerted me whenever my pit dropped below my temperature range, and the high-temperature alarms let me know when I had a flare-up to control.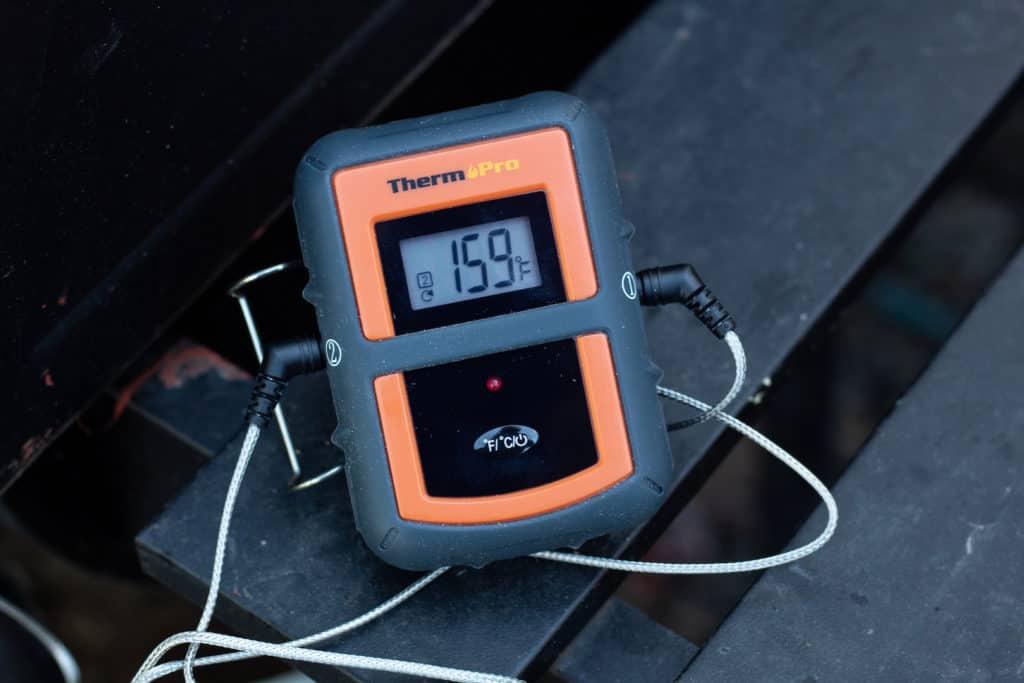 While the thermopro TP20 has a number of meat preset temperatures, the Tp08 doesn't, and honestly, I didn't mind the more limited functionality because it was easier to get my ranges and programs set quickly and efficiently. Maybe I've become spoiled by touch screens, but if you are going to have a lot of options or presets, an analog control panel is never the best option.
In terms of range the TP08 and TP20 are advertised as having a 300ft range, but I found that to be more of an average. I was able to get decent reception from every corner of my lot, and while I don't live on a very big piece of property, I was able to maintain a signal over distances greater than 300ft but your experience may vary.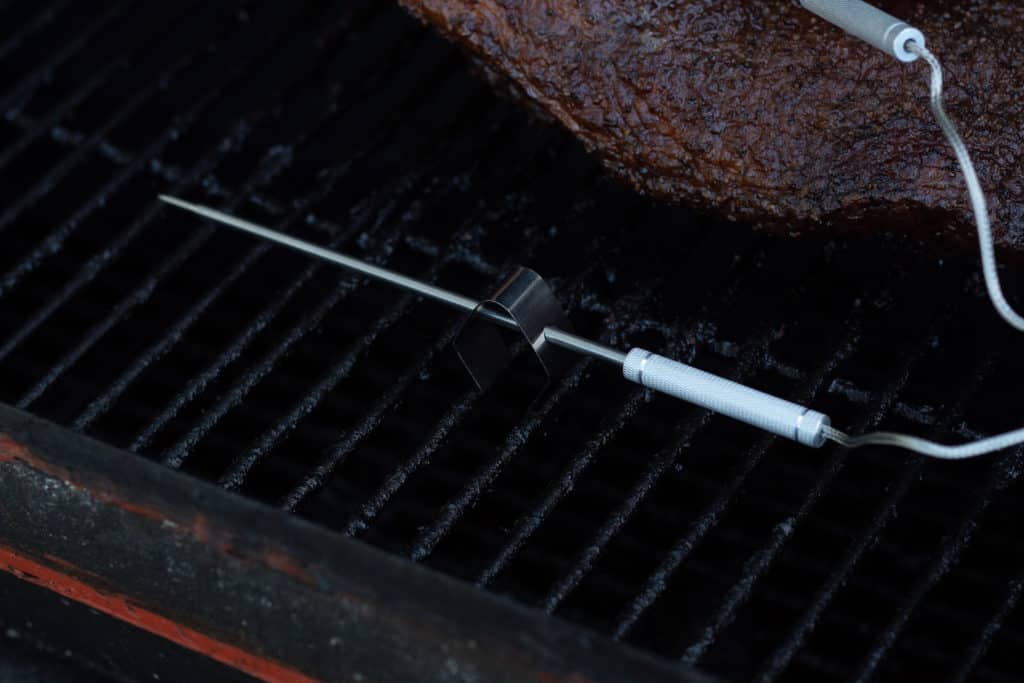 Throughout the day I was able to monitor both the meat temperature and the temperature from my pit probe, resulting in less opening of my pit. The more you're able to keep your pit closed, the faster your barbecue will cook, and the better your bark will be on something like a pork butt brisket.
Thermopro TP20 vs TP08, which one should you buy?
Both of these thermometers are great examples of wireless pit thermometer technology. They have awesome almost identical 300 ft ranges, they've got pretty great battery life and they make it simple to monitor your barbecue from almost anywhere in your home.
A closed pit almost always results in better barbecue and the Thermopro TP08 and TP20 make it easy to keep track of your probe temperatures without having to constantly monitor your smoker.
If you are looking for a thermometer that will work wirelessly and also let you program preset temperature alarms then the TP20 is definitely the option for you. While the TP20 isn't my favorite in-smoker pit thermometer, it would be great for cooking multiple items to specific food temperatures, such as reverse searing proteins, or keeping track of two steaks with different target settings.
On the other hand, if you're looking to save some cash and you only want the ability to monitor your temperatures and don't care about pre-programmed meat temperatures then the TP08 will be more than enough thermometer for you.
While the TP20 might be good as an all-purpose meat/food thermometer, the TP08 really works well as a pit thermometer. The simpler control panel and preset menu make it incredibly easy to keep track of temperatures without a lot of muss or fuss.
Whichever option you choose, these thermometers will make it simple to keep track of your pit temp and product at the same time from almost anywhere in your home.