Thermopro makes a ton of different food thermometers. From wireless and Bluetooth-equipped pit thermometers and multiprobe in oven models to classic fixed probe options and finally, folding probe instant-read thermocouple thermometers.
With an option for every budget and need, there is a reason why Thermopro has seen an increase in popularity over the past few years.
The TP03 by Thermopro is a very functional, introductory-level, folding probe instant-read thermometer. With a strong, familiar design and simple, push-button operation, the TP03 makes it easy to check the temperature of the food on your grill, barbecue, or in your oven with ease.
Thermopro TP03 Digital Meat Thermometer.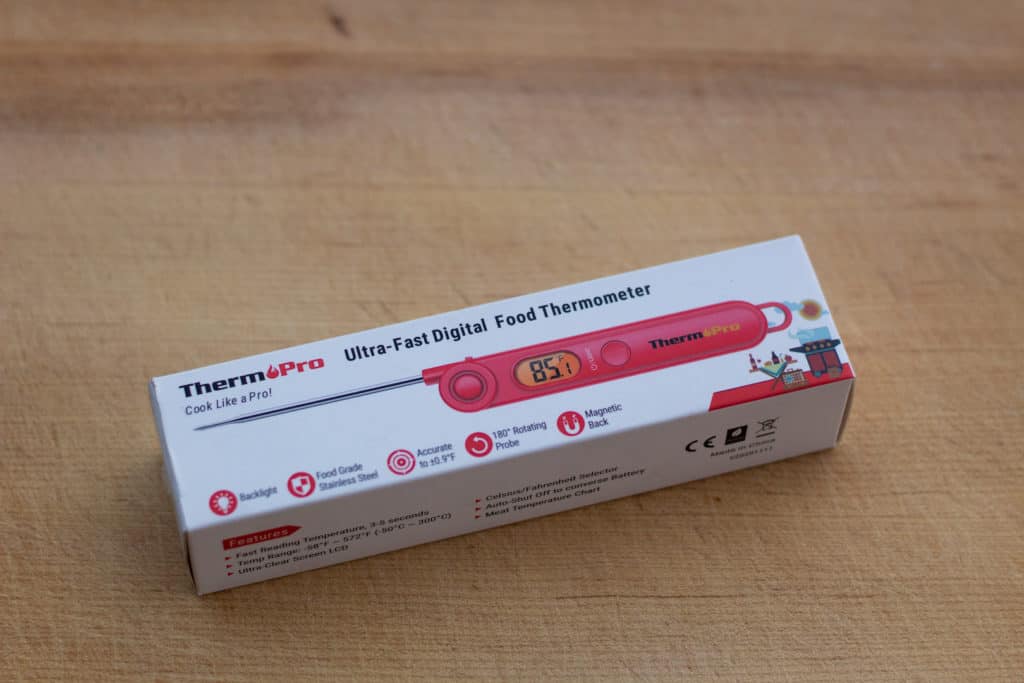 What We Liked:
Folding probe design
Backlit display
Low cost
Runs on a single AAA battery
Step down probe
What We Didn't Like:
Probe button feels fragile
Screen doesn't rotate when flipped
No calibration function
Look and Feel:
The Thermopro TP03 is a highlighter-sized, folding probe instant reading thermometer with a bright red body and a small display at the top of the thermometer base just below the probe hinge. When I first looked at this thermometer, after opening the box, it kind of reminded me of the mind erasing device from Men In Black, if someone had dipped it completely in fire engine paint.
The color may be bright for some, but it's easy to pick this thermometer out of a lineup or spot it if you misplace it while you're cooking dinner.
On the back of the thermometer, you'll find the battery compartment and a small suggested doneness chart. While the chart is very small and difficult to read, it's convenient to have the typical finishing temperatures for different proteins on hand, especially if you're just getting started smoking or grilling meats.
You extend the probe by pressing the button just above the digital display. The action on the hinge wasn't quite smooth and I had to assist it to get the probe fully open and locked into place.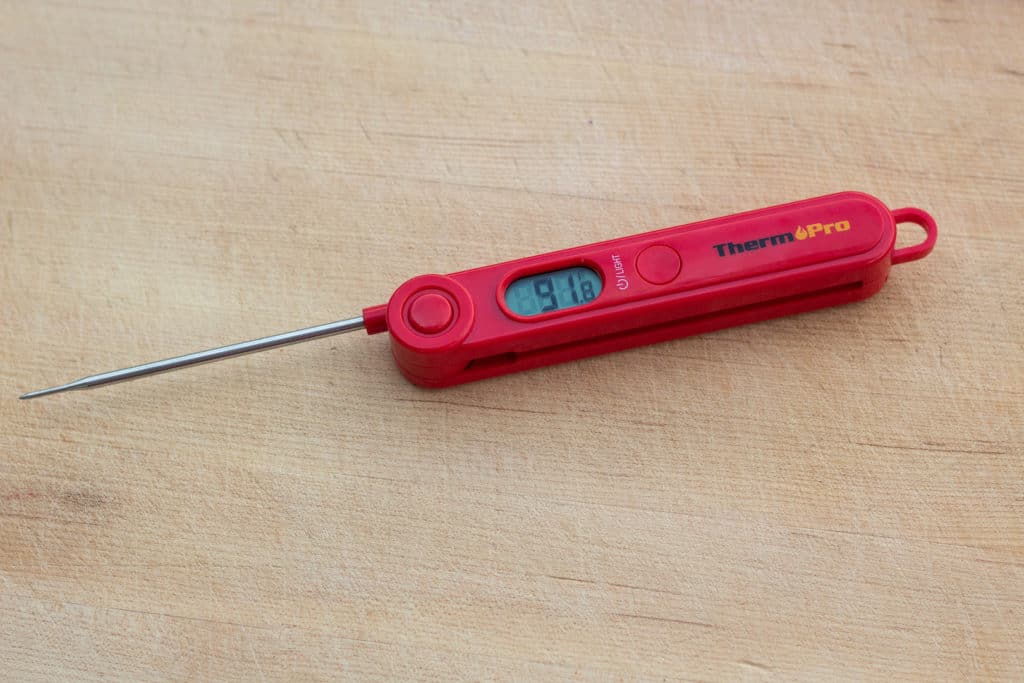 The probe isn't really that long, with a probe length of only 3.8 inches. While it can handle most temperature reading situations, if you're dealing with a really large protein you may need to insert it pretty far to get an accurate internal temperature. The food-grade stainless steel probe has a step-down design with a very thin tapered tip that allows you to achieve quick, accurate readings while keeping the juices locked into your proteins.
You turn the thermometer on by using the power/light button below the display. Many folding probe thermometers employ an auto-off/on function that engages when the probe is opened or closed. The TP03 digital kitchen thermometer doesn't have an auto-on function but it does have an auto-shutoff that engages after 10 minutes of inactivity to conserve battery power. Though I wish it had an auto-on function, the auto shut off is nice, especially if you're forgetful like me and have a tendency to let thermometers run out of batteries at inopportune times
The power button also acts as the backlight switch and you can activate it by pressing the button quickly. If you need to switch between Celsius and Fahrenheit you can do so with the small button located on the back of the thermometer, however, you'll most likely need to use a pen point or toothpick as it's quite tiny.
Sadly, there is no calibration function on this thermometer, and while this is definitely not a problem out of the box, over time, if the thermometer loses accuracy there is no easy way to remedy that.
Features:
LCD display
Foldaway probe is designed for safety and cleanliness
STEP-DOWN probe thermometer to get temperature more precisely and quickly
Battery power saving design
Celsius/Fahrenheit selector
Backlight
Temperature Range: -58°F to 572°F (-50°C to 300°C)
Using the Thermopro TP03 Digital Thermometer.
Instant read thermometers are great for lots of different cooking tasks. I've used mine for everything from deep frying, to brewing or candy making, but I mostly use my instant-read thermometers to help me cook incredible barbecue.
Quick temperature readings make producing barbecue easier, so having a great instant-read thermometer is one of the best ways to produce a more consistent, higher quality "q".
To test the Thermopro TP03 food thermometer I used it to help track a pork shoulder I was planning on cooking in my offset, stick burner. I like to mop my pork butt every hour or so, and I use the short time the pit is open to get a feel for the progress of the meat.
I took 6-7 different readings over the course of a lazy Sunday and the average time it took the TP03 to take an accurate temperature reading was 6.5 seconds.
Compared to other instant-read thermometers 6.5 seconds isn't something to write home about, but it's important to note the initial temperature readings took 1-2 seconds and were usually only 3-5 degrees off the final temperature. This thermometer may not be the fastest, but 6.5 seconds isn't going to hurt anything in the long run, especially when I'm already opening the pit to mop my pork shoulder.
The only real issue I had with the TP03 over the course of the day was the probe and the construction. While this thermometer is overall a really nice piece of equipment the probe hinge feels a little wobbly and the probe doesn't open that smoothly, but once it's open it feels secure when locked in place.
You can theoretically take temperatures with the probe at an angle but it doesn't feel very secure when you do so. Other Thermopro thermometers like the TP19 have a firmer hinge that's made for taking temps at any angle, but the TP03 works better when locked into place.
While the LCD display is easy to read, and the backlight is strong enough to easily tell the temperature in low light or the dark, the screen sadly doesn't rotate automatically when flipped upside down. While other more expensive thermometers make it easy to take temperatures at odd angles or for lefties to use, the TP03 sadly doesn't rotate when turned upside down.
The magnets on the back of the thermometer body are nice, but I had to stop myself from attaching the TP03 to my smoker by accident. I love that I could store it there if needed but at the temperatures the steel on my pit reaches, it's probably best to keep it attached to the fridge if I want to use the magnets.
Should you buy the Thermopro TP03?
Check Latest Thermopro TP03 Price
The Thermopro TP03 doesn't have the best food thermometer design I've ever seen, but when it comes to accurate temperature measurement it definitely does a good job. The probe hinge is a little sticky, but the readings are relatively quick and the step-down design of the probe itself helps get you the most accurate temperature reading while keeping the juices locked into your meats.
I would recommend the Thermopro TP03 to anyone who wants a middle-of-the-road, introductory folding probe instant-read digital thermometer. For less than the price of a movie ticket or a few cups of coffee, the TP03 takes fast, accurate temperature readings time and time again. While you can't calibrate it over time, it is a great way to get started taking accurate meat temperatures for less.