Ten minute sweet and spicy shrimp is one of my absolute favorite things to make on my Traeger. You should have most of the ingredients on hand, and it's a PERFECT recipe to make after a long day of work (or play).
Back when I worked in Alaska one of my favorite things to do was set crab and shrimp pots. I was working in a very remote portion of the state, so it was very rare to see any people other than our guests, and none of the waters we fished experienced pressure from commercial fisherman. That meant we had an abundance of fresh Dungeness crab and prawns all the time.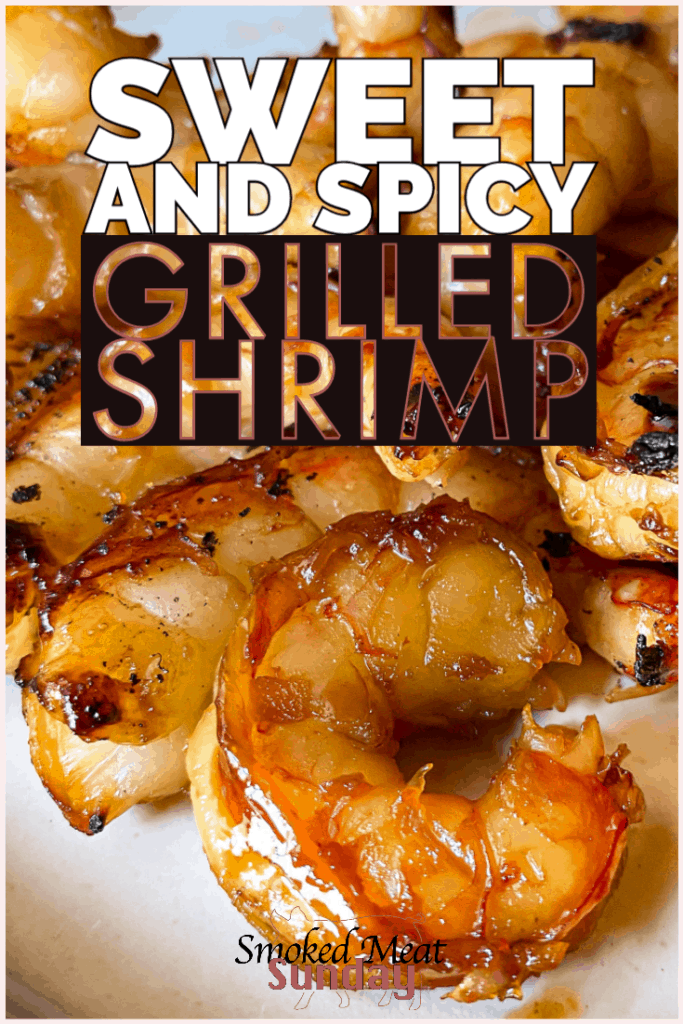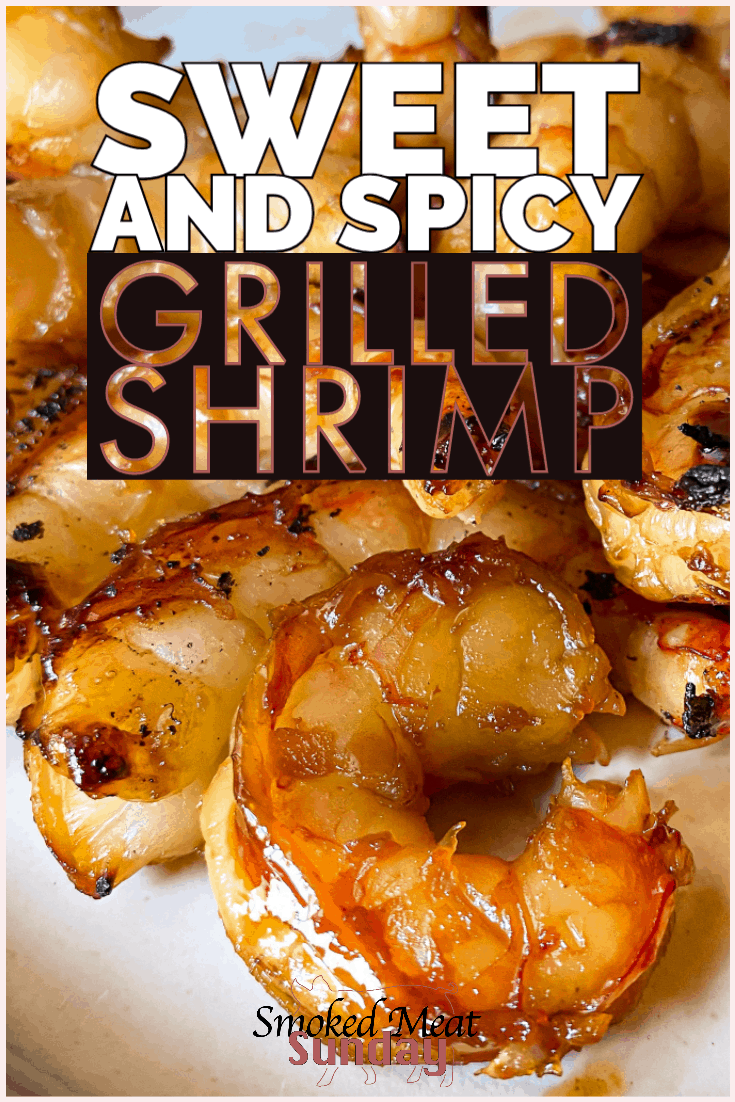 I wish I would have had this recipe back then, because as good as those fresh prawns were, this recipe would have made them even better.
Unfortunately I didn't have fresh prawns when I made this, but I was able to get some decent sized shrimp that worked just fine.
Sweet and Spicy Grilled Shrimp - What You'll Need
This recipe only takes about ten minutes to grill. To add some amazing flavor to the shrimp we marinate it first. You can put the shrimp in the marinade for up to 12 hours, but I've found that even just 20 minutes in the marinade is plenty of time to add some awesome flavor.
For this sweet and spicy grilled shrimp recipe you'll need the following ingredients (measured amounts in the recipe card at the bottom of the post):
1-2 lbs of shrimp, peeled and deveined
Mike's Hot Honey Extra Hot
Soy Sauce
Minced Garlic
Fresh Ginger
The big key to this recipe is the honey. If you don't have it on hand you can order from Amazon - it's 100% worth it. But if you don't want to buy the honey I understand. You can sub regular honey and add a ½ to 1 tsp of cayenne. The flavor will be a little different if you go this route, but still super tasty.
Sweet and Spicy Shrimp Marinade
In a sealable container combine the honey, soy sauce, garlic, and ginger. Add in the shrimp and make sure all of them are coated before placing in your refrigerator. As previously mentioned, the shrimp can marinate for up to 12 hours if needed.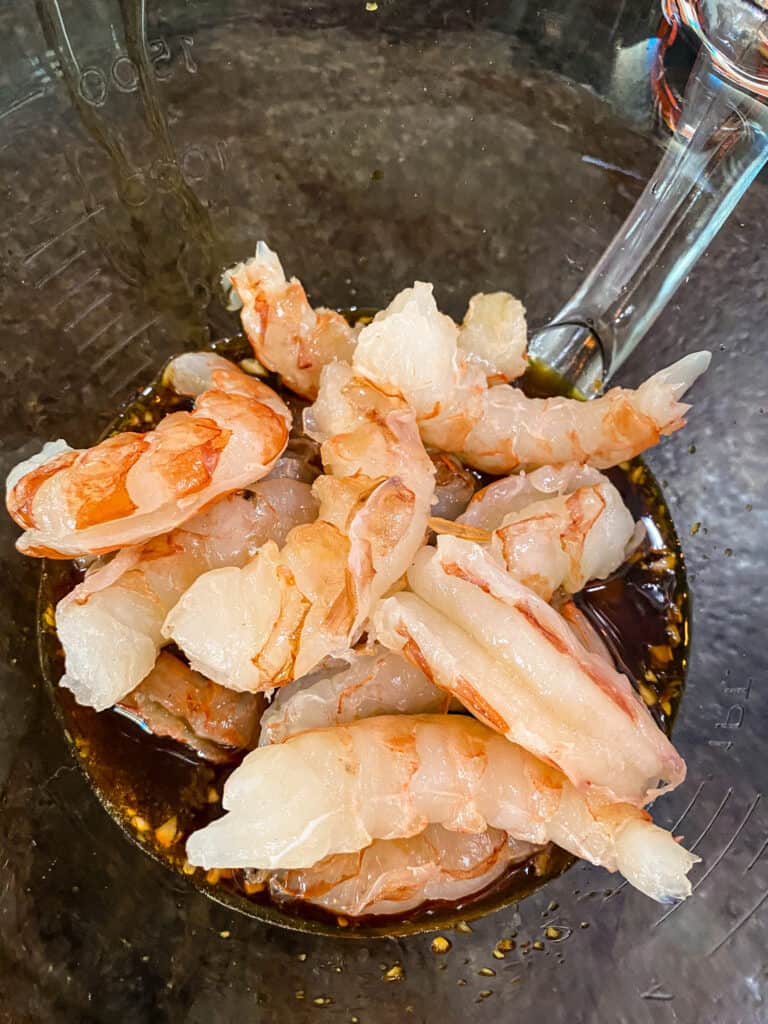 Ten Minute Sweet and Spicy Shrimp on the Grill
Setup your grill or smoker to cook at 500 degrees. While the grill is coming up to temp put the shrimp on skewers. This makes it easier to flip them when it's time.
Alternatively you can cook the shrimp in a large cast iron skillet, but I've found that cooking them on the skewers gave them a little bit better flavor because the marinade caramelized a little more on the surface of the shrimp.
When the grill is up to temp place the skewers directly on the grill grates and let them cook for 3-4 minutes, then flip them and let them cook for an additional 3-4 minutes.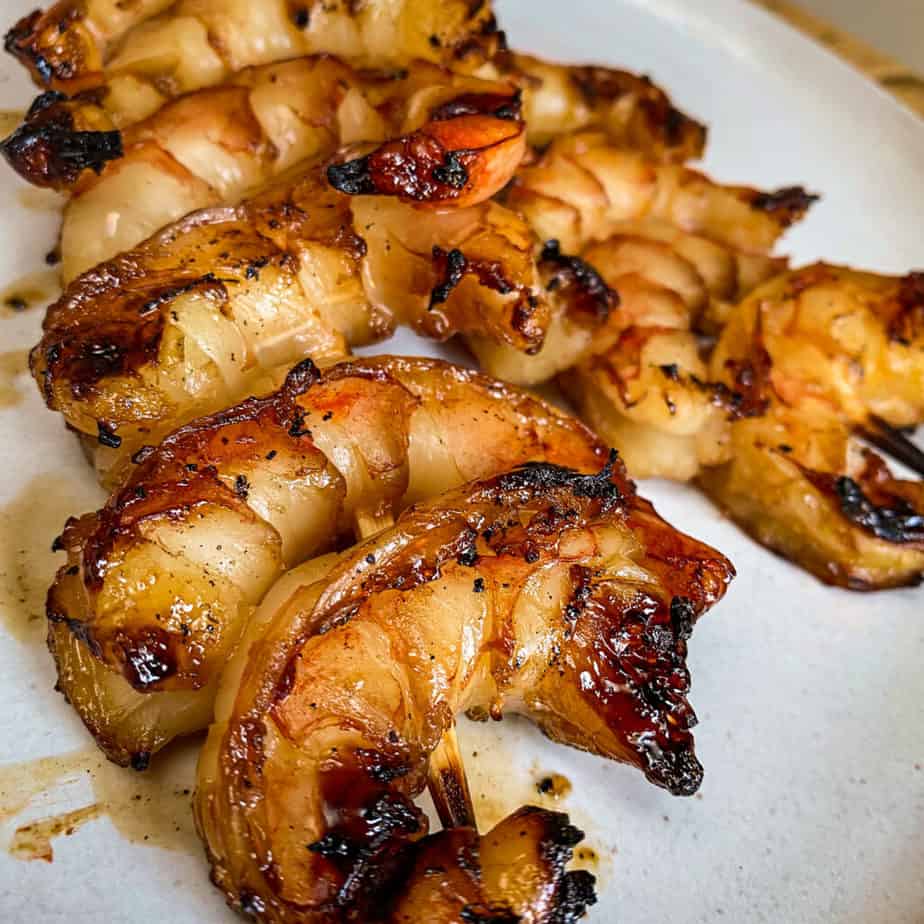 That's it, they're done! So technically it's not ten minute sweet and spicy shrimp, but oh well ???? .
There are a lot of different ways you can serve this - I ate them right off the skewers - but I'm sure they'd be awesome on a bed of rice or next to some veggies too. I hope you give this ten minute sweet and spicy shrimp recipe a try! Don't forget to let me know if you do by leaving a comment down below, or by tagging me on social media!
10 Minute Sweet and Spicy Grilled Shrimp
This might be my new favorite recipe on the grill. These sweet and spicy shrimp have just a little bit of kick, but not so much that you can't mow through a whole pound of them no problem.
Savory, Sweet, with plenty of heat - this grilled shrimp recipe recipe has it all.
Ingredients
Shrimp Marinade
¼

Cup

Mike's Hot Honey Extra Hot

¼

Cup

Soy Sauce

1

clove

garlic

minced

1

Tbsp

ginger

fresh - grated
2

lbs

Large Shrimp or Prawns

peeled and deveined
Instructions
Combine the marinade ingredients and let the shrimp marinate for at least 20 minutes and up to 12 hours.

Grill the shrimp on skewers at 500 degrees. After 3-4 minutes flip the skewers and grill for an additional 3-4 minutes.
Notes
If you don't have the spicy honey you can sub regular honey and add cayenne pepper
Nutrition
Serving:
1
g
|
Calories:
694
kcal
|
Carbohydrates:
45
g
|
Protein:
107
g
|
Fat:
8
g
|
Saturated Fat:
2
g
|
Polyunsaturated Fat:
4
g
|
Cholesterol:
962
mg
|
Sodium:
6073
mg
|
Sugar:
35
g