Smoked tri tip is one of the easiest and tastiest things you can make on a smoker. Tri tip is one of those cuts of meat that has always eluded me. It seems like every time I've tried making it, I've messed it up. Turns out, I was just trying too hard. I've spent a lot of time getting this smoked tri tip recipe just right, and I am excited to share it with you.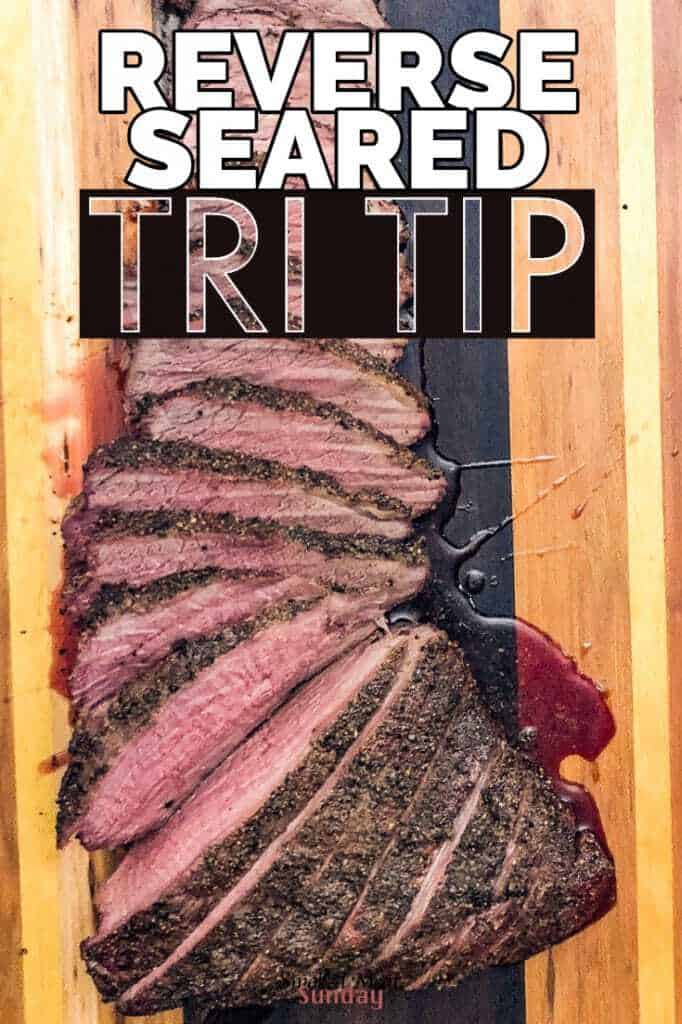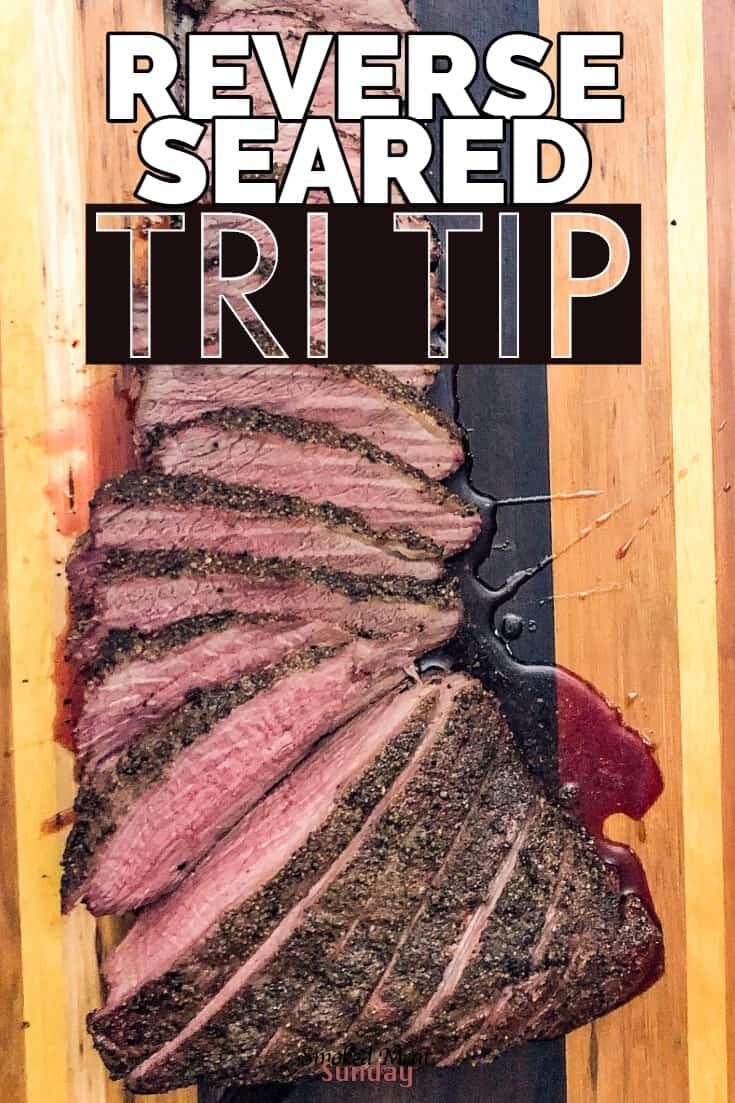 What is a Tri Tip Steak?
Tri-tip steak is a large, tender, triangular muscle cut from the bottom sirloin of a steer. It is also known as a triangle steak, bottom sirloin steak, or Santa Maria steak. Originally popularized in Santa Maria, California, you can find Tri-tip just about everywhere now.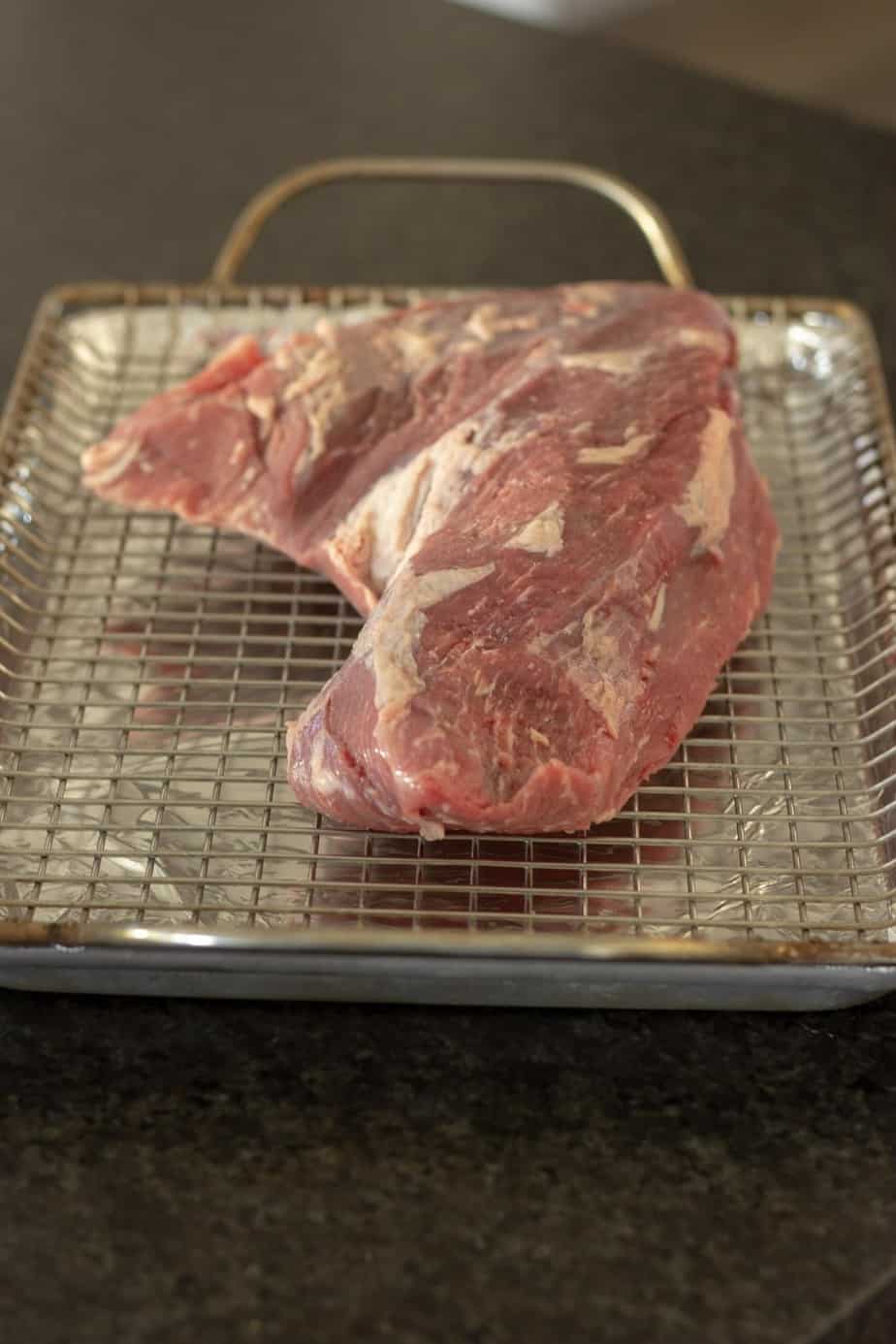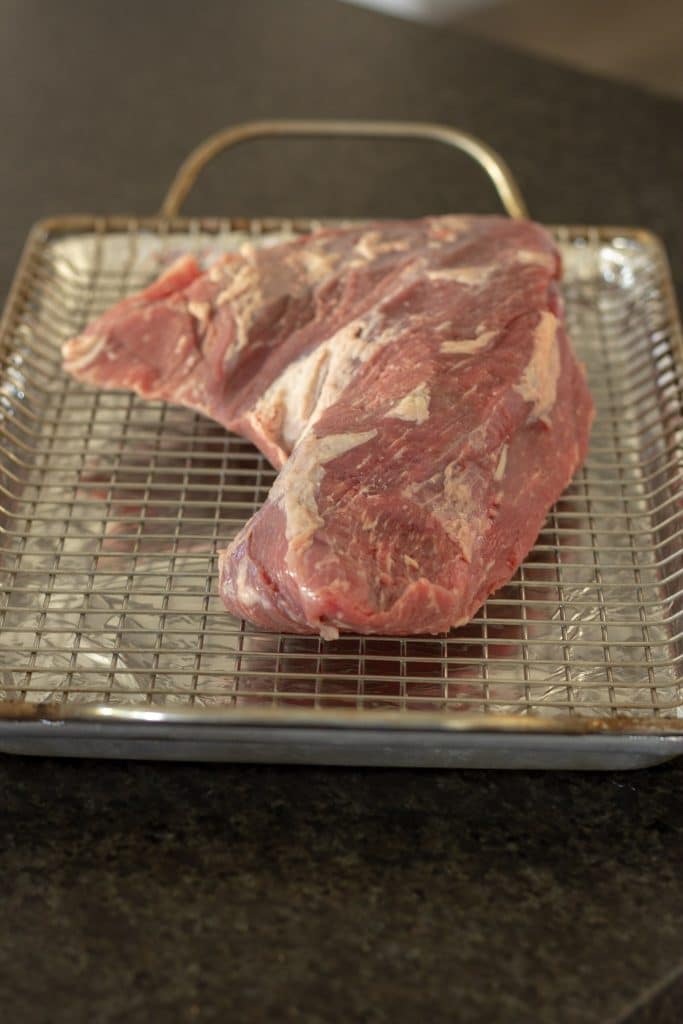 For this smoked tri tip recipe I use a cut that is about 3 lbs. That's more than enough to feed my family of 3, and provide some leftovers for lunches during the week.
In addition to the tri tip you'll need a little bit of olive oil or avocado oil, and some salt, pepper, garlic powder, and onion powder.
How to Prepare Tri Tip for the Smoker
There isn't a lot of prep work involved here. Earlier I mentioned that this has been a tough cut for me to master, and part of the problem was that I was over complicating things. Using marinades and elaborate rubs to try and make the meat taste good... News flash: this cut already tastes good.
It doesn't take long to get ready. When you're ready to cook the first thing you need to do is get your smoker up to temp. We will be smoking at 180 degrees. I used oak pellets for this cook, but hickory or mesquite works great too.
Once your smoker is ready to go, rub the surface of the meat with olive oil, and then generously apply the rub (recipe in the notes below).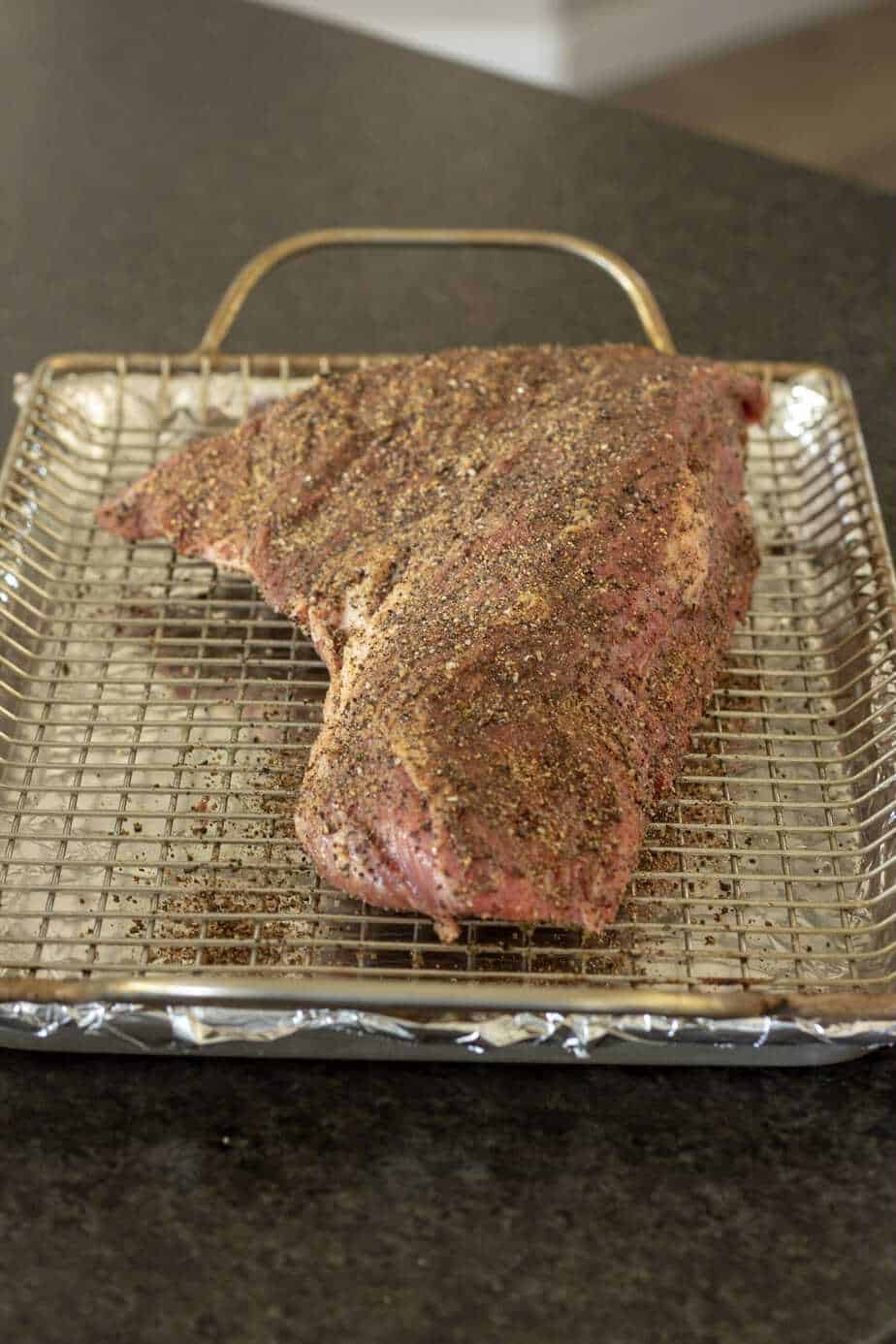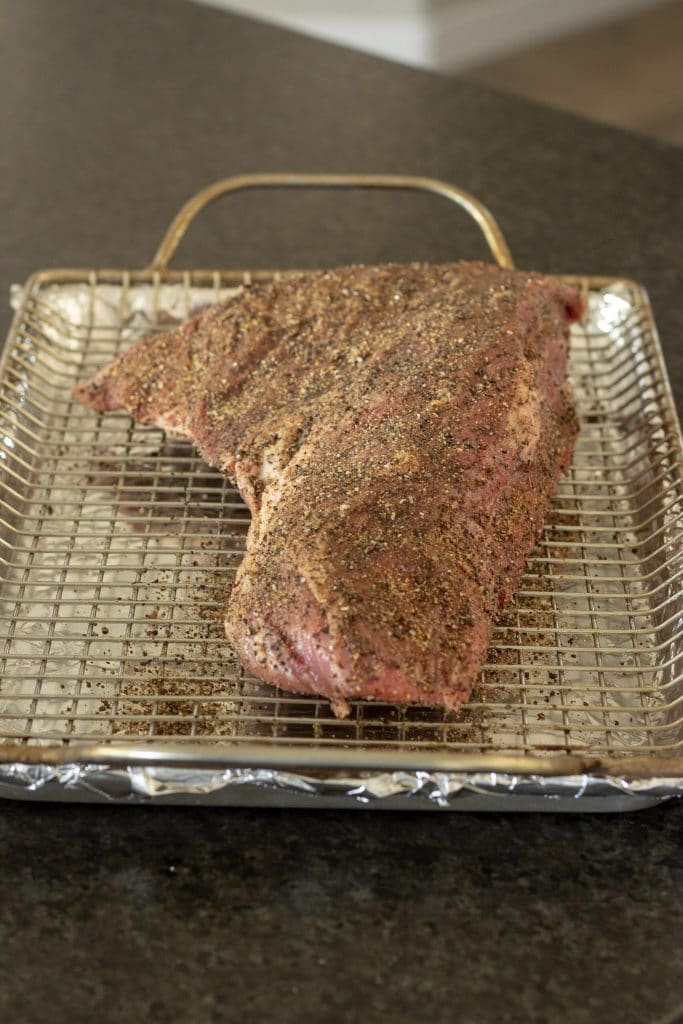 Place the meat on a grill rack, and then put it in your smoker. If you have a wireless meat thermometer to watch the temp, definitely get that in place too. I use a Thermoworks Smoke and love it.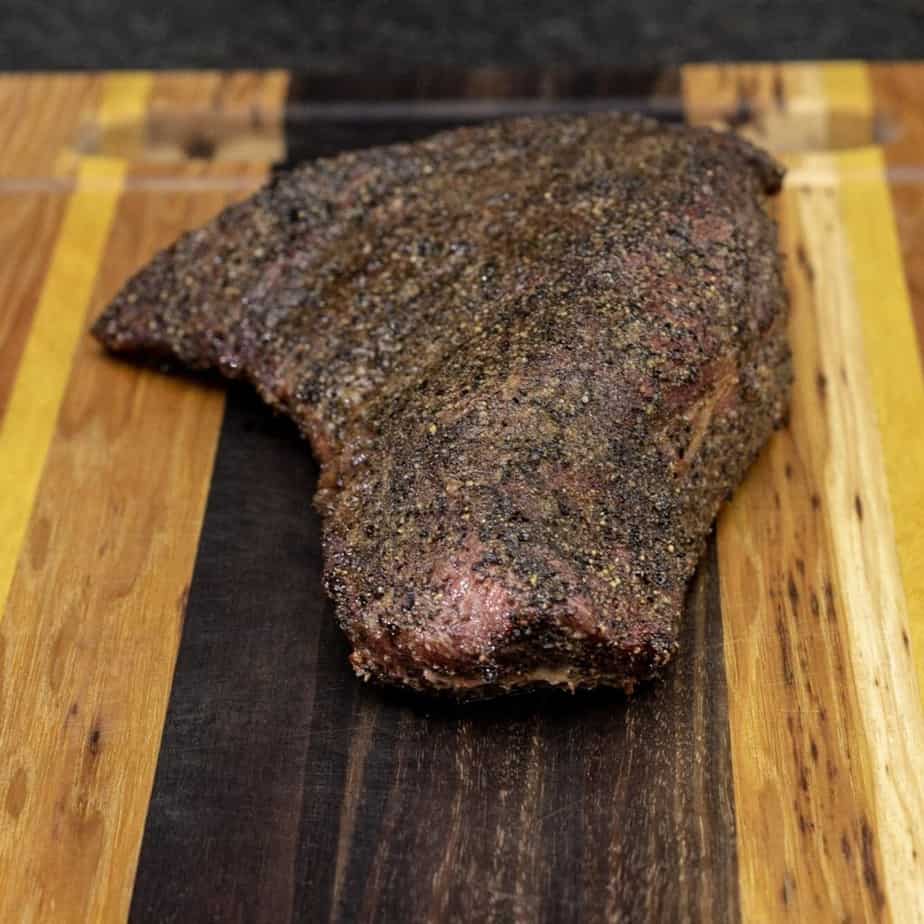 How to Slice a Reverse Seared Tri Tip
Let the tri tip smoke until the internal temperature hits 110 degrees, and then remove from your smoker. Tent the meat with some foil and adjust the smoker to get it up to 400 degrees. When the smoker is up to temp place the meat back in the smoker, and let it cook for an additional 10-15 minutes. When the internal temperature of the meat hits 130 pull it from the smoker and tent it with foil again. Let it rest for about 15 minutes before slicing thin.
Take a look at the picture below to see the best way to slice a smoked tri-tip. start on the narrow end of the steak, and slice it thin against the grain. When you get to the "knuckle" of the tri tip the grain switches directions. Be sure to rotate your slices with the knuckle to insure every slice is tender.
Make sure your knife is sharp too - I use Dalstrong knives and love them. They hold an edge well, and they're affordable. Use the code "smokedmeatsun" at checkout to save 10%.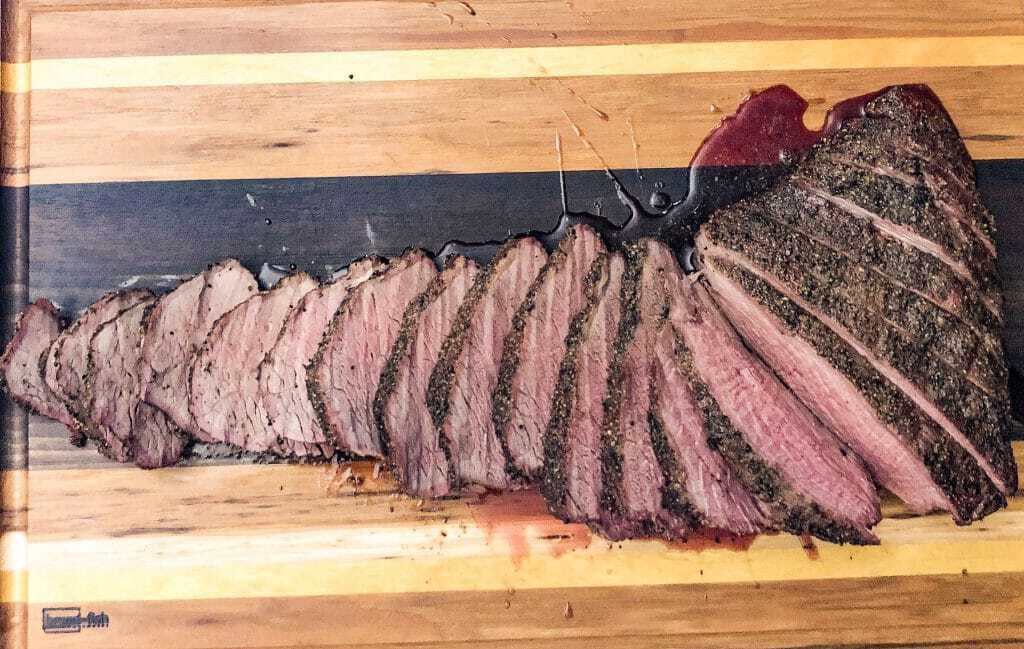 Carrot Top Chimichurri on Smoked Tri Tip
Now you can eat this plain, and I promise it will be absolutely delicious, but if you take a few minutes to make this carrot top chimichurri your taste buds will thank you.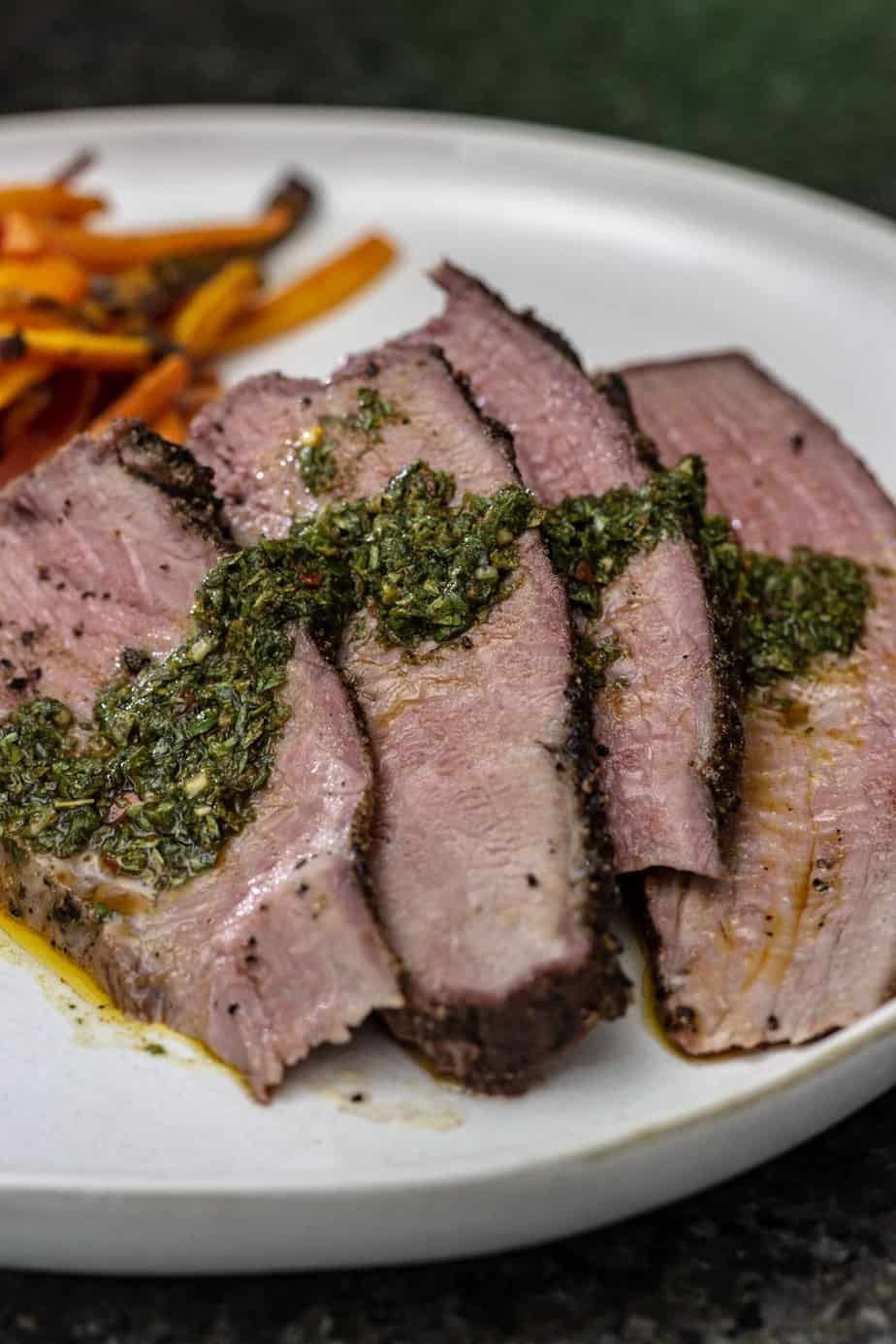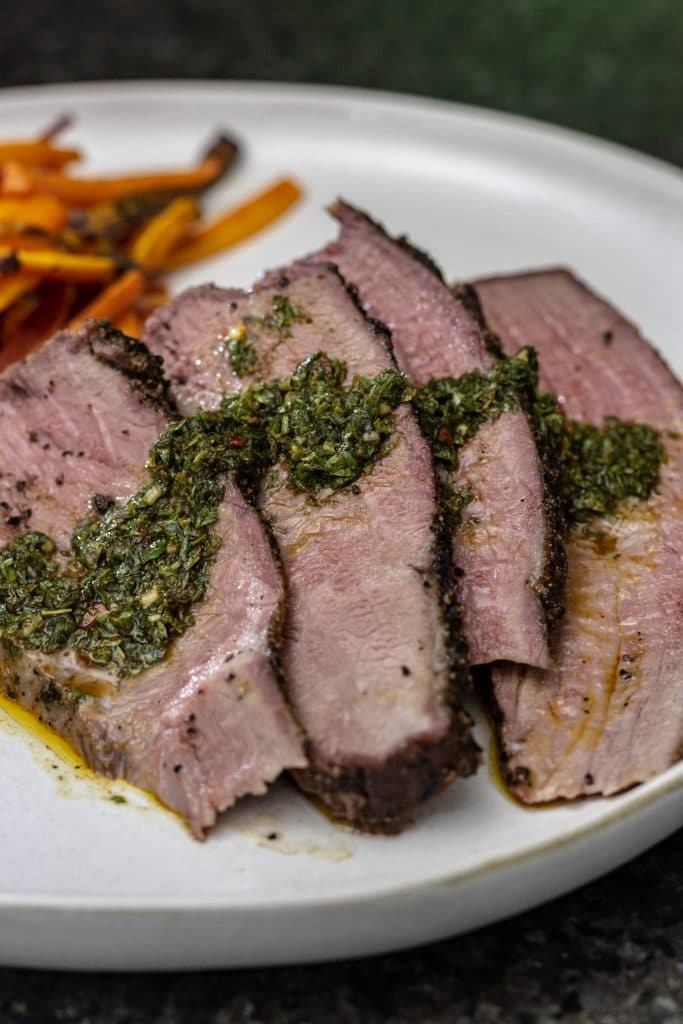 Drizzle that chimichurri over top the sliced smoked tri tip, and enjoy. This is truly one of the best meals I've made on my smoker.
Reverse Sear Tri-Tip
Thanks for following along on this recipe. This is truly one of the tastiest cuts of meat I've made on my pellet smoker, and I hope you will give it a try.
Smoked Tri Tip
Some of the best meals I've made on my smoker have been the simple ones. This smoked tri tip recipe is certainly no exception
Ingredients
2.5

lbs

Tri Tip

trimmed of excess fat

1

Tbsp

olive oil / avocado oil
Rub Ingredients
1

Tbsp

fresh ground black pepper

¼

Tbsp

Chili Powder

½

Tbsp

Garlic Powder

½

Tbsp

Onion Powder

½

Tbsp

Kosher Salt

Coarse Ground

1

tsp

Cayenne

Optional
Instructions
Combine Rub ingredients in a small bowl and set aside

Setup smoker to smoke at 180 degrees using oak wood

Rub surface of tri tip with the oil, and then generously apply the rub to both sides of the meat.

Place the tri tip in smoker and smoke until the internal temperature reaches 110 degrees (approximately 60-75 minutes)

Remove the tri tip from the smoker and adjust the temperature of your smoker to cook at 400 degrees.

Return the tri tip to the smoker and let the meat cook until the internal temperature is 130 degrees

Let the tri tip rest for 15 minutes before slicing thin and serving.
Nutrition
Serving:
1
g
|
Calories:
429
kcal
|
Carbohydrates:
2
g
|
Protein:
50
g
|
Fat:
23
g
|
Polyunsaturated Fat:
2
g
|
Cholesterol:
157
mg
|
Sodium:
692
mg
|
Fiber:
1
g