This recipe for smoked sweet potatoes with hot honey butter has a good chance of outshining any protein you might be preparing. Seriously, this is one of those side dishes that goes fast, so make sure to prepare extra if you're cooking for a crowd.
Packed with sweet, caramelized smokey flavor and topped with gobs of rich whipped hot honey butter, these are the perfect accompaniment to a pile of pulled pork, a few fat slices of brisket, or a few perfectly smoked chicken thighs!
Smoking Sweet Potatoes.
There are many benefits to preparing your sweet potatoes on your smoker. Beyond the simple things like increased flavor and delicious smokey/roasted notes in the finished product, smoking your sweet potatoes rather than roasting is an incredibly efficient use of your smoker, especially if you're already planning on smoking another protein or two; as well!
Whether you're lighting up the smoker solely for the pursuit of these delicious smoked sweet potatoes, or you're cooking a fresh batch of ribs or pork butt, and you want some super tasty sweet potatoes on the side, this recipe is super easy to prepare and delicious when finished.
Gather all of your ingredients
This recipe is super simple and really only requires some medium-sized sweet potatoes, oil, salt pepper, and some butcher paper or tin foil to get started.
You'll need some good salted butter and your favorite hot honey for the hot honey. If you don't have hot honey at hand, you can substitute some regular honey and some cayenne pepper or hot sauce as you desire!
Light Your Smoker
Whether you're using a pellet smoker, kamado-style egg, offset barrel smoker or a classic kettle grill, you'll need to ensure your smoker is hot and up to temperature before you can start cooking.
When smoking proteins, you can start the cooking process before your smoker is fully preheated because of the longer cooking times. Veggies, even sweet potatoes, take less time to cook than most proteins, so it's essential to ensure your cooking chamber is fully preheated and ready to go.
This recipe calls for your smoker to be preheated to 225°f before cooking. You can use a higher temperature if you're cooking the sweet potatoes alongside a protein that requires a higher temp setting, but you'll need to shorten the cooking time to account for the higher temperature.
Sweet potatoes benefit from the addition of fruit woods like cherry or apple wood. These richer, smokier woods meld well with the natural sweetness, and vanilla flavors found in sweet potatoes and produce an incredible finished product.
Season your sweet potatoes and wrap them in butcher paper.
While your smoker is preheating, you can prepare your sweet potatoes.
To start, rinse the sweet potatoes and scrub the skins free of any dirt or wax. Once clean, pat the sweet potatoes dry.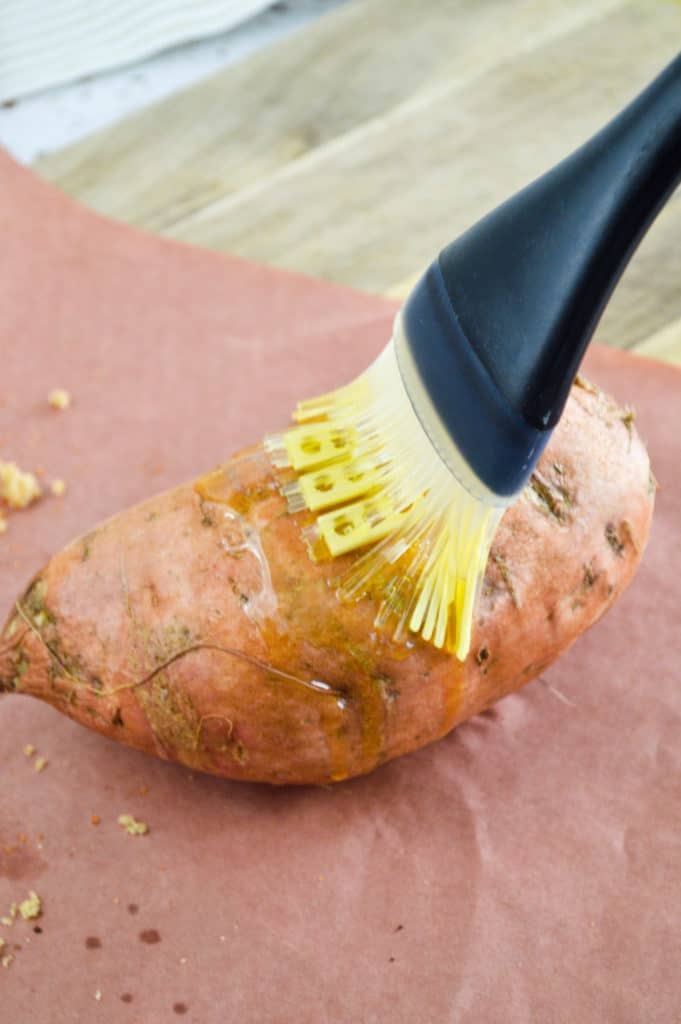 Brush the outside of the sweet potatoes with canola oil before seasoning them with brown sugar and barbecue rub. Wrap the first sweet potato tightly in butcher paper and continue the process with the remaining sweet potatoes.
You can use tinfoil if you don't have any butcher paper available. Tin foil will be easier to fold around the sweet potatoes, but the butcher paper will allow for some gas/moisture release creating a better flavor and texture overall.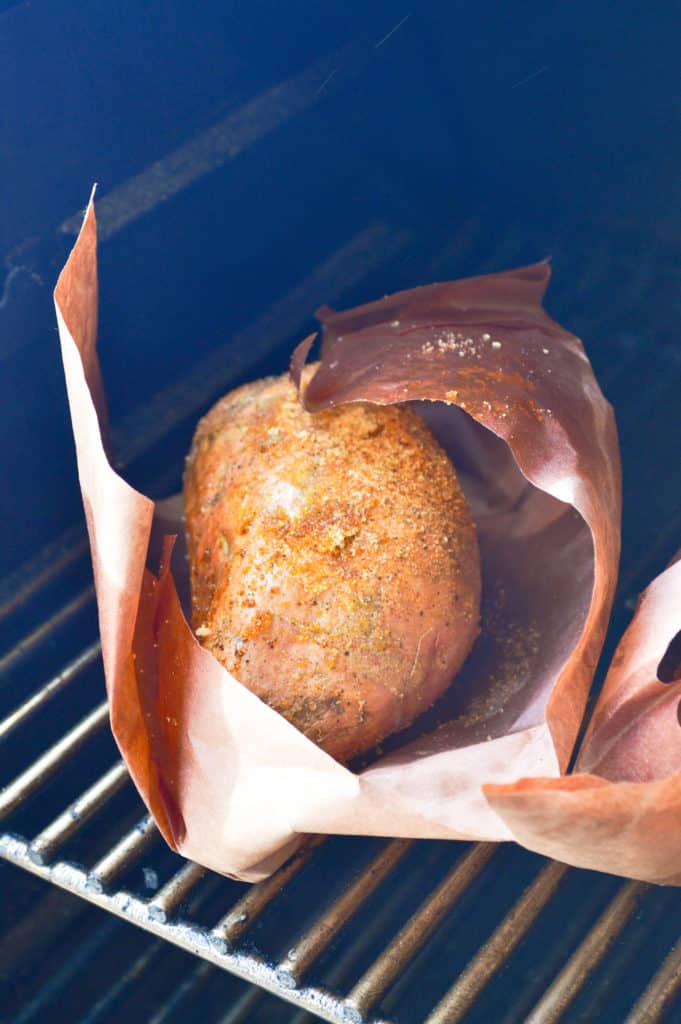 Cook the potatoes for 2 to 2.5 hours or until tender.
Once the smoker is fully preheated, and the sweet potatoes are ready to go, load them into the smoker directly on the smoker grates. You can use a pan if you like, but the potatoes will cook more evenly if allowed to cook on the grill grates directly.
While you don't need to monitor the internal temperature of the potatoes themselves, a meat thermometer or barbecue thermometer will help monitor the internal temperature of your smoker throughout the cooking process.
Prepare the Whipped Hot Honey Butter.
While your sweet potatoes are safely smoking away, it's time to whip up some hot honey butter.
To prepare the honey butter, you'll need to allow 4 tbsp of butter to come to room temperature. You can use salted or unsalted butter, depending on your preference. Obviously, unsalted butter won't add any excess sodium, but we find here at SMS that a little extra salt can help make the sweetness of the sweet potatoes and honey butter pop just a little bit more.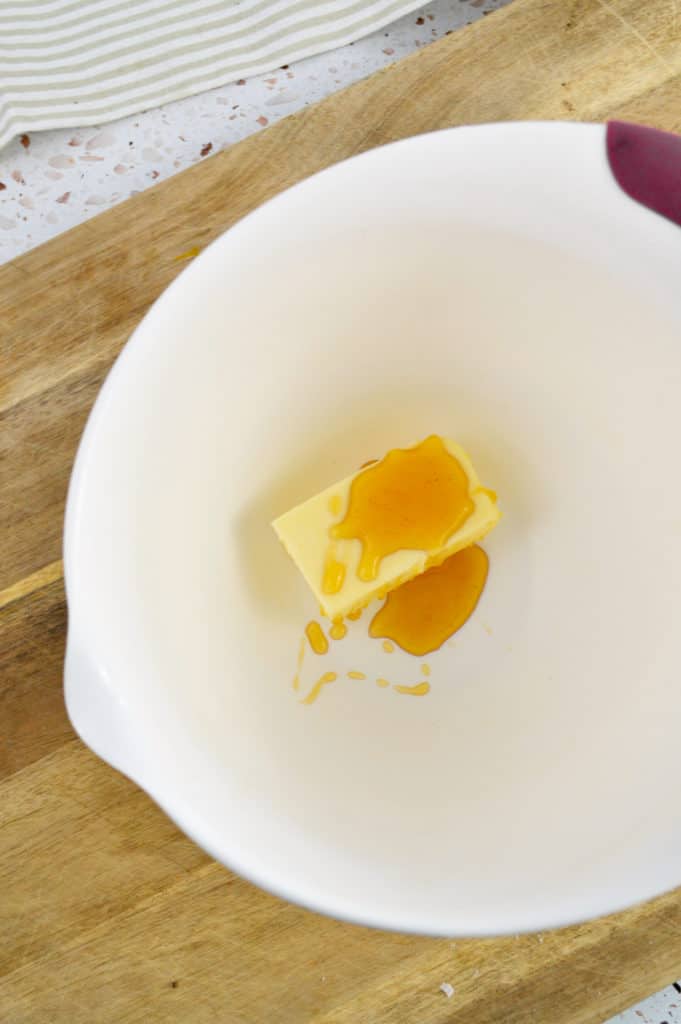 Once the butter has softened, place it in a small mixing bowl and whip with a wooden spoon or whisk while incorporating the hot honey if you don't have any hot honey at home you can mix a bit of regular honey with some cayenne seasoning or some hot sauce.
Whip the butter and honey vigorously until the butter is light and airy. If you have an electric hand mixer on hand, you can use that as well; just make sure to use a large bowl to avoid making a mess!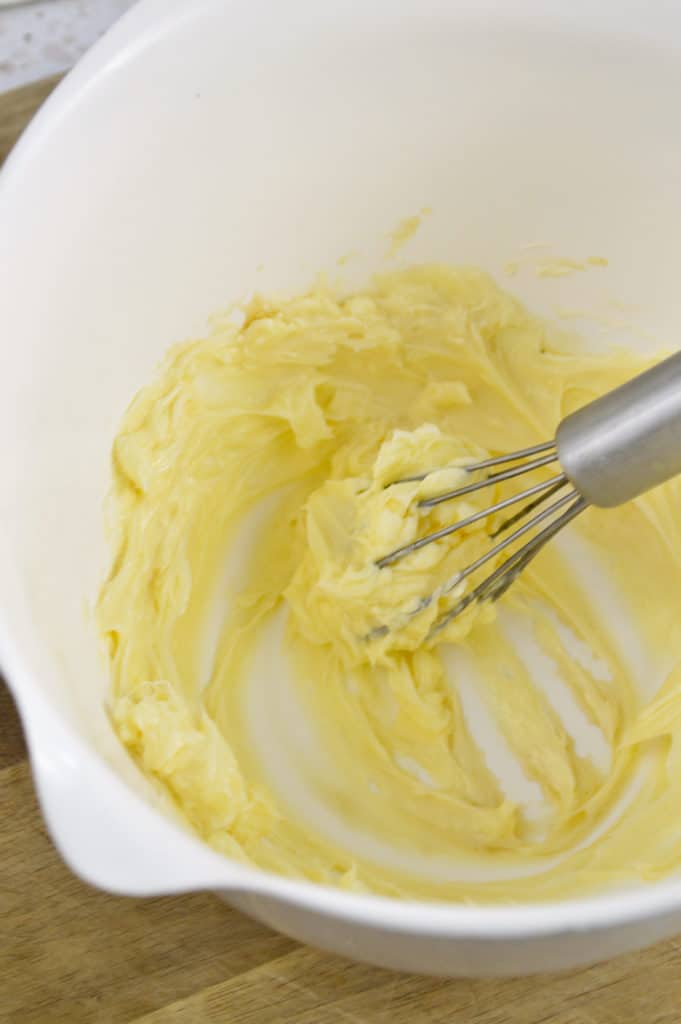 Cut the sweet potatoes and serve with a heaping scoop of hot honey butter!
Once your sweet potatoes have finished cooking, you can go ahead and remove them from the smoker and allow them to cool for a bit before serving.
You'll know your sweet potatoes are ready when they are fork-tender. This means you can insert a fork or skewer and it will come out with no resistance at all. If you feel the fork or skewer stick as you pull it out, shut the lid and allow the sweet potatoes to continue to cook for a while longer.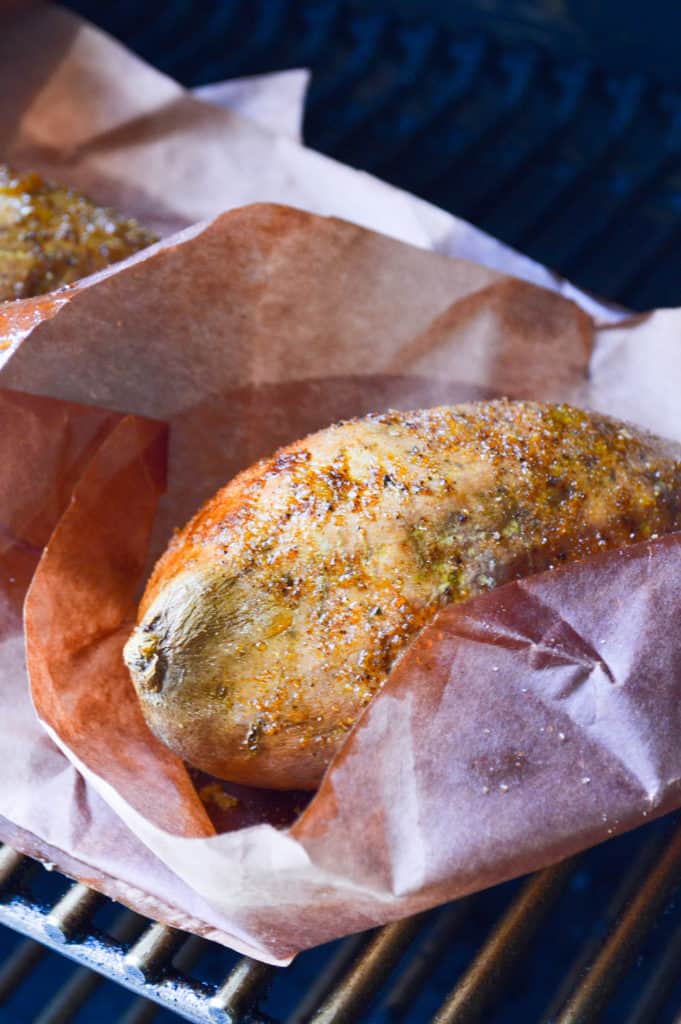 After the sweet potatoes have cooled just a bit, remove them from their wrapping and slice them length-wise. Don't slice completely through the potatoes, only about an inch or so deep.
Finally, press the potatoes together from both ends and open the slice to create a pocket for the honey butter. Place a heaping scoop of honey butter into the slice/pocket and serve.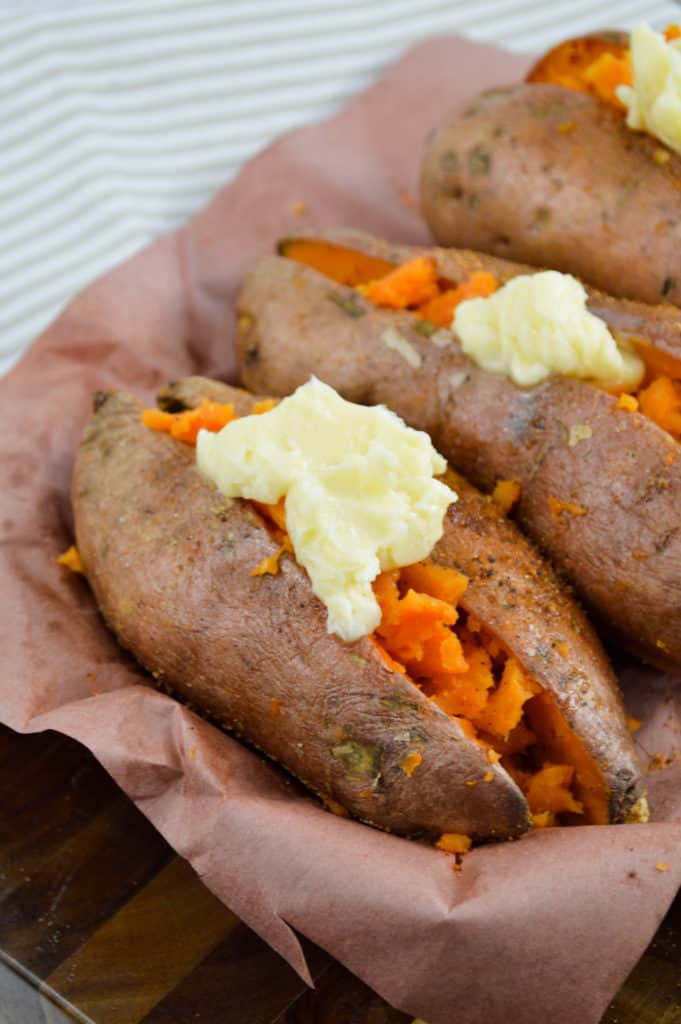 If you want to step up your garnish game, go ahead and sprinkle the top of the potatoes switch a little more brown sugar, and barbecue rub!
Smoked Sweet Potatoes With Whipped Hot Honey Butter
These delicious sweet potatoes are perfect with a pile of pulled pork, a few sliced of brisket, or as the star of the show! Just make sure to prepare extra, these incredible sweet potatoes wont last long!
Equipment
Butcher paper

Brush

Whisk/Spoon
Ingredients
3

Sweet potatoes

2

Tbsp

Olive oil

½

Tbsp

Brown sugar

½

Tbsp

All Purpose BBQ RUB

I used The Gospel by Meat Church
For Whipped Hot Hot Butter
4

Tbsp

butter

softened

1

Tbsp

hot honey
Instructions
Preheat the smoker to 200 degrees F.

Layout pieces of butcher paper.

Add one sweet potato to the paper.

Brush generously with the olive oil.

Then sprinkle with the brown sugar and BBQ rub.

Rub the entire sweet potato down with ingredients. Repeat.

Wrap each sweet potato in the paper.

Carefully place in the smoker and close the lid and let smoke wrapped for an hour.

Then heat the smoker up to 225 degrees and unwrap the sweet potatoes.

Let smoke for another 1:15-1:30 minutes unwrapped until the sweet potatoes are tender.

Once desired tenderness, remove from the smoker.
For the Whipped Hot Honey Butter
Combine the softened butter and Hot Honey in a small bowl.

Whisk or use a spoon to mix until well combined.

Cut open sweet potatoes and use a fork to pull the sweet potatoes from the skin.

Add in the whipped butter and enjoy.
Notes
Cooking times will vary. Sweet Potatoes are finished when "probe Tender" or can stick a fork into them easily.