We cook a lot of food on our smoker and every now and then we make something that makes us sit back and say, "why don't we make that more often?" That was the case last weekend when I smoked some pork tenderloins. The smoked pork tenderloin recipe I'm about to share with you is one of the easiest entrees you'll make on your smoker.
The best part? This smoked pork tenderloin recipe is almost foolproof. The pork tenderloins are melt in your mouth delicious when they're done.
My Favorite Smoked Pork Tenderloin Recipe
What is Pork Tenderloin?
Before we go too deep into this recipe, it's important that we make the distinction between a pork loin and a pork tenderloin.
The pork loin is a larger cut of meat, that comes from a pig's back and typically weighs between two to five pounds. A pork loin can be purchased bone-in or boneless.
Pork tenderloin is much smaller, weighing in at just a pound. It's a boneless cut that runs alongside the backbone of a pig.
Both cuts of meat are delicious, but they cook differently! Always double check your recipe to be sure you pick up the right cut of meat before you start. This recipe calls for two one-pound pork tenderloins.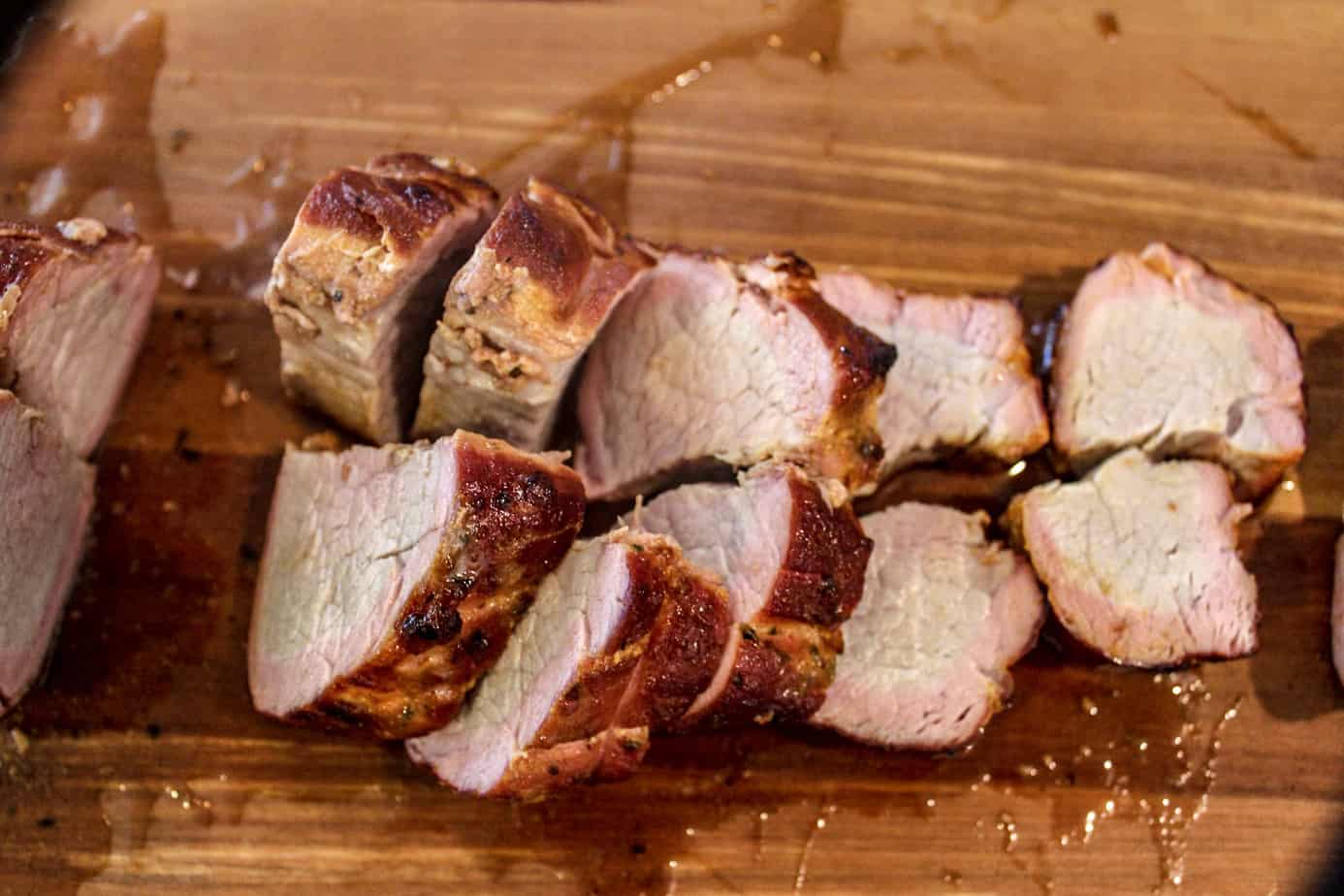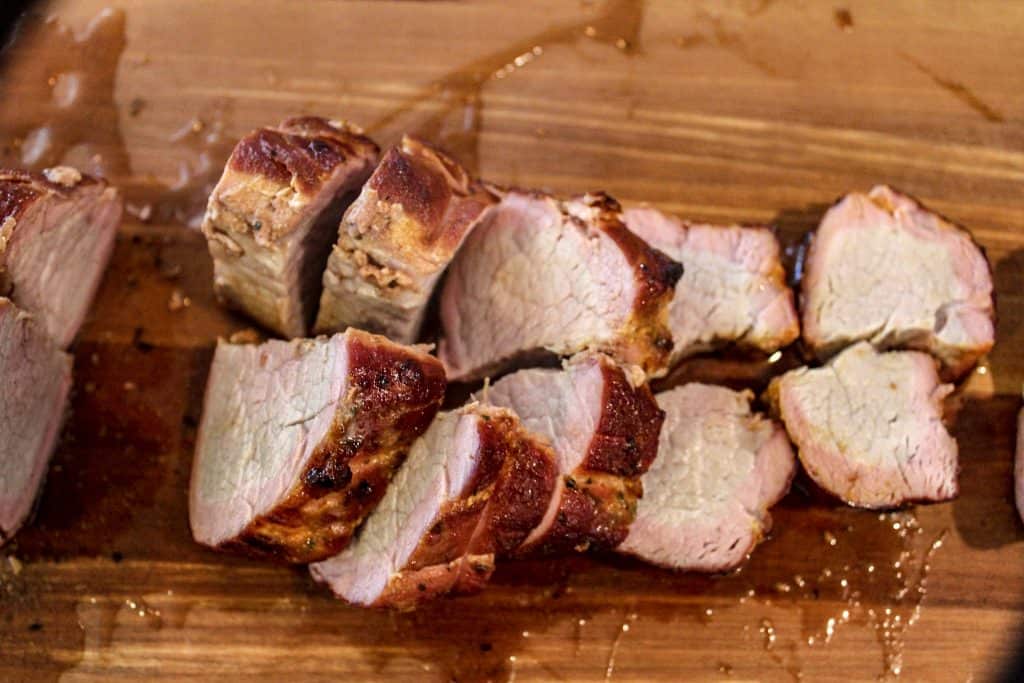 How Long Does it Take to Smoke a Pork Tenderloin?
Pork Tenderloins are a forgiving piece of meat. You can put them on your smoker on high heat (400+ degrees) and they'll be done in 25 minutes. Or, you can smoke them at 300 degrees for a few hours and get one of the juiciest pork tenderloins you've ever seen.
For this recipe, I smoke the pork tenderloin for about 2 hours at 225 and then turn the smoker up to high at the end to get a nice crust on the outside.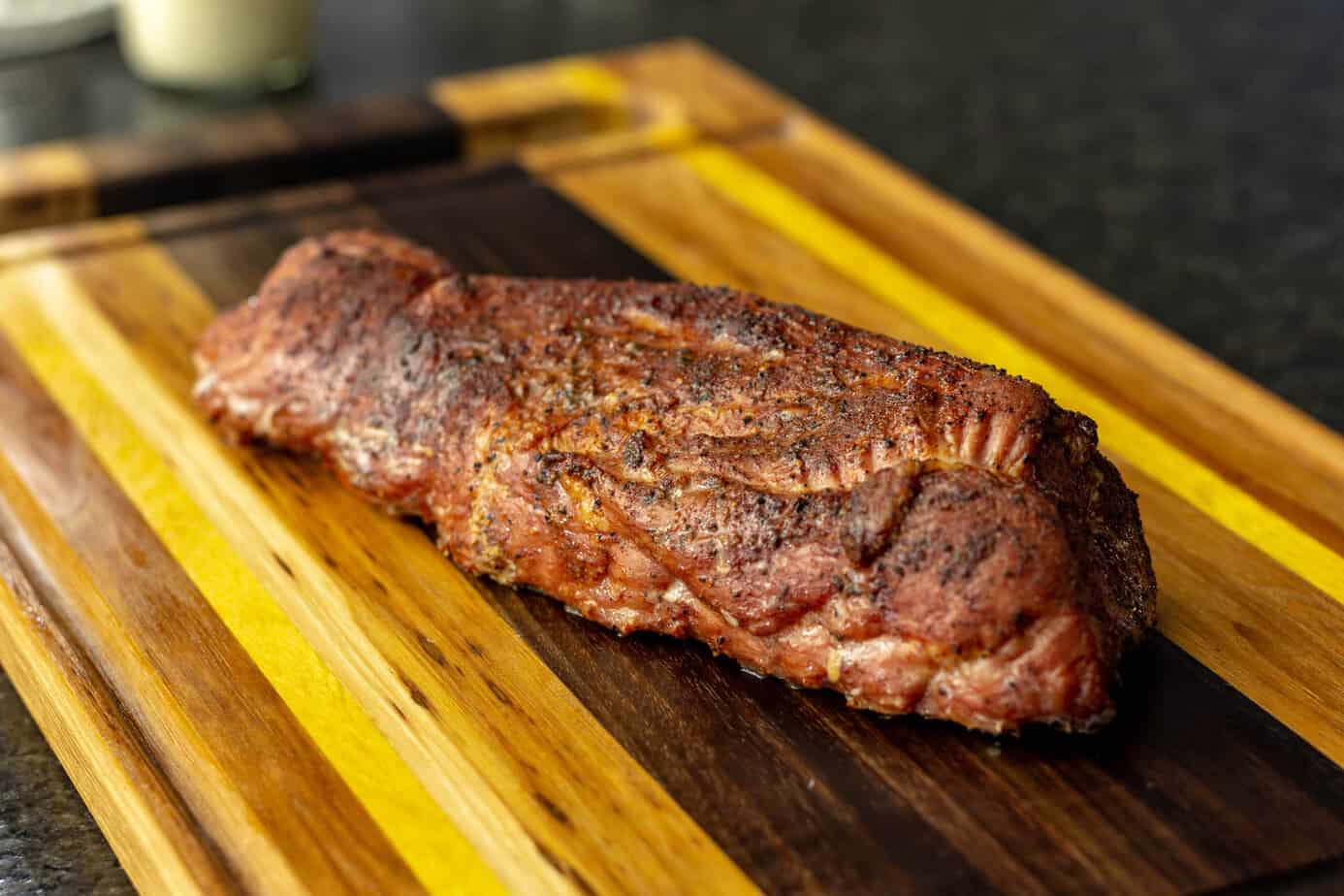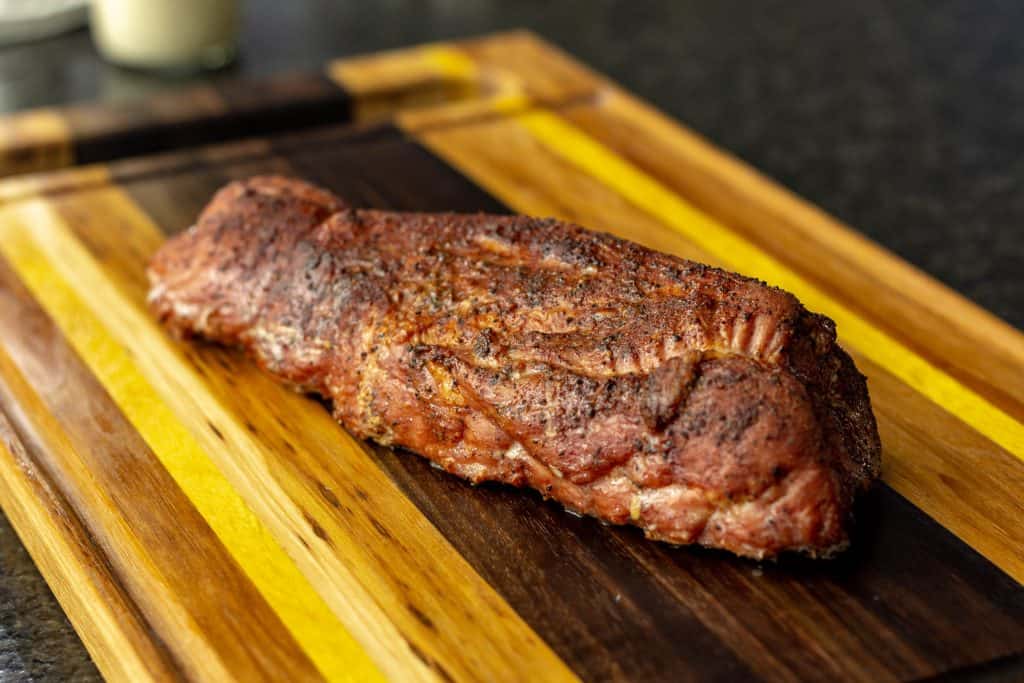 It's always nice to know the time component of a cook, but please note that the times I recommended above are just a guide for planning purposes. Pork tenderloin is not fully cooked until the internal temperature is at least 145 degrees. At 145 there will still be a little pink in the center, which is totally fine. For my family, I always cook pork tenderloins to an internal temperature of 160 degrees.
Figuring out what the internal temperature is can be a hassle. One of the best bbq tools I own is my Thermapen MK4. If you don't have one, I'd buy one now, or put it on your wish list. It's quick and accurate readouts are a gamechanger.
My Favorite Smoked Pork Tenderloin Recipe
Smoked Pork Tenderloin Brine
Like I previously mentioned, this pork tenderloin recipe is really easy to follow. The first step involves brining the pork tenderloins in 2 cups of water plus 1/4 cup of salt. It's best to let the pork tenderloins brine for about 8-1o hours, but you can let them brine for up to 24. I wouldn't push much beyond that though. If you do, you could end up with a cut of meat that is saltier than you'd like.
Smoked Pork Tenderloin Rub
The brine gives the pork tenderloin that melts in your mouth texture we love. The rub adds a layer of flavor to the meat that will have your guests licking their lips for more.
My pork rub really shines on pork tenderloins. If you're looking for a tasty pork tenderloin rub, consider using this one.
Using a small knife remove the silverskin from the pork tenderloins and then generously apply the rub.
Smoking Pork Tenderloins
If the pork tenderloins are not the same size, you can tie the ends back on the rest of the pork loin and tie them, or lay them next to one another. Use butcher string to secure them together and then throw them in the smoker.
Cooking Pork Tenderloin on a Traeger
Now that your pork tenderloins are prepped, all that's left now is to cook them! Turn your smoker on and get it set up to cook at 180 degrees with indirect heat. Place the pork tenderloins in the smoker, and let them smoke for approximately two hours.
After two hours the pork tenderloins should have an internal temperature of about 110-120 degrees. When they hit 120, configure your smoker to cook at 400+ degrees and finish the tenderloins over the high heat.
You know they're done when the internal temp hits 160 degrees.
Let the pork tenderloins rest under foil with a few pats of butter for about fifteen minutes before cutting the butchers string away, and then slicing.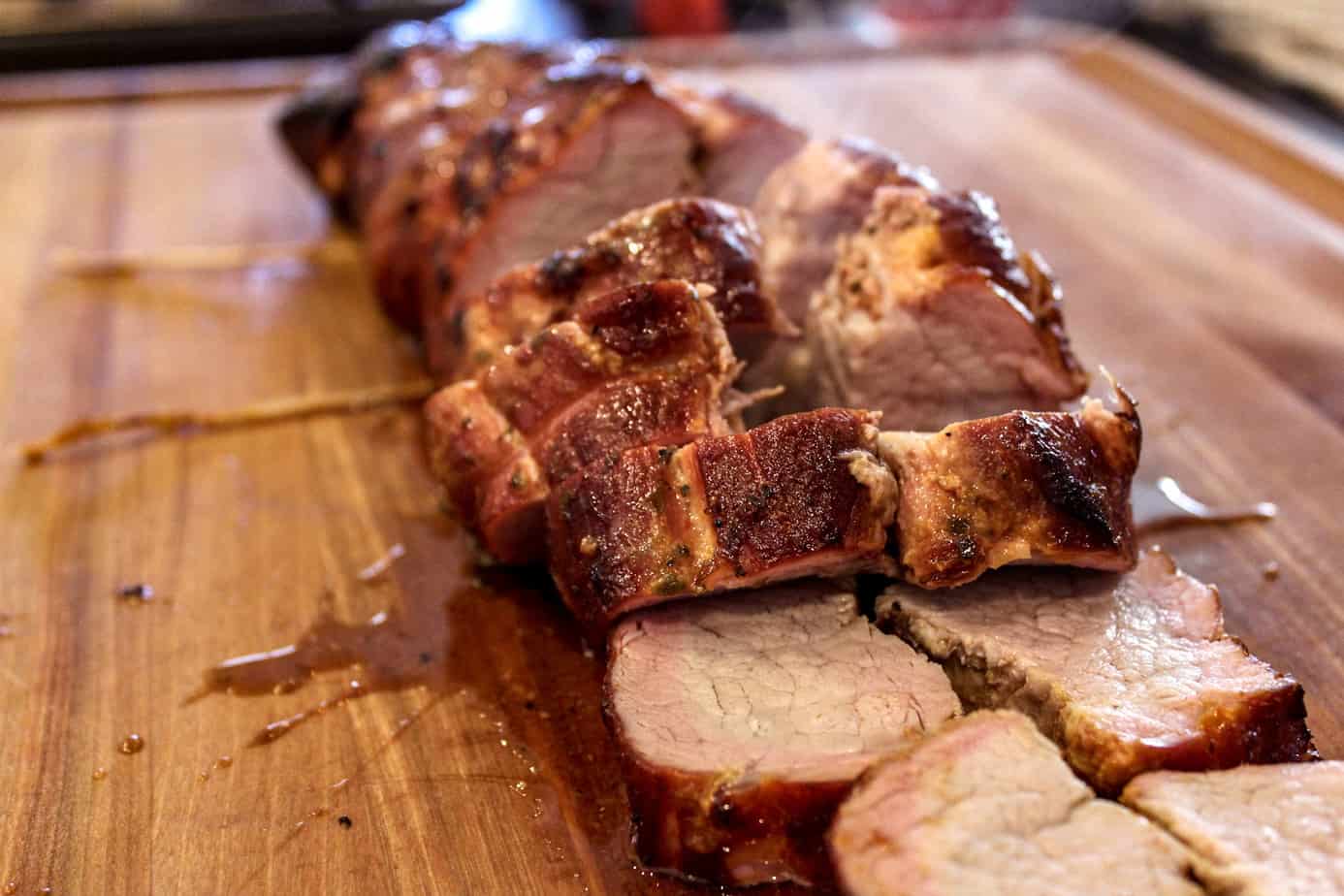 If you really want to get fancy, you can pour the butter from the foil after letting them rest into about a 1/4 cup of Alabama White Sauce. Drizzle the sauce over the pork tenderloins and look out! FLAVOR BOMB!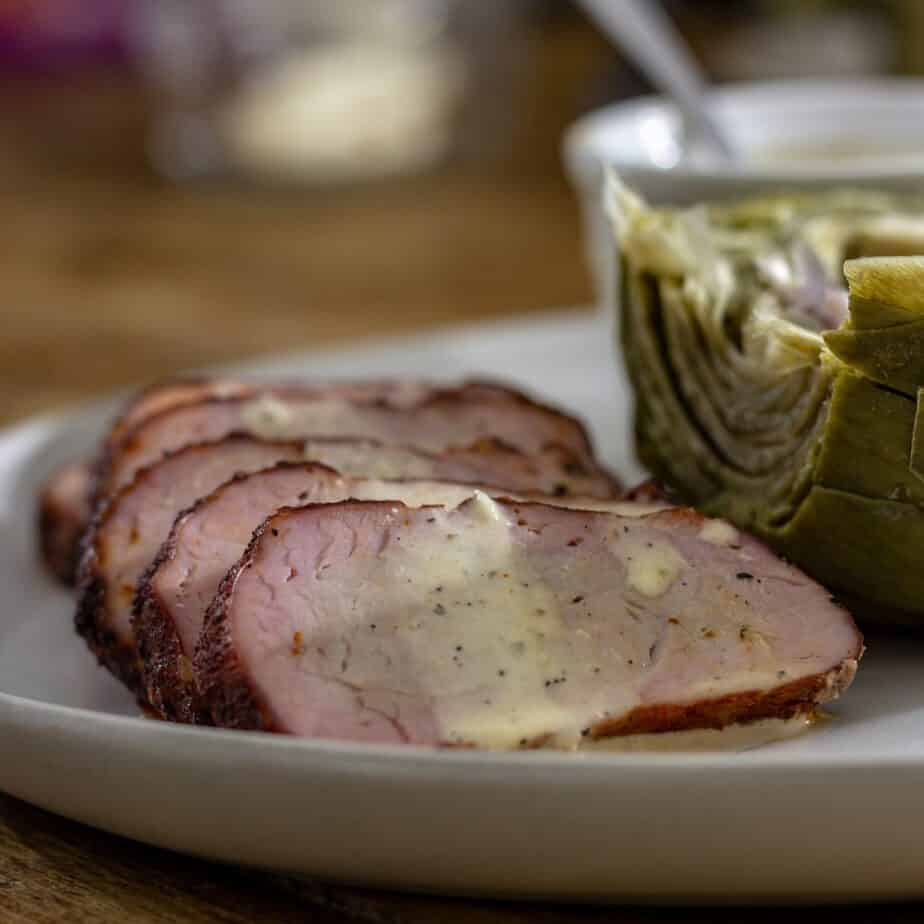 Smoked Pork Tenderloin Recipe
Cook Time:
2 hours
15 minutes
Additional Time:
15 minutes
Total Time:
2 hours
40 minutes
This Smoked Pork Tenderloin Recipe is easy to make, and the end result is out of this world delicious. If you love bbq, you have to try this!
Ingredients
2 pork tenderloins, (equal size, about 1 lb each)
1/4 cup Nick's Poultry Rub, recipe info in notes
6 tbsp butter
Pork Tenderloin Brine
1/4 cup salt, for brine
2 cups water, for brine
Instructions
Remove the silverskin from each of the pork tenderloins
Generously apply the rub to the surface of each pork tenderloin and then tie them together using butcher string.
Smoke the pork tenderloins for about 2 hours at 180 degrees (until internal temp hits 120) then configure your smoker to cook at 400+ degrees. The tenderloins are done when the internal temp hits 160.
Let rest under foil for approximately 15 minutes before slicing at a diagonal and serving
Notes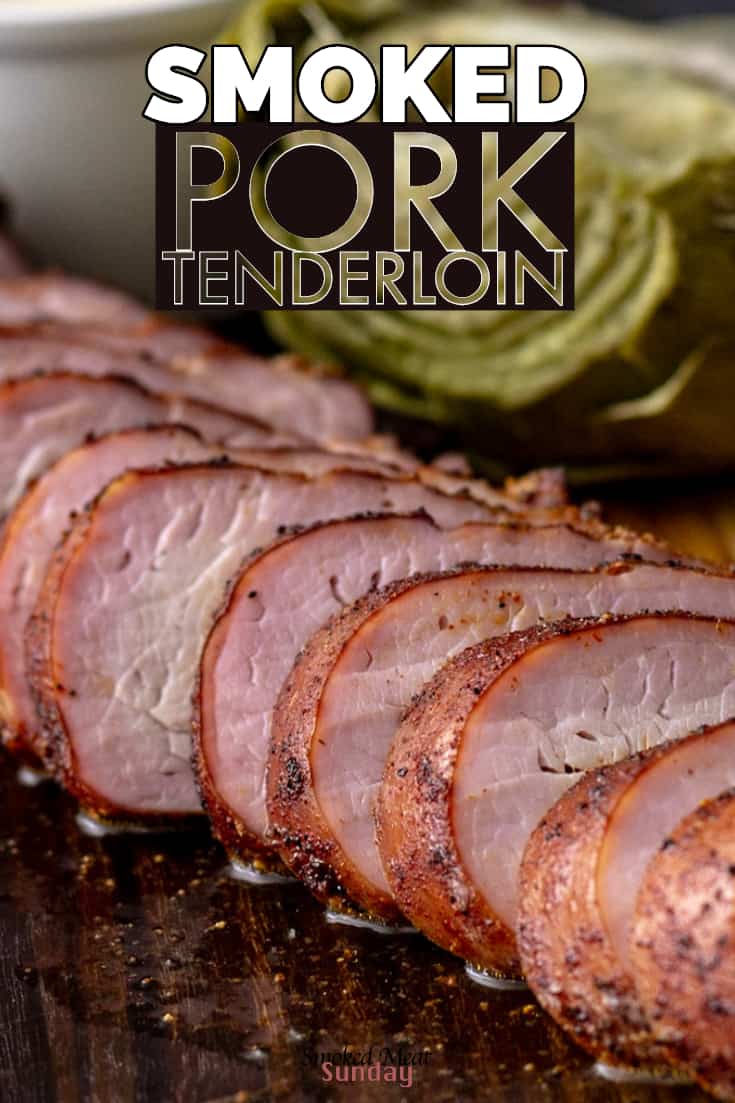 Looking for dessert ideas? Consider my smoked apple pie, pineapple upside-down cake, or peach cobbler recipes.