Halloween has come and gone, and your favorite department stores have already unloaded their Holiday gear, which means it's Pie Season, ya'll!
While pie can certainly be enjoyed year-round, I've always associated pie with fall and winter holidays. This is probably because the oncoming of cooler months has always meant the time for more decadent sugar pies and heartier fruit pies. As summer leads to autumn, delicate berry pies take a back seat to stouter options like apple, pumpkin, and fresh pecan pie.
Pecan pie is possibly one of the most perfect desserts ever made, but there is always room for experimentation and improvement, and this Smoked Chocolate Pecan Pie recipe is just that!
How to Smoke a Pecan Pie.
One of the lesser-known uses for your smoker is the ability to create some delicious baked goods, especially short doughs like pie crust. The even heat profile of your smoker cooks the crust evenly and helps achieve a flakey, buttery crust.
The key to smoking a pie is to maintain an even heat and not overdo it on the flavor wood additions. You want to use something neutral or fruity, so oak, apple, or cherry will work well; mesquite and hickory may have too strong a flavor. You can always double up on the pecan flavor with pecan shells/wood, but whatever wood you choose, make sure your smoker is burning cleanly, as sooty, creosote-filled smoke will discolor your pie and give it a gassy flavor.
Gather your ingredients.
Before starting any recipe, it's essential to read all the steps and then gather your ingredients.
While you might be positive you have a spice or ingredient on hand; it's always best to get everything together before starting to ensure you don't have any issues.
Nothing is worse than finding yourself midway through a recipe and realizing you don't have a significant component in your pantry.
Light your smoker.
Once you've gathered your ingredients and fully understand the recipe steps, go ahead and light your smoker.
This Smoked Pecan Pie Recipe has two distinct smoking steps, the first at a lower temperature of 225°f and then the final "crisping" step at 300°f. If you're using a pellet smoker or a gas/electric setup, dialing in your temperature should be an easy affair.
On the other hand, if you're using a stick burner or charcoal setup, you'll want to give your smoker plenty of time to get going to ensure an even/clean burn.
Prep the pie crust and build the pie.
While your smoker preheats, you can prep your pie crust. For this recipe, we're using a pre-made pie crust for convenience, but if you've got a great pie dough recipe you love, you can use that instead.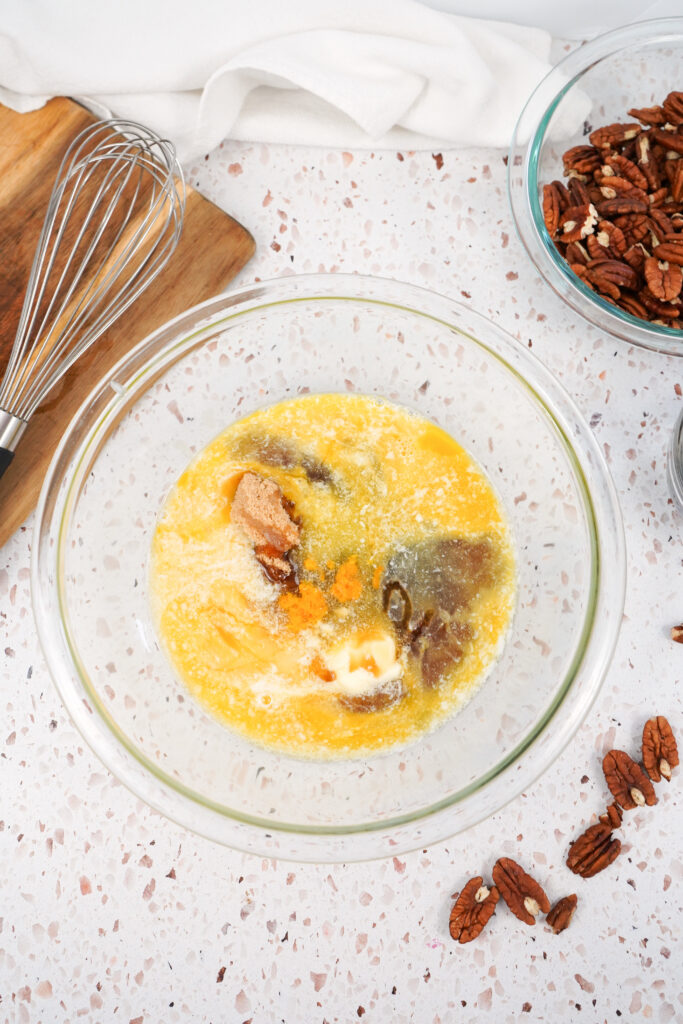 Once you've got your pie crust ready to go, carefully lay it on your pie plate and then begin to build the filling.
For the filling, you need to mix the sugar, eggs, corn syrup, melted butter, and orange zest in a large bowl to create a loose batter.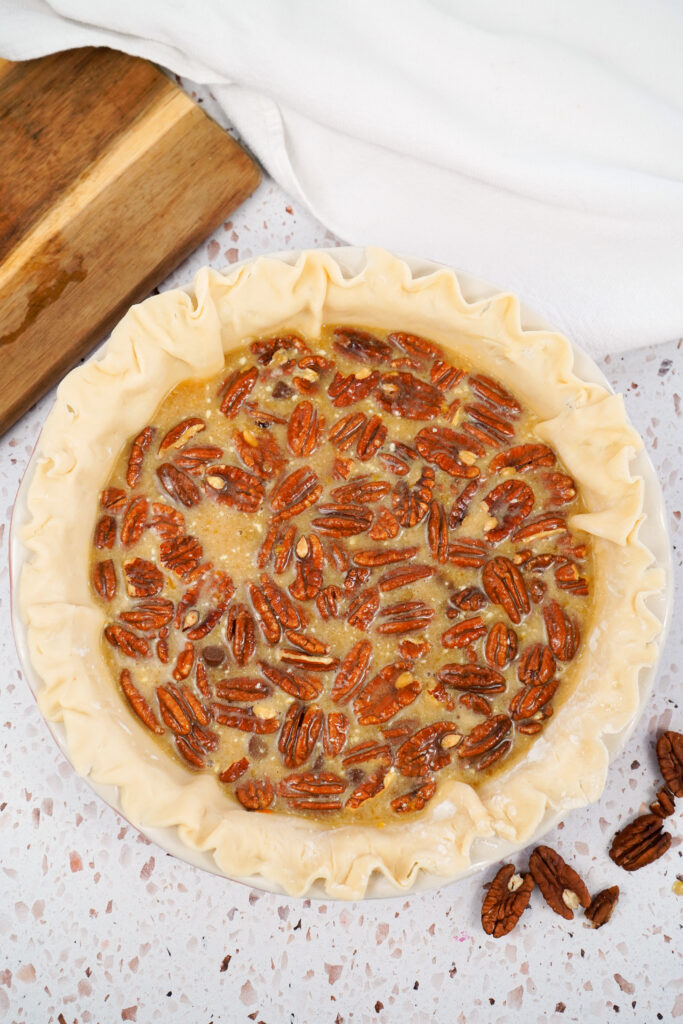 Once the egg mixture is ready, fold the pecans and chocolate chip pieces before carefully transferring the mixture to your pie plate.
Move the pie to the smoker.
Once you've prepped the pie crust and filling, it's time to put the chocolate and pecan pie in the smoker.
You can use a baking sheet to help transfer the pie to the smoker, but you'll want to place the pie plate directly onto the smoker grate in your cooking chamber and then button up the lid. Ensure the smoker is burning cleanly, and allow the pie to cook for 1 hour.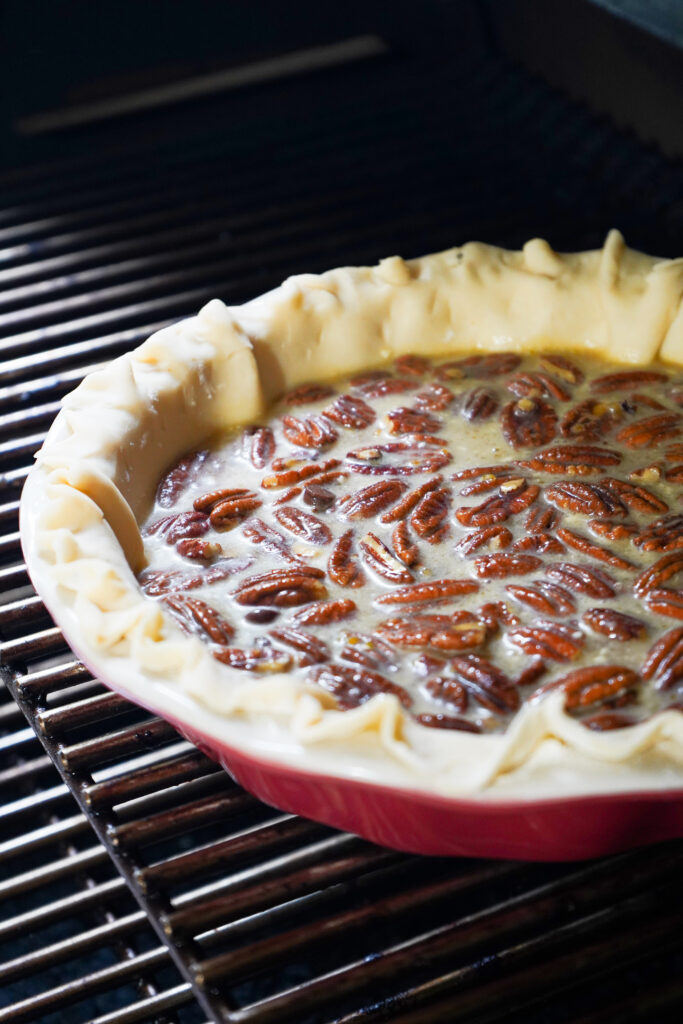 You should try to keep the lid to your smoker closed to help maintain a consistent temperature inside; for the best results, don't open the smoker lid for the first hour and monitor the temperature with your pit/meat thermometer if possible.
Turn up the heat.
After an hour in the smoker, it's time to turn up the temperature. This shouldn't be an issue if you're using a gas/electric smoker or a pellet grill. Simply turn the temperature up to 300°f and allow the smoker to increase in heat.
If you're using a charcoal smoker or stick burner, on the other hand, this will take some pre-planning to ensure a smooth temperature increase. Monitor your pit thermometer to avoid any temperature spikes so you don't burn the pie crust.
Once the smoker has reached the new cooking temperature, allow the pie to bake for another hour or so. You want the crust to finish at a perfect golden brown, so if you notice the edges starting to char around the edges, go ahead and wrap the top of the plate in aluminum foil to avoid any further issues.
Cool and Serve!
After another hour of cooking, your Smoked Pecan Pie should be close to ready. One of the hardest parts about pecan and sugar pies, in general, is being able to tell when they are finished. The center of the pie should be slightly firm with a bit of jiggle left; if the pie is too undercooked, it won't set; on the other hand, if it's too firm, it will be dense and dry.
If the center of the pie jiggles slightly, but the pecans remain still when you move it, you know you are ready to go. On the other hand, if the pie is still runny, put it back in the smoker and allow it to cook for longer.
If you're having trouble finishing your pie in your smoker, you can move it to the oven at 300°f for another 10-20 minutes, depending on how much longer it needs to cook.
If the pie is ready, go ahead and remove it from the smoker and place it carefully on a resting rack. Make sure to allow the pie to cool for at least an hour before serving, as sugar pies need longer to set than fruit pies, and cutting it too soon can cause the filling to run.
Serve the Smoked Chocolate and Pecan Pie with a generous scoop of whipped cream or vanilla ice cream.
If you have any of this delicious smoked pecan pie left over, you can store it in your refrigerator wrapped in plastic wrap for up to 4 days, or for up to 2 days on your countertop if you plan on eating it quickly.
Smoked chocolate and pecan pie
This Smoked Chocolate Pecan Pie is the perfect way to add a smokey touch to your dessert selection this holiday season. Packed with rich choclate and pecan flavor, this decadent sugar pie is the perfect acccompaniment to a cool fall evening!
Ingredients
1

uncooked pie crust

½

cup

sugar

⅓

cup

light brown sugar

1

cup

dark corn syrup

3

eggs

beaten

⅓

cup

melted butter

1

tsp

orange zest

1 ½

cups

pecan halves

½

cup

chocolate chips
Instructions
Preheat the smoker to 225 degrees F.

Unroll the pie crust into your pie plate and pinch the edges.

In a medium bowl combine the sugars, corn syrup, eggs, butter, and orange zest.

Whisk until well combined.

Fold in the pecans and chocolate chips.

Pour the mixture into the pie crust and transfer out to the smoker.

Place directly on the smoker grates and close the lid.

Let smoke at 225 degrees for 1 hour.

Then raise the temperature to 300 degrees F and continue to bake for about another hour.

Check the pie and the crust.

If the crust is starting to brown, cover the edges with some foil.

Continue to bake for about 20-30 minutes longer until the pie is firm but still a little jiggly in the center.

Remove from the smoker and let cool for at least 3 hours before serving.

Serve with whipped cream or ice cream and enjoy.
Notes
Cooking times may vary according to the ability to keep the temperature. Do not check the pie for the 1st hour for best results. Use a sweeter wood pellet if using a pellet smoker.