Fancy bbq food is great, but sometimes you just want a burger and smoked hamburgers are my favorite!
Most people make burgers on a gas or charcoal grill. They turn the heat up to high, then cook for three or four minutes per side. Burgers barbecued this way turn out good. But there is a better way!
Smoking your burgers can take a little longer, but the flavor you get is worth it! There are so many different ways to cook a burger, but I love cooking them on a smoker.
Cooking burgers on your smoker adds some delicious smoky flavor, and the end result is always super juicy. You don't need to load up your meat with a bunch of fillers either, just a little bit of seasoning, and maybe a little bit Worcestershire. That's it! But the key to great burgers starts with great ground beef.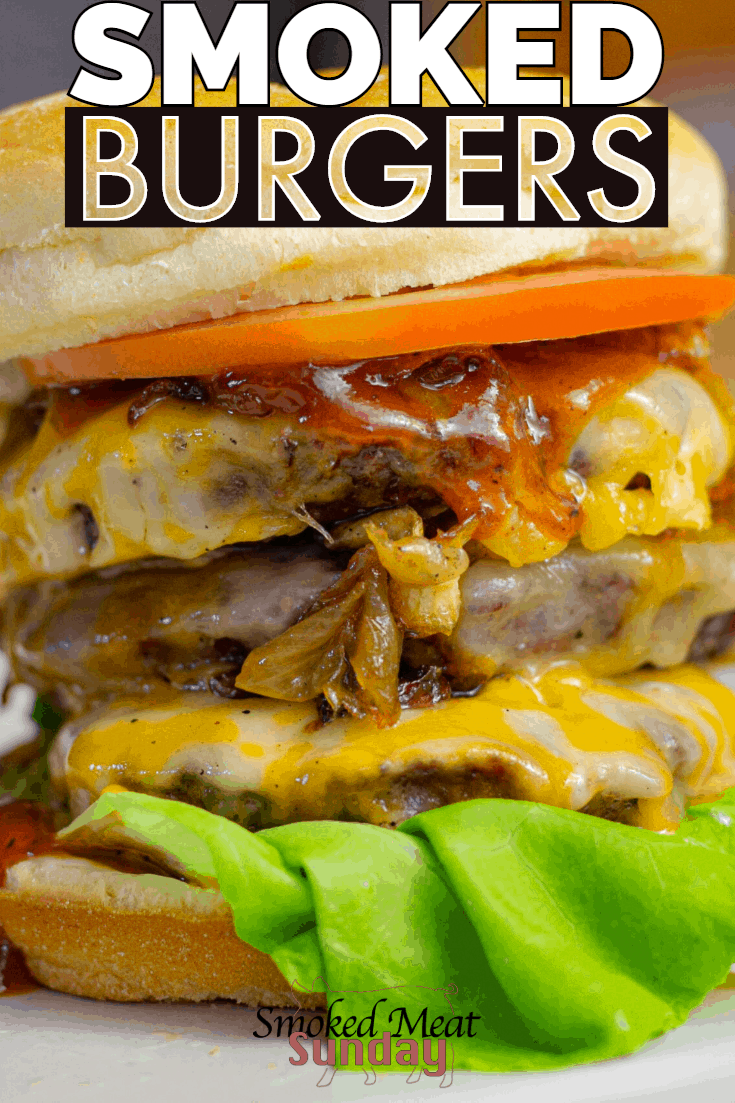 The Best Meat for Smoked Hamburgers
I like to use ground beef that has a higher fat content and is raised antibiotic and hormone free. My preference is the Wagyu Ground Beef. If you're looking for the best meat for burgers, this is it.
If you're going with store-bought burgers, make sure you get a mix of at least 85/15. My preference is 80/20 or even 73/27!
Higher fat content ground beef works well here because all that fat is going to render out during the smoke. This gives you one of the tastiest burgers you've ever had!
Making Your Burger Patties
It doesn't take long to make your smoked hamburger patties. The size of each patty is totally dependent on how big the bun is that you'll be using. Know that the patties will shrink a little while they are cooked. Make sure they are a little bit larger than the bun, and at least a ½ inch thick.
I like to use a burger press to keep my patties uniform in size and shape, and after investing in one, I can't imagine making burger patties any other way. Since all of the patties are the same size, they should all finish at the same time, and you won't have one or two that are overly dry or burnt.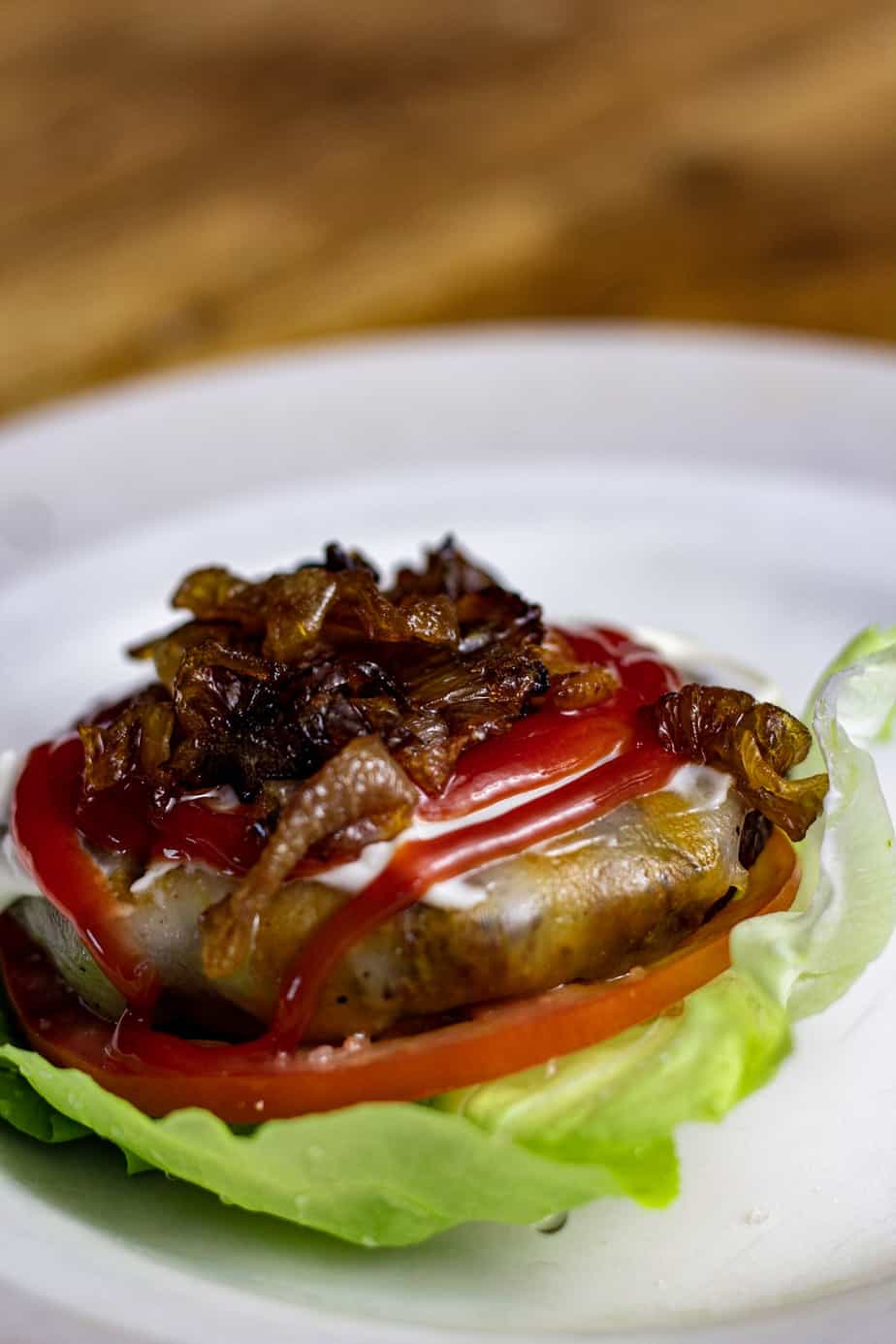 Seasoning BBQ Burgers
I like to keep it simple with my smoked burger seasonings. All I do is sprinkle a little bit of salt and pepper on each side, and then give them a splash of Worcestershire Sauce. If you are looking for a little bit more flavor in the patties consider using a tablespoon of my beef or poultry rub for every pound of ground beef.
When the patties are formed and seasoned, it's time to throw them on your Traeger!
How to Make Smoked Hamburgers
Set your grill to smoke at 180 degrees using indirect heat. Let your burgers smoke for about one hour, or until the internal temperature is 125 degrees.
Know Your Internal Meat Temps People!
I've talked a lot about internal temp, and if you don't have a thermometer then check out our best meat thermometer options, you're doing your barbecue a disservice. When you know your temps, EVERYTHING gets easier.
When the burgers have been smoking for an hour, pull them off the smoker and adjust the heat on your smoker to 450+ degrees. When the smoker is up to temp, put the burgers back in. Let them cook for two to three minutes per side to give them that good sear on the outside.
I like to cook my burgers to medium (140 degrees), but the USDA recommends cooking ground beef to 165 degrees. Use your instant-read thermometer to make sure you get it right! I've pulled my burgers too early before, and my wife was not pleased!!
If you're adding cheese, throw the slices on after the first flip. My daughter loves to add cheese, but usually she just makes a request that I stuff her burger so the cheese is on the inside.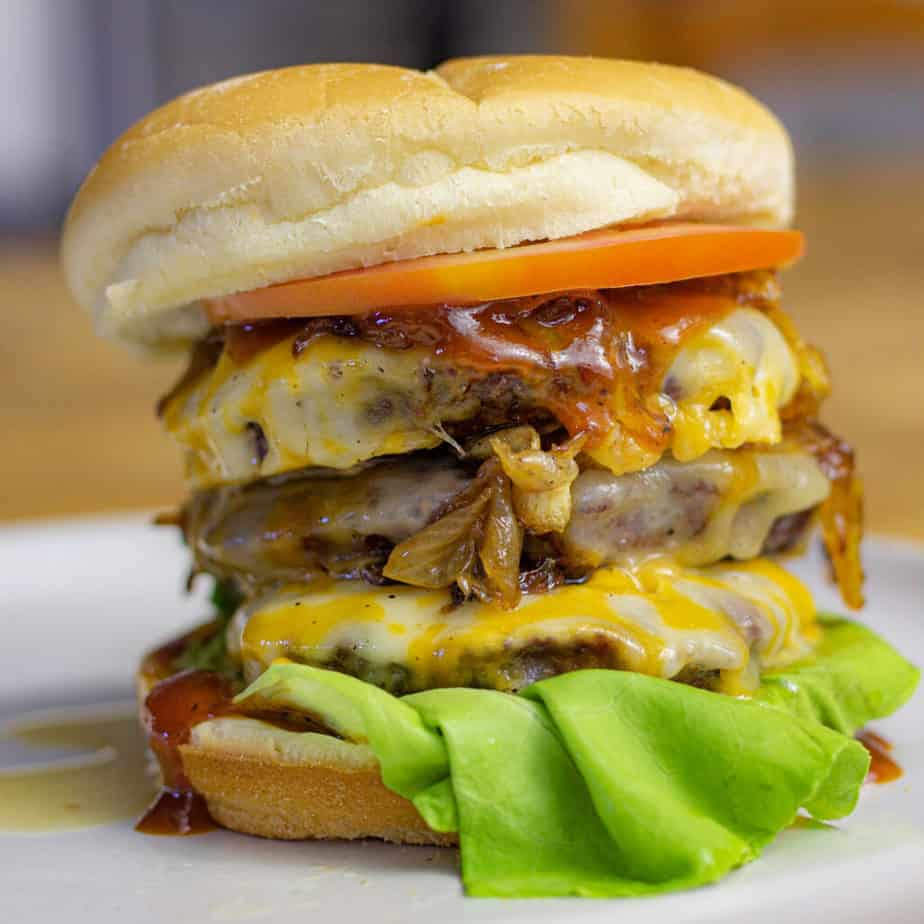 I like to eat smoked hamburgers on a good bun, along with some mayonnaise, sliced tomatoes, sliced cooked onions, lettuce, ketchup, and mustard. I know some people like to add pickles too.. And others just like to eat a burger on a bun with ketchup and mustard. How you eat them is up to you! Just make sure you smoke them first :).
If you were wondering how long do you smoke hamburgers? Now you know! Looking for other burger recipes? Check out these posts:
Smoked Burgers
Simple, moist, and delicious. Smoked Burgers are one of the easiest things you can make on your smoker, and they turn out perfect every single time
Ingredients
1

lb

ground beef

85/15 or 80/20 blend

dash salt and pepper

splash Worcestershire sauce
Instructions
Form your ground beef patties to be a touch larger than the buns you're using and about a ½ inch thick

Hit each side of the burger with a dash of salt and pepper

Add a splash of Worcestershire sauce

Smoke the burgers for about an hour, or until the internal temp hits 125 with an instant-read thermometer.

Remove burgers from smoker and turn temp up to high (400+)

put burgers back in smoker and cook for 2-3 minutes per side, depending on how you like your burger cooked. 140 is medium, but the USDA recommends cooking all ground beef products to 165 degrees. 

Let rest for 5 minutes and serve
Notes
I like to use a burger press to keep the patty size uniform.
Nutrition
Serving:
1
g
|
Calories:
312
kcal
|
Carbohydrates:
1
g
|
Protein:
31
g
|
Fat:
20
g
|
Saturated Fat:
7
g
|
Polyunsaturated Fat:
9
g
|
Trans Fat:
1
g
|
Cholesterol:
101
mg
|
Sodium:
182
mg