It was 10 degrees this morning when I left the house. Fahrenheit. Another way to describe that is REALLY. FRICKEN. COLD. It's days like this that make me crave a heartier meal like this smoked chili recipe.
I love the flavors that come out in this smoked chili, and I love how easy it is to make.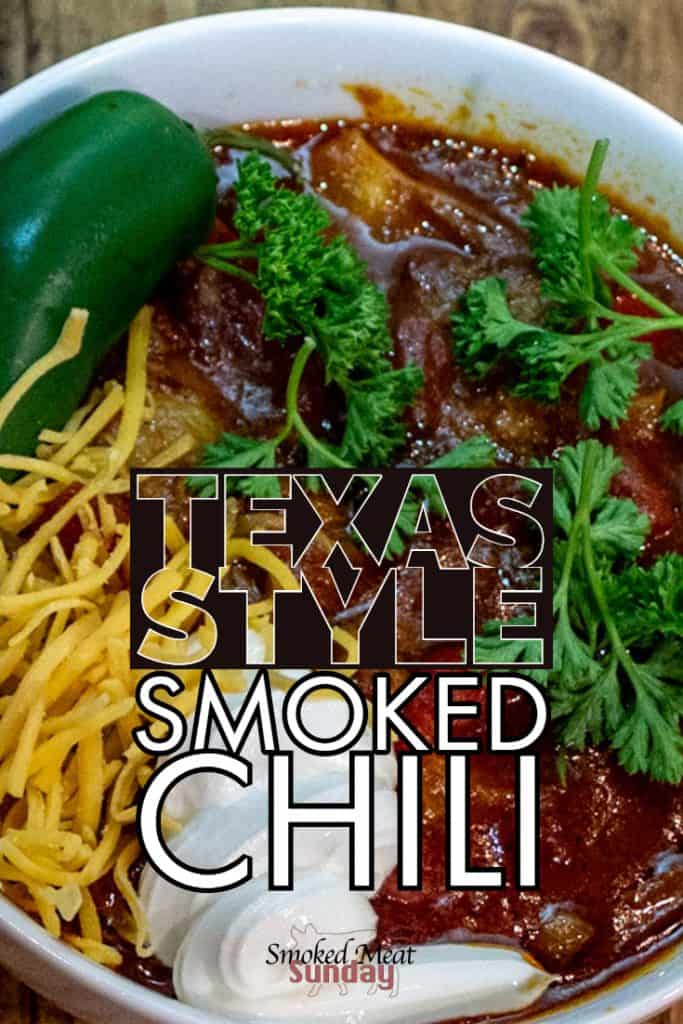 How to Make Smoked Chili
There are a lot of different cuts of meat that you can use for this smoked chili recipe, but the easiest, and probably the cheapest, is chuck roast.
Texas Style Chili
I'm making this smoked chili "Texas Style". I'm sure you're wondering, what is Texas style, so I"ll tell ya. Smoked Texas Style Chili is made without beans. The meat is the star of the show, and it's accompanied by the flavors of a few different peppers, and tomatoes.
I'm using a two and a half pound chuck roast for this smoked chili recipe, but if the one you grab is a little larger or smaller, that's just fine!
Prepping the Chuck Roast
Before we get started on the smoked chili recipe, we need to smoke the chuck roast a bit. Rub the chuck roast with some olive oil, and then apply equal parts Traeger Prime Rib Rub and Traeger Beef Rub to the meat. These two rubs compliment each other nicely and will work great in the chili when the meat is done cooking.
Place the chuck roast in a large cast iron skillet, and then put in your smoker at 225 degrees.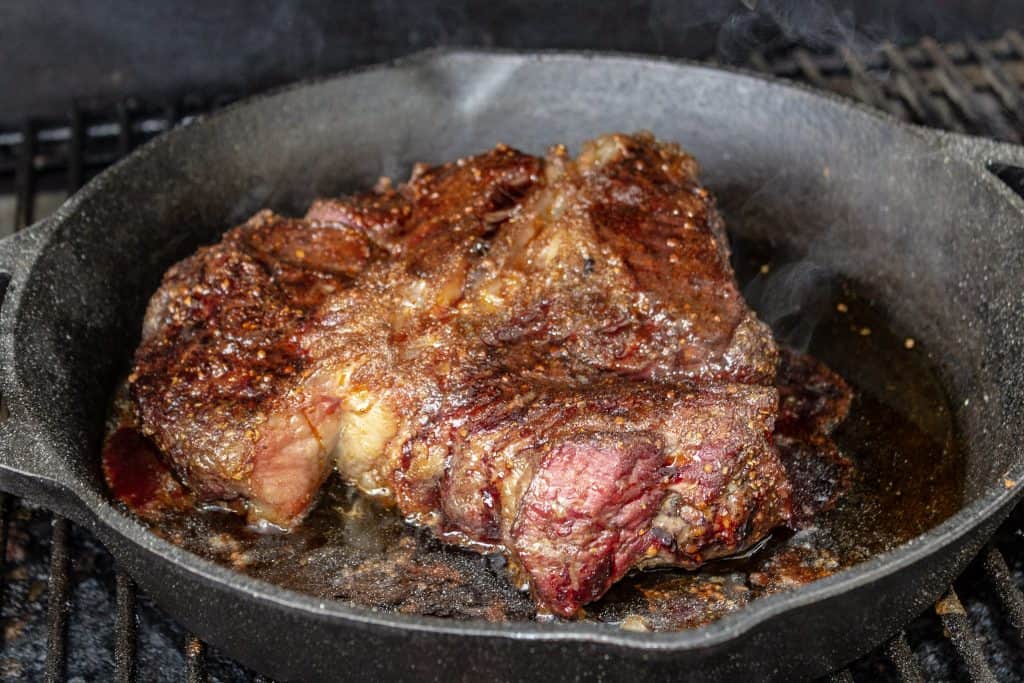 After about three hours on the smoker, add 3 diced onions, 2 diced Anaheim peppers (or jalapeno's if you're ok with some heat), 2 diced bell peppers, 3 cloves of garlic, and some shallots to the skillet.
All those veggies will absorb up any of the fat that has rendered out of the chuck roast, and add some major flavor to them. After another hour or so on the smoker your chuck roast should be holding an internal temp of about 180 degrees.
When the internal temp hits 180, pull the cast iron skillet from the smoker, and turn up the heat to 300.
Prepping the Chili
Cube the chuck roast. Add that and all the veggies to a dutch oven. In addition, add two 15 ounce cans of diced tomatoes, one 6 ounce can of tomato paste, 1 tbsp of chili powder, 1 tbsp of Worcestershire, and a ½ cup of you're favorite beer. I used an IPA. Throw in a little bit of salt and pepper, and then put the dutch oven in the smoker uncovered for one to two hours.
We really want this chili to simmer to help the flavors of the spices and peppers mellow out. After an hour or two throw the lid on and continue to let the chili cook in your smoker for another three hours or so.
You'll want to stir the chili every 45 minutes to an hour.
By the way, this would be a great recipe for your next tailgate party!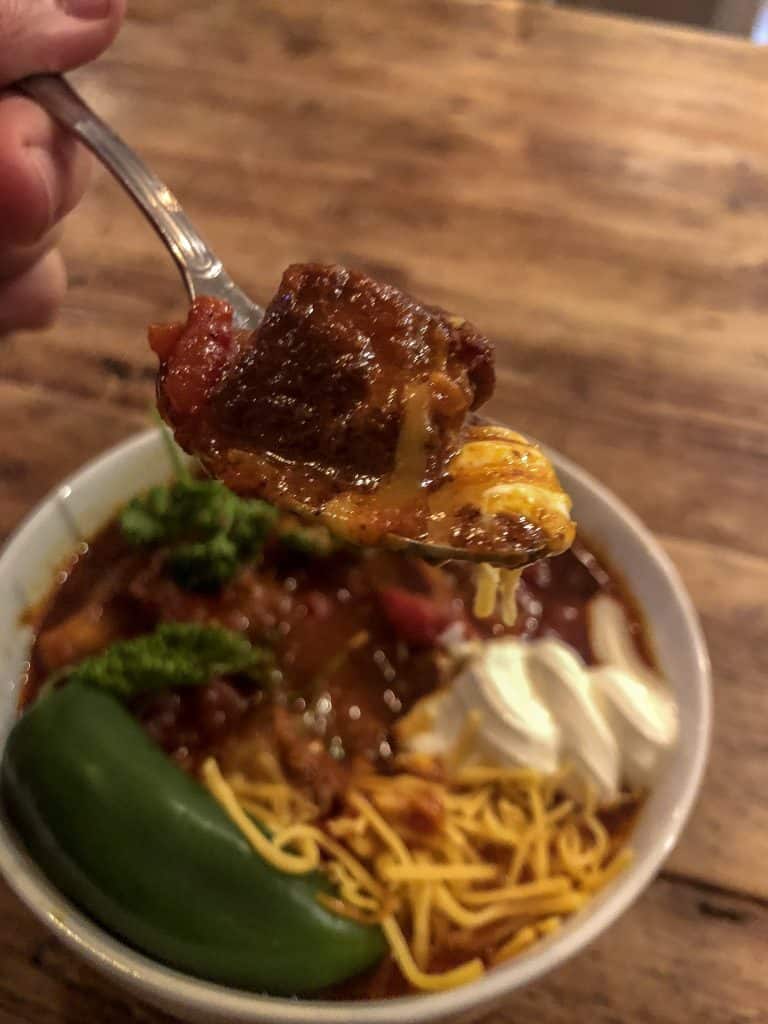 Can I Make This Chili in a Crock-Pot?
Absolutely! Just know that you're going to sacrifice some smokey flavor by doing so. Smoke your chuck roast, peppers, and onions like I outlined above, and then place them in your crock pot with the rest of the ingredients to finish the cook.
Serve the smoked chili with sour cream, shredded cheese, and cilantro (or parsley, depending on preference). We like to put chili on Fritos, so we did that too!
Thanks for checking this recipe out. If you make it, let me know what you thought in the comments! I'm always interested in hearing how other people make dishes like this, feel free to share your family secrets below 🙂
Smoked Texas Style Chili
When the mercury drops, you need something hearty to warm up your bones! One of my favorite cold weather meals is this smoked Texas-style chili. 
Ingredients
2.5

lbs

Chuck Roast

1

tbsp

Olive Oil

30

ounces

diced tomatoes

2 15 ounce cans

2

Bell Peppers

Diced

1

tbsp

Traeger Prime Rib Rub

1

tbsp

Traeger Beef Rub

3

Onions

Diced

1

Anaheim Pepper

Diced and seeds removed

1

tbsp

Worcestershire

6

ounces

tomato paste

1 6 ounce can

½

cup

Beer

IPA preferred

1

tbsp

chili powder

shallots

diced

3

cloves

garlic

minced
Instructions
Rub the chuck roast with olive oil and then apply both of the rubs evenly

Place the chuck roast in a large cast iron skillet and in the smoker at 225 for 4 hours

In the last hour put your peppers, onion, garlic, and shallots in the skillet

Remove the skillet from the smoker and cube the chuck roast

Add all of the cooked and uncooked ingredients to a 6 qt dutch oven

Place the dutch oven in your smoker uncovered and set your temp to 300 degrees

Let the chili simmer for about 2 hours, stirring every hour or so

After two hours put the lid on, but continue to stir every hour. The chili is done after 5 hours in the dutch oven.
Notes
This recipe uses the following items:
Nutrition
Serving:
1
g
|
Calories:
351
kcal
|
Carbohydrates:
13
g
|
Protein:
31
g
|
Fat:
20
g
|
Saturated Fat:
8
g
|
Polyunsaturated Fat:
11
g
|
Trans Fat:
1
g
|
Cholesterol:
97
mg
|
Sodium:
238
mg
|
Fiber:
3
g
|
Sugar:
7
g