It's pretty easy to decide on the center-of-the-plate options for your next gathering, but side dishes can make or break the meal.
For the past few years, Brussels sprouts have gone through a bit of a renaissance. While many of us remember the horror of eating poorly seasoned, boiled Brussels sprouts, thanks to recipes like these smoked Brussels sprouts, that's no longer an issue.
With a rich, dense texture and crazy funky flavor, these tiny cabbages are perfect for smoking or slow roasting. The outside of the Brussels Sprout gets roasted and crispy while the inside steams to a perfect tender center.
If you're looking for a Brussels recipe to impress, these Bacon Balsamic Brussels are just what the doctor ordered. Packed with salty bacon flavor and a touch of tart balsamic vinegar, these sprouts will leave your guests begging for the recipe!
How to Prepare Our Favorite Smoked Brussels Sprouts Recipe
This recipe is relatively straightforward, and it is super easy to prepare these Brussels alongside any other protein you are cooking; just make sure to time them together so you'll have both ready at the same time!
Preheat your smoker!
The first step to any great dish is to familiarize yourself with the recipe. Go ahead and read this entire process twice, and once you're sure you have all the ingredients on hand, you can go ahead and light your smoker.
The prep time is relatively light for these Smoked Brussels sprouts, so make sure to light your smoker well in advance, so it's up to temp. This shouldn't be a problem if you're already cooking another protein, but if you are lighting your pit just for these Brussels sprouts, make sure to give it time to heat up.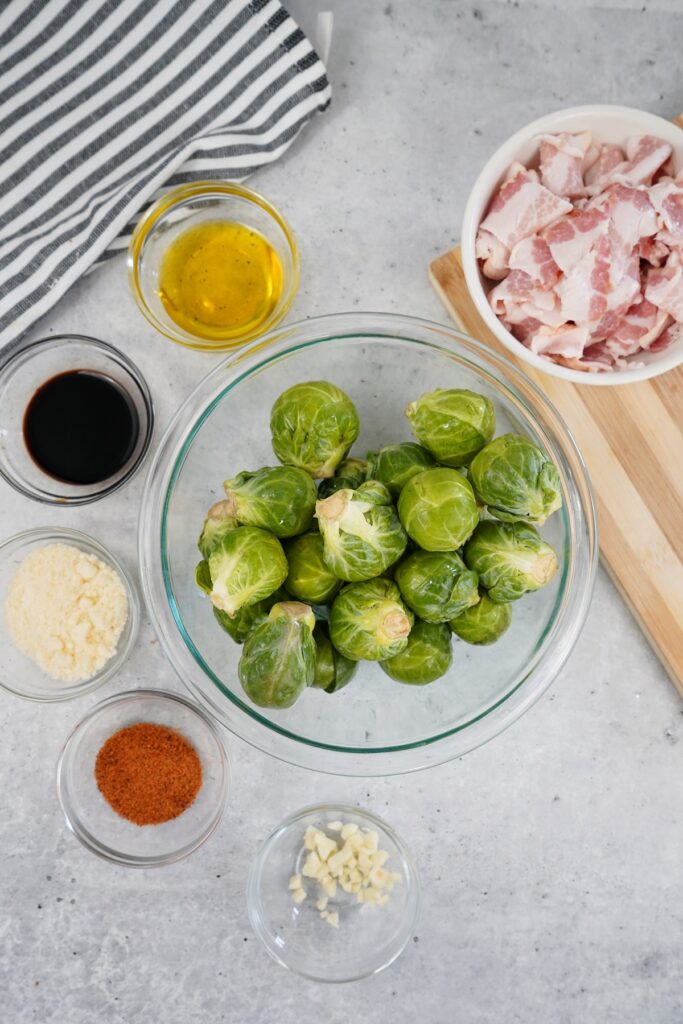 For the first stage, you'll be cooking the sprouts at a relatively low temperature of 200°f, so make sure to plan your fire accordingly. If you're lucky enough to be cooking on a pellet grill, this shouldn't be an issue, but if you're using a stick burner or charcoal smoker, make sure to give your pit time to level out once it gets up to temperature!
You can smoke Brussel sprouts at a slightly higher temp if you're having trouble maintaining a lower setting; make sure to shorten the cooking time and check on them more often.
Prep the Brussels Sprouts.
While the smoker heats, you can go ahead and prep the sprouts.
First, wash the Brussels and then cut the ends off of the sprouts. Next, cut them in half lengthwise. If you're using extra large Brussels, go ahead and cut them in quarters. On the other hand, if you find yourself using micro Brussels, you can leave them whole after you've removed the stem end.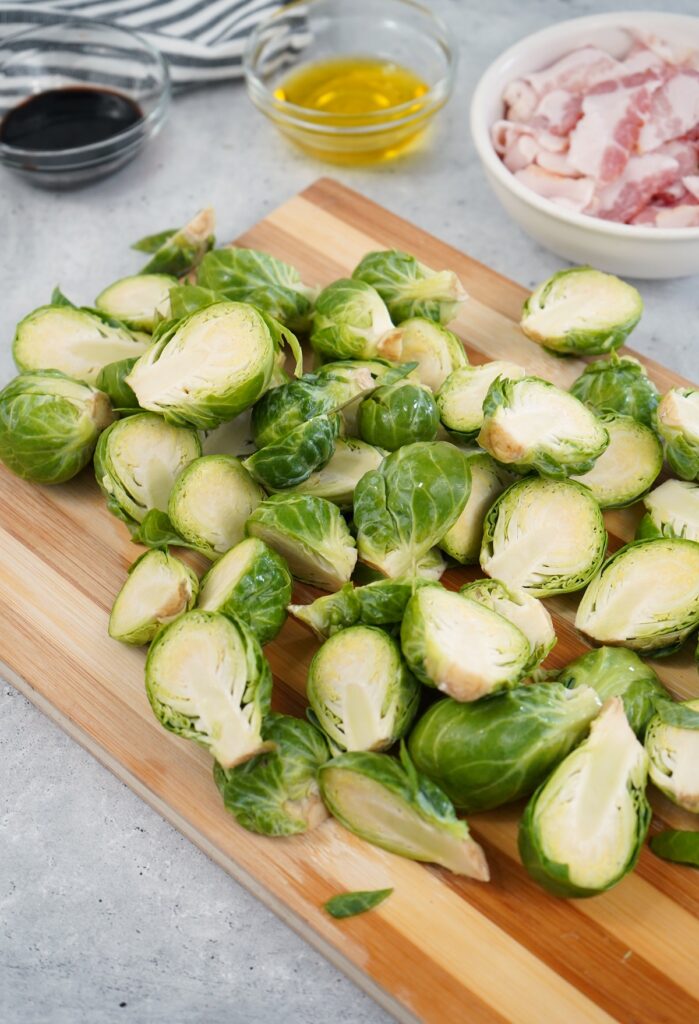 Once all the Brussels are cut, place them in a large mixing bowl and add the chopped garlic, BBQ rub, balsamic vinegar, and chopped bacon to the bowl, then mix them together. If you don't want a full barbecue flavor for your smoked sprouts, you can substitute kosher salt for the BBQ rub or any other seasoning blend you have on hand.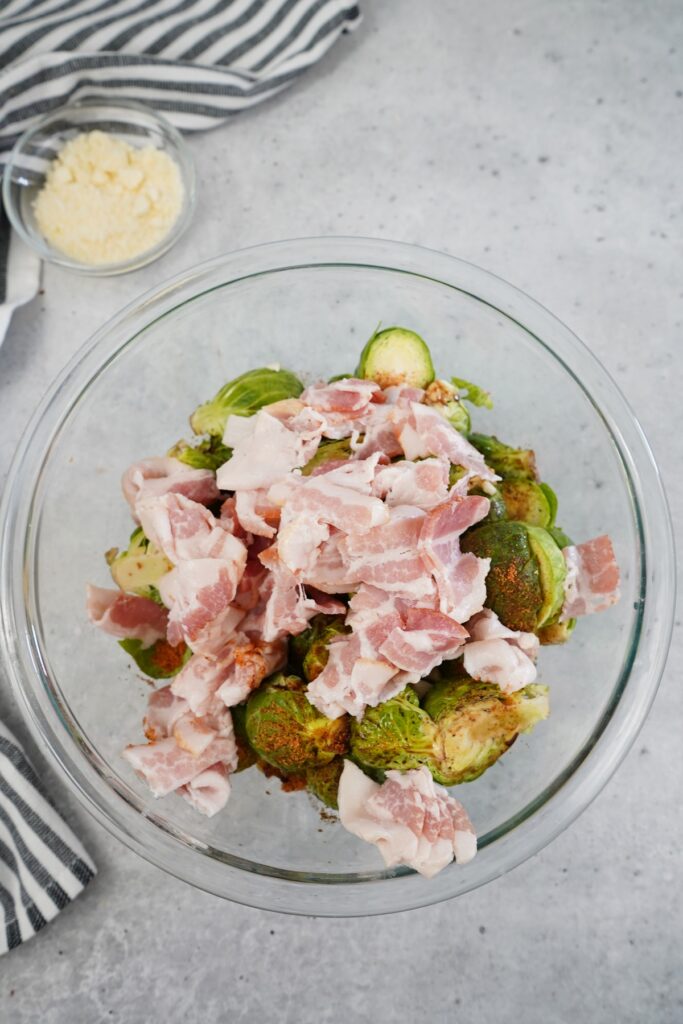 Finally, lay the seasoned Brussel sprouts and bacon mixture onto a foil-lined baking sheet or aluminum baking pan. You don't want too much overlap on your Brussels as this will prevent them from properly caramelizing, but you also don't want them too spaced out as this can result in overcooking or burning.
Load the Sprouts into your Smoker.
Once the smoker has reached 200°f, and the fire is burning cleanly, you can go ahead and load your sprouts into your smoker. When smoking Brussels sprouts, you'll want to place them in the center of your smoker if you are using a vertical-style pit or towards the center of your pit if you're using a stick burner, and then button up the lid.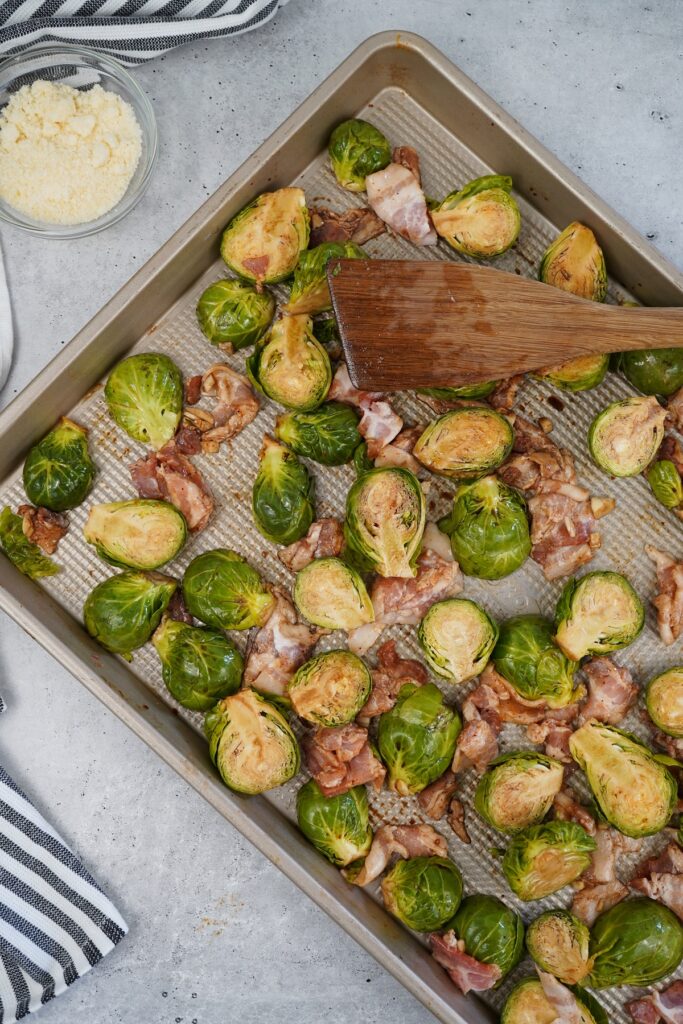 Let the sprouts cook for ~2 hours at 200°f before adjusting the temperature. You should check your sprouts every 30-40 minutes and give them a stir as necessary to help render the bacon fat and smoke the Brussels sprouts evenly.
Once 2 hours have elapsed, go ahead and increase the temperature.
Turn up the temp and crisp the brussels sprouts.
To crisp the Brussels sprouts, increase the temperature of your smoker to 300°f and allow them to cook for another 20-30 minutes.
If you're using a stick burner or charcoal pit, you'll need to open up the airflow and add fuel to the pit 10-15 minutes earlier in the process. Try not to let too much creosote build up in the smoke as you increase the temperature; if necessary, you can remove the sprouts for a few minutes while you build a fire up to the appropriate level.
Once the sprouts are crispy and well-glazed, remove them from the smoker and adjust your seasoning as necessary!
Finish the Smoked Brussel Sprouts with Parmesan Cheese and serve.
Once the sprouts are crispy and well-glazed, sprinkle them liberally with the parmesan cheese and serve hot!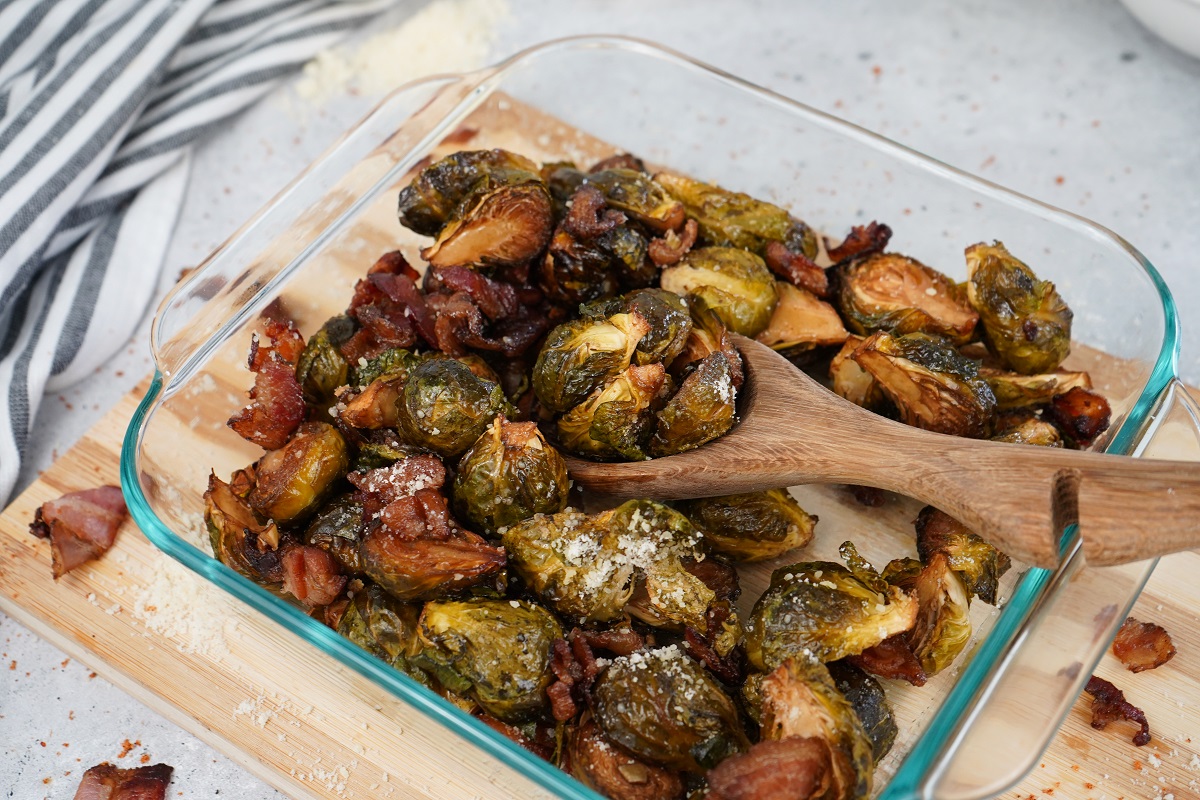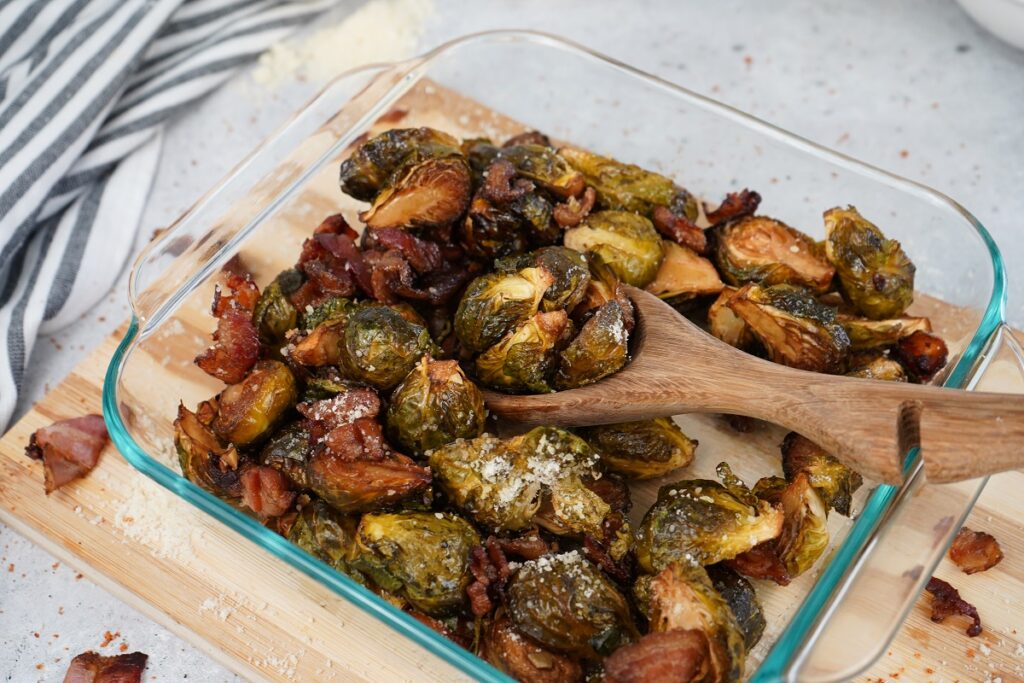 In the rare case that you have any of these delicious, smokey brussels sprouts left after your meal, you can keep them refrigerated in an airtight container for up to 3 days.
Bacon and Balsamic Smoked Brussels Sprouts
These smoked brussel sprouts are guaranteed to impress. The salty bacon flavor matched with a touch of tart from the balsamic vinegar will have your guests begging for more.
Ingredients
1 - 1 ½

lbs

of fresh Brussels sprouts

2

cloves of garlic

minced

2

tbsp

olive oil

1

tbsp

Balsamic Vinegar

1

tsp

all-purpose BBQ Rub

½

lb

raw bacon

chopped

2-3

tbsp

of Parmesan cheese

more or less to taste
Instructions
Preheat the smoker to 200 Degrees F.

Wash the Brussels sprouts and cut each one in half and add them to a bowl.

Then add in the garlic, olive oil, balsamic vinegar, BBQ rub, and chopped bacon.

Mix until all ingredients are well combined.

Pour the mixture onto a baking sheet or aluminum pan.

Spread all of the ingredients out so that there is space between the Brussels sprouts and bacon for even cooking.

Transfer out to the smoker and place on the grate.

Close the lid and let smoke at 200 Degrees F for about 2 hours.

Give everything a stir, raise the temperature to 300 Degrees F and let cook for about another 20-30minutes until the bacon is crisp to your liking and the Brussels sprouts are fork-tender.

Sprinkle some parmesan cheese and serve warm.
Notes
Cooking times may vary according to your ability to keep the temperature/ how tender you like the Brussels sprouts and how crispy you like the bacon.