I love a good appetizer, and these bacon wrapped steak bites are quickly becoming one of my favorites. They're easy to prepare, and everyone loves them.
If you're looking for a new appetizer to add to your rotation, keep reading.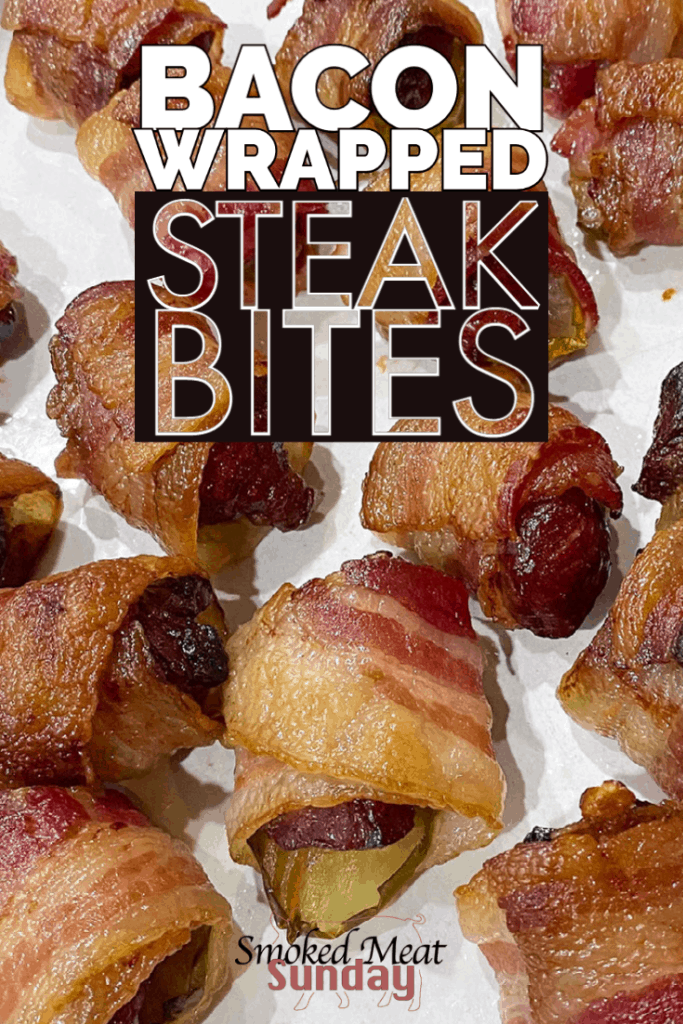 What You'll Need
There are a few different ways you can go with these for the meat. All options are good.
Option 1 - cube up a 16 ounce ribeye in 20 or so equally sized pieces.
Option 2 - buy some stew meat at the store
Option 3 - order some Wagyu steak bites - these are definitely the tastiest option, but you'll need to plan a little further ahead to get them ordered.
You'll want the pieces of meat to be cut into bite sized pieces.
In addition to the meat, you'll need a pound of thin-sliced bacon, a jar of dill pickles, and the ingredients for your favorite steak marinade.
Prepping the Meat
A few hours before you smoke these bacon wrapped steak bites you'll want to throw the meat into your favorite marinade.
I use a simple marinade that includes olive oil, balsamic vinegar, Worcestershire sauce, soy sauce, dijon, garlic, and salt/pepper. The recipe card at the bottom of this post has the measurements.
Marinating helps break down the meat so that when those small pieces get smoked for an hour plus they are still nice and tender. If you decided to opt for the wagyu steak bites paired with a marinade the meat will literally just melt in your mouth.
Let the steak pieces marinate for a few hours.
Assembling the Bacon Wrapped Steak Bites
Assembling the bites is an easy process. First thing I always do is prepare my bacon. Count the number of steak pieces you have, and then the number of bacon slices. If you have 20 pieces of steak you'll need 10 slices of bacon.
Cut the bacon in half, and then separate each slice so it's easy to handle.
Open your jar of dill pickles and remove 20 pickle slices from the jar.
Lay one strip of bacon on a cutting board, place a pickle slice in the middle, add a piece of meat, fold each side of the bacon over so everything is contained. Pierce with a toothpick to hold the bacon in place.
Repeat the process until all of the bites are assembled.
Time to Smoke!
Set up your smoker to cook using indirect heat at 225 degrees. I used cherry wood here, but oak or mesquite would work well too.
Once the smoker is up to temp place the appetizers directly on the grill grate. I like to push the toothpick down into each bite when I place them so it's going all the way through - this makes them easier to handle when they are done cooking.
Let the bacon wrapped steak bites smoke for an hour at 225, and adjust the heat up to 375. Let them continue to cook until the bacon has crisped to your liking, usually an additional 5 to 10 minutes.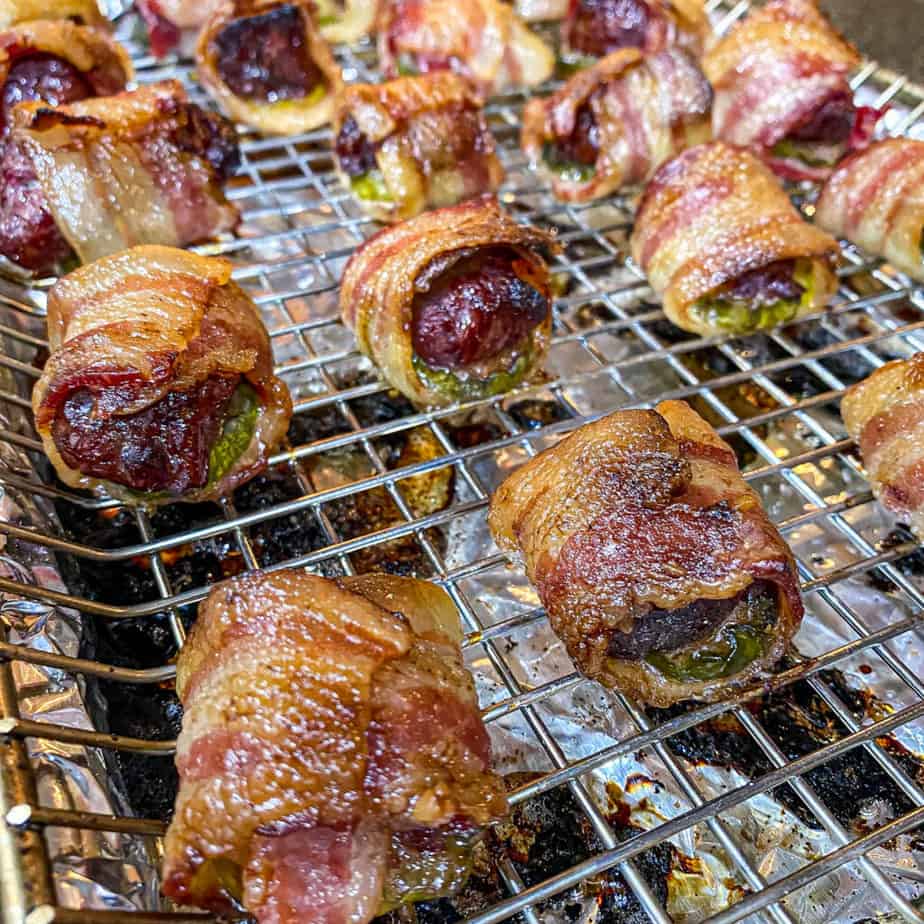 You can eat these bites plain, or serve them with a dipping sauce. The choice is yours! I hope you give them a try - I'm sure these will quickly become a smoked appetizer staple in your house just like they are in mine.
Smoked Bacon Wrapped Steak Bites with Pickles
If you're looking for a tasty smoked appetizer that is different from the norm, give these bacon-wrapped steak bites a try!
Ingredients
16

ounces

steak

cubed in 20 pieces (sub stew meat)

1

lb

bacon

sliced thin (10 slices total)

20

dill pickle slices
Steak Marinade
¼

cup

olive oil

¼

cup

balsamic vinegar

¼

cup

Worcestershire sauce

¼

cup

Soy sauce

2

tsp

Dijon Mustard

2

tsp

granulated garlic

1

tsp

salt

1

tsp

pepper
Instructions
combine marinade ingredients and marinate steak pieces for about 3 hours

cut the bacon in half, and separate each piece so they are easier to handle

lay one strip of bacon out, and then place a slice of pickle in the middle, followed by the beef. Wrap the bacon over to enclose ingredients. Push a toothpick through to hold bacon in place.

Smoke at 225 degrees for one hour

Cook for an additional 5-10 minutes at 375 degrees (until bacon has crisped to your liking)
Notes
once you place the steak bites in the smoker push each of the toothpicks down so they pierce all the way through the bacon on the other side - this will make them easier to handle when they are done cooking
Nutrition
Serving:
1
g
|
Calories:
579
kcal
|
Carbohydrates:
6
g
|
Protein:
40
g
|
Fat:
43
g
|
Saturated Fat:
14
g
|
Polyunsaturated Fat:
26
g
|
Cholesterol:
127
mg
|
Sodium:
2257
mg
|
Fiber:
1
g
|
Sugar:
3
g