It's no secret that Jalapeno Poppers are delicious. They're loaded with cheese and wrapped with bacon, and then cooked in an oven or on a bbq grill. Just about everyone loves them.
I love them too, but I have a problem. Wrapping bacon around food is not the easiest thing to do. It requires toothpicks and patience. Toothpicks are always easy to replenish, patience... not so much.
Knowing this was a major world problem, I sought out to solve it. The end result, Puff Pastry Jalapeno Poppers. Is this idea unique to me? After making these and then doing a google search, I realized the answer is NO. But I don't care. The world needs to know about these, and I'm doing my part in spreading the word.
How to Make Jalapeno Poppers
The Filling
One of the key components to a good jalapeno popper is the filling. I keep the base of my filling simple with cream cheese and shredded cheddar cheese. Add in a few cloves of minced roasted garlic, and your favorite bbq rub, and you have a flavor profile that really stands out.
Now here is where this recipe differs from those traditional bacon wrapped jalapeno popper recipes that everyone loves. Instead of wrapping the jalapeno popper with bacon, we're going to put the bacon in the filling!
Or if you really want to get crazy, you can cube up some pork belly, and make pork belly burnt ends, and then put the burnt ends in the filling...
The Jalapenos
Any Jalapenos will work for jalapeno poppers, but I try to always select the ones that are most uniform in shape, and a little on the large size. More jalapeno = more filling, and I'm all about the filling!
Prepping Jalapenos for Puff Pastry Jalapeno Poppers
Prepping the jalapenos is probably the most difficult part of making jalapeno poppers. That being said, it's an easy task that can be accomplished one of two ways. Before you cut into a jalapeno, always make sure you're wearing disposable gloves. The oil in the peppers is tough to get rid of on your skin, and the last thing you want to do is get that jalapeno juice on your fingers and then rub your eyes. Talk about painful!!
How to Remove Jalapeno Seeds
The first option is to but your jalapeno in half long ways, and then scrape out the seeds and white ribbing. This is an easy task, but the seeds can be a bit of a mess. Use a paring knife to cut out the ribs as best you can, and then turn the pepper half over and gently tap it on your cutting board over a bag. Most of the seeds will fall out and then you'll have just a few left to scrape out.
The second option is my preferred method. I'm not sure that this method is any easier, but it's just the way I'm more comfortable with. Cut the stem end of your pepper off an ⅛th of an inch below the cap.
Insert your paring knife into the end of the pepper, between the white and the skin, and gently cut around the edge, being careful not to go through the skin to the outside of the pepper. Then, place your paring knife directly into the white, and slowly twist. This will break up the seed cap, and allow most of the seeds to fall out. Continue to scrape the edges of the inside of your pepper until all of the ribbing and seeds are gone, and then cut the pepper in half long ways.
Stuffing the Peppers and Wrapping with Puff Pastry
After you've prepped all of the peppers, and your filling is set, it's time to build your puff pastry jalapeno poppers! This is the easiest part of the whole thing.
Fill each pepper half with a generous amount of cheese/bacon filling. When I say generous, I mean OVERFILL that sucker. The puff pastry is gonna hold it all in.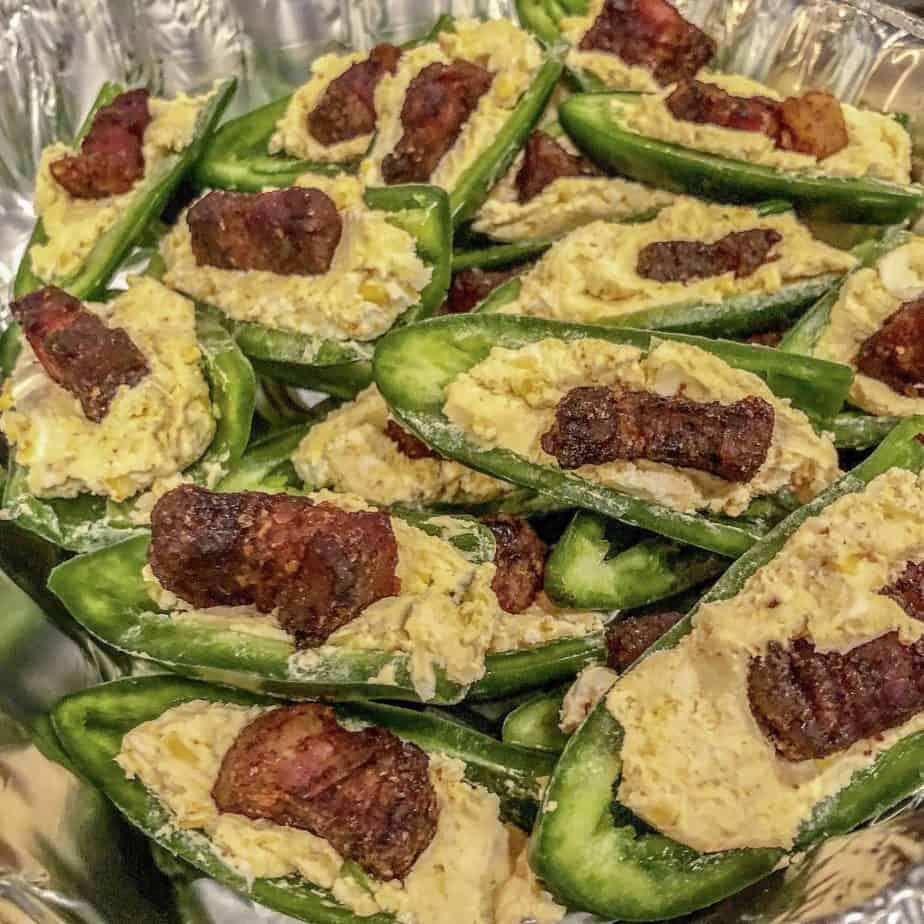 Lay your puff pastry out on a floured surface, and then use a rolling pin to roll it out and make it a little thinner. I used Pepperidge Farms puff pastries for this. Once the puff pastry is rolled out, use a pizza cutter to slice the pastry into 9 equally sized squares.
Place a stuffed pepper half stuffing side down on the pastry, diagonally. Wrap in the corners of the pastry, and then seal. If the pastry isn't sticking together wet your fingers and rub them on the edge of the pastry.
How to Smoke Jalapeno Poppers
Once all your jalapeno poppers are wrapped, place them on a foil lined sheet pan. Make sure you spray the foil with cooking spray first and then brush each of the puff pastry jalapeno poppers with an egg wash.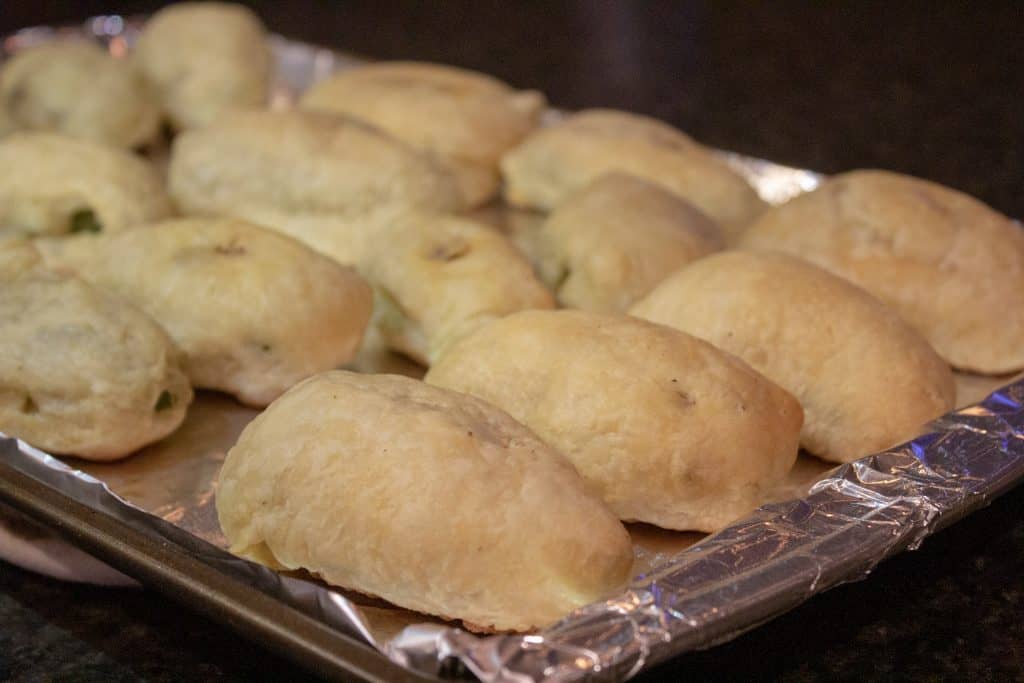 Place the pan(s) in your smoker, set to cook at 350 degrees. It should take about 20 minutes for the pastries to puff up, and turn golden brown.
When they're done remove them from the smoker and place on a cooling rack for about ten minutes. Be careful not to bite into them too soon, that filling will be HOT!!
Smoked Puff Pastry Jalapeno Poppers
Upgrade Your Jalapeno Popper experience with these Smoked Puff Pastry Jalapeno Poppers. Stop messing with wrapped bacon, make these instead!
Ingredients
9

Jalapenos

sliced in half, deribbed, and deseeded

2

sheets puff pastry
Jalapeno Popper Filling
12

ounces

Cream Cheese

Room Temperature

½

cup

shredded cheddar cheese

Room Temperature

⅛

cup

Bacon Bits

Optional

1

piece

cooked pork belly

Optional

2

cloves

roasted garlic

minced

1

tbsp

SPG rub

½

tsp

salt

¼

tsp

cayenne

Optional
Instructions
Combine all of your filling ingredients in a large bowl. Pick your meat choice. Pork belly is awesome in these, but so is bacon. Just make sure it's cooked thoroughly before adding to the jalapenos. Mix well with a wooden spoon.

Fill each jalapeno half with filling. It's ok to overfill these. If you're using pork belly place the pork belly in after adding the filling

Line a sheet pan with foil and grease and set your smoker up to cook at 350 degrees.

Roll out your puff pastry sheet on a flat floured surface. Cut each sheet into 9 equally sized squares.

Place a filled jalapeno filling side down on one of the puff pastry squares, and then fold the corners of the pastry over the jalapeno. Wet your hands to seal the seam.

Place each of the Jalapeno Poppers on the sheet pan, and then brush with egg wash.

Place in your smoker for approximately 20 minutes. The Puff Pastry Jalapeno Poppers are ready when the crust starts to turn golden brown.