If you're new to cooking pork you may fall into the trap of thinking both pork tenderloin and pork loin are the same thing due to the similarity in names. In fact, they have some fairly noteworthy differences that affect not just how you should use them but also what they add to a dish and even what they cost. We'll break it down here and cover the following:
What they are - definition
Where they are - location
How big they are - size
How they taste- flavor
How they look - appearance
What they cost - price
How healthy they are - nutrition
How to prepare them - cooking
Definition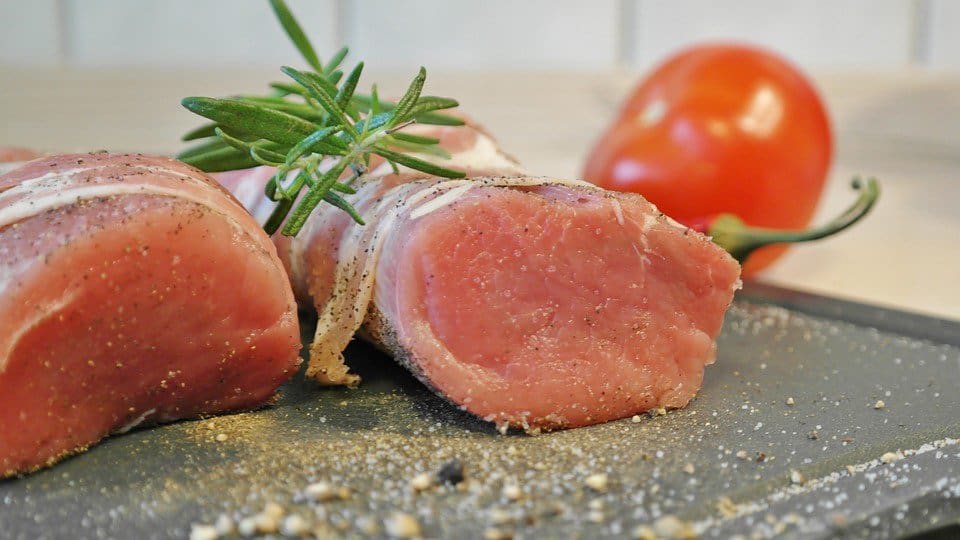 What is a Pork Loin?
A pork loin is going to be a fairly thick and wide cut of meat. Because it's such a potentially large cut, you can get pork loin bone-in or boneless.
Pork loins will often have a layer of fat on it that can sometimes be remarkably thick. They call this a fat cap and it can add a lot of moisture and flavor to the pork when grilling, smoking and so on. Some cooks will remove the fat cap but that will definitely take a lot of potential flavor away from the cook.
At the store you may find various cuts of pork loin that including pork loin rib half, pork loin chops and pork center rib roast. These are the result of how the pork loin was cut down and processed but they all come from the pork loin.
What is a Pork Tenderloin?
Pork tenderloin is a smaller cut than pork loin. This never has a bone in it and is longer and thinner. Though it also comes from the loin muscle, it's not the full loin by any means and is a lean and tender cut. The tenderness from this meat comes from the fact the muscle itself is not a heavily used muscle that sees a lot of action on the pig, being from its back. As a result it stays lean and tender and is a favored cut as a result.
What is a Pork Filet?
If you ever see something being advertised as pork filet, there's a good chance it's pork tenderloin. The two names tend to be used interchangeably.
Location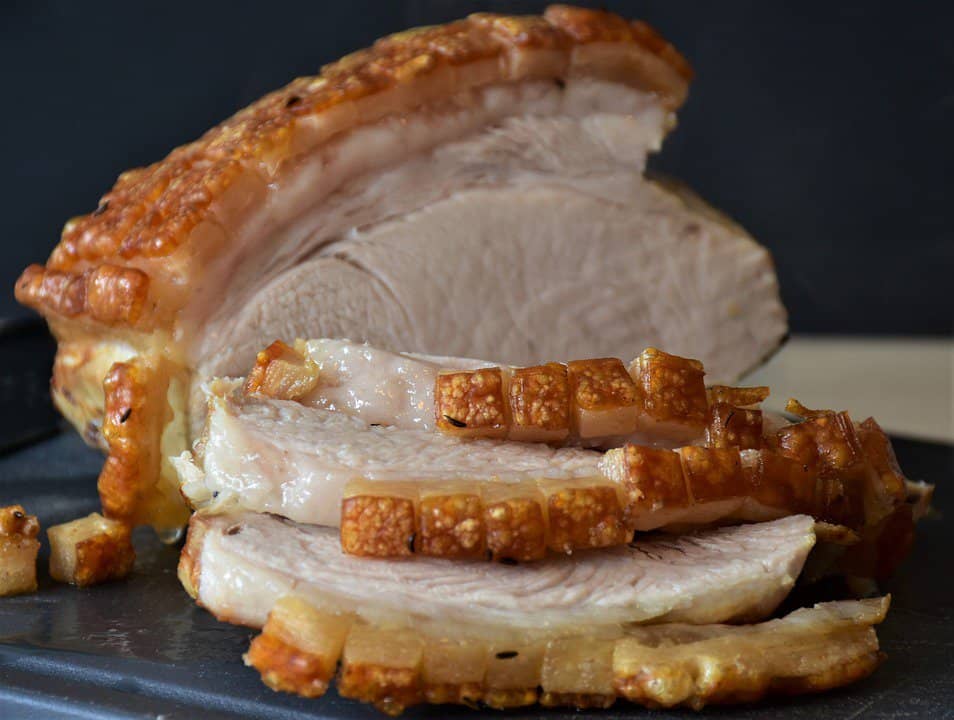 Where is the Pork Loin
Typically when pork loin is cut, it comes from between the ribs and the fat back. It comes from the loin muscle, of course, but that runs for nearly the whole length of the pig's body from shoulder to the rear along that midsection area.
Where is the Pork Tenderloin
The tenderloin also comes from the loin area, but in particular it's a cut from right up against the pig's spine. As a result it tends to be much longer and thinner than a straight loin.
Size
How Big is a Pork Loin
Pork loin can be a fairly large and thick cut of meat that may weigh as much as four or five pounds and usually at least two or three. These are typically pretty big slabs that are rectangular or square. In really simple terms this is what people would call a pork roast and it's a good size obviously. If you were to slice it down you could make pork chops in a way you definitely could not from a tenderloin.
How Big is a Pork Tenderloin
Most pork tenderloins are relatively small when they're sold and it's not uncommon for these to weigh a little under a point to maybe two pounds at the very most, but that would be a large tenderloin. Because they are long and then you can potentially cut a tenderloin down into medallions but not steaks or chops like you can with a loin.
Flavor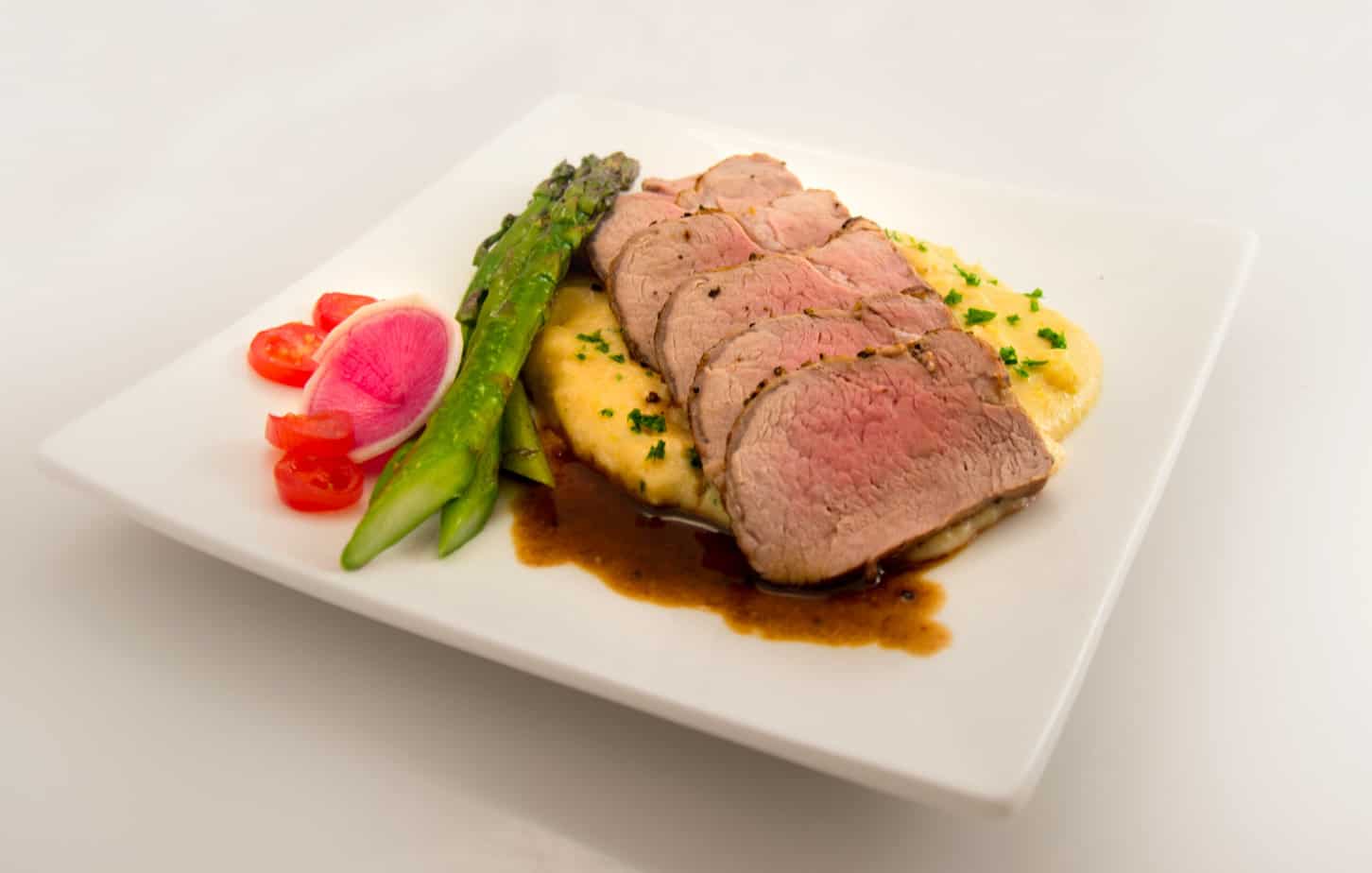 How Does Pork Loin Taste?
Pork loin has a mild taste when unseasoned as it is a fairly lean meat. That said, as mentioned, it may come with a fatback which not only can make the meat juicier it can allow for a more pronounced and robust flavor. It can be reminiscent of veal and even have vague hints of sweetness if the cook is done well and the mean remains juicy.
How Does Pork Tenderloin Taste?
Tenderloin is a much more lean cut of pork and is sometimes classified as "extra lean." For that reason, flavor is often added to a pork tenderloin to make it more palatable when cooking in the form of seasonings and sauces. On its own, like the loin, it has an extremely mild taste. Though it's savory it tends to pair well with other flavors and easily absorbs them while adding its own meaty tenderness.
Appearance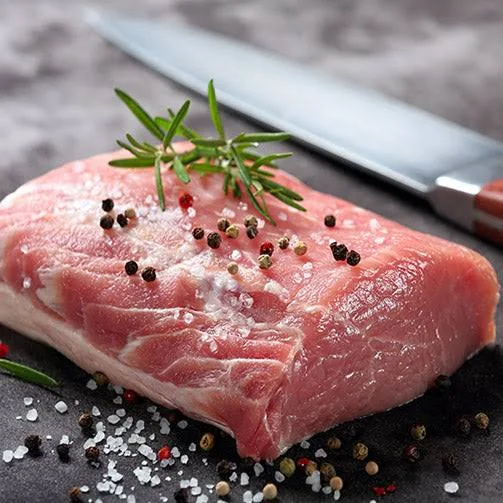 What Does Pork Loin Look Like?
Pork loin is usually a light pink color and when cooked becomes very pale ranging from white to an almost gray color in the fattier portions. When raw the meat will not have a lot of fat marbling but the fat cap can be prominents and quite thick. The fat layer may be an inch or more in thickness and a rich, white color.
What Does Pork Tenderloin Look Like?
Pork tenderloin is a lot darker when raw than the pork loin. It's often a rich pink to a light red shade and the fat, if there is anyone, is typically very thin and just on the surface. There should be no marbling whatsoever in the meat itself. When cooked, pork tenderloin becomes very pale.
Price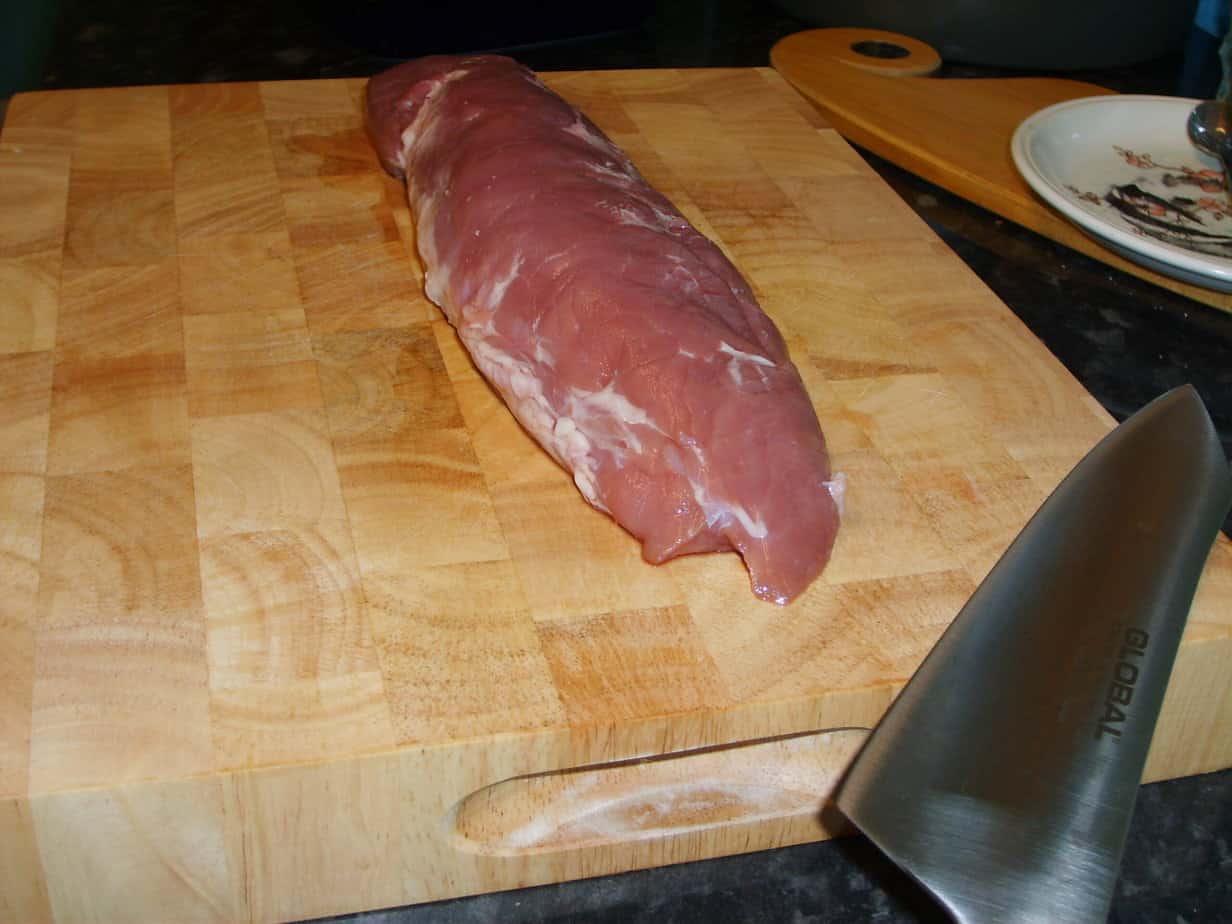 What Does Pork Loin Cost?
Pork loin is a cheaper cut of meat than pork tenderloin but it can come in several preparations that affect the price, most notably boneless vs bone in. According to the USDA, bone-in, pork center loin roast went for an average price of $1.88 per pound over the year of 2022. However, that price was rising steadily towards the end of the year with averages sometimes getting as high as $4.25. Whole bone-in loins were about $1.90 per pound.
Boneless loin roast averaged $2.75 per pound over the whole of 2022. As you can see, there's quite a potential range for prices but boneless will of course end up costing more due to the extra processing involved.
Where you live in America also has a significant impact on pork loin prices. For instance, that boneless pork loin in the Southeast US (AL, FL, GA, MS, NC, SC, TN, VA, WV) could get as low as $1.54 per pound. However, in some places in the Midwest ((IA, IL, IN, KY, MI, MN, ND, NE, OH, SD, WI) it would reach as high as $6.04 per pound.
In terms of bone-in, your cheapest bet would have been the Southeast again at $1.49 per pound. Most expensive went up to $2.99 which was actually in the Southeast, Midwest and Northeast evenly across the board.
What Does Pork Tenderloin Cost?
Tenderloin is a pricier cut of meat than pork loin. The USDA has the average tenderloin price for 2022 sitting at $4.05 per lb, so more than $2 above the average price of the loin itself. That's for fresh tenderloin, you can also get pre-marinated tenderloin which had an average price of $5.60 per pound.
Your cheapest pork tenderloin over the year for 2022 was $2.99 in all three regions, the Northeast, Southeast and Midwest. But there were some clear variations on the higher end where it got up to $6.04 per pound in the Midwest.
Nutrition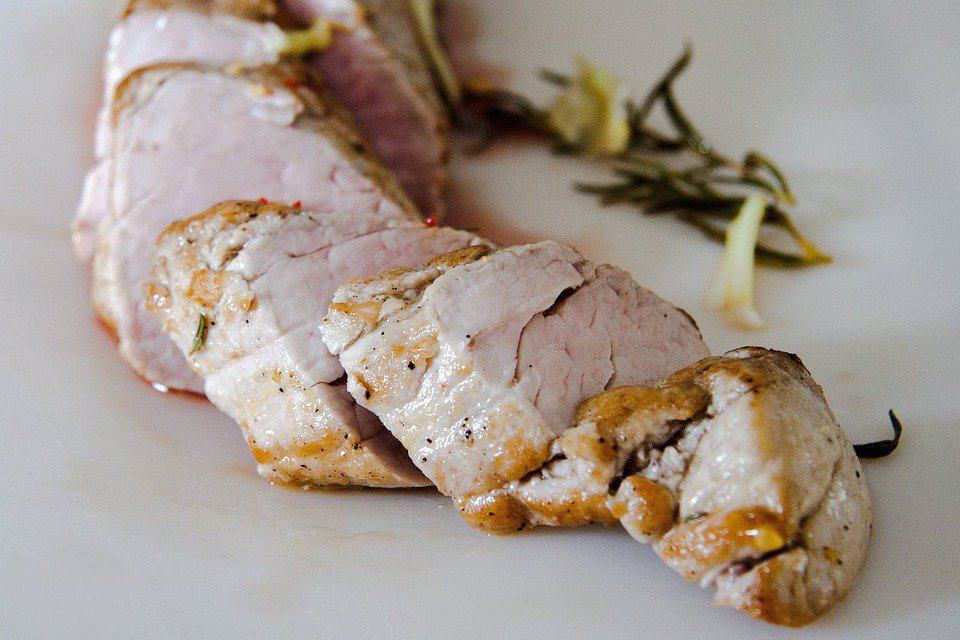 What is the Nutritional Value of Pork Loin?
The USDA does all of their nutritional info based on 100g servings as a baseline. It's worth remembering that a recommended serving size for something like pork loin is 8 ounces or about 226 grams. So if you are interested in nutritional info per serving, you'll want to adjust based on your given serving size. This info is based on a pork loin roast with fat included.
166 calories
21.3 grams of protein
8.33 grams of fat
47 mg of sodium
64 mg cholesterol
For lean only, with fat removed, the USDA lists the following values
132 calories
22.4 grams of protein
4.06 grams of fat
49 mg of sodium
63 mg cholesterol
What is the Nutritional Value of Pork Tenderloin?
This is USDA data for fresh, pork tenderloin roasted and unseasoned. As above, we're looking at nutritional info for 100g of meat.
143 calories
26.2 grams of protein
3.51 grams of fat
57 mg of sodium
73 mg cholesterol
A Note on Nutritional Values
These values are taken from just raw cuts of the meat. You may find processed versions of both cuts of meat. For instance, Hormel Always Tender brand pork loin will have very similar values for protein but 100g will have 358 mg of sodium as the meat is processed with salt added. So if you're ever in doubt, do check the labels of any prepackaged meats you may be buying as it's not uncommon for them to be processed in ways that will significantly alter sodium in particular and sometimes fat content as well.
Cooking
How Can You Prepare and Cook Pork Loin
Pork loin is a larger and often thicker cut of meat so it benefits from longer cook times than the tenderloin. That said, pork loin can be used in multiple preparations and lends itself well to roasting and grilling among many others. Other solid cooking methods include:
Braising or slow cooking
Breaded and deep fried cutlets
Pan fried as chops
Poached
Braising and other moist cooking methods aren't ideal for a roast if you want to keep it as an easy to slice roast as the meat will fall apart, so it depends on what your anticipated end result is. If you want that super tender, fall apart meat that gets to that level of stew or pulled pork and the like, then a long, slow moist cook will get the job done.
A solid method of making any pork loin would include giving the meat a good sear on the stove top until you've developed that really flavorful crust with a nice crisp to the outside then finishing the meat in the oven itself so you don't risk burning the outside while ensuring the inside gets cooked through.
After cooking pork loin, you want to let your meat rest for at least three minutes before slicing but up to ten minutes or more will ensure an even juicier and more flavorful product in the end. This rest lets those juices settle into the meat as the temperature after the cook begins to go down so they are less likely to run out everywhere when you cut, costing you juiciness and flavor.
When it comes to bone-in vs boneless loin roast, the boneless version may be more convenient but you will have more flavor and a juicier cut overall if you cook it bone-in.
Because pork loin has such a mild taste as we mentioned above, you'll likely want to add some seasoning to really bring out the flavor. Because pork is so adaptable and diverse it lends itself to many flavor profiles you'd actually be hard pressed to find seasoning it doesn't work with in some way. That said, here are some of the best spices and seasonings to use.
Garlic
Onion
Cumin
Chile
Mustard
Paprika
Thyme
Rosemary
Coriander
Sage
Clove
Teriyaki
Chinese five spice
Soy
Brown sugar
Citrus
As you can see, that's a pretty diverse range of spices and flavors. Pork features prominently in many cuisines including Mexican, Italian, Chinese and more, so it's highly adaptable.
How Can You Prepare and Cook Pork Tenderloin
Pork tenderloin can be prepared in very similar ways to pork loin but because it's both smaller and leaner it tends to not benefit from longer cooks and risks drying out if you try to do too much with things like roasting, smoking, or other dry heats. You can really sear a pork tenderloin well, and quickly, to get a good crust on the meat and seal in the flavor while cooking it quickly. Cut down to strips or medallions you can prepare a pork tenderloin as a stir fry really quickly.
Pork tenderloin, though it won't have the fat on it that loin has, may have a silverskin attached. You'll definitely want to remove that before cooking since you can't eat it and it also doesn't tenderize at all.
Marinating tenderloin is a popular option for cooking because of that lack of fat. An unseasoned tenderloin would potentially give you a really tender cut when you finish cooking but it will lack flavor without good seasoning. And because it has virtually no fat marbling the meat at all, you may find a marinade is far superior to just seasoning the outside of the meat as it allows the flavor to penetrate all the way through.
A whole pork tenderloin can benefit from a long marinade, in the realm of 12 hours to a full 24 hours. Not only will the marinade add flavor, it's going to ensure a juicier cook as well and keep your pork tender. One of the biggest missteps that you can make with tenderloin is cooking it to a dry state which you don't want to do but can happen very easily.
Can You Substitute Pork Loin for Pork Tenderloin?
You'll notice that, on paper, pork loin and pork tenderloin are very similar now that we've described them. Nutritionally they are close together, they obviously benefit from the same spices and seasonings, and the cooking methods are often complementary for either cut. So can you swap porn loin into a pork tenderloin recipe? Well, yes and no.
There are times when this may work out fine for you and, honestly, if it's your only option it probably won't ruin a dish. But it may not give you the dish you want. The fat levels in particular ensure that the two cuts benefit from different handling. A pork loin cut down for stir fry, for instance, even if the fat is trimmed will still be a fattier cut as a result which can alter your final dish as well as the consistency of sauces and so on. Pork loin recipes and pork tenderloin recipes should therefore be kept as written whenever possible.
In the opposite direction, porn tenderloin is much too lean and typically smaller to be swapped for pork loin in many recipes. You don't want to cook a tenderloin for as long as you would a loin because you're going to overcook the meat as a result and get something too dry and potentially flavorless as a result.
There are definitely times when you can cut down pork loin, trim it and prepare it similar enough to tenderloin that you can pull off a recipe and make it work, but it's a lot more effort. You can do it but you shouldn't have to. It's not ideal, let's say.
If you can't find a pork loin specifically there may be other cuts of pork that can work for you as a substitution. Pork butt roast can work with a little bit of trimming and preparation to adapt it. A sirloin roast is in the ballpark as well.
To substitute for pork tenderloin, you can try to trim down some night pork chops, particularly thick cuts with little to no fat and bone in.
For what it's worth, a pork shoulder roast may look similar to a pork loin but it will almost definitely be so much fattier that you don't want to try the same recipes with it.
Cooking Temperatures for Pork
You'll want to cook your pork to an internal temperature of 145F at a minimum to ensure it's properly cooked but still juicy. You'll find some people really prefer a more well done pork because of habit as, back in the day, there was a greater fear of undercooked pork leading to things like trichinosis or other food borne illnesses.
The USDA used to recommend cooking pork to 160 degrees and that would ensure a fully white color on the cooked meat and also a dryer meat as well. Today's 145 recommendation may result in a pink cast to the meat which some people think is unsafe. The USDA has stated that 145 is a safe temperature for pork and, in fact, the 160 was likely overkill back in the day.
Why the change? Trichinosis is virtually unheard of these days and contracting it from your pork is pretty rare. Just like chicken, it's salmonella you want to avoid when it comes to pork and the 145 F recommendation will be enough to kill the bacteria and ensure you have safe food to eat. Just make sure you're getting an accurate internal temp with an instant read thermometer. They recommend letting your meat rest for three minutes afterwards to make sure any harmful bacteria is dead.
These days, 145F is considered a medium rare for pork and should be very juicy. Once you hit between 150 and 155F the pink should be gone but the meat should still be glistening with moisture at a nice medium. From 155F to 160F you'll have a solid white color but you should notice that the meat is definitely more dry at this point as well and this counts as medium well. By 160F, which again was the old standard that many older people will be used to, the meat is pure white and also what a lot of people would now consider too dry. This is well done pork.
Please keep in mind, these are temperatures for pork loin and pork tenderloin. Other pork products have different cook times. For instance, a ham may be done at just 140F because it's already cured. Ground pork should get all the way up to 160 F.
The Bottom Line
Pork loin is from the large muscle that extends from the pig's shoulder to the rear along the side and back of the animal. The tenderloin in specific is a much thinner and leaner cut that runs along the pig's backbone. The loin will have more fat marbling and also a fat cap to add moisture and flavor while the tenderloin is much leaner and will potentially require the addition or marinade or more careful handling during the cook to ensure it remains juicy and flavorful. On their own, both cuts can be fairly mild.
Both pork loin and tenderloin easily take to numerous flavor profiles which allows them to be seasoned to meet the needs of all kinds of diverse and international dishes. The loin itself is likely going to be a cheaper cut of meat while the tenderloin can be much more expensive overall. Loin may also be found boneless or bone in.