The Javelin line of thermometers by Lavatools are high-quality instant-read, thermocouple thermometers that make it easy to quickly check the temperature status of your food. Whether you're looking to keep your barbecue at the appropriate temperature, check the temperature of your homebrew, or deep fryer, the Javelin Pro Duo or its smaller cousin the PT12 will get the job done quickly and efficiently.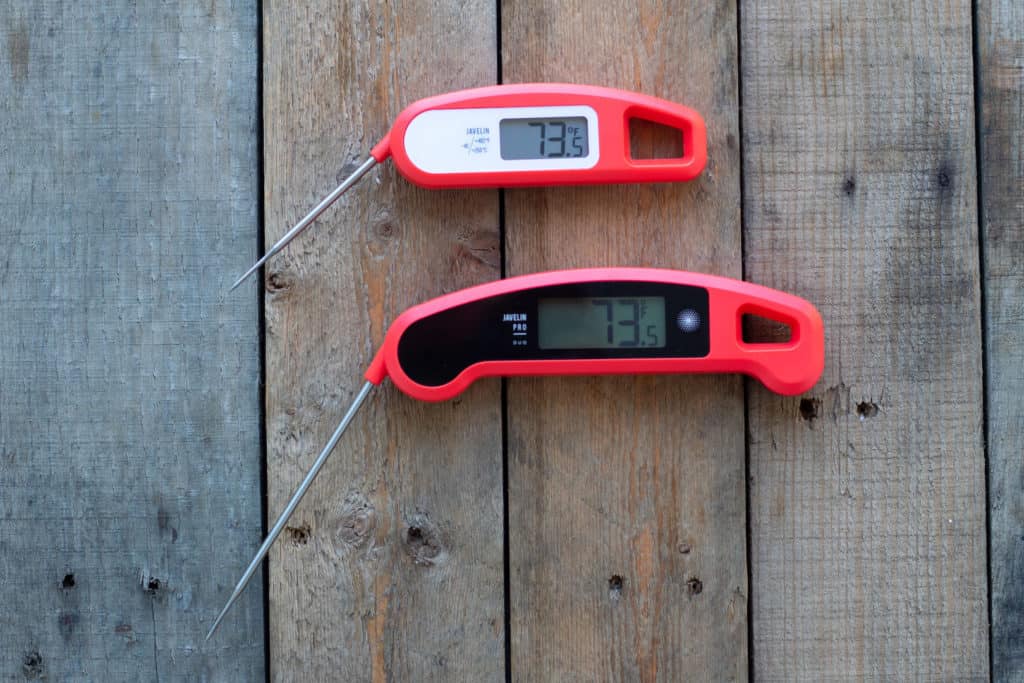 While these two thermometers aren't perfect, they are pretty close to it, and as long as you're fine with a more frustrating battery solution like the CR2032 button cell battery that these thermometers employ, either of these thermometers will help make your cooking more precise.
Lavatools Javelin Pro vs PT12: Instant Read Thermometer Showdown!
To break down the difference between these two instant-read food thermometers, I recently took both of them through their paces during a Sunday smoking session and recorded my findings.
At the end of the day, these two meat thermometers are like big and little brothers. From design to overall build quality, they are like the large and x-large versions of the same thermometer. While the Pro Duo does have some features that the PT12 does not, they are pretty strong examples of what you should expect in a well-made, instant-read barbecue thermometer.
Lava Tools Javelin Pro Duo
In the tradition of many popular foldable instant-read food thermometers, the Javelin Pro Duo has a pretty familiar design. Similar to the Thermopro TP19 or the Thermapen One, the Lavatools Javelin Pro Duo is easy to use and provides accurate temp reading in 1-3 seconds. With an alarm that sounds when the temperature stabilizes, an auto-rotating display for right/lefty users, and a low power setting to extend battery life, the Javelin Pro Duo meat thermometer is built to help make your cooking more accurate and precise.
What we like.
Large easy to read backlit display
Auto-shutoff helps the battery last longer
Quick, accurate readings in 1-3s
Available in lots of fun colors
Magnetic back for convenient storage
Auto-rotate makes it easy to use with either hand
Hold function lets you know when temperature stabilizes
What we don't like.
Uses a watch battery instead of AAA or AA
No lock function to keep the display from rotating
No calibration function
Look and Feel.
When I opened the package to the Lavatools Javelin Pro Duo I was immediately impressed by the look and feel of the thermometer overall. With a similar design to the ever-popular Thermopen MK4 or the Thermoworks TP19, the Javelin Pro Duo is a large, well constructed, folding thermometer probe with a bright orange body and large easy to read digital display.
At 4.6 ounces the Javelin Pro feels like a sturdy piece of cooking equipment. The hinge for the probe is tight and it folds neatly into the body of the thermometer with a satisfying click. Size-wise, the Pro Duo is about the size of a smaller remote control, it feels large enough that you won't lose it in the clutter of your kitchen but small enough that it's not taking up a lot of space on a small work surface or the side rack of your barbecue.
No Power Button?!
One of the first things I noticed on the JavleinPro Duo was the lack of a dedicated power button. Thanks to an automatic on-off function that activated the thermometer when you open the folding thermometer probe, you don't have to worry about powering it on or off. This is really important especially if the thermometer uses a specialized battery like the Javelin Pro Duo.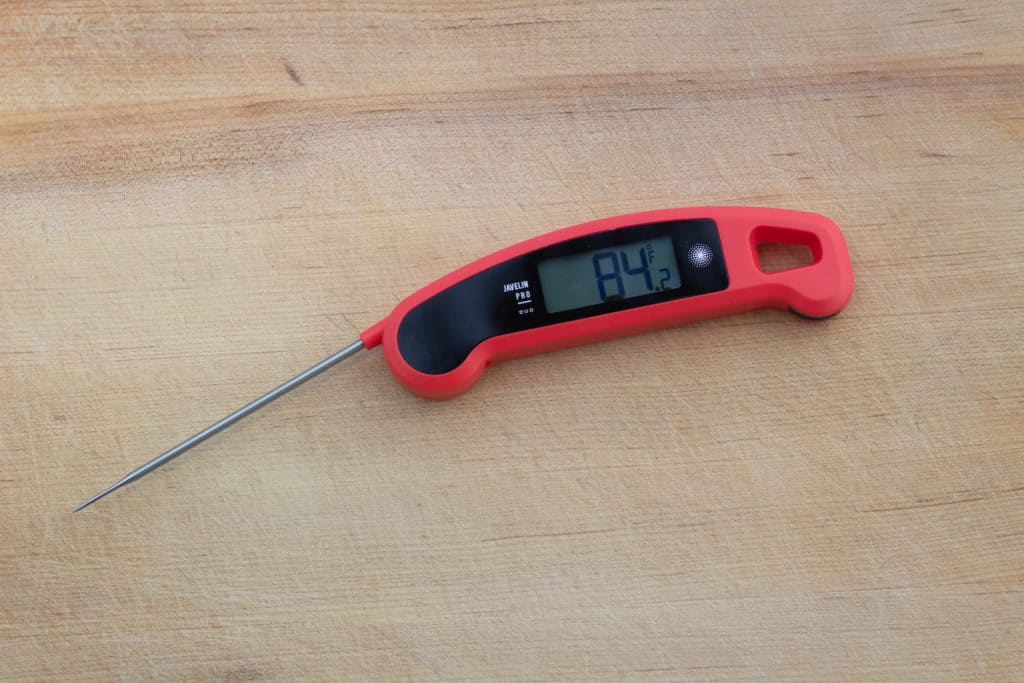 By automatically shutting off whenever the thermometer probe is closed, you reduce the risk of leaving your thermometer on indefinitely and running down the battery which is something I've done in the past. There is little more frustrating than running down a battery in a thermometer that takes a specialized size/type of battery that you wouldn't keep on hand. This usually means you're going to go without your thermometer until you can replace the battery which can be incredibly frustrating.
Rotating Display.
Like the Thermopro TP18, the Lavatools Javelin Pro Duo has a self-rotating display that automatically rotates depending on the angle at which you hold the thermometer. This can be convenient especially for left-handed users, or when taking readings on a larger piece of barbecue where you might need to adjust your angle of attack.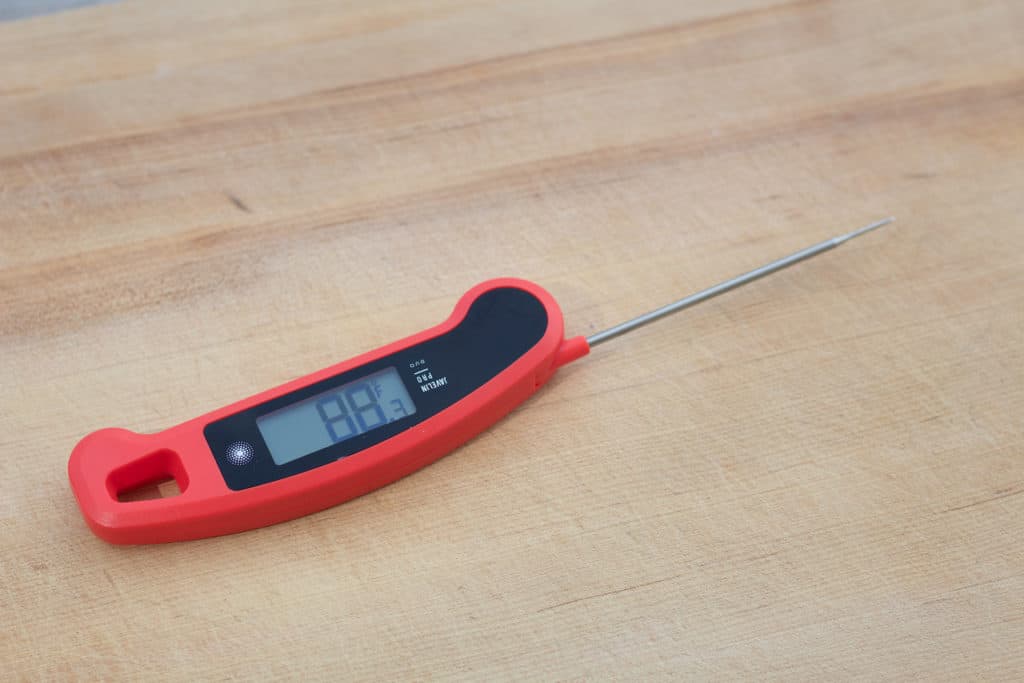 One feature that is sorely missing concerning the rotating display is a lock function that allows you to fix the orientation of the readout to keep it from autorotating as you take a reading. While an auto-rotating display is a great feature, it can be frustrating to try to take a reading and watch the display flip back and forth between orientations because of the angle you're holding the thermometer.
Using the Javelin Pro Duo.
To test the functionality of the Javelin Pro Duo I decided to use it throughout a Sunday smoking session to help track the progress of a pork shoulder I was intending on using for pulled pork later that evening.
During the smoking process, I used the Javelin Pro Duo to keep an eye on the temperature level as well as to double-check the readings I was getting from my in-smoker thermometer set up. While I always try to keep an in-smoker thermometer set up to help keep an eye on my pit temp and the progression of the protein I've got smoking, I like to offset that with an instant-read thermometer like the Javelin Pro Duo.
This allows me to check the temperature at multiple points on a larger item like pork shoulder to help get a better overall picture of the temperature progression. I use this information to make choices about pit temp, rotation, and overall process like when to wrap or when to rest, and an instant-read thermometer helps me get quick accurate readings.
Temperature Range.
The temperature range for the Javelin Pro Duo is from -40°F to ~482°F which means you can use this probe for anything from candy making to deep-frying or barbecue. Before I tested the Javelin Pro Duo on the pork shoulder I was cooking, I dropped it into a glass of ice water to check the calibration. This was just a formality, in my experience most barbecue thermometers come well-calibrated from the factory and only begin to lose accuracy over time.
As expected the Javelin Pro Duo instant-read thermometer was very accurate out of the box and the reading was incredibly fast as well. At just under 3 seconds, the Javelin Pro Duo definitely takes temperature readings very quickly.
Sadly, the Pro Duo does not have a calibration function. While Lavatools states that the Javelin Pro Duo is built to be "no calibration needed" it is still nice to be able to calibrate your thermometer if it loses accuracy after repeated use.
Taking a reading.
After 1.5 hours in my smoker, the pit was reading ~270°F (I like to smoke pork hot, I love a well-rendered fat cap and super thick bark) and the internal temperature was just over 100°F according to my trusty in-oven thermometer set up. It was time to give the meet a quick spritz with my apple cider/vinegar blend so I opened the pit door and took a few quick temperatures of the pork shoulder at the same time.
To test the Javelin Pro Duo I slid the probe along the shoulder bone and took a reading before adjusting to get a second reading. I timed a few readings on my stopwatch to see just how quickly the Javelin Duo Pro and the average time to a stable reading was just under 3 seconds, which is a pretty speedy reading overall.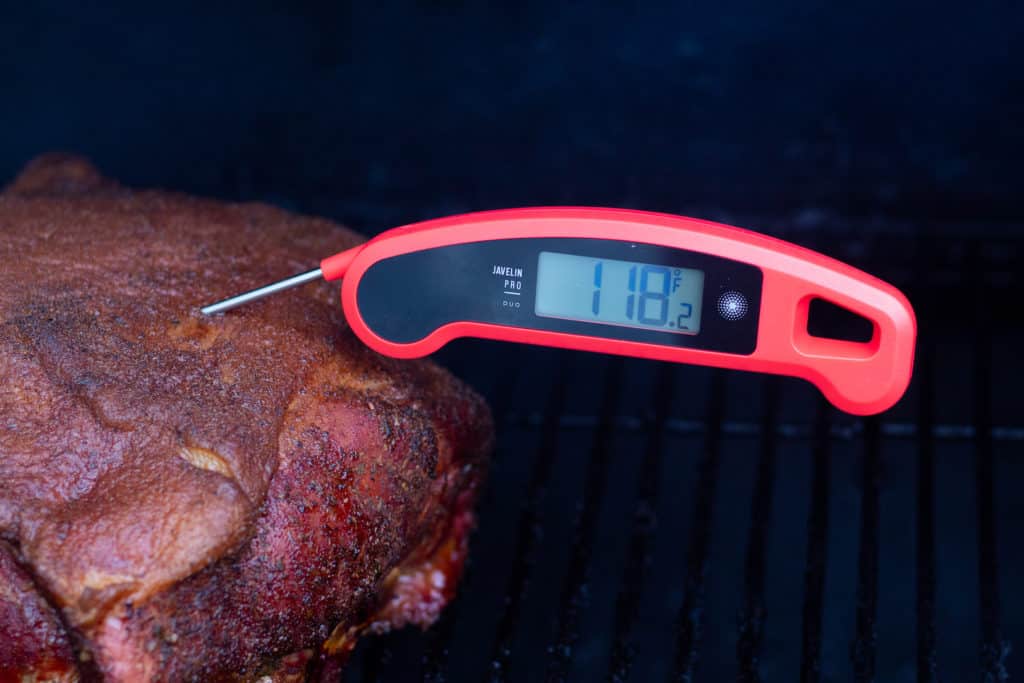 While instant-read thermocouple thermometers aren't truly instant they do take readings in a fraction of the time it takes for a thermister type thermometer. Quicker temperature readings help you keep the pit door closed longer which creates better, more consistent barbecue.
Min/Max & Hold Features
While the Javelin Pro Duo has both a min/max feature and a hold feature, they are not the easiest things to use thanks to the touch screen display. Touch Screens are usually easy to interact with especially when dealing with an interactive display like a cell phone or tablet, however, I've always found that touch screen thermometers and kitchen tools are frustrating, and the Javelin Pro Duo was no exception.
Because the touch screen is black, and the button is just a single visual representation, there is no click or tactile response to let you know the desired effect is occurring. When using the min/max function this was especially frustrating because the feature requires a double-tap to engage and besides a small text change on the display, it's hard to know what you're looking at. While the min-max feature can be useful, I think a larger display or a connected app like you'd find with larger multi-probe thermometers is more useful for understanding this information.
The hold feature, on the other hand, is incredibly useful. While the touch screen button is still frustrating, it is much easier to engage the hold function as you just have to hold the button down as you are taking your temperature reading. Once engaged, the hold feature will emit a short alarm sound once the temperature stabilizes, letting you know exactly when your reading is stable and accurate.
Final Thoughts.
Overall, the Javelin Duo Pro was accurate, easy to use, and provided quick, accurate temp readings. The design is simple and effective, while the build quality is really high resulting in a thermometer that feels sturdy and well made. The lack of a defined display lock function can make the display frustrating to use, and the choice of a "CR2032 button cell battery" versus more common battery options means you'll have to keep a pricy battery on hand. At the end of the day, the Javelin Duo Pro is a great example of a high-quality food thermometer despite some small design flaws.
Lava Tools Javelin PT12
The Lava Tools Javelin PT12 is almost identical to the Javelin Pro Duo just on a smaller scale. At a glance when placed side by side, the PT12 looks like the Pro Duo's younger brother, in fact, the PT12 is the first Lavatools Javelin thermometer while the Pro Duo is the more recent release.
The Javelin PT12 is similar to some of the more popular BBQ thermometers available today like the Thermopro TP19 or the Thermapen one, just much smaller. The Javelin PT12 is a great way to add consistency and accuracy to your kitchen in the form of a fast reading thermocouple thermometer.
What we like.
Small size fits perfectly in an apron pocket
Large, bright display
Quick, accurate readings in ~4s
Auto-shutoff helps the battery last longer
Magnetic backing for easy storage
Available in tons of colors
What we don't like.
Uses a watch battery instead of more common AAA or AA
The screen doesn't rotate, can only be read from one angle
No hold function
No calibration function
Look and Feel.
The Lavatools Javelin PT I had the privilege to test is a small bright orange (it comes in tons of other colors) thermometer with a large display compared to its overall size. Size-wise the Javelin PT12 is about the size of small streaming remote, or large key fob. The probe folds smoothly into the body and when extended the PT12 is ~6 inches long.
In terms of build quality, the Lavatols Javelin PT12 is a sturdy little thermometer. The hinge feels strong and smooth and when the probe is extended there is very little movement or give. Many meat thermometers look flashy and well built but rattle or feel flimsy when used, the Javelin PT12 is definitely made to last.
No Buttons!
On top of a sturdy build and attractive design, the display of the Javelin meat thermometer is clean smooth with no buttons or switches. To turn the thermometer on you simply extend the probe. This is a lovely feature, especially if you're forgetful like I am as the thermometer automatically shuts off when closed. I can't count the number of times I've let my meat thermometer run out of batteries by forgetting to switch it off between sessions. With the Javelin PT12, this isn't an issue because as long as you remember to close the probe it will power down automatically.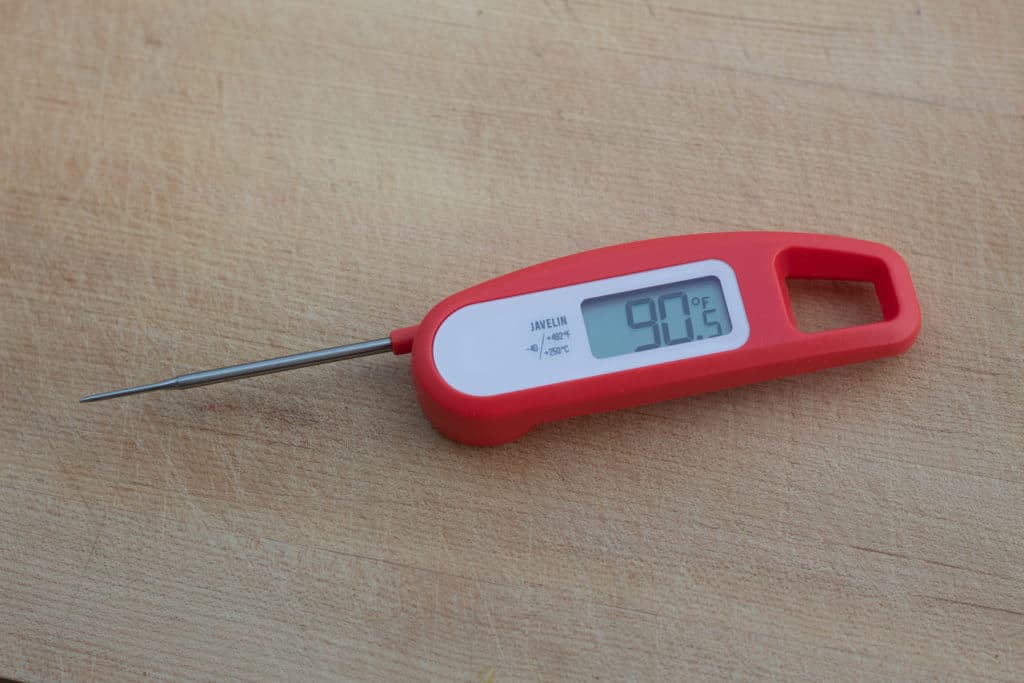 Using the Javelin PT12.
As with the Javelin Pro Duo, I decided to test the functionality of the Javelin PT12 over the course of the same Sunday smoking session and got to use this instant-read meat thermometer to help keep an eye on a pork shoulder I was smoking for a batch of NC style pulled pork.
After 1.5 hours in the pit at 270°F, it was time to take my first reading. I try to keep the pit closed as much as possible, and thanks to an in smoker thermometer probe, I can keep track of the pit temp throughout the day. I use the instant-read thermometer to help check the temperature at different points on my barbecue to help make decisions about rotating, saucing, wrapping, and resting.
Temperature Range
The temp range for the Javline PT12 is the same as for the Pro Duo at -40°F~482°F, while the reading time is a bit longer however at 4-5s as opposed to 1-3 for the Pro Duo.
After opening the package I decided to check the calibration on the PT12 the same way I did with the Pro Duo, so I made an ice heavy glass of ice water and allowed it to sit for ~3 minutes before dropping the thermometer probe in and taking a reading. After ~3 seconds the readout stabilized at just over 32°F which is more than accurate enough for my purposes.
Sadly the PT12, like the Duo Pro has no calibration function, and while Lavatools states that the thermometer is "no calibration needed" all thermometers can lose accuracy over time which is where a calibration setting comes in handy.
Taking a Reading.
Once I'd checked the calibration of the PT12 I took the thermometer out to my offset barrel smoker to grab a reading from my pork shoulder. I'd been keeping an eye on the pit temp with my in smoker thermometer, but I wanted to get some additional readings from different parts of the shoulder.
I took my first reading by sliding the probe of the PT12 along the shoulder blade of the pork butt to get a measure of the internal temperature. Once inserted the Javelin PT12 only took 4.5s to stabilize and give me an accurate temperature reading.
While 4.5s is longer than it took for the Javelin Pro Duo to take a stable reading, it is still very fast compared to less expensive thermister-type thermometers.
After my initial reading, I took a few more temperatures readings from different parts of the pork shoulder and then finished by giving it a quick mop with my vinegar/cider/seasoning mixture. All in all, it took under 3 minutes to take a number of different temperature readings, season my barbecue, and button up the pit, helping maintain an even consistent pit temp and creating better bbq.
One feature that was noticeably absent from the PT12 was a backlit display. While it's pretty easy to read the PT12 display even in shadow or shade, sometimes bbq will keep you cooking well into the twilight hours and a backlit display can be a real-life saver.
Final Thoughts
The PT12 is a great little thermometer and it definitely holds its own against its bigger brother the Javelin Pro Duo. While it's missing a few functions that are present on the Pro Duo like a hold function and a backlit display, the PT12 is a great value meat thermometer and would make an awesome addition to your kitchen arsenal.
Which of these instant-read thermometers should you buy?v
Check Latest Lavatools Javelin Pro Duo Price
Check Latest Lavatools PT12 Price
The Lavatools Javelin Pro Duo and the Javelin PT12 are both high-quality instant-read meat thermometers that will help bring a new level of precision and accuracy to your kitchen, hopefully resulting in more consistent results. Whether you are making bread, bbq, deep frying a turkey, or brewing a batch of beer, an instant-read thermocouple thermometer can really help you create outstanding food time after time.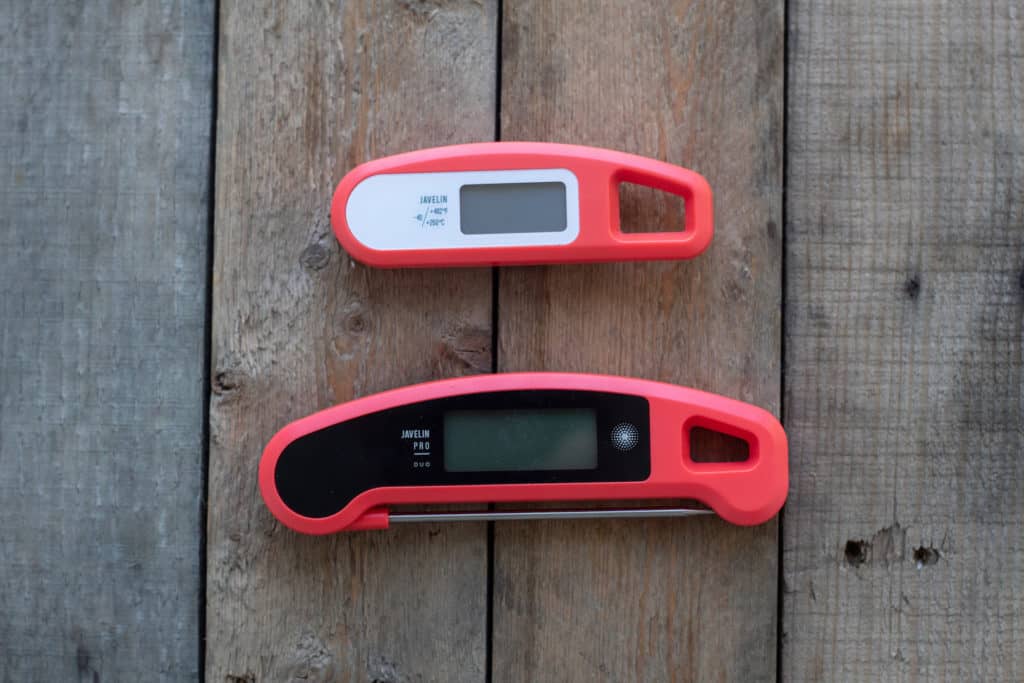 If you are looking for an all-around great thermometer that you can use for everything from bread, to candy, bbq to beer making, I would recommend the PT12. With a smaller size and super simple design, the PT12 will help you create incredible recipes by providing quick, accurate temperature readings time after time.
On the other hand, if you are planning on using your thermometer primarily for barbecue, or in outdoor spaces, features like a backlit display, hold function and large size make the Javelin Pro Duo a perfect tool for you.