Pork belly is one of the most versatile and adaptable proteins you can put on your barbecue. Whether you want to go with a long cure and make bacon, roll it up into porchetta, or cut it into chunks for burnt ends, pork belly is an amazing palette to build upon.
Because of its unique fat to meat ratio, and its flat and even shape, you can use barbecue pork belly for so many different dishes. One of my absolute favorite ways to prepare smoked pork belly is by cutting the belly into large silver dollar size chunks that can render down into succulent, juicy burnt ends.
Smoking Pork Belly for Burnt Ends.
While pork belly doesn't traditionally take nearly as long as larger barbecue projects like brisket, or pork shoulders, it can take up to 6-8 hours. This is especially true if you are looking for that melt in your mouth texture that meats can achieve when they reach 200°F internal temperature.
By dicing the pork belly before smoking it you increase the surface area of the burnt ends while decreasing the overall size of each piece. This helps create a crispy, crunchy bark, with a velvety smooth, rich barbecued inside that melts in your mouth.
The Magic BBQ Temperature.
In general, the point of barbecue is to transform tougher, larger cuts of meat, like ribs, pork shoulder, belly, or brisket into fork-tender masterpieces of barbecue flavor. While there are tons of different schools of thought on the best way to achieve that, there is some general agreement about the temperature at which meat starts to relax and become incredibly tender bbq.
At just over 200°f even the toughest meat fibers will begin to break down and relax into mouthwatering bbq, and while achieving that temperature often takes longer than you might think, it's almost always worth it.
By dicing the pork belly in this recipe into larger chunks, you can cut the overall cook time down to a manageable 4-5 hours. Temperature control is important and a good meat thermometer will make our job that much easier. Just make sure not to open the pit too frequently as this can substantially elongate your cooking time thanks to temperature spikes and falls.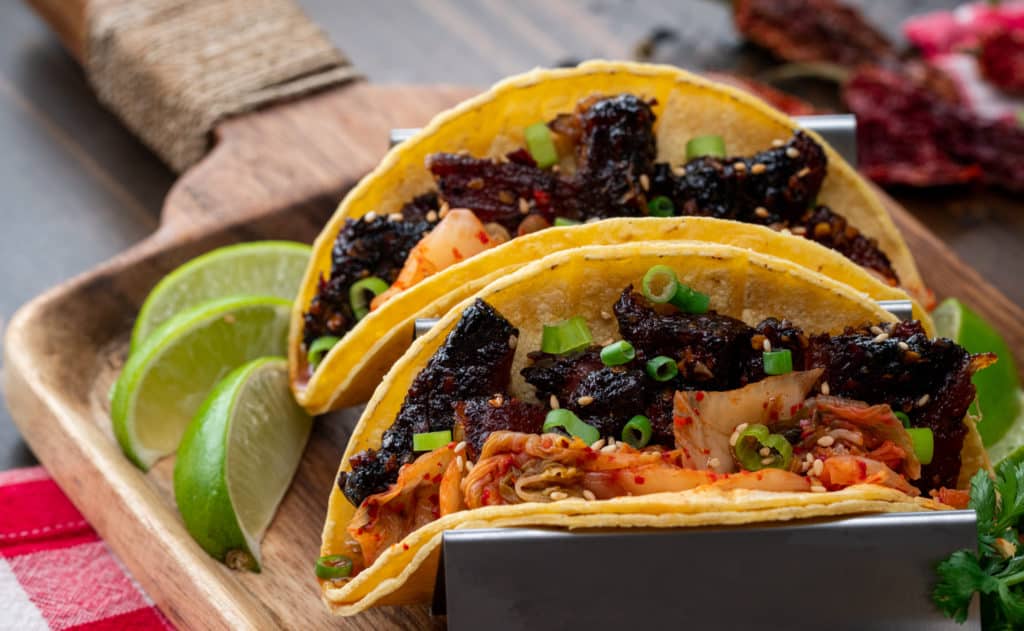 Dry Rub Vs. Sauce? Why Not Have Both!
When crafting delicious backyard barbecue there is often a debate over dry rubs versus wet rub or sauce-based bbq. While there are merits to both styles, pork belly burnt ends can benefit hugely from a blended bbq approach.
By starting with a straightforward dry rub you can create a spectacular "bark" that's crispy, crunch, and delicious. Once the pork belly has spent time creating a really nice barbecue exterior you can add sauce to help deepen the flavor and add moisture. This works well with lots of pork processes, from ribs to pork shoulder, even whole hog barbecue usually includes some sort of mopping process.
Smoked Korean Pork Belly Tacos FTW!
Burnt ends are perfect for lots of different dishes, I love serving them solo as a barbecue canape with a dollop of KC barbecue sauce or as classic baked beans with burnt ends, but one of my favorite ways to use them is as the star ingredient in smoked pork belly tacos.
Smoked pork belly tacos are really special, and even more so when you start to incorporate fusion flavors like Korean Gochugaru, soy sauce, and rice wine vinegar. While Pork belly will always be an incredible medium for more classic barbecue rubs and seasonings, pork belly works just as well with traditional Asian flavors profiles.
The combination of sweet brown sugar, soy, and sesame oil, with Korean chili pepper, blends perfectly with the smoky pork belly to create a truly craveable flavor profile that will keep you coming back bite after bite. Once you add in corn tortillas, kimchi, sliced green onions. and sesame seeds you end up with a restaurant-quality entree that will quickly become a staple in your recipe rotation.
To prepare your pork belly tacos follow the steps below and refer to the recipe card for exact measurements and ingredients!
Making Smoked Pork Belly Tacos:
1. Preheat your smoker to ~250°F.
2. Add ½ of a lime, 1 tbsp of black peppercorns, and 6 smashed garlic cloves to your water pan.
3.AND PLACE IT INSIDE YOUR SMOKING CHAMBER.
3. While the smoker preheats mix together the spice blend.
4. Cut the pork belly into 1.5-2 inch square chunks and coat them liberally with the spice mix.
5. Arrange the diced pork belly on a smoker rack or cookie rack.
6. Once the smoker is preheated place the rack of pork belly chunks into the smoking chamber.
7. While the meat is smoking combine the sauce ingredients and set them aside.
8. Combine the honey and softened butter together and set aside as well.
9. Keep the smoker closed as much as possible. After 2 hours have elapsed open the smoker and check the color/texture of the pork belly. If you're happy with the color and bark you can move onto the next step. If you want darker color or better bark allow the pork belly to smoke for another 30 minutes.
10. Remove the pork belly chunks, place them in a roasting pan and brush them with the honey-butter mixture. Sprinkle the remaining ⅓ cup of brown sugar over the pork belly and cover the pan with aluminum foil.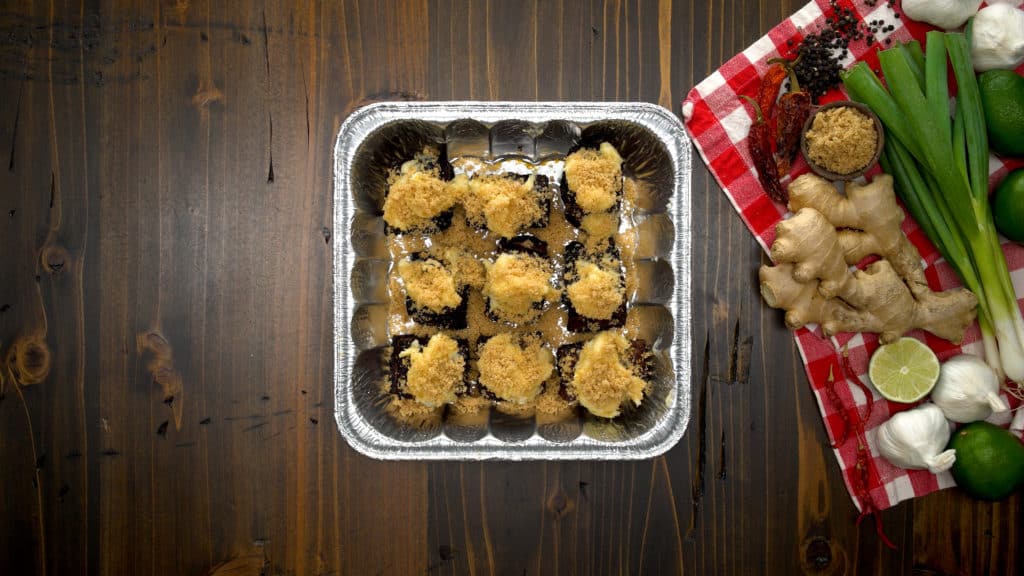 11. Return the pan to the smoker and continue cooking for another 1 to 1.5 hours.
12. Once the pork belly has started to soften and become tender, remove the tin foil and pour the Korean-style sauce into the pan.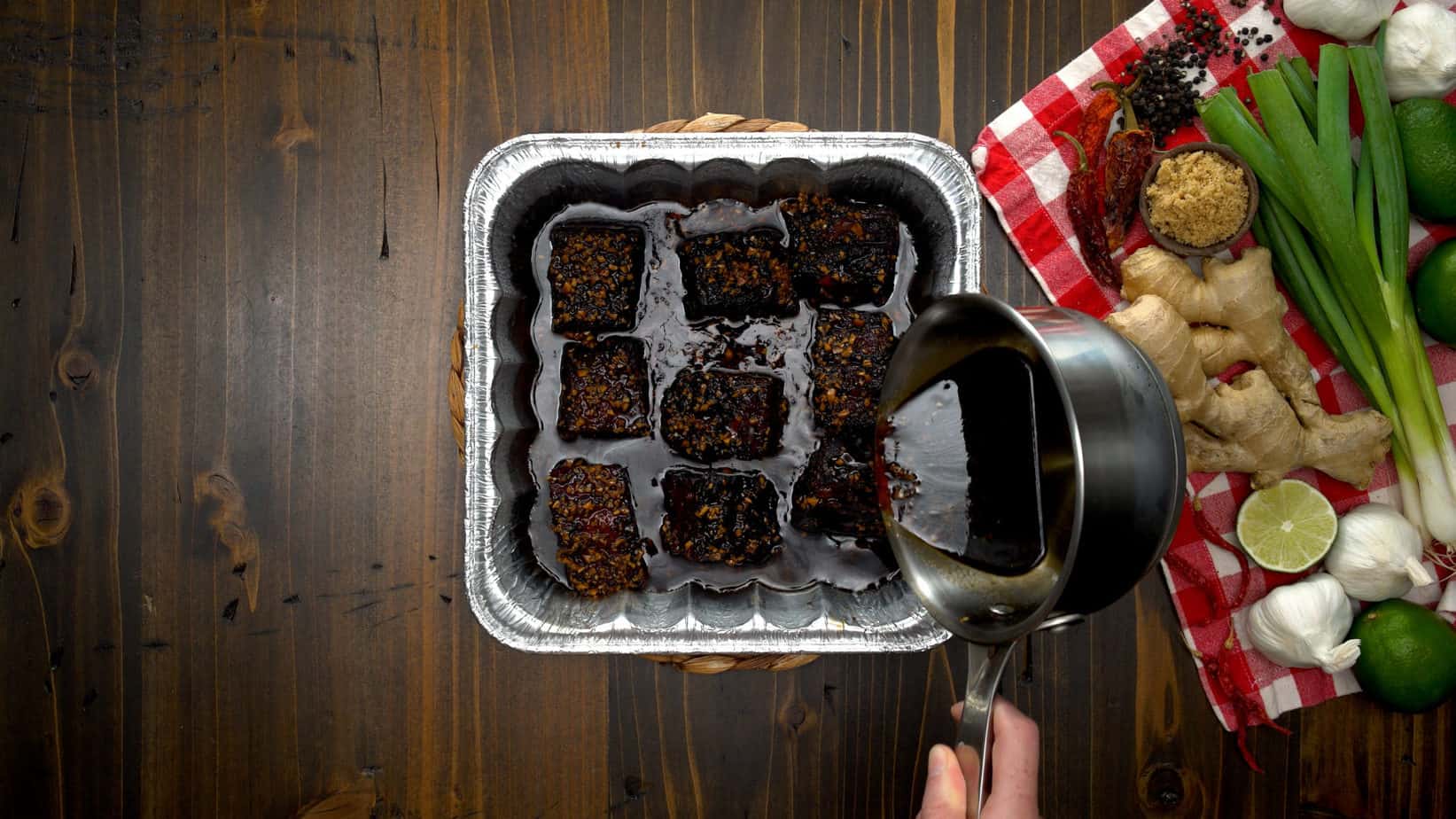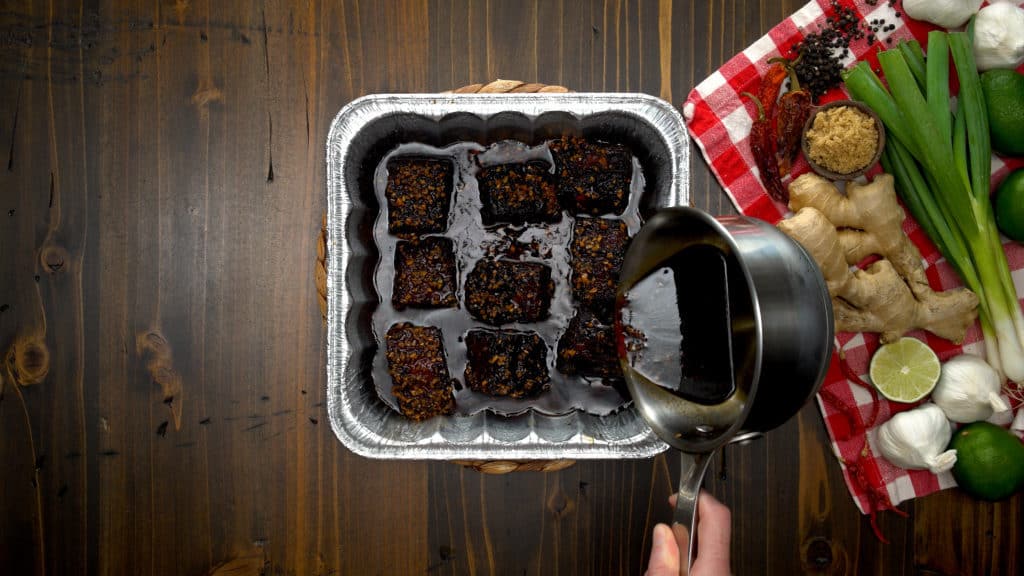 13. Return the sauced pork belly to the smoker and continue to cook until the burnt ends reach an internal temperature of 200°F.
14. Once the pork belly has finished smoking, remove the pan from the smoker and use two forks to shred the cooked pork belly into smaller pieces.
15. Serve over warmed corn tortillas with kimchi, green onions, sesame, and lime wedges!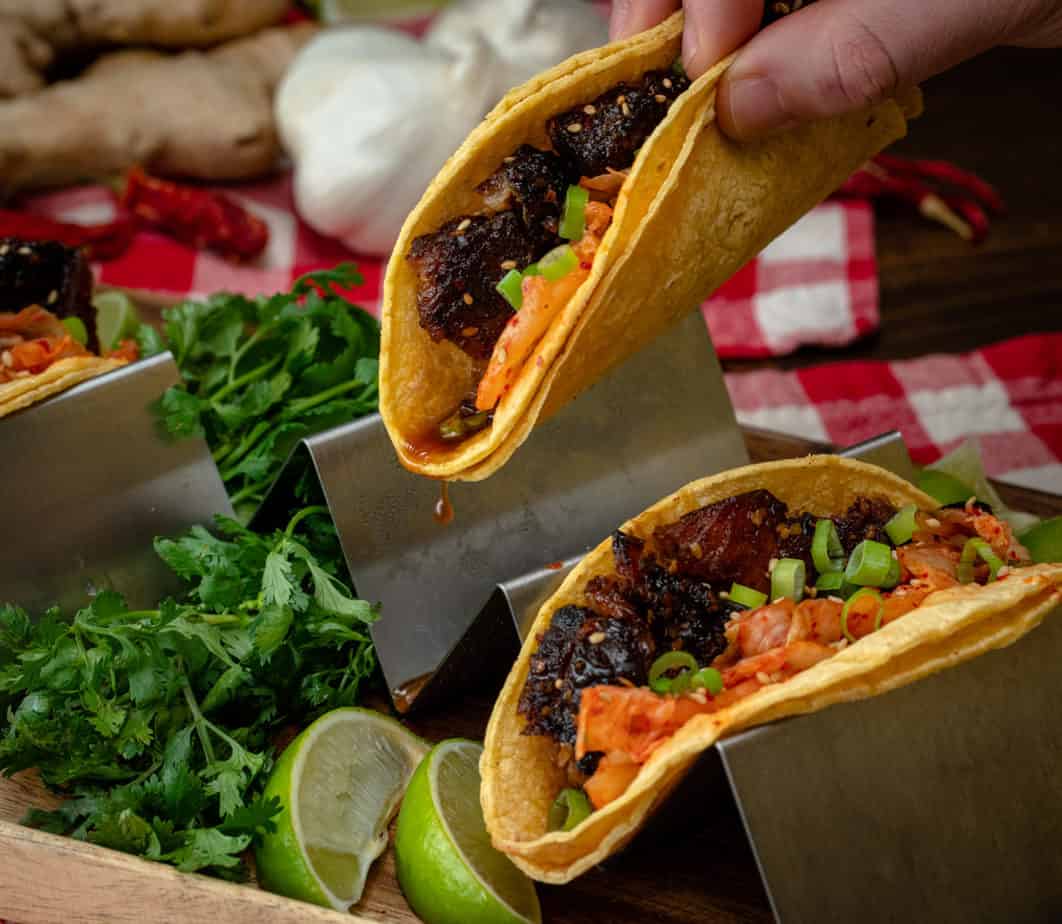 Smoked Korean Pork Belly Burnt Ends Tacos
The combination of sweet brown sugar, soy, and sesame oil, with Korean chili pepper, blends perfectly with the smoky pork belly to create a truly craveable flavor profile that will keep you coming back bite after bite.
Ingredients
Water Bowl (optional)
½

lime

sliced

1

tbsp

whole black peppercorns

6

cloves garlic

slightly smashed
Spice Rub
3

tsp

brown sugar

3

tsp

gochugaru (Korean red chili flakes)

1

tsp

sea salt

1

tsp

ground black pepper

1

tsp

sesame seeds

½

tsp

garlic powder

2-3

lb

pork belly

skin removed, 1.5" chunks

½

cup

butter

softened

2-3

tbsp

honey
Sauce
⅔

cup

brown sugar

separated

⅔

cup

soy sauce

3

tbsp

rice wine vinegar

2

tbsp

sesame oil

3

tbsp

ginger

minced

6-8

cloves garlic

minced

½

tsp

gochugaru (Korean red chili flakes)
Tacos
16

corn tortillas

Korean style kimchi

Green onions

sliced

Sesame seeds

toasted

Lime chunks
Instructions
Heat the smoker up to around 250 F. Combine lime, peppercorns, and garlic in the water bowl and fill up about halfway. If your smoker doesn't have room for a water bowl, feel free to leave this step out.

Meanwhile, make the spice mix by combining the brown sugar, gochugaru, sea salt, black pepper, sesame seeds, and garlic powder. Sprinkle generously over the pork belly chunks. Use your fingers to rub the spice mix into the meat. If your smoker's grates are far apart, the pork belly chunks can be placed on a metal cookie rack to be smoked.

As an optional step, place the water bowl on the bottom rack or designated spot. Set the prepared meat fat side up, on the cookie rack if necessary, onto the top rack in the smoker box. Strain the woodchips and add them to the heating source or designated spot. Close the smoker.

Smoke the meat for about 2 hours, resisting the urge to check too often. Refill wood chips as needed. Check for color. It should have built up a solid, dark, amber bark with a few spots looking seared. The bark should feel heavily caramelized, crunchy, and tough, yet still juicy on the inside. If it isn't quite dark enough, smoke for another 30 minutes or so.

While the meat is smoking, mix together ingredients of the sauce, reserving ⅓ cup of the brown sugar. Whisk the sauce in a saucepan over low heat just long enough to melt the sugar. Set aside to let flavors combine. Combine the softened butter and honey, and set aside.

Once the pork belly has reached the desired "burnt" or charred color, pull it out of the smoker. Brush the meat with the honey butter mix. Sprinkle the chunks with the reserved ⅓ cup brown sugar. Place the meat into a deep aluminum pan, cover in aluminum foil, and place back in the smoker.

Smoke for another hour, and check for doneness. It should feel almost as soft as butter when probed. If it hasn't achieved optimal tenderness, continue to smoke for another 30 minutes.

When desired consistency is reached, take meat out of the smoker. Remove the aluminum foil. Pour the Korean-style sauce over the meat. Smoke, uncovered, for another 20-30 minutes.

While the pork belly finishes up, prepare the taco ingredients. Temp the burnt ends. They should have reached 200 F by now. Take the burnt ends out of the smoker and let them sit for a few minutes. Use two forks to shred the pork belly into smaller pieces.

Build the tacos starting with 2 warmed corn tortillas, lay in the pork belly, top with kimchi, green onions, sesame seeds, and a squirt of lime juice. Enjoy!
What's your favorite way to use pork belly burnt ends? Let me know in the comments and I'll be sure to check it out!