I've had the opportunity to take a look at a lot of different instant-read thermometers over the years, and I've come to understand what makes a great design. It's more than just the form factor, you need great construction, an easy-to-read display, and ideally a convenient power source.
I was recently given the opportunity to take a look at a very nice instant-read thermometer from Kizen and while I was skeptical at first, after using it for a full Sunday smoking session, I was smitten. This instant-read meat probe was quick, accurate, and well built. It kept up with my regular instant-read thermometers, the ThermoWorks ONE, and the Thermopro TP19. At a lower price point than both of those thermometers, the Kizen Digital Food Thermometer is definitely a super attractive option if you're in the market for a new barbecue toy.
Kizen Digital Instant Read Meat Thermometer.
What We Liked:
Folding probe design
Backlit display
Step down probe
Comes with an extra battery
What We Didn't Like:
The screen doesn't rotate when flipped
Uses button cell batteries
Look and Feel:
Like almost all folding probe thermometers these days, the Kizen instant-read thermometer has an incredibly familiar design. With a largeish handle/body and a folding step-down probe that automatically turns on when opened, there are definitely similarities to tons of other meat thermometers on the market today.
At the back of the thermometer, there is a large hook for easy storage, and above the display, toward the thermometer hinge, there is a suggested doneness chart as a handy reference. The body of the Kizen thermometer is black, with a white face and a large LED Display placed in the center of the thermometer.
The LED display itself is large easy to read with strong contrast. The backlight is a cool blue that's more than bright enough to read easily either in the dark or just low light situations.
Alongside the display and meat temperature guide on the front of the thermometer, you'll find three buttons, a temperature format selector, a hold/cal button, and the backlight button. The hold/cal function is a great feature that I was happy to see included in this low-priced instant-read model.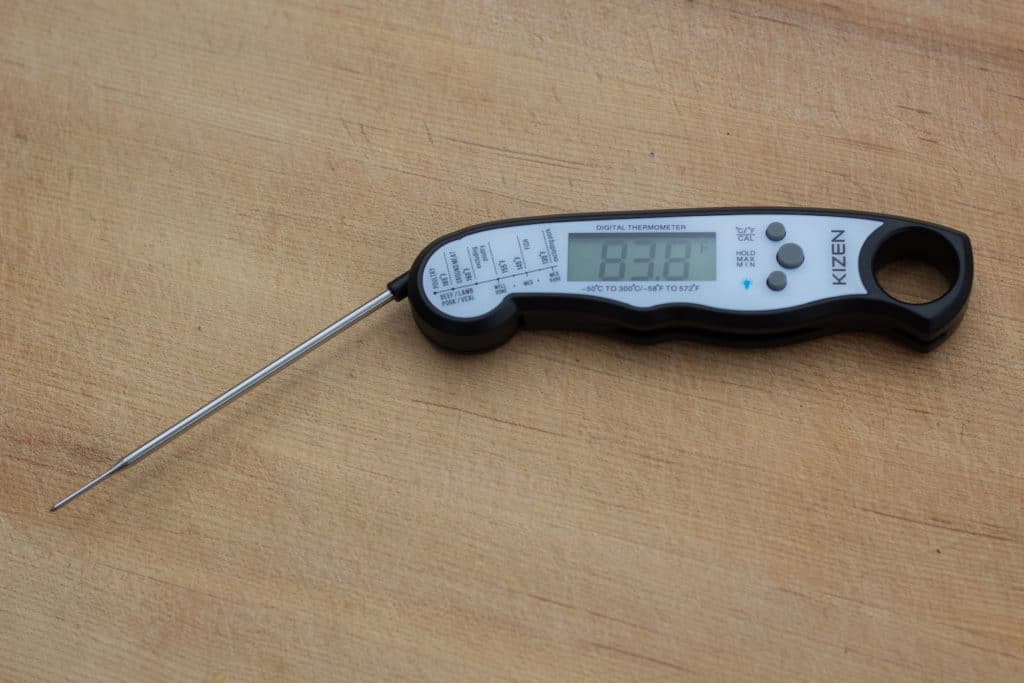 The cal or calibration function allows you to calibrate your thermometer as it loses accuracy in the long term. Depending on how much you use your thermometer you should not need to calibrate it often, and out of the box this thermometer is incredibly accurate but over time it may lose a little bit, so a calibration function really makes this a lifetime purchase as you can continue to ensure the accuracy of the thermometer over the life of your purchase.
On the back of the thermometer, you'll find the battery panel which houses the single button cell battery it takes to power the cell batteries which means you've got a backup for whenever the thermometer runs out of power.
While an extra battery isn't a deal-breaker, it is really nice to see a company that is willing to give you more than you might expect. On the other hand, the choice of power source itself, a removable common battery type versus a rechargeable battery. While a rechargeable battery is definitely more economical and certainly more environmentally friendly, I like a removable battery option. I don't love having to recharge a tool like a thermometer mostly because it seems I always forget that I need to charge it until it's out of batteries and I'm in the middle of a cooking project.
Ideally, this thermometer would run on a common AAA or AA battery but, thanks to the extra button cell battery included in the package, you'll at least have the correct battery on hand whenever it runs out of juice the first time. Just make sure to pick up a spare before the second one runs out of batteries.
You won't find a power button on the face of the thermometer thanks to the auto-on function. The Kizen digital thermometer automatically activates when you open the probe and turns it off when you return it to the closed position. In addition, the thermometer will automatically time out and power off after 10 minutes of inactivity which is great for saving on battery life.
The battery compartment is located on the back of the thermometer body and thanks to the small size of the cell button battery it is a very small and tight enclosure that renders the thermometer waterproof in almost every situation. While I don't often drop my thermometers into buckets of water, I've been known to leave one outside during a rainstorm and a waterproof food thermometer is always great for things like brewing, deep-frying, or candy making.
The back of the thermometer is magnetic even though there are no visible magnets on the outside of the body itself. This is a sleek little design element that's also really functional as well. The Internal magnet won't fall out over time as the adhesive securing them loses its tack and it's easy to store your thermometer probe on the refrigerator or any other magnetic surface. Though you can attach the Kizen thermometer to the side of your smoker, I definitely don't recommend it. While the probe itself can handle high-temperature situations, the body isn't built to handle constant contact with a hot metal surface and will melt.
Features:
3-5 s readings
Temp range:
Backlit LED Display
58℉-572℉
Waterproof
Using the Kizen Meat Thermometer.
Getting the Kizen thermometer unboxed and set up was easy enough. The discovery of a backup battery in the package was definitely a nice surprise, and the instructions were super thorough. It was simple enough to get the battery situated in the compartment after I unscrewed it.
Once I turned the thermometer on, I ran it through a quick calibration check against my regular thermometer probe. I made a very tight ice bath in a pint glass and allowed the water to cool for a minute or two before temping it. The initial reading was very quick and after a few seconds, it stabilized at just over 32°f. It was within a 1/10 of a degree from the reading on my regular instant-read probe, and I was very pleased with the accuracy overall.
I continued to use the thermometer over the course of a Sunday smoking session. I like to do pulled pork on Sundays, pork shoulders cook relatively quickly, and there is not a lot more satisfying than a freshly smoked pulled pork sandwich and some football.
Once the pork butt had spent a few hours in the smoker, slowly transforming itself into delicious barbecue, I began my regular routine of hourly mopping/temp checks. Mopping pork products is one of my favorite ways to improve bark and overall flavor, it also offers an awesome opportunity to check the progress of your barbecue.
All you need to do to mop your barbecued pork is create a flavorful sauce mixture, I like to use orange juice, rice wine vinegar, and a little sugar, and then use a brush or literal mop to coat the outside of your barbecue with the mixture every hour or so.
While I had the pit open to mop my barbecue, I used my Kizen instant-read thermometer to take a temperature reading alongside my daily driver instant-read probe. I usually take a few different temperatures from different parts of the pork shoulder and then rotate the pork butt to make sure it cooks evenly and consistently.
Over the course of 10+ temperature readings, the Kizen took an average of 4.5s to stabilize and provide an accurate reading. The initial reading was usually 3-5°f off of the final temperature which is pretty incredible and consistent with higher-priced thermometer options I've had the opportunity to test. I like to use the Thermoworks MK4 and the Thermopro Tp19 as my go-to thermometers, and the Kizen digital meat thermometer's readings were right on par with both of those modes. While the MK4 is arguably faster, it's also more than triple the price of the Kizen probe.
The extra-long temperature probe made it easy to get to the center of my pork shoulder, which is great because there is usually a ~10°f difference from the center along the blade bone to the larger muscle groups around it.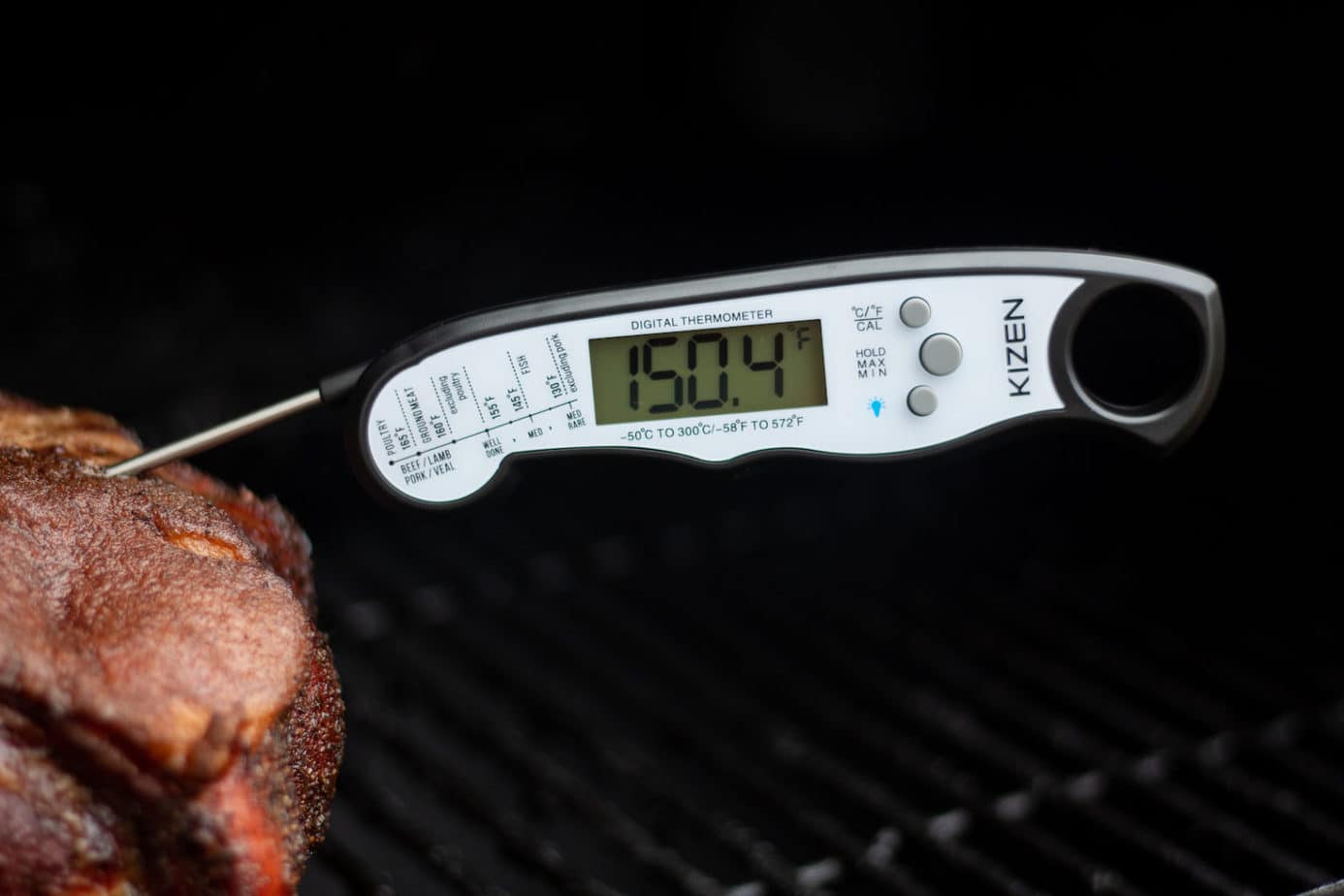 Overall, the Kizen digital food thermometer is definitely a quick and accurate thermometer. It was regularly right in line with both of my other instant-read thermometers and at just under 5 seconds, it's one of the faster instant-read thermometers I've had a chance to look at.
Should you buy the Kizen Digital Meat Thermometer?
Check Latest Kizen Digital Meat Thermometer Price
Initially, I wasn't expecting much out of this thermometer. I'd never heard of the brand before, and I usually don't love products that use button cell batteries. That being said after spending a day using this probe, I was definitely a much bigger fan than I anticipated.
The design is very tight and overall the build quality is very high. The thermometer feels sturdy in your hand and the readings are really very quick. I liked that the storage magnets were on the inside of the body and the overall construction was truly waterproof. I was able to run this probe directly under water to rinse it off when I accidentally got some grease on it.
If you are looking for a high-quality instant-read food thermometer for anything from barbecue, to candy making, brewing, or deep-fried foods, the Kizen instant read thermometer makes a great choice that will definitely save you money. At less than the price of a few cups of coffee, you can add a high-quality thermometer to your arsenal that will help you create perfectly cooked foods for years to come.